Check out these clever, practical, and affordable Food-Grade Emergency Water Storage Solutions for your home that can be easily stored in any domestic environment.
The world is constantly changing, and especially now, it has been rather unpredictable. Taking basic pre-emptive measures and planning for water supply interruptions, is one of the most rational choices that anyone can take. Don't wait till the last minute, get prepared now!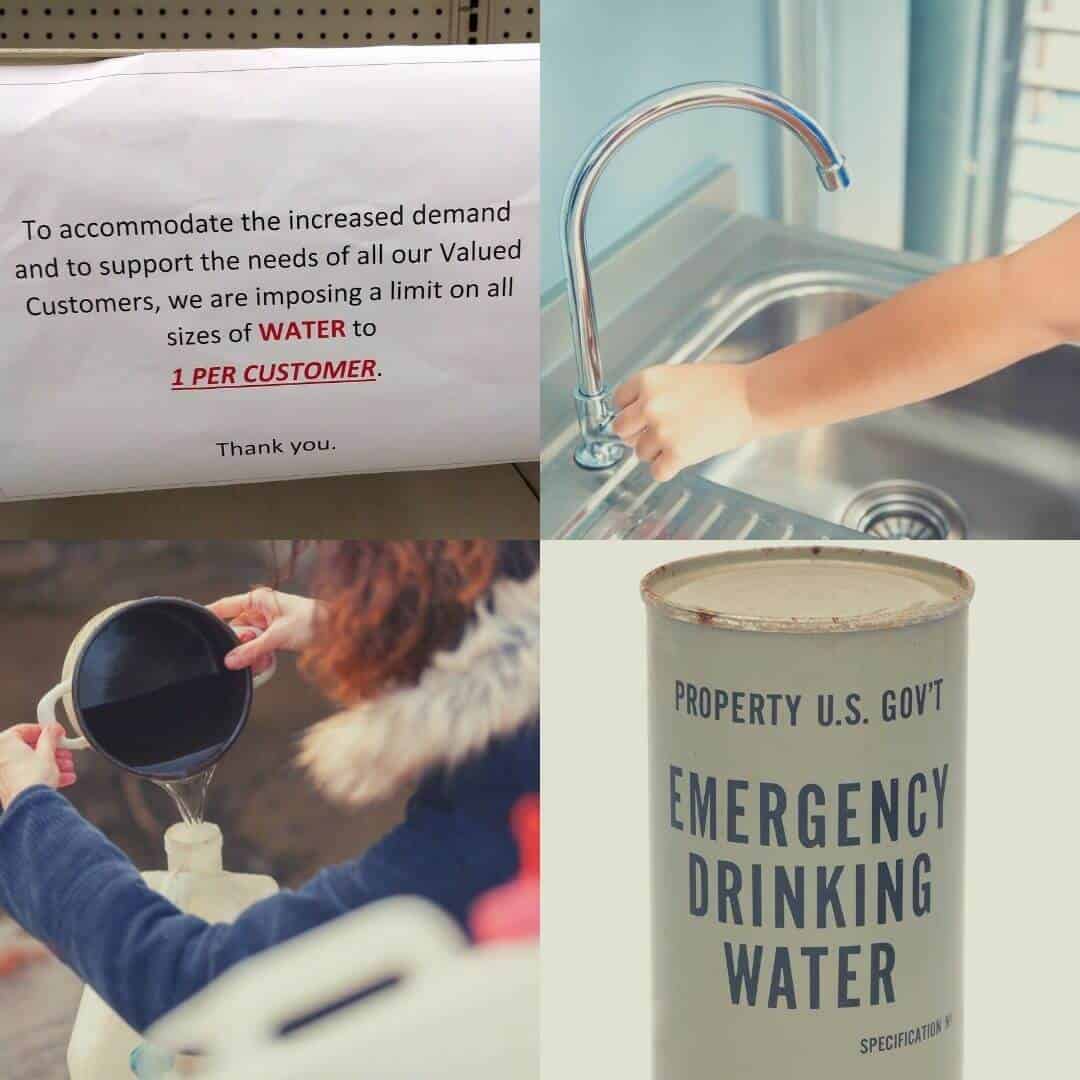 Surviving skills are a combination of smart thinking and easy methods. It has been noted that people have been able to get through drastic situations with quite basic necessities. But what are those necessities?
Well, these are mainly two things: water and food, and water being the most important of these two.
There is no question about the significance and benefits of water for the human body, however, there certainly are confusions about how to store it securely and practically.
For your ease and convenience, I have compiled a concise list of quite innovative, yet practical emergency preparedness water storage solutions with their descriptions, unique benefits, and drawbacks.
5 Practical Drinking Water Storage Containers For Your Home
You can go without food for about three weeks but you will only last three to four days without water.
1. Basic Food-Grade Collapsible Water Container With Spigot
TAP ON IMAGE TO VIEW PRICE
Water Storage Cube presents a modern version of a water storage device in the form of its new BPA-Free collapsible water container.
Long gone are the days when holding and carrying an empty water container felt like a workout, this 1.05-pound container is lightweight and easy to lift. Keeping in mind the changing requirement of every individual, family, or activity, the container is available in different sizes.
The 5.3 gallons (20 liters) is a good option for emergency storage for larger families, whereas the 2.6 gallon is suitable for medium-sized families as it stores 10 liters. The 1.3 gallons (5 liters) storage is perfect for camping, backpacking, RVs, hiking, fishing, barbecues, picnics, etc.
Providing safety without causing extra damage is the vision behind the production of these containers, and it is for this reason that they are made from environmental-friendly materials.
The container is produced with PE plastic that is BPA and DEHP free, which means you can use the container for drinking water and without any guilt of harming nature.
Moreover, it is possible to use it in both closed settings and outdoor settings. From cooling water in the fridge and serving at parties to securing an extra amount of water, the container does it all. It is the perfect partner to have for memorable adventurous trips in open nature, as well.
Besides the weight of the container, good-quality accessories play a vital role in its easy handling. These containers have a soft, molded handle that effortlessly fits in your hands and gives you a strong grip.
The handle has been attached at the top of the container so that you can lift it safely without creating any tension or stress for your muscles.
Another unique feature of the container is its collapsible design. You will find countless plastic water containers that take up extra space and are difficult to store. However, with this container, you will not face any such problem. This unique quality of these plastic containers makes them easy and simple to fold and store when not in use.
Pros
Made from environment-friendly PE Plastic that is safe for food contact.
Very cheap and good for daily use.
Collapsible design makes it easy to store.
Compact, lite, portable, and reusable.
Comes in different sizes with a different storage capacity.
Easy to carry with the soft top handle.
Custom-made lid and spigot with gasketless design.
Cons
The spout is the weak point, it might leak.
2. Large Food-Safe Temporary Emergency Water Storage Bathtub Bladder
TAP ON IMAGE TO VIEW PRICE
Fight away the stress of natural disasters and emergencies with the WaterBOB Bathtub Emergency Water Storage Container. The star of every survival tool kit, this water-saving device will protect you and your family in every worst-case scenario.
For many users, the design of WaterBOB is a new thing to witness. The creativity behind its design is mainly to save people from the hassle of going to stores and standing in lines to get water if there is any available. With this container, you can avoid all of the panics as it will be allow you to store quite a lot of liquid.
While this bathtub water storage pouch may be a new concept, it has been designed keeping in mind all the protocols for the safety of the environment. Also made from food-grade, BPA-free plastic, it is graded as safe and secure according to the FDA.
All you have to do is to lay the liner in your bathtub and attach the fill sock to the faucet. Then fill the bladder to capacity, this should take around 20 minutes. The given siphon pump is to make sure that you can conveniently transfer the water into jugs, pitchers, or bottles and be better prepared.
By using the WaterBob bathtub container, you can store up to 100 gallons of water (455 liters). Additionally, it keeps the water fresh for 16 days. WaterBob is made to assist you specifically in emergency situations as you won't be able to use your bathtub once it is in there. You should not really use it in normal situations when you have access to other regular alternatives.
Pros
Stores 100 gallons (455 liters) of water.
Quite cheap considering the storage capacity.
A must-have in case of power and water outage.
Easy to use.
Very compact when folded.
Approved by FDA.
Decreases health risks of an open bathtub and keeps water fresh for up to 16 weeks.
Cons
The bladder takes some time to fill because of its large size.
Difficult to drain and package back up its original self.
Considered a single-use product.
3. Stackable Emergency Water and Food Storage Containers
TAP ON IMAGE TO VIEW PRICE
WaterBrick has come up with a new and interesting option for water storage through its emergency food and liquid storage containers.It has 8 rectangular blocks interlocked with each other to form one big container like a block.
Each block has the capacity to store 3.5 gallons (16 liters) of water and you can easily secure 28 gallons (106 liters).
Containers are assumed to be used only for liquids, but with this versatile equipment, you have unlimited options. Grains, snacks, dry eatables, and many other food items can be placed and stored in these blocks. The solid quality of these blocks protect your food and safeguard it from rotting away.
The simple, ergonomic designed handle lets you lift it comfortably, making portability its unique feature. Approved by FDA, these BPA-free water and food storage blocks are the best thing to have for adventurous road trips and camping, as well.
Pros
The storage capacity of 28 gallons (106 liters).
FDA approved, (food-safe).
Can be used for storing food items as well.
Very compact measures only 25.5 x 18.6 x 18.7 inches; 21.85 Pounds.
Cons
Quite expensive
Difficult to clean.
Some of the caps might leak.
4. BPA-Free Long Term Water Storage System
TAP ON IMAGE TO VIEW PRICE
In a crisis, most people aim to be of use by serving others and their community. In these cases, one or two water containers are of no use and you would need something more appropriate to cater to a large number of people. The Water Storage System by Emergency Zone Store is the ideal item to use in such dire circumstances.
This storage system comprises 20 strong stackable boxes. The heavy-duty structure of the boxes makes them reliable enough to transport and move from one place to another.
Moreover, you get 20 Multilayer Laminate Mylar Water Bags. These bags have the capacity to store 5 gallons (19 liters) of water each. You also have the option to buy a smaller number of boxes if you don't need that many. For example, you can get 10 boxes with 50-gallon storage total storage capacity or 5 boxes with 25-gallon total storage capacity.
However, the downside of the latter options is that they can only be used for a small number of people. With a 10.5″x10.5″x15″ dimension, this heavy-duty water storage set can be easily stored away in basements and storage rooms.
When storing water in large quantities, there is a major concern regarding its freshness and its long-term usage. Surely storing such a huge quantity of water without consistent use must negatively impact the quality of water.
After understanding the scientific explanation of all such possibilities, the Emergency store decided to equip its products with an enhanced defense system. As a result, this water set comes with 2 water treatments.
Firstly, it prevents the water from natural slime build-up, which means you will get safe water even in not-so-safe situations.
Secondly, it keeps your water tasting fresh. Lastly, the shell life of this water system is extended up to 5 years. The last thing you want is to have a safe storage system yet worry about filing it.
Conveniently, this system comes with a hose set. The hose set is helpful as it fills up the water bag quickly and with convenience.
Also, the attached sturdy spigot lets you access the water quite conveniently.
Pros
Heavy-duty, stackable storage option.
Takes very little room when folded and not in use. 
Keeps the water fresh.
Comes with a one-hand operated tap.
Includes high-quality water treatment.
Cons
The cardboard box may crumble and become moldy when it gets wet.
5. Innovative Collapsible Survival Water Storage Kit With Filter
TAP ON IMAGE TO VIEW PRICE
This large capacity water storage kit by WaterBasics is no doubt one of the best water storing equipment the market offers. From the smoothly designed water bag to the uncompromised quality of the hose, every feature of this kit is made with perfection and precision.
Looking at this huge container, you might worry about not being able to find the extra space needed for it. A classic example of appearances being deceptive, these heavy-duty boxes look like they are very space consuming, but in reality, when empty, the flexible structure makes them easy to fold and compatible to store in closets or any small space in your home.
Emergency situations cause extra stress when they are coupled with a loss of electricity and gas. Since we have no way of being sure about the status of the power supply in such situations, these water emergency kits include a hand pump that can function perfectly without any power.
The water you store in these containers can be easily placed in bottles, jugs, or pitchers with the 10 ft hose. Water being the most essential item is most prone to get affected by viruses, diseases, etc. To keep you and your loved ones safe and healthy, WaterBasics has a top-class red line filter.
This high-quality filter efficiently removes every sort of virus and bacteria from the water and lessens the impact of chlorine and chemical from the water.
Pros
Easy to fold and store when empty.
Available in both 30 gallons (136 liters) and 60 gallons (273 liters) sizes.
Pumps work without power.
Keeps the water safe with the red line filter.
Cons
Read Also: How To Build A 6-Month Family Food Stockpile On A Budget
Buying Guide
Capacity
For deciding which type of container you would need, you must be clear about the purpose of your use. If you are planning to use a water storage container for the short term, then having two to three containers of 5 gallons (19 liters) capacity is perfect. However, for large families and long term use larger storage options.
Material
Containers made of glass, stainless steel, and plastic are easily available. Glass containers can be decontaminated easily but, they are sensitive and prone to breakage.
Plastic containers are the most practical option to consider because they are lightweight and often foldable. The chances are that you might never need to use them so you want something that can be easily stored away without taking much room.
But make sure that you buy one made from food-grade, BPA-free, polyethylene plastic as they are best for storing drinking water and keep the quality and taste of water intact.
Portability
Having smaller containers as compared to large barrels is more beneficial as these containers can be moved and transported. Like the bathtub waterBOB pouch above, when filled up, it would be quite impossible to move.
On the other hand, a 5 to 7-gallon container weighs somewhere between 44 to 60 lbs (20-27 kg) when filled, despite the fact that this is also a lot, but one can manage to move it.
Read Also: List of 14 Long-Lasting Healthy Survival Foods
Final Thoughts
No one wants to face emergencies, disasters, outages, or shortages but life always surprises us with new challenges. The sensible thing to do is being prepared for bad days, especially when it is quite easy to do so. 
Getting any one of these emergency water storage solutions above will be quite sufficient to make you prepared when there is a water shortage or outage alert in your area.