Today's pizza has come a long way from simply adding pepperoni and mozzarella to your pie and calling it a day. People are now adding everything from spinach to anchovies to pesto to their pies in an attempt to make them more unique and exciting. 
Perhaps one of the more acceptable new toppings for a traditional pizza fan is chicken.
Here are six creative and popular chicken pizza topping combinations to inspire you. 
From creative twists on classic chicken pizzas to keto and low-carb chicken pizzas, I've got you covered. And don't forget to check the end of the article to learn about the history of using chicken as a pizza topping. 
Hint: until the 1980s, it wasn't a thing.
1. BBQ Chicken Pizza With Gouda Cheese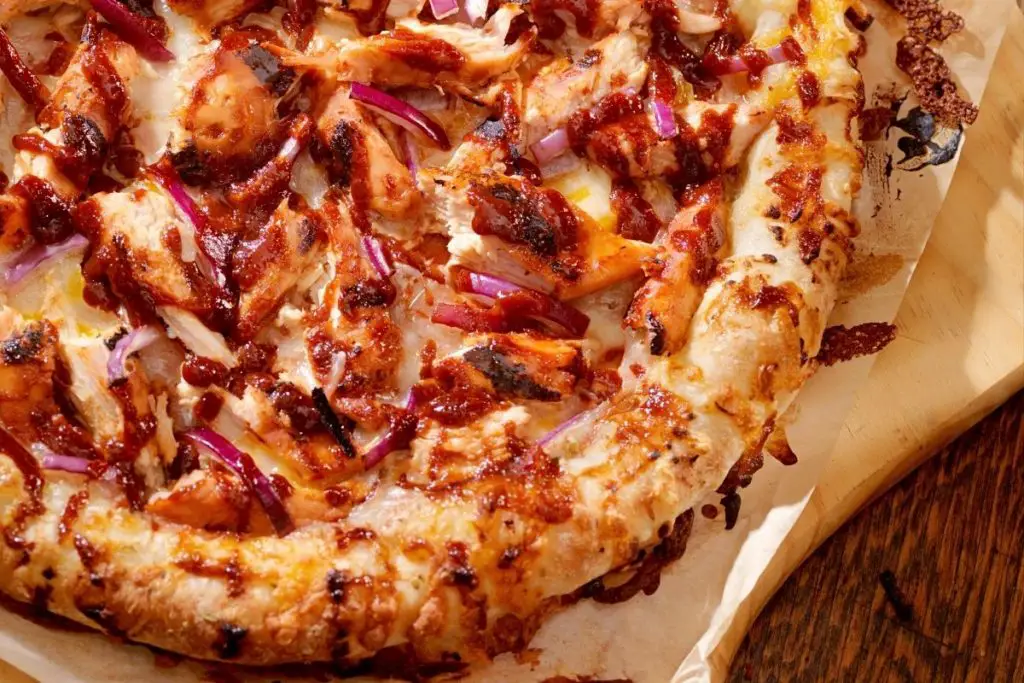 A simple and classic BBQ chicken pizza involves a few well-chosen toppings: mozzarella cheese, BBQ sauce (store-bought or homemade), and diced or shredded chicken.
While this is always a delicious pairing of ingredients you might readily have on hand, you can also try a more adventurous version. This would involve things like selecting an unusual cheese and surprising toppings.
An excellent example of this is the Almost Famous BBQ Chicken Pizza. 
Here's a quick breakdown of the toppings:
Dark barbeque sauce
Smoked gouda cheese
Skinless, boneless chicken breast (diced or shredded)
Mozzarella cheese
Red onion
Cilantro
Top Tip: Why not marinate the chicken breast overnight in the barbeque sauce or use a gourmet barbeque rub for extra flavor?
For detailed instructions on how to make this recipe, head over to Food Network.
2. An Italian Chicken Pizza With A Twist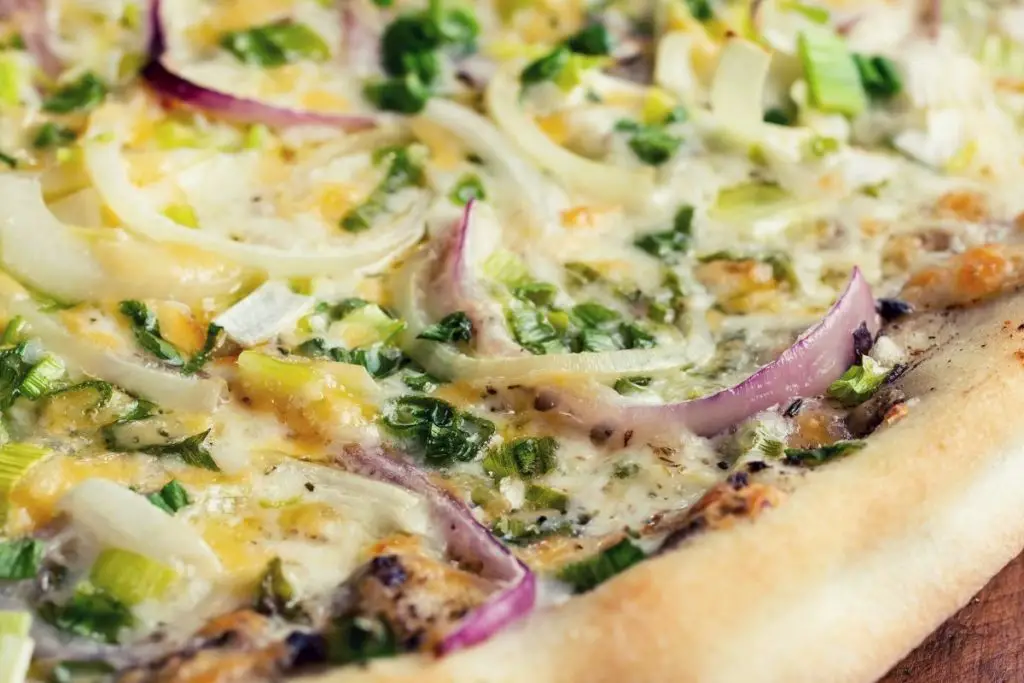 As everyone knows, Italian pizza toppings are the most classic. Think vine ripe tomatoes, garlic, basil, oregano, and melting cheese. However, there are many creative ways to vary this basic theme using diced or shredded chicken, such as the Rotisserie Chicken Alfredo pizza. 
It features a homemade sauce as well as other interesting toppings like chives.
Alfredo Sauce:
Garlic
Unsalted butter
Red pepper flakes
Heavy cream
Parmesan cheese
Black pepper
Other Toppings:
Rotisserie chicken
Mozzarella cheese
Chives
Red onions (optional)
Top Tips: Why not use a store-bought rotisserie chicken? It's convenient, moist, and perfectly seasoned already. Try roasting the garlic for more flavor depth. And if you're short of time, choose your favorite alfredo sauce from the store instead of making your own.
See the complete list of ingredients and full recipe instructions at Kitchn. 
3. An Adventurous Spicy Chicken Pizza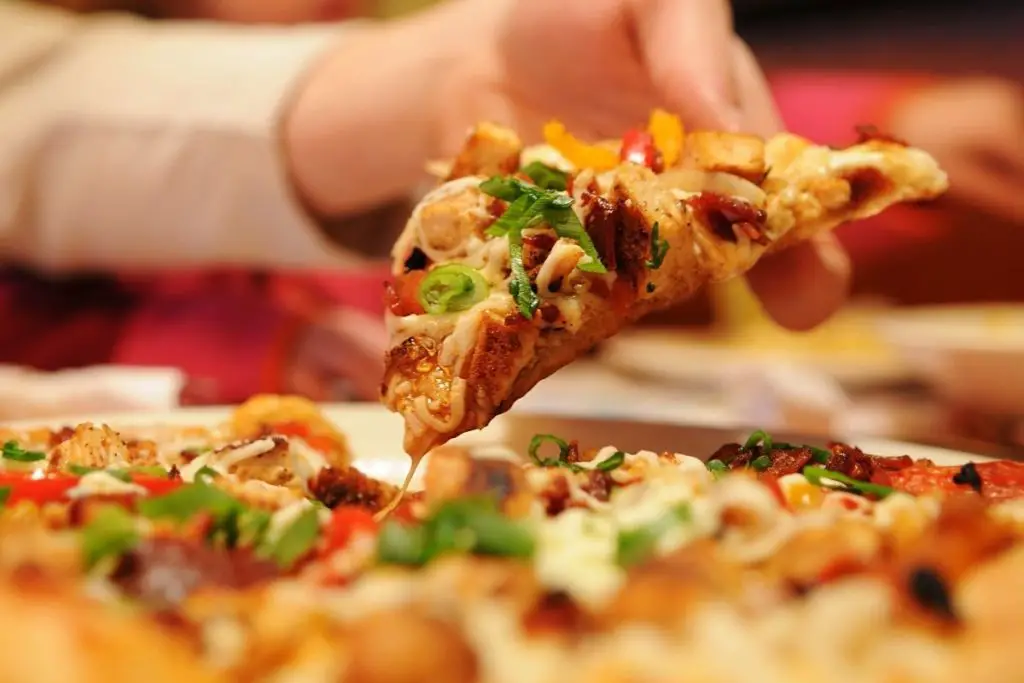 From a spicy diced or shredded southwest to a buffalo chicken, there are hundreds of ways to create a spicy chicken pizza. This Spicy Thai Chicken pizza with peanut sauce reveals just how creative you can get with your toppings. 
This topping combination also includes a homemade peanut sauce. 
Here's a rundown of the toppings:
Peanut Sauce:
Garlic
Gingerroot 
Peanut butter 
Honey 
Rice vinegar 
Soy sauce
Red pepper flakes
Other Toppings:
Mozzarella cheese 
Red and orange bell peppers 
Green onion 
Carrot 
Bean sprouts 
Cilantro 
Peanuts
Read the full recipe instructions here. 
Top Tip: You can prepare the chicken however you wish for any chicken pizza recipe you want to try. Some of the popular cooking methods for chicken include roasting, shallow frying, baking, grilling, barbecuing, sautéing, or pan-frying.
4. Healthy Chicken Pizza Topping Ideas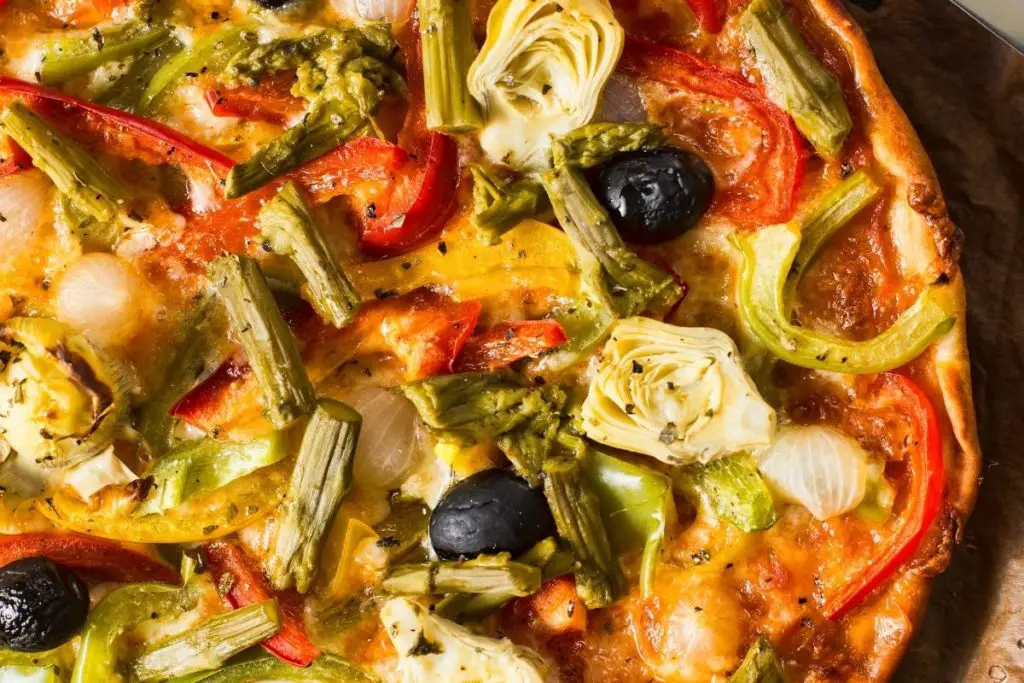 Although pizza isn't always considered a particularly healthy food, there are countless ways to make it healthy these days. General principles of healthier eating could involve any of the following topping ideas or ingredients:
Combining vegetables and poached skinless chicken breast can create a healthy and balanced pizza topping.
Some healthy pizza toppings that pair well with chicken include broccoli, artichoke, spinach, tomatoes, red peppers, black olives, sweet corn, and mushrooms.
Use ingredients and meats that are organic or local.
Make your own pizza sauce that has no added sugar or preservatives.
Replace tomato sauce with homemade pesto or pureed vegetables.
Bean spreads are a great way to add more protein and fiber to your pizza. Some good options include edamame spread, black beans, and more.
For a fresh and healthy touch, when your pizza comes out of the oven, top it with a handful of arugula. It's a bright and peppery addition that'll perk up your pie.
Turkey has a similar taste and texture to chicken. It is low in fat and full of high-quality protein, so if you have leftover turkey from Thanksgiving dinner, you can easily use it for your pizza topping the following day.
With its natural sweetness, chunks of sauteed sweet potato of all varieties can add some heartiness and depth to your pizza. Pair it with lean shredded chicken, pureed vegetables, and cauliflower crust to make a nutritious and healthy pie.
Opt for dairy-free cheese for fewer calories and less bloating and gas.
Try gluten-free crusts made with cauliflower, chickpeas, or another gluten-free ingredient.
Make Keto and low-carb pizzas with keto-friendly dough and toppings(yes, they exist, and you will find one below!)
Related Article: Is It Safe To Eat Pizza Left Out Overnight In The Box?
5. Vegan Buffalo Chicken Pizza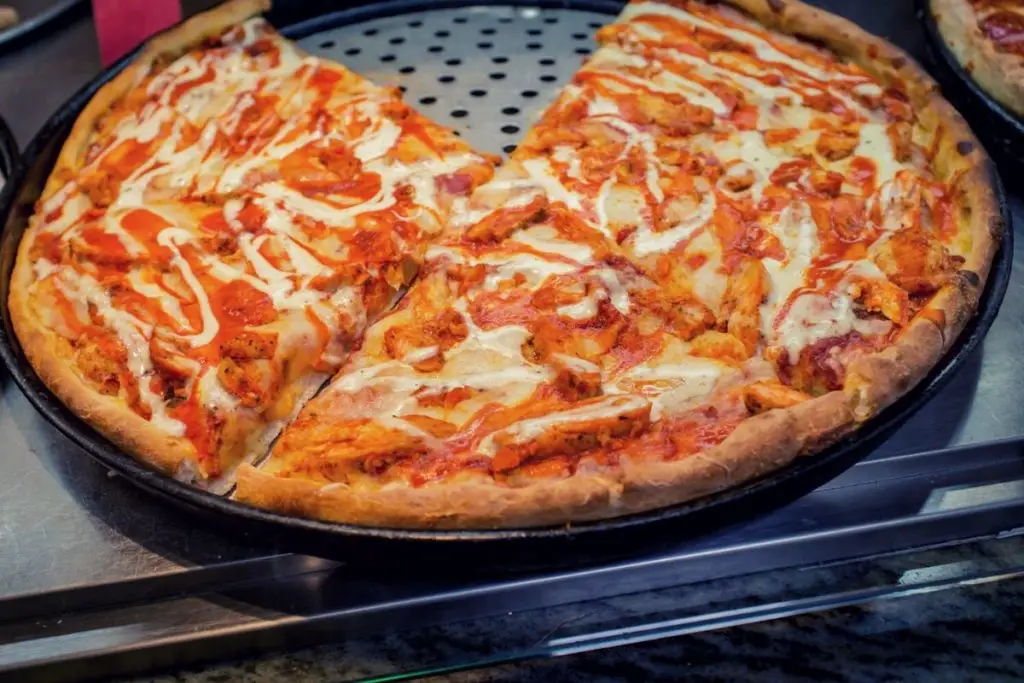 If you are looking for ideas on what to cook for vegetarian and vegan guests, this plant-based 'chicken' pizza recipe is a combination of spicy and healthy. If you've been afraid to use a vegan meat or cheese replacement, you should know that they've seriously come a LONG way. 
The Daiya cheese below is a savory, melting cheese. You can find shredded or block versions of Daiya cheese at most major grocery stores. 
The trick with vegan options is exploring until you find the substitutes that you really like.
Toppings:
Vegan chicken-style strips 
Vegan-friendly buffalo sauce such as Frank's 
Red onions or scallions 
Vegan blue cheese dressing like Daiya's 
Daiya Pepperjack Cutting Board Shreds
Top Tip: Add a vegan ranch dressing to the buffalo sauce for a buffalo ranch variation.
Read the full recipe and details here at Sarah's Vegan Kitchen. 
6. Keto And Low-Carb Chicken Pizza Ideas And Toppings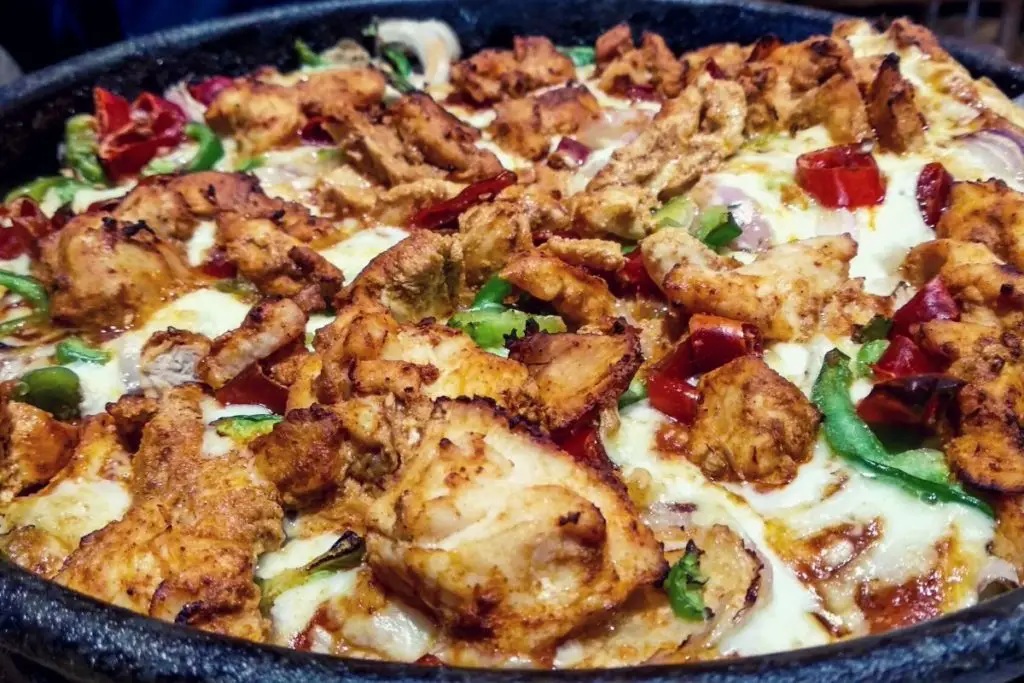 The crust deserves as much attention as the toppings when it comes to the low-carb and keto diet. There are all kinds of crust ideas, from making them out of chicken (yes, a crust made of chicken) to cauliflower. A low-carb or cauliflower-based crust can be found in some large grocery stores.
The best part of keto or low-carb eating is that while you may give up carbs like traditional flour crusts or high-carb toppings, you generally still enjoy full-fat cheeses and meats. 
To make sure you won't get kicked out of ketosis, try to avoid using any starchy vegetables as toppings.
3 Keto and Low-Carb Pizza Sauce Ideas:
Marinara sauce 
Pesto sauce 
Olive oil
Keto and Low-carb Pizza Topping Ideas:
Poultry (ground, filet, or rotisserie) 
Bacon 
Yellow onion (sparingly)
Bell pepper 
Spinach
Garlic
Read in-depth ideas about keto or low-carb pizzas at KetoConnect.  
Here Are 6 More Popular Ideas For Chicken Pizza Topping Combinations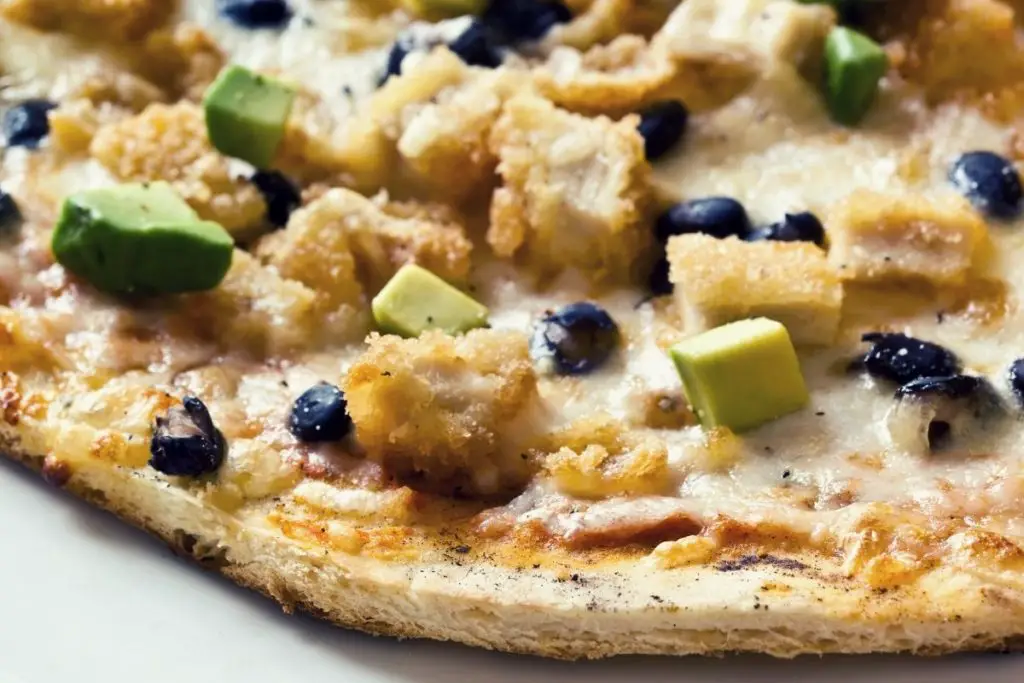 Breaded chicken and avocado topping
Bacon and ranch
Spinach, olives, and feta cheese
Roasted peppers and onions
Pineapple and Canadian bacon
Sun-dried tomatoes and goat cheese​
Did you know: The use of chicken as a pizza topping didn't exist until the 1980s. This was when Ed LaDou began using exotic ingredients on pizzas. 
Some of his ingredients were duck breast, pate, and hoisin sauce. LaDou created the first BBQ chicken pizza and is generally credited as a major influence in the use of poultry and gourmet ingredients as pizza toppings. 
Read Also: 4 Ways To Cook Frozen Pizza On The Grill To Get The Perfect Crust.