From potato waffles to crispy hashbrowns, potatoes are adaptable and versatile. But when it comes to leftover roast potatoes, most people just throw them away after a few days in the fridge.
So, don't throw away those leftover roasties just yet, there are plenty of delicious dishes to make with leftover roast potatoes. With a little bit of ingenuity, some basic kitchen tools, and a little extra butter (because, well, butter), you can transform yesterday's leftovers into today's mouth-watering starchy side dish.
In this guide, we'll take you through five easy and toothsome recipes you can concoct with leftover roast potatoes. No matter how you seasoned your original spuds, the type of potatoes you used, or their crisp factor, you can get one more night out of yesterday's tasty side.
1. Roast Potato Waffles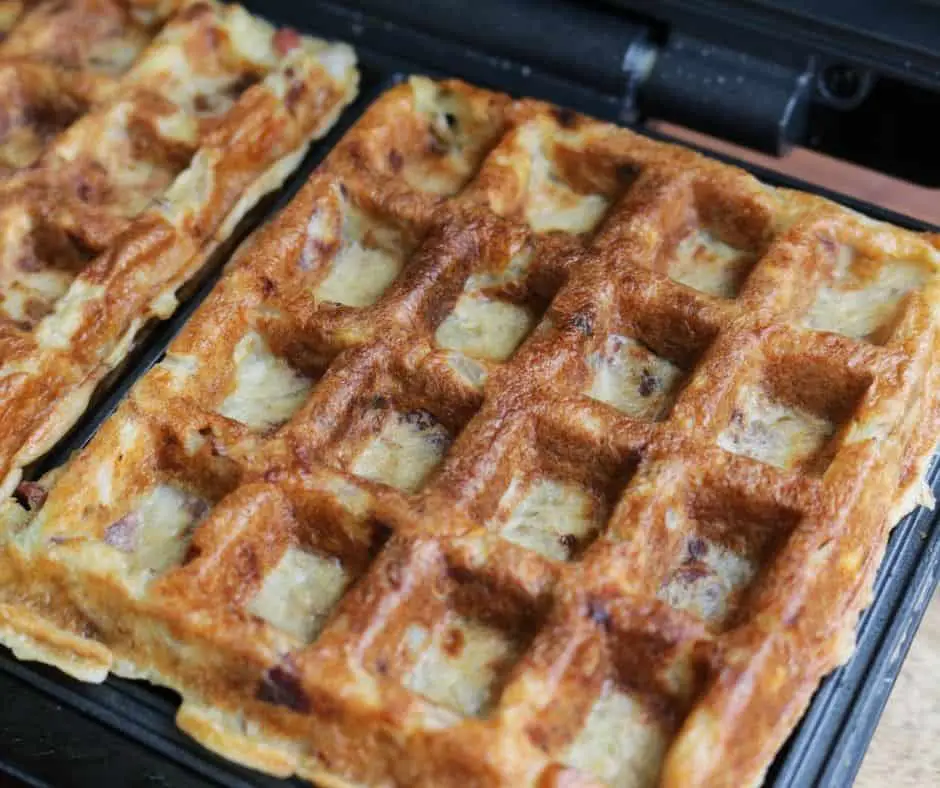 When in doubt, haul out the waffle iron.
These leftover roast potato waffles make an excellent addition to a breakfast-for-dinner spread, a traditional spin on chicken and waffles, or a canvas for a tasty slab of turkey with cranberry sauce.
All you need to do to turn your leftover roasties into the crispy waffle of your dreams is to:
Heat up and grease your waffle iron with some clarified butter.
Reheat your roast potatoes until they're soft enough to mash.
Add additional seasonings if desired.
Scoop about a half cup of your roasted potato mash into the waffle iron, close the lid, and wait.
While you can keep this recipe simple, there are plenty of ways to jazz up your potato waffle, a la this tasty recipe.
Some important things to note:
If you plan to use eggs in your "waffle" batter, make sure you start with cold potatoes.
If you add any flour to the batter, make sure to add more spices to avoid a bland result.
If you add cheese to the recipe, your waffle will get crispy fast. Consider cooking your waffle through in the waffle iron and popping them under your oven broiler to achieve a crispy finish instead of risking burnt cheese in your waffle iron.
2. Simple Stovetop Roast Potato Hash Browns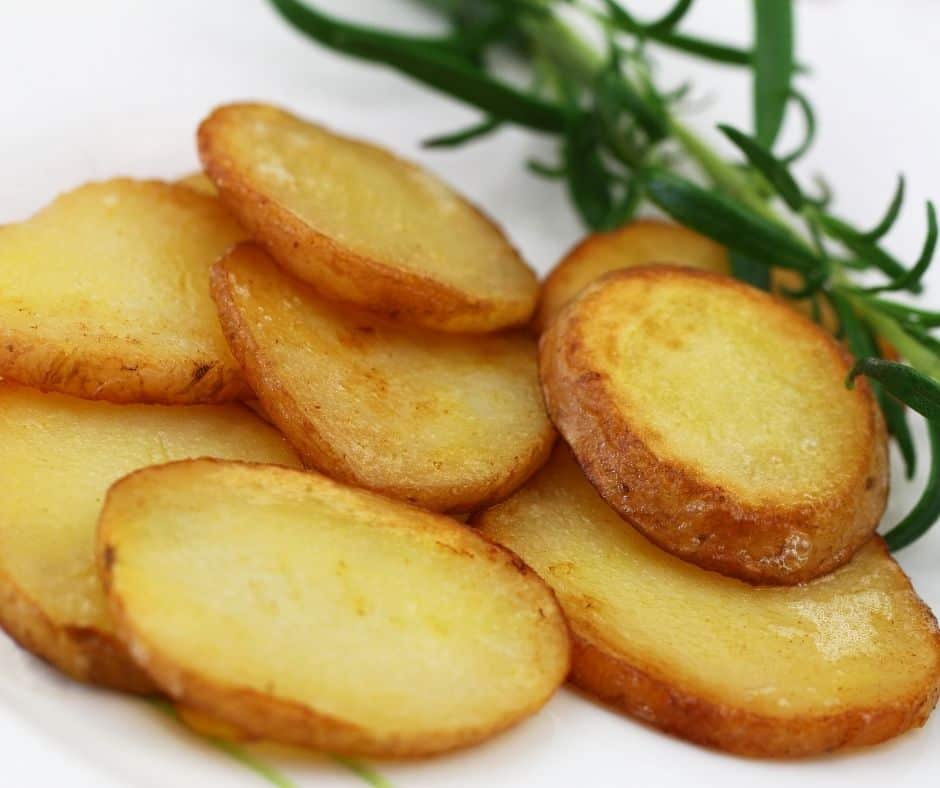 Stovetop hash browns are a breakfast classic. But, don't worry, you don't have to break out the box grater to grate raw potatoes. For an easier spin on leftover roast potatoes, simply slice your potatoes, add some finely-sliced onions, and butter or oil.
Since your potatoes are already cooked, all you'll need to do is amp up the crisp factor. To make sure your potatoes are warmed all the way through and you get a nice crisp on the outside, use a medium-high smoke point cooking oil in your saute pan, like:
Ghee (clarified butter)
Extra light olive oil
Peanut oil
Flaxseed oil
While stovetop hash browns are a pretty simple facelift for leftover roasted potatoes, check out this recipe for a more in-depth guide to preparing this perfect breakfast classic.
3. Smashed Roast Potatoes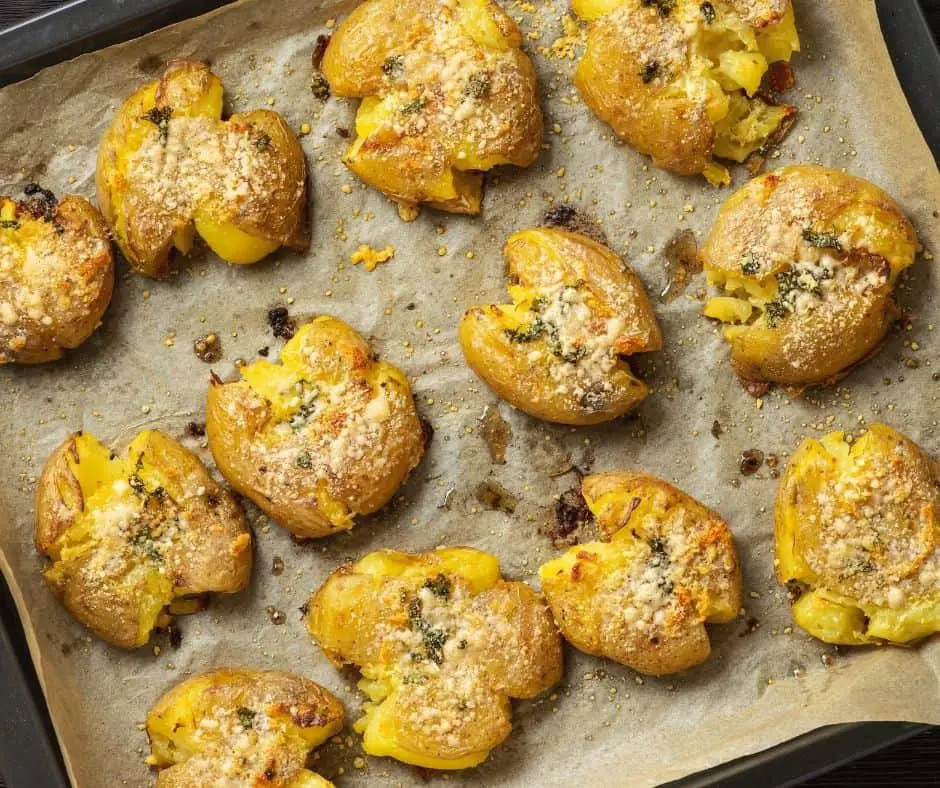 Not to be confused with mashed potatoes (but don't worry, we'll get there), smashed potatoes are a crispy dish that can quickly and easily revive last night's roast potatoes to their former crunchy glory.
All you'll need to make this tasty treat is:
A baking tray
Parchment paper or aluminum foil to cover the baking tray
Cooking oil
A smashing implement like potato masher, wooden spoon, a coffee mug or even your fist will do.
Simply toss your leftover potatoes in the liquid oil (with additional spices if desired), place them on the baking tray, smash each one with your smashing device, and stick them in the oven until the edges start to crisp.
Pro-tip for quick prep: If you're on a tight timeline, toss your leftovers in oil and nuke them in the microwave until they're hot. Proceed with the smashing and baking, but use your oven's broiler to simply crisp up your potatoes since they'll already be warm from the microwave.
Also, considering how amazingly crispy and delicious my sweet potato fries turned out in the air fryer, then this recipe seems like a perfect candidate for this popular kitchen device. I will give it a try soon and let you know how it turned out.
For a deeper dive into this tasty delicacy, check out this recipe.
4. Mashed Roast Potatoes With Crispy Buttery Top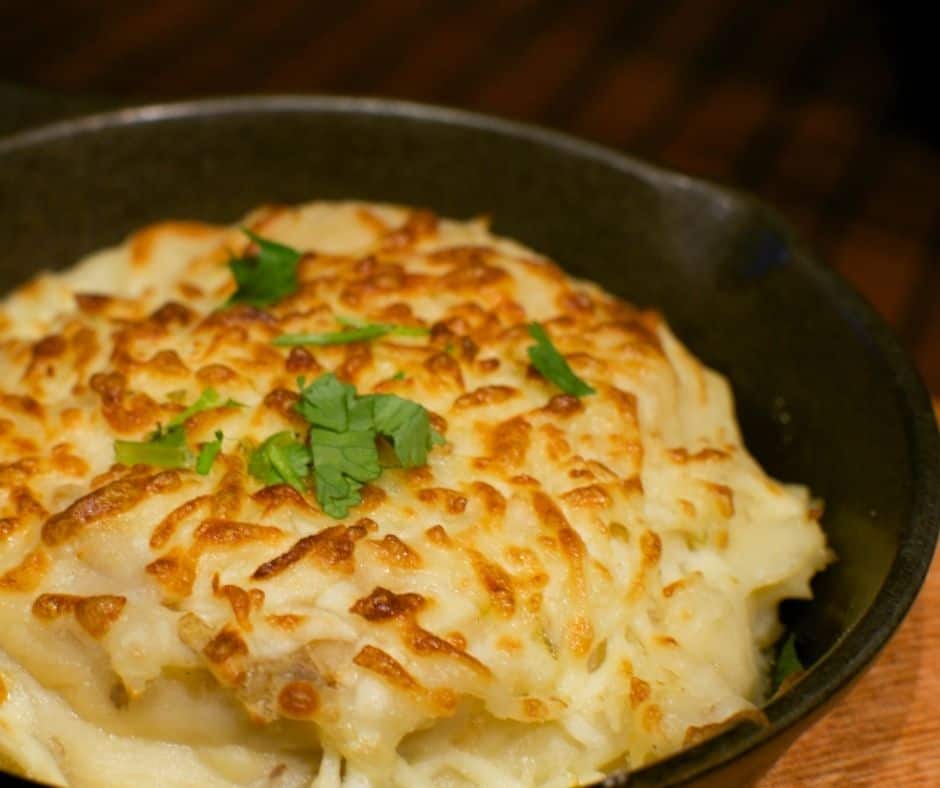 The best thing about spuds is their versatility. Who says you can't turn your leftover roast potatoes into a classic Thanksgiving side dish?
Mashed potatoes are simple and delicious, and you can quickly and easily repurpose roast potatoes to make them:
Warm up your roasted potatoes in the microwave until they're soft enough to mash.
Add warm milk, melted butter, bit of sea salt and additional spices if desired.

A roasted garlic head peeled and pureed makes a perfect addition!

Mash the contents with a potato masher.
Brush a little bit of melted butter on the top and pop it in the oven for 10-15 min to get that buttery crispy top.
While this leftover mashed potatoes recipe will incorporate some skins into your dish, you'll be surprised by how much flavor and texture they can impart into the dish. You might just make skin-on-mashed potatoes at your next Thanksgiving or Christmas feast!
For more tips on making silky, buttery mashed potatoes, check out this recipe.
Read Also: 5 Creative Ways to Fix Salty Mashed Potatoes (Do Not Add Sugar!)
5. Roast Potato Fries or Wedges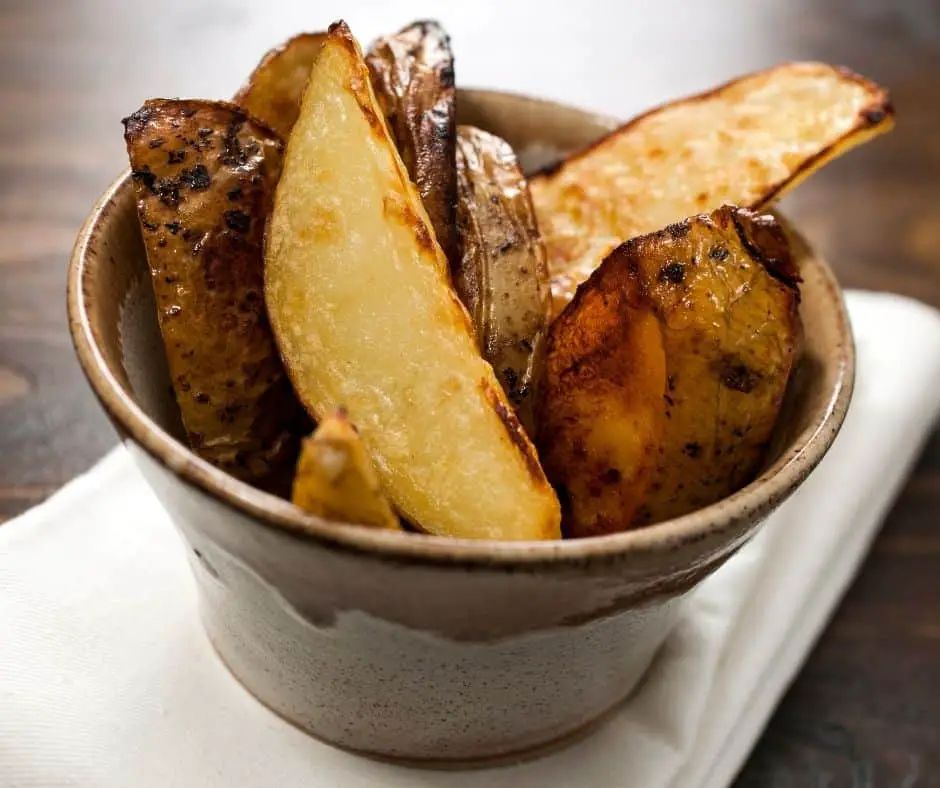 If you've ever been to a state fair, you know one simple truth: Everything is better fried.
To make crispy and delicious French fries from leftover roast potatoes, simply:
Thickly slice cold leftover potatoes into strips or wedges.
Heat up the frying oil in a large, deep frying pan or heavy bottom saucepan.

Canola and peanut oils are best for frying.

Optimal frying temperature is 350°F/180°C.

Test the oil with the small piece of potato to make sure it is hot and ready.
Deep-fry or shallow-fry the wedges for 4-5 minutes or until they're crispy and golden brown.
While you may be tempted to try out oven fries as a healthier alternative, I recommend that you stick to deep-frying or shallow-frying for French fries made from leftover roast potatoes. Just to get the maximum gustatory sensation.
Also, oven fries take longer to crisp up than deep-fried ones, and since your potatoes are already cooked, oven fries are more likely to become mushy inside, even if you do achieve an exterior crunch.
For more homemade French fry-making pointers, check out this recipe.
Create Leftover Roast Potato Magic
While simply reheated roast potatoes are a serviceable leftover side dish, try jazzing up your leftover roast potatoes using a few of the tips above.
Whether you go for a breakfast-inspired potato waffle, a quick and easy stovetop hash brown dish, crispy smashed potatoes, creamy mashed potatoes, or classic french fries, your friends and family won't even be able to guess that you've used leftover roasted potatoes and everyone will be amazed by your extraordinary culinary skills.
When it comes to repurposing leftovers, don't be afraid to get creative!