Choosing the right size slow cooker with the right features for your needs can be tricky. There are many different sizes and so much variety these days, it's easy to get overwhelmed.
This handy guide will help you pick the best and the right size slow cooker for any occasion, including recommendations to some of the best models on the market this year.
So, if you're shopping for the best crock-pot meal-maker, have a read-through this guide before pulling the trigger, and you might save yourself lots of time, money, and frustration.
Why Get A Slow Cooker?
A versatile addition to your kitchen, a slow cooker is very unlikely to become one of those appliances you bring home and never really turn on. I use mine no less than 4 times a week. 
Once you have it, you will probably use your slow cooker very often. Especially if you take some time to consider your household's needs and pick an appropriate appliance.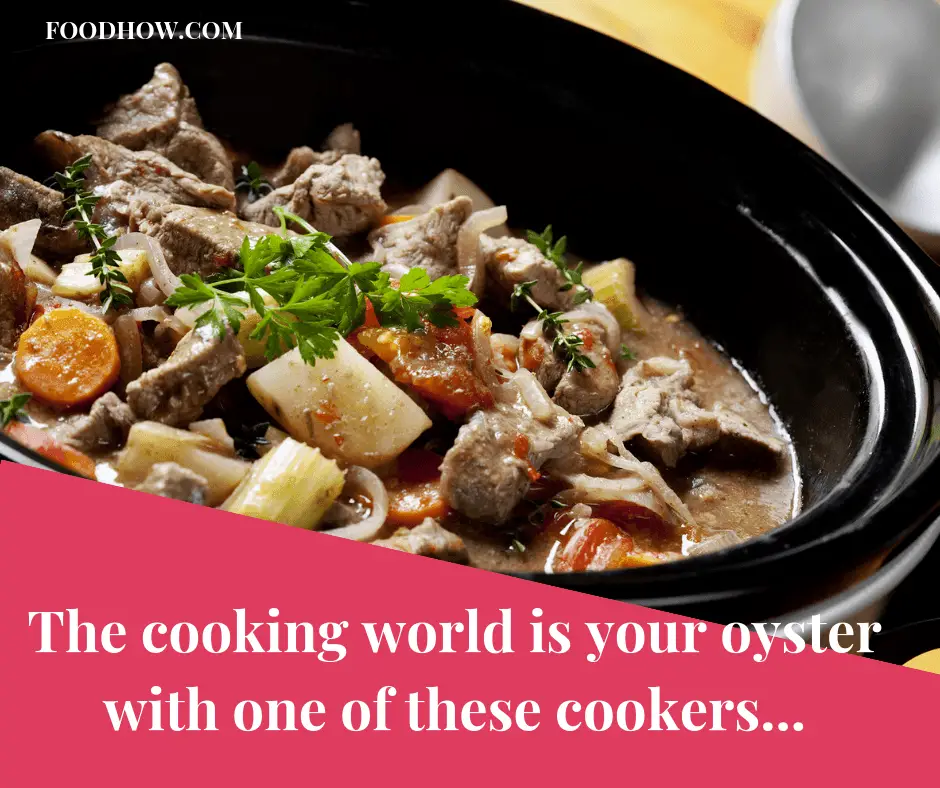 One of the must-have kitchen gadgets is a slow cooker, also known as a crock-pot.
See, a slow cooker has lots of advantages over many other kitchen gadgets:
Makes it easy to cook soups, casseroles, stews, and much more
A "set and forget" kind of appliance that can be left unattended
Can make inexpensive cuts of meat taste delicious
One-pot meals create less mess
Shrinks your energy bill by using less electricity
Slow Cookers Save You Money!
Still on a fence about purchasing a slow cooker? After all, you can just use the oven, right? Wrong – unless you love spending money on electricity! 
See, an oven-cooked meal can easily eat up to 3000 watts, whereas a small slow cooker will seldom go over 200, and not even for the entire time it's on (once the pot is heated up to the desired temperature, it needs much less energy to maintain it). In addition, that little pot is the only thing that's being heated, not the entire oven.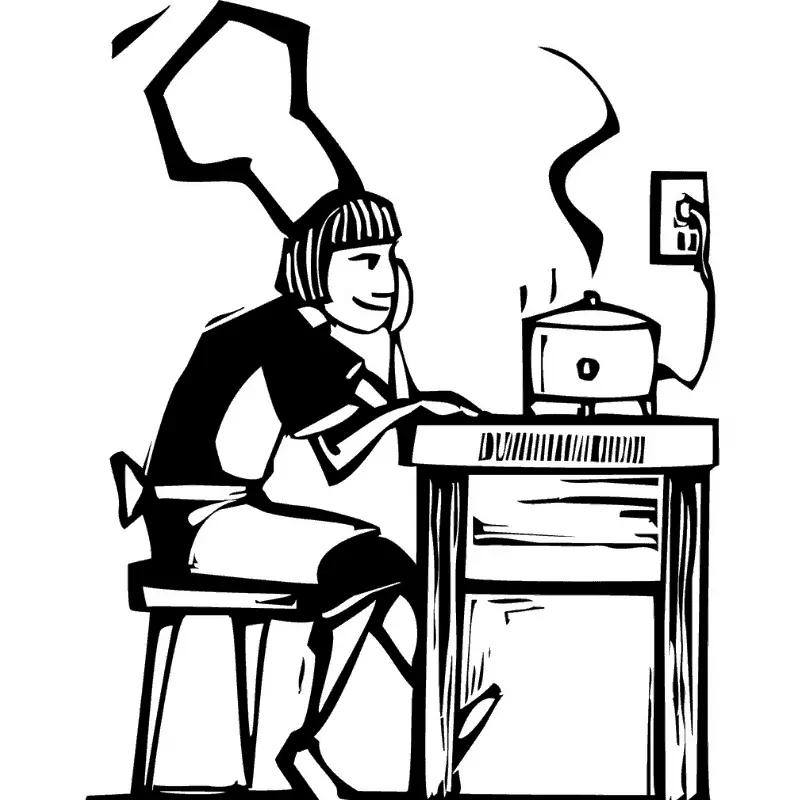 Using a slow cooker for eight hours will equal about 15-20 minutes of oven cooking when it comes to electricity expenditure.
In addition, due to the nature of the cooking process, a crock-pot generally lets you get away with lower quality cuts of meat for the same excellent taste and texture, which warrants further savings. Even the least noble cuts become tender and juicy, making slow-cooked casseroles and stews absolutely delicious.
Key Things To Consider When Buying A Slow Cooker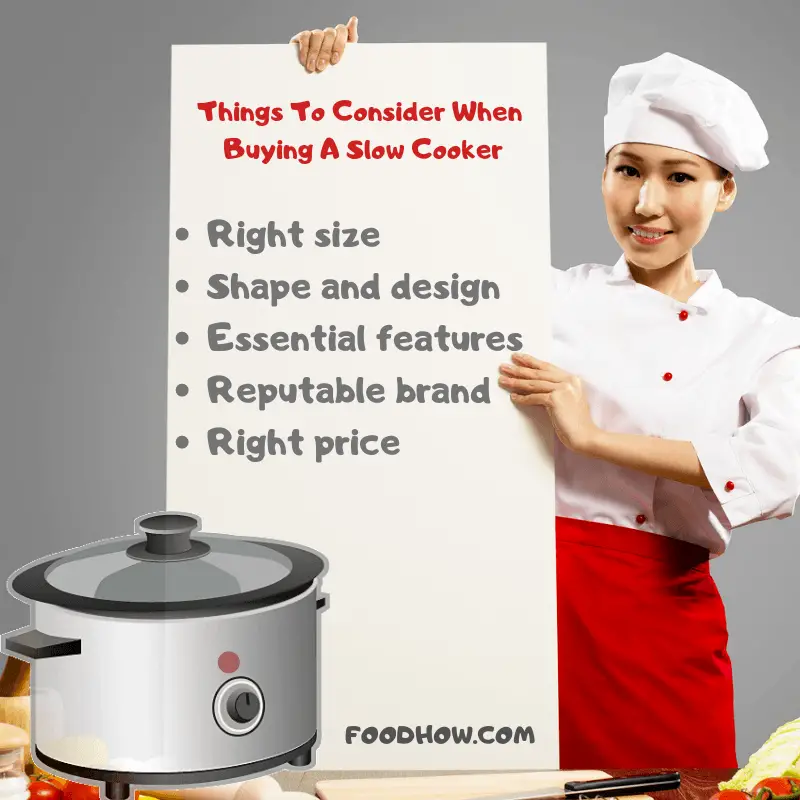 There are several factors to consider when picking the best crock-pot. So, how to approach those factors, and which ones to prioritize.
Some of the most important considerations include:
Fits your budget
Capacity
An oval (or perhaps round) shape for easy storage
An on/off light, unless you want to spend the entire cooking time watching the appliance
Comes from a reputable brand that offers good warranty terms
Isn't jam-packed with overwhelming features you'll never ever use
Size – for one person, anything bigger than 3 quarts (3.4 liters) is likely to be a major overkill, and anything smaller than 1.5 quarts ( 1.7 liters) will limit your options too much. For a large family, I recommend 6 Quart (6.8 L) and up. And if you want to cook a large chicken or even a whole turkey, then below, you will find some amazing slow cookers that are just perfect for the job.
Shape – these days, slow cookers come in a variety of shapes, including round and even square. Now, this one is largely personal preference and depends on your kitchen layout, but generally, we find that oval shape is the most versatile and easier to store and repair.
Brand – especially if you're on a tighter budget, it can be tempting to go for a lesser-known brand to save some money. However, purchasing a suspiciously cheap appliance is very likely to backfire, with a short lifespan, poor quality, and no warranty. As the saying goes, few people are rich enough to buy cheap things
Features – whilst it's not necessary to go for the most expensive model, ideally, you want at least one step up from the most affordable, entry-level appliance of a well-known brand. Features such as on/off light, timer, and digital display make using the slow cooker so much more convenient, saving you lots of time and frustration.
The Most Essential Features
Above, I mentioned some of the features to look for when shopping for a slow cooker. Here is a breakdown of some of the most essential ones: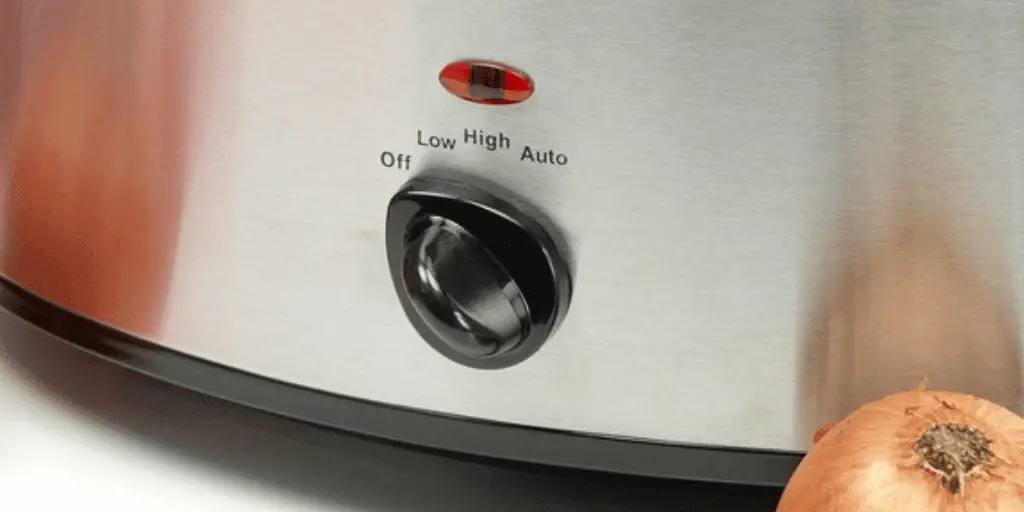 Basic functionality you'd expect from Crock-Pot.
On/Off Light
This may seem like a non-essential feature; however, I strongly recommend only considering models that do have it! Unless you have a near-robotic routine and do everything at the same time every day, purchasing an appliance without an on/off light is calling for trouble.
If you're juggling many things simultaneously, the red light will remind you to turn the cooker on, and the "on" light will remind you that the appliance is hot and not to be touched without oven gloves.
In addition, you'll be able to monitor the process from across the room, meaning you won't be glued to the kitchen whilst the dinner is simmering.
What Is Auto Setting On a Slow Cooker?
When the slow cooker is set on Auto, it begins to cook at on High temperature until it reaches the required temperature. Then a thermostat will switch the slow cooker automatically to Low. Then the slow cooker will remain on Low for the entire duration of cooking until it is switched off.
It is an extremely handy feature, and this ensures much faster cooking time and requires much less supervision, which is kind of the point of buying a slow cooker anyway. Always have a look at the manual of the model you're intending to buy just in case it happens to be different.
Warm Feature
This basic feature is often found even in cheaper models, It is an excellent way to keep the dish warm for prolonged periods of time. Essentially, after the slow cooker program has finished, this feature will keep the appliance on very low heat, ensuring the contents don't cool down. 
However, if you generally eat the food right after cooking it, this handy little feature may not be necessary.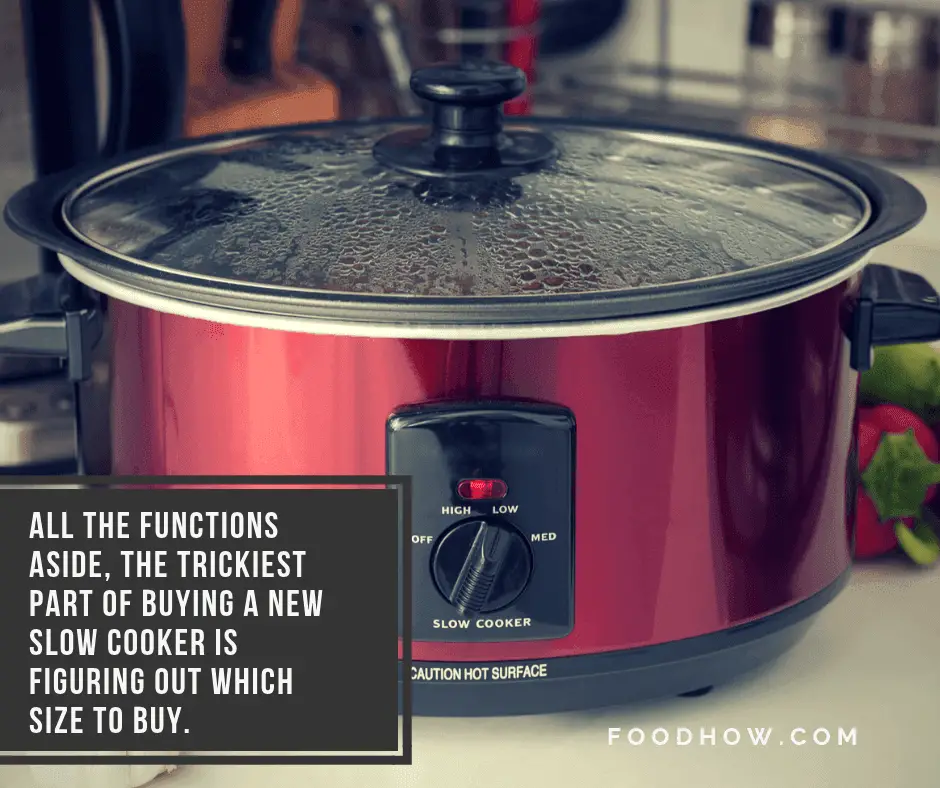 How To Choose The Right Size Slow Cooker?
Cooking for a large group of people is entirely different from cooking for yourself, which should be taken into consideration when picking a slow cooker.
As a single person, you probably have less kitchen space and a smaller freezer, which means there is no need to buy the world's largest crock-pot. 
Instead, look for a smaller model, but if you like leftovers, have a large family, or you'd like to slow cook a whole chicken or a turkey, you need to consider getting one with the maximum capacity.
But don't worry, below I will cover a wide range of sizes for every household's individual needs.
Ready to take a plunge? Below are my suggestions for the best slow cookers for a variety of needs.
Right Slow Cooker Size For One Person
Bigger isn't always better – those living alone or cooking dishes for themselves separately know this all too well.
Picking a slow cooker is no exception: whilst in many other cases, it's best to buy the most gigantic one that also has decent functionality (think families with many kids, community kitchens, or large shared households), cooking for one is a different story entirely.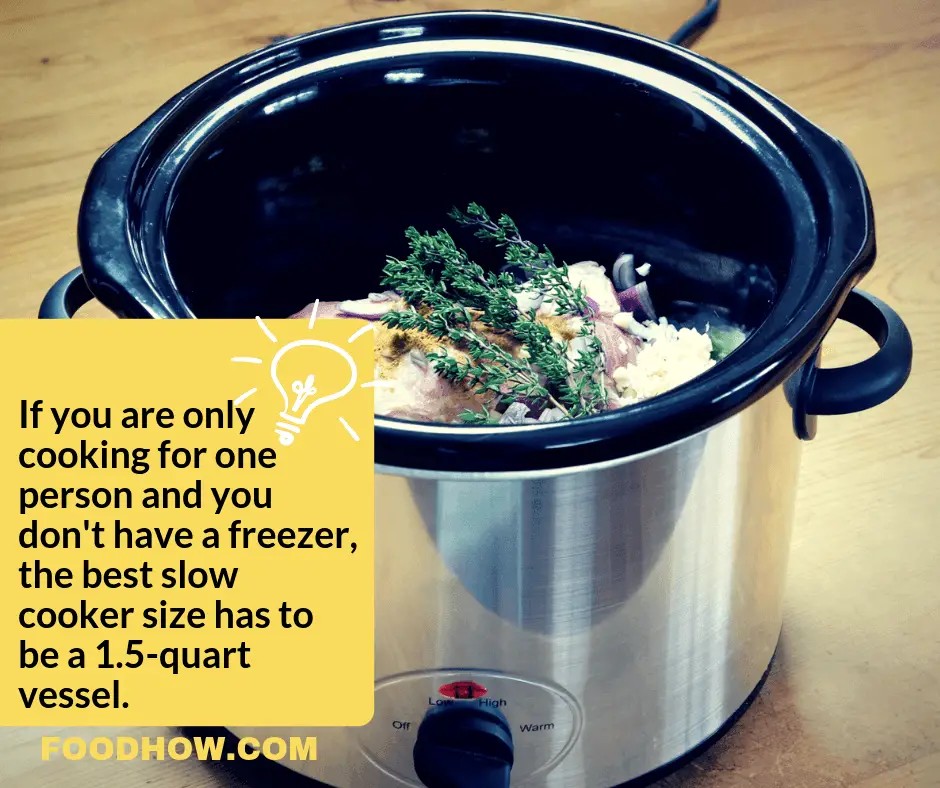 If you're cooking for just one person, then buy a 1.5 – 3-quart slow cooker.
However, much of the advice available out there ignores the specific challenges of cooking for one, which can be incredibly frustrating. I have put this guide together to help you choose the best one-person slow cooker to suit your needs – including examples and useful links.
For a good balance between not cooking too much and cooking enough, so you still have some leftovers for lunch, I would recommend a slow cooker that is between 1.5 quarts ( 1.7 liters) to 3 quarts (3.4 liters), and that is for one person.
By default, a 3-quart size crock-pot is capable of making 4 meals at once. Which is perfect for having a freshly made dinner and putting the leftovers in the freezer without using up too much space.
At the same time, it's still a good size for a small group of guests, in case you need to whip up dinner.
Below, you will find my selection of some of the best slow cookers that are ideal for cooking a small meal.
For your ultimate convenience, I picked the models that were on top of my final list when I was searching for a small slow cooker for myself. 
Ready to go crock pot shopping with me? Keep scrolling to find out more!
4 Best Small Slow Cookers:
1. Elite Gourmet MST-250XS Electric Slow Cooker 1.5Qt (1.7 L) Capacity
I found this affordable 1-person slow cooker that is a little hidden gem with thousands of positive reviews online.
The 1.5 Quart capacity gadget features 3 temperature settings, a sleek design with a glass lid, classic ceramic pot, and cool-touch handles to ensure the feasibility of use. The ceramic pot and the lid are dishwasher safe, so caring for this little slow cooker is a breeze! 
TAP ON IMAGE TO VIEW PRICE
2. Proctor Silex 33116Y Portable Oval Slow Cooker, 1.5 Quart (1.7 Litres)
Another fabulous 1.5 Quart slow cooker, this little guy is perfect for small batch meal prep or quick and easy entertainment. The lid comes with a rubber seal and a lid latch strap, so you can even travel with this slow cooker.
From appetizers and dips to more serious dishes, this device is up to any task – and the Keep Warm setting ensures your creations will stay fresh and warm for as long as required without overcooking.
This one, although it is the same size and has similar features as the first one, is a bit more expensive but it does look absolutely adorable so I wouldn't mind paying just a bit more for this little cutie.
TAP ON IMAGE TO VIEW PRICE
3. Mini Casserole Slow Cooker – 2.5 Quart (2.8 Liter)
This 2.5 Quart or 2.8 Liter casserole slow cooker features an unusual shallow shape, as it's designed specifically for making the best casserole dishes you've ever tasted, sans the effort.
There are 3 different temperature settings, including Keep Warm, so the dish won't go cold if the guests are running late. Removable lid and stoneware guarantee easy clean-up, leaving more time for the truly important things in life.
That's the one I actually bought for myself also, it is the perfect size just for one person, but if needed you I can use it for up to 3 people. But what really sold it for me was this unique and cool look and the clip-on lid. It does look really nice, and you might think it is quite expensive, but it's actually not at all.
TAP ON IMAGE TO VIEW PRICE
4. Crock-Pot SCR300-SS 3 Quart (3.4 Litre) Manual Slow Cooker
Being on a slightly larger size than I would typically recommend for 1 person, this quality slow cooker is perfect for effortless meal prep. The insert and the lid are dishwasher safe, no scrubbing is required.
The design is truly luxurious – which is surprising considering the price – and features beautiful polished silver, black accents, and sleek handles. With recipes included in the user manual, the possibilities are endless! This one is really really popular! Over 10 thousand reviews on Amazon.
TAP ON IMAGE TO VIEW PRICE
What Size Slow Cooker To Buy For A Family Of 3-4?
When it comes to picking the best appliance for a family of 3-4 people, it's important to consider your preferred dining style. Do you typically eat freshly made dinners every day?
If so, you may want to stick to a 4 Quart or 4.5 L appliance that will easily make 4 meals and won't take up too much kitchen space.
If you do tend to cook in larger batches, or perhaps want always to have some emergency leftovers handy, up-size, and go for at least 6 L one.
2 Great Medium Size Slow Cooker
1. Crock-Pot 4 Quart (4.5 L) Oval Manual Slow Cooker, Red Stainless Steel
This fantastic affordable model comes from a truly iconic brand, featuring a classic oval design and 4 Quart or 4.5 L capacity that is a perfect size for up to 5 people. Its toggle has 4 settings: Off, Low, High, and Warm – the model is complete with a dishwasher-safe locking glass lid and removable stoneware insert that is dishwasher-safe for easy cleaning.
The model comes in a variety of colors, striking red being one of them. Customers are generally raving about this Crock-Pot, and it has some great reviews, so it is definitely one to consider.
TAP ON IMAGE TO VIEW PRICE
2. Instant Pot DUO60 6 Qt 7-in-1 Multi-Use Programmable Slow Cooker, Steamer, Rice Cooker, and Warmer
Well, this is not really your classic crock-pot here, but the reason I am mentioning it is that my Mum changed her old style crock-pot for this one, and she can't stop talking about it ever since.
I don't think I would share her enthusiasm about it as I do prefer the simple, classic-style slow cookers with a ceramic pot and a glass lid. But that said, it is one of the world's best-selling slow cookers, and this unique appliance combines 7 kitchen gadgets in one: Pressure Cooker, Slow Cooker, Rice Cooker, Steamer, Sauté, Yogurt Maker, and Warmer.
There are also 14 Smart Programs to pick from, streamlining your cooking: Soup, Meat/Stew, Bean/Chili, Poultry, Sauté/Simmer, Rice, Multigrain, Porridge, Steam, Slow Cook, Keep Warm, Yogurt, Manual, and Pressure Cook.
For many dishes, it means you can start the process with a single press of a button, which is fabulous for busy lifestyles. The appliance automatically monitors pressure, temperature, keeps time, and adjusts heating intensity and duration to help you achieve perfect results every time.
With a compact modern design and a bright digital display, this slow cooker is sure to do more than just slow cooking. It is a perfect size for a family of 4-5 people and certainly something to consider, but I would personally go for the classic model above.
TAP ON IMAGE TO VIEW PRICE
The Best Slow Cooker Size For A Family Of 6
With a bigger family, you really want to up-size. The same considerations apply – go smaller if you eat fresh every day and go big if you find having leftovers helpful. Below I have chosen 2 great large slow cookers that are both great for a large family.
2 Popular Large Slow Cookers:
1. Crock-Pot 6 Quart (6.8 L) Cook & Carry Manual Slow Cooker
This spacious slow cooker can easily serve 6-8 people in a blast! It is just the larger version of the red one I mentioned above. With a removable pot and lid that can be popped right into the dishwasher, forget about the mess and spend more time with your family after a hearty meal.
The gadget also features an easy-to-use locking lid with a lid gasket, providing an extra seal for less mess on the go.
With thousands of positive reviews, you can't go wrong with this iconic model from a trustworthy manufacturer.
TAP ON IMAGE TO VIEW PRICE
2. Hamilton Beach Slow Cooker With Touch-pad and Flexible Easy Programming Options, 7 Quart (7.9 Litres)
This programmable slow cooker features a touch-pad for maximum convenience, and programmable meals eliminate the need for watching or stirring. 
Of course, I don't even have to mention the removable dishwasher-safe parts – instead, I'd like to point out that the device has a unique wraparound element to ensure even heating.
When the cooking is over, the slow cooker automatically defaults to Keep Warm, so you can truly set it and forget it. Magic! Compare to the other one above, this one has extras programming options, and it is a slightly larger in size also. It is a perfect size for a family of 6-7 people as it can easily cook a 5 lb. roast or 7 lb. chicken.
It is a really popular slow cooker and has so many positive reviews, so this would be my top choice for a large family slow cooker, and it's only slightly more expensive than the simpler model above.
TAP ON IMAGE TO VIEW PRICE
The Smallest Slow Cooker
Sometimes, when you say you don't have any bench space, you mean it – and fortunately, there are mini slow cookers available that can easily fit into any space.
Currently, the smallest appliances available are around 1 L capacity, which means such a slow cooker takes up about as much room as a kettle and is capable of preparing 1 meal at a time. 
Not all manufacturers offer tiny slow cookers as it's quite a niche. However, there is still enough variety to pick from.
But keep in mind, these cookers are really tiny. So if you really do need a super small cooker, then these are great options for you but as these certainly, have their place.
But if you are looking for a good low energy consumption slow cooker for one 1-2 people, I suggest that you would pick one from the list of small slow cookers on top of the article.
Top 2 Best Mini Slow Cookers
1. Liven Electric Hot Pot HG-X1000BL With 304 With Healthy Inner Pot
This tiny slow cooker is perfect for small jobs – and best of all, won't take much more bench space than an average kettle, perfect for those sharing kitchen spaces.
Some of the tasks it's great for include cooking noodles, boiling water, and making perfect eggs. It's also a great travel pot, provided you will have electricity at your destination. Just amazing!
TAP ON IMAGE TO VIEW PRICE
TRU Tru Stainless Steel Mini Crock 0.65 Quart (0.73 L)
This crock-pot is the smallest there is. I have seen it, it is actually smaller than it looks in the picture. It comes with stainless steel housing, a convenient plastic lid, and a removable stoneware insert for easy cleaning, this mini crock looks like an adorable tiny copy of some of the more advanced models.
This affordable device is perfect for traveling, or for students pressed in time and sharing accommodation and kitchen space with others. In addition, you can often get this little guy in bundle deals with bigger slow cookers, populating your kitchen with a click of a button.
Magic! Unfortunately, the lid isn't see-through, which isn't likely to be much of an issue given the really small batches of food.
TAP ON IMAGE TO VIEW PRICE
The Biggest Slow Cookers
There is a fine line between buying an extra-large slow cooker for home use and "going industrial," but generally, no household would need an appliance bigger than 10 liters.
This capacity will get you over 10 meals at a time, so it may not be viable unless you have a very large family or a giant freezer to store the leftovers.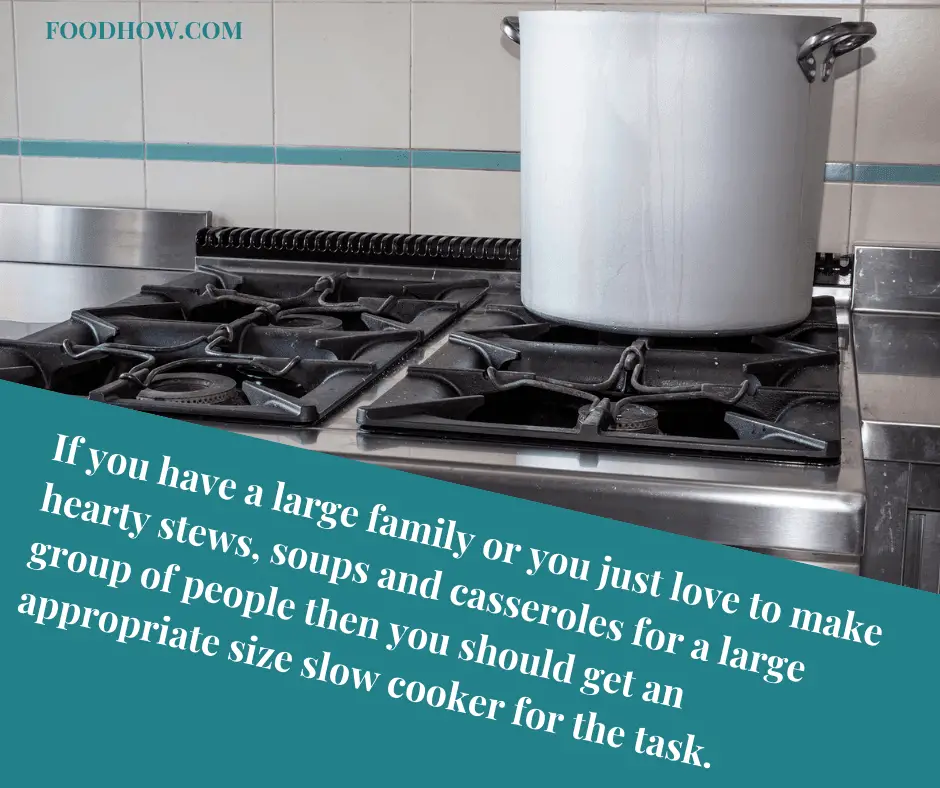 Unless you are cooking on an industrial scale, there is no need to get the largest slow cooker possible. For a family of 6-8 people, a 7-10-quart size slow-cooker is sufficient.
So if you do need a really big meal-maker to feed a large number of people, make a big roast, cook a large chicken, or even a whole turkey, then check out these massive slow cookers below.
Slow Cooker For A Whole Chicken
There are many fabulous whole chicken slow cooker recipes online, and if that's something you fancy making, it's important to purchase a large enough appliance.
I suggest at least 6 L capacity to fit a whole chicken of any size comfortably – and there might even be room for potatoes.
Pick any of the slow cookers above that fit those requirements and enjoy your whole chicken wonder. Yum!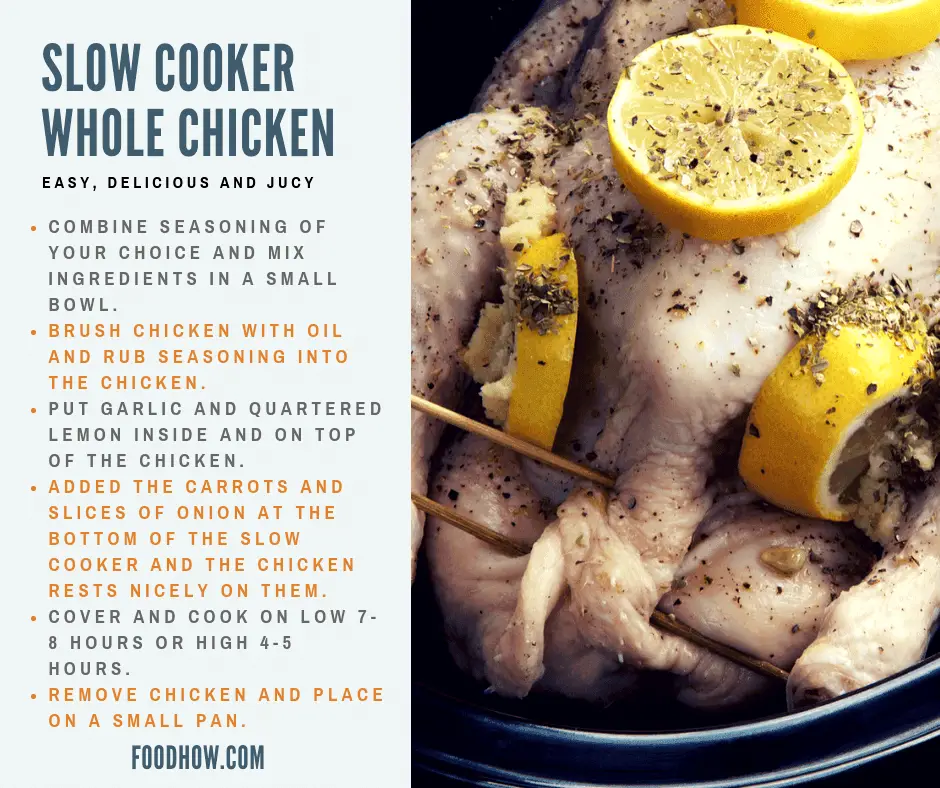 Cooking a whole chicken in a slow cooker is really easy, and it will give you delicious, juicy, and tender chicken.
Hamilton Beach 33195 Extra-Large Slow Cooker, 10 Quart (11.3 L) Capacity
This large 10 Quart cooker will easily fit a small turkey or any generous roast, including a whole chicken.
There are 3 temperature settings, including Keep Warm, ensuring easy cooking in various situations. 
With a clip-tight sealed lid and full-grip handles, the appliance can be carried around easily and safely.
The dishwasher-safe elements ensure easy cleaning – so get this gadget and make the next roast meal a no-brainer.
TAP ON IMAGE TO VIEW PRICE
Cuisinart MSC-800 Cook Central 4-in-1 Multi-Cooker, 7 Quart (7.9 Litres)
Slightly smaller than the one above, this 4-in-1 Multi-Cooker is designed to cook, simmer and warm at 250-450 degrees for up to 24 hours, depending on the setting. The one-touch interface lets you switch modes where combination cooking is required.
As a bonus, this well-rounded model also includes a reversible roasting/steaming rack, increasing the variety of dishes you can make in this wonder cooker.
TAP ON IMAGE TO VIEW PRICE
Slow Cooker For A Whole Turkey
Here is how to cook a juicy turkey. Many cooks agree that slow-cooked whole turkey is one of the most succulent meals ever created.
However, turkey is a large bird – so you will need a reasonably large slow cooker to make such meals comfortably.
I suggest going with a minimum of 7 L and above to fit the bird comfortably, and the oval shape is probably the easiest pick to accommodate a whole turkey.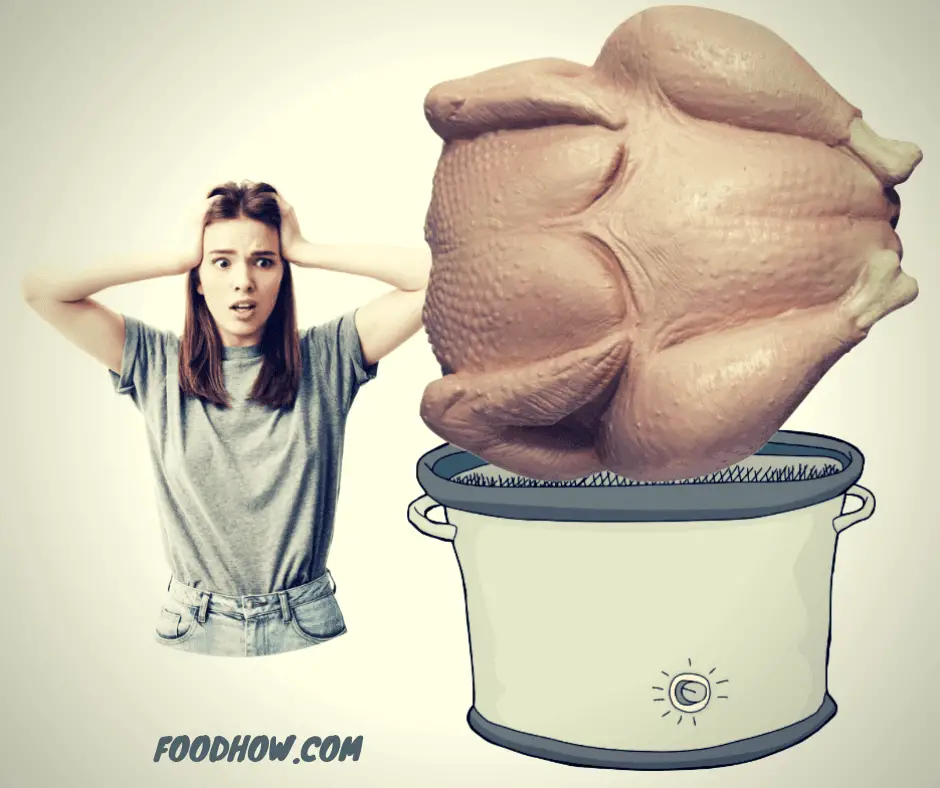 To cook a smaller size, 10-pound turkey, that will feed about 6-8 people, you need a slow cooker in a minimum size of 7 quarts. It is important to get an oval shape pot to fit the turkey comfortably.
Below are a few great options to choose from, specifically made for cooking a turkey, whatever the size.
Massive Oster Turkey Roaster Oven – 22 Quart
Fitting an entire turkey in a slow cooker seems like an impossible task – at least before you encounter this wonder kitchen helper!
This cooker effortlessly accommodates turkeys up to 26 pounds, and there's always some room for gravy and veggies.
Not just a slow cooker, but also an electric roaster, this gadget bakes, slow cooks, roasts and serves, with many parts removable for easy cleanup. Bench space permitting, get this model – and you won't look back. Considering the size of it it is not even that expensive.
TAP ON IMAGE TO VIEW PRICE
Rival Roaster Oven, 18-Quart, White
Another versatile roaster pot for a whole turkey, this appliance is designed to roast, bake, slow cook, and warm.
Pop a turkey of up to 22 pounds right in – and it will be the best one you've tried yet, as the cooker offers easy heat distribution for moist and tender results. With adjustable temperature settings and sleek removable accessories, you won't know how you lived through Thanksgiving and Christmas without it.
TAP ON IMAGE TO VIEW PRICE
Now, If you are still wondering whether it is actually possible to cook a turkey in a crock-pot or you have purchased the right size cooker for a turkey, and now you want to know how it has done exactly then below is a great video that would outline the process in detail. There are some other techniques/recipes to cook a turkey in a slow cooker, but this is one of my favorites.
A Bit More On Size…
In the US, slow cooker sizes are mostly measured in quarts, however, In the UK, they are measured in liters. The terms "quarts" and ""liters when comparing crock pots and slow cooker sizes are almost identical, so these are very similar in size indeed.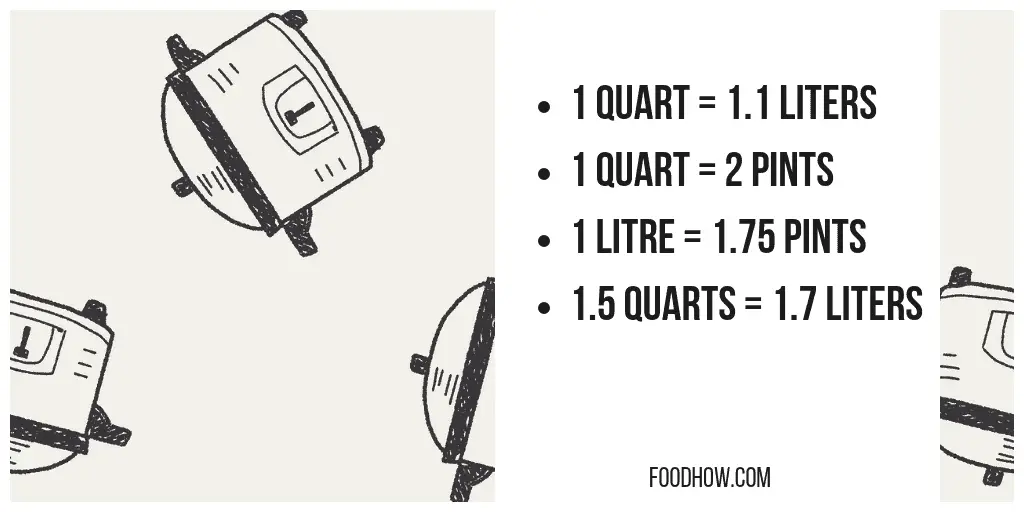 I've suggested above that 1.5 quarts ( 1.7 liters) to 3 quarts (3.4 liters) is a great size for a single-person slow cooker overall – however, there are a few additional considerations that may help shape your decision.
For instance, if you have a spacious freezer, you may want to consider purchasing a bigger appliance to help you with meal prep.
A single batch of slow-cooked meals can last a single person a good few days, stored in the freezer in quality containers. However, this is not the best option if you're sharing the freezer space with other people – trust me, even if they're not using it much at the moment, the second you fill it with your delicious meal prep, they will suddenly need all that space.
So, choose wisely and keep the household peaceful!
Conclusion
Like many other things in life, picking a slow cooker isn't going to be the same process for everyone.
Whether you have lots of room in the kitchen, live in a tiny house, only cook for yourself, or need to feed a family of 6 every day – there is a slow cooker for your needs out there, and I sincerely hope the guide above helps you find it.
Have a look at the models linked above, do your own research, and don't be shy to ask plenty of questions in the comments below before the purchase.
I hope you found this material helpful and would love to hear from you and help you make the best choice. Determine your budget and the size you need– and off you go, picking the most amazing slow cooker!