Enoki mushrooms (Flammulina filiformis or enokitake) have a slightly sweet, earthy flavor with a delightful crunch and can be used in a variety of dishes. They are highly nutritious and popular in Japanese cuisine, where they are often used in ramen, stir fry, pho, or hot pot dishes.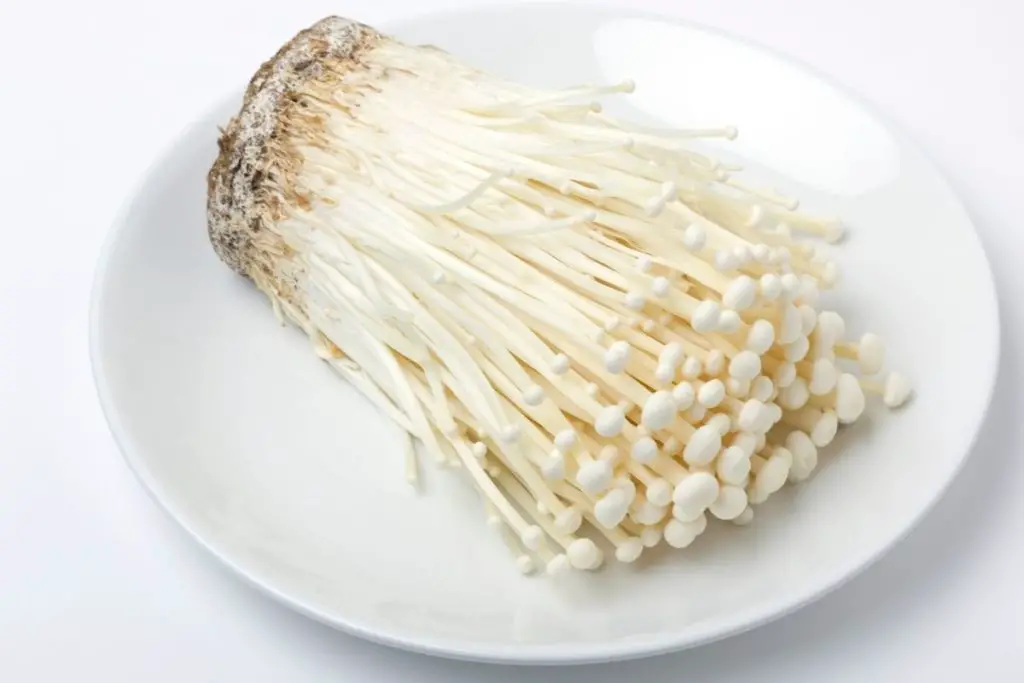 Whether you add them as a topping or as part of the broth, these little guys are sure to add some delicious flavor and an inviting appearance to your bowl of ramen. So whether you're looking for an interesting new way to enjoy your favorite noodle dish or just want to experiment a little, enoki mushrooms are definitely a great option.
So, here is how to cook enoki mushrooms for ramen, along with a beef ramen noodle enoki mushroom recipe.
Best Method How To Cook Enoki Mushrooms For Ramen
Cooking enoki mushrooms for ramen is a fast and easy process that you can complete within minutes using the following steps.
Remove enoki mushrooms from their packaging and place them on a cutting board.
Use a sharp knife to cut the base (root end) of mushrooms (about one inch). The base contains roots that have a bitter taste, and you should remove them to enjoy the true flavor of these mushrooms.
Rinse the mushrooms gently using cold water and pat them dry.
Separate mushrooms into 8 to 10 bundles. Look for additional roots or discolored parts while separating and discard them if you find any.
Add 1 tablespoon of coconut or sesame oil to a wok pan or skillet.
Heat the oil on the stove for about 30 seconds on medium heat settings.  
Add mushroom bundles to the skillet and saute them for about 60 seconds.
Select the low heat setting and add 1 tablespoon of soy sauce and the same amount of teriyaki sauce.
Cook the mixture for 30-40 seconds and remove it from the stove.
Your enoki mushrooms are now ready, and you can add them directly to your hot ramen soup. You can garnish them with chives and sesame seeds.
Just Blanch Them
If you don't want to add any flavor to your enoki mushrooms before adding them to ramen, consider boiling them. Just add mushrooms to a pot of boiling water and blanch them for about 60 seconds before adding them to your bowl of ramen. 
Beef Ramen Noodle Soup With Enoki Mushrooms
Course: Main
Cuisine: Japanese
Difficulty: Easy
This classic protein-packed beef ramen with enoki mushrooms is an incredibly delicious noodle dish from Japan, and it's made with meat-based broth and wheat noodles. The cook time of the recipe below is just 20 minutes, and it makes a delicious and filling meal.
Ingredients
Enoki mushrooms: 60 to 80 grams

Dried ramen noodles of your choice: 200 grams

Thick rump steak cut: 250 grams

Chinese broccoli: a small bunch (about 6 stems with leaves)

Olive oil: 4 teaspoons

Garlic cloves: 3

Green onions: 3

Ginger: 1-inch piece

Concentrated beef stock: 30 grams pack

Soy sauce: 3 tablespoons

Hoisin sauce: 7 tablespoons
Parsley leaves: for garnish
Directions
Rinse the fresh produce with cold water and dry it with a paper towel.
Separate the stems and leaves of Chinese broccoli.
Roughly chop the leaves to convert them into large bite-sized pieces, and finely chop the stems into small pieces.
Peel ginger and garlic and mince them properly using a grater.
Separate the green tops and white bottoms of green onions and thinly slice them.
Use a paper towel to pat dry the rump steak and season it on both sides using salt and pepper.
Add two teaspoons of olive oil to a pan and heat it on medium heat.
Once the oil becomes hot, place your seasoned steak in the pan and cook it for about 4 to 5 minutes on each side. Season with salt and pepper. You can cook the stake more or less according to your liking.
Transfer the cooked steak to a plate and set it aside.
Add the remaining olive oil to a pot on medium heat.
Add white parts of green onions and minced garlic, and ginger to the pot.
Saute the green onions, minced garlic, and ginger for about 2 minutes until it's slightly softened and fragrant.
Add Chinese broccoli to the pot and add some salt and pepper.
Cook the mixture again for about a minute until the broccoli is wilted and softened. Keep stirring the mixture gently the whole time.
Now, increase the stove temperature to high and add 4 cups of water, soy sauce, and concentrated beef stock to the pot.
Bring the entire mixture to a boil and then reduce the stove temperature to medium-low.
Leave the soup for 3 to 5 minutes to let it develop flavors.
Start slicing the steak on a cutting board while the soup is developing flavors. Make sure that you cut the meat against the grain.
Coat the sliced steak with hoisin sauce in a small bowl and transfer all the steak juices from the cutting board to the soup.
Place the ramen noodles in the simmering soup and let it cook until the noodles are tender. It'll take about 3 to 5 minutes. Keep frequently stirring while adding noodles to prevent sticking.
Saute enoki mushrooms with soy sauce, as described above.
Now, remove the soup from the heat and serve it in a large bowl.
Place enoki mushrooms and coated steak slices on top of the ramen noodles.
Garnish the dish using the parsley and green parts of onions and serve immediately.
Notes
Top Tip: Cooking the noodles in a separate pot of water before adding them to your ramen stock bowl helps remove extra starch and makes the noodles and broth less gummy.
Feel free to swap the beef for tofu, chicken, or prawns.
Add a cut-in-half boiled egg or poached egg to your bowl of ramen to add more protein and flavor to make it a more filling meal.
Health Benefits Of Eating Enoki Mushrooms
Enoki mushrooms, also called golden needle mushrooms, are loaded with minerals and vitamins and offer a range of health benefits. They are a good source of vitamins B1, B2, B3, and B5 and also contain copper, iron, and phosphorus. 
Other than these nutrients, these mushrooms also offer lysine, leucine, isoleucine, threonine, and tryptophan amino acids. 
The dietary fiber in enoki can help you regulate your digestion, maintain bowel health, and decrease cholesterol levels. You can eat both cooked and raw enoki to increase your intake of all these healthy nutrients.
Due to its high mineral and vitamin content, enoki mushrooms are also commonly used in traditional Japanese and Chinese medicine. They're used to alleviate stomach problems and various other ailments.
FAQs
Do Enoki Mushrooms Need To Be Boiled For Ramen?
It's not necessary to boil enoki mushrooms to use in ramen. You can saute them quickly in a skillet with soy sauce and coconut or sesame oil before adding them to the ramen. Better yet, they can also be eaten raw if you like the more crunchy texture and earthly flavor.
How To Store Fresh Enoki Mushrooms?
The best way to store fresh enoki mushrooms is to remove them from any plastic packaging, wrap them in a paper towel or a paper bag, and then place them in a fridge. The mushrooms will stay fresh for up to five days.
What Does Enoki Mushroom Taste Like?
Enoki mushrooms are delicate, white mushrooms with long, thin stems and small, delicate caps. When uncooked, they have a mildly sweet, slightly nutty flavor and crunchy texture.
Read Also: How To Prepare Mushrooms For Pizza? (Best And Worst Onse To Use).
In Summary
Adding enoki mushrooms to ramen soups and stir fry recipes is one of the best ways to enjoy these nutritious, tightly packed, long stems and delicate fungi. Not only does it offer a unique taste but is very filling and nutritious.