Jump To Recipe
Looking for an easy lentil bread recipe that's not only high in protein and fiber but also completely free from flour and grains? You're in the right place! Discover the delicious and healthy way to satisfy those bread cravings—entirely gluten-free. Get ready to redefine what you know about baking with these lentil bread rolls!
The Taste and Texture of Lentil Bread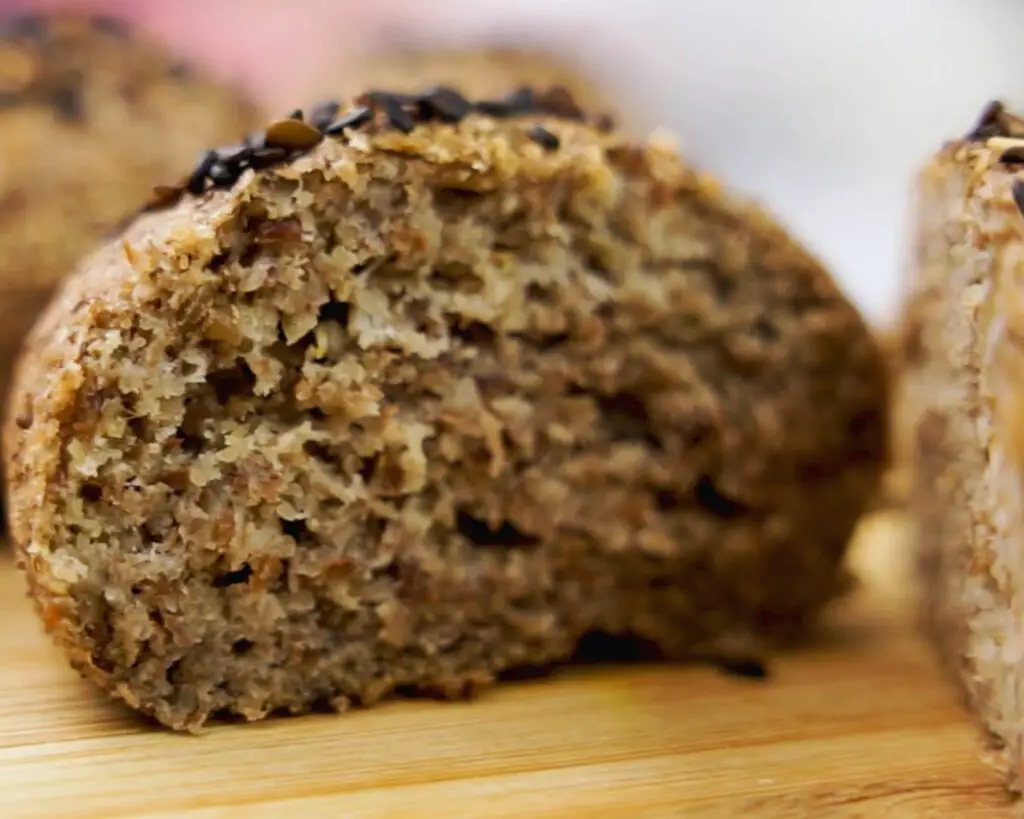 When it comes to lentil bread, think hearty and rich, with a nutty flavor that sets it apart from your typical wheat-based bread. Its texture is slightly dense but satisfyingly moist, especially when freshly baked.
You might notice that I am skipping the yeast in this recipe. While yeast can give bread a more traditional rise and a softer crumb, our lentil bread doesn't need it. The absence of yeast allows the natural flavors to shine through, while the added baking powder gives it just the right amount of lift.
This Lentil Bread Fits Almost Every Diet!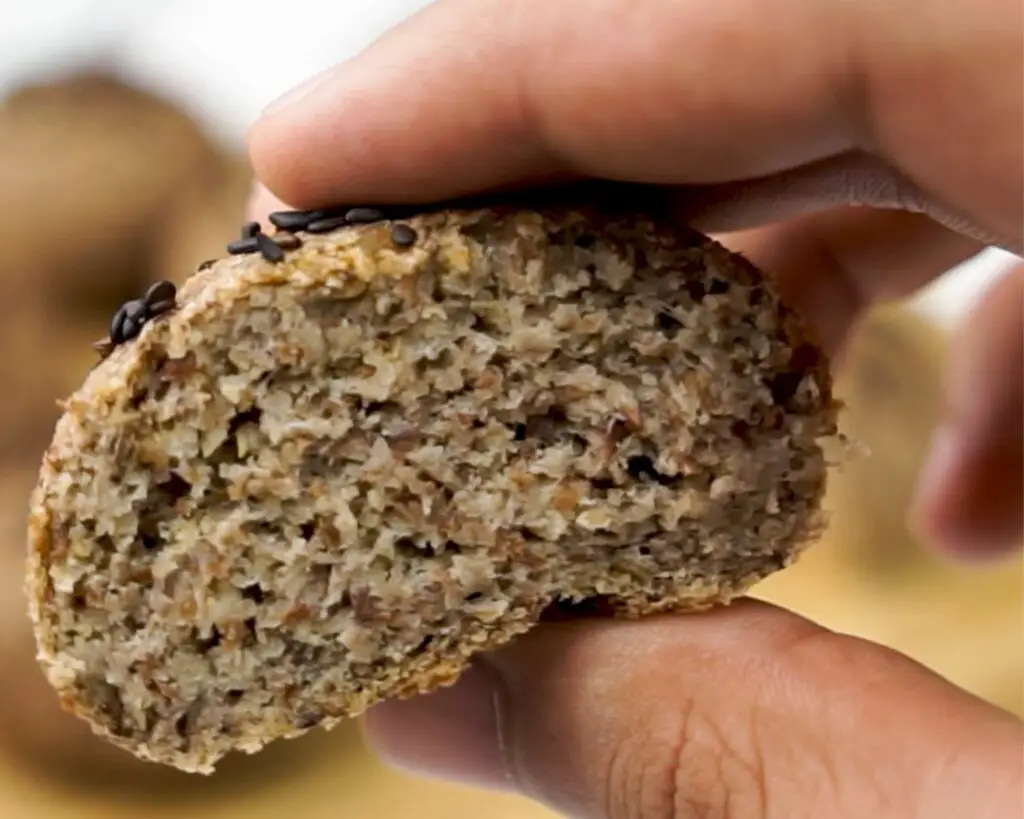 One of the incredible advantages of this lentil bread is its versatility in fitting into a variety of dietary plans. Let's break it down:
Gluten-Free: Since the bread is made from lentils and contains no wheat, barley, or rye, it is a great option for those with celiac disease or a sensitivity to gluten.
Vegan: This recipe doesn't use any animal products, making it completely plant-based and suitable for vegans. However, always double-check the labels of items like baking powder to make sure they comply with vegan standards.
Paleo: While lentils aren't strictly Paleo, some individuals on this diet do choose to incorporate legumes. If you're a "liberal Paleo" follower, this bread could fit into your meal plan. For a strict Paleo diet, however, this bread wouldn't be suitable.
High-Protein and High-Fiber: For those focusing on a high-protein and high-fiber diet, this bread checks both boxes, thanks to the lentils and psyllium husk.
Low-Glycemic Index: Lentils have a low glycemic index, which means they provide slow-burning energy. This could be a good option for those watching their blood sugar levels.
Nut-Free: Unlike many gluten-free breads that rely on almond or coconut flour, this lentil bread is nut-free, making it suitable for those with nut allergies.
Soy-Free: No tofu or soy-based ingredients are required, making this a good option for those avoiding soy.
Corn-Free: As we're not using cornmeal or cornstarch, this recipe is also corn-free.
What You'll Need To Make This Lentil Bread:
140g lentils (That's your protein powerhouse!)
Water for soaking (Just enough to cover the lentils)
7 tablespoons (100 ml) water (For blending)
2 tablespoons (30ml) olive oil (For that smooth texture)
A pinch of salt (Season to your liking)
6 heaped tablespoons (about 30 grams) of psyllium husk (For the fiber kick)
1 teaspoon ground coriander (A little spice never hurt)
1 teaspoon (about 5 grams) baking powder (To give it that lift)
Vegetable oil for greasing (Your hands will thank you)
A sprinkle of black sesame seeds (For that Instagram-worthy finish)
Step-by-Step Instructions:
Step 1: Soak the Lentils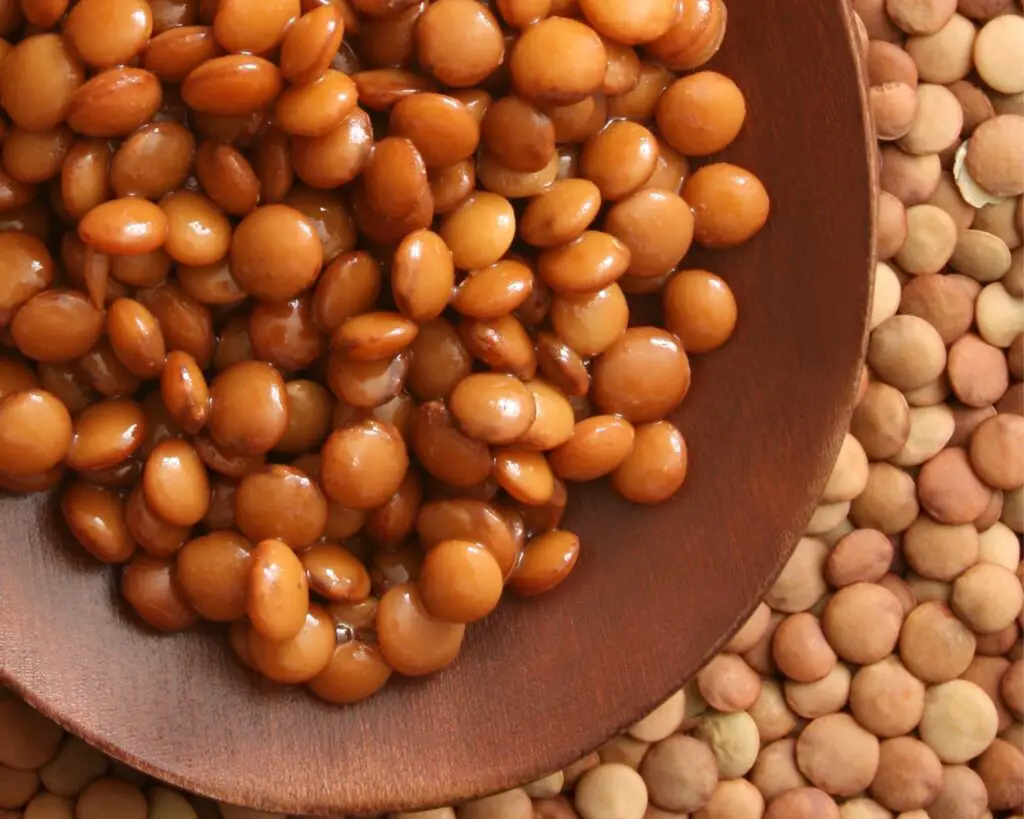 Begin by soaking your lentils in water overnight. This softens the lentils, making them easier to blend and speeding up your prep time.
Step 2: Blend the Lentils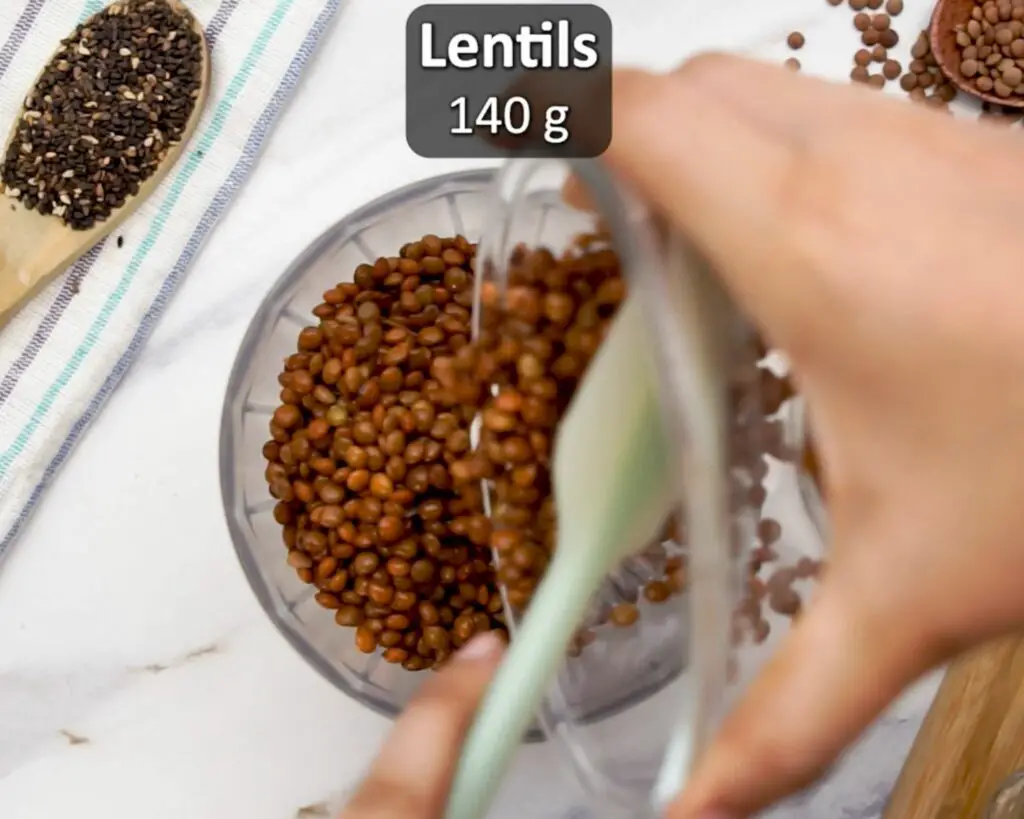 After draining the soaked lentils, put them into your food processor. Add 7 tablespoons of water and 2 tablespoons of olive oil. Blend until you achieve a creamy, smooth paste. If the blend is too thick, simply add a bit more water.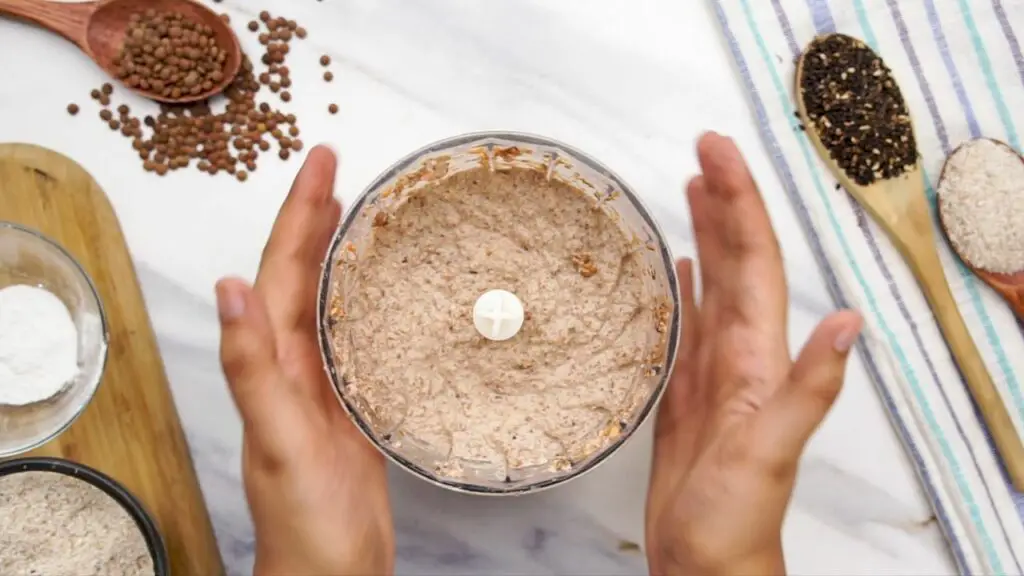 Step 3: Add Dry Ingredients
Empty the lentil paste into a large mixing bowl.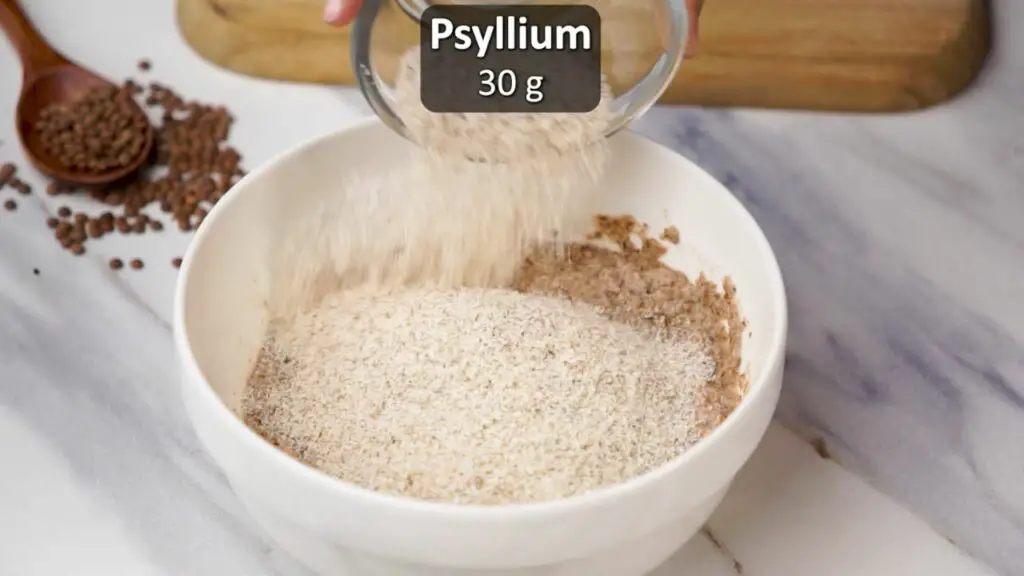 Now, sprinkle in a pinch of salt, your psyllium husk, and the ground coriander. Psyllium husk acts as a magical binding agent and is a wonderful source of soluble fiber.
Step 4: Mix in Baking Powder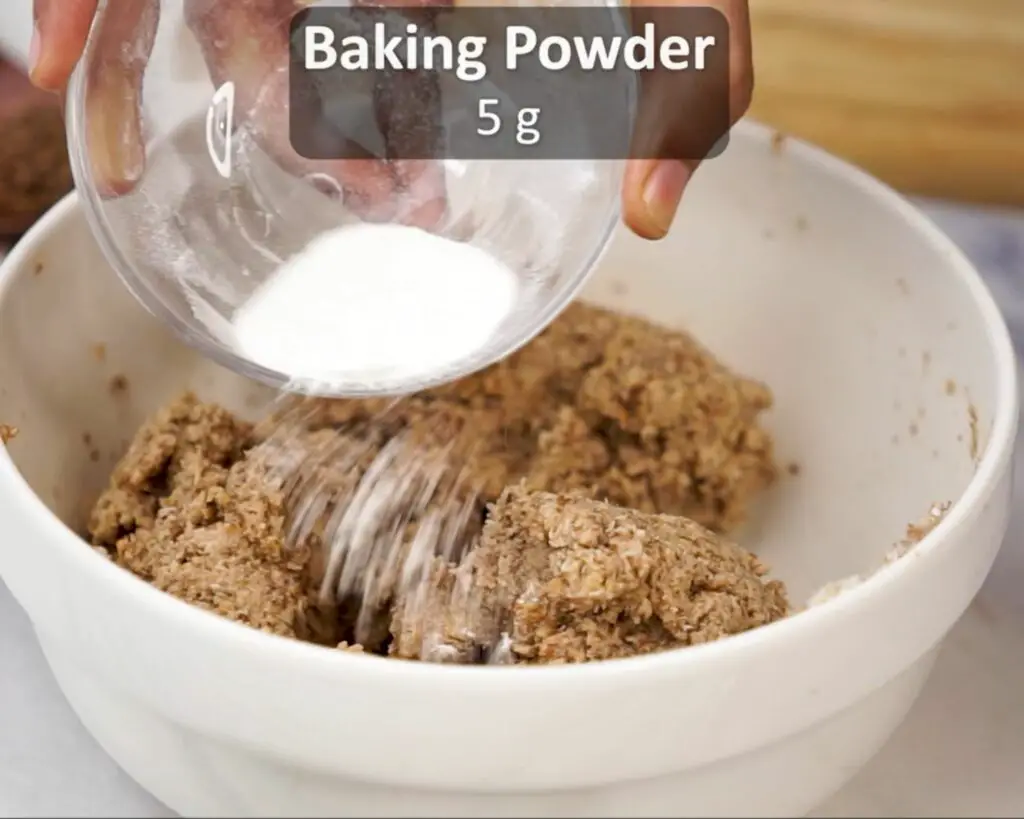 Fold in a teaspoon of baking powder. This is your leavening agent, giving your bread rolls their fluffy, airy texture.
Step 5: Preheat the Oven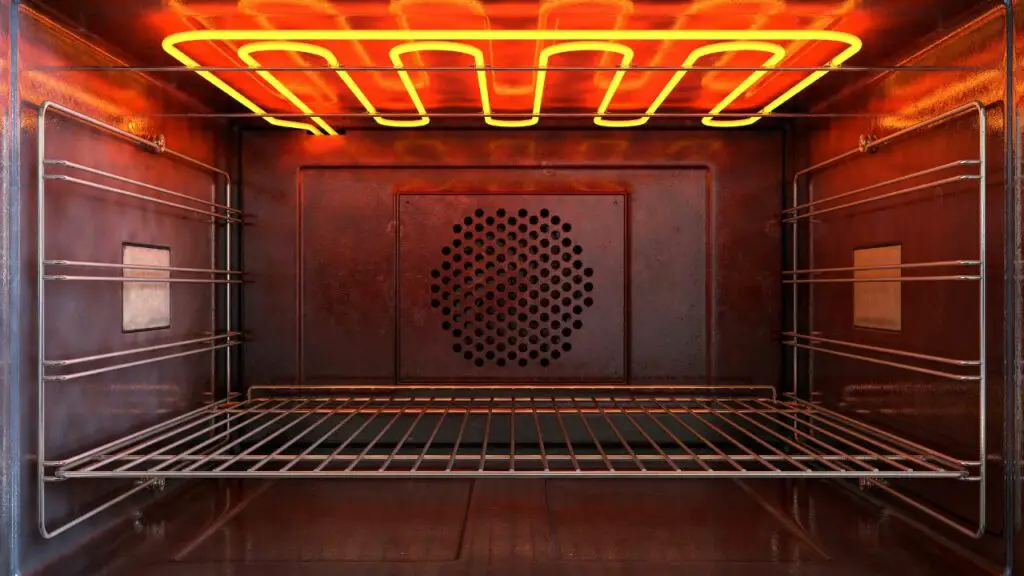 Preheat your oven to 356°F (180°C). Preheating is essential to ensure your rolls bake consistently from the outset.
Step 6: Shape the Rolls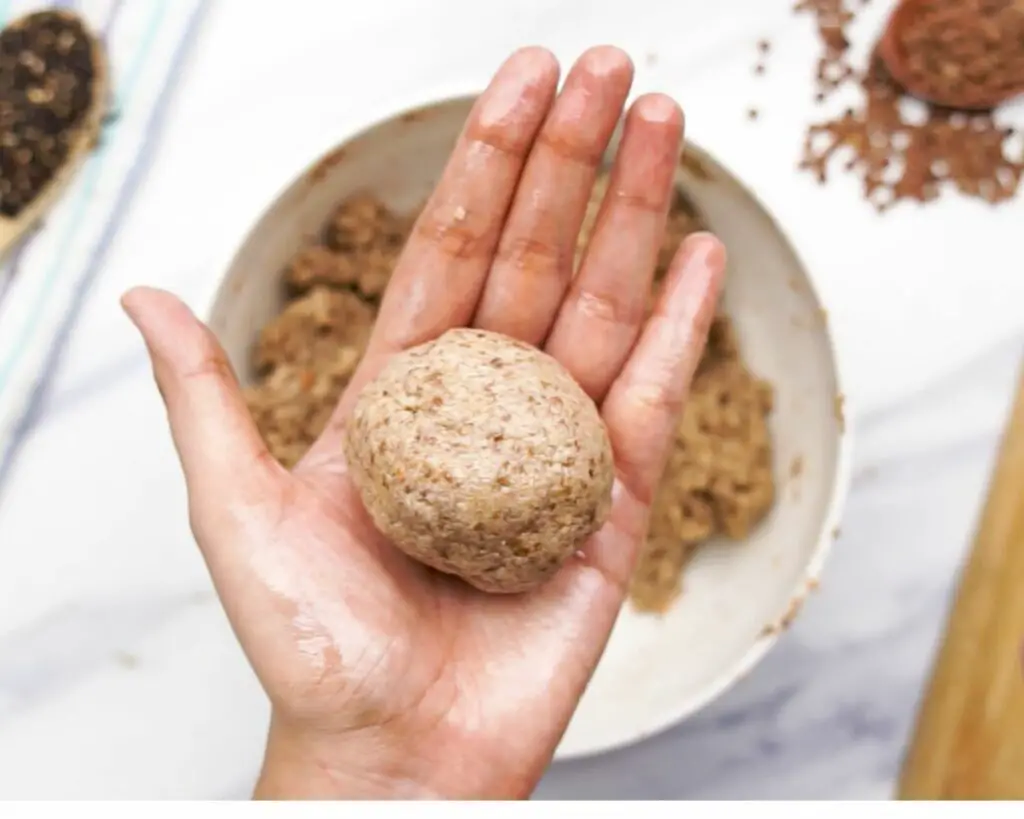 To prevent a sticky situation, grease your hands with some vegetable oil. Now, form the dough into equal-sized rolls with ease and precision.
Step 7: Add Sesame Seeds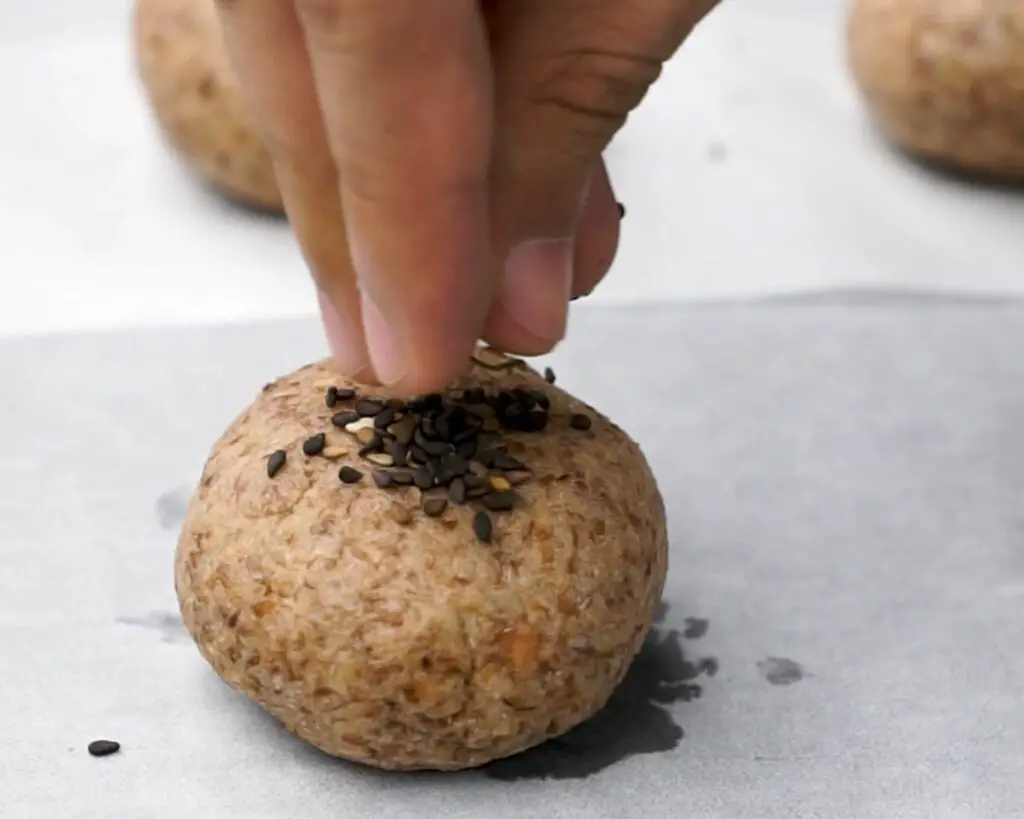 Place the rolls onto a parchment paper-covered baking sheet. Add a sprinkle of black sesame seeds for that extra crunch and visual flair.
TAP ON IMAGE TO VIEW PRICE
Step 8: Bake the Rolls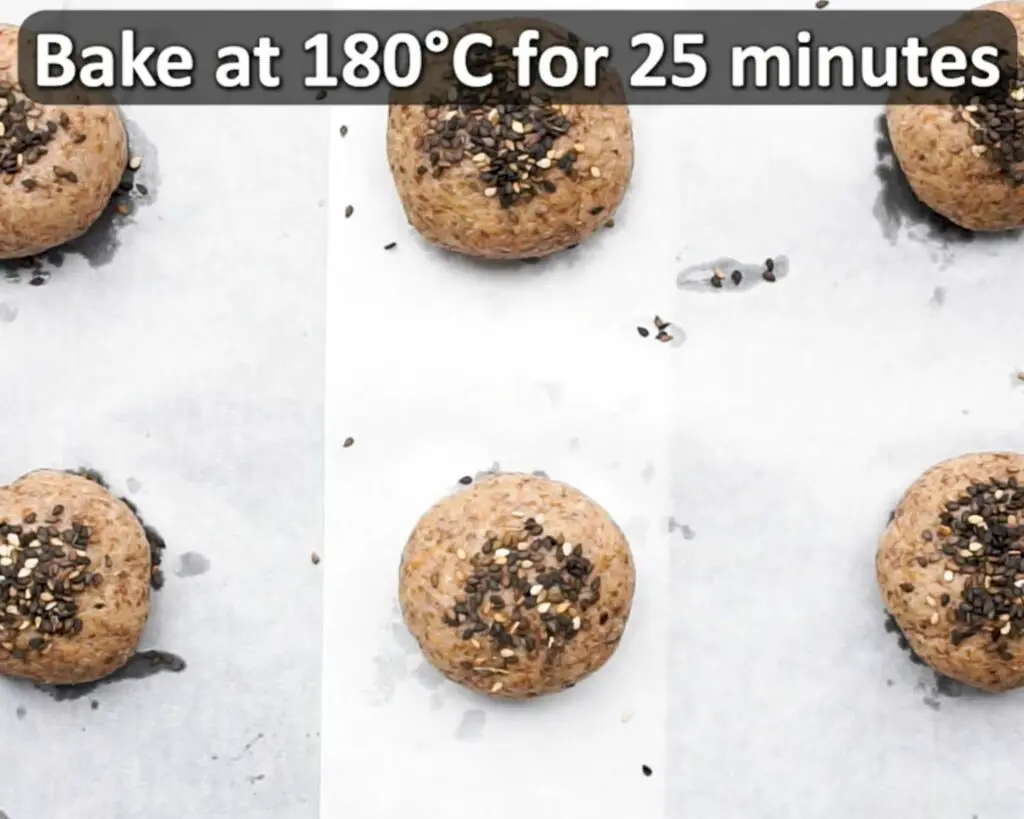 Pop them into your preheated oven for 25 minutes. Once they're golden brown, you know they're done!
Step 9: Cool and Enjoy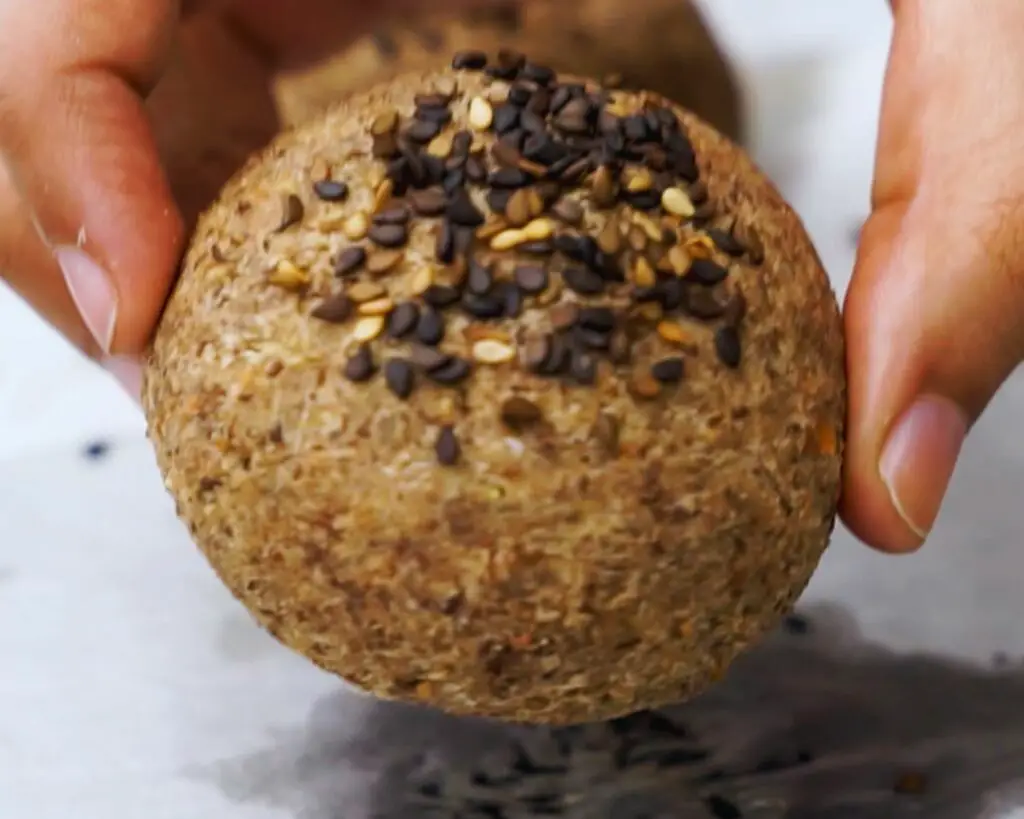 After removing the rolls from the oven, let them cool for a few minutes to firm up the insides and make them easier to handle.
And voila! You've got yourself some lentil bread rolls that are not only crispy on the outside but also wonderfully moist on the inside.
Variations: Personalize Your Lentil Bread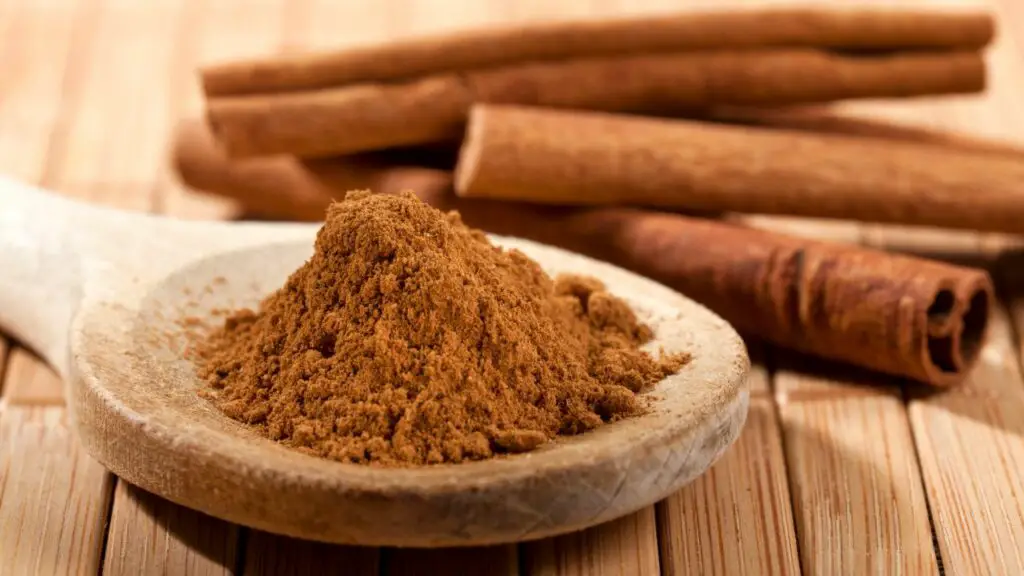 This lentil bread recipe is incredibly adaptable to fit your flavor preferences or dietary needs. Whether you're craving crunch, spice, or an herbal note, feel free to add in chia seeds, flaxseeds, or sunflower seeds, a dash of red pepper flakes, or a sprinkle of rosemary.
You can even steer it sweet with cinnamon and raisins, but leave the coriander out then, or go Mediterranean with olives and sundried tomatoes.
For those not on a vegan diet, a sprinkle of cheese could be a delicious addition. The point is, you're the artist in this kitchen canvas, so go ahead and make this lentil bread uniquely yours!
Types of Lentils: Flavor and Texture Variations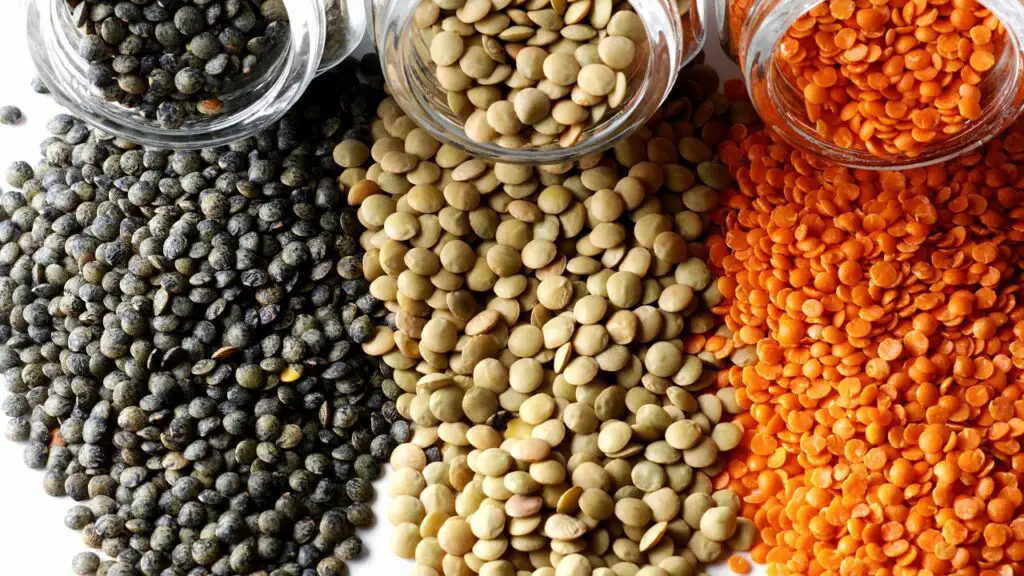 In the world of lentils, variety is the spice of life! Because you'll be blending the lentils for this bread recipe, you don't have to worry too much about whether they hold their shape. Instead, focus on how different types might influence the bread's flavor and texture:
Brown Lentils: These are a good baseline option with their mild, earthy flavor. Great for when you're aiming for a loaf that's more on the neutral side.
Green Lentils: Like brown lentils, but looking to spice things up? Green lentils add a peppery twist to the bread, and they might require a bit more soaking time to soften up.
Red Lentils: If you're all about that creamy, softer texture, red lentils break down easily and blend smoothly, even giving your bread a lovely orange hue.
Black Beluga Lentils: These lend a deeper, earthier taste to the bread, but keep in mind they're often more expensive and might take a little longer to find at the store.
Puy Lentils: If you enjoy a nutty flavor and don't mind spending a bit more, these French lentils add a certain je ne sais quoi to your bread.
Feel free to mix and match to cater to your palate and dietary preferences. Each type will uniquely impact your bread's color, texture, and flavor, making every loaf a new adventure!
What About Canned Lentils?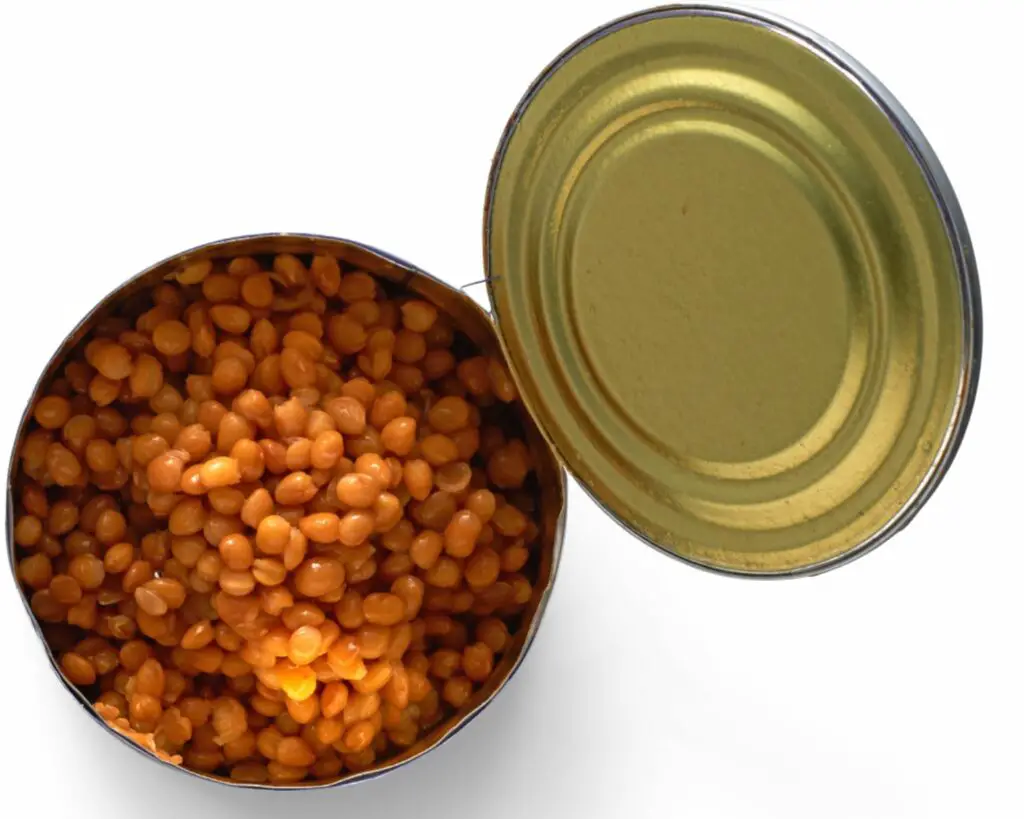 In my baking cooking adventures, I've found that using dried lentils soaked overnight really elevates the texture and flavor of the bread. The soaking process seems to make the lentils more absorbent, which works wonders for the overall consistency.
That said, life gets busy, and I've had to resort to canned lentils a couple of times. If you're in a pinch, they'll do the trick! Just make sure to drain and give them a good rinse to remove any excess sodium or preservatives before blending them into your bread mixture.
What About Lentil Flour?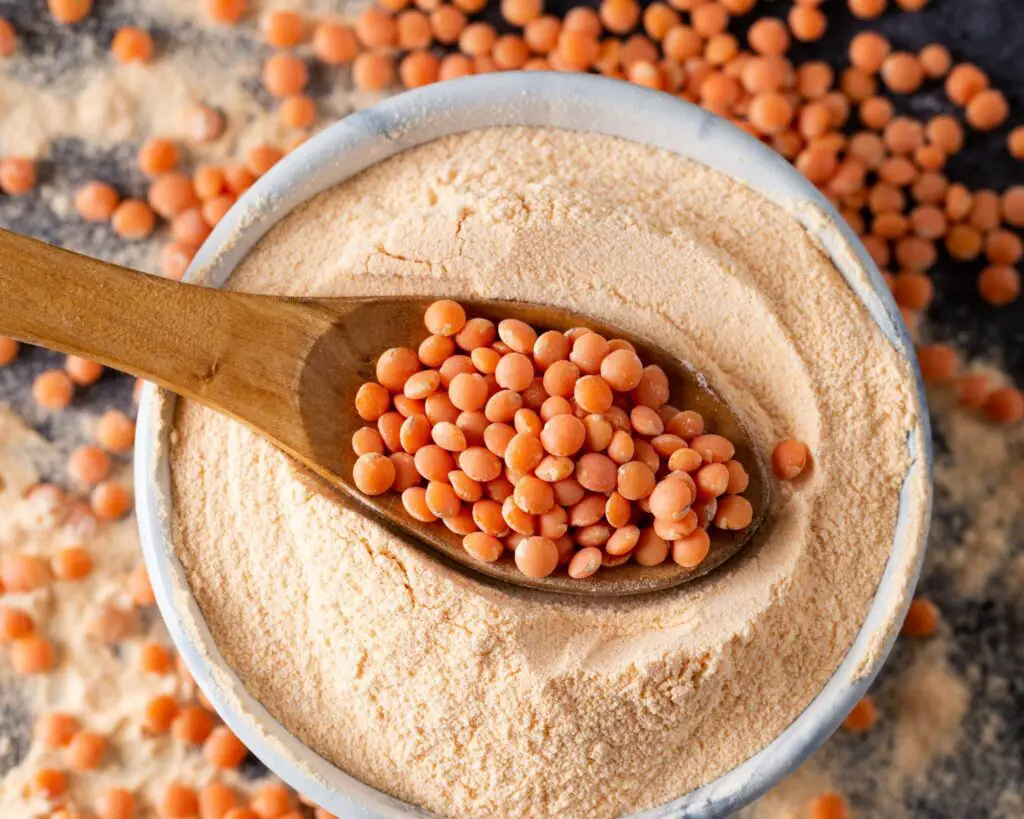 Technically, you could use lentil flour in this recipe, though I haven't personally tried it. If you go this route, you might need to adjust other ingredients to achieve the right texture.
TAP ON IMAGE TO VIEW PRICE
Keep in mind, that lentil flour can be pricey and isn't as readily available in most supermarkets as whole lentils, which are generally more affordable and easier to find.
Don't Have Psyllium Husk?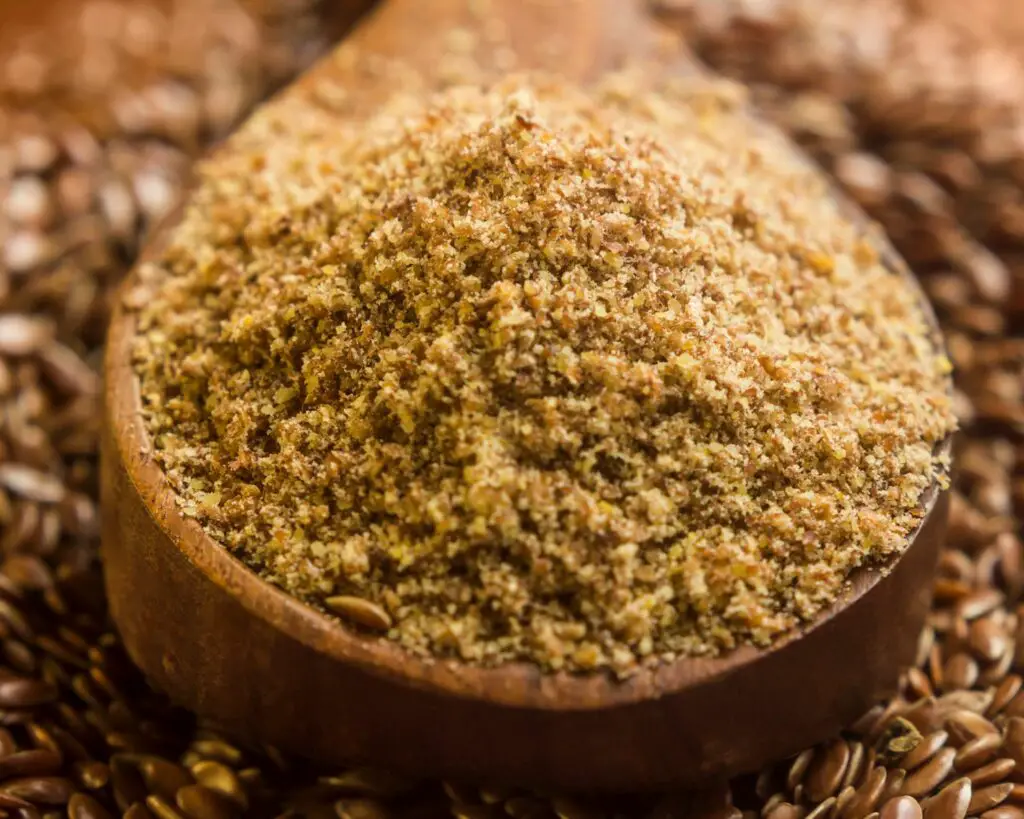 If you don't have psyllium husk, you could use ground flaxseeds or chia seeds as a substitute. Both flaxseeds and chia seeds offer a decent amount of fiber and will help bind the dough, but keep in mind that they might not provide the exact same texture as psyllium husk.
And if you were thinking of making this bread with just lentils—well, it's likely going to fall apart or be too mushy. The psyllium husk really plays a key role in getting that bread-like consistency we're aiming for. So it's best not to skip it or its alternatives!
TAP ON IMAGE TO VIEW PRICE
Lentil Bread Shelf Life and Storage
To keep your lentil bread fresh, store it in a sealed container at room temperature for up to two days or refrigerate it for up to a week.
For longer storage, this bread is freezer-friendly: just slice it, separate slices with parchment paper, and freeze in an airtight bag. To enjoy later, defrost in the fridge or toast straight from the freezer. Simple as that!
Check Out Also: 2-Ingredient Flaxseed Bread Recipe (Low-Carb & Gluten-Free).
Healthy Lentil Bread Recipes
Course: Sides
Cuisine: American
Difficulty: Easy
Lentils have been feeding us for millennia, a staple that even my grandma loved to use in various dishes. So, if you're intrigued by a bread that's not just gluten-free and grain-free, but also rich in protein and fiber, you're in the right place. Trust me, this healthy lentil bread recipe might be a modern twist, but it taps into an age-old tradition of nourishing, versatile baking.
Ingredients
140g lentils

Water for soaking lentils

7 tablespoons (100 ml) of water for the recipe

2 tablespoons (30ml) olive oil

Salt to taste

6 heaped tablespoons (approx. 30 grams) psyllium husk

1 teaspoon ground coriander

1 teaspoon (approx. 5 grams) baking powder

Vegetable oil for greasing hands

A sprinkle of black sesame seeds for garnish
Directions
Place 140g of lentils in a bowl, cover with water, and let them soak overnight.
Drain the soaked lentils and transfer them to a food processor. Add 7 tablespoons (100 ml) of water and 2 tablespoons of olive oil. Blend until smooth, adding more water if needed.
Transfer the lentil blend to a mixing bowl. Add 1/2 teaspoon of salt, 6 heaped tablespoons of psyllium husk, and 1 teaspoon of ground coriander. Mix well.
Stir in 1 teaspoon of baking powder.
Preheat your oven to 356°F or 180°C.
Grease your hands with vegetable oil and shape the dough into equal-sized bread rolls.
Line a baking sheet with parchment paper and place the rolls on it.
Sprinkle black sesame seeds on top of each roll.
Bake for 25 minutes or until golden brown and crisp.
Allow to cool for a few minutes before serving.
Notes
Soaking Time: Don't skimp on the soaking time for lentils; this ensures they blend easily and the anti-nutrients are reduced. A minimum of 8 hours or overnight is recommended for optimal results.
Water-to-Lentil Ratio: Pay attention to the water-to-lentil ratio when blending. The mixture should be smooth but not watery. A thicker blend provides a better texture.
Spices and Seasoning: Feel free to get creative with spices. Ground coriander is just a suggestion; you can also try cumin, garlic powder, or even a dash of paprika.
Test for Doneness: Perform the classic toothpick test to ensure your bread is cooked through. If the toothpick comes out clean or with just a few crumbs, your bread is ready.
Uniform Rolls: Try to keep your bread rolls the same size. This ensures even cooking time and a consistent texture throughout.
In Summary
I hope you've found this guide to making gluten-free, high-protein, fiber-rich lentil bread both fun and helpful. It's a healthy and easy alternative to store-bought bread and a fantastic way to incorporate more plant-based protein and fiber into your diet.
Feel free to drop a comment if you have any questions or want to share your baking adventures.
Happy baking!
---
Related Article: Do You Really Need To Rinse Lentils Before Cooking?