This easy turkey meatloaf recipe tastes as good as the classic, old-fashioned meatloaf. Of course, the meatloaf must evolve to remain up-to-date with the current health and diet requirements and trends.
Well, here's a moist and tender low carb turkey meatloaf recipe, and it's keto-friendly and gluten-free as well!
Jump To Recipe
This recipe makes the most out of almond flour and almond milk to avoid using dairy or plain flour. The rest is good-old herbs and aromatics to give flavor to the lean ground turkey.
Low-Carb Turkey Meatloaf With Almond Flour
Course: Lunch, Dinner
Cuisine: American
Difficulty: Medium
If you are a turkey meatloaf skeptic, this easy-to-make, low-carb recipe will change your mind. Not only is this version a perfect dinner dish, but it is also low carb and keto-friendly, dairy, and gluten-free. And, of course, it's also packed with protein and a lot of flavor.

In just under an hour, you can have a delicious meal that will satisfy any meatloaf craving. Serve it up with a side of veggies, cauliflower rice, and/or a green salad and some chilly sauce.

Protein per serving – 21g
Carbs per serving – 3g (1g without peas)
Fat per serving – 9g
Ingredients
1lb (500g) ground turkey

1/2 (55g) white onion, finely chopped or minced

1 (3g) garlic clove, crushed

2 medium eggs beaten

2-3 tbsp of green peas, frozen

1 cup (125g) almond flour

1 tbsp (3g) dried herbs (Italian, Provence, or thyme, rosemary, and basil)

1/2 cup (120ml) almond milk

1/2 tsp (3g) black pepper

1/2 tsp (3g) salt (more to taste)

Cooking oil spray

KITCHEN TOOLS

1 mixing bowl

8 x 4-inch (20 x 10cm or 6 cup capacity) loaf pan

Spoon for mixing

Meat thermometer
Directions
Preheat the oven to 350°F (176°C).
Spray the loaf pan with cooking oil and set aside.
Combine all the ingredients in a mixing bowl. Except for the frozen peas. You can use your fingers to mix it.
Mix until ingredients are well combined.
Now add frozen green peas and gently mix till peas are event distributed throughout the mixture.
Transfer turkey mixture to a loaf pan.
Bake for 40-45 minutes till golden brown on the top and the core temperature reaches 165°F (74°C).
Allow about 5 minutes to cool before carefully removing it from the loaf pan.
Slice and serve with a side of grilled veggies or cauliflower rice, and green salad.
Notes
Use almond meal instead of almond flour for grittier meatloaf.
To speed up the prep time and get a smooth mixture, use a food processor to mix all the ingredients. Except for green peas.
If you don't have a loaf pan or shape the mixture into a loaf on top of a baking sheet.
Meatloaves make good leftovers. Reheat it in the oven or microwave and make a sandwich.
If you follow a strict keto diet, leave out the green peas because a standard serving size might contain too many carbs and kick you out of ketosis.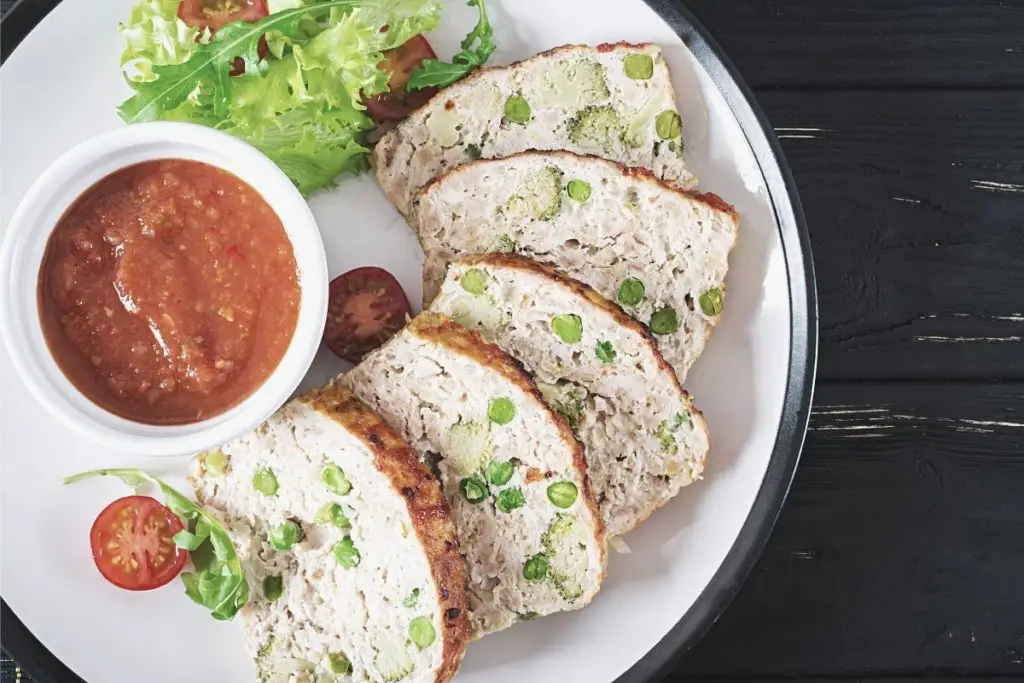 Can You Freeze Cooked Meatloaf With
Yes, you can. Bring the meatloaf to room temperature. Wrap it securely with cling film or saran wrap and place it in a freezer-safe container. Freeze up to one month. When ready to use, let it thaw in the fridge overnight and bake in the oven until cooked thoroughly.
How Long Will Turkey Meatloaf Last In The Fridge?
Properly stored turkey meatloaf will last for three to four days in the refrigerator. If you want to store it for longer, freeze it for up to one month.
Can Low Carb Turkey Meatloaf Be Eaten Cold?
Turkey meatloaf is a popular leftover dish that can be enjoyed hot or cold. Some people prefer to eat their meatloaf straight from the oven, while others like to eat it cold on the following day. Regardless of how you choose to enjoy it, meatloaf is always delicious! Just make sure it was stored in the fridge.
Is Turkey Meatloaf Healthy?
Ground turkey is nutritious meat that provides lean protein, a minimal amount of fat, and a variety of minerals and vitamins. Generally, Turkey is also considered lower in saturated fat than pork or beef. For that reason, it may be a better choice for weight loss, meal prep, and a healthy diet.
In Conclusion
This low carb turkey meatloaf recipe is perfect for those looking for an easy-to-make, delicious, low-carb, and high-protein meal. It is made with almond flour, which not only makes it low in carbs but also gluten-free. The recipe is simple to follow with only a few basic ingredients and as a result, it is great for weekly meal prep and overall versatile leftover dishes. I hope you will give it a try!
Read Also: 7 Nutritious Meals For Toning And Muscle Definition (Meal Prep Ideas).