Slow Cooker, Split Peas, And Smokey Ham Is Match Made In Soup Heaven.
The coldest months of the year are nearly upon us, which is why you're probably dusting off your favorite soup recipes. Besides warming you up, a bowl of delicious broth is easy to whip up and can be made with practically anything. 
If you're tired of the same old soup recipes and are looking to try something new, comforting, and scrumptious, then why not opt for nutritious and healthy split peas as your soup ingredient?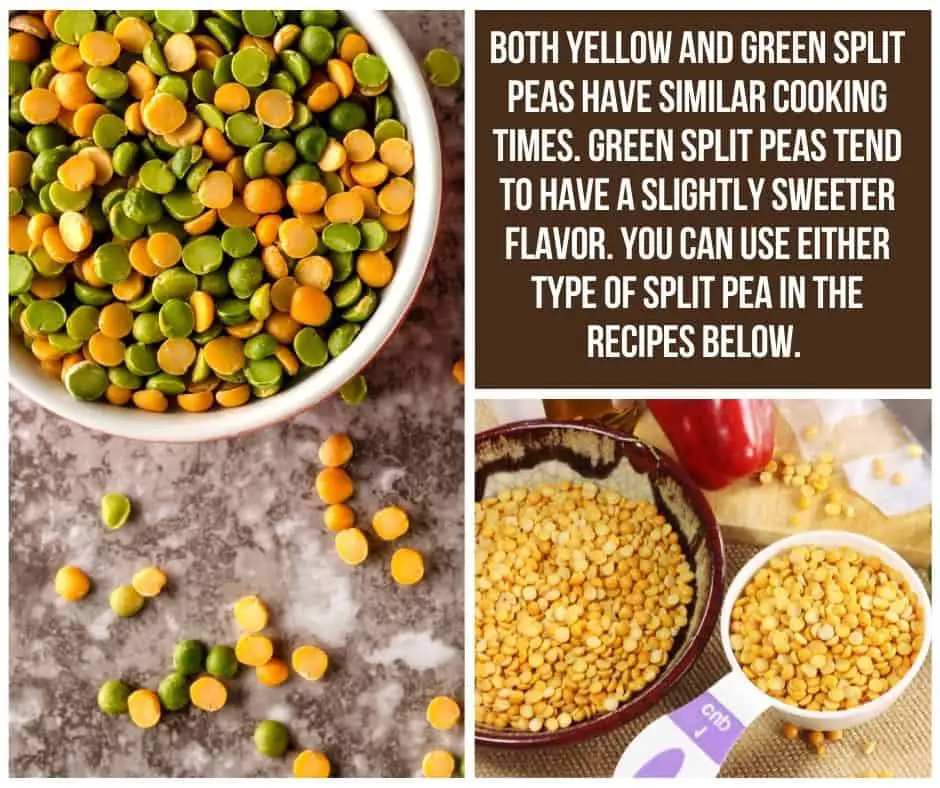 Split peas belong to the legume family, which also consists of lentils, beans, and peanuts. Although they're a bit challenging to prepare, this underrated legume is tasty, affordable, packed with nutrients, plant-based protein, and fiber. That makes it the perfect addition to any soup, stew, or casserole recipe. 
A Lot Easier To Prepare And Cook Than You Might Think!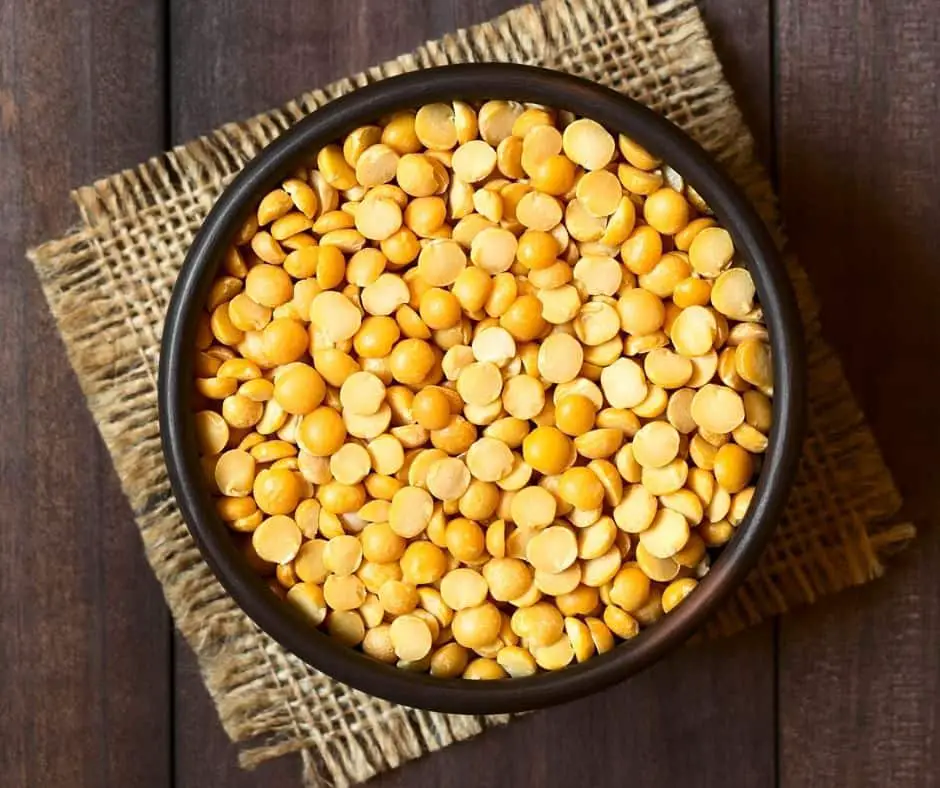 Unlike their other dried legume cousins, split peas aren't finicky at all, which means that they require neither presoaking nor precooking to taste delicious, especially when you are planning to cook them in the crockpot. Their cooking time is quite short too (about 15-20 minutes), allowing you to enjoy a hassle-free and wholesome weeknight dinner whichever cooking method you use. 
However, it's important to note that those who have digestive issues with beans and lentils might want to presoak their split peas. To do so, place them in a large bowl and cover them with cold water, letting them soak overnight at room temperature. Make sure to drain and rinse them before cooking. 
Read More Here: The Importance of Rinsing Lentils And How To Do It The Right Way!
If you aren't presoaking your split peas, though, then make sure that you carefully rinse and pick through them. This will ensure that no debris ends up on your dish. 
Now, are you ready to enjoy a bowl of delicious and nourishing split pea soup? Here are 9 of my favorite split pea soup recipes with ham and potatoes with a variety of other nourishing ingredients. (I have added few vegan-friendly recipes to the list as well).
1. Split Pea Soup Recipes With Ham And Potatoes
Prep Time: 15 minutes
Cook Time: 8 hours 
Servings: 8 people
A simple, classic recipe to get you started, this Slow Cooker Split Pea Soup with Potatoes and Ham is perfect for the coming winter season, thanks to how filling it is. In fact, a bowl or two would be more than enough to warm you up, allowing you to take on the day despite the freezing temperatures. 
Apart from split peas and potatoes, this recipe also calls for carrots, onions, celery, and thyme. These ingredients add layers of flavor to the soup, elevating its notes to something near-magical. Trust me, you won't get enough of this dish! 
Check out this split pea soup recipe from Cheese Curd in Paradise. 
Read Also: 13 Detox Soup Recipes For Weight Loss.
2. Rich And Thick Split Pea Soup Recipe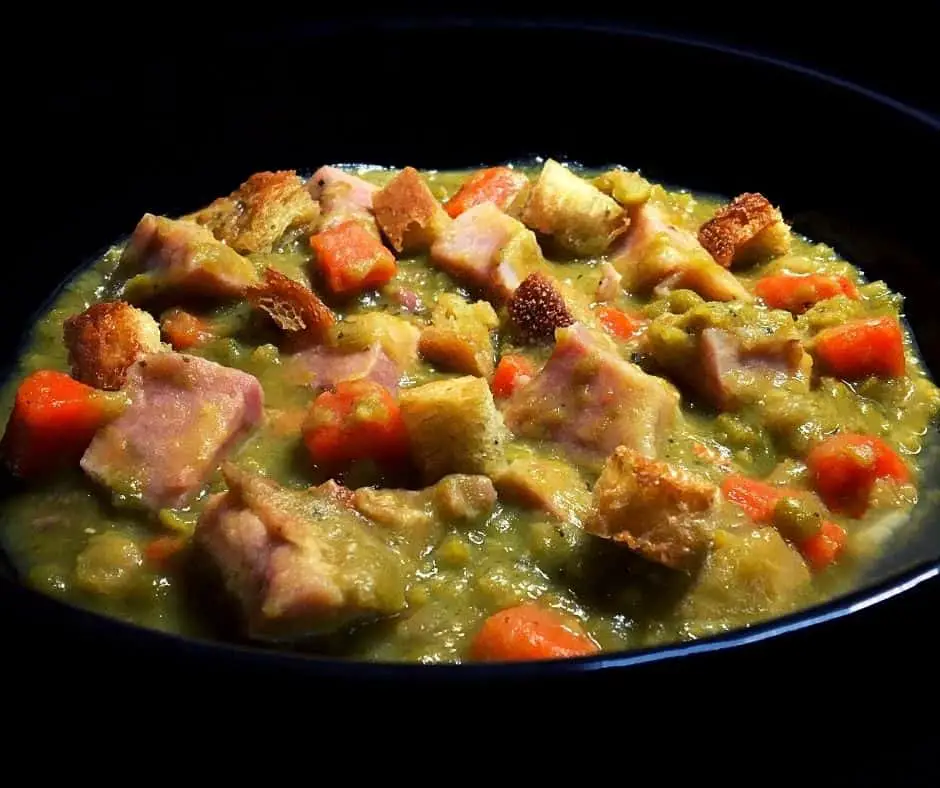 Prep Time: 15 minutes
Cook Time: 8 hours 
Servings: 8 people
Another classic split pea soup recipe, this particular one is simple to make and tastes like a warm, comforting hug from grandma. It may have a fairly long cook time, but this leads to a bowl that's so satisfying and rich in flavor, your taste buds will be begging for more. 
Unlike the previous recipe, though, this soup recipe calls for crushed dried rosemary, in addition to thyme. 
Honestly, I was a bit hesitant about mixing the two herbs in one dish due to their strong and unique flavor profiles but surprisingly enough, they meshed well together. The resulting notes were so deliciously powerful that I found myself wanting to whip up another batch soon after finishing the first. 
This Slow Cooker Split Pea Soup was also a huge hit with my vegetarian friends, even with the removal of ham and the use of vegetable broth instead of chicken broth. It just goes to show you that some recipes are classics for a reason. 
Check out this split pea soup recipe from Taste of Home.
3. Split Pea Soup With Leeks And Ham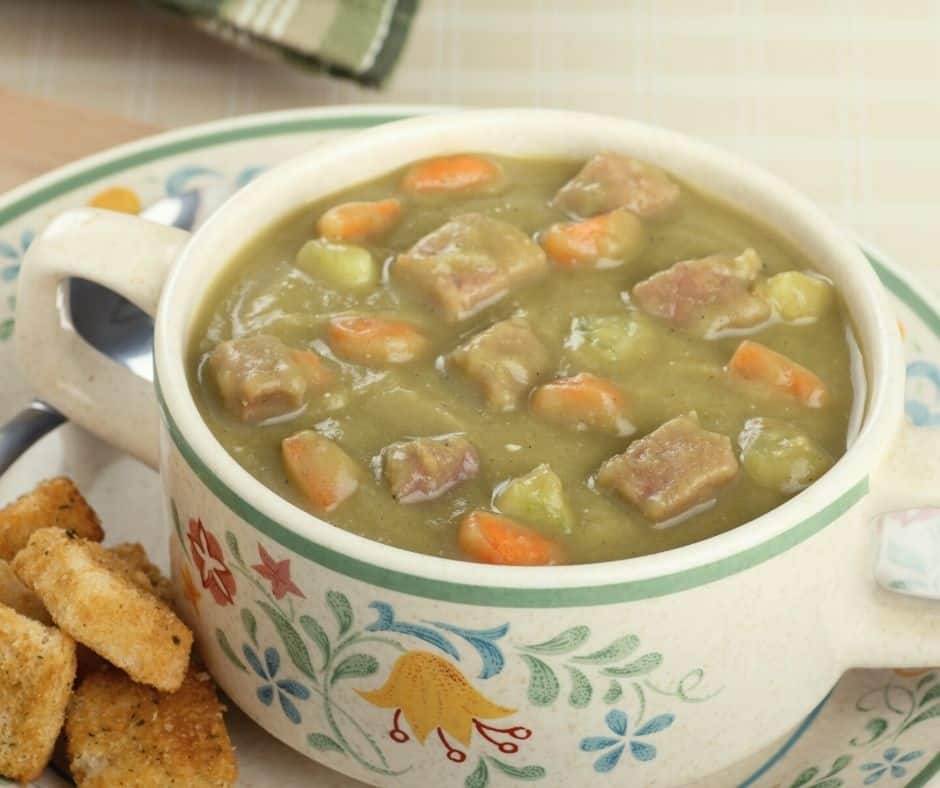 Prep Time: 15-20 minutes
Cook Time: 6 hours
Servings: 5-6 people
This recipe was challenging to follow; however, the resulting dish was definitely worth all the time and effort I put into it. For one thing, using a ham bone rather than actual ham took its flavor to a whole new level, adding layers of smoky richness that I never thought possible.
I also loved the interesting flavor profile created by combining leeks, baby red potatoes, and onions. Their sweetness enhanced that of the split peas, transforming the dish from an average soup to something unforgettable. 
Every spoonful of this hot soup was fantastic, and it has since become a winter staple in my home. In fact, it's so good that I can even see my family enjoying it amid the scorching heat of summer! This recipe is undoubtedly one that you'll go back to time and time again. 
Check out this split pea soup recipe from Barefeet in the Kitchen. 
4. Slow Cooker Vegan Split Pea Soup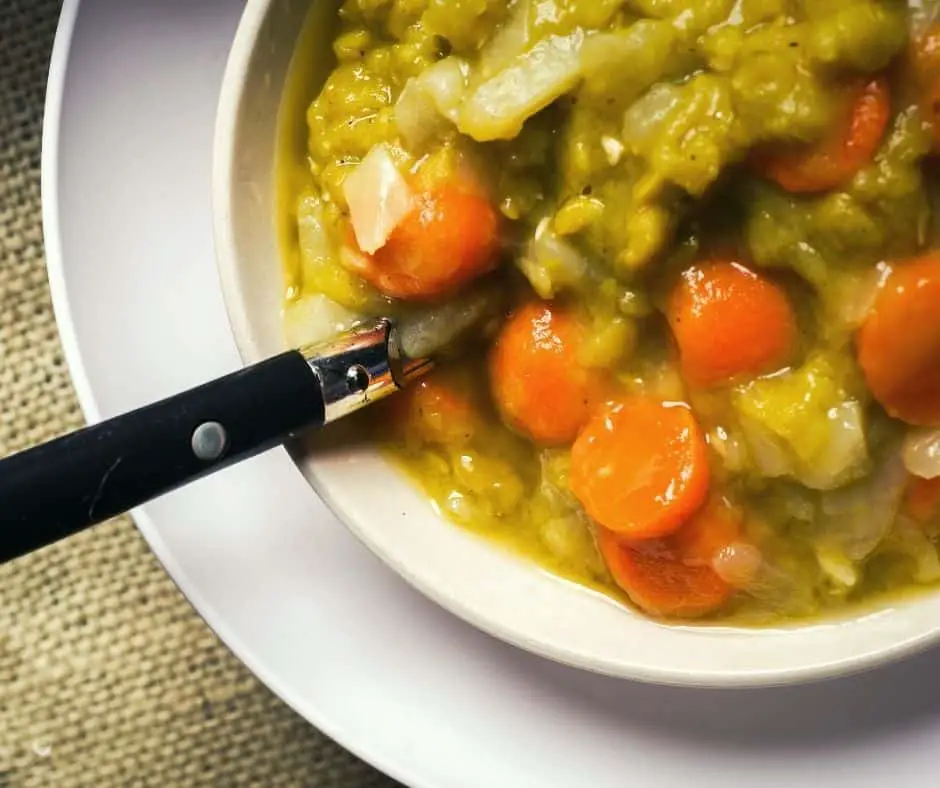 Prep Time: 15 minutes
Cook Time: 5 hours
Servings: 8 people
Given the increasing number of people turning to veganism, you might want to have a few vegan-friendly recipes up your sleeve in case the situation calls for it. Obviously, there is no ham in this recipe, this soup is totally vegan.
Mastering this particular recipe would be impressive, thanks to its ultra-creamy texture and the bright lemon notes incorporated throughout the soup. Because there is no smoky ham in this recipe, I added a pinch of smoked sea salt that was recommended by chefs.
This Slow Cooker Vegan Split Pea Soup is a dream come true – not only is it rich, savory, and satisfying, but it's gluten-free and oil-free too, which means that you don't have to feel guilty about enjoying bowl after bowl of it. 
Besides the usual vegetables, this recipe also calls for lemon juice and chopped fresh parsley to be added at the end before serving. 
Truth be told, I was initially hesitant about these two ingredients, but the bright and vibrant notes that they added to the dish were more than welcome. 
For those who want their soup to have a thicker consistency, the recipe's author recommends using an immersion blender to pulse it a few times. Failing that, pureeing a cup of the broth in the blender and adding it back works just as well too. 
Check out this split pea soup recipe from Stacey Homemaker.
5. Yellow Split Pea Soup With Sweet Potatoes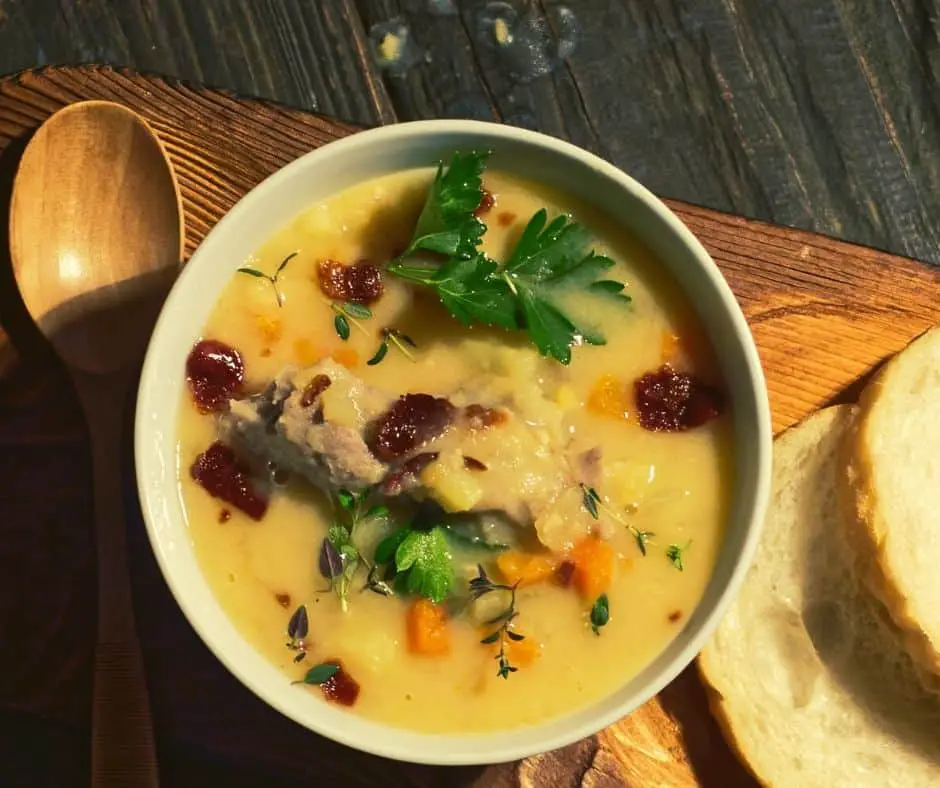 Prep Time: 15-20 minutes 
Cook Time: 6-7 hours
Servings: 8 people
There's a huge chance that you're already a big fan of the classic bowl of split pea soup; however, if you want to enjoy a brighter and more contemporary version of it, then try out this incredibly creamy and nutritious sweet potato and split pea soup recipe.
As its name suggests, this recipe combines the earthiness of yellow split peas with the unique notes of sweet potatoes and spinach. The resulting flavor was unparalleled, with pops of color provided by the spinach that balanced out the entire dish. 
This recipe also calls for a whole slew of curry spices – specifically, turmeric, cumin, coriander, cardamom, and pepper flakes. Needless to say, I found myself instantly falling in love with the powerful and extraordinary flavors of this blend.
Check out this split pea soup recipe from Thrifted Kitchen. 
6. Wholesome Vegan Slow Cooker Sweet Potato Split Pea Soup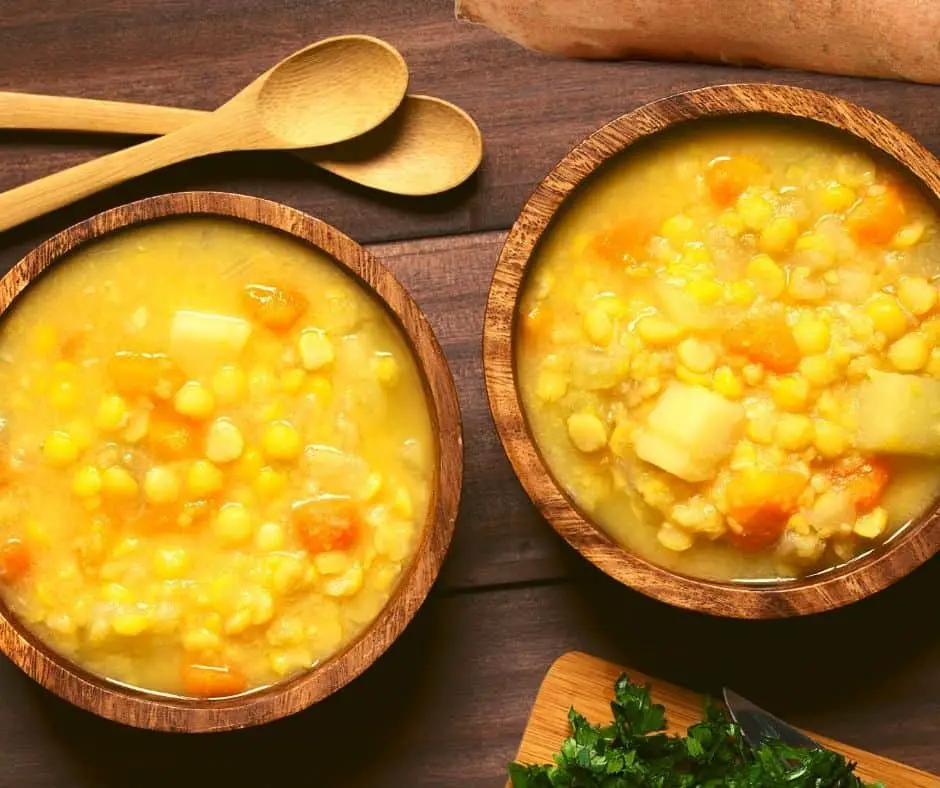 Prep Time: 10 minutes 
Cook Time: 4 hours 
Servings: 6 people
I honestly can't get enough of the phenomenal flavors produced by combining split peas with sweet potatoes, so I scoured the Internet for another recipe. Fortunately, I found this one so creamy and delicious that I found myself eating several bowls in one sitting! 
While the original recipe makes it perfect for a vegan-friendly dinner, this Slow Cooker Sweet Potato Split Pea Soup can be transformed into an omnivore's delight with the addition of diced ham. 
The author also recommends bacon – although I haven't tried that yet, I'm really excited to do so because I'm a firm believer in the age-old saying "bacon makes everything better."
Now, keep in mind that this recipe is really sweet due to the mix of split peas, carrots, and the sweetest variety of sweet potatoes. If you find it overly so, then don't forget to be generous with the black pepper, bay leaves, and lime wedges. These ingredients will balance out the soup's sweetness, taking its flavors to a whole new level. 
Check out this split pea soup recipe from Eat Well 101. 
7. Delish Crockpot Split Pea Soup With Ham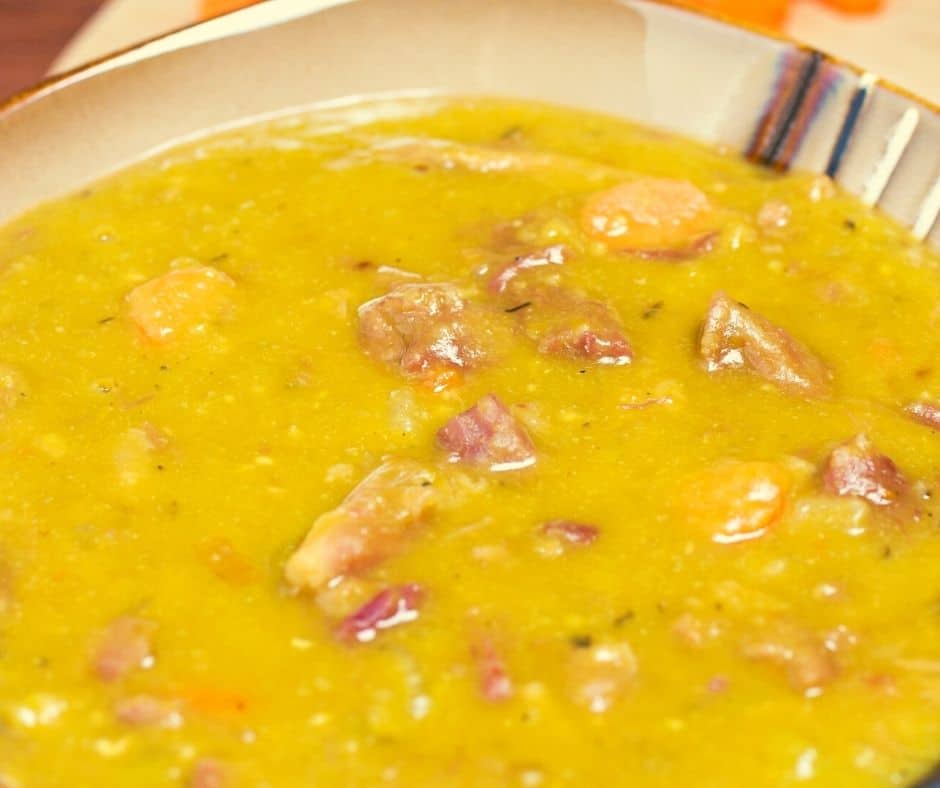 Prep Time: 10-15 minutes 
Cook Time: 4-5 hours (high heat) | 8-10 hours (low heat)
Servings: 6-8 people
The vibrant, earthy colors of this particular recipe make it the perfect way to end a blustery autumn day. It boasts layer upon layer of beautiful flavors, so much so that it was difficult for my taste buds to forget about this soup. 
This Slow Cooker Split Pea Soup calls Italian seasoning, which I've never used before. I was honestly a bit hesitant to combine it with the bay leaves, but I did, and what do you know? Their taste was amazing, and I've now been converted into a staunch believer. 
Interestingly enough, the recipe's author made use of Simply Potatoes Shredded Hash Browns rather than the usual diced potatoes. I wasn't brave enough to do the same, but the dish in her photos looked much chunkier than mine, so I'm looking forward to trying it out next time. 
Overall, this Slow Cooker Split Pea Soup was an unforgettable dish, and I can already see myself whipping up another batch in just a few days. 
Check out this split pea soup recipe from About A Mom. 
8. Easy And Healthy Slow Cooked Split Pea Soup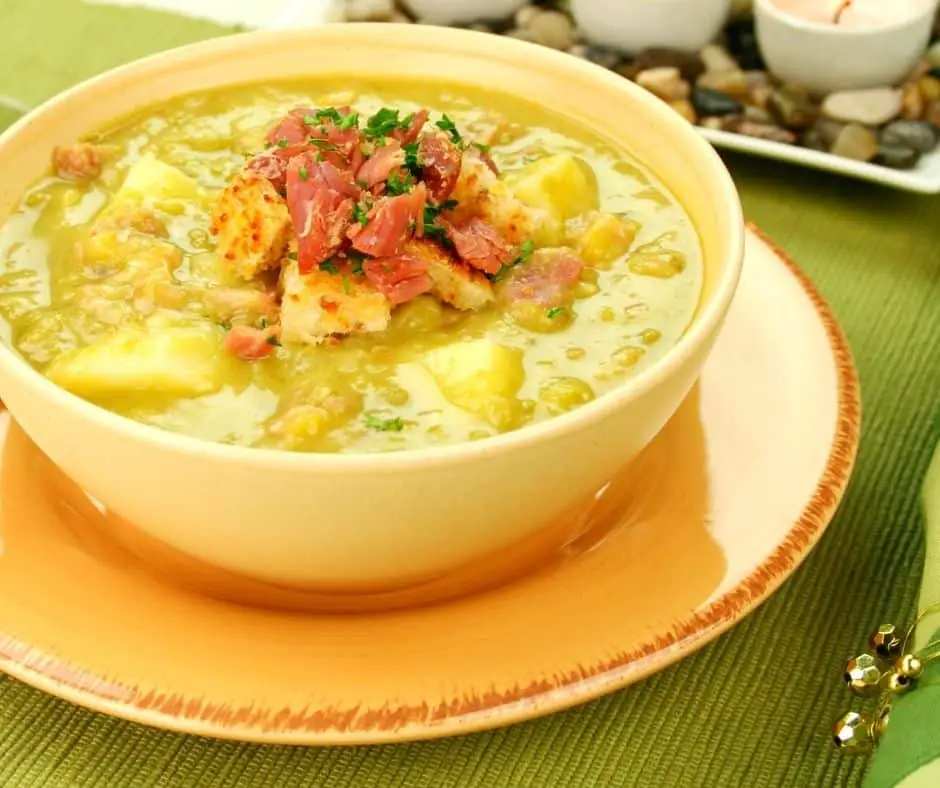 Prep Time: 5 minutes 
Cook Time: cook on Low for 5-6 hours
Servings: 6 people
To say that this ham and legume soup recipe was delightful would be a huge understatement. It may be a classic take on the dish; however, I found that it produced a ton of phenomenal flavors, as well as a chunky yet comforting texture that my taste buds found appealing. 
Its unique bitter and slightly salty notes also did a great job of balancing out the sweetness of the split peas and the onions, making the dish feel "rounder" and more satisfying. 
Given how easy it is to prepare this flavorsome soup, I definitely recommend it for those weeknights when you feel too lazy and too exhausted to cook more elaborate dishes. 
Check out this split pea soup recipe from a sweetpea chef. 
9. Classic Slow Cooker Green Pea And Sweet Potato Soup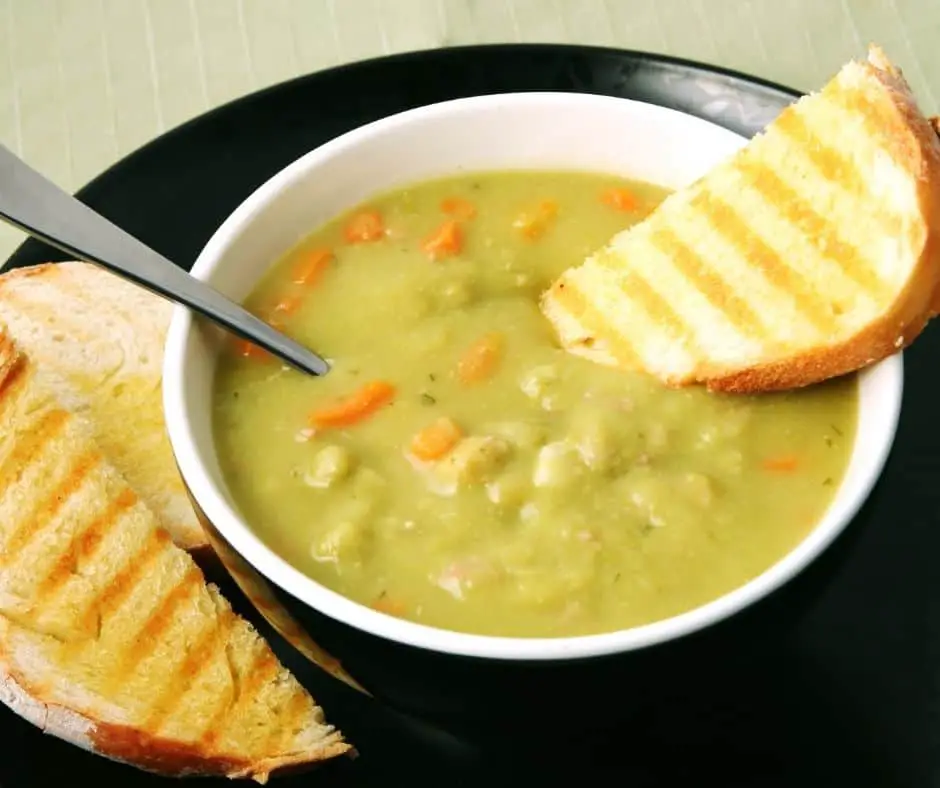 Prep Time: 20 minutes
Cook Time: 6-8 hours
Servings: 6-8 people
I really can't get over how good sweet potatoes or yams and dried legumes taste together, so here's another incredible recipe!
The best thing about this particular recipe is that it's a perfect weight loss dish too, with just a measly 85 calories per serving (just leave out the bread). Without a doubt, this is a great way to enjoy a steaming bowl of soup without feeling bloated afterward. 
This slowly cooked homemade bowl combined a ton of other powerful flavors, as well. Besides those two vegetables, onions, carrots, and ginger were also added, all of which added exciting notes to the dish. It was also really chunky and creamy, which meant it held up well against a fresh crusty baguette. 
Would I recommend this Slow Cooker Pea and Sweet Potato Soup? Definitely. It's rich and comforting in taste and not too rich in calories – it's definitely a great dish bursting with countless fantastic flavors!
Check out this split pea soup recipe from Alberta Pulse Growers.
* * * * *
Which slow cooker split pea soup are you most excited to try? Do you know of any other recipes that should be included in this list? Don't forget to leave your thoughts in the comments below – I'd love to hear from you!
Read Also: What Are Bouillon Cubes? (15 Little Known Facts About This Cubed Flavoring)