Cleanses have always been associated with detox shots, smoothies, and juices; however, detox soups are also becoming increasingly popular, especially for those who want to lose weight, reset their bodies and change their eating habits. 
However, not all detox soup recipes are created equal. Some may come with great benefits but taste bland or downright terrible. There are also those that aren't satisfying at all while others don't really work.
With that in mind, I've scoured the Internet to find detox soup recipes that are not only delicious but actually work. 
Here Are The 13 Best Detox Soup Recipes To Help You Slim Down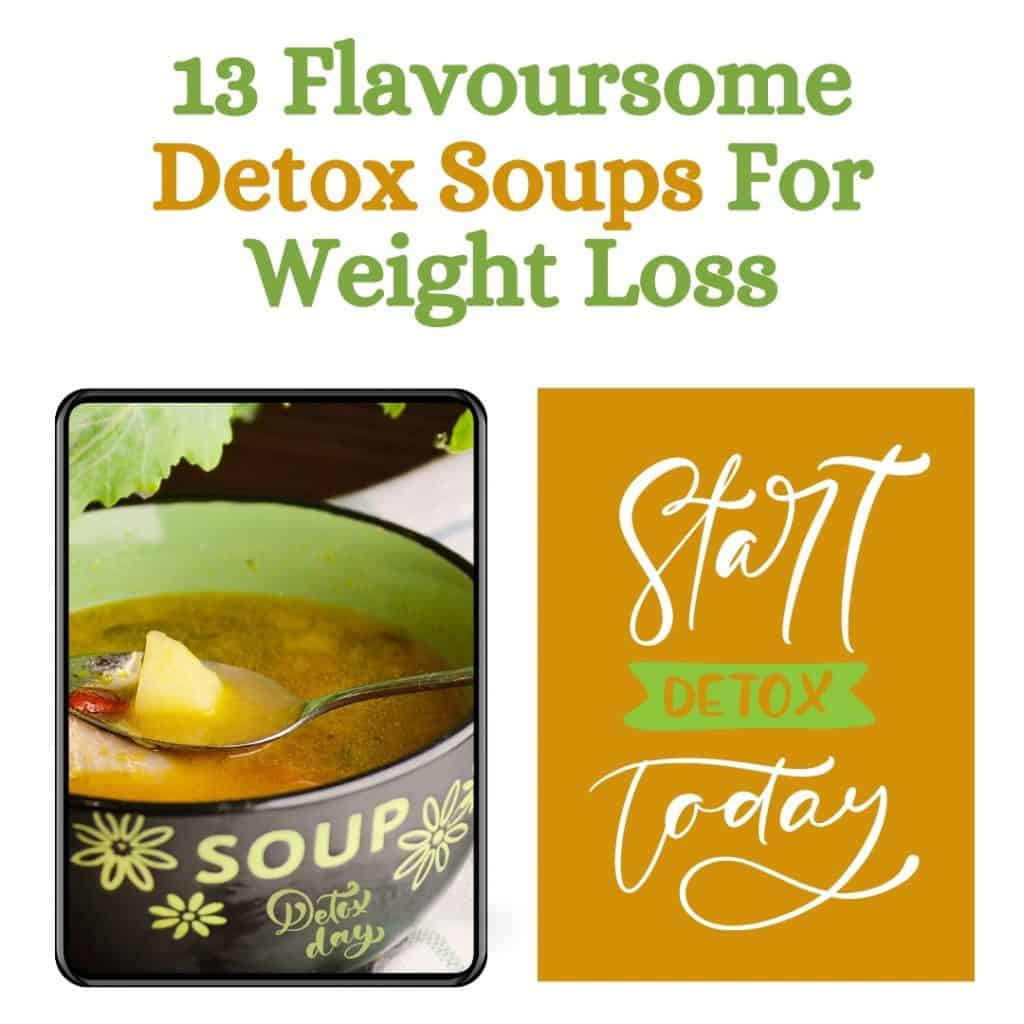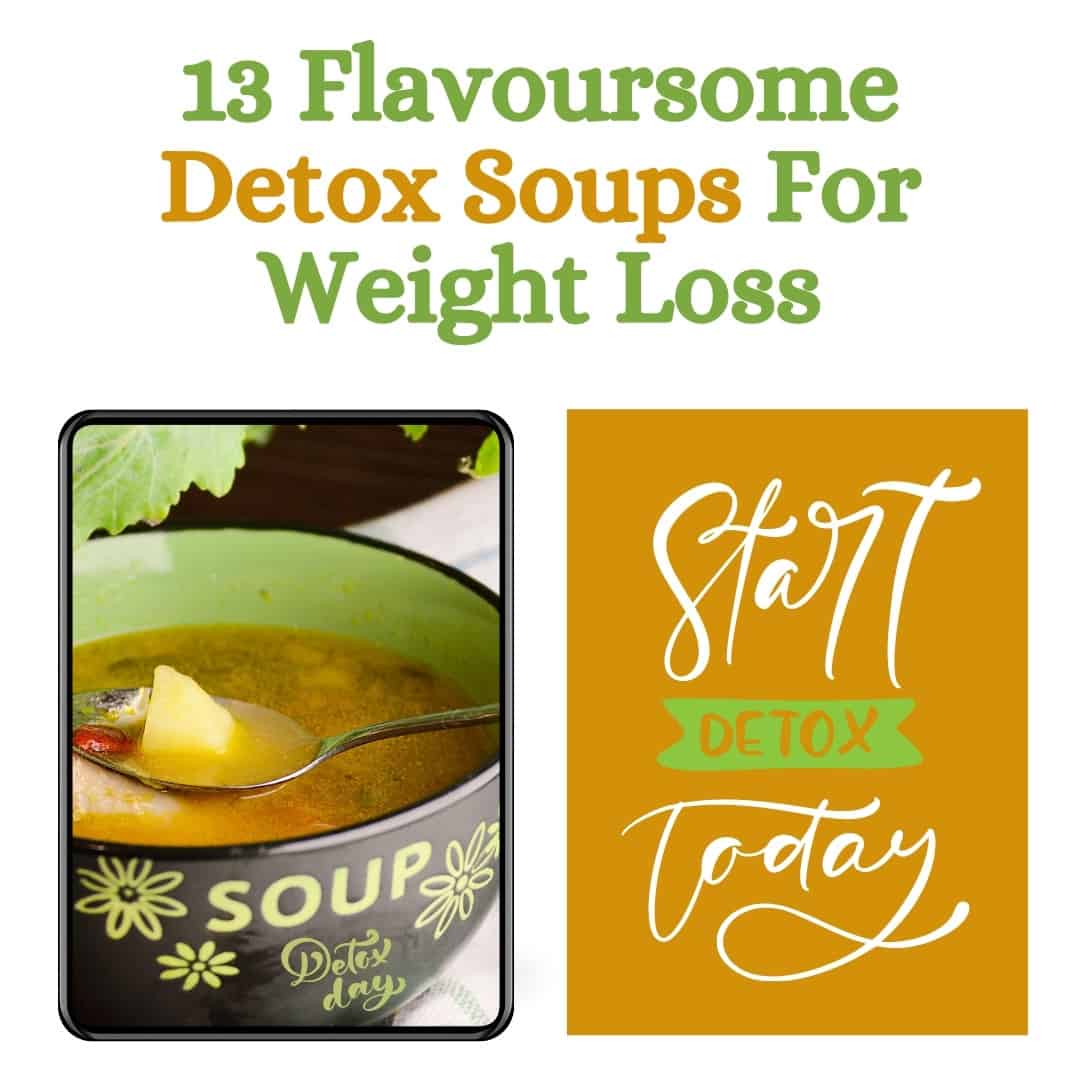 Toxins in your body make it challenging to lose weight. Also, a body full of unwanted toxicants doesn't function properly and can affect leptin resistance, insulin resistance, affect fatty acid oxidation, and your appetite, limiting your ability to burn fat. [1]
When it comes to cleaning your body of these unwanted toxins, these 13 soup recipes below could be a helpful remedy.
1. Vegetable Detox Soup To Flush Fat Away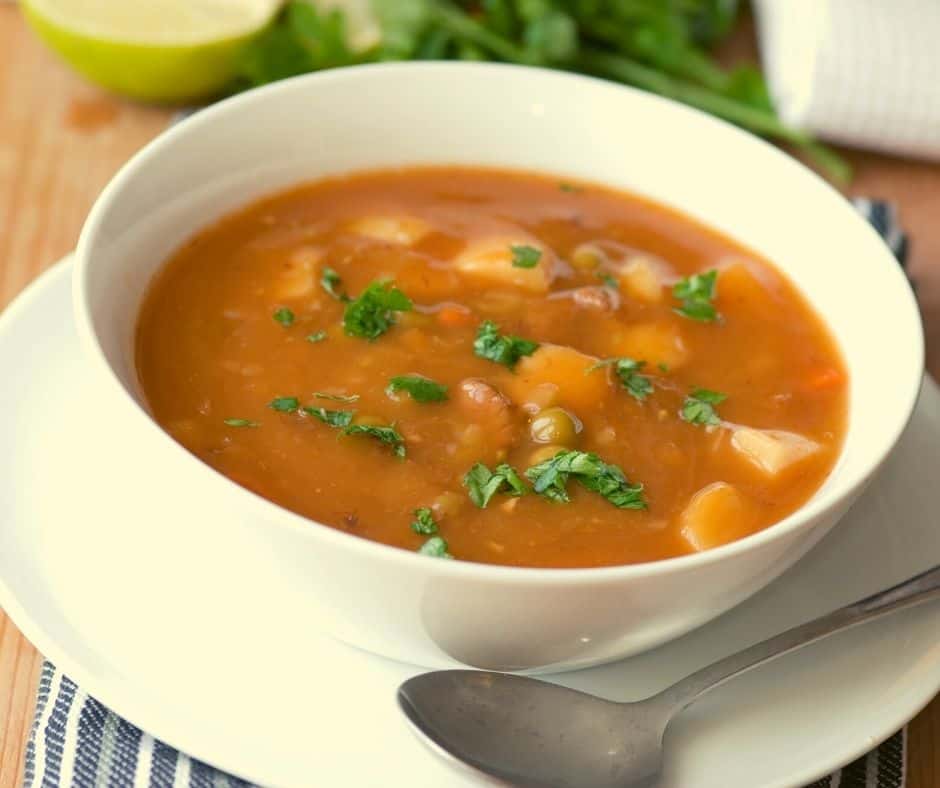 Weight loss is one of the biggest reasons why many people decide to go on a cleanse, although most recipes tend to leave them hungry and craving an actual bite to eat. 
Not this one! This Vegetable Detox Soup flushes body fat away without leaving you thinking about that juicy cheeseburger your friend had for lunch. It removes toxins too, allowing you to enjoy a healthy and nutritious lifestyle. 
This Vegetable Detox Soup is packed with a ton of mouth-watering flavors, including sweet potatoes, spinach, carrots, and tomatoes. 
All these superfoods do a fantastic job of restoring the body's acid-alkaline and sodium-potassium balance, giving your internal organs a boost and ensuring that they're receiving all the nutrients they need. 
I particularly loved this recipe for its interesting textures. Eating soup after soup can get a bit tedious after a while since you often have nothing to chew on, but the exciting flavors of this one more than makes up for it. 
The combination of the beans and the sweet potatoes give the broth a pleasant, earthy layer that's perfectly counterbalanced by the spinach's robust and acidic taste. 
This soup is definitely a comfort food made nutritious and healthy! 
Check out this Vegetable Detox Soup recipe from Skinny Ms! 
Nutrition Information
Serving: 1.25 cups
Calories: 181 kcal 
Carbohydrates: 31g
Protein: 9g
Fat: 3g
2. Cleansing Broccoli Detox Soup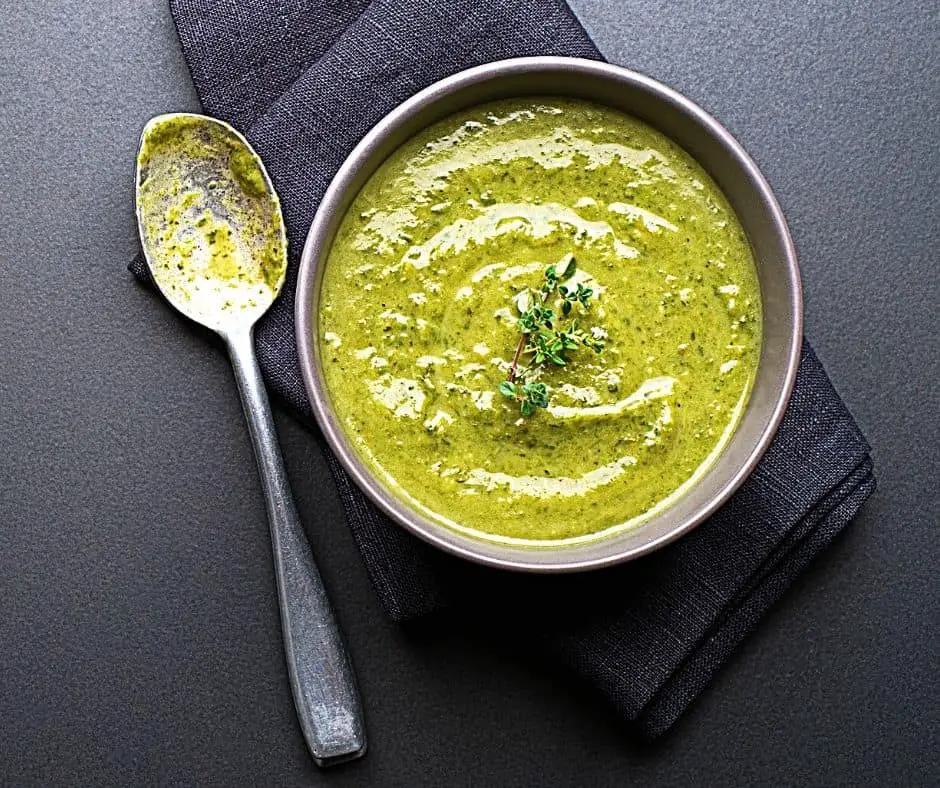 Soups may be tasty and nutritious, but it can't be denied that they're such a hassle to make sometimes! Luckily, this recipe allows you to whip up a delicious dish in less than 30 minutes, making it the perfect healthy meal on days when you're too lazy to cook. 
This may seem like your average, run-of-the-mill broccoli soup, but this recipe also calls for carrots and fresh ginger, which are then seasoned with turmeric root, cayenne pepper, and a squeeze of fresh lemon juice.
The latter three ingredients add a powerful detoxifying kick to the earthy and sweet notes of the vegetables, elevating their flavors into something that you won't be able to get enough of. 
Nutrition Information
Serving: 1 cup
Calories: 45.19 kcal 
Carbohydrates: 9.47g
Protein: 2.24g
Fat: 0.52g
Check out this recipe from Eat Well 101.
3. Healing Colon Cleanse Soup With Ginger And Turmeric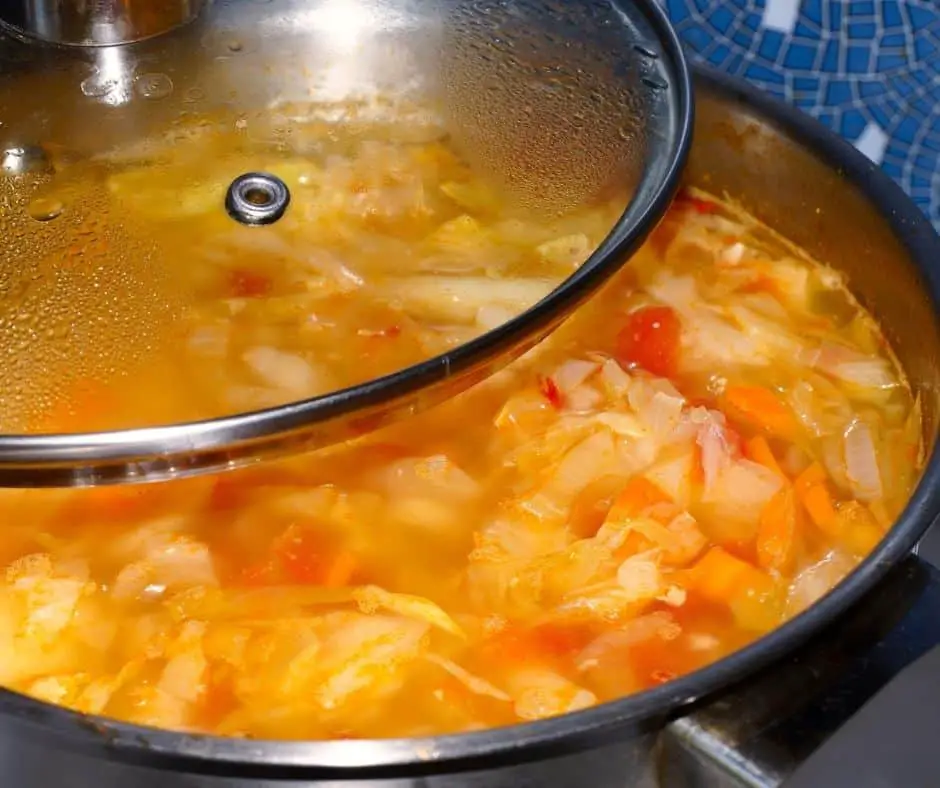 The colon is an oft-ignored organ; however, its health actually plays a crucial role in our overall wellness. Besides regular and smooth bowel movements, taking care of it will also improve digestion and weight loss.
Sounds amazing, right? Well, you can enjoy all these benefits with a cup of this delicious and flavorsome Cleanse Soup with Ginger and Turmeric Root. 
The great thing about this recipe is that it uses fresh ginger and turmeric as a base, which means that you can add whatever vegetable fits your fancy. 
For instance, I like to add carrots, cauliflower rice, or eggplant, although I'm personally partial to the warm and comforting taste of butternut squash. 
Check out this recipe from Life Infused. 
4. Spicy Cabbage Detox Soup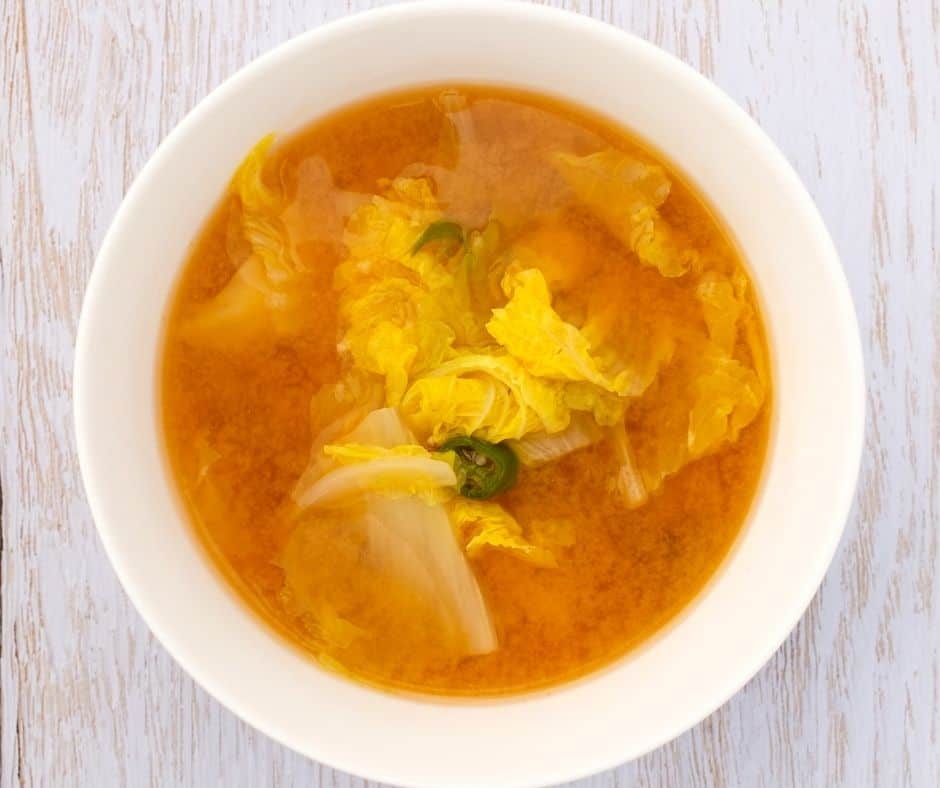 The ideal dish to tuck into for the coming colder months, this Spicy Cabbage Detox Soup is filled to the brim with comforting flavors, such as the powerful notes of jalapeño and sriracha, as well as hints of sweetness that the carrots bring and the pungent taste of fresh ginger. All these add to the cabbage, which takes center stage in this fantastic nourishing soup recipe. 
Besides being delicious, this unique-tasting soup is also packed with a ton of wonderful benefits. For one thing, cabbage is known to be great at fighting toxins and boosting the detoxifying properties of the liver that could also help you lose a few pounds.
What I loved most about this soup recipe was its flexibility. There are days when I don't particularly care for overly spicy and aromatic meals, so I liked being able to adjust the ingredients to fit the flavor profile that I wanted. 
This soup is definitely a must-try for all those looking for a delicious and detoxifying dish. 
Check out this recipe from This Savory Vegan.   
Nutrition Information
Serving: 1 cup
Calories: 50 kcal 
Carbohydrates: 11g
Protein: 3g
Fat: 1g
5. Keto-Friendly Liver Detox Soup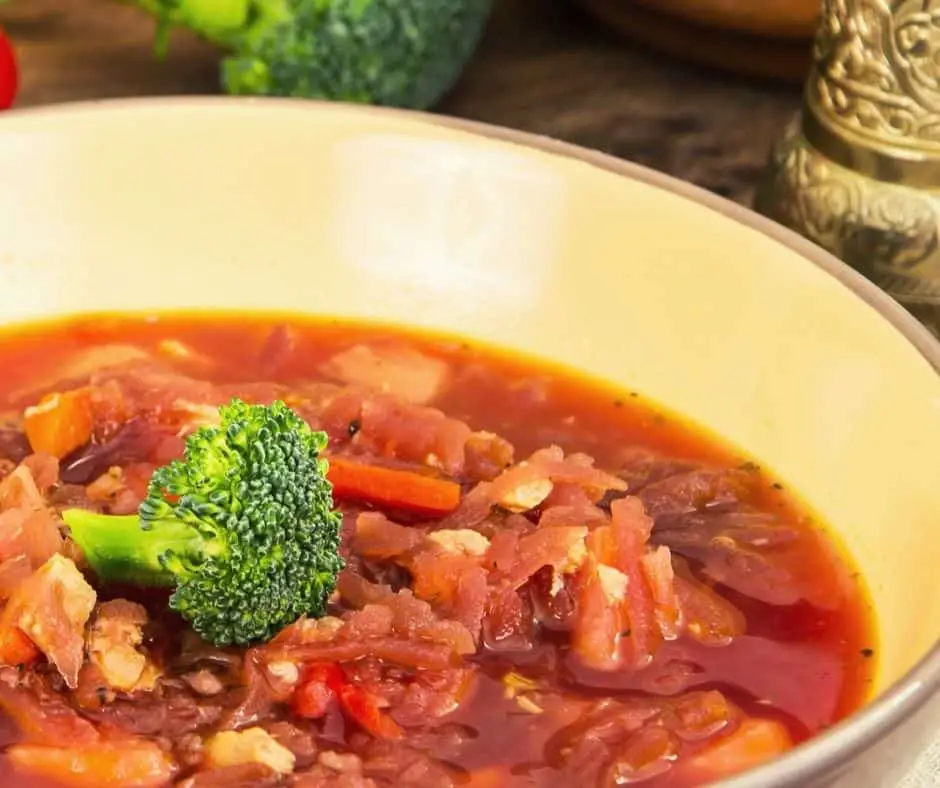 If you're adhering to the ketogenic diet, then this Liver Cleanse Detox Soup would be the perfect thing to add to your culinary repertoire! (Don't worry, liver is not one of the ingredients in this recipe).
Not only is it low-carb and keto-friendly, but it's also vegan, gluten-free, and dairy-free, making it ideal for those keeping a strict eye on the food that they're consuming and great recipe to cook for your vegan and vegeterian guests.
A one-pot recipe with prep time taking only a mere 15 minutes, this toothsome soup is very easy to whip up, which is undeniably one of the reasons why I'm so drawn to it. 
It also consists of a ton of nutrient-dense ingredients, such as broccoli, beets, lemon juice, and onions, all of which are known for their detoxifying benefits.  
This may seem like your average, unremarkable soup, but its powerful flavors are anything but ordinary. 
It was surprisingly satisfying and filling too, which meant that I was able to rise above my usual fast-food temptations as it helped me stay full much longer without feeling hungry or cave any food. I'm really looking forward to making this dish again! 
Check out this recipe from The Healthy Family and Home. 
Nutrition Information
Serving: 1 cup
Calories: 77 kcal 
Carbohydrates: 17g
Protein: 3g
Fat: 1g
6. Quick And Easy Detox Cabbage Soup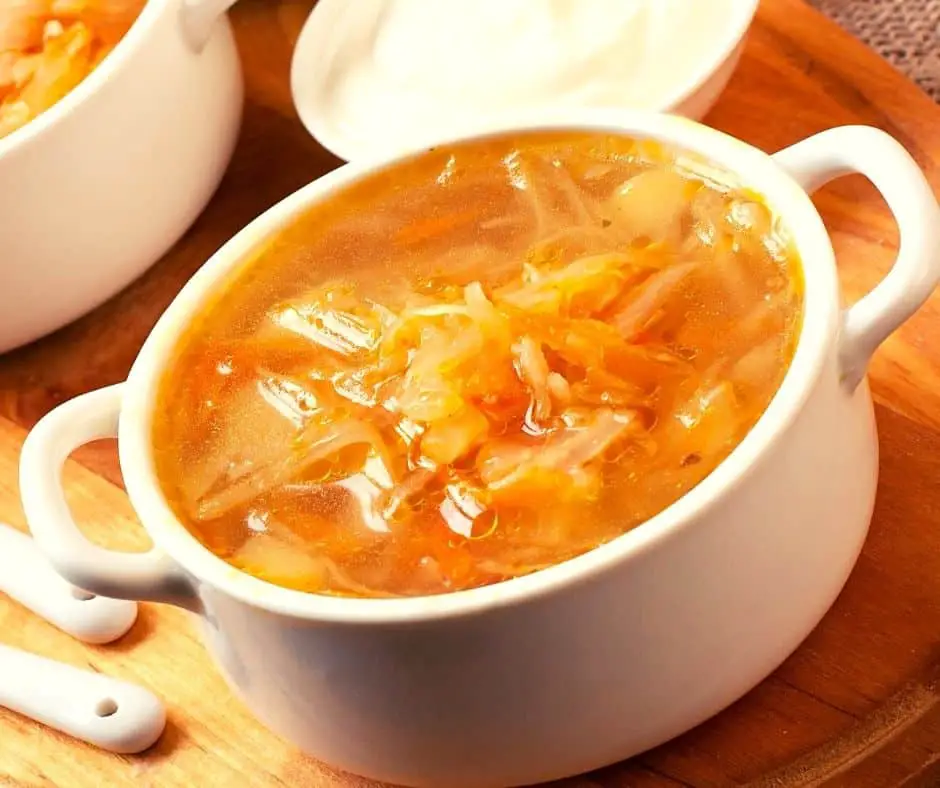 I honestly find cabbage soups so delicious and convenient to make, which is why I was so pleased to stumble upon another recipe. 
This particular cabbage soup can be served either chunky or blended, making it a simple and timeless meal that can be enjoyed, no matter the season. 
A light yet delicious dish, this Detox Cabbage Soup is also made with celery, carrots, tomatoes, and capsicum, all of which take its flavors to the next level. 
What makes it even more fantastic, though, is how incredibly clean I felt right after scarfing down a single bowl of it. Its detoxifying and cleansing properties are definitely no joke! 
Check out this recipe from My Food Story. 
Nutrition Information
Serving: 1 cup
Calories: 56 kcal 
Carbohydrates: 8g
Protein: 1g
Fat: 3g
7. The Original Cabbage Soup Diet Recipe (Updated Version)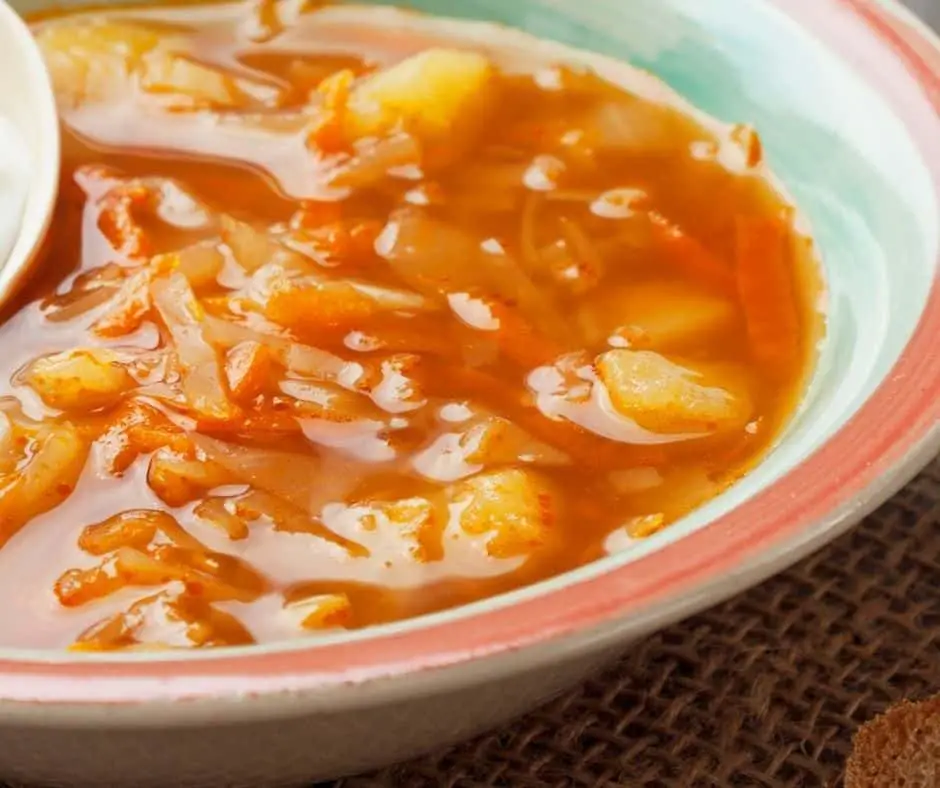 Another delicious slenderizing cabbage soup recipe to add to your repertoire, this particular one features all the usual vegetables. However, feel free to add either potatoes or zucchini to bulk it up. It also features mushrooms, which I found absolutely exciting as I'm very fond of them. 
The Original Cabbage Soup takes about thirty minutes to cook and can be prepared in a single pot, which makes it ideal for days when you don't want to spend too much time in the kitchen. 
What makes it even more convenient is that it can be whipped up in the Instant Pot pressure cooker. I haven't personally tried to cook it this way, but I can't wait to do so. 
High in fiber, low in calories, naturally vegan, and gluten-free, a bowl of the Original Cabbage Soup left me feeling satisfied and cleansed. 
Without a doubt, this is the perfect low-calorie meal to enjoy after weeks of bingeing on your favorite holiday treats. 
Check out this recipe from Yummy Mummy Kitchen. 
Nutrition Information
Serving: 1 cup
Calories: 134 kcal 
Carbohydrates: 18g
Protein: 7g
Fat: 5g
8. Detox Soup With Daikon Radish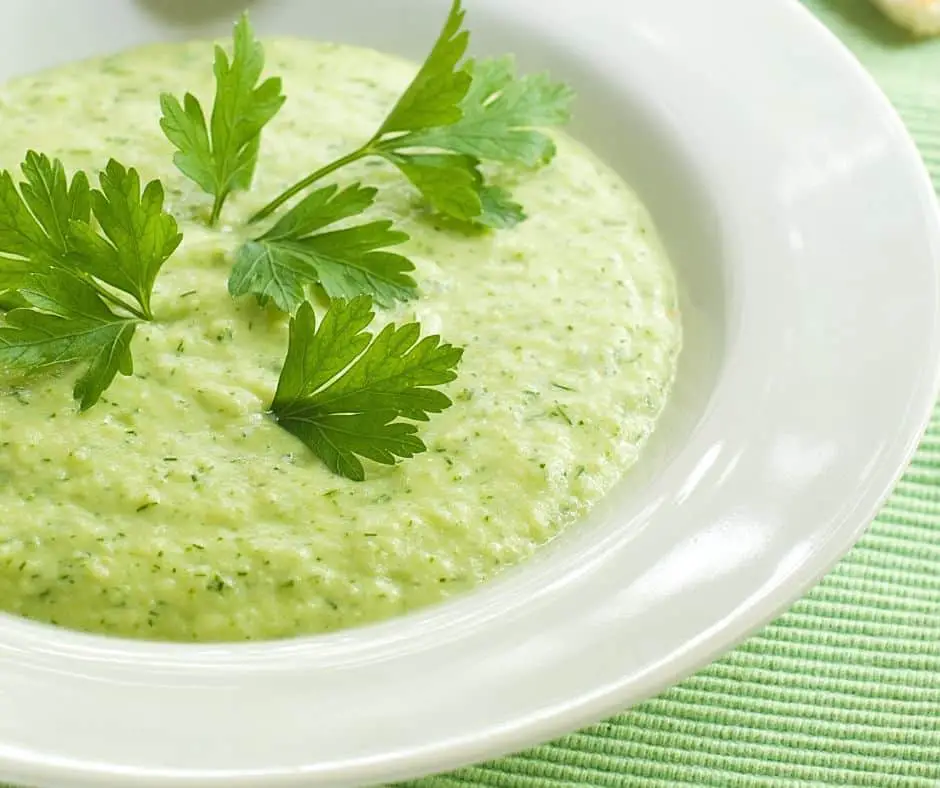 If you're sick of making detox soup from the same ol' vegetables, then you have to try this recipe that calls for daikon radish. 
Popular in East Asian cuisine, this ingredient is known to improve digestion and the efficiency of the kidneys. Many also consider it a powerful detoxifier, which is why it's worth looking into if you're hoping to get rid of unwanted nasty toxins in your body. 
This Detox Soup with Daikon Radish also makes use of leeks and apple cider vinegar, both of which increase its health, weight loss, and nutritional benefits. 
Its flavor profile is also unique, so I honestly found myself going back for seconds and thirds! Lucy that it is very low in calories. 
Check out this recipe from The Fit Habit. 
Nutrition Information
Serving: 1 cup
Calories: 88 kcal 
Carbohydrates: 11.5g
Protein: 1g
Fat: 4.7g
9. Supergreens Soup With Spirulina And Coconut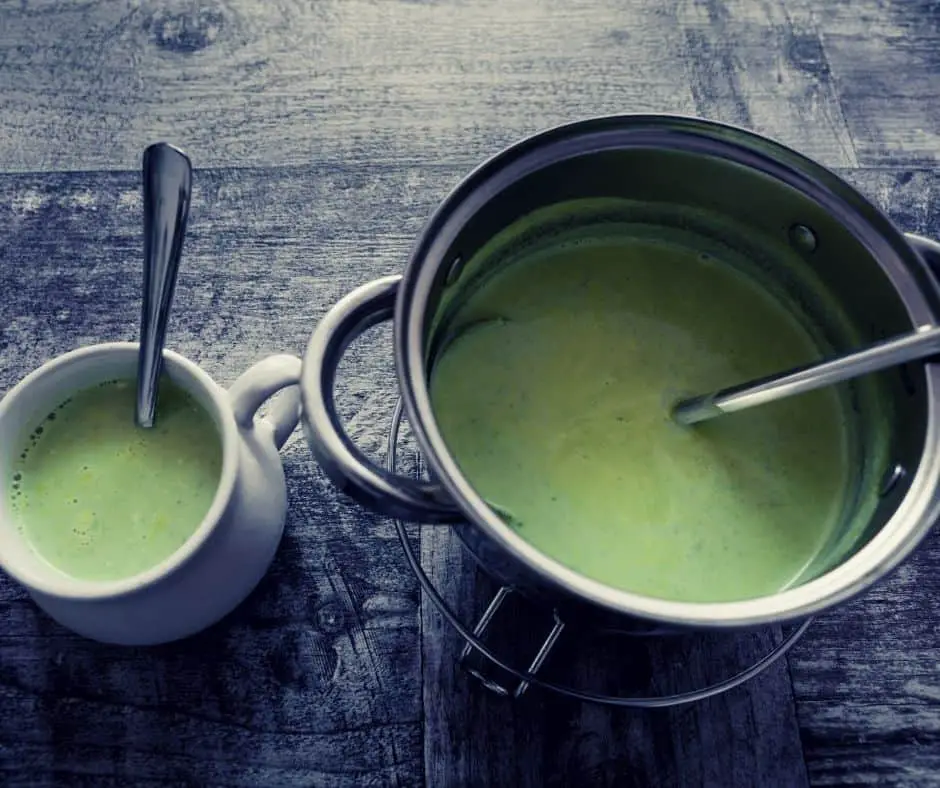 Those of you on the lookout for more unique-tasting soups should try out this recipe, which makes use of a bunch of super greens and Spirulina algae simmered in coconut milk.
This was unlike anything that I've tried before, and I highly recommend it, particularly for lovers of creamy yet lightweight soups.  
Recent years have seen Spirulina increasingly being used in cleanses – and for a good reason. This ingredient is known for its high protein and iron content, which makes it a fantastic addition to your list of detox soups. 
Making this was very easy, and the result was a rich and creamy soup whose dark green shade made it almost too stunning to eat! 
The recipe also calls for a few slices of apple, which I thought added a welcome layer of sweetness to the dish. 
Check out this recipe from The Hungry Herbivores. 
10. Fast Beetroot Detox Soup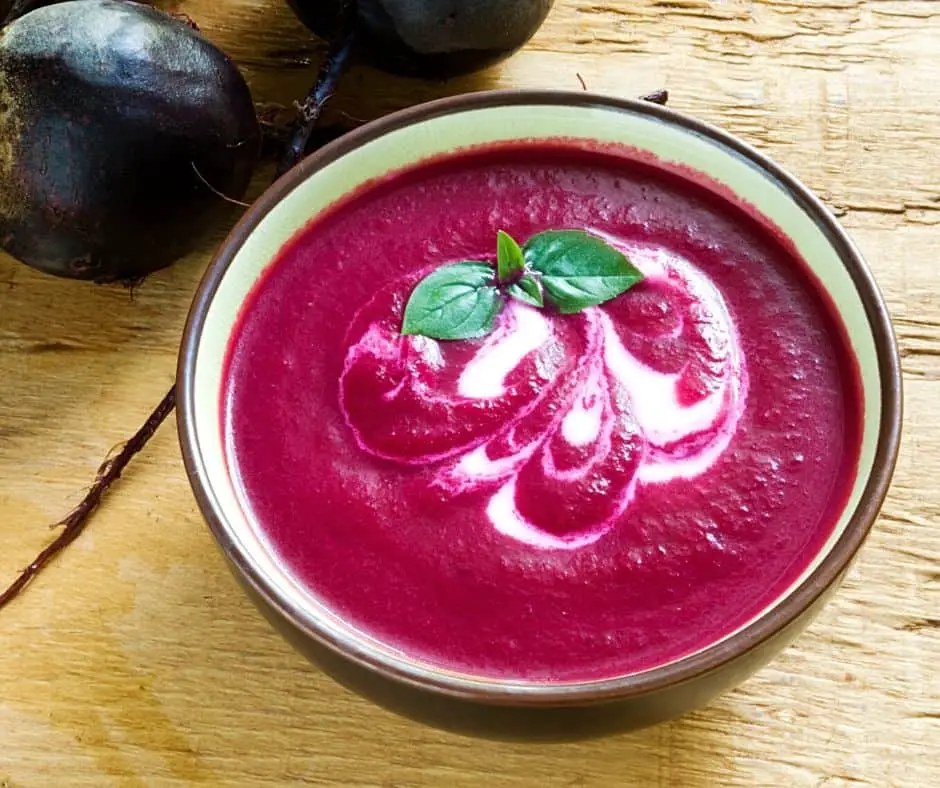 Beets aren't the most popular of vegetables, despite the beautiful red color that they give off. Some find them too earthy, while others claim that they taste exactly like dirt. (Not me).
However, this detox soup takes beetroots unique flavor profile to a whole new level, so I'm sure that even the most passionate of beetroot haters will enjoy it. 
Besides beets, this Beetroot Detox Soup recipe also makes use of apples, carrots, and celery, all of which add flavorful notes to the dish. It also increases its nutritional content since these ingredients are known for their many wholesome benefits, including boosting the immune system, preventing inflammation, and increasing natural detoxification enzymes.
Check out this recipe from  A. Vogel. 
11. Low Carb Diet Soup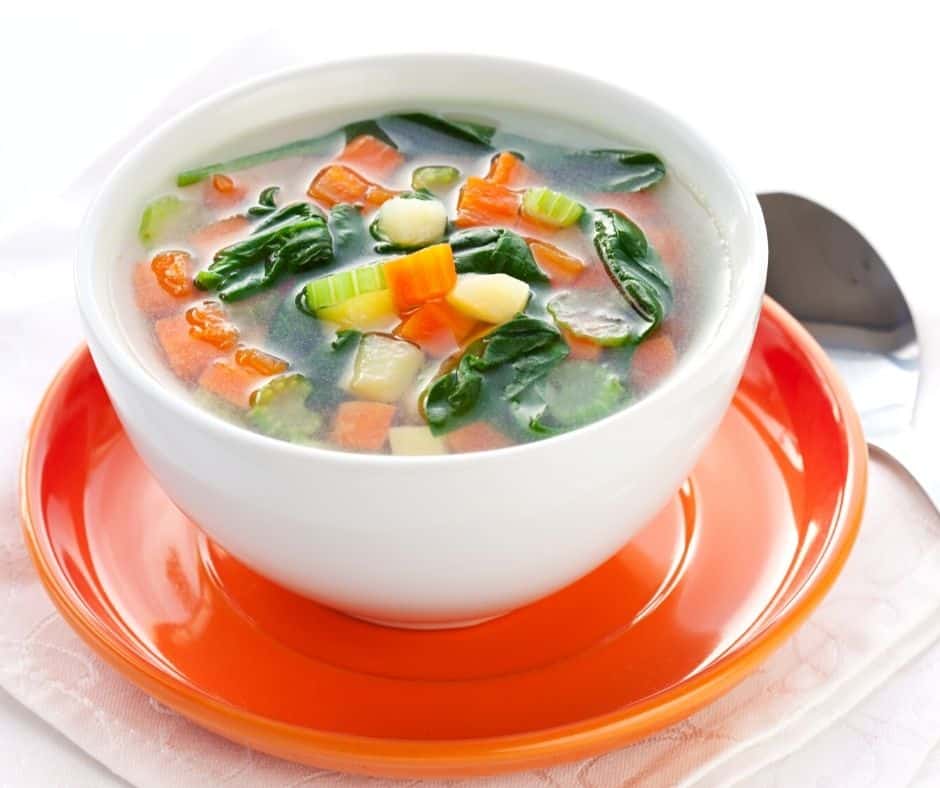 If you're serious about weight loss and sticking to a low-carb diet, then this Turbo Atkins Diet Soup is definitely a recipe that you should add to your culinary repertoire. 
This delicious and lightweight dish is great for the scorching summer months, although it can also be bulked up for the coming fall and winter seasons. 
The Turbo Atkins Diet Soup is packed with low-carb and extremely nutritious vegetables, such as kale, swiss chard, and cauliflower, just to name a few of them. 
It also features sundried tomatoes, which I thought elevated its flavor profile. This particular ingredient is also a powerful antioxidant and is known to contain compounds that boost the immune system, so it was undoubtedly a welcome addition to the dish. 
Check out this recipe from I Breathe, I'm Hungry. 
Nutrition Information
Serving: 1.5 cups
Calories: 136 kcal 
Carbohydrates: 4g
Protein: 19g
Fat: 4g
12. Simple Slimming Detox Soup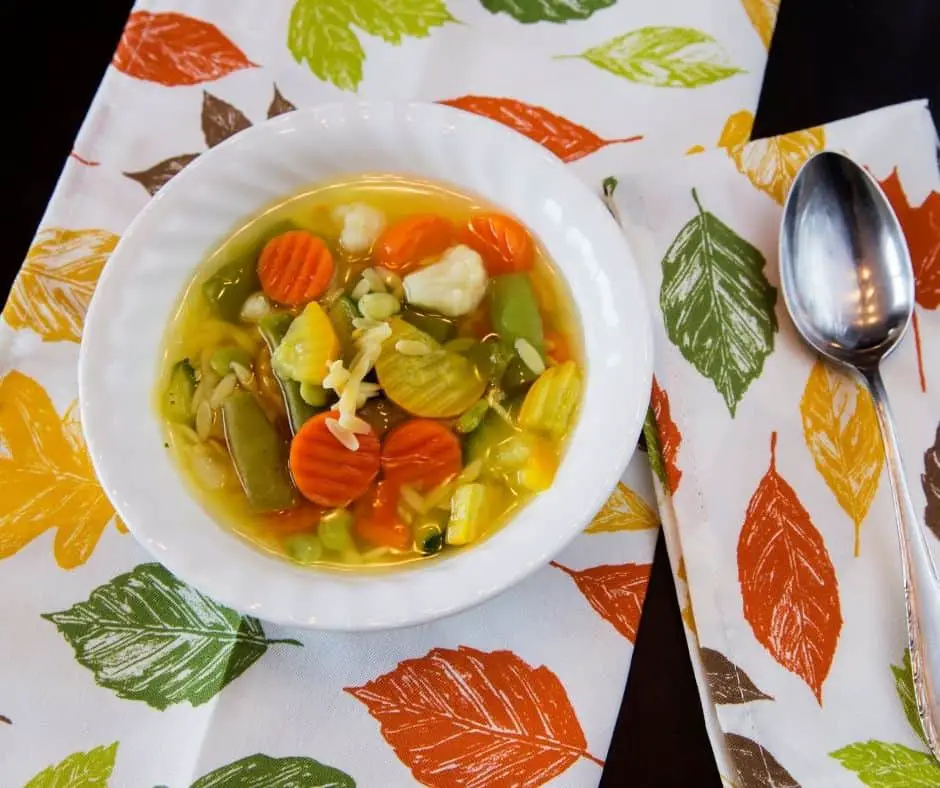 Looking to slim down and knock off the holiday weight gain? Then this Slimming Detox Soup is perfect for you! 
Made with carrots, broccoli, cauliflower, and golden beets, this dish packs a ton of flavor and nutritional value. These vegetables are also known for their detoxifying properties, which is why they're a must-eat if you're on a cleanse. 
Once again, I was pleasantly surprised by how flexible this recipe was. Besides the vegetables that it called for, I also added shredded rotisserie chicken and a touch of Parmesan cheese, both of which gave it a fantastic "umami" flavor. 
This Slimming Detox Soup was also very filling, so it won't leave you with any feeling of hunger or cravings. 
Check out this recipe from The View From Great Island. 
13. Slow Cooker Detox Cauliflower Soup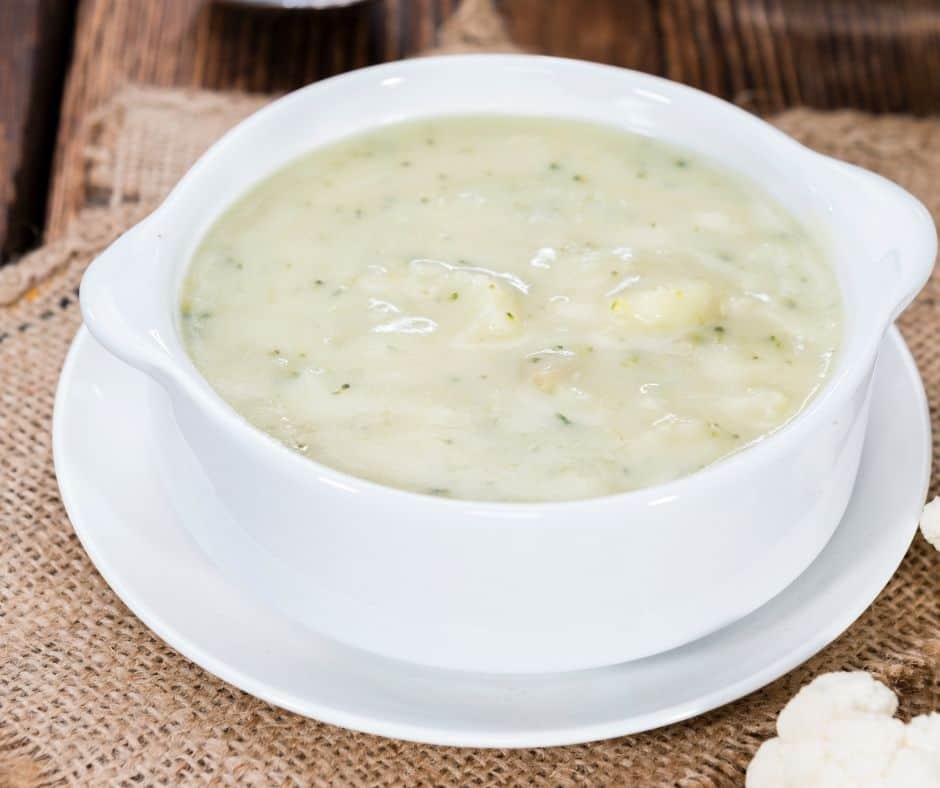 Cauliflower is honestly one of my most favorite vegetables, so I knew that I had to find a detox soup that used it. Luckily, this particular recipe was not only convenient to make, but the end result had a ton of robust flavors too.
I definitely think that I've found my new favorite Cauliflower dish, right next to my cauliflower fired rice here!
One of the best things about cauliflower is its nutritional benefits. In addition, it is also known for its detoxifying and anti-inflammatory properties. 
I noticed that I felt really good and "clean" after eating a cup of this low-carb, slow-cooked Detox Cauliflower Soup, so the nutritional value of this vegetable is undoubtedly far from overrated.  
Check out this recipe from Cooking Maniac. 
Read Also: 5 Best Herbal Detox Teas To Cleanse Your Body Naturally