Pesto pasta is delicious, adaptable, and filling dish. It is easy to make and can be pretty healthy. Thanks to its ingredients like garlic, basil, tomato, pesto, fresh mozzarella, and choice of meat like grilled steak, chicken, pork chops, or even fish, this meal is full of nutrients and perfect for lunch or family dinner.
Although pesto pasta is perfect for serving on its own, here are some great sides to consider to balance out and compliment this popular pasta dish.
Read Also: How To Use Pesto From A Jar With Pasta? (Easy And Delicious).
Here are 7 delicious sides to serve with pesto pasta.
1. Tomato Basil Bruschetta Is A Great Side For Pesto Pasta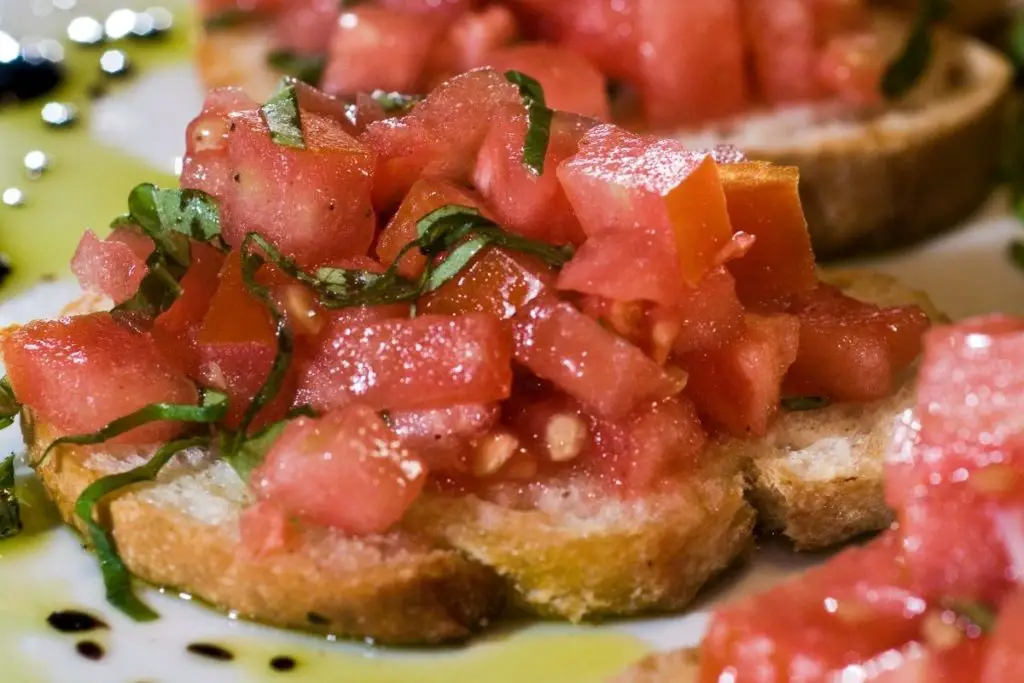 As one of the quintessential Italian appetizers, it is not surprising that bruschetta makes for a spectacular side dish for pesto alla Genovese—if you don't mind extra carbs alongside your pasta.
The flavorful combination of ripe red tomatoes and garlic flavor complements the main dish, while the touch of basil ties it together. The final touch of balsamic drizzle adds an authentic Mediterranean touch.
Ingredients:
Ripe tomatoes.
White onion.
Fresh basil.
Garlic.
A baguette.
Extra virgin olive oil.
Thick balsamic vinegar.
Instructions:
Pre-heat your oven at 450°F (232°C) and prepare a baking sheet with parchment paper.
Clean your tomatoes from seeds and juice, dice them, and move them to a mixing bowl.
Finely chop the white onion and basil, and incorporate them with the tomatoes. Mince the garlic, include it, and set it aside to marinate.
Cut the baguette into slices and brush them lightly with olive oil. Put them in the oven for about 8 minutes until they're golden.
When it is time to serve, top the bread with the tomato mixture and drizzle them with balsamic vinegar.
Visit Cookie + Kate for more details regarding ingredients and preparations.
2. Paire Pesto Pasta With Caprese Salad
If the idea of the bruschetta above sounds tempting, but you'd rather omit the additional carbs, then the Insalata Caprese is the perfect choice for you. It also features the incredible flavor combination of basil and tomato, a mixture that compliments the unique herby flavor of pesto.
Best part? You can amp it up with a balsamic reduction for extra flavor.
Ingredients:
Ripe tomatoes.
Fresh mozzarella or burrata cheese.
Fresh basil leaves.
Extra-virgin olive oil.
Balsamic.
Salt and pepper to taste.
Instructions:
Cut the tomatoes in your preferred form, ideally slices.
Mix the tomatoes with torn pieces of your chosen cheese in a bowl and add the basil leaves.
If you desire, add a drizzle of the extra virgin olive oil and the balsamic reduction.
Season to taste.
Caprese salad looks pretty straightforward, but take a look at the advice A Couple of Cooks has to give!
3. Try Roasted Eggplant Salad With Smoked Almonds & Goat Cheese
Admittedly, smoked almonds and goat cheese are not your everyday, always-on-fridge ingredients. However, this recipe is a must-try if you ever feel like going out of your comfort zone for a uniquely exquisite experience.
A warm salad best eaten straight out of the oven, it boasts of a rich, layered flavor and a smooth texture.
Ingredients:
Large eggplants.
Extra-virgin olive oil.
Lemon juice.
Honey.
Smoked almonds.
Goat cheese.
Scallions.
Kosher Salt.
Paprika.
Cumin.
Parsley leaves.
Garlic cloves.
Soy sauce.
Instructions:
Cut the eggplants into cubes. Place them in a large bowl, season with salt, and then set aside. Preheat the oven to 400°F (204°C).
Mix olive oil, cider vinegar, honey, paprika, garlic, and cumin. Dry the eggplant cubes carefully and incorporate them into the marinade.
Spread the eggplant on a baking sheet and place it at the center of the oven. Roast for 40 minutes or until tender and brown, then remove from the oven.
Mix the lemon juice and soy sauce. Incorporate the slightly cooled eggplant into the bowl add the parsley leaves, smoked almonds, goat cheese, and scallions.
The Kitchn has further instructions and tutorials here!
4. Cannellini Beans Are Great To Serve With Pesto Pasta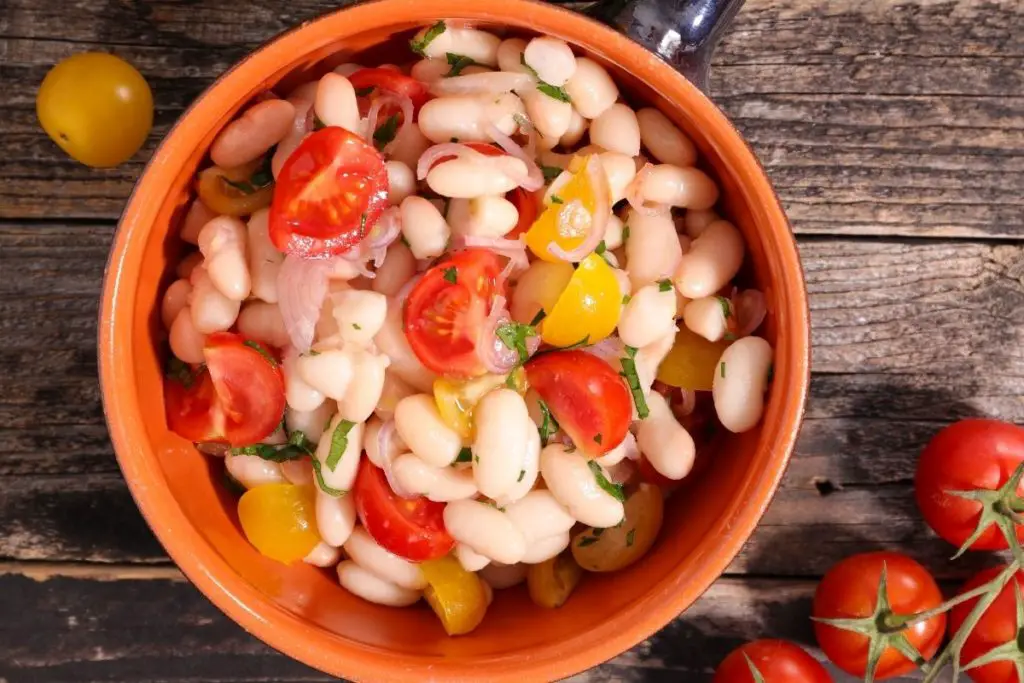 If the aforementioned recipe is far too elaborate and time-consuming, then no need to fuss—there are much simpler side dishes that will still elevate your pesto pasta to the next level without much effort.
Case in point—this cannellini beans recipe. It grabs a regular can of beans and infuses extra Italian flavor to create a Mediterranean meal experience within five minutes.
Ingredients:
One can of cannellini beans.
Chives.
Salt and pepper to taste.
Your preferred seasoning blend, preferably herbes de Provence or regular Italian seasoning.
Instructions:
Drain and rinse the beans carefully.
In a small skillet, heat the olive oil. Add the seasoning of your preference, chives, salt, and pepper. Remove when warm.
Quick and easy, A Couple Cooks has further tips for you to check here!
5. Roasted Garlic Potatoes Are A Perfect Match
If you are still not sure what to serve with pesto pasta then try potatoes. As one of the most versatile ingredients, potatoes are a perfect match for virtually any meal—including pesto pasta.
In particular, roasted garlic potatoes boast a delicious yet straightforward flavor that allows pesto to shine through without overpowering it. The delicious touch of garlic is undoubtedly the jewel in the crown.
Ingredients.
Potatoes.
Garlic.
Ground Black Pepper.
Extra virgin olive oil.
Butter.
Parsley.
Instructions:
Pre-heat the oven at 425°F (218°C).
Peel the potatoes and cut them into wedges. Season them with black pepper, salt, and olive oil, then line on a baking sheet.
Cut the top of a head of garlic and place it on a foil piece. Drizzle olive oil on top, then wrap the garlic with the foil. Place on the baking sheet alongside the potatoes.
After roasting the potatoes, take them out of the oven and let them cool.
Open the foil and take out the garlic when it's amber-colored and soft. Squeeze out the garlic cloves and smash them into a paste.
Melt the butter in a saucepan, then add the smashed garlic and parsley.
Once incorporated, add the garlic sauce on top of the potatoes.
For a step-by-step walkthrough of this recipe, head over to AnitaCooks' YouTube video!
6. Black-Eyed Pea Salad Is An Ideal Side Dish
A perfect vegan salad full of protein, this recipe is an ideal side dish to add fresh flavors and a touch of sweetness to your pesto pasta meal.
Ingredients:
Black-eyed peas.
Green and red onion.
Bell pepper.
Cilantro (optional)
Apple cider vinegar.
Peach or mango.
Dijon mustard.
Sugar.
Olive oil.
Salt and pepper to taste.
Instructions:
Cut, slice, or mince the green onion, red onion, pepper, and cilantro. Cut the peach or mango into small pieces and blend everything into a large bowl. Add the black-eyed peas.
Blend the Dijon mustard, apple cider vinegar, and sugar in another bowl. Slowly add the olive oil.
Drizzle the dressing onto the fresh mixture, and season to taste.
Sonja Overhiser has a complete guide for you to check out over at A Couple Cooks!
7. Roasted Flat Mushrooms With Green Onion Makes A Delicious Combination
This delicious combination of mushroom and herbs is a quick and easy recipe that brings forward the best vegetarian flavors available yet remains substantial enough to be filling without overpowering the palate.
Best part? The fragrant greenery and rich butter layer mix surprisingly well with the herbal taste of pesto pasta.
Ingredients:
Large mushrooms, ideally portobello.
Butter, softened.
Parsley and thyme.
Scallions.
Salt and pepper to taste.
Instructions:
Clean the mushrooms and pre-heat the oven to 390°F (199°C).
Mix the soft butter with the scallions and herbs. Cover the mushrooms' surface with the mixture, then cover with foil.
Bake for 25 minutes until the mushrooms soften.
Cleaning mushrooms can be tricky, so make sure to visit Recipe Tin Eats for extra tips on how to do so.
In conclusion, pesto pasta is a great dish to make for a dinner party or for a family meal. It is easy to make and can be paired and served with a variety of side dishes. These side dishes above are all delicious and will compliment the pasta perfectly. Be sure to try out these recipes and enjoy!