In a world of Pinterest-perfect cakes, it's easy to forget about boxed cake mix. But this rediscovered boxed cake mix hack will remind you just how easy and delicious this two-ingredient cake recipe can be. By replacing egg and oil with soda pop, you can still transform that dry, boring cake mix into a fluffy, moist cake. So next time you're in a baking rut, give soda pop cake a try!
What Is Soda Pop Cake And How Does It Work?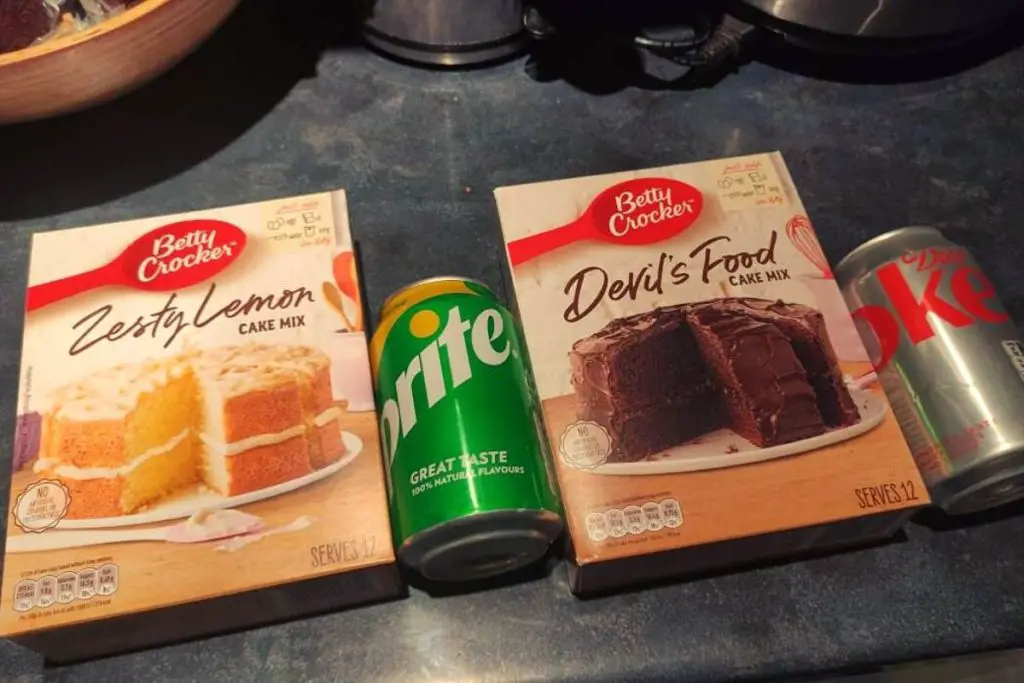 A soda pop cake is a cake that can be made with just two ingredients-soda (carbonated soft drink) and cake mix. It is a quick and easy dessert to make if you are short of ingredients while still achieving a soft and spongy texture.
The boxed cake mix contains all of the dry ingredients, such as flour, sweetener, and leavening agents like baking powder, or baking soda, which are all blended together into the cake mix. So, we're looking for activators to kick them into gear. So, most box cake recipes call for additional ingredients like water, vegetable oil or butter, and eggs.
But with soda cake, you don't need these traditional ingredients. Instead, Soda offers the same activation as water, oil, and egg with fewer ingredients. The carbonation helps the cake rise and surprisingly it has the same taste and similar texture when made with oil and eggs.
If adding a can of soda to your cake mix is not something you'd want to try then check out some other clever cake mix hacks here: 15 Tricks To Make A Box Cake Mix Taste Homemade.
The Benefits Of The Soda Pop Cake
Aside from cutting down prepping time and the need for finding the other required ingredients, there are a handful of other benefits for anyone who wants to give this two ingredients soda cake hack a go. 
First, allergens are avoided. If you happen to have an aversion to eggs, this is a great option to avoid them. 
Additionally, this way cuts down calories and fat than you would otherwise have if you use butter, eggs, and oil. 
You can cut even more calories and fat if you use carbonated water instead of Soda.
For example, if you follow the baking directions on the back of the Betty Crocker white cake mix box, it would have 228 Calories and 10 grams of fat. However, if you substitute the traditional ingredients for plain carbonated water, the cake's calories drop to 160 and 3 grams of fat. 
Also, adding soda to your store-bought boxed cake mix allows so many new flavor and color possibilities.
Finally, your dietary choices can be met if you follow a vegan or plant-based diet. As most boxed cake mixes are accidentally vegan and since you won't use eggs or butter then the cake is vegan friendly. 
How Does The Soda Pop Cake Taste?
Some have described the taste of soda pop cake as "eating candy in the form of fluffy, sticky cake" but I would say that it tastes more like Angel Food Cake or a sweeter version of Pound Cake.
The tastes can really vary depending on the cake mix brand and soda combination you are using. I will cover some of the most popular soda cake combinations below.
How To Make Soda Cake?
Mix together a standard cake mix of your choice with one can of 12 once (330ml) of a carbonated drink of your choice and bake it in the oven according to the baking instructions found on the box.
Although this recipe is super simple there is an art to mixing in soda to cake mix to ensure it turns out perfect.
So here are some useful tips for making the perfect Soda Cake:
After pouring your Boxed Cake Mix into a mixing bowl, use a fork to sift out any clumps or balls of dry, clumped-up cake mix. 
Make a well in the middle of your cake mix and slowly pour your soda into the middle of the dry mixture. Tip: Don't pour too high up from the bowl because it gets "foamier" the higher away you pour.
When you mix, don't beat your batter; instead, carefully scoop from the bottom and stir for approximately 30 seconds or 30 stirs. 
If you happen to have clumps in the batter, do not mix or stir too fast. Instead, slowly stir and crush the clumps out. If you mix too quickly, it could cause the batter to go flat and not have the same outcome. 
Read Also: How To Color Cake Mix Using Natural Food Coloring.
11 Interesting Soda Cake Combination You Should Try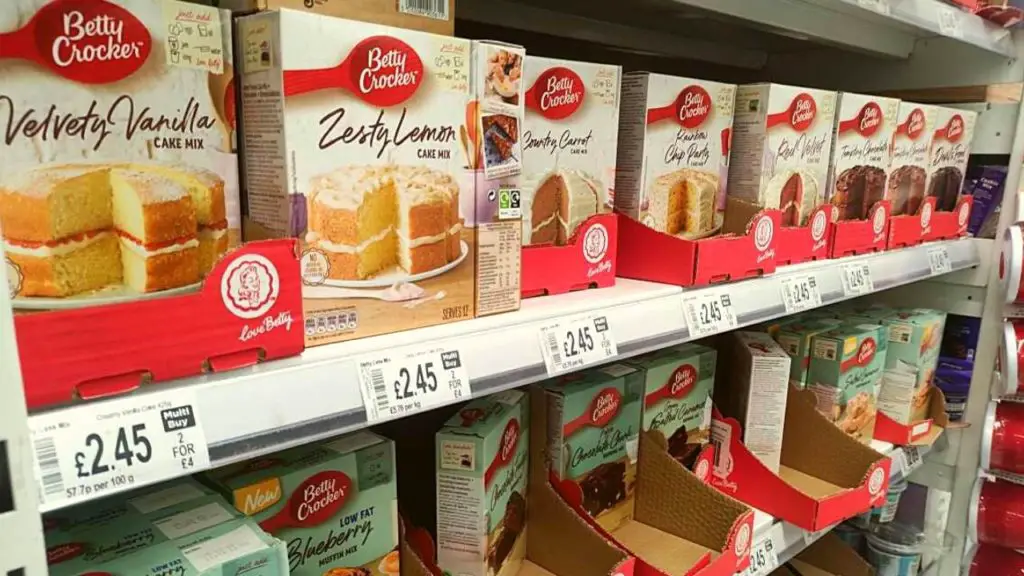 Finding the right combination of Soda and Cake mix is essential as some of the combinations turn out a lot better than others. I tried Triple Chocolate Fudge cake mix with Root Beer and it was a bit sickly sweet for my taste. But that said, you might like it so don't be afraid to experiment.
So here are some of the popular soda cake combinations to try: 
Mix together Classic Yellow Vanilla Cake Mix and 7 Up or Sprite for a delicious lemon-lime flavored cake.
Take a standard Chocolate Cake Mix and a can of Coca-Cola or Pepsi for a rich chocolaty flavor.
Use Carrot Cake Mix and Canada Dry Ginger Ale for sweet and moist carrot cake.
Choose French Vanilla Cake Mix and Sunkist to make a Creamsicle flavored cake with a vibrant twist.
Create a "Purple Cow" cake by mixing super moist French vanilla cake mix and Grape Soda.
Mix Strawberry cake mix and Vanilla Cream Soda to make a Strawberry Shortcake.
Get a Duncan Hines Spice Cake and add Ginger ale to create a delicious spicy finish.
Betty Crocker's Super Moist Dark Chocolate Cake Mix and Root beer creates a perfect chocolate bunt cake.
Cherry Chip Cake and Cherry Dr. Pepper produce a Very Chery Cherry Chip Cake.
Devils Food Cake and Diet Coke generate a decadent and rich flavor.
Lemon Cake Mix with Sprite turns out a Zest Lemon Cake.
Another tip for finding the right soda and cake mix combination is mixing light color soda and light color cake mix and dark sodas with a dark color cake mix.
Also, once you have baked your cake, don't forget to add a generous layer of frosting to it. Here are some creamy frosting recipes to try: 15 Easy Frosting Recipes.
So what recipe will you try for the Soda Cake? Let us know how it turned out and what you're favorite flavor was!