Looking for the perfect roasting pan to elevate your cooking game? I've got your back! I've rounded up the top 7 best roasting pans with racks that will make your next meal the talk of the dinner table.
Skip to the best roasting pans with rack >>>
Whether you're a novice cook or a seasoned pro, these pans will surely help you make the perfect roast! So, get ready to channel your inner Gordon Ramsay, and let's find the perfect roasting pan for your culinary adventures!
However, before we dive into the list of the best roasting pans with racks on the market today, let's answer a couple of common questions that will help you make your decision!
Why Is A Roasting Rack So Important?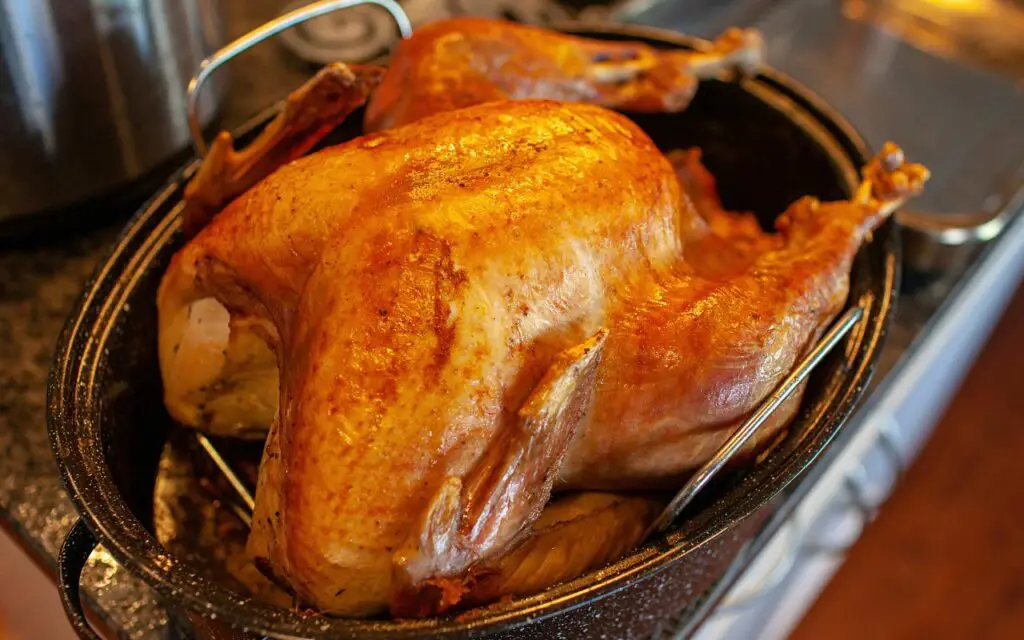 A roasting rack is a simple yet invaluable tool for anyone wanting to cook up a delicious, well-cooked, and mouth-watering roast. It allows air to travel underneath the food while it cooks, creating an even heat distribution, and it can also help prevent the burning or sticking of the food to the pan.
Having a removable roasting rack allows you to achieve a lot more with your simple roasting pan, and that's why I consider it an essential feature when roasting turkey, chicken, or other meats!
In my opinion, these are the main benefits of the rack:
Even cooking: The first two are probably the main reason why I love the rack. The rack lifts the meat or poultry off the bottom of the pan, allowing air to circulate around it, resulting in more even cooking and browning.
Reduced cooking time: Again, by lifting the meat or poultry off the bottom of the pan, the rack can help to reduce cooking time by allowing heat to circulate more efficiently.
Leaner cooking: I like fatty meat, but for someone who does not, the rack allows fat to drip off the meat, which makes it a leaner option, as excess fat drains off instead of being reabsorbed, and if you like, you can use it for the delicious gravy.
Better presentation: The rack helps to keep the meat or poultry intact while cooking, which makes for better presentation when serving.
Easier cleanup: I can tell; that is so helpful. The rack prevents the meat from sticking to the bottom of the pan, making it easier to clean up afterward. Plus, it also helps to reduce splatter.
Versatility: A roasting rack can also be used to cook vegetables or other foods alongside the meat without them getting too soggy at the bottom of the pan and maximizing the use of the oven space and creating a complete meal all in one pan.
Read Also: Spatchcock Turkey Cook Time By Weight (Plus Top Tips).
What Makes A Great Roasting Pan?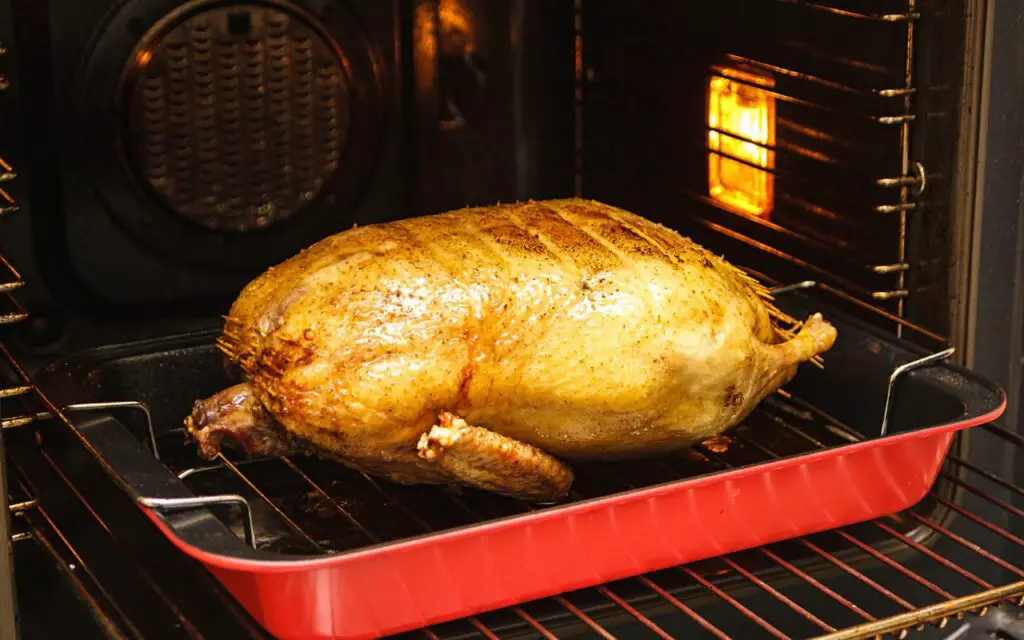 When comparing the roasting pans on this list, here are what you should consider ensuring you pick the best fit for your kitchen and cooking style.
Roasting Pan Capacity
The capacity of a roasting pan is important when choosing one that best suits your needs. If you need to cook a turkey for Thanksgiving, regularly cook large quantities of food, or have a large family, you might want to consider an extra-large roasting pan with a rack.
However, if you're looking for something more suitable for smaller meals for one or two people, then there are also plenty of medium and smaller-sized options available too! Always remember it's better to have a bit extra space than too little.
Roasting Pan Material
The material that your new roasting pan is made from is so important and often overlooked when buying a new piece of kitchen equipment. The material your roasting pan is made from will determine how long it lasts and how evenly it cooks.
As someone who loves to cook and roast, I've had my fair share of experience with different types of roasting pans.
In my opinion, stainless steel is the absolute best choice for a roasting pan. It is light enough, durable, corrosion-resistant, and easy to clean.
Plus, it's oven safe even at high temperatures and can be used on any stovetop. Stainless steel also distributes heat evenly and is perfect for achieving that perfect crust on your roast.
As a runner-up, I would choose hard-anodized aluminum. This newer material is gaining popularity among roasting enthusiasts due to its even heat distribution, durability, and resistance to scratching and chipping. It's also lighter than cast iron, making it easier to handle and clean.
Cast iron and ceramic are also durable roasting pan materials and very aesthetic, I must say, and can handle high temperatures, making them decent options for roasting pans. Cast iron retains heat well, and ceramic heats evenly and is non-reactive.
However, cast iron can be heavy and prone to rusting, while ceramic can crack and may not be suitable for use on a stovetop. Plus, they tend to be quite expensive and usually don't come with a rack.
Therefore, while these materials are still good options, personally, they would not be my first choice.
Rack Vs No Rack
The choice of whether to buy a roasting pan with a rack included or not largely depends on how you plan to use it. If you're looking for something versatile that can handle a variety of dishes with ease, then the rack is worth considering.
However, if you only have simple needs and don't see yourself using the rack too often, it may be a less important factor.
I think it is better to have a rack and not use it that often than not have one and find yourself needing it! That's why all the roasting pans on this list have a rack that can be easily removed if necessary.
Handles
When you're selecting a roasting pan, it's crucial to pay attention to the handles. Good pan and lid handles are essential for a great and safe roasting experience. Take it from me who has dropped a perfectly cooked roast beef on the kitchen floor.
You want handles that are sturdy and comfortable to grip, especially if you're planning on using roast a large turkey.
It's also important that the handles are securely attached to the pan to avoid any accidents. You don't want the handles to loosen or break when you're moving a hot and heavy pan filled with delicious food.
So, when you're on the hunt for the perfect roasting pan, don't overlook the handles. They may seem like a small detail, but they can make a big difference in your cooking experience.
---
Best Roasting Pans With Rack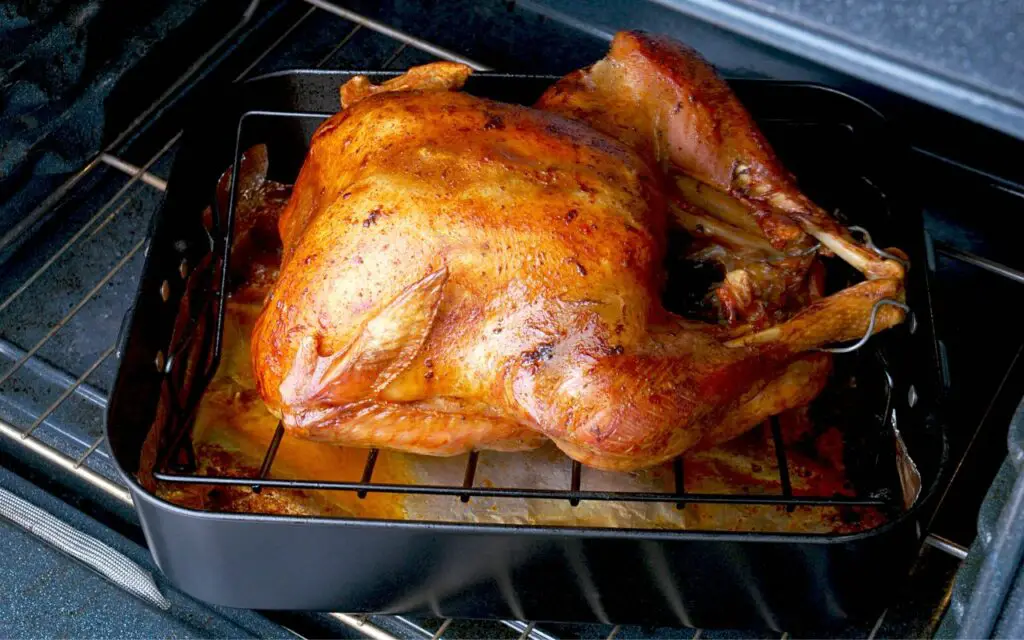 Here are my top 7 picks for the best roasting pans with racks:
If you're like me, there's nothing quite like the smell of a delicious roast cooking in the oven. As someone who's spent countless hours experimenting with different roasting pans, I wanted to share my personal top 7 picks for the best roasting pans with racks.
1. Mr. Captain Roasting Pan With Rack And Lid (Top Pick)
TAP ON IMAGE TO VIEW PRICE
TAP ON IMAGE TO VIEW PRICE
If you're looking for a roasting pan that can handle any meal for your family, then the first one on our list is a must-see. It's a fantastic all-rounder for any kitchen and comes in two different sizes – 8.5-quart and 12-quart capacities.
The 8.5-quart size is perfect for cooking up a large turkey or several chicken pieces. It's made of timeless stainless steel, which not only looks great but is also non-stick, easy to clean, and super durable for long-term use.
One of the best things about this roasting pan is that it comes with a rack and lid, making it perfect for slow roasts or oven-baked dishes. And the best part? It's dishwasher-safe, so you can easily clean it up after dinner.
Of course, there are a few things to keep in mind. When this roasting pan is full, it can be pretty heavy. And while the handles are sturdy, some people may find the placement a bit awkward.
Overall, if you want a reliable and versatile roasting pan for your kitchen that does not cost an arm and a leg, this one is definitely worth considering.
Pros:
Large Capacity
Durable Stainless Steel Material
Non-Stick Surface
Includes A Rack And Lid
Dishwasher Safe
Cons:
Heavy When Full
Not The Best Handle Placement
2. CONCORD Premium 12 Quart Stainless Steel Roasting Pan
TAP ON IMAGE TO VIEW PRICE
TAP ON IMAGE TO VIEW PRICE
The CONCORD premium roasting pan is perfect for anyone wanting a large-capacity roasting pan with a rack and lid. It has two handles for easy placement in and out of the oven and a 12-quart capacity that can fit full chickens and vegetables with ease!
The stainless steel material is non-stick and won't warp or rust over time.
The included rack fits in a unique way: it hangs on the sides of the pan, so there is no risk of it slipping when moving your roasting pan in and out of the oven!
Another unique feature of this great roasting pan is the multifunctional lid, simply flip the lid over, and it doubles as a griddle! Sear or pan-fry a steak with ease.
Pros:
Large Capacity
Unique Rack Design
Durable Stainless Steel Material
Multifunctional Lid
Cons:
Lose Some Of The Capacity When Using The Rack.
3. Chicago Metallic Nonstick Roaster (Budget Pick)
TAP ON IMAGE TO VIEW PRICE
TAP ON IMAGE TO VIEW PRICE
If you're looking for a great budget pick, then the Chicago Metallic nonstick roaster is a perfect choice!
This roasting pan is made from carbon steel and is coated with a non-stick material that makes it incredibly easy to clean.
Plus, the included rack has an innovative U-shaped floating design allowing for even heat distribution and faster roasting times.
This is a great choice for anyone on a budget who needs an extra-large roasting pan that's easy to move and big enough for most families to easily fit up to 25 lbs of meat!
As a bonus, this pan is super lightweight, making it not too heavy when full, well, unless you are roasting a massive turkey!
Pros:
Super Strong And Perfectly Placed Handles
Non-Stick Coating
U-Shaped Rack Design
Dishwasher Safe
Lightweight Design
Cons:
No Lid
Not As Durable As A Stainless Steel Pan
4. Precise Heat Roaster
TAP ON IMAGE TO VIEW PRICE
TAP ON IMAGE TO VIEW PRICE
This Multi-Use Baking and Roasting Pan is constructed from durable T304 stainless steel; the riveted handles make it strong and reliable enough to serve your family for years.
The included wire rack is also made of stainless steel, featuring collapsible handles that give you the leverage needed to lift even the heaviest roast out of the pan easily!
Cleanup is easy, thanks to the high-quality stainless steel. This pan is dishwasher-safe, so you can spend less time cleaning in the kitchen and more time spending quality time with friends and family.
On top of all that, this large roasting pan measures 20 inches x 12 inches x 8 3/4 inches, giving you plenty of room to make everyday meals or big roasts for any special occasion!
Pros:
Durable Stainless Steel Material
Riveted Handles For Easy Lifting
Collapsible Wire Rack Handles
Include A Perfect Fitting Lid
Dishwasher Safe
Cons:
No Reinforced Bottom Unlike Other Roasting Pans On The List
Large Can Be Hard To Store
5. Servappetit Roasting Pan
TAP ON IMAGE TO VIEW PRICE
The Servappetit Roasting Pan is one of the better-looking roasting pans on this list and would work great if space was an issue, as you can store it right on the countertop! This bright-colored roasting pan is plenty big enough for a family of 4 to enjoy delicious roasts!
The rack that's included with this one is of very high quality and has easy lift-out handles making handling large hot roasts a breeze.
The Servappetit Roasting Pan is a great all-rounder with strong handles and a stylish design. The price is also very reasonable, being close to my budget pick!
Pros:
Bright Colourful Design
Heavy-Duty Handles
Lift-Out Rack For Easy Handling
Nonstick Coated Surface Makes Cleanup A Breeze
Cons:
No Lid Included
Not As Durable As Stainless Steel Pans
6. Cook & Home Nonstick Roaster
TAP ON IMAGE TO VIEW PRICE
There is not a lot left to be desired with this roasting pan. It is large enough to hold up to 25 lbs of meat. The great nonstick coating contains no PFOA and is super easy to clean, allowing for quick and simple roasting and cleanup.
The rack allows for even cooking of the meat and the collecting of juices during the roasting process. The very solid ceramic handles are riveted on the side, providing a strong and easy grip when transporting it to and from the oven.
Plus, these roasting pans are dishwasher safe and can be used with all ovens, from gas to ceramic cooktops!
The only small potential downside to this pan is that it measures 17 x 13 inches, which may be more than enough for you, but if you have a larger family or regularly cook big meals, you may want to consider one of the larger roasting pans above!
Pros:
Nonstick Coating
Elevated Rack For Even Browning
Riveted Handles For Security
Dishwasher Safe
Cons:
No Lid
Smaller Size Than Some Other Options On The List
7. Fox Run Oval Roaster Set
TAP ON IMAGE TO VIEW PRICE
TAP ON IMAGE TO VIEW PRICE
The Fox Run Oval Roaster Set is the perfect option for anyone looking for a great mid-range roasting pan that will last for years and can do everything you need from it!
The size of this pan is 10 quarts which is perfect for a medium to large size family or batch cooking.
One of the key features of this large roasting pan is the high domed lid which helps to keep temperatures even throughout the cooking process, ensuring a perfect cook every time!
It's not the lightest roasting pan weighing 4.2 lbs when empty, but this is to be expected with the high-quality stainless steel and size of the pan.
The rack that comes with this pan is not the best. It doesn't have handles, so it can be hard to remove the roast once cooked, but all in all, this is a great roaster that will help you in creating the perfect hassle-free roast for you and your family!
Pros:
High-Quality Stainless Steel Material
High-Domed Lid For Even Cooking Temperatures
Extra Large Size
Dishwasher Safe For Easy Cleanup
Cons:
No Handles On The Rack
A Little Heavy To Lift When Full Of Food
Bonus: Chicken Roasting Rack!
TAP ON IMAGE TO VIEW PRICE
Whilst searching for roasting pans, I stumbled across this great additional rack that is sure to level up your cooking and wow any dinner guests!
This rotating roasting rack lets you cook up to 18 legs, wings, or thighs with ease and is compatible with almost all medium to large roasting pans on the market!
This one is worth checking out if you want large hassle-free meals that are perfectly cooked every time!
Read Also: How To Tell When Chicken Is Done Without a Thermometer? (5 Effective Methods).
Final Thoughts
Roasting pans with racks are an essential kitchen tool for any home cook, especially if you regularly cook large meals. The best roasting pan is the Mr Captain Roasting Pan With Rack And Lid, In my opinion, but it ultimately comes down to your needs and the needs of your family.
I have reviewed and tested some of the best roasting pans with racks, but the one you choose depends on your own needs and budget. Make sure to consider all the pros and cons before deciding which one is right for you.
Whatever pan you decide to go with, we hope that this article has helped you find the perfect roasting pan with a rack for you! Happy roasting!