Get Your Greens With This Low-Carb Cabbage Pizza Recipe (No Oven Required!)
Looking for a low-carb, gluten-free pizza that won't weigh you down like a sack of flour? Look no further than this low-carb, gluten-free cabbage pizza recipe! Yes, you read that right – cabbage. Don't let the vegetable scare you away, though; this pizza is so delicious you'll forget all about the dough.
Jump To Recipe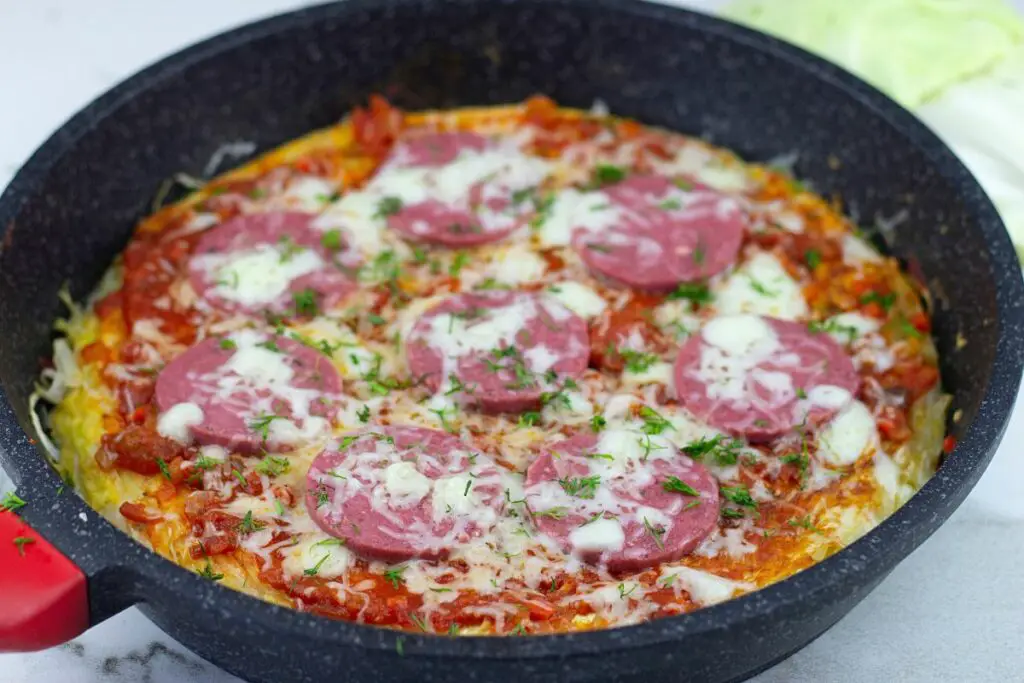 And let's be honest, who doesn't love a pizza recipe that can help you sneak in some extra veggies? So get ready to dig into a guilt-free slice (or two, or three…) of this clever and quirky cabbage pizza creation!
How To Make Cabbage Pizza?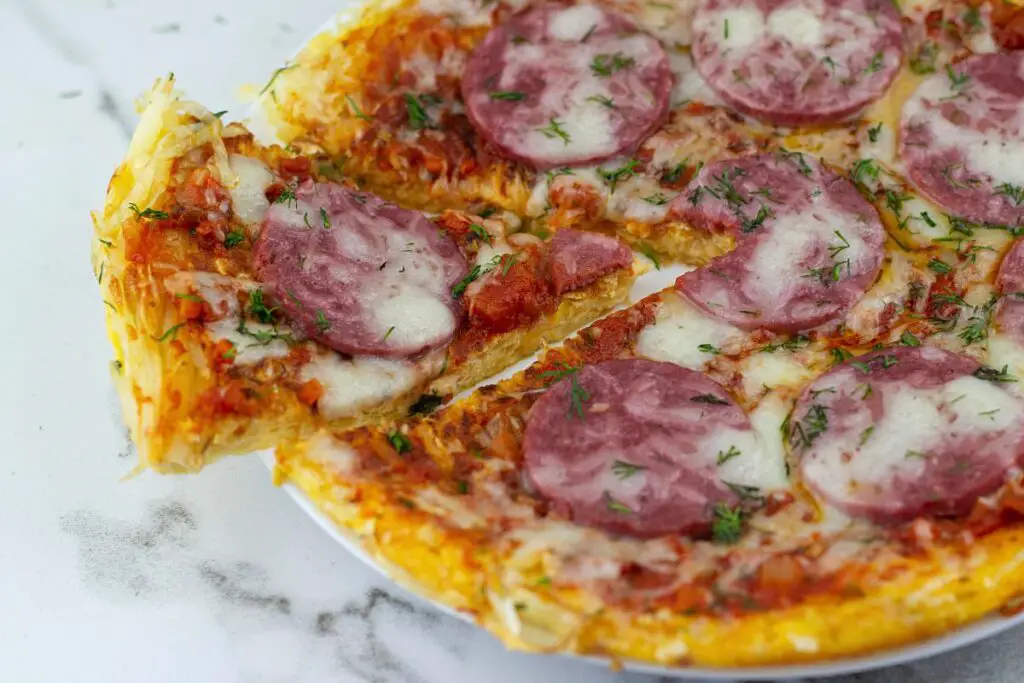 Alright, pizza lovers, it's time to get your cabbage on! Here's how to make this tasty and guilt-free low-carb, gluten-free cabbage pizza.
First up, grab half a cabbage and shred it up. Then pour some hot water over that shredded cabbage and let it sit till you prepare the other ingredients.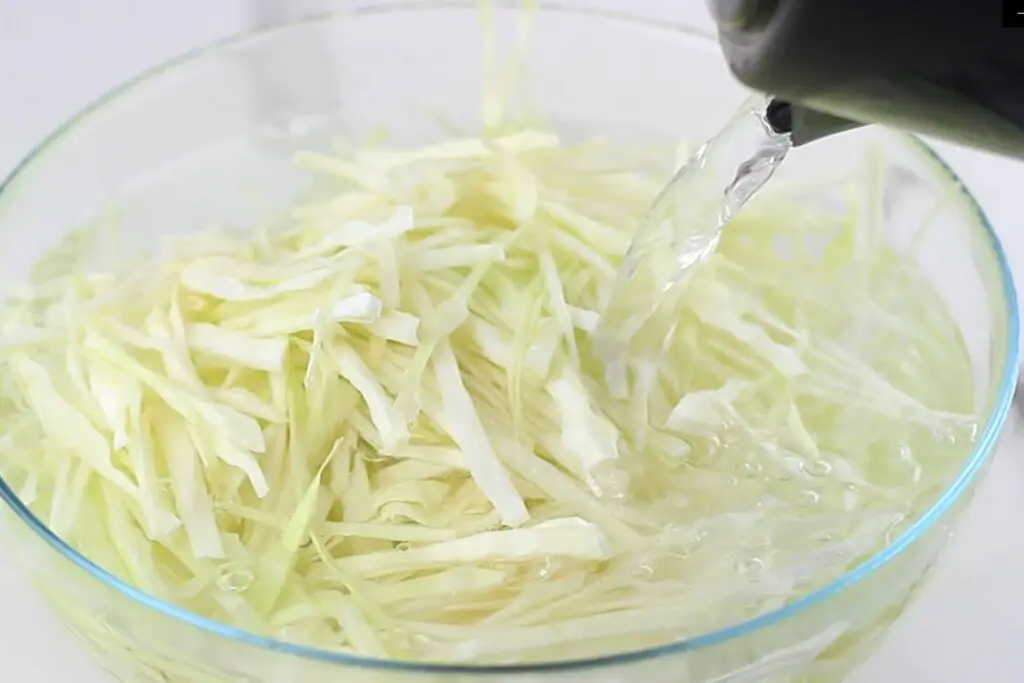 In a mixing bowl, crack in four eggs, and add half a teaspoon of salt and a tablespoon of heavy cream. Whisk that baby up like you're preparing for a culinary battle.
Melt some clarified butter in a pan over medium heat, and toss in your drained shredded cabbage. Spread it out evenly like you're laying down a fluffy green carpet.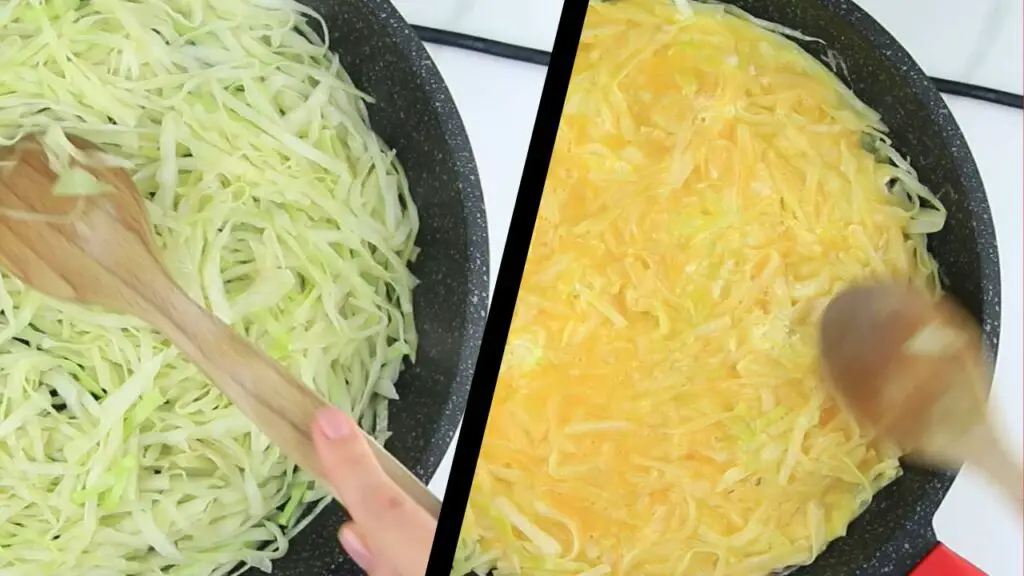 Pour your egg mixture on top of that cabbage, and sprinkle some grated cheese on top, then cover that pan and let it cook for 5 minutes on medium.
Now comes the tricky part: flip that pizza over onto a plate, then slide it back into the pan like a pro. Trust us, you've got this, but if not, I will show you in the video below.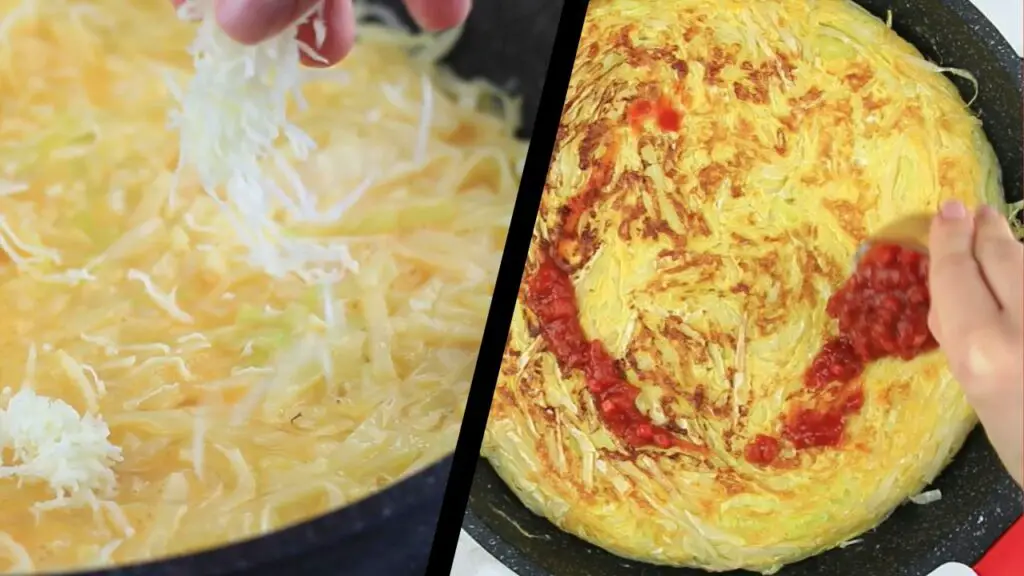 Now for the fun part: add some pizza sauce and spread it around like it's hot gossip. Sprinkle on some more grated cheese, and if you're feeling fancy, throw on some ham or pepperoni slices (optional, of course).
Top that pizza off with even more cheese, like you're saying "more is more" to your taste buds.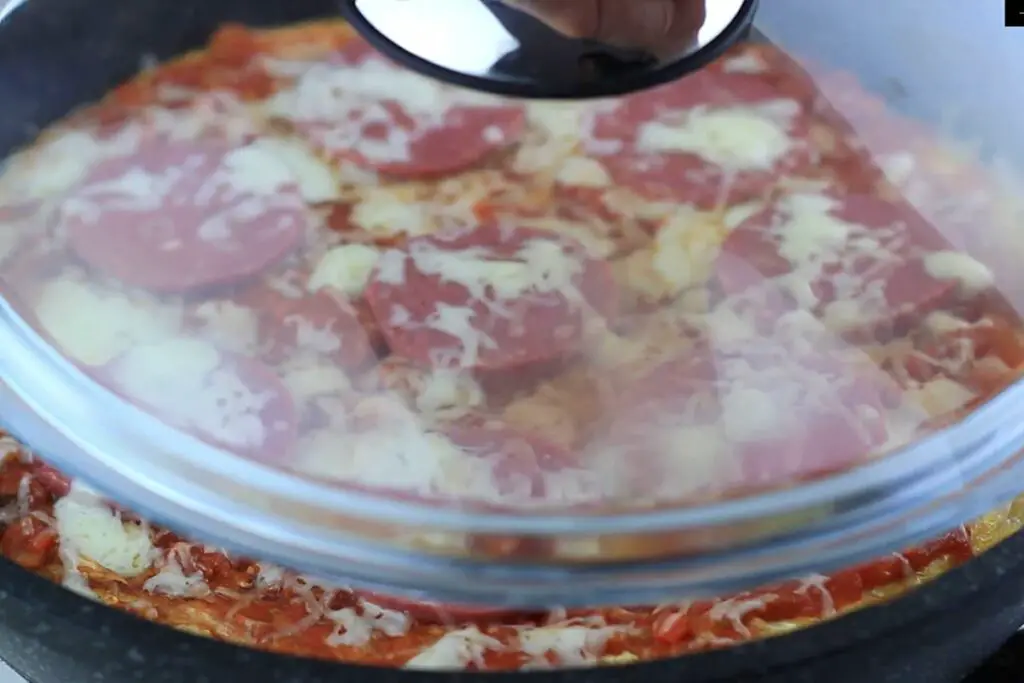 Cover that pan and let that pizza cook for another 8 minutes on low heat.
When the cheese is all melted and bubbly, slice that cabbage pizza up and serve it hot like it's a spicy take on traditional pizza.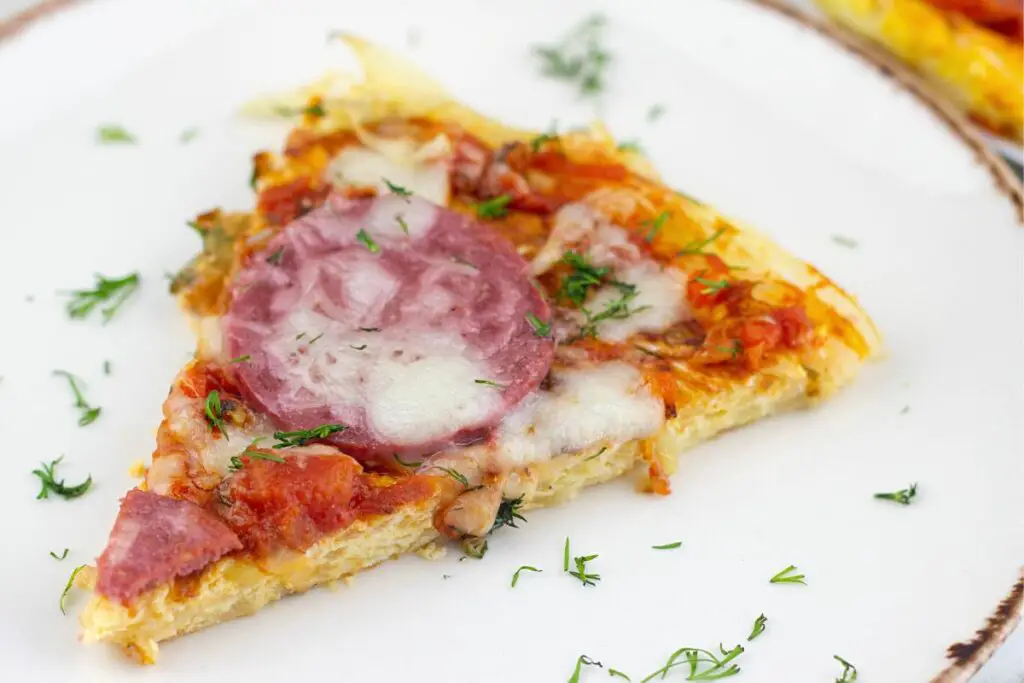 And there you have it! A tasty, low-carb, gluten-free pizza that's sure to make all your pizza dreams come true (well, most of them, anyway).
Enjoy your cabbage pizza creation, and remember to share it with your veggie-loving friends!
Read Also: Is It Safe To Eat Pizza Left Out Overnight In The Box?
Easy Cabbage Pizza Recipe
Course: Snacks
Cuisine: American
Difficulty: Easy
This recipe offers a healthier alternative to traditional pizza by substituting cabbage for dough and using low-carb and gluten-free ingredients. It's also a great way to use up leftover cabbage in a unique and delicious way, and you don't even need an oven to make it.
Ingredients
1/2 cabbage, shredded

4 eggs

1 tablespoon heavy cream

1/4 cup grated cheese

1/4 cup pizza sauce

1/4 cup ham or pepperoni slices (optional)

2 tablespoons butter

1/2 teaspoon salt
Directions
Take half the cabbage and cut it into shreds.
Pour hot water over the shredded cabbage and leave it aside for 5-10 minutes.
In another mixing bowl, add four eggs, half a teaspoon of salt, and 1 tablespoon of heavy cream, and give it a good mix.
Melt some butter in a pan over medium heat and add the drained shredded cabbage. Spread it evenly on the pan.
Pour the egg mixture over the chopped cabbage so that the cabbage is evenly covered. Add some grated cheese on top.
Cover the pan and let it cook for 5 minutes on medium heat.
Flip the cabbage with the help of a plate and then slide it back into the pan.
Add the pizza sauce and spread it evenly.
Then add some grated cheese and some ham or pepperoni slices (optional).
Top it with some more grated cheese.
Cover the pan and let the pizza cook for 8 minutes on low heat until the cheese has melted.
Slice and serve hot.
Notes
Do not use napa or savoy cabbage for this recipe. Their leaves are far too delicate. This recipe calls for the standard green "cannonball" cabbage.
Use a 10-inch skillet for a thicker pizza or a 12-inch skillet for a thinner pizza.
Experiment with different toppings: While the recipe calls for pizza sauce, ham, or pepperoni, feel free to get creative with your toppings. Try adding cooked bacon, mushrooms, onions, bell peppers, or any other veggies or meats you like to your pizza.
Try grilling, baking, or barbecuing the pizza: While the recipe calls for cooking the pizza on the stovetop, you can also try grilling it on a grill or BBQ or baking it in the oven at 375°F for 15-20 minutes or until the cheese is melted and bubbly.
Swap the pizza sauce: If you're not a fan of pizza sauce, you can substitute it with another sauce that you prefer, such as marinara sauce, pesto for the jar, or even salsa.
Nutrition Facts
4 servings per container
---
Amount Per ServingCalories360
% Daily Value *
Total Fat 29g

45

%
Cholesterol 338mg

113

%
Sodium 889mg

38

%
Total Carbohydrate 8g

3

%
Protein 19g

38

%
---
* The % Daily Value tells you how much a nutrient in a serving of food contributes to a daily diet. 2,000 calories a day is used for general nutrition advice.
Is This Cabbage Pizza Keto Friendly?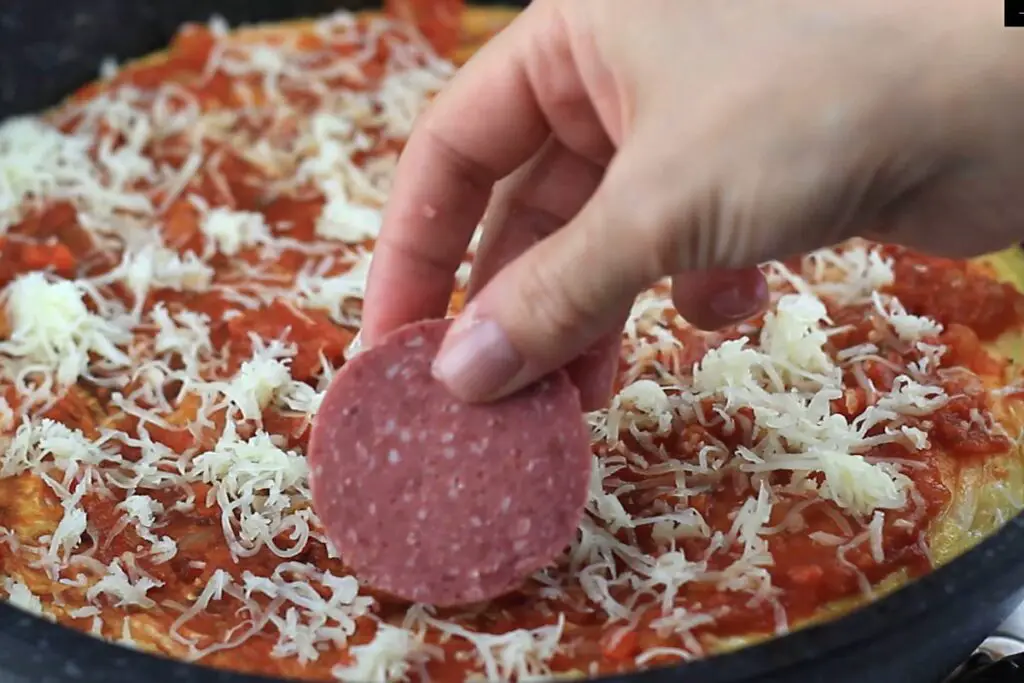 Yes, this cabbage pizza can be considered keto-friendly as it is a low-carb recipe that contains only 8 grams of carbohydrates per serving, which is 3/4 of the pizza. This is because the pizza crust is made from shredded cabbage instead of traditional pizza dough, which is typically high in carbohydrates.
Additionally, the recipe contains high protein and fat ingredients such as eggs, cheese, and butter, which are also common staples in a keto diet.
However, it's important to note that the nutritional information may vary depending on the specific brands and amounts of ingredients used, so it's always a good idea to double-check the nutritional content and portion sizes to ensure they fit within your daily keto macro goals.
Read Also: 6 Chicken Pizza Topping Combinations You Haven't Tried Yet!
Make It Vegan
To make this cabbage pizza recipe vegan, simply make a few simple substitutions. Instead of using regular eggs, use one of these 17 egg substitutes here.
Also, use a plant-based heavy cream substitute, such as coconut cream, instead of regular heavy cream. Swap out the butter for vegan butter or margarine and use vegan cheese and omit the meat.
In Summary
Alright, my fellow pizza enthusiasts, we've come to the end of our cabbage pizza journey.
So, whether you're trying to get more greens in your diet, getting rid of some leftover cabbage, cutting back on carbs, or just looking for a new pizza recipe to add to your collection, this cabbage pizza is sure to satisfy your cravings. Plus, it's so easy to make that you don't even need an oven!
Remember, life is too short to stick to the same old boring recipes. So get creative, try new things, and always remember to have fun in the kitchen.
Happy cooking!