Air fryers are quickly becoming one of the most popular kitchen appliances, providing a quick and easy way to cook healthier food. If you find yourself in possession of cabbage and an air fryer, you may be wondering if it is possible to cook cabbage in an air fryer. Luckily, the answer is yes!
In this article, I will share simple yet delicious air fryer shredded cabbage recipes that give you an easy, low-carb, and delicious meal or a side dish.
Jump To Recipe
Cooking Cabbage In An Air Fryer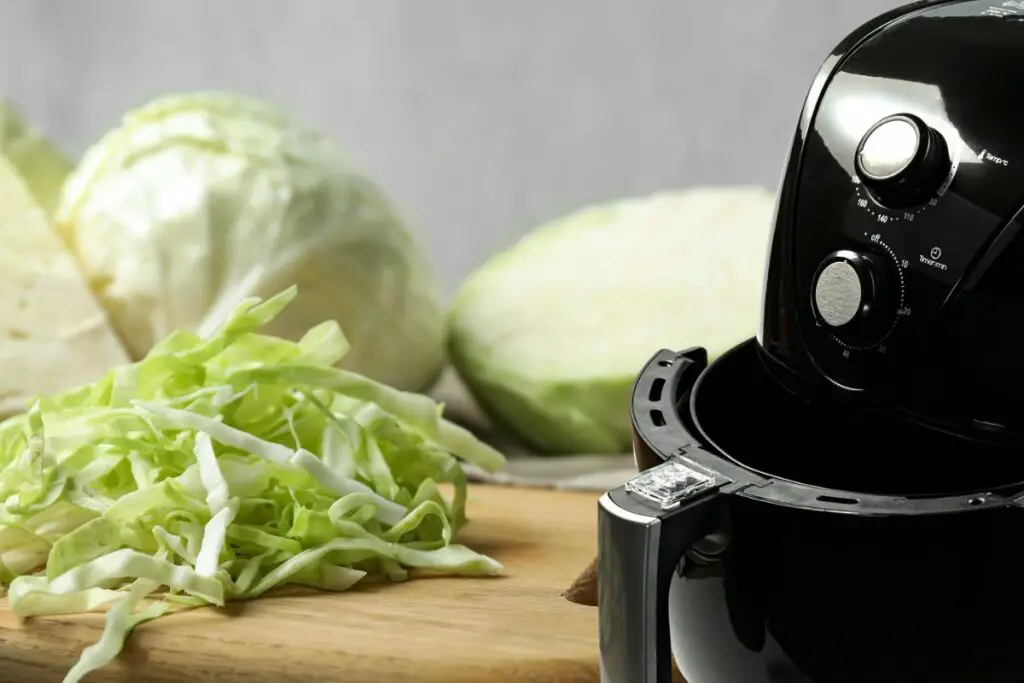 If you are looking for a delicious, healthy side dish with minimal effort, this super easy air fryer cabbage recipe is for you! It only requires a handful of ingredients and can be ready in 15 minutes.
This air-fried shredded cabbage is not only tasty and flavorful, with crispy edges and tender texture, but it is also low in carbs, calories, and fat, which makes it great for vegans and people on gluten-free, low-carb, Keto, and Paleo diets.
Below are the instructions for how to cook an air fryer shredded cabbage: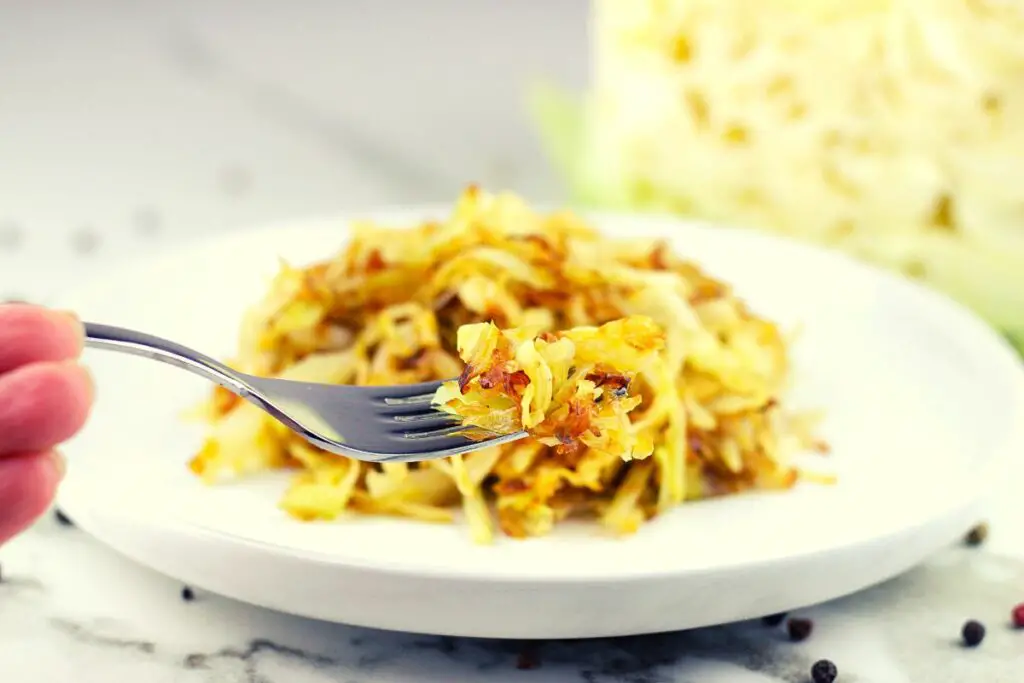 Ingredients:
1 head of cabbage (green, red, purple, or Napa)
1 tsp ground ginger
1 tbsp olive oil
Salt and black pepper to taste
Instructions:
Rinse the cabbage and remove any damaged leaves.
Cut the cabbage in half through the core and remove the core with an angled cut.
Shred the cabbage into 1-inch slices.
In a bowl, combine the shredded cabbage with ginger, 1 tbsp of olive oil, salt, and black pepper.
Preheat an air fryer to 350 to 375°F (177 to 190°C) and add the shredded cabbage to the basket, roasting no more than 1 cup at a time.
Air fry for 13 to 15 minutes, stirring a couple of times for even cooking. If you prefer crunchier cabbage, air fry for 10 to 12 minutes.
Serve as a side dish, and enjoy!
Recipe Card And Video Instructions
Easy Air Fryer Shredded Cabbage Recipe
Course: Sides
Cuisine: American
Difficulty: Easy
This air fryer shredded cabbage recipe is a great way to make a tasty and healthy side dish in 15 minutes. Not only that, but it can be served with a range of different meals, making it an incredibly versatile side dish that pairs well with turkey meatloaf, beef, chicken, fish, pork, and my favorite, corned beef sandwich.

To make the most out of this dish, simply follow the steps below.
Ingredients
1 Small head of green cabbage (or red or purple cabbage or Napa cabbage, also known as Chinese cabbage)

1 Teaspoon of ground ginger

1 Tablespoon of olive oil

A pinch of black pepper

A pinch of salt to taste
Directions
Remove and discard any wilted or damaged outer cabbage leaves and rinse the cabbage under cool running water and pat it dry.
Using a sharp knife and a cutting board, cut the cabbage vertically in half through the core. 
With a sharp knife, make an angled cut into the cabbage and carefully remove the core on both halves.
Slice the cabbage into shreds of about 1-inch thick slices. Slicing along the horizontal yields shorter lengths, and slicing along the vertical edge will make longer shreds. Both are fine.
Place the shredded cabbage in a bowl and add the rest of the ingredients, ground ginger, olive oil, black pepper, and salt.
Combine all the ingredients by gently mixing the shredded cabbage using a spoon or spatula.
Preheat your air fryer to 350 to 375°F (177 to 190°C). It will take about one to two minutes, depending on your model.
If you have an average size air fryer (5 quarts), roast no more than a cup of shredded cabbage at a time so that you won't overcrowd the basket.
Place the cabbage shreds in the preheated air fryer basket and let them fry for 13 to 15 minutes. Make sure you stir the cabbage at least a couple of times during the frying process. It'll allow the cabbage to cook evenly.
If you want to leave some crunch to it, air fry it for about 10-12 minutes.
Remove the fried cabbage and serve it as a side dish with your meal.
Please also read my notes and tips below.
Notes
If you cut the cabbage into wider shreds, you may need to increase the frying time by a couple of minutes. The higher the time, the crispier the cabbage's edges will be.
One small head of cabbage makes about 4 cups of shredded cabbage, so with a smaller air fryer, you need to cook it in 2 or 3 batches. The cabbage won't fry evenly if you overcrowd the air fryer basket.
 This air fryer shredded cabbage is low carb, low calorie, low fat
If you eat it on your own as a main meal, then add some toppings like thick-cut bacon or Parmesan cheese.
Leftover shredded cabbage can be stored in an air-tight container in the fridge for up to 3 days. 
I like to use coarse sea salt; you should try it! It's so much better!

If you want to make it more nutritious and delectable, consider adding a teaspoon of melted clarified butter to the recipe. You'll need to mix it with the cabbage before adding it to the air fryer.
FAQs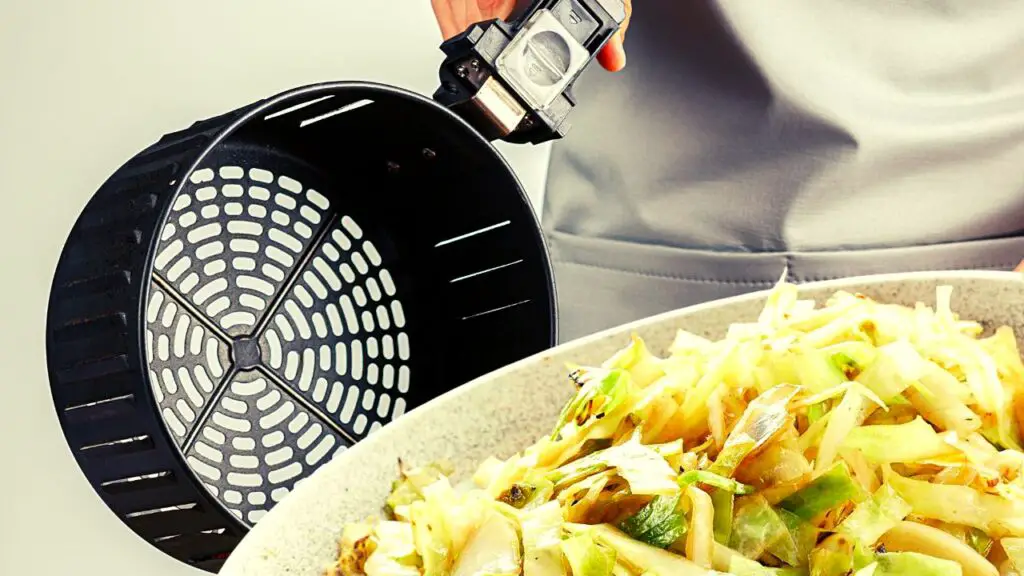 How Long To Cook Cabbage In An Air Fryer?
If the cabbage is shredded, air fry it for about 13-15 minutes to get a tender texture and brown edges. If you are air-frying cabbage steaks (junks of cabbage), the cooking time is about 16-20 minutes.
How To Store Air Fried Cabbage?
First, let your cooked cabbage cool completely before transferring it into an airtight container or resealable bag. Once in the container, store the cabbage in your refrigerator for up to 3 days. When reheating leftover cabbage, air-fry it for about 4-6 minutes.
How To Serve Fried Cabbage?
Air-fried cabbage recipe goes well with almost all types of delicious recipes made with proteins like beef, chicken, turkey, and fish. You can also eat it for breakfast and make a famous rye bread corned beef sandwich, also known as the Reuben sandwich.
Is Fried Cabbage Keto-Friendly?
Cabbage is an incredibly versatile and nutritious vegetable that fits perfectly into a keto diet. It is low in carbs and has a high amount of dietary fiber, as well as essential vitamins and minerals. Each 1-cup serving has about 8 grams of net carbs and only 105 calories. Additionally, it packs a punch when it comes to vitamin C – making it an ideal addition to a low-carb meal plan.
Read Also: Best Keto Low-Carb Beef And Broccoli Recipe.
Final Words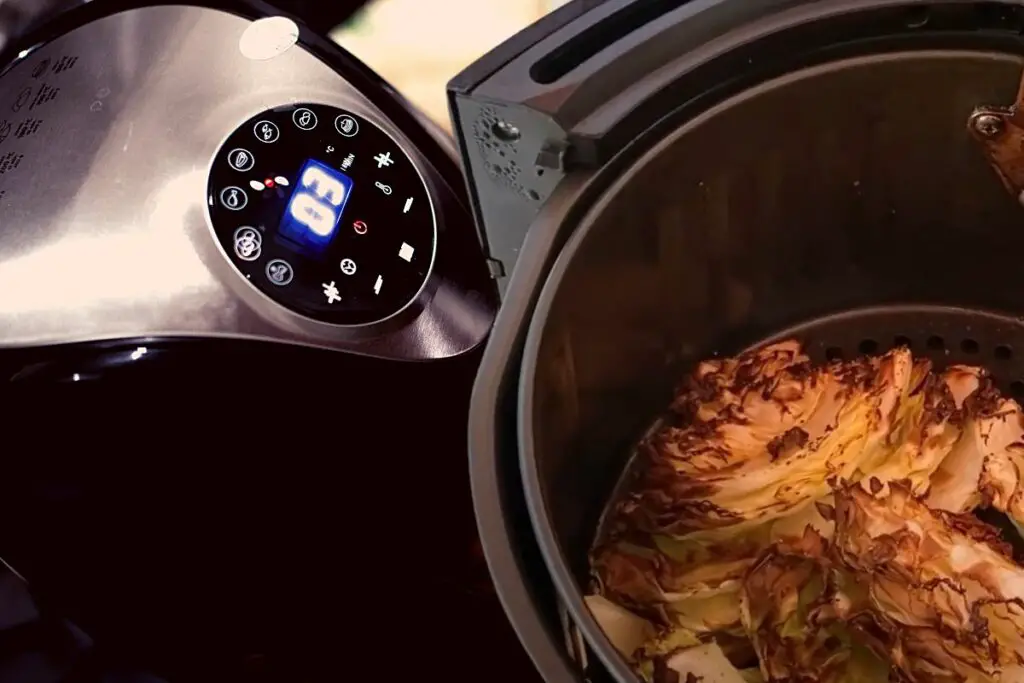 In conclusion, cabbage can indeed be cooked in an air fryer, and it makes a delicious, healthy side dish. Not only is it nutritious and healthy, but it has a nice crunchy texture and sweet flavor.
As with all food cooked in the air fryer, make sure to mix the shredded cabbage frequently to ensure that it's cooked through and not burnt on the top.