Oh, I completely get those days when you crave a sweet treat but just don't want the hassle of using an oven. That's precisely why I fell in love with this moist banana cake without an oven. I promise you, this easy banana cake is a game-changer!
I've always believed that the best recipes are the ones we share. And to make things even smoother for you, I've filmed a handy video recipe below. I genuinely think you'll adore this as much as I do.
Taste and Texture of My Favorite Banana Cake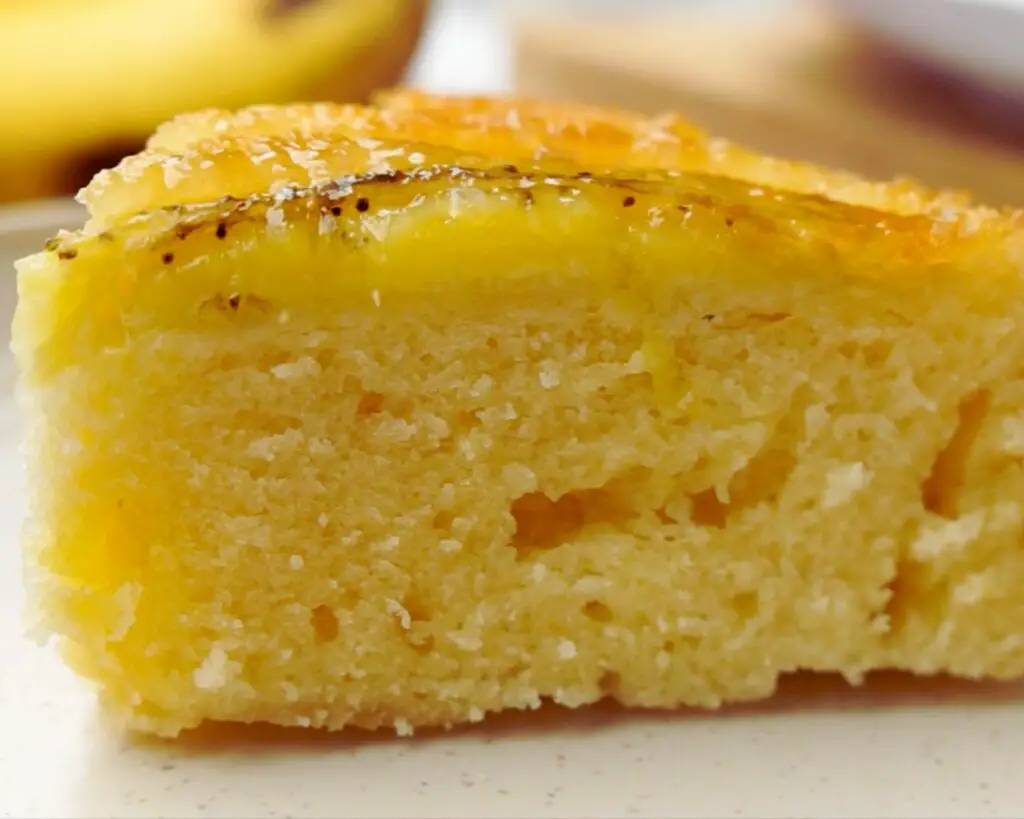 This banana cake? Absolute magic! Imagine biting into a super moist slice, where the bananas give it this naturally sweet and creamy taste.
But the real surprise? That slightly crispy golden crust on top of this moist banana cake, which is like a hidden caramel treasure when you flip the cake. It's like a hug in cake form – soft and comforting with just the right amount of crunch. If cakes could give warm feels, this one totally would!
Eager to get started on this slightly different banana cake?
You Will Need These Simple Ingredients for This Banana Cake: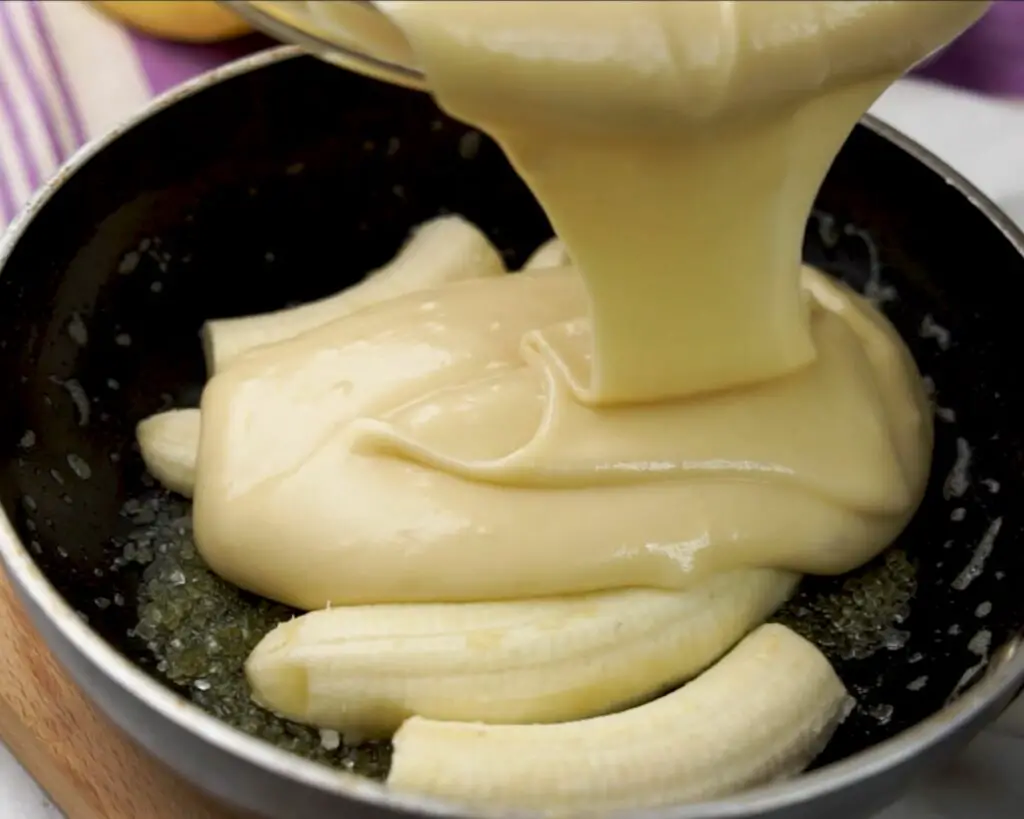 1 egg (from the local farm, if you can – makes such a difference!)
¼ cup (60g) sugar
½ cup (130ml) milk (I've tried both almond and regular, and both work wonders)
½ tsp salt
1 tsp vanilla extract (the good stuff, trust me on this!)
1.2 cups (150g) all-purpose flour
1 tsp baking soda
3½ tablespoons (50 ml) cooking oil (I swear by olive, but any will do)
1 tbsp unsalted butter (the creamier, the better)
2-3 ripe bananas, halved (perfect for those overripe ones lying around)
1 generous tbsp sugar (this gives that golden caramel crunch)
How To Make This Easy Banana Cake:
Step 1: Start by taking a mixing bowl. Whisk together the egg and sugar until they blend smoothly. This forms the sweet base of our cake.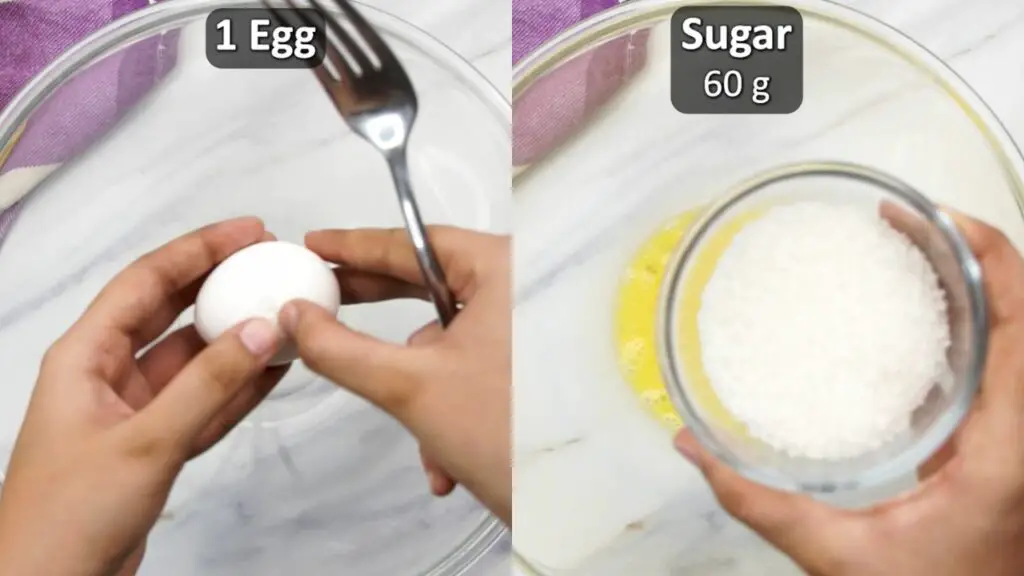 Step 2: Next, pour in the milk. After the milk, add the salt and vanilla extract. These ingredients, though simple, give a depth of flavor that truly makes the cake shine.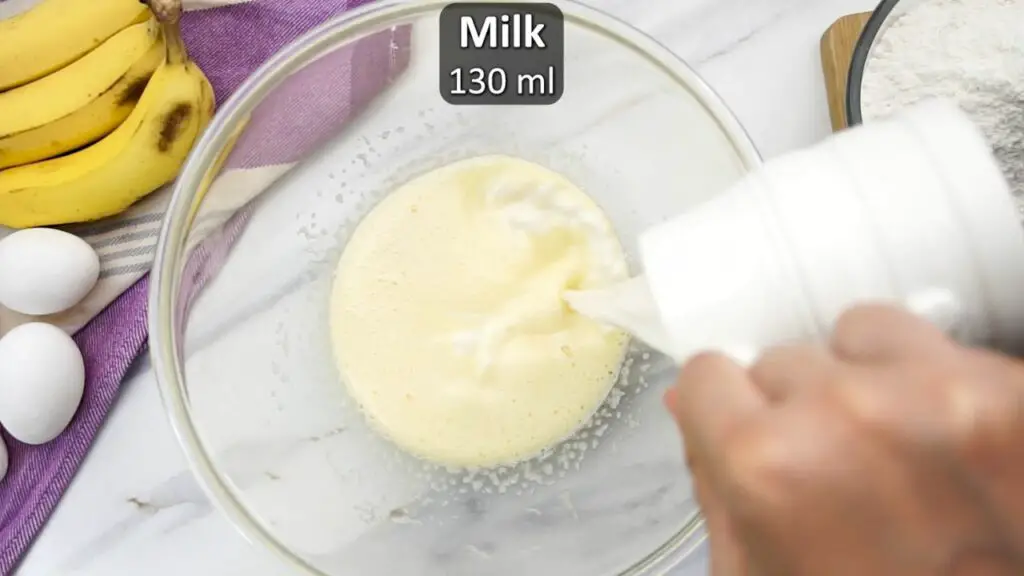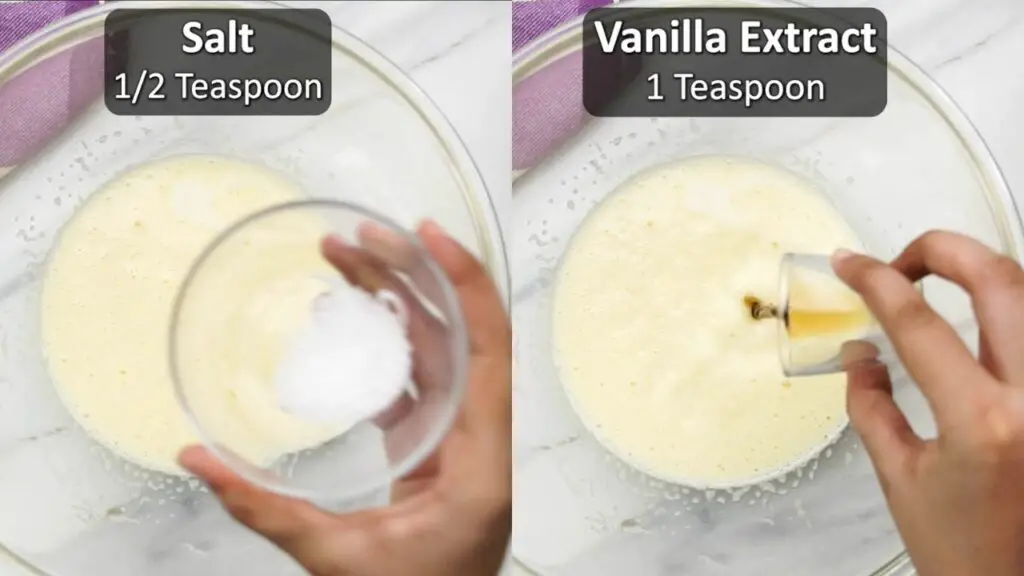 Step 3: For an even, lump-free cake, always sift the flour and baking soda together into the mixture. This step ensures the cake rises uniformly.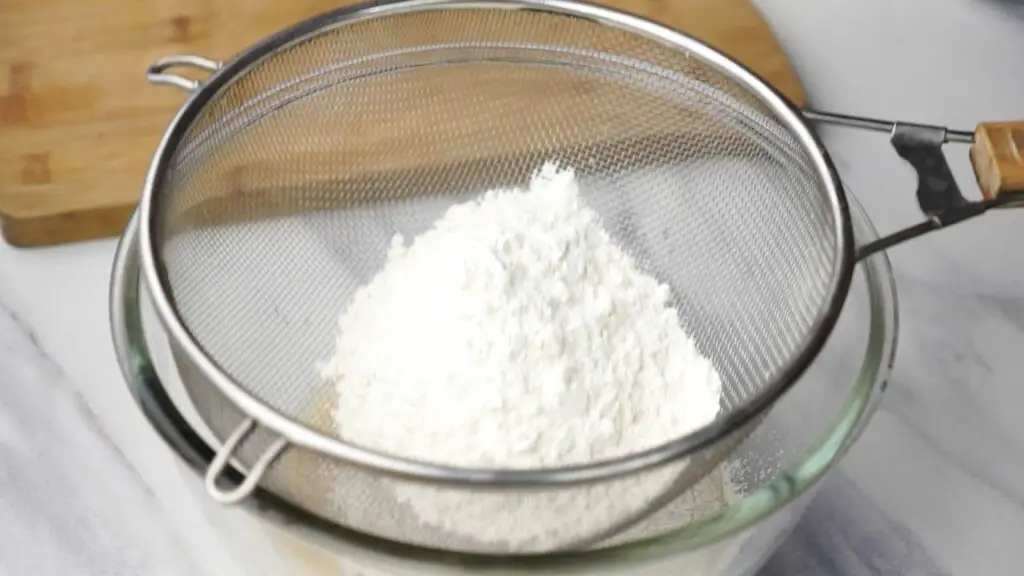 Step 4: Stir everything gently until you get a consistent batter. No dry flour should remain.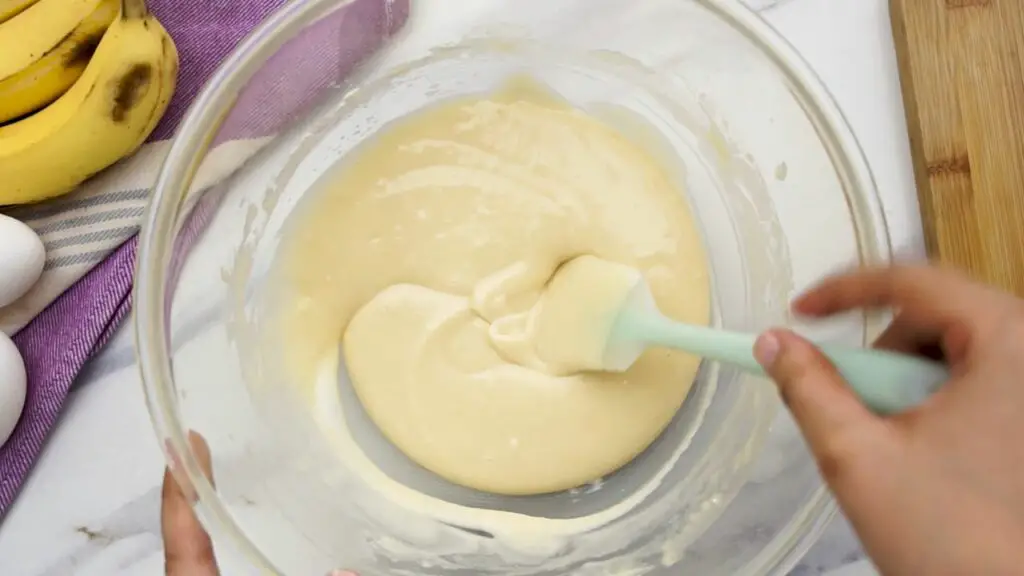 Step 5: Now, slowly pour in the cooking oil, blending it into the batter. This ensures the cake stays moist and tender.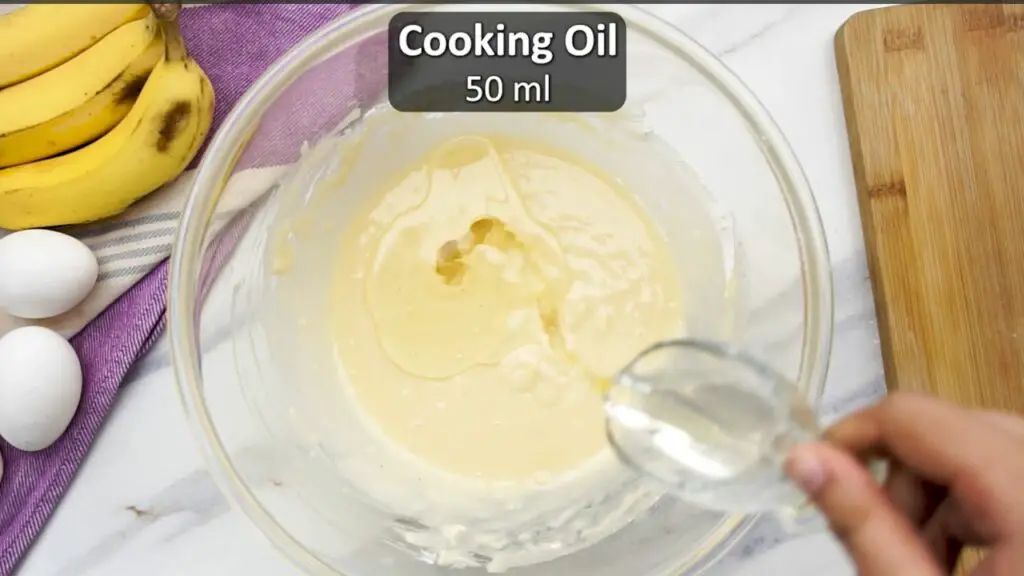 Step 6: Grab an 8-inch frying pan and spread the melted butter all over its base. The butter not only prevents sticking but adds a rich flavor.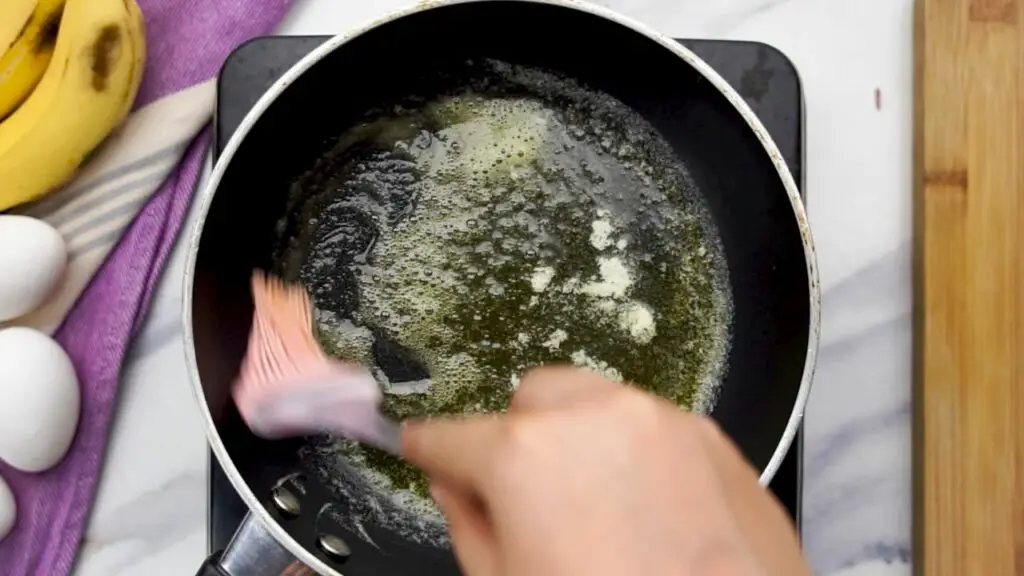 Step 7: Sprinkle the sugar evenly over the butter. This sugar is the secret to our cake's delicious caramelized top.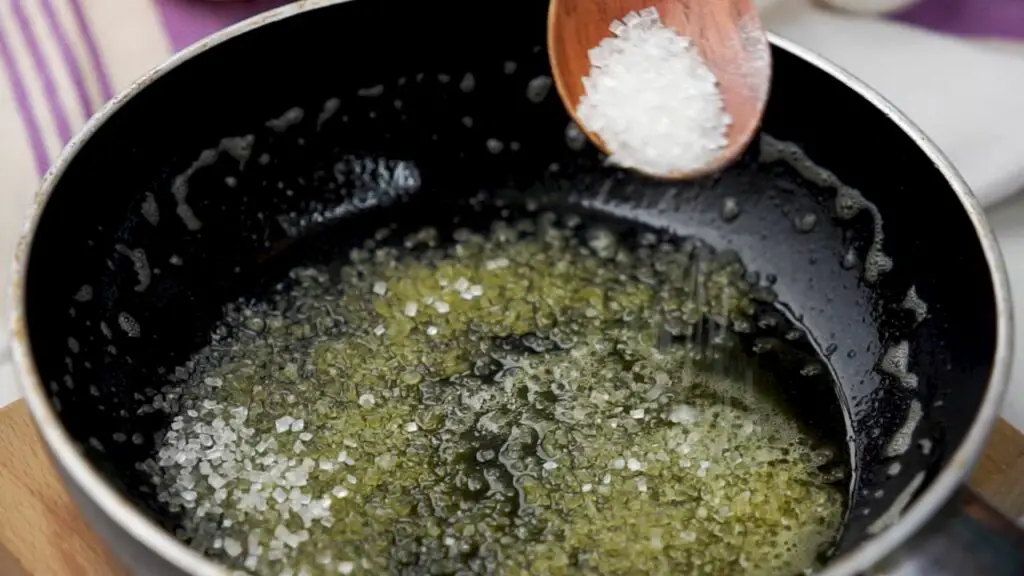 Step 8: Arrange the banana halves on the sugar layer. These bananas will caramelize beautifully as the cake cooks, giving it a unique flavor.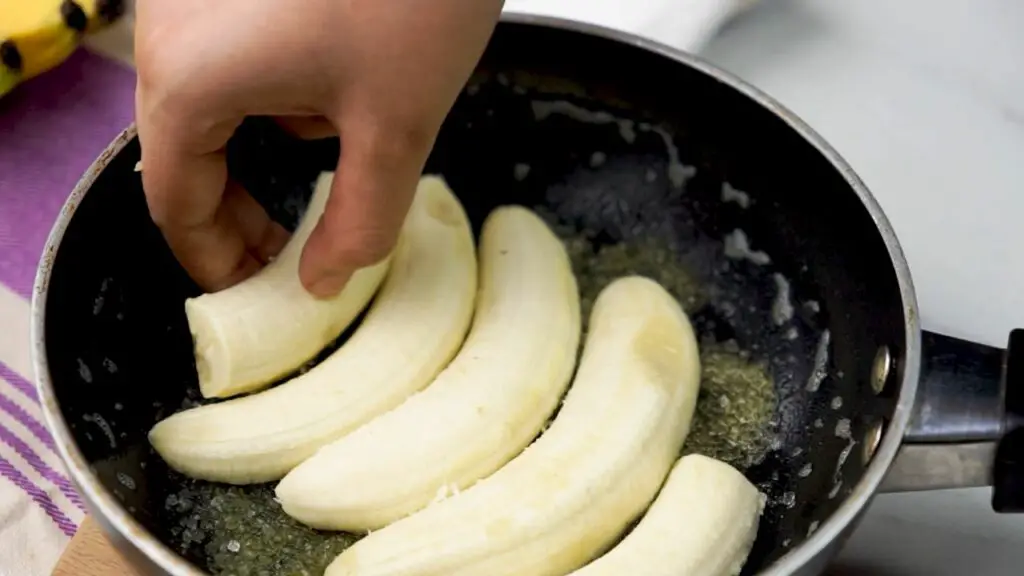 Step 9: Now, gently pour the cake batter over the bananas, spreading it to cover them completely.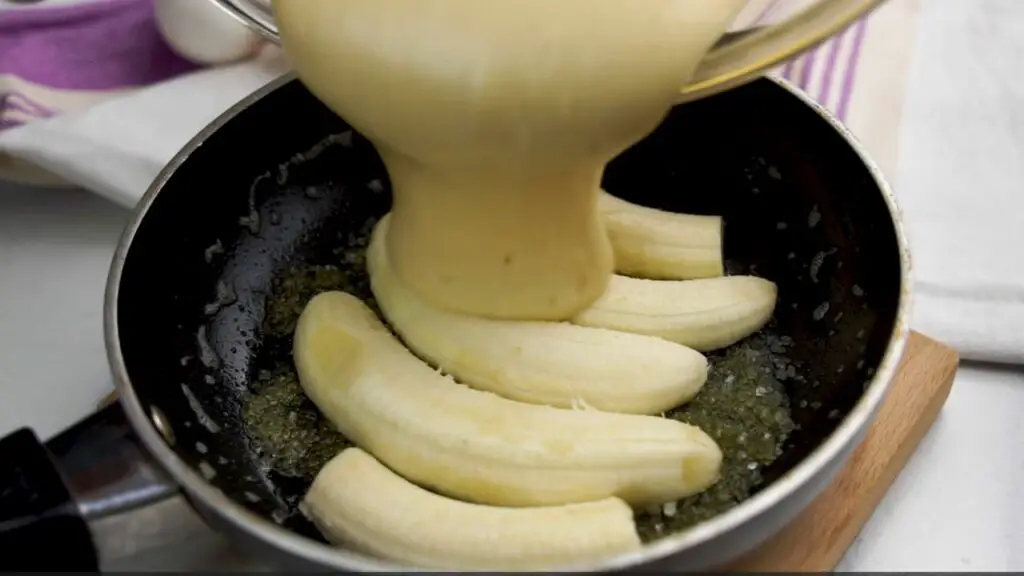 Step 10: Cover the pan with its lid. Let the cake slowly cook on a low flame for about 25 minutes. As it heats, the sugar at the bottom starts caramelizing, setting the stage for our delicious top layer.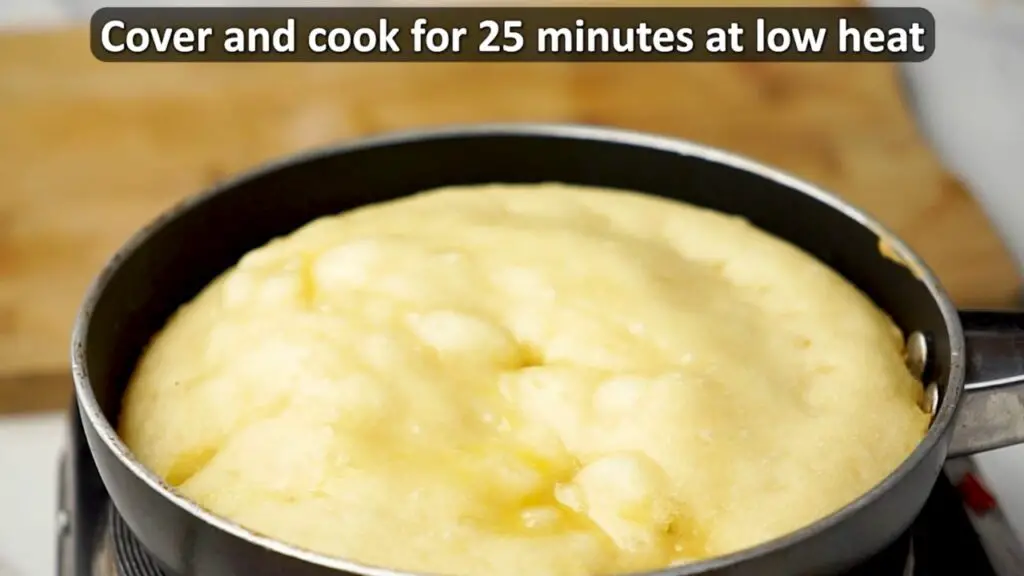 Step 11: After the cooking time, remove the lid. Take a large plate and confidently place it over the pan, then flip the pan. Your cake will now have caramelized bananas on top!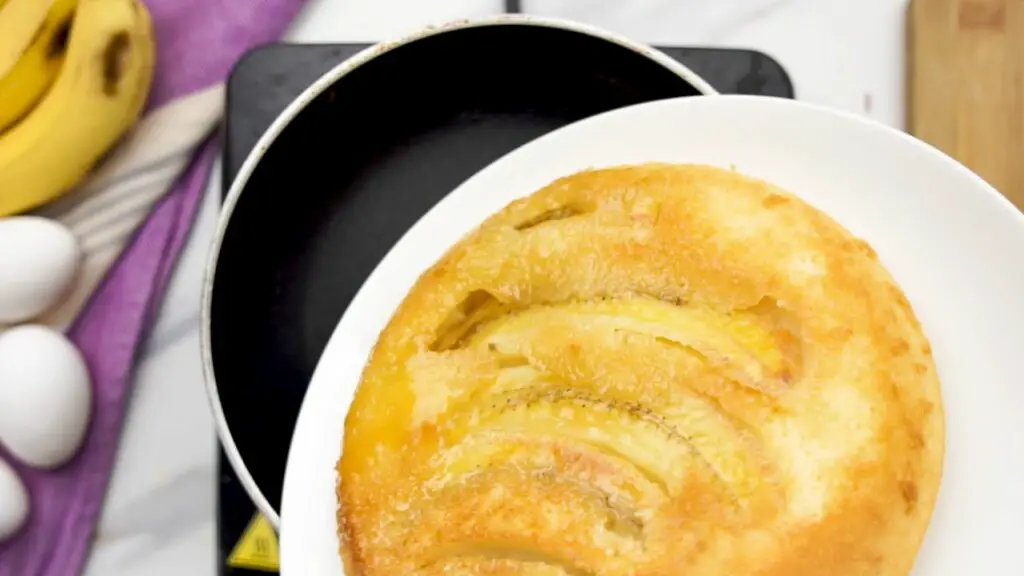 Step 12: Don't stop here; place the flipped cake back into the pan and let it cook for another 5 minutes. This ensures that the bottom also gets a little golden touch.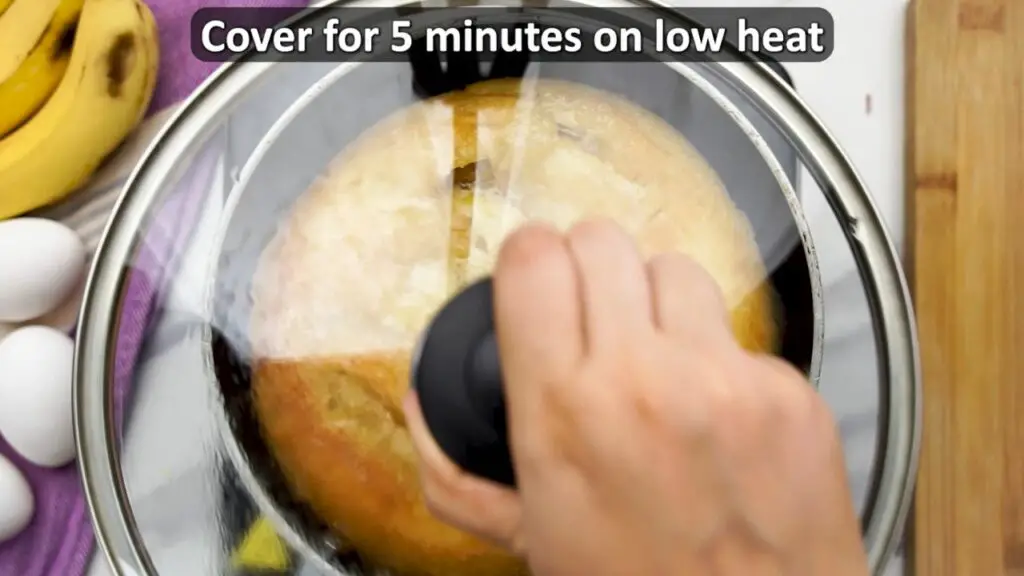 There you go! A beautifully moist and easy banana cake, made right on your stovetop, with a crunchy caramelized top layer.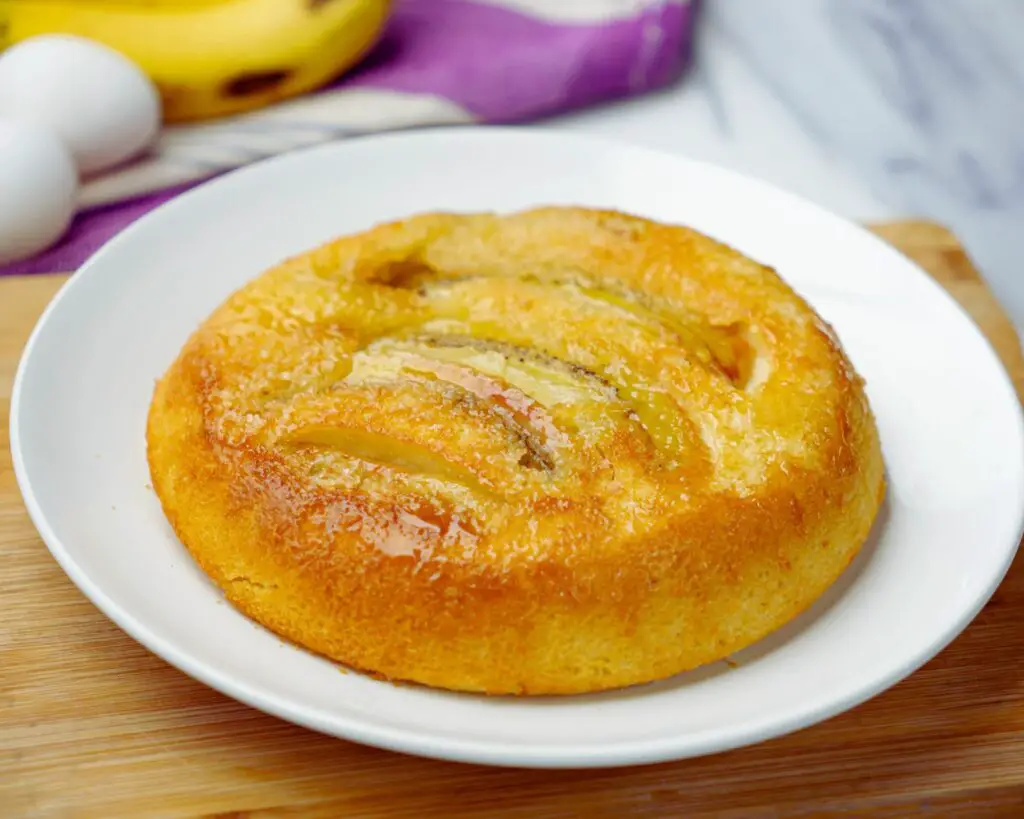 Cut yourself a slice, enjoy, and do share your experience with me in the comments below or in the comment on the video.
Storage & Freshness
Got leftover banana cake? Here's the deal: For short-term munching, leave it out today, but if you're saving it for tomorrow or beyond, pop it in a sealed container in the fridge; it'll stay fresh for about 5 days. When you fancy a slice, let it warm up a bit on the counter.
If you're planning way ahead, wrap individual slices and freeze 'em. When you're ready for some cake goodness, just thaw and enjoy. And here's a little fridge hack: a paper towel in the container helps avoid the soggy blues.
Serving Suggestions: Elevating Your Banana Cake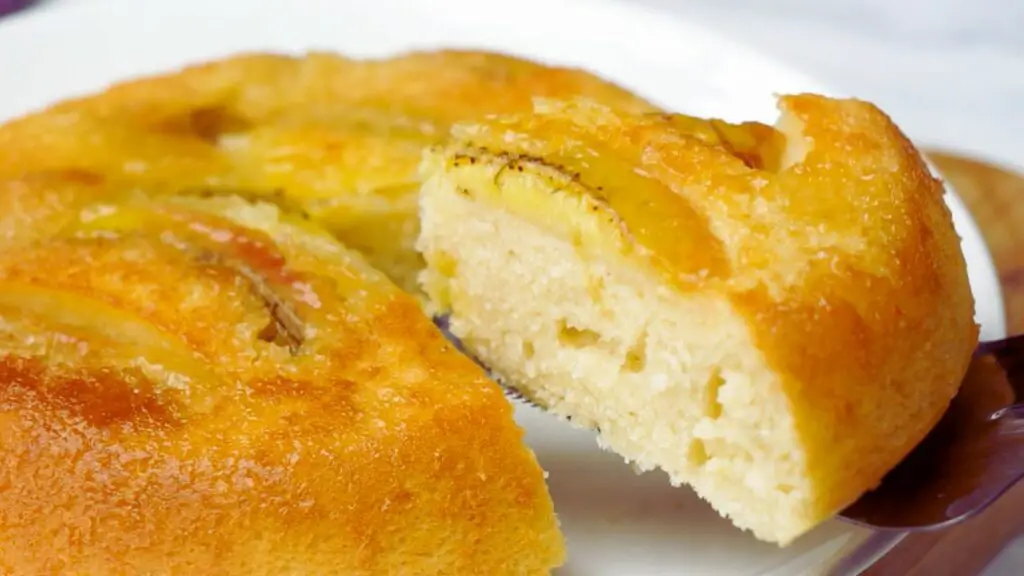 Now that you've mastered this easy banana cake, let's talk about presentation.
When serving to guests or your family, you can turn each slice into a little work of art. A simple dusting of powdered sugar or a dollop of freshly whipped cream adds a touch of elegance.
For a fruitier twist, serve with a side of fresh berries or a drizzle of berry compote. And if you're feeling extra fancy, a scoop of vanilla ice cream or creamy vanilla custard takes this dessert to a whole new level.
Frequently Asked Questions About Making Delicious Banana Cake
Can I use whole wheat flour instead of all-purpose? Absolutely! You can substitute whole wheat flour for a nuttier flavor, but expect a slightly denser texture.
Can I make it gluten-free? Sure thing! Swap in a gluten-free flour blend to keep it celiac-friendly.
How ripe should the bananas be? For the best results, look for bananas with brown spots; they're perfectly ripe. Overly ripe bananas can make the cake a bit soggy.
Doubling the Recipe: What's the recommended pan size for a larger cake? If you're doubling the recipe, use a 9×13-inch baking dish or two 8-inch pans. Adjust the cooking time accordingly.
Can I use frozen bananas for this recipe? Yes, you can use thawed frozen bananas. Just make sure to drain any excess liquid before using them in the recipe.
Check Out Also: Super Easy Banana Bread Recipe (No Cake Mix, Only 3 Ingredients)!
In Conclusion
Whipping up a mouthwatering and moist banana cake without the need for an oven is a cinch. This easy banana cake recipe delivers on both flavor and simplicity, with that irresistible caramelized top. Whether you're a baking novice or an experienced pro, this no-oven-required treat is your pathway to delightful and hassle-free indulgence.
---
Don't forget to check out my other video too: 'Simple and Delicious Baked Bananas (Caramelized in Air Fryer or Oven).' It's another delightful treat you won't want to miss!