Looking for a quick and easy banana bread recipe that doesn't involve a cake mix? Well, look no further! This easy 3 ingredient banana bread recipe is a delicious and simple way to use up those ripe bananas sitting on your counter.
Jump To Recipe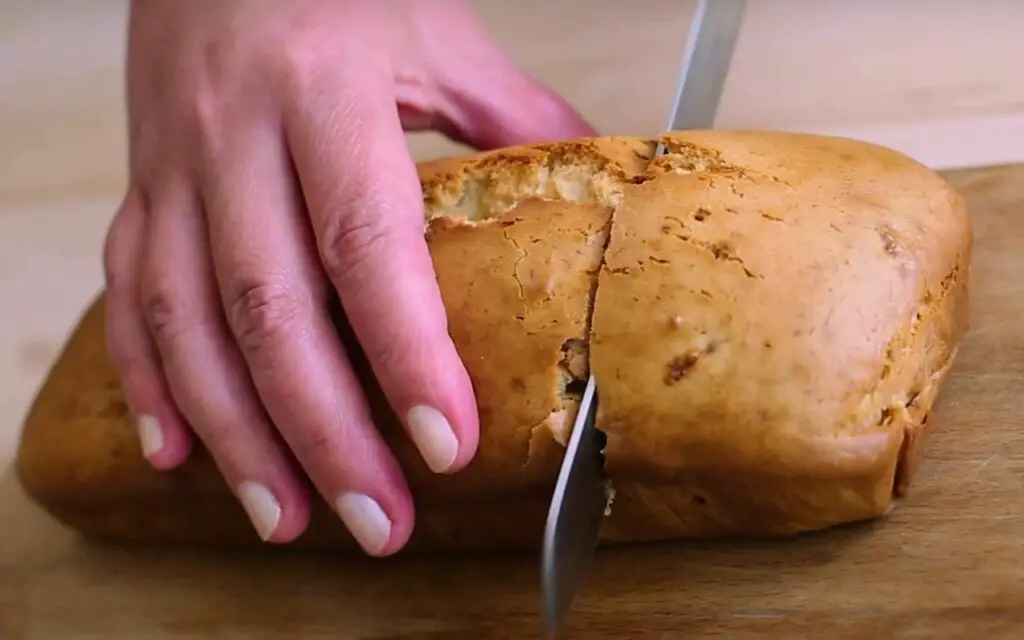 Not only is it easy to make, but it's also a crowd-pleaser, with a moist and flavorful crumb that will leave your taste buds wanting more. So, let's ditch the cake mix and complex recipes and get baking with this fun and clever recipe that's sure to impress!
So, What Are These 3 Ingredients?
Here are the 3 ingredients that work amazingly well together to create a delicious and easy-to-make 3 ingredient banana bread that is sweet, moist, and satisfying. And the best part? You probably already have all of them in your kitchen or pantry!
1. Ripe Bananas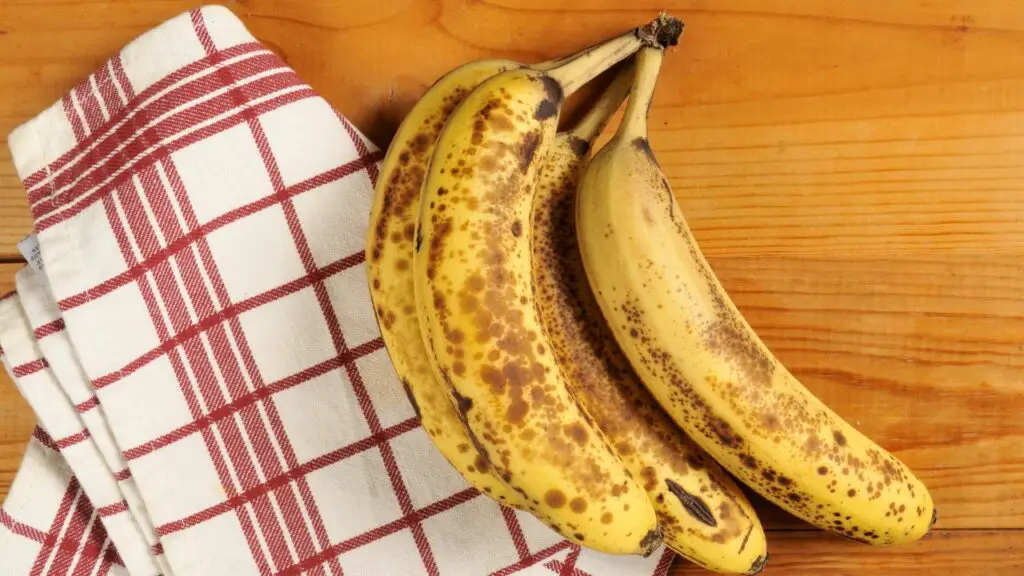 Of course, bananas are the star of the show here! And the riper, the better – we're talking brown spots or almost black bananas here. Why? Well, not only do overripe bananas have a stronger, more complex flavor than their green counterparts, but they are also softer and sweeter, which helps to create a moist and tender crumb in the bread.
2. Sweetened Condensed Milk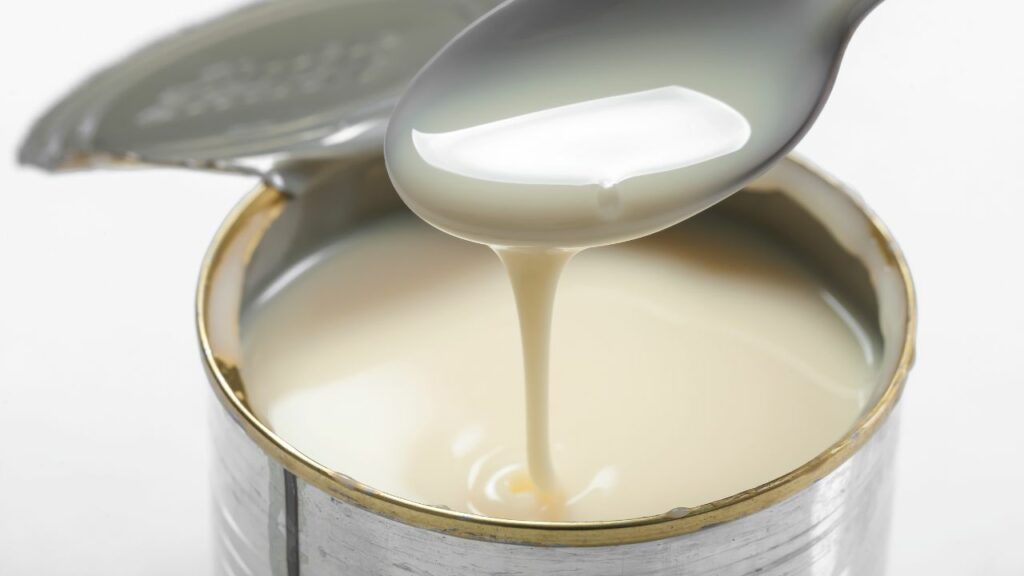 Sweetened condensed milk is a creamy, sugary concoction that is made by cooking milk and sugar together until most of the water has evaporated. It's an excellent choice for this recipe because it provides sweetness and moisture to the bread without the need for additional sugar or fat. Plus, it adds a lovely caramel-like flavor that pairs perfectly with the bananas.
If you don't have any, then here are the 13 Best Condensed Milk Substitutes that you could try instead.
3. Self-Rising Flour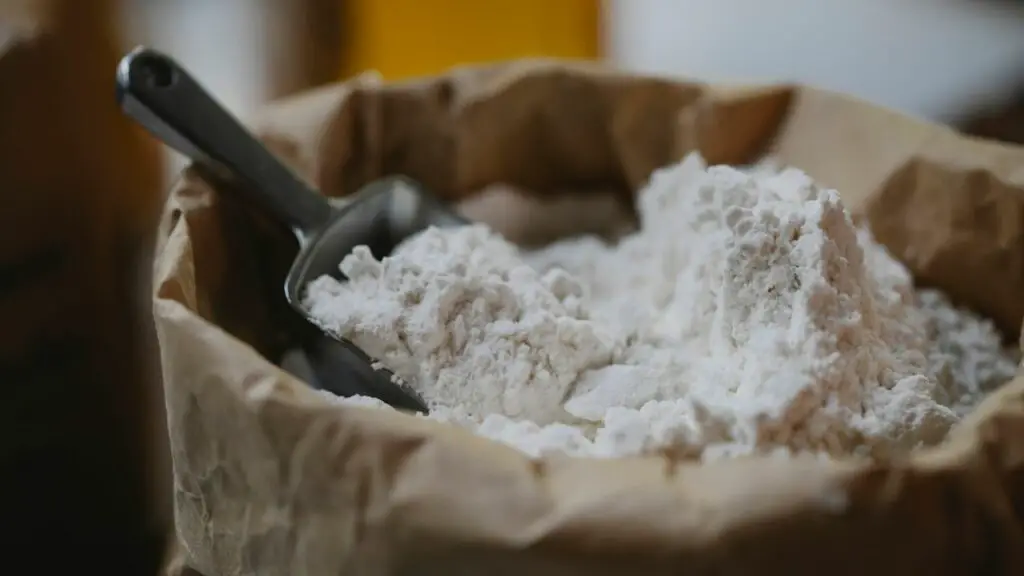 Self-rising flour is simply all-purpose flour that has been pre-mixed with baking powder and salt. It's a great choice for this recipe because it helps the banana bread to rise and become light and fluffy without the need for any additional leavening agents. Plus, it simplifies the recipe by eliminating the need for measuring out and mixing in separate ingredients.
How To Make This 3 Ingredient Banana Bread: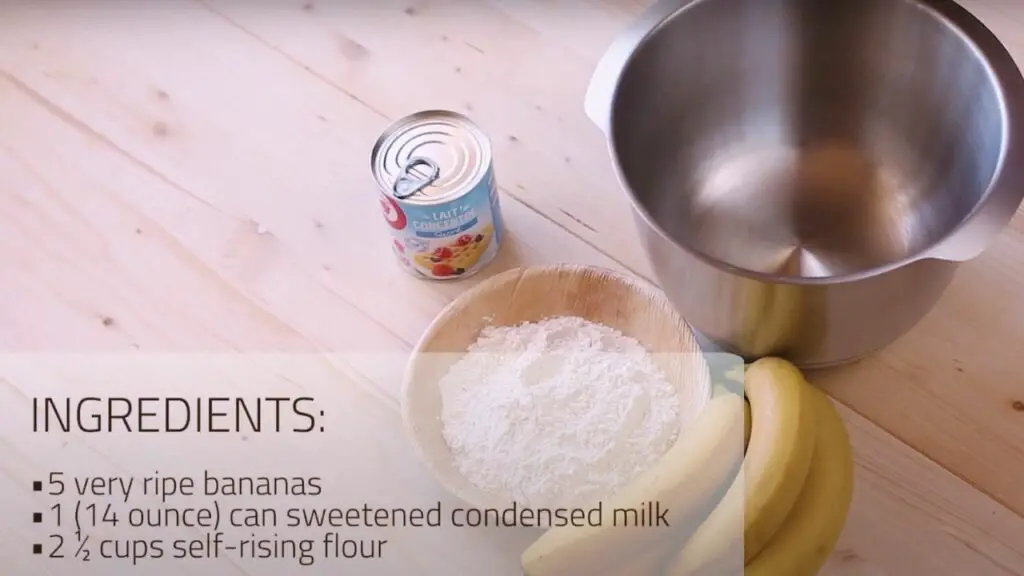 Ready to bake some delicious banana bread? Great! Now that you have all the ingredients, it's time to get baking. Follow these simple steps to create a mouth-watering treat that will have your friends and family begging for more. So put on your apron, preheat the oven, and let's get started!
Step 1: Gather your ingredients
You'll need 5 very ripe bananas, a can of sweetened condensed milk, and 2 ½ cups of self-rising flour. Also, preheat your oven to 350°F (177°C).
Step 2: Mash the bananas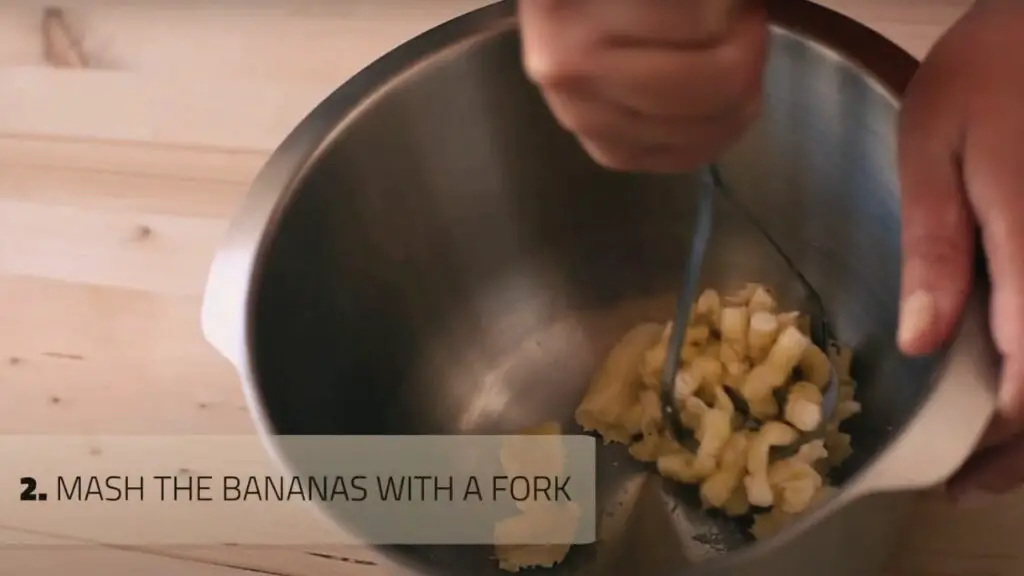 Grab a mixing bowl and a fork and mash the bananas until they're nice and smooth.
Step 3: Add the other ingredients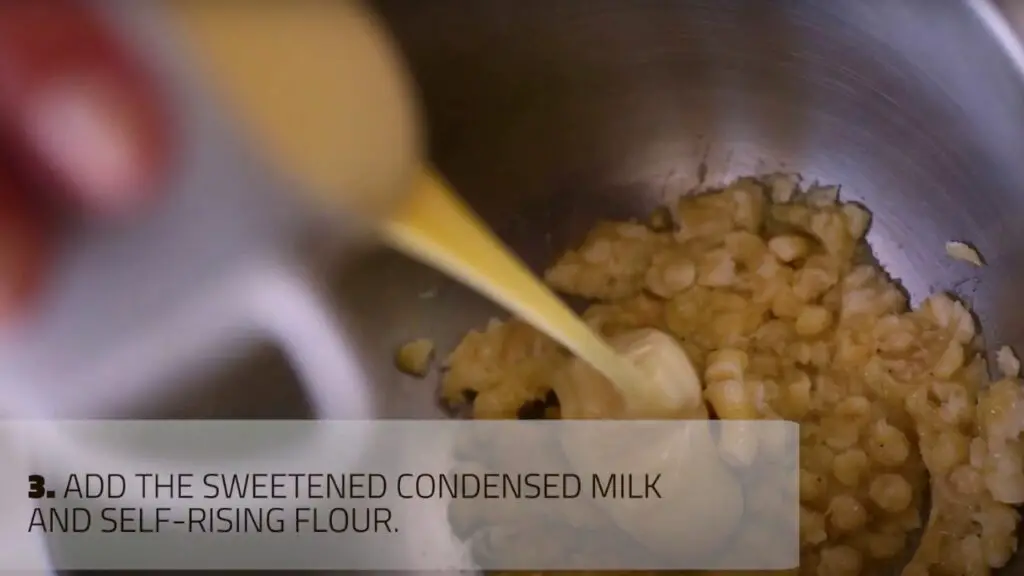 Add the sweetened condensed milk and self-rising flour to the bowl with the mashed bananas. Use a spatula or spoon to mix everything together until the flour is just incorporated. Avoid overmixing.
Step 4: Pour the batter into a lined loaf pan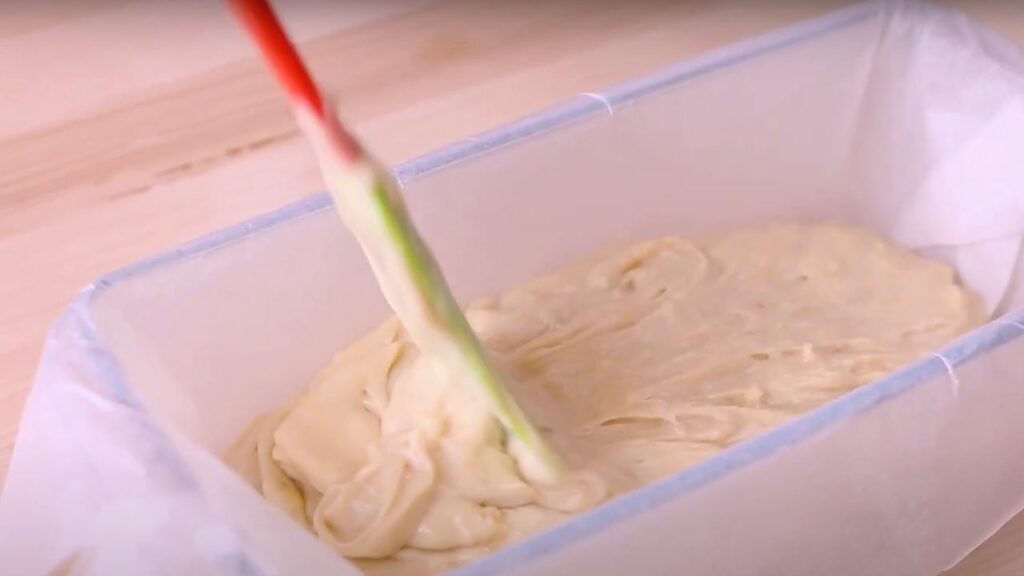 Pour the banana bread batter into a loaf pan and use a spoon or spatula to smooth out the top of the batter. You can even get creative with a fun design or pattern on the surface.
Step 5: Bake the bread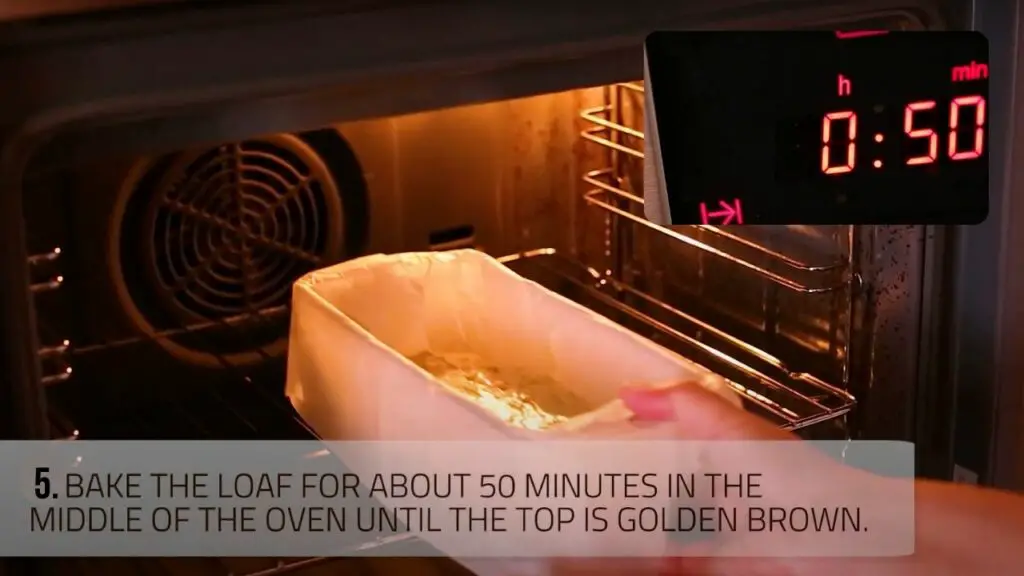 Place the loaf pan in the preheated oven and set a timer for 50 minutes. While you wait, enjoy the delicious aroma filling your kitchen.
Step 6: Check for doneness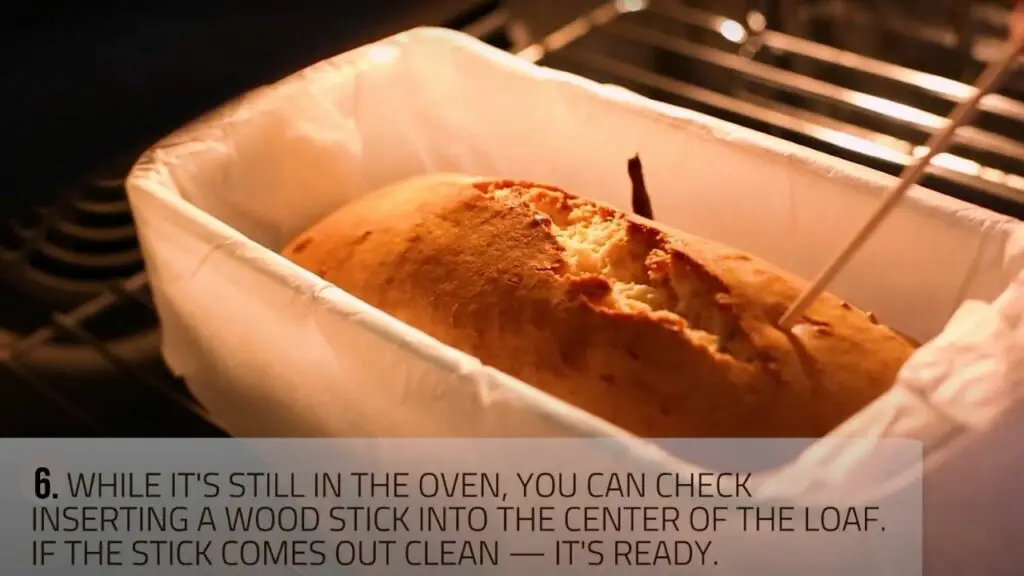 After 50 minutes, use a wooden stick or toothpick to check if the banana bread is ready. If the stick comes out clean, it's time to take the bread out of the oven.
Step 7: Remove from the pan and slice, and enjoy!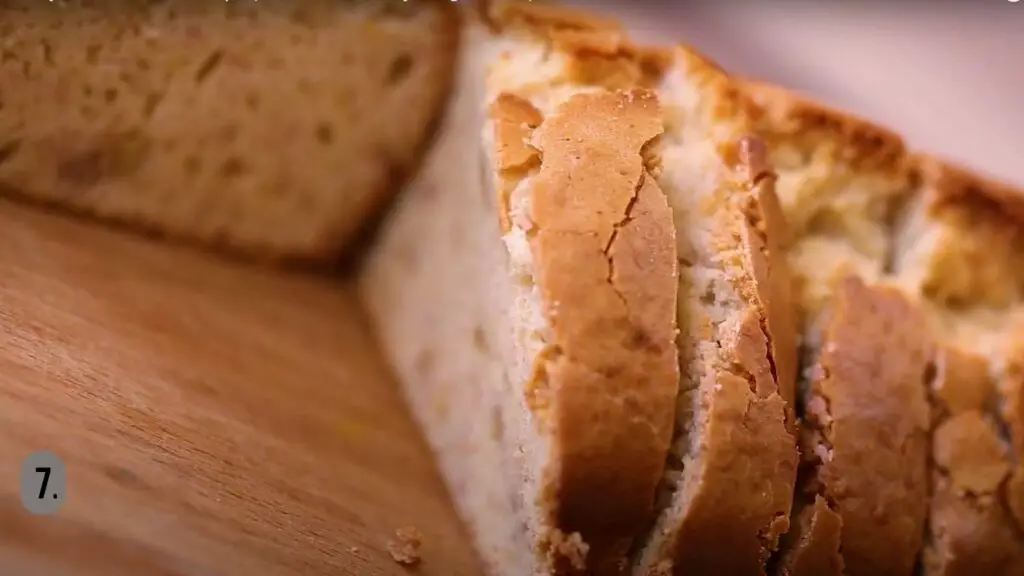 Let the banana bread to cool a bit and remove it from the ban. Once the bread has cooled a bit, it's ready to be sliced and enjoyed.
Get Creative with Your Banana Bread
I know, I know – adding extra ingredients technically means it's no longer a 3-ingredient banana bread recipe. But who says we can't get a little creative and mix things up every now and then?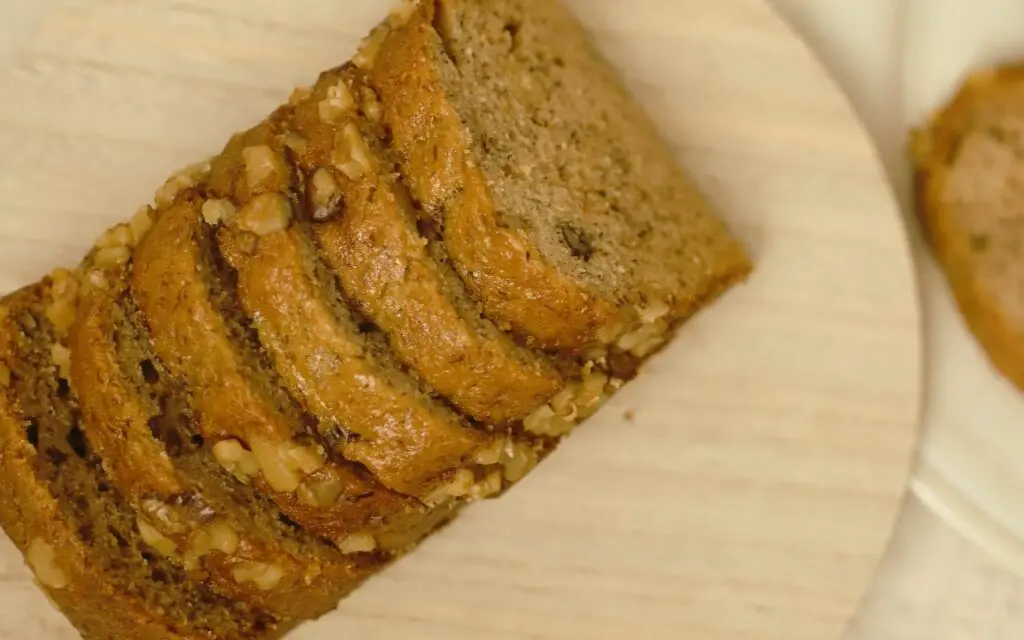 With just a few extra ingredients, you can take your basic 3 ingredient banana bread to the next level and create something truly delicious. From chocolate chips to nuts to warm spices, there are so many ways to jazz up this classic recipe. So why not give it a try and explore some of these delicious variations today?
Chocolate chip banana bread: Add a cup of chocolate chips to the batter before baking for a sweet and indulgent treat. You can use any type of chocolate chips you like, from milk to dark to white chocolate.
Nutty banana bread: If you are wondering what nuts to put in banana bread, I recommend stirring in walnuts or pecans for a crunchy and satisfying texture. You can also try experimenting with different types of nuts or even adding a sprinkle of toasted coconut.
Cinnamon-spiced banana bread: Add a tablespoon of ground cinnamon to the batter for a warm and cozy flavor that's perfect for fall. You can also try other warm spices like nutmeg, ginger, or allspice.
Zesty banana bread: Add the zest of one or two lemons or oranges to the batter for a bright and citrusy flavor. You can also try adding a tablespoon of poppy seeds for a fun crunch.
Top Tips for Making This Recipe Work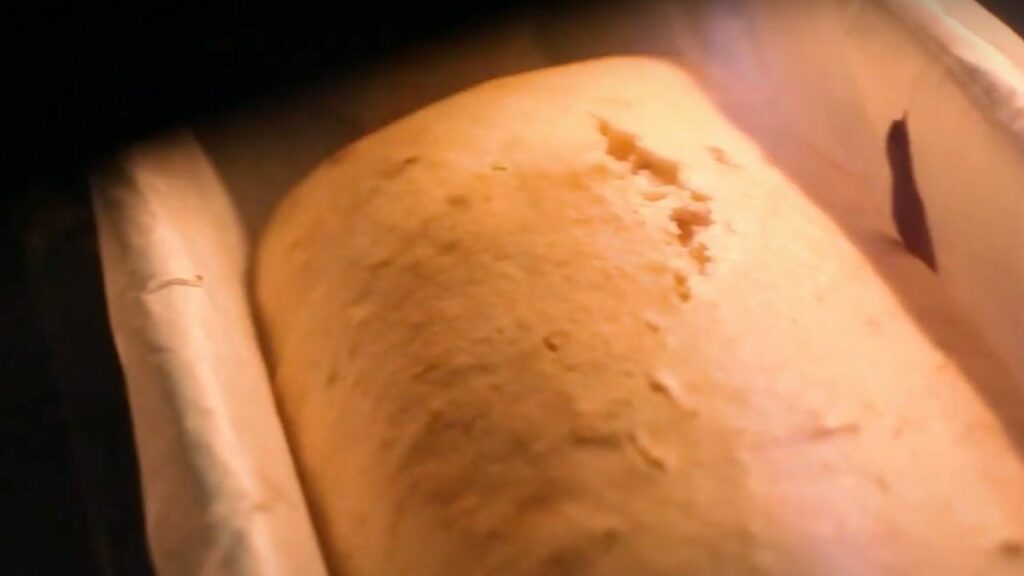 Use very ripe bananas: The riper the bananas, the sweeter and more flavorful your banana bread will be. So don't be afraid to use bananas that are almost entirely brown – those are the best ones for this recipe!
Don't overmix the batter: Overmixing the batter can cause the gluten in the flour to develop, resulting in tougher, more dense bread. To avoid this, mix the ingredients together until the flour is just incorporated. A few lumps are okay – they'll disappear as the bread bakes.
Use self-rising flour: Self-rising flour contains baking powder and salt, which help the bread rise and give it a nice texture. If you don't have self-rising flour, you can make your own by combining 2 1/2 cups of all-purpose flour with 3 3/4 teaspoons of baking powder and 3/4 teaspoon of salt.
Line the loaf pan with parchment paper: This helps prevent your 3 ingredient banana bread, from sticking to the pan and makes it easier to remove once it's baked.
Bake the bread until it's golden brown: The baking time may vary depending on your oven, but aim for about 50 minutes or until the top of the bread is golden brown. You can also insert a toothpick or wooden skewer into the center of the banana bread to make sure it's cooked all the way through.
Read More Here: Why is Your Banana Bread Gummy or Dense (Common Problems and Solution).
How To Store This 3 Ingredient Banana Bread
If, for some reason, you didn't devour the whole loaf of banana bread straight away (trust us, we know how tempting it can be!), don't worry – you can always store it for later. But it's important to store it properly to ensure that it stays fresh and delicious. Whether you're planning to eat it in a day or two or save it for later, here are some tips for storing your banana bread like a pro.
Cool it down: Allow the banana bread to cool completely before storing it. This helps prevent condensation from forming inside the container and making the bread soggy.
Wrap it up: Wrap the cooled banana bread tightly in plastic wrap or aluminum foil. This helps keep air out and prevent the bread from drying out.
Store it right: Store the wrapped banana bread in an airtight container or resealable plastic bag. You can store it at room temperature for up to 2 days or in the refrigerator for up to a week.
Freeze it: If you're not planning to eat your banana bread right away, you can freeze it for later. Wrap it tightly in plastic wrap or aluminum foil, then place it in a resealable freezer bag or airtight container. It will keep in the freezer for up to 3 months. When you're ready to eat it, thaw the bread at room temperature for a few hours before serving.
In Conclusion
There you have it, my fellow banana bread lovers! A simple yet satisfying recipe for easy 3 ingredient banana bread made without cake mix. Whether you're a seasoned baker or a beginner in the kitchen, this recipe is perfect for anyone looking to whip up something delicious with minimal effort.
And don't forget; you can always get creative and add your own twist to this recipe with some nuts, chocolate chips, or spices. So go ahead and indulge in a slice (or two) of this heavenly banana loaf – you deserve it!
If you have an air fryer, check out also this easy air fryer banana bread recipe here.