Rice typically has a very neutral flavor, especially when steamed or boiled. Because of that, rice can be easily seasoned to take on any flavor you want to give it, from savory to sweet. You can transform your plain and boring rice into a flavor-packed dish with these 5 herbs and spices below.
So, let's learn how to flavor the rice with spices to make an appealing and versatile side dish.
5 Spices To Add Flavor And Color To Plain Rice
You can use any herb or spice you want; there are no hard and fast rules when it comes to seasoning rice. However, below I will cover some of the most popular and healthy seasoning options you may not have thought of. 
1. Cardamom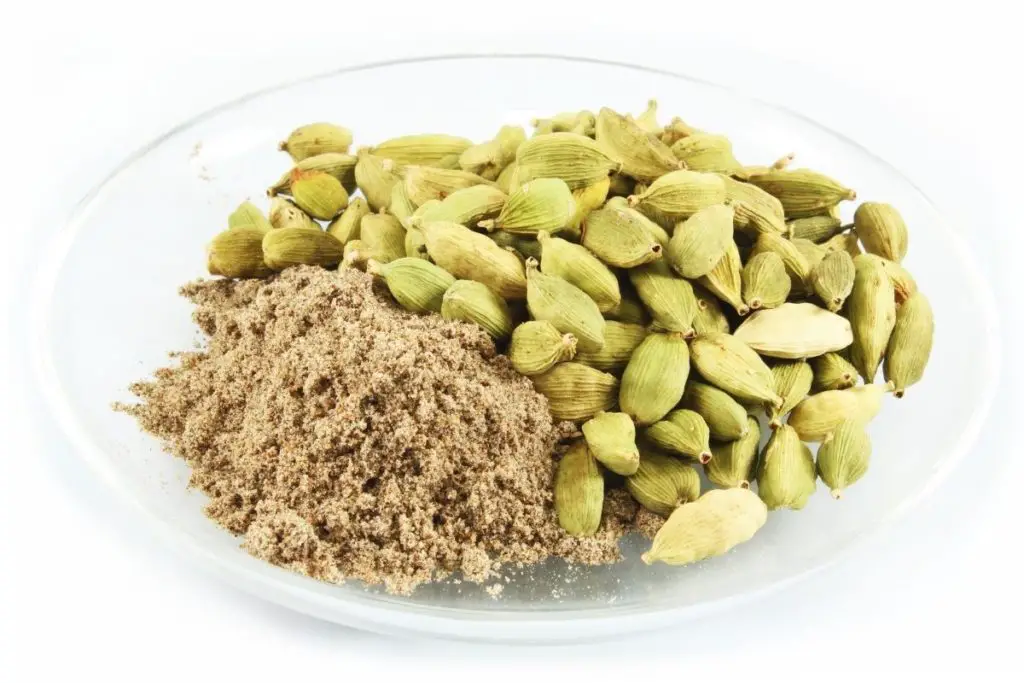 Cardamom, also known as cardamon, is a spice that may not be your first choice when cooking rice, but actually, it is a good option and goes well with most types of rice like basmati, Arborio, or long-grain withe rice. 
Cardamom has a rather complex flavor, which includes traces of pine and citrus topped with a pleasant floral touch, which really compliments rice. 
Cardamom pairs really well with almost any other spice, adding piney, fruity and sweet aroma to your rice dish.
However, if I had to choose some other herbs and spices to go with cardamom, then nutmeg, cinnamon, saffron, and black pepper would be on top of my list. 
Top Tip: When adding cardamom to your rice, keep in mind that fresh cardamom is a very intense spice that can easily mask the other flavorings in a dish. To keep the flavor milder, leave the seeds in the pods. 
How To Flavour Rice With Cardamom?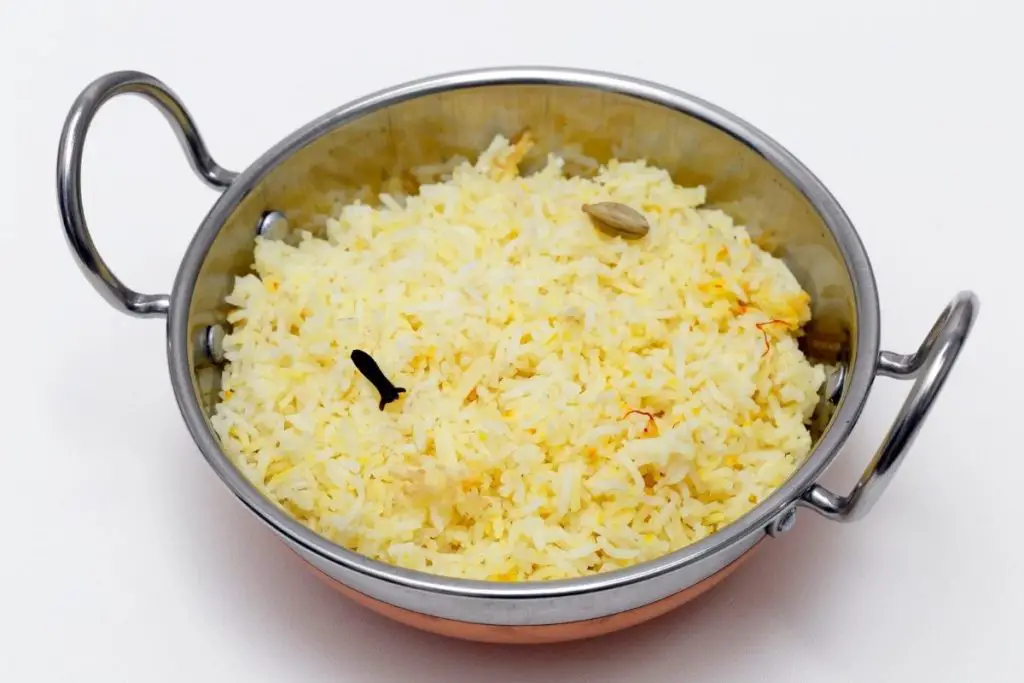 Place the rice, green cardamom pods, and water in a pot and bring to a boil. 
Once boiling, lower the heat to a gentle simmer and cook uncovered for 8-10 minutes. 
Once the rice has absorbed all the water, cover the pot, and let the rice sit for another ten minutes. 
Fluff it up with the fork before serving. 
Add a knob of butter before serving. 
Note: Cardamom pods are expensive, so you can also use powdered cardamom. Just add a pinch to your rice toward the end of boiling and give it a mix. 
Cardamon flavored rice goes well with poultry, red meat, and curry dishes. Cardamom is also one of the must-have ingredients in rice pudding.
2. Cumin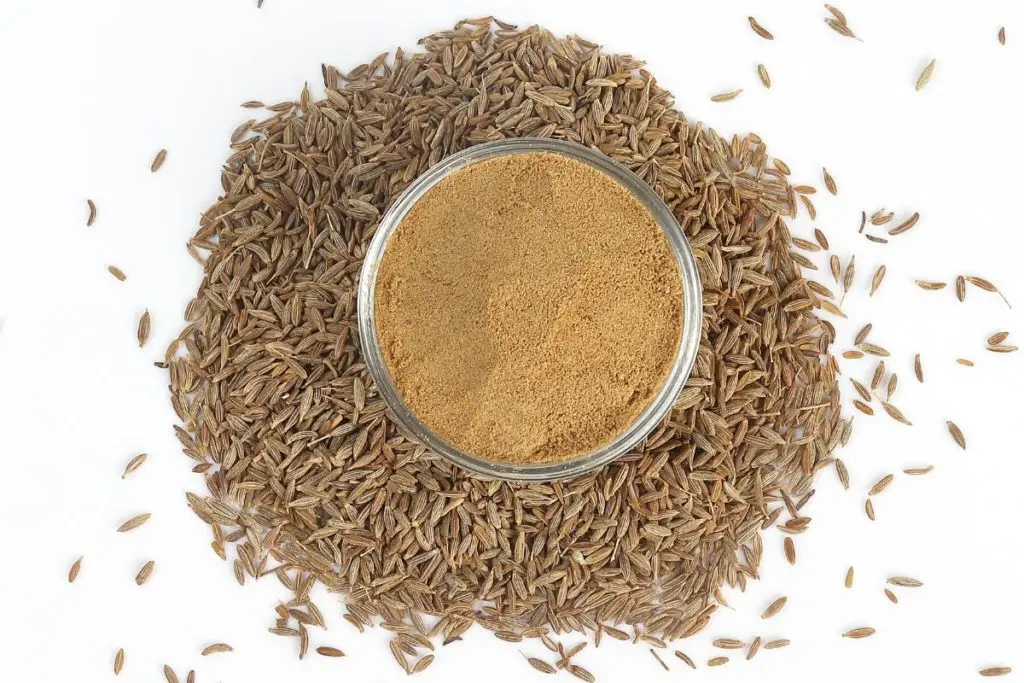 Cumin is a popular spice often used in Middle Eastern and Indian cooking. Cumin seeds have been found to provide relief from flatulence and stomach pain for some people.
Cumin complements many flavors, so it's a smart choice when cooking ethnic foods like Mexican or Latin American dishes.
Cumin has a smoky flavor, so if you are making chicken tikka masala or other dishes, you might consider using cumin instead of chili powder. It also goes well with rice that will be served alongside Indian curries.
Cumin comes from the same family of plants like carrots, parsley, caraway, dill weed, and fennel seed.
When harvested, it looks like a small brownish-yellow seed with an oval shape that's about 1/4 inch long. These seeds are ground up into powder form, or whole seeds can be added directly to food when they are ready to be eaten. 
They taste slightly nutty with hints of pepper and citrus flavor when cooked properly. What is great about cumin is that you don't need much to notice the flavor it adds to your dish! 
Fragrant Jeera rice is one of the most popular and easiest flavored rice recipes that is made with cumin seeds, ghee, and other aromatic herbs and spices that I will cover below. 
Top Tip: When cooking with cumin, add small amounts at a time. Taste your rice at regular intervals while adding cumin until you find the desired flavor. Adding too much cumin can ruin your dish.
How To Flavor Rice With Cumin
Now that you know what to expect by flavoring your rice with cumin, you might be wondering how you can do this! Thankfully, I have prepared these easy-to-follow steps to help you out:
In a medium saucepan, mix two teaspoons of cumin seeds with 1 tbsp of butter or ghee (clarified butter).
Leave the butter and cumin seeds in the saucepan over medium-low heat for approximately 2 minutes or until you notice the butter turning golden brown.
Add 1 and a half cups of rinsed basmati rice to the pot and stir regularly for approximately 3 minutes while the rice cooks.
Many chefs prefer to add other flavors, including some garlic and salt to the mix at this stage.
Add 3 cups of water and stir the rice to ensure everything is properly combined.
Once you have mixed everything together, place a lid over the pot and increase the heat to allow the liquid to rise to a boiling point.
When it begins to boil, reduce the heat and allow the rice to simmer for about 15 minutes, still keeping the lid on the pot. 
Remove the pot from the heat and let the rice sit for around 10 minutes while keeping the lid on the pot.
Fluff with a fork, dig in, and enjoy! Goes perfectly well with almost any flavor, especially with spicy north Indian curries.
3. Cinnamon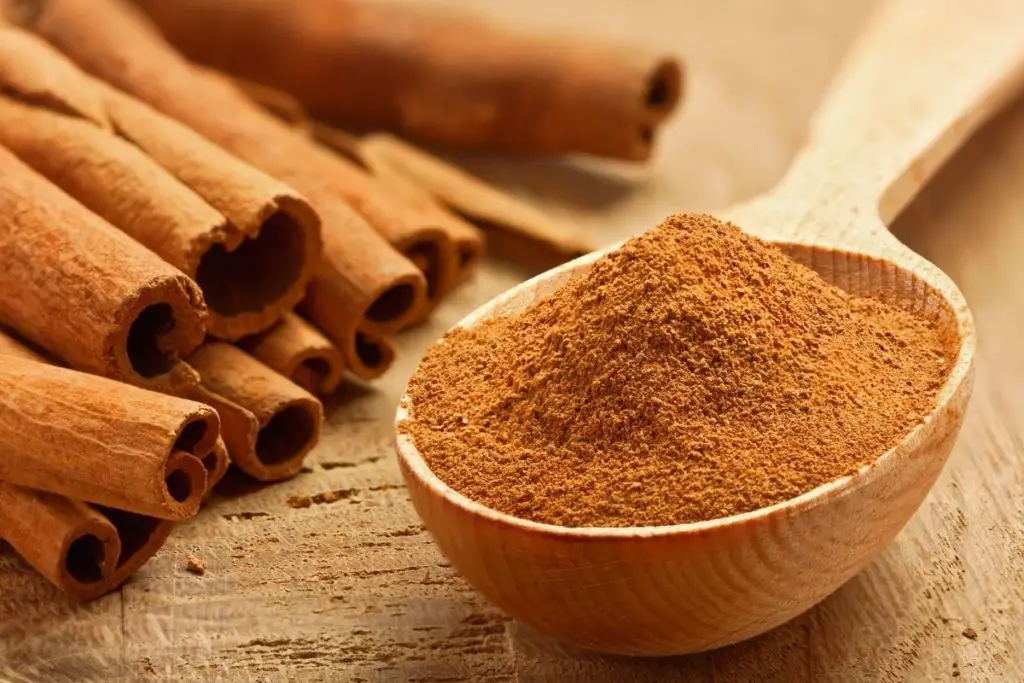 Cinnamon is a plant that's part of the laurel family. Along with being an important spice in cuisine, this plant is also used for medicinal purposes. Cinnamon can be used in sweet dishes, too. Sprinkle it over fruit or oatmeal for a delicious twist. 
Check out more clever and delicious ways to use cinnamon in your cooking.
However, for the purpose of today's article, I will focus on the great flavor that cinnamon can bring to your rice dishes!
Cinnamon comes from the inner bark of several trees belonging to the genus "Cinnamomum." The most common type of cinnamon available in grocery stores is cassia cinnamon which comes from Cinnamomum cassia. 
There are other types, such as Ceylon and true (or Ceylonese) cinnamon coming from Cinnamomum Verum found mainly in Madagascar and Sri Lanka.
Cassia has more flavor than Ceylon because it contains higher levels of cinnamaldehyde, but Ceylon has a more complex flavor. Therefore, not only can you add flavor to your rice by cooking with cinnamon, but you can also choose which cinnamon flavor you wish to experiment with!
It does not have to be sweet rice pudding; you can also successfully use cinnamon on savoy dishes like Lebanese cinnamon chicken rice or onion basmati rice. 
Top Tip: While you can use any kind of rice you desire, for the best result, long-grain white rice seems to be a popular option when flavoring with cinnamon.
How To Flavor Rice With Cinnamon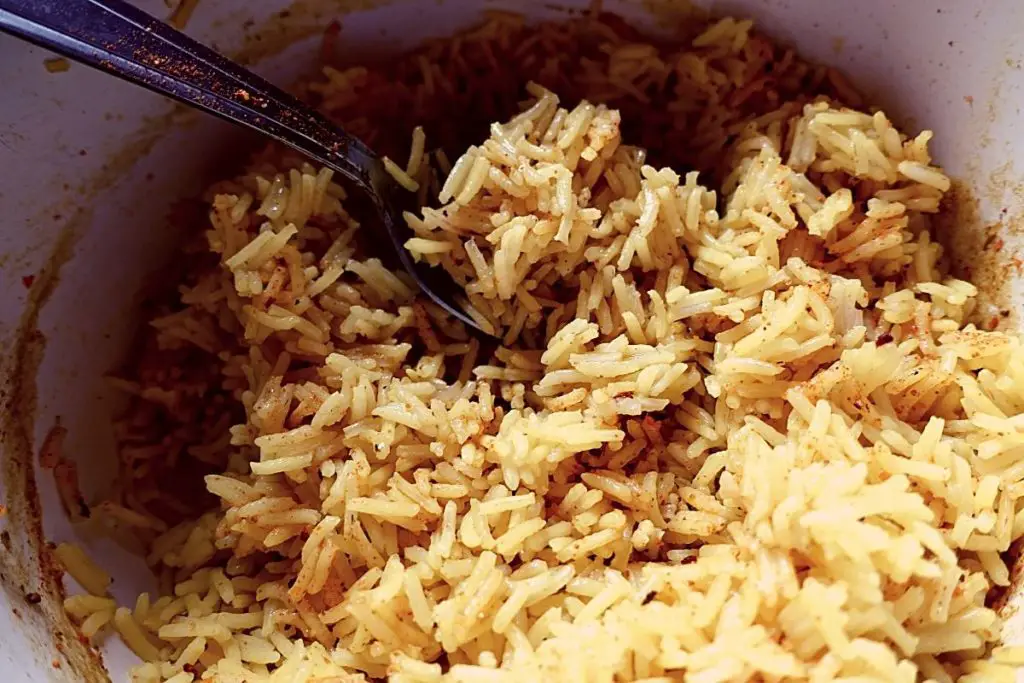 Much like cumin, cinnamon is easy to incorporate into your rice. It will add plenty of flavor and character to your dish and that extra delicious appeal.
Begin by pouring 2 tablespoons of olive oil into a sized saucepan on medium heat.
Add 3 cloves of smashed black garlic, 1 onion, and 1 cinnamon stick to the oil. You can also add other species you may wish to include in your dish at this stage.
Let the ingredients sautee for approximately 3 minutes, mixing regularly.
Add one and a half cups of long-grain white rice to the pan, and continue stirring while it cooks for around 2 minutes.
Add 2¼ cups of chicken broth (or water if you prefer) to the pan, as well as some pepper and salt. 
Increase the heat if needed to allow the liquid to reach a boiling temperature.
After a few minutes, reduce the heat and allow the rice to absorb the liquid. This should take around 15 minutes.
Remove the rice from the heat and let it simmer for 10 minutes with the lid placed on the pan.
If the cinnamon stick is still present, it can be removed from the rice. 
Fluff your rice using your fork, and enjoy the cinnamon-flavored rice as a side dish or on its own!
Note:  Cinnamon is a strong culinary spice, so you only need it in small amounts. Avoid adding more than one cinnamon stick, as too much can overpower the flavor of your rice.
4. Turmeric
Turmeric is a bright yellow spice that comes from the root of the Curcuma longa plant. It gives your food a delicious taste and a beautiful natural color, making it one of the best culinary spices to use with rice. 
The flavor of turmeric is reminiscent of ginger, with a peppery bite that's not too overpowering. Combine that with some fresh ground black pepper, and you'll have an aromatic, tasty dish in no time. 
Read more: Why turmeric and black pepper is such a wholesome combination.
If you enjoy your rice with a side of spiciness and musky, hearty taste, you should not overlook turmeric. 
While we all have our own preferences, especially in rice, turmeric is a go-to for many cooks worldwide, and for a good reason! Turmeric can spice up almost any rice dish and do wonders by bringing in so much extra flavor.
Not only is the taste of this wonderful spice remarkable, but so is its vibrant color! Just a spoonful or two is enough to turn your dish into a bright stunning yellow-orange dish.
Top Tip: When cooking with turmeric, watch out; it can easily stain your hands, cooking plastic and wooden utensils and countertop. If that happens, then baking soda is the hero in your kitchen.
How To Flavor Rice With Turmeric
By following just a few simple steps, you can be sitting at your dinner table enjoying delicious turmeric-flavored rice in no time!
In a saucepan, melt the butter or coconut oil on medium heat.
Add chopped garlic and onion to the hot butter and sautee for 2 minutes.
Add 1 tbsp of turmeric powder to the mix, and stir everything together.
Add 2 cups of white basmati rice and give it a good stir.
Add salt and pepper. 
Add 3 cups of chicken or vegetable stock.
Bring the mixture to boil, then cover the pot with a lid.
Once boiling, reduce the heat and allow the rice to simmer for about 15 minutes.
Remove from heat and let the rice sit for a minimum of 5 minutes.
Fluff with a fork and serve it with chicken curry, lamb balti, or beef keema.
5. Saffron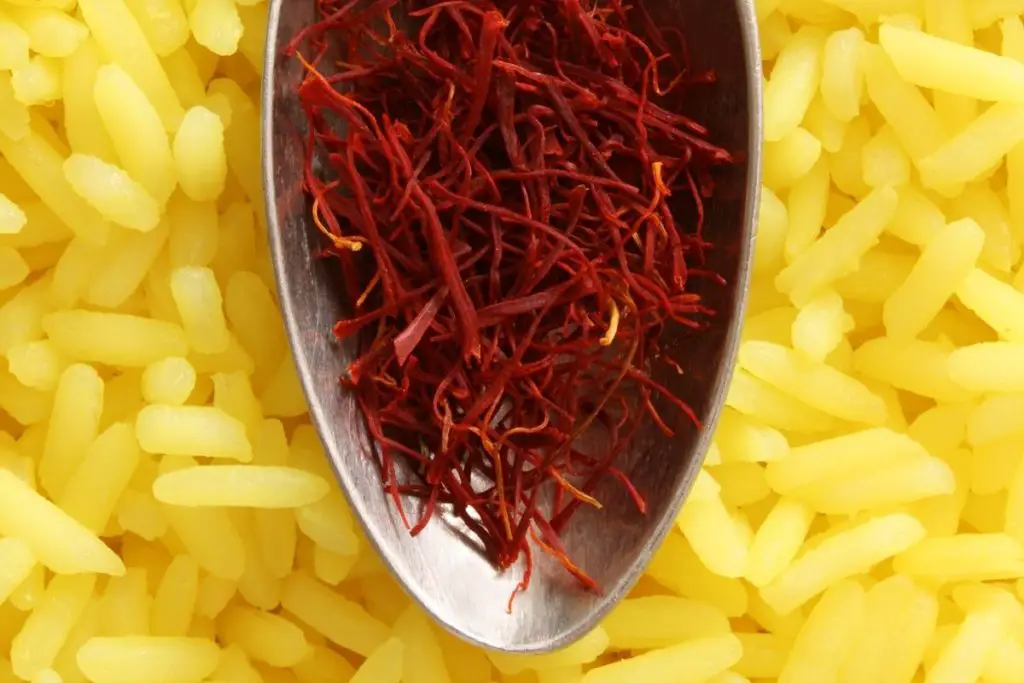 Saffron is a spice derived from the dried stigmas of the saffron crocus and is among the most expensive spices by weight. It has been used in many cultures for over 3,000 years to give food a vibrant yellow color and rich flavor. 
The word "saffron" comes from za'faran in Arabic, meaning "yellow." This explains why saffron can bring so much natural color to any dish.
Saffron threads are handpicked because each one must be picked individually without breaking off any part of its delicate thread-like structure. This will become clear when you notice the price of saffron next time you go to the grocery store!
Saffron brings a taste of the Middle East to your plate, imparting an earthy flavor that's unlike any other. 
You can use this spice to make rice or other grains like quinoa taste exotic and different – perfect if you're tired of eating your usual meal and want to spice things up a bit!
Top Tip: When cooking rice in a pot on the stovetop, try not to lift the lid too often. Keeping the lid on helps keep even cooking temperature throughout and allows the rice to cook more evenly.
How To Flavor Rice With Saffron
Soak ⅛ teaspoon of powdered saffron in 1.5 cups of boiling water.
Using a skillet, melt 2 tablespoons of clarified butter over medium-high heat.
Add one cup of white basmati rice to the melted butter and cook while stirring regularly until the rice absorbs all of the butter. Don't let the rice turn brown.
Add a pinch of salt.
Add 1 and ½ cups of saffron powder water to the rice.
Cover the rice immediately and allow it to cook for 20 minutes on medium-low heat or until you notice that the rice has absorbed all of the liquid.
Fluff rice with a fork and serve.
When using saffron threads instead of powder:
Take half the teaspoon of saffron threads and divide it in half.
Take one-half of the saffron threads and grind them in spice mortar to a powdery consistency.
Add the leftover saffron threads to the mortar without crushing.
Cover the saffron with hot water and soak for 5 minutes before adding it to the rice. 
Note: When cooking paella, risotto, or any other rice-based dishes, just use a pinch of saffron. Because saffron is expensive, you can substitute some of the saffron from this recipe with other spices if you prefer.
Saffron is easy to cook with, especially when using it to flavor your rice. Saffron-flavored rice pairs nicely with seafood. 
Read Also: 4 Ways to Cook Rice With Chicken Stock Cubes (Tasty Rice Hack).
Final Thoughts
In conclusion, rice is versatile and easily seasoned to make it taste delicious and colorful. While it is important to choose the right type of seasoning, depending on the meal you are cooking, you should not be afraid to experiment with different herbs and spices to see what you like.