While avocado toast may seem like a new food trend, it's been around for centuries in Latin America. The most common type of avocado toast is made from white bread or multigrain sourdough bread. It contains mashed avocado spread onto the bread, which is then seasoned with salt, pepper, and crushed red pepper flakes. 
But that is not the only way you can or should season avocado toast. Below are some clever and delicious ideas on how to spice up this nutritious breakfast or brunch recipe. 
How To Season Avocado Toast To Perfection?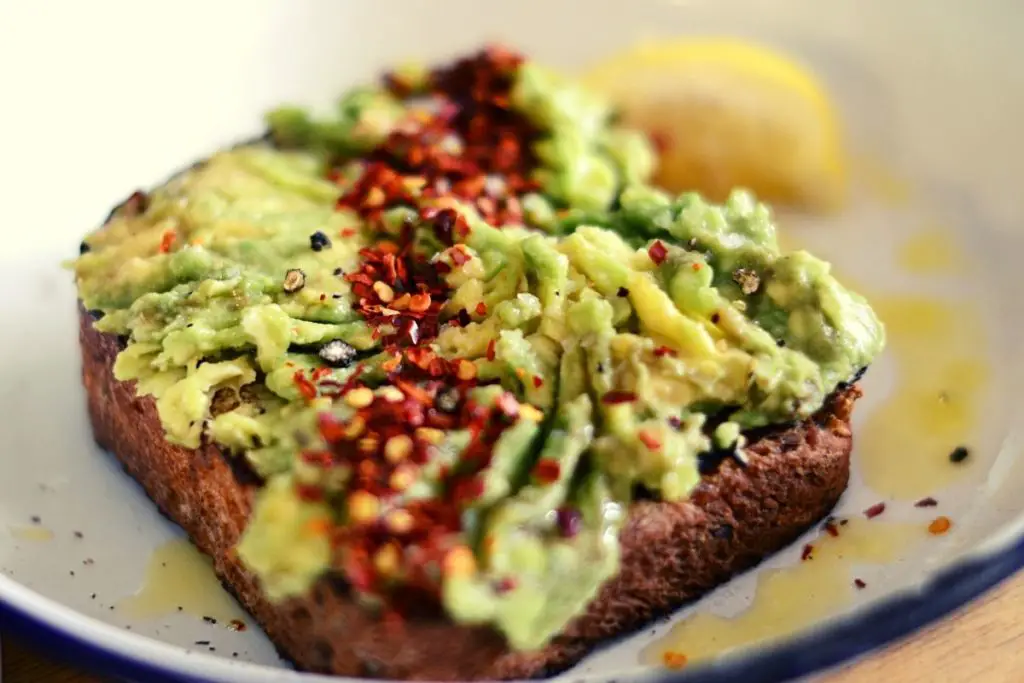 How do you season avocados? With creamy and buttery texture and almost nutty flavor, avocados are plenty delicious as is. Still, sometimes we want to amp up those flavors.
The best spices for avocado toast include parsley, garlic, pepper, and hot sauce. So the best spices for avocado toast would be a combination of these spices to give a diverse taste. Also, the right amount of salt and pepper brings out the flavors.
Here are a few of the essential avocado seasonings you can't go wrong with. 
Pepper
Flaky sea salt
Lemon or lime juice
Cayenne pepper
Chili powder 
Hot sause
Paprika
Onion granules
Garlic, seasoning or fresh
Balsamic vinegar
Chives
Dill
Mint
Oregano
Parsley
Basil 
Olive Oil
Also, try grilling avocados for a unique flavor before slicing them for your toast. 
Best Avocado Seasoning Mix To Try
If avocado toast is on your daily menu then a ready-made avocado seasoning mix is a handy addition to your spice rack. Everything But The Avocado Toast Seasoning contains perfectly balanced herbs and spices that is super easy to add to your toast.
TAP ON IMAGE TO VIEW PRICE
I love this avocado toast seasoning mix! It has the perfect amount of garlic and salt. I like to use it on my avocado toast with a perfectly poached egg. I also like to use it on chicken sandwiches for lunch. It's not too spicy, but it has a little kick. It's great for any meal or snack!
It contains all the herbs and spices that go with avocados: garlic, California salt, basil, red cayenne, black pepper, parsley, red bell pepper, lemon, red pepper flakes, toasted sesame seeds.
Also, each tin has a magnetic base that you can stick to your fridge so your toast would never go unseasoned.
Mashed vs. Sliced Avocado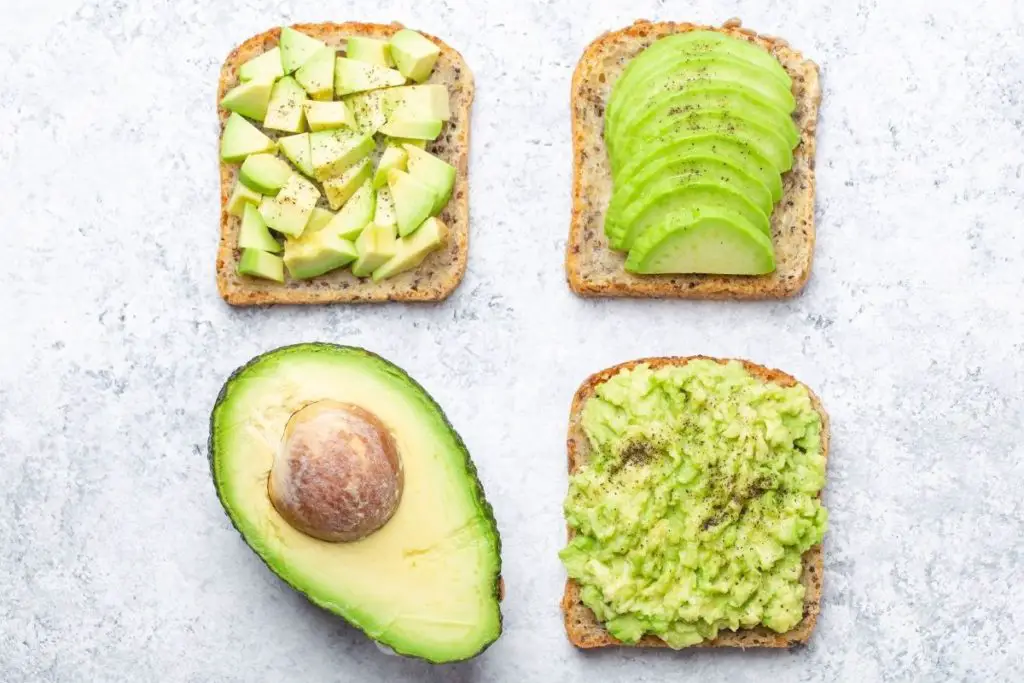 Sliced Avocado
Have you ever seen slices sprawled out like a beautiful fan? It is such a beautiful image! Sliced avocado fans look great as a topper to a larger entrée. Using sliced avocado in building appealing and delicious toasts provides a luxurious texture. But be warned the toppings you add on will be more prone to slipping and sliding. 
Mashed Avocado
When avocados are mashed, their texture evolves. It gets thicker and stickier, which helps additional ingredients stay put. Mashing avocados also help incorporate seasonings better as you can just mix all of it together. 
Also, keep in mind, when you mash an avocado, whether, for your toast or to make guacamole, it tends to lose that vibrant green color and start to go brown quite fast. 
Check out these clever tips and tricks on how you can mash an avocado and keep it from going brown. 
Savory vs. Sweet Avocado Toast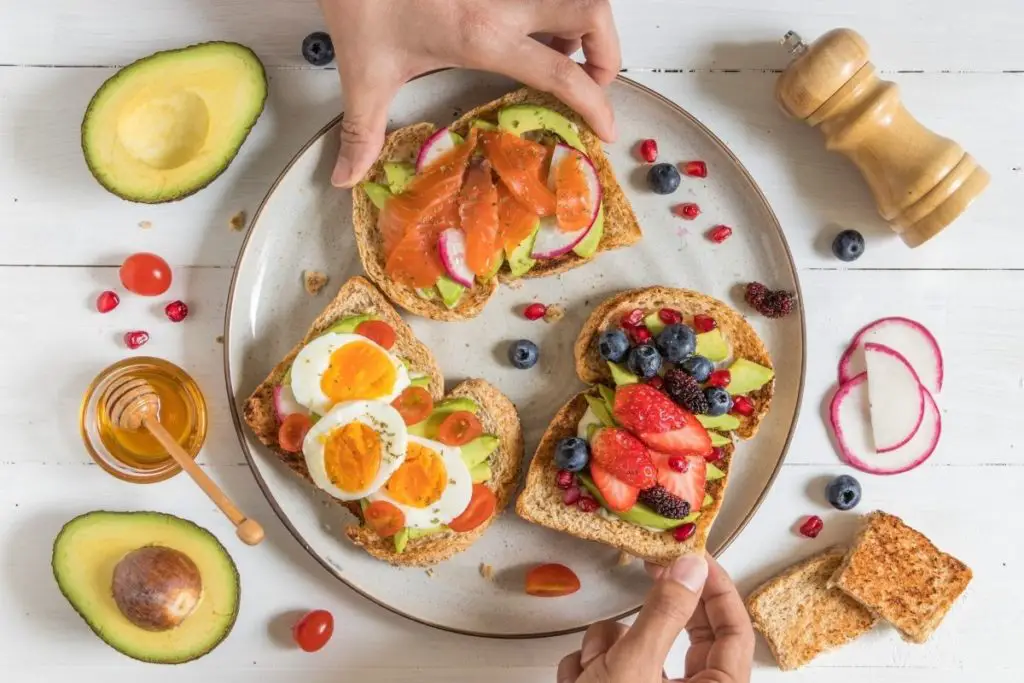 Before you whip up an avocado toast, ask yourself, "Do I want something sweet or savory?" Since there's a bit of a difference between the two, you want to make sure your taste buds are getting what they want in every single bite!
Suppose you are looking for a sweet avocado toast recipe. In that case, you may want to add some fruits and seasonings like cinnamon, mango, strawberries, cranberries, blueberries, honey or brown sugar, or anything that delivers a bit of natural sugar.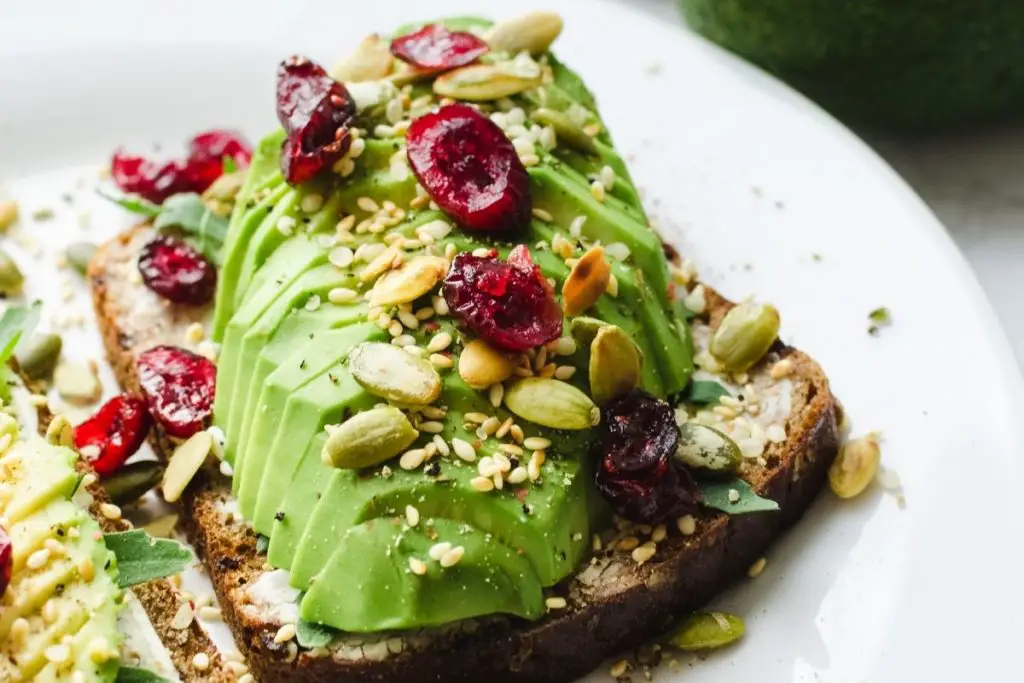 For a creative and sweet combination, use some black garlic. This aged garlic that is colored deep brown or almost black has a sweet, earthy flavor and tastes nothing like raw garlic. Learn more about black garlic and how to make it.
You can even try mint or nutmeg, all of which would nicely compliment avocados' mild flavor. 
On the flip side, for the savory avocado toast, try adding salmon, lime, feta, radish, cream cheese, sesame seeds, chia poppy or pumpkin seeds, or even a fried or poached egg if you want to enjoy a more filling, tasty meal.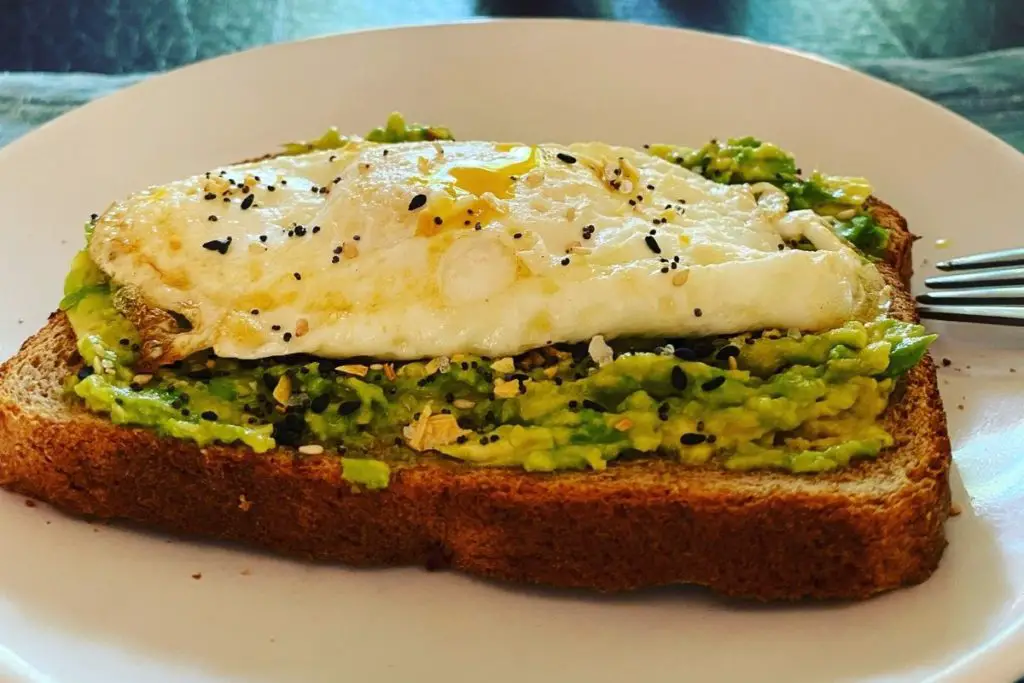 Not sure which one to make? Here's a list of my top 6 favorite avocado toast recipes for you to try when you're in the mood.
6 Avocado Toast Recipe Ideas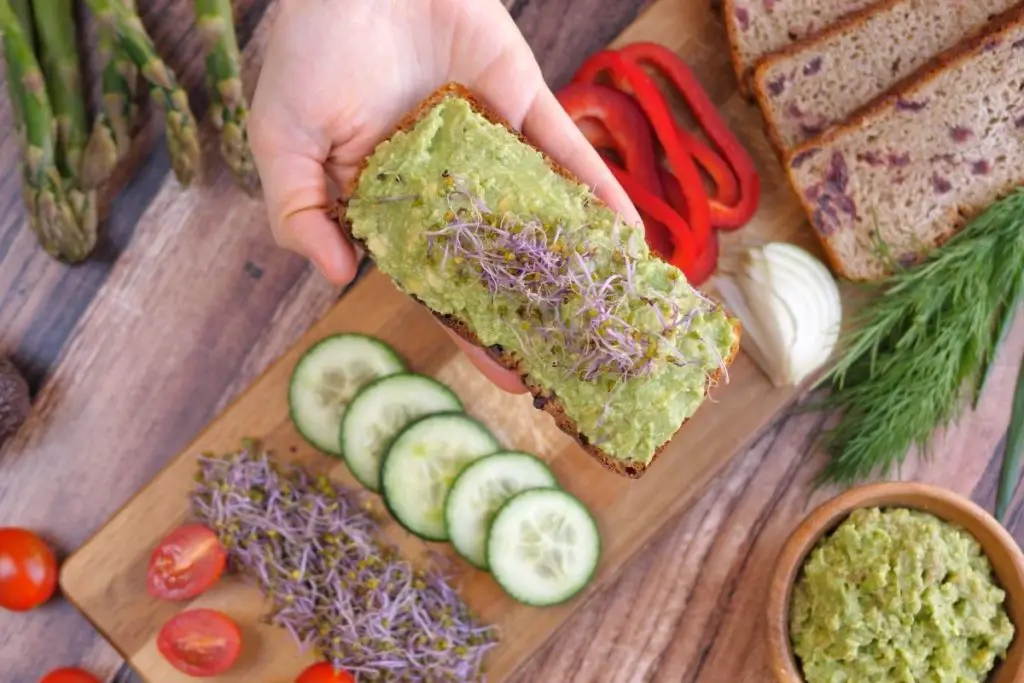 You can pair each of these examples with a soup or salad or just have the toast on its own for breakfast or brunch! Use these herbs, spices, and seasonings to create more flavor and WOW your guests or yourself. 
For each piece of toast, mash up your avocado or slice it thin, and spread evenly over a lightly toasted slice of bread. Then, pick your favorite seasonings and toppings listed below and get to snacking!
1. Mango And Lime
Can you feel the heat? Simply toast your bread, mash the avocado, layer sliced mango, sprinkle some salt, toasted sesame seeds, and drizzle lime juice. Top it off with your favorite chili lime seasoning for an extra yummy kick! 
2. Sesame Seeds, Scallions, And Cucumber
To add an Asian flair to your avocado toast, give this combination a try. All you need is avocado (of course), toasted thick-sliced whole grain bread, salt, pepper, lemon juice, cucumber, and fresh or dried scallions. Stack, sprinkle, and enjoy! 
3. Everything But The Bagel Seasoning
Whoever decided to add Everything Bagel Seasoning Blend on their avocado toast must have been a pure genius. Or they just bother to read the label and discover that this seasoning mix is a perfect fit for the avocado toast. 
TAP ON IMAGE TO VIEW PRICE
This combination is simple but packed with flavor. Toast your fresh, crusty whole-wheat bread or a bagel if you like. Slice or mash your avocado, add a dash of Everything Bagel Seasoning on the top, and add a sprinkle of flaky sea salt. Your taste buds will thank you. 
To make your own bagel seasoning, mix poppy seeds, white and black sesame seeds, garlic powder, dried onion flakes, and flaked sea salt. Mix everything together and sprinkle it on your avocado toast. 
4. Pico De Gallo, Cilantro, And Black Beans
Whether homemade or store-bought, adding salsa with avocado is beyond yummy. This snack works well with both mashed or sliced avocado, but mashing may incorporate the flavors a little better. 
Mix the black beans with your pico de gallo (salsa Fresca) in a separate bowl. After adding your avocado to a toasted slice of sourdough, scoop the black bean salsa mixture on top. Add a pop of citrus to make the flavors shine. 
5. Strawberry And Balsamic
This vibrant and fresh pairing makes an avocado sing—a hint of sweet deliciousness without being overpowering. On toasted bread, layer avocado and sliced strawberries. Then, drizzle balsamic vinegar or balsamic glaze for an indulgent yet healthy treat. 
6. Eggs And Bacon
Breakfast lovers, this one is for you! Amp up your morning toast by layering avocado, crumbled crispy bacon, a fried or poached egg, and your favorite shredded cheese. And, voila! A new delicious and nutritious breakfast staple. 
Top Tip: If you follow a low carb or Keto diet use cloud bread instead of regular toast.
What Goes Well With Avocado?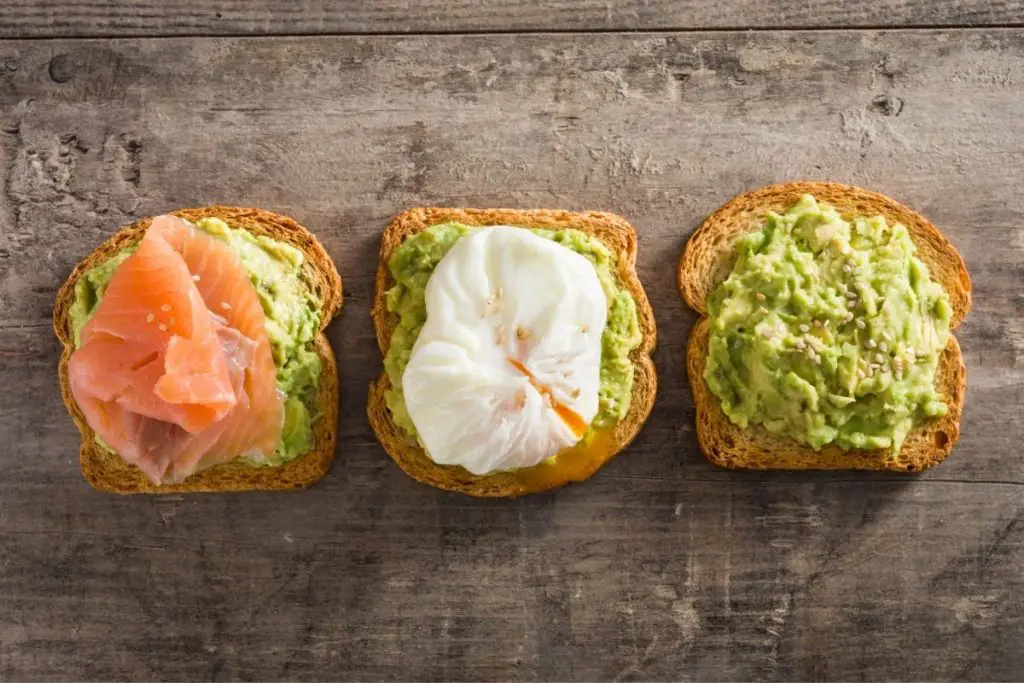 Onions, cucumbers, and tomatoes go well with avocado. They can be combined in a Mexican salad or used as a garnish on avocado toast. Green beans, asparagus, and broccoli are all great choices that can be served as a side dish or as an addition to an avocado-based meal.
A common favorite pairing includes avocado and mayonnaise, which adds creaminess without conflicting too much with the strong flavor of the avocado.
Now that you've made your toast, there's no reason you can't make it an entire dish! If you want to make your avocado toast a tad more filling, try adding some protein like fish or chicken. 
Another way to prepare this snack as a meal could be by fixing an egg, bacon, or sausage to go with your breakfast. 
You could eat it with an additional snack like cherry tomatoes or a light salad for lunch. 
When fixing this as a dinner addition, prepare it with a soup, loaded potato, or protein.
Finding ways to spruce up a simple avocado can be entertaining and full of possibilities. Don't be afraid to experiment; there are no set rules on eating or seasoning your avocado. 
In Conclusion 
In order to season avocado toast, all you need is a few ingredients: salt and pepper, freshly squeezed lemon juice, and some herbs. You can add fresh or dried oregano or basil leaves to the toast for an even more delicious taste. 
Now, go ahead and make your own avocado toast!
If you are reading this post, it is safe to assume that you might be interested in healthy eating and love avocadoes. 
If that is the case, check out these 12 Delicious And Nutritious Sweet Potato And Avocado Recipes.