We all love the good old classic Egg Salad Sandwich – it's nutritious, fulfilling, and rich in texture and flavor, yet simple and budget-friendly to make. However, not all of us eat eggs, or you may just not have any at hand.  
If you are looking for some creative ways to make an eggless egg salad sandwich that is also vegan-friendly – you are in a good place! 
Not only will I focus on keeping the recipes full of protein, but I got some exciting and creative ways how you can replace those eggs with the ingredients that will give you a similar texture, taste, and look as well. 
All of this – in a quick-4 easy and nutritious recipes that will transform the classic Egg Salad Sandwich into an eggless vegan-friendly delicacy. 
Let's go! Shall we?
Read Also:17 Best Egg Substitutes For Baking And How to Use Them
1. Tofu Egg Salad Sandwich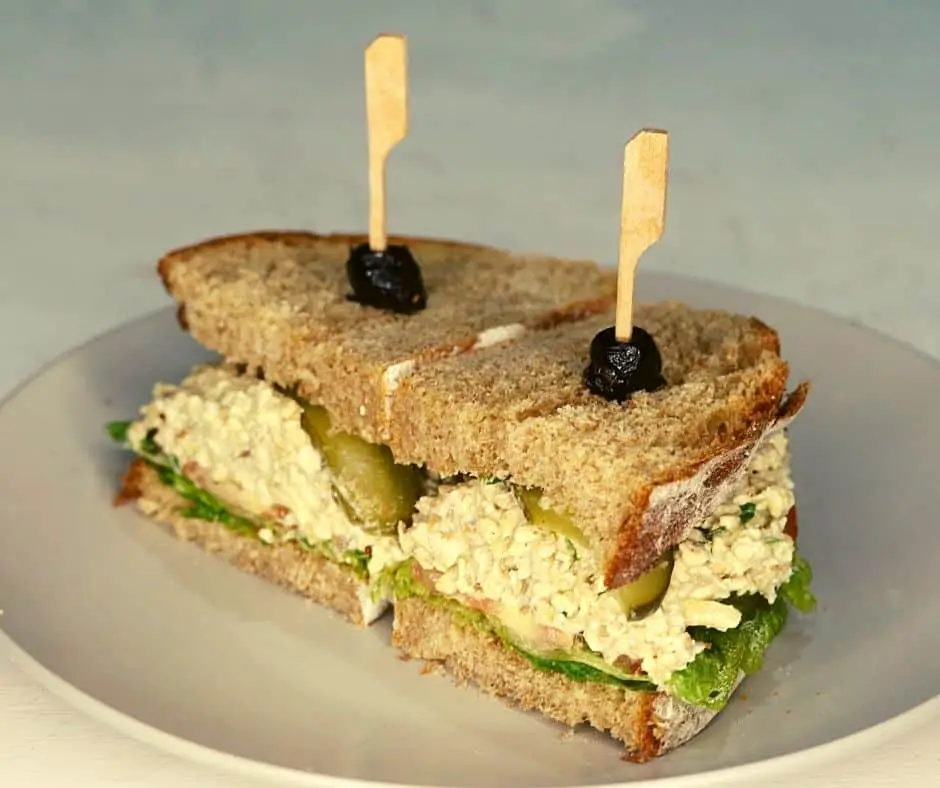 This is a really popular way to replace eggs in a vegan diet. The texture of tofu is often said to be remarkably similar to the texture of eggs. Furthermore, tofu is an excellent absorber of flavors, allowing you to add spices and condiments to shape it to whatever you're looking for.
In this particular method and other recipes below, your best bet is to use vegan mayonnaise alongside your ingredients if you want to ensure that the egg salad is vegan-friendly.
Although I am not vegan myself, I do like vegan mayonnaise – it tastes similar enough to standard mayo. Still, the taste is also slightly different, with a hint of tanginess and sweetness.
Also, eggless vegan mayonnaise lacks the inherent aroma and feel of eggs, leading to a much brighter flavor that enhances nearly anything you use it on. I'd recommend getting some good quality vegan mayo, whether you'll be using it for this recipe or others.
Getting Into Action
To make an eggless egg salad sandwich using tofu, you can refer to any classic egg salad recipe. I'd recommend simply replacing the mayo and eggs with tofu and vegan mayo – hey, presto, you've got a great substitution!
Top Tip: Use Medium-Firm Tofu as it has the best egg-like consistency. Firm tofu is just a little bit too dense, and Silken Tofu is a bit too soft.
To process the tofu, simply drain and pat dry some medium-firm tofu before slicing to the size that you want.
The size of the tofu chunks that you cut out of your block of tofu is entirely up to you. I like to cut relatively small cubes, so it is easy to mix and get a consistent amount of 'egg' throughout my salad while also not wholly smushed up and getting lost in the mixture.
Top Tip: I'd recommend adding a tablespoon or two of nutritional yeast to any of the recipes below. It gives great color, flavor, and extra protein as well!
Tofu Egg-Salad Sandwich Recipe
Prep time: 5 mins

Cooking time: 7-8 mins

Servings: 2
Ingredients:
6 oz medium-firm tofu (pressed, cut to small cubes or grated)
1 tbsp olive oil
4 slices of wholemeal bread
¼ cup scallions (spring onion) or chives (chopped)
2 tbsp vegan mayo* (or any mayo if not vegan)
1 tsp Dijon mustard (or any other mustard)
¼-½ tsp black Himalayan salt (or any salt)
¼-½ tsp black pepper
Garnish (optional)
1 tomato (sliced)
1 pickle/gherkin (sliced)
Gem lettuce leaves
Equipment:
Cheese grater

Chopping board

Knife

Frying pan

Mixing bowl
Instructions:
Heat the olive oil in the frying pan. Add your cubes or grated tofu and saute on medium to high heat for a couple of minutes. 

Add salt and pepper, and keep cooking for another 5-6 minutes.

Turn off the heat and set it aside to cool down.

Once cool, transfer the tofu into a mixing bowl, along with scallions, vegan mayo, and mustard. 

Mix well and add extra salt and pepper as needed.

Toast the bread slices (optional) and assemble your sandwiches – lettuce, tomato, egg salad, and pickles. 

Close the sandwich, cut it in half, and enjoy!
Notes:
* You can use store-bought vegan mayo or use our whole food homemade cashew mayo recipe that I have posted at the end of the article.
2. Eggless Egg Salad 

Sandwich Made With 

Cauliflower
This cauliflower-filled alternative to the hard-boiled egg is one of my favorite vegan-friendly options and features a firm but still tender texture and rich and creamy egg salad flavor.
Cauliflower Egg-Salad Sandwich Recipe
Prep time: 5 mins

Cooking time: 15 mins

Servings: 2
Ingredients:
½ medium cauliflower (leaves and core removed, broken into florets)
4 slices wholemeal bread
¼ cup scallions or chives (chopped)
2 tbsp vegan mayo*
1 tsp Dijon mustard (or any other mustard)
¼-½ tsp black Himalayan salt
¼-½ tsp black pepper
Garnish (optional)
1 tomato (sliced)
Fresh arugula
Equipment:
Steamer or a colander and a pot
Tea towel
Chopping board
Knife
Mixing bowl
Instructions:
First, cook the cauliflower. Steam it for approximately 15 minutes – when it's ready, you should be able to pierce the florets with a fork easily, but they should still keep their shape. 

Lay the cooked cauliflower on a clean tea towel and let it cool down.

Once cool, finely chop it and transfer it into a mixing bowl. 

Add scallions, mayo, mustard, salt, and pepper. Start with smaller amounts of salt and pepper and adjust to taste.

Toast your bread slices (optional) and start assembling your sandwiches. Add egg salad, greens, and tomato. Close the sandwich, cut it in half, and enjoy!
Notes:
* You can use store-bought vegan mayo or use our whole food homemade cashew mayo recipe that I have left at the end of the post.
3. Chickpea Tofu Egg Salad Sandwich 
Okay, I know that the first recipe also used tofu, but this one is different because this no-egg salad is made without soy!
Burmese chickpea tofu has a much different taste to standard tofu; it's much springier and lighter, similar to seitan.
Making The Burmese Chickpea Tofu 
Burmese chickpea tofu can be a little difficult to get your hands on, but luckily, it is relatively easy to make.
You'll need:
Two cups of chickpea flour
Four cups of water
A teaspoon of vegetable bouillon powder (optional, but I like the extra flavor)
Half a teaspoon of turmeric powder. (Optional, but will give nice yellow color)
Instructions:
Start by pouring half the water and the rest of the ingredients into a large bowl before whisking very well.
Bring the remaining water to a boil in a large saucepan.
Slowly, bit by bit, add the flour mixture to the boiling water while stirring consistently.
Lower the heat to medium after you'd added in all the flour mixture, and stir consistently for five to seven minutes – the mixture should get very thick. As you're stirring the mixture, you're developing and strengthening gluten bonds, which is what makes the tofu springy and delicious.
Once you've achieved a good texture, pour the mixture into a good-sized cast. I'd recommend using a 6 by 10-inch roasting or baking dish lined with baking paper: this will be a good size.
Allow the mixture to come to room temperature, and then chill in the fridge for at least an hour.
You can get the full recipe for chickpea tofu here: girlcooksworld.com
Chickpea Tofu Egg Salad Recipe
To add the homemade tofu to your 'egg' salad, simply follow the same steps as in the first recipe above. Cut off a reasonably sized chunk and, ensuring it's dry, dice or mash it to an ideal size and consistency. Then, follow the recipe, and you're ready to go.
Also, here is another excellent chickpea flour tofu no-egg salad recipe I would recommend to try out: powerhungry.com
4. Chickpea Salad Sandwich
Chickpeas have a particularly unique texture that I love to see in cooking. Although chickpeas' texture won't precisely bear a resemblance to real eggs, it is still a viable option for a cheap, quick 'egg salad' substitute, and the result is really delicious. This recipe is probably the fastest to make out of all of them.
This classic chickpea salad is also soy-free, and it is great for sandwiches and wraps or even scooped up with crackers or veggie sticks, or you can even eat it straight from the bowl.
As this is 'Vegan Egg Salad With Chickpeas' is not my recipe, I am not going to post it here, but I will leave the link to the recipe, all the ingredients, and the instructions here: simple-veganista.com
Homemade Cashew Mayonnaise
As promised, here is the cashew mayonnaise recipe. Don't worry; all the recipes above will be perfectly delicious with store-bought vegan mayonnaise or any regular mayonnaise if you are not vegan.
However, if you have time and willingness, then this cashew mayo is a great vegan mayo alternative to try out. Cashews are very rich in flavor and will give your mayo a lovely texture after you soak and blend them. It is thick, rich, nutritious, and creamy!
Cashew Mayonnaise Recipe
Prep time: 30 mins

Servings: 8-10
Ingredients:
½ cup raw cashews (soaked for at least 30 minutes in hot water)
¼ cup water
2 tbsp of lemon juice
1 tbsp apple cider vinegar
1 tbsp nutritional yeast
1½ tsp Dijon mustard
½ tsp garlic powder
½ tsp onion powder
½ tsp salt (plus more if needed)
Equipment:
Instructions:
First, drain your cashews and add them to the blender.

Add the rest of the ingredients and blitz for 1-2 minutes until smooth. If the texture is a bit too thick for your liking, add extra water.

Taste your mayo and add more salt if desired. You're done! Use for sandwiches, salad dressings, or dips!
Read Also: Does Mayo Need To Be Refrigerated? Here's What I Learned!
Conclusion
Best egg substitute for your eggless egg salad sandwich:
Regular tofu
Chickpea tofu
Cauliflower
Chickpeas
And there ya go! These four egg substitutes will make your egg salad sandwich vegan-friendly, unique, interesting, curious, and also just as tasty and nutritious as the classic variant. Don't be afraid to explore and learn and try all of the four recipes.