If you love the spicy flavor of gochugaru (Korean chili flakes) on your favorite Asian dishes but do not have any on hand in the kitchen, there are excellent Korean chili flakes substitutes you can use instead. They add similar levels of heat, aroma, color, and taste.
Check out my top 5 favorite Korean chili flakes substitutes that give a similar flavor to your dish.
1. Crushed Red Pepper Flakes
It is simple to find ground or crushed red pepper at any standard grocery store in the spice aisle. These are commonly used in Italian, Mexican, and South American cooking.
If you are an avid gardener or buy vegetables from a local farm market, you can even make them yourself at home.
TAP ON IMAGE TO VIEW PRICE
These sun or air-dried hot Cayenne or Aleppo peppers are simply broken and crushed into small flakes. The variety without seeds is closest to Korean hot chili flakes, but you can also use the one with seeds.
2. Togarashi Spice Mix
For a more nuanced taste, reach for togarashi Japanese chili flakes or powder the next time you make spicy kimchee or soup.
Togarashi spice blend goes beyond simple peppers to include ginger, sesame seeds, orange zest, seaweed flakes, and more. Some view it as similar in use to Chinese five-spice powder, but it does have a different flavor palate.
TAP ON IMAGE TO VIEW PRICE
In most cases, togarashi is sprinkled on top of prepared food as a final finishing touch. It is generally not used during the cooking process, but it still makes a good, workable substitute for Korean chili flakes that can save your recipe.
3. Chipotle Powder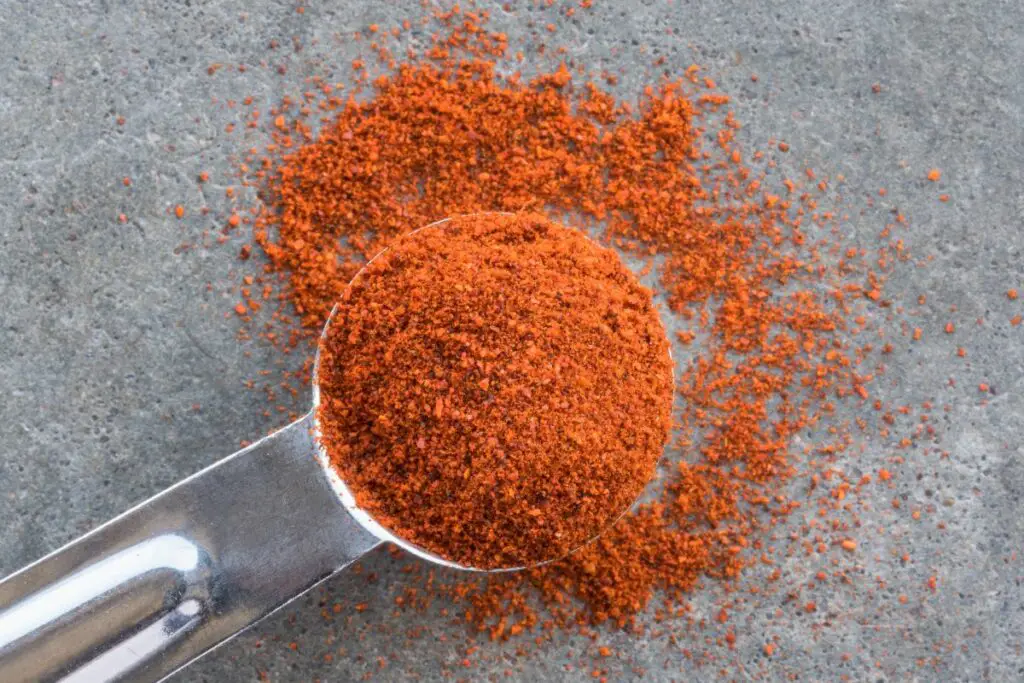 While standard chili powder has the heat and color associated with Korean hot pepper flakes, chipotle powder shares more of the smoky flavor that many people enjoy, it is made from jalapenos and usually has a higher Scoville rating than the types used in gochugaru.
TAP ON IMAGE TO VIEW PRICE
However, besides the slightly smoky flavor that might affect the overall taste of your dish, the chipotle powder is a great substitute for Korean chili flakes in most recipes.
4. Chili Pasilla
This variety of pepper is commonly found in ethnic Mexican and other Central and South American cooking. You may have to look in a specialty food market to find it.
TAP ON IMAGE TO VIEW PRICE
At first glance, these nearly black peppers may not seem like a good substitute for Korean pepper flakes because they will not impart a lovely red color to your dish.
However, some people find them to be a great option because they are not as spicy as other options on this list yet have a rich and tangy flavor that pairs well with most of the recipes you would use Korean chili flakes.
This ripened chilaca chili. has a lower Scoville heat rating of up to 4000 rather than up to 10,000 like gochugaru.
5. Red Paprika Flakes
As a Korean chili flakes substitute, red paprika flakes or dried bell pepper flakes lack the flavor power of the original ingredient; however, choosing a high-heat or smoked paprika can help.
The highest Scoville-rated variety is often labeled Hungarian paprika and may be more difficult to find in ordinary markets.
TAP ON IMAGE TO VIEW PRICE
This popular spice does have one thing going for it: the color. Paprika's bright orange-red shade will impart the same vibrant look when used in dishes that rely on appearance as much as taste.
Finding your favorite gochugaru substitute may take some time and a lot of sampling. Whether you reach for standard red pepper flakes or try something more robust like a Japanese togarashi spice blend, you are sure to find an interchangeable replacement to make your recipe taste as authentic as possible.
Frequently Asked Questions
What Does Korean Chilli Flakes Taste Like?
Gochugaru is a traditional Korean chili pepper flake that imparts a distinct flavor profile to many dishes. As a spice, it offers a unique balance between sweet and spicy, with notes of smokiness from the drying process used to produce the flakes. Its pungency is typically lower than other dried chili peppers but still has enough heat to make its presence known. It is a distinctive flavor that can be utilized in various applications, from traditional Korean dishes to more contemporary Western cuisine.
What Is The Difference Between Gochugaru And Gochujang?
Gochugaru and gochujang are both spicy condiments derived from Korean cuisine. Gochugaru is a type of chili seasoning made from sun-dried red peppers that are ground or crushed into flakes. At the same time, gochujang is a fermented paste made with chili powder, glutinous rice, fermented soybeans, and salt.
What Dishes Are Korean Chilli Flakes Used In?
Korean chili flakes, otherwise known as gochugaru, are a key ingredient in many traditional Korean dishes, and their use can be traced back to the late 19th century. Gochugaru adds a spicy, pungent flavor to popular dishes such as kimchi, tteokbokki, bibimbap, jjigae, and various soups.
What Is The Difference Between Korean Chili Flakes And Red Pepper Flakes?
Korean chili flakes are coarsely ground dried chili with a smoky flavor profile and a mild to moderate level of heat. In contrast, red pepper flakes are usually composed of dried cayenne peppers, which contain seeds and have a much spicier taste and much more piquancy than gochugaru.
Where To Buy Gochugaru?
Korean chili flakes can be purchased from a variety of sources, depending on the desired quantity and quality. I commonly buy it from various vendors, including retail stores that specialize in Asian ingredients, as well as online retailers like Amazon, offering both domestic and imported varieties.
TAP ON IMAGE TO VIEW PRICE
Furthermore, specialty food stores and markets may also carry gochugaru, which often feature regional brands or artisanal preparations of the product.
Watch The Video Instead
If you don't feel like reading, watch the video below instead: Top 5 Favorite Korean Chili Flakes Substitutes.
---
Read Also: Which Food Is Spicier, Mexican Or Indian? (4 Most Hottest Dishes!)