Are you craving something sweet but want to stick with your low-carb diet? These delicious and easy-to-make almond flour cookies with stevia provide the perfect guilt-free treat! I have created a list of the 10 best sugar-free almond flour cookies that are low-carb, healthy, and still delicious.
These sugar-free baked treats are made with natural ingredients, plus they're quick and simple to make. Each cookie is bursting with wholesome goodness without any added sugar or carbs.
If you are not sure about stevia, read my latest post here: Is Stevia Vegan And Should You Actually Use It?
1. Almond Flour Chocolate Chip Cookies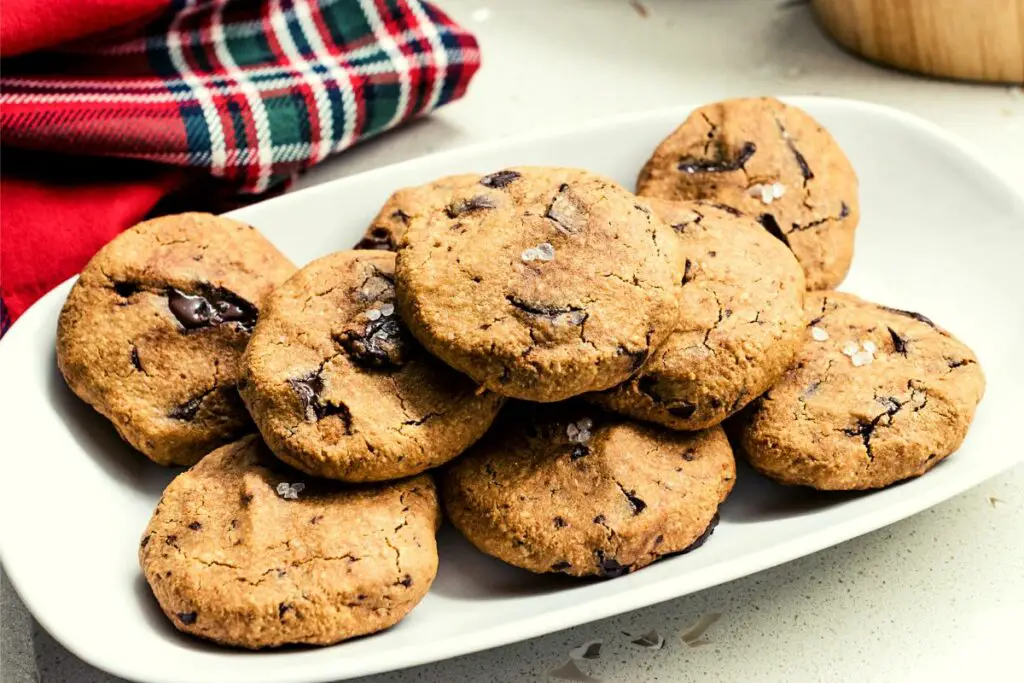 This recipe makes an almond flour version of classic chocolate chip cookies! Think of your favorite chunky, gooey, moist chocolate chip cookies, except they're low in carbs and keto-friendly!
These almond flour chocolate chip cookies will be your new guilt-free obsession. Made with nutrient-rich almond flour, they're guilt-free treats that are sure to satisfy your sweet tooth.
Plus, they contain no sugar or gluten, just pure pleasure! Enjoy the goodness of natural ingredients while taking in the irresistible aroma and taste of homemade chocolate chip cookies.
Check out the recipe for almond flour chocolate chip cookies here.
Nutritional Information Per Cookie:
Calories 118.
Protein 2.5 g.
Carbs 2.2 g.
Fat 11 g.
Read Also: How To Bake Cookies Without Sticking? (10 Effective Tips).
2. Cinnamon Almond Cookies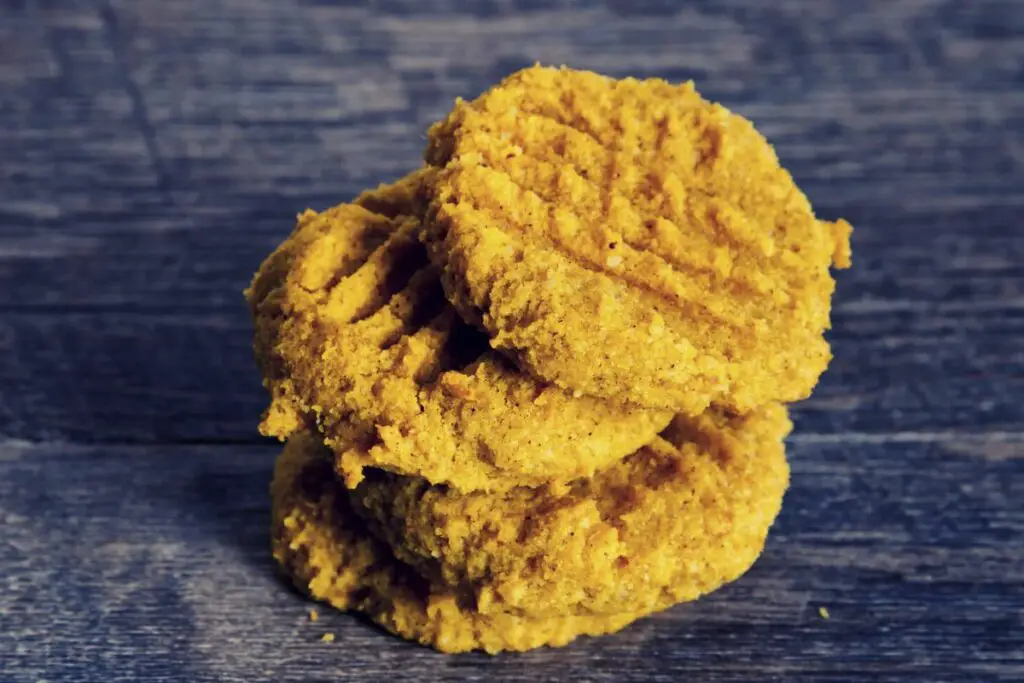 These cinnamon almond cookies are so quick and easy to make. Simply combine almond flour, butter, egg, stevia, and cinnamon in a bowl. Mix thoroughly and make small cookies from the batter.
Pop them in the oven and bake for around 15 minutes. Before you know it, you'll have your kitchen full of the warm smell of cinnamon and some delightful cinnamon cookies that are perfect for the festive season.
Check out the recipe for cinnamon almond cookies here.
Nutritional Information Per Cookie:
Calories 196.
Protein 5 g.
Carbs 13 g.
Fat 18 g.
3. Almond Flour Snickerdoodles
These almond flour Snickerdoodle cookies are gluten-free, sugar-free, low-carb, and high-protein.
Snickerdoodles are one of my favorite cookies, but my kids also love them. This recipe can be enjoyed by anyone and everyone.
Almond flour is used instead of wheat flour; in addition, it uses natural sweeteners instead of sugar! These Snickerdoodles are just as buttery and delicious as the classic recipe but are so much healthier.
It doesn't get better than that! Find the amazing recipe for almond flour snickerdoodles right here.
Nutrition Information Per Snickerdoodle:
Carbs 15 g.
1 cookie gives you only 4 carbohydrates.
4. Keto Almond Flour Cookies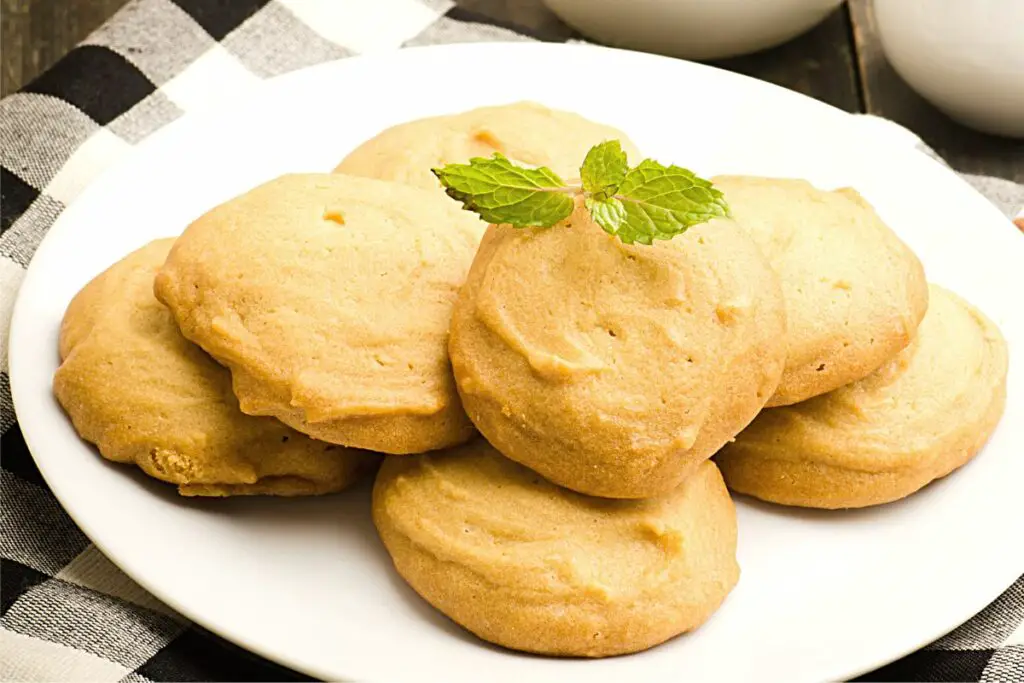 This Keto friendly cookie recipe makes the perfect batch of simple, classic cookies. These cookies are great for when you just want an afternoon pick-me-up or a low-maintenance dessert.
Can you believe it? They are made with only five ingredients!
You can easily whip these cookies up if you've got a sweet tooth after dinner. All you'll need is almond flour, vanilla extract, stevia, eggs, and butter!
Wow, it's amazing that something so simple can be so delicious and low in carbs. Make sure to check out the recipe linked here for the full recipe to make these delicious keto almond cookies!
Nutrition Information Per Cookie:
Calories 106.
Protein 3 g.
Carbs 3 g.
Fat 10 g
5. 3-Ingredient Almond Flour Cookies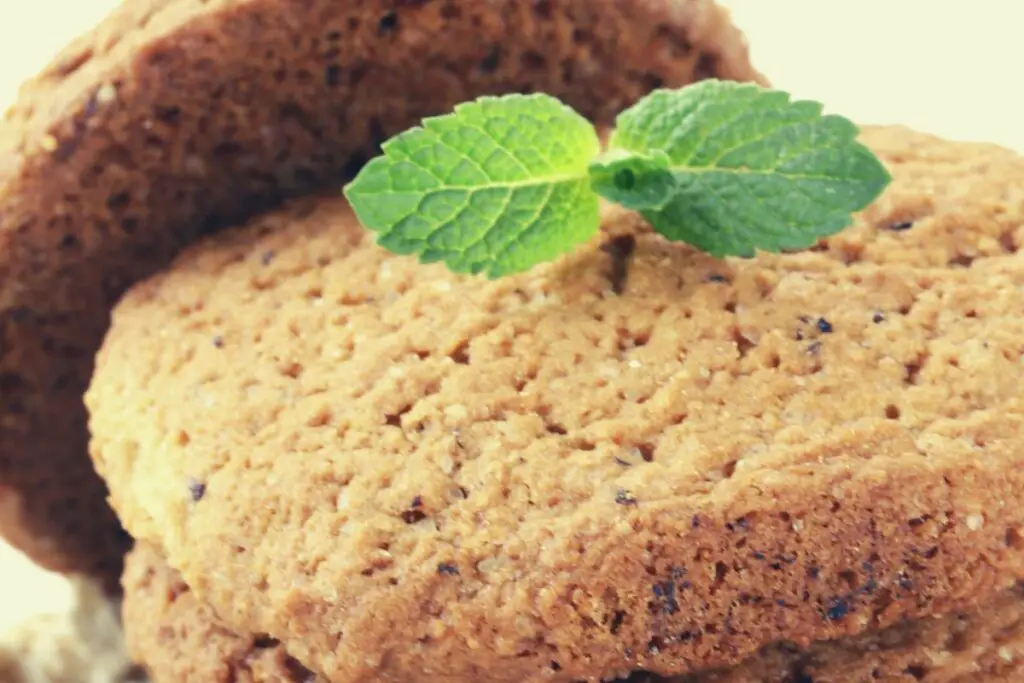 And you thought the five-ingredient cookies above were impressive! Check out this fantastic recipe for almond flour cookies using only 3 ingredients. These cookies are vegan but don't worry; they are still yummy.
Yep, you heard that right! You can make a wonderful batch of homemade cookies with only almond flour, almond butter, and stevia.
They're also vegan, gluten-free, and low-carb. These cookies are quickly going to become your new favorite snack because they are just so easy to make.
Just to note, because they also contain almond butter, these cookies are a lot higher in calories than the other ones on this list, but it makes them also yummier.
Have a look here to find out how to make these super simple cookies!
Nutrition Information Per Cookie:
Calories 299.
Protein 5.3 g.
Carbs 3 g.
Fat 16.8 g.
6. Chewy Almond Flour Cookies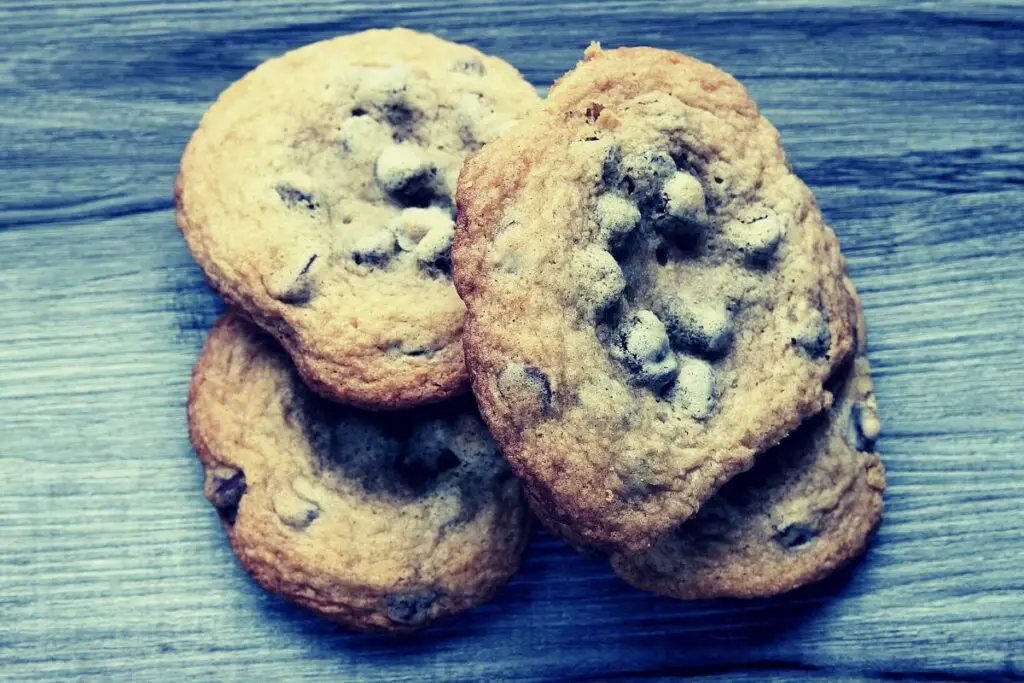 I am always on the hunt for chewy, moist, crunchy, low-carb keto cookies. This recipe for chewy almond flour cookies is a tried-and-true method for making the perfect batch of cookies.
You shouldn't have to sacrifice your favorite foods when you're on a keto diet! This is great for anyone who is struggling to adapt to their low-carb diet and still craving their favorite snacks!
Chewy almond flour cookies are made with almond flour, stevia, and dark chocolate.
Have a look here for the recipe and all the ingredients!
Nutrition Information Per Cookie:
Calories 130.
Protein 3 g.
Carbs 1.7 g.
Fat 12.5 g.
7. Almond Flour Gingerbreads With Stevia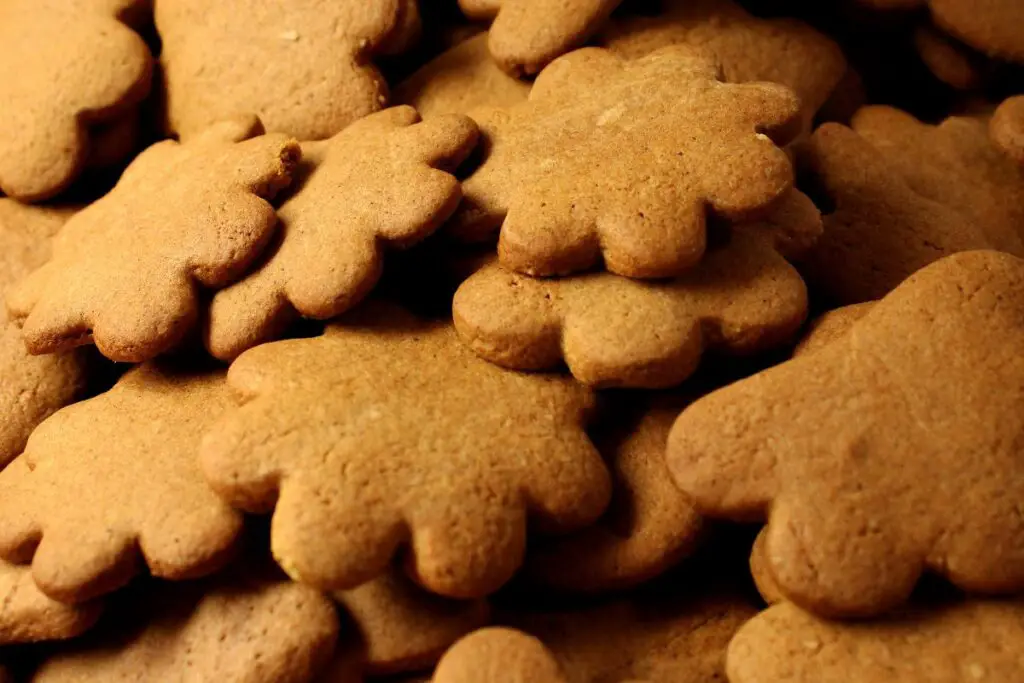 Christmas time is for having fun and enjoying your favorite foods. It can be a difficult time of year if you're gluten-free or keto diet.
Thankfully, there are so some healthy low-carb, and allergen-free gingerbread recipes out there.
Have a look at my absolute favorite one for almond flour gingerbread with stevia. These gingerbread men taste just like the originals, but they're way healthier! I must admit I sometimes even make them in the middle of the summer.
Stay happy and healthy this Christmas with these delicious almond flour gingerbreads.
8. Keto No-Bake Almond Flour Cookie Dough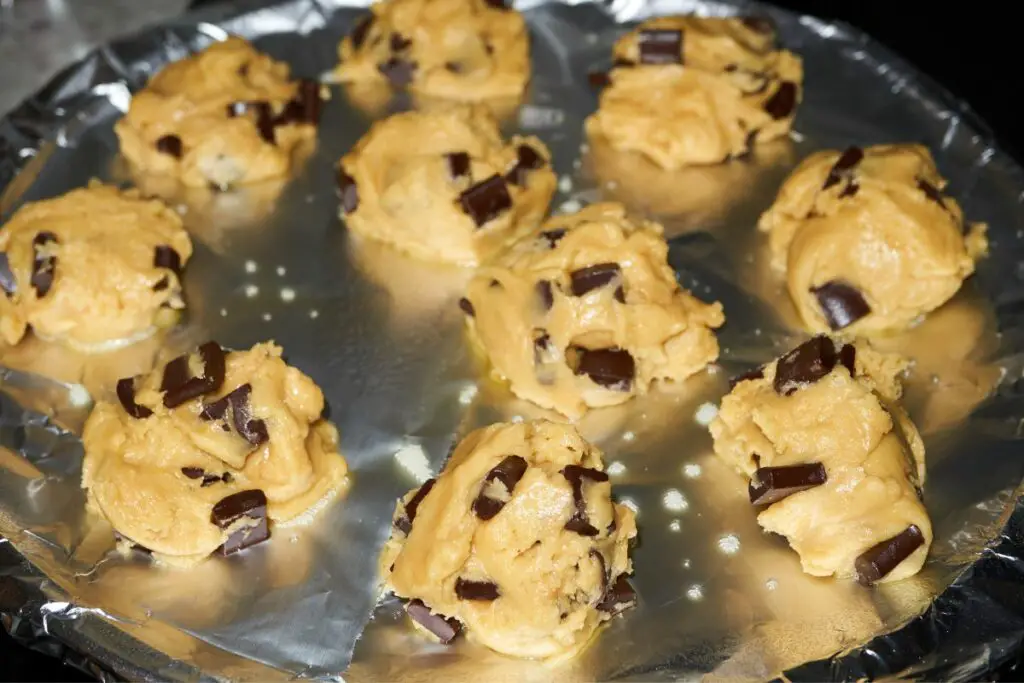 Are you a fan of cookie dough? If so, you're going to love this recipe for almond flour cookie dough; no oven or baking is required.
It takes only 30 minutes to make this tasty dessert. The combination of almond flour and stevia make this cookie dough a sweet yet much healthier alternative to store-bought cookie dough. The whole family is going to love this cookie dough recipe.
Check out the full recipe here!
Nutrition Information Per Cookie:
Calories 148.
Protein 3 g.
Carbs 1 g.
Fat 13 g.
9. Sweet Potato Almond Flour Cookies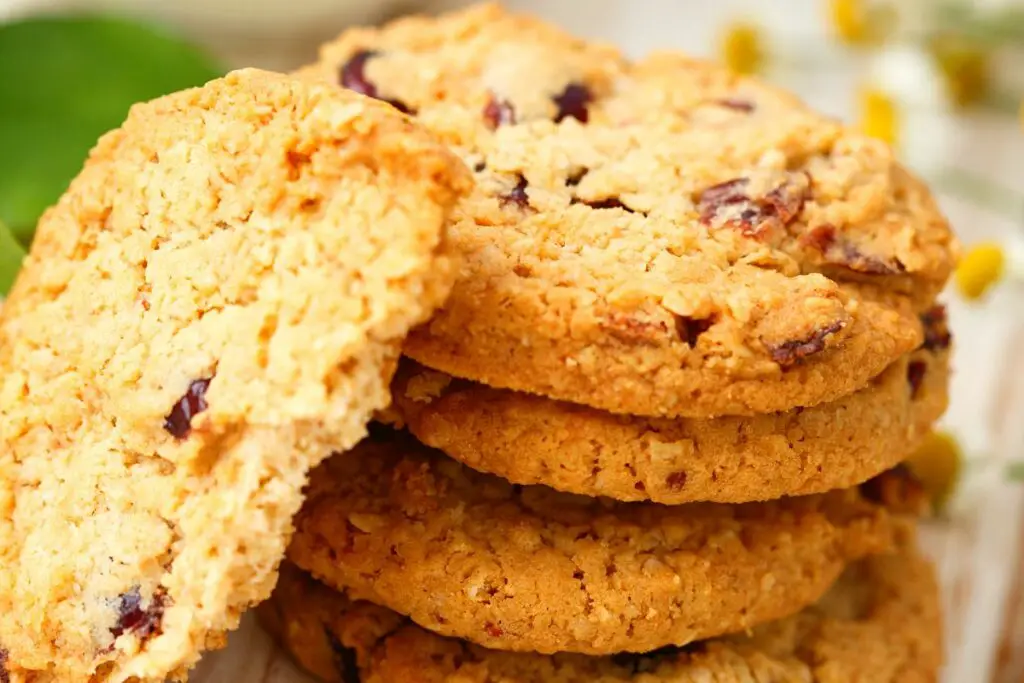 These unique cookies are 'jam-packed' with nutrient-dense ingredients.
These are made with sweet potato, almond meal, coconut flour, orange, pistachios, and cranberries.
These cookies are a fantastic, healthy sweet treat. They're also perfect for the kids' lunchboxes! They are definitely one of our favorite recipes but be warned; they are slightly higher in carbs than the other recipe on this list, so be careful, or you will be kicked out of ketoses.
Make sure to check out the recipe here to make these delicious cookies!
Nutrition Information Per Cookie:
Calories 226.
Protein 5.3 g.
Carbs 8.5 g.
Fat 5.3 g.
Check Out My Latest Video: Sweet Potato Oatmeal Cookies – (ONLY 2 Ingredients!)
10. 4-Ingredient Low-Carb Almond Flour Shortbread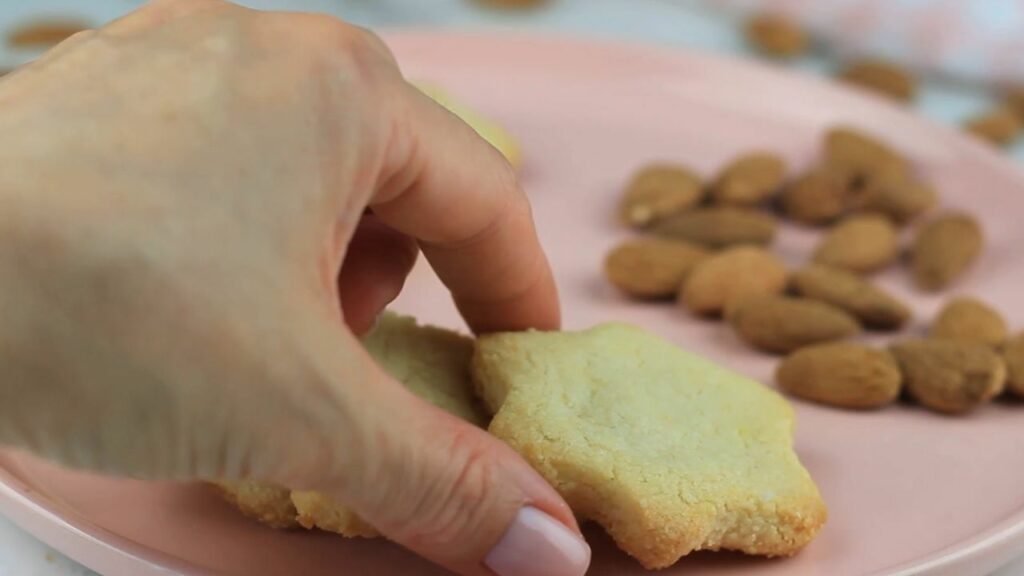 Can you tell I love easy, simple, and delicious recipes? This is another accessible recipe to have in your recipe collection whenever you want a quick bake with only a few ingredients.
These 4 ingredient shortbreads have exactly the same buttery taste and crumbly texture as the traditional sugary shortbread, but they are super low in carbs, the lowest out of all the recipes on this list.
All you'll need to make these crumbly and buttery shortbreads is almond flour, butter, stevia, and vanilla. Pop them in the oven, and you'll get a batch of fresh, homemade, healthy shortbread in no time.
Check out the recipe for 4 ingredients low-carb almond flour shortbread here: Best Keto Shortbread Cookie Recipe.
Nutritional Information Per One Cookie:
Calories 40.
Protein 0.4 g.
Carbs 0.3 g.
Fat 4 g.
I hope you liked my list of low-carb and no added sugar almond flour cookies. Let me know which cookie recipe you baked and how they've turned out!
Now, if you are not scared of oxalates, it's time to get into the kitchen and make some delicious homemade almond flour cookies!
Happy baking, everyone!
---
Check Out Also: Best Fluffy Almond Flour Pancakes (Super Easy to Make).