Leek soup tastes like home. Even if it's not the flashiest of soups, it's still delicious, and we all have fond memories of it. The thing with leek soup is that it's often too starchy — that's the potatoes' talking.
Besides, most leek soups rely on cream for their thick, silky texture. What if you can't or won't eat dairy?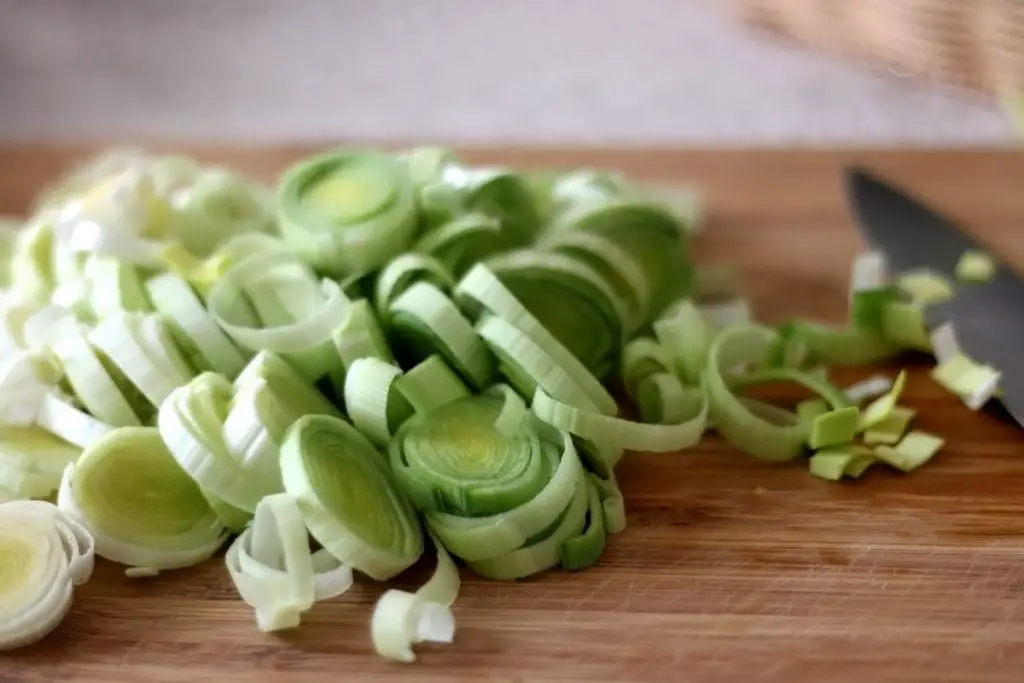 Here's where today's leek soup recipe comes in. This is a vegan leek soup recipe without potatoes and cream, so it's also low-carb!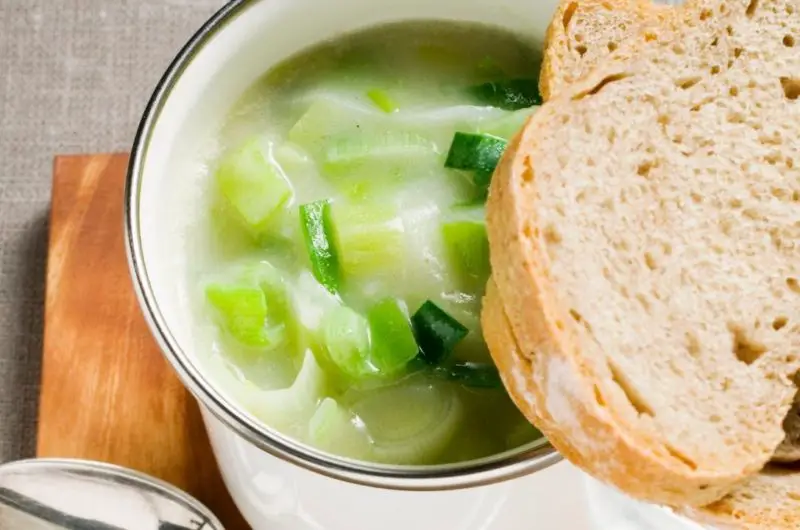 Leek Soup Without Potatoes And Cream
Course: Lunch, Dinner
Cuisine: British, European
Difficulty: Medium
This leek soup is a simple yet delicious soup that can be enjoyed without potatoes and cream. This version of the soup is made without any dairy products and has a subtle sweet oniony flavor. It is perfect for those cold winter days! Serve with some crusty bread and a drizzle of hot sauce.
Ingredients
2 tbsp (30ml) olive oil

2 garlic cloves (10g), minced

1/2 white onion (55g), finely diced

2 leeks (360g), sliced/chopped

2 tbsp all-purpose flour, sifted

4 cups (1.1lt) vegetable stock

1 cup (67g) cauliflower florets

2 (1gr) thyme sprigs

1/2 tsp (3g) Black pepper

1/2 tsp (3g) Kosher salt

2 tbsp chives or scallion (2g), chopped (garnish)

KITCHEN TOOLS

Pot or Dutch oven

Measuring cups or scale

Stirring spoon

(Blender)
Directions
Place a pot or Dutch oven over medium flame and add the olive oil.
Once hot, sauté de garlic and onion until fragrant and about to caramelize (2-3 minutes).
Add the chopped leek and sauté for 5-6 more minutes.
Bring the flame to low and carefully incorporate the flour.
Cook for 5 minutes while constantly stirring until the flour turns blond and smooth.
Add the vegetable stock, thyme sprigs, and cauliflower. Stir to combine.
Season with salt and pepper and bring to a boil uncovered over medium heat, then lower the temper and simmer for 15 minutes.
After 10 minutes, remove it from the stovetop. Allow cooling for 5 minutes.
Taste and adjust the seasoning with salt and pepper.
Serve and garnish with chopped scallion or chives.
(Optional) Purée the soup to make it thick and creamy
If you like your soups smooth and have no lumps on pieces, blend the soup in a heat-resistant blender or with an immersion blender or food processor before serving.
Notes
Fried onions are another wonderful garnish for leek soup, and it only adds a few more minutes of cooking time.
For a gluten-free alternative, skip the flour and add two tablespoons of cornflour to the soup as soon as you add the stock. 
If non-vegan, use chicken stock or bullion cubes instead of vegetable stock.
Make sure you wash your leeks well—bits of dirt and grit can hide between layers of these alliums.
What To Serve With Leek Soup?
There are many ways to serve potato leek soup, and each person's preference will differ. Some people like their potato leek soup served cold with a side of croutons, while others enjoy it with a slice of homemade crusty rye bread.
Whatever you choose to do, be sure to add some flavor to the soup by using different spices or herbs, like a sprinkle of red chile sauce or Tabasco sauce, or other.
Can You Freeze This Leek Soup?
This leek soup without potatoes and cream can be made in advance and stored in the refrigerator for a few days. The soup can also be frozen for up to 6 months for later use. Freeze it in a good-quality freezer bag that is sealed tightly. Frozen soup is easy to reheat and enjoy.
Sometimes when the soup has been frozen and defrosted, there is a separation between the ingredients. This can be remedied by simply purging the soup until it is smooth again.
Add more stock when reheating if the soup is too thick.
I hope you enjoy this delicious and healthy vegan cauliflower and leek soup recipe without potatoes or cream. It's perfect for a winter meal, quite low in calories, and is super easy to make. Thanks for reading!
Read Also: 13 Detox Soup Recipes For Weight Loss (Deliciously Nutritious).