No-Fuss, No-Stir: The Lazy Chef's Guide to Chicken and Dumplings Casserole.
There are many ways to repurpose leftover chicken, but my favorite is turning it into a delicious no-stir chicken and dumplings casserole. All you need is a few simple ingredients and a little imagination.
This super easy, no-stir chicken and dumplings recipe is hot and creamy with a touch of crispiness to warm the family on the coldest of days.
Traditional chicken and dumplings can take hours, if not days, to make, but here's a simple, quick, and easy recipe for no-stir chicken and dumplings you'll love. Instead of rolling out dough or mixing a batter, you can use canned crescent rolls or biscuits to feed everyone faster!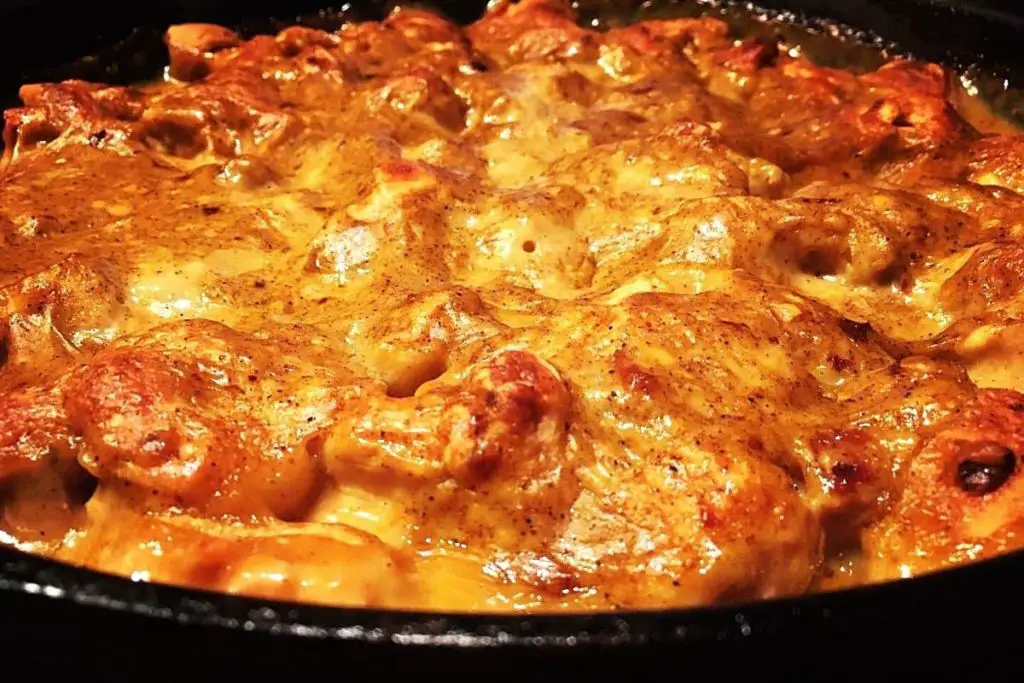 Prep time 10 minutes
Cooking time 60 minutes
Yields 6-8 servings
To Make This No-Stir Chicken and Dumplings Casserole Recipe, You Will Need The Following:
9″ x 13″ casserole dish or a 12″ cast iron skillet.
A large mixing bowl: (There's a little bit of mixing involved).
Whisk or fork for mixing.
A large serving spoon or ladle.
Ingredients:
Chicken; leftover chicken or a rotisserie chicken is great because it's already cooked. (OR cook 3-4 boneless skinless chicken breasts or 4-5 boneless, skinless chicken thighs).
Butter; 1/4 stick = 1/16 pound (28g).
One can of crescent rolls OR 1 can of biscuits (American biscuits).
One- 22.6 fl oz can of cream of chicken soup.
One chicken bouillon cube to make one cup of chicken broth.
One teaspoon of black pepper.
One tablespoon of dried or rubbed sage.
Top Tip: Traditional chicken and dumplings do not include veggies, but you can add some if you want to make it more like a chicken pot pie. 
To turn it into a chicken pot pie, add the following:
1 small onion, diced.
2 ribs of celery, chopped.
1 cup of frozen or fresh green peas.
Cook the veggies in a skillet till soft before adding them to the dish with the cooked chicken, or cook them with the raw chicken until they are soft, then add them to the casserole dish.
Instructions: Quick No-Stir Chicken And Dumplings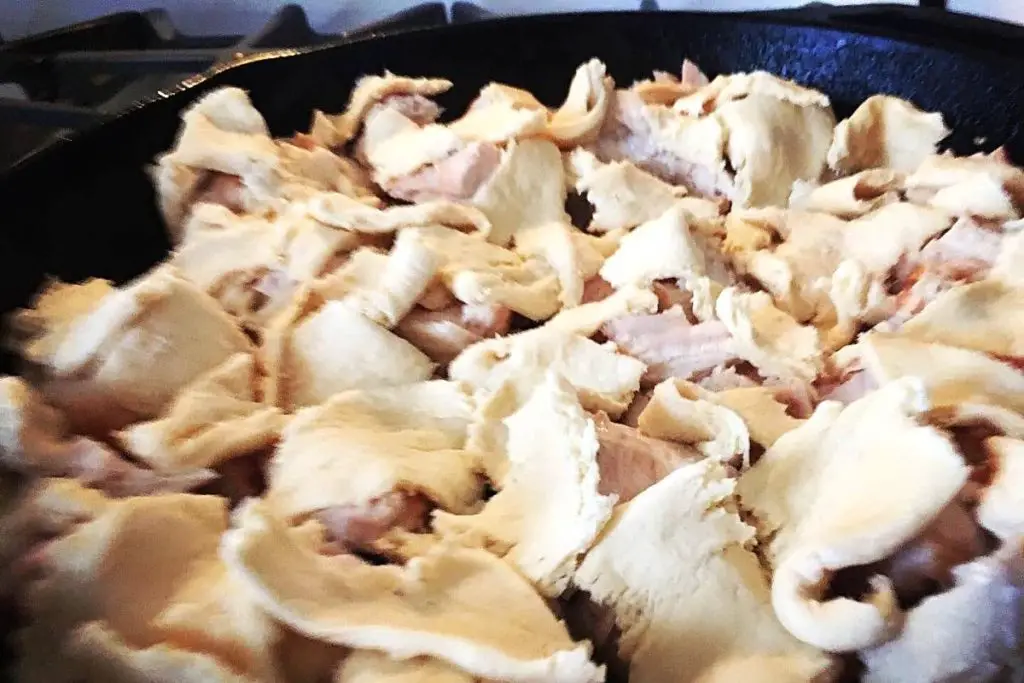 STEP 1. To Make The Base:
Preheat the oven to 350°F (176°C).
If you have cooked chicken: Remove any skin and bones. (If you're starting with raw chicken, you must cook it first).
Pull or chop the chicken into shredded bite-sized pieces.
Coat the casserole dish or skillet with clarified butter or cooking oil.
Layer the chicken pieces in your casserole dish/cast iron skillet.
STEP 2. To Make The 'Dumplings':
Open the can of crescent rolls. Cut or tear the dough into bite-sized pieces. Layer the pieces over the chicken, spreading them out more or less evenly.
Also: you can use canned American-style biscuits. If so, quarter them into bite-sized pieces and layer them the same way on top of the chicken.
STEP 3. To Make The Gravy: 
In a large microwavable bowl or saucepan, add the following:
Canned soup.
Chicken broth.
Black pepper and dried/rubbed sage.
Warm the bowl in the microwave for a couple of minutes, or use a stovetop to bring the saucepan to low heat. It doesn't need to boil; you're just warming up the soup mix, making it easier to blend.
Blend the warm ingredients together with a fork or whisk.
Pour the gravy mixture over the biscuits and chicken into the casserole dish/skillet. DO NOT STIR!
Place the casserole dish/skillet in the preheated oven.
Bake for about 1 hour, till the top is golden brown.
Allow sitting for at least 5 minutes before serving. 
Ladle into bowls. 
Top Tip: There will still be some liquid in the dish: more or less gravy consistency. It should be like a thick stew, not a firm casserole.
How To Store Chicken And Dumplings Casserole 
Cover the chicken and dumpling casserole with a lid or plastic wrap, or place it in a plastic container and store it in the fridge for up to 3 days. Or let it cool and freeze in a freezer bag or suitable container for up to 3 months. Make sure to let them thaw in the fridge overnight before reheating.
Read Also: Here Is A Quick Way To Freeze Dumplings Without Sticking.
In Conclusion
Feeding the family doesn't have to be complicated or take loads of time to prepare. Keep your winters warm with this simple, quick recipe of no-stir chicken and dumplings casserole.
Give it a try this evening!