Homemade mashed potatoes don't really need any fancy add-ons; they are great the way they are. But every now and then, you may want to experiment and change the taste and texture of your classic mash.
Especially if you use store-bought instant mashed potato flakes, you may need a little something like sour cream, butter, cheddar cheese, or heavy cream to make it look at taste better.
Lately, many recipes have started suggesting adding cream cheese to the mix. So, if you are a bit skeptical about this combination, let's have a look at why you would want to add cream cheese to your mashed potatoes.
Why Would You Put Cream Cheese In Mashed Potatoes?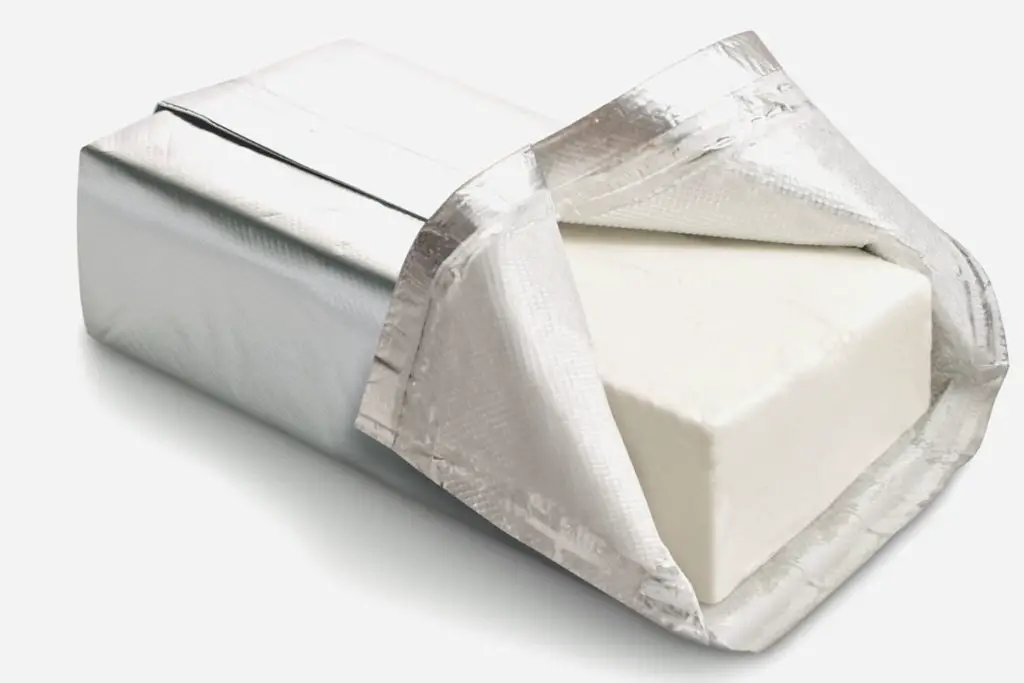 According to the U.S. Food and Drug Administration, cream cheese is a soft and uncured cheese with a minimum milk fat content of 33% and maximum moisture of 55%. It has a mild, naturally subtle flavor and silky smooth texture, perfect for adding structure to many sweet and savory dishes.
It is precisely because of this combination of fat and moisture that cream cheese can remain in that soft, spreadable consistency you're familiar with. Likewise, its mild and pleasant flavor makes it versatile and easy to combine with plenty of other foods if you wish to change their consistency.
How Does Cream Cheese Affect The Taste Of Mashed Potatoes?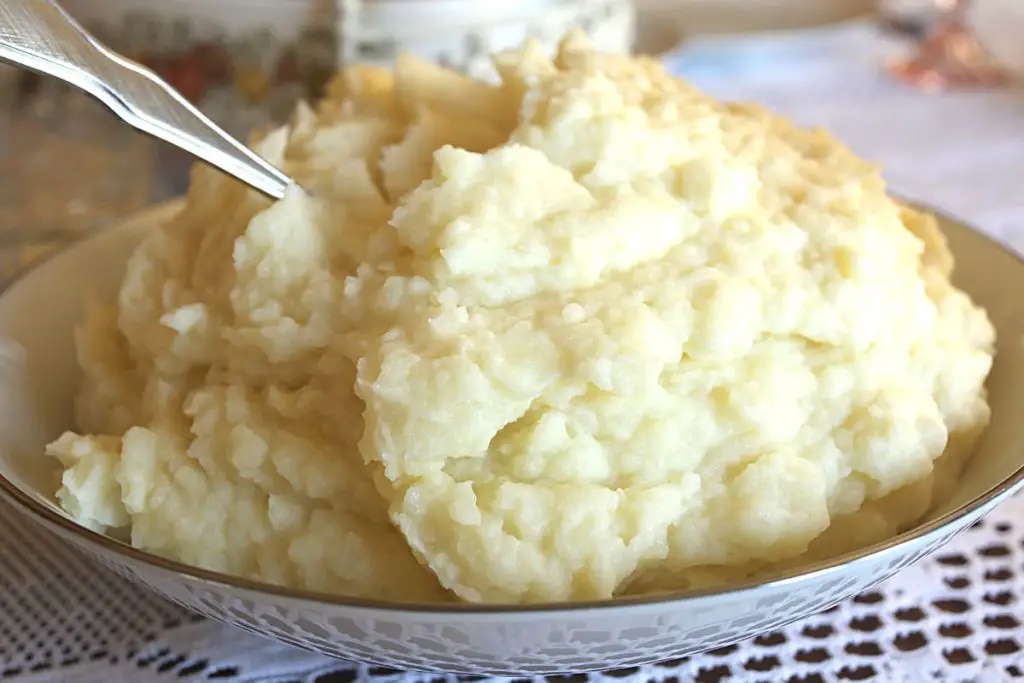 Regular cream cheese has a mild flavor, as it is used for a plethora of meals. It has some subtle sweet notes, but perhaps the most noticeable taste is that distinctive tang of cheese and milk products, with just a little bit of salt.
However, this flavor is not enough to vastly change the taste of mashed potatoes. It may add slightly milky undertones and a subtle acidic touch, but its main flavor strength is complementary instead of overwhelming. Think of cream cheese as an Oscar-worthy supporting role performance.
Consider using flavored cream cheese if you wish to add more of an appetizing kick to your mashed potatoes. Varieties such as garlic, herb, chili, or chipotle will elevate your preparation according to your tastes and transform your dish.
Read Also: 5 Creative Ways to Fix Salty Mashed Potatoes (Do Not Add Sugar!)
How Does Cream Cheese Affect The Texture Of Mashed Potatoes?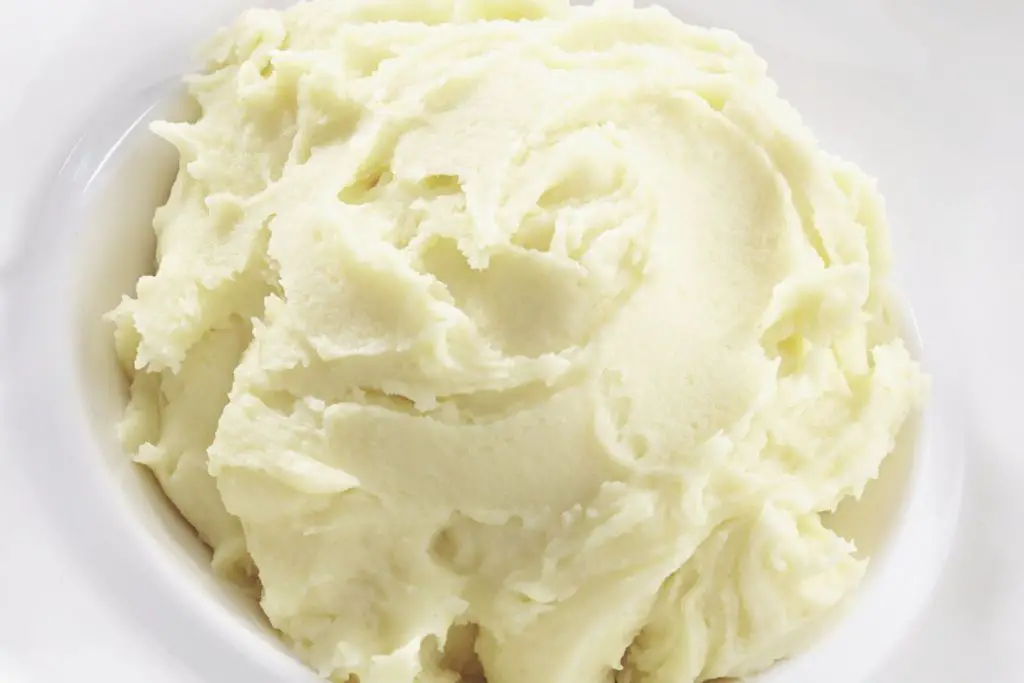 Beyond flavor, the most crucial impact of adding cream cheese to your mashed potatoes will be a change of texture.
Due to its high fat and moisture content, incorporating cream cheese into mashed potatoes will thicken them and add an exceptionally creamy, luxuriously rich, and decadent texture.
In fact, the effect of cream cheese on mashed potatoes is such that you could substitute the butter entirely if you wanted to and still have a perfectly soft and creamy result.
Can You Add Mascarpone Instead Of Cream Cheese To Mashed Potatoes?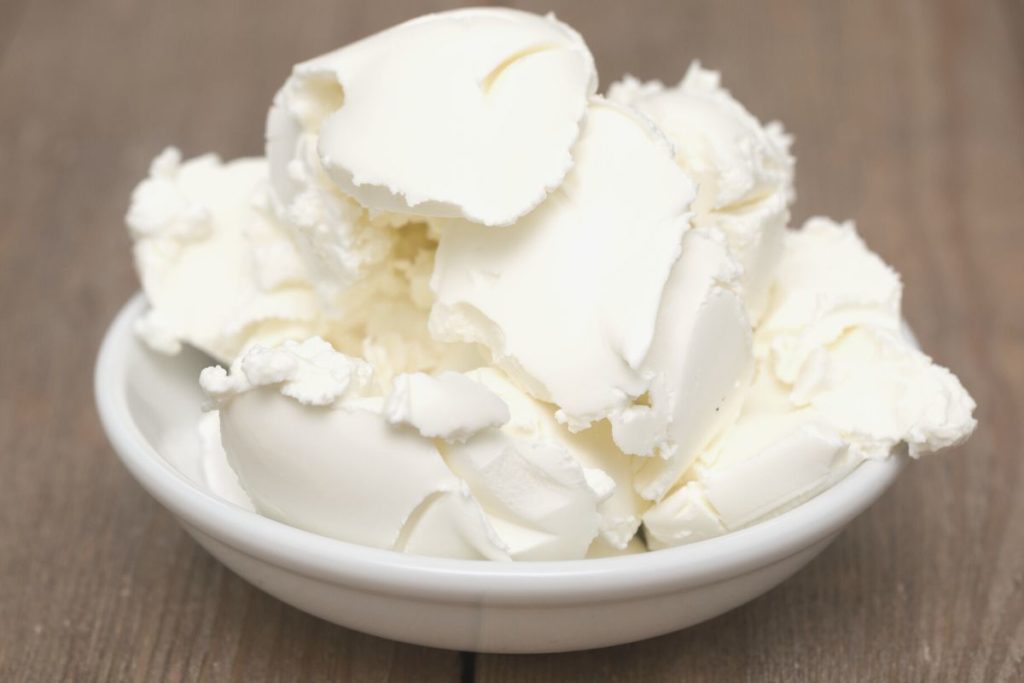 Although it may seem somewhat similar to cream cheese in appearance, mascarpone is a beast of its own.
Mascarpone has a more butter-like flavor than cream cheese, with slightly nutty undertones and less tang. When it comes to texture, it is not as creamy as the aptly-called cream cheese but far richer and velvety to the senses. These differences in flavor and texture come from mascarpone's higher fat content, sitting at an impressive 75%.
That said, you can add mascarpone to your mashed potatoes, although it is not a perfect replacement for cream cheese. It will be buttery, rich, and less acidic. However, its flavor is incomparable—celebrity chef Giada DeLaurentiis swears by it [1].
How Much Cream Cheese To Add To Mashed Potatoes?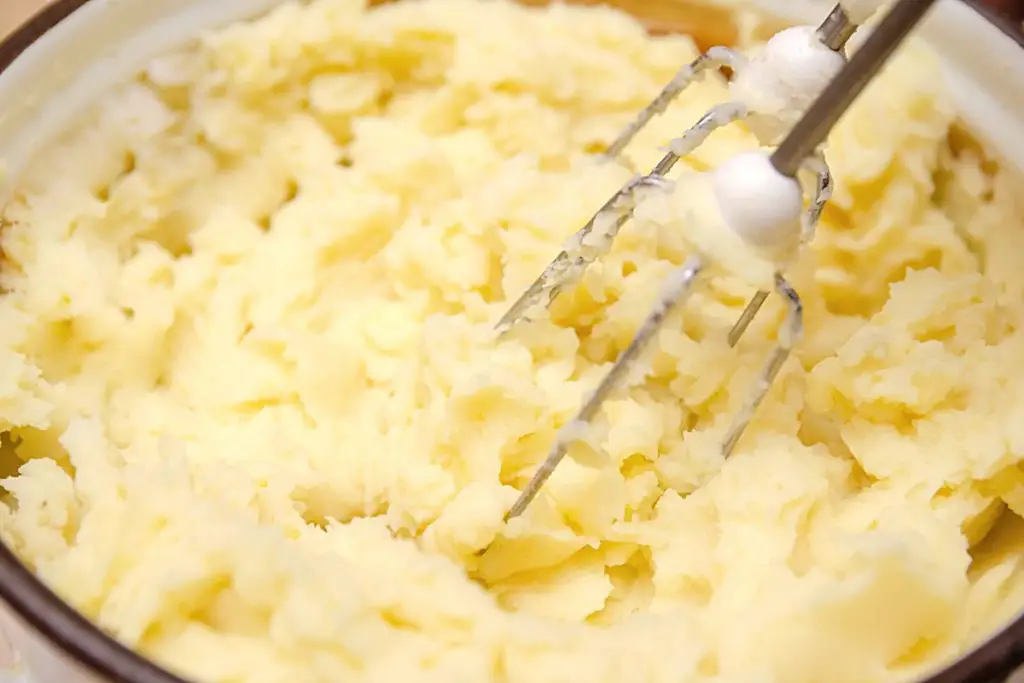 It's a matter of taste—cheese enthusiasts can add as much as they want (within reason), while those only interested in the texture-changing properties of cream cheese can add just a little bit.
That said, a good starting point is to add an ounce of cream cheese per each pound of raw potatoes used for the recipe. Afterward, the number can go up or down depending on how you see the flavor and texture coming along.
Likewise, you may need more or less cream cheese depending on the other ingredients you add to the mashed potatoes, like butter or heavy cream.
In particular, I am a cream cheese enthusiast, so I can easily add almost twice as much as that, maybe even more—experiment and find out what works for you!
I have found that half a stick (4 oz) of Philadelphia Original Cream Cheese for 2.5 pounds of Yukon Gold potatoes gives you a perfected creamy and still light, fluffy result without being overly rich in taste.
How To Prepare Mashed Potatoes With Cream Cheese?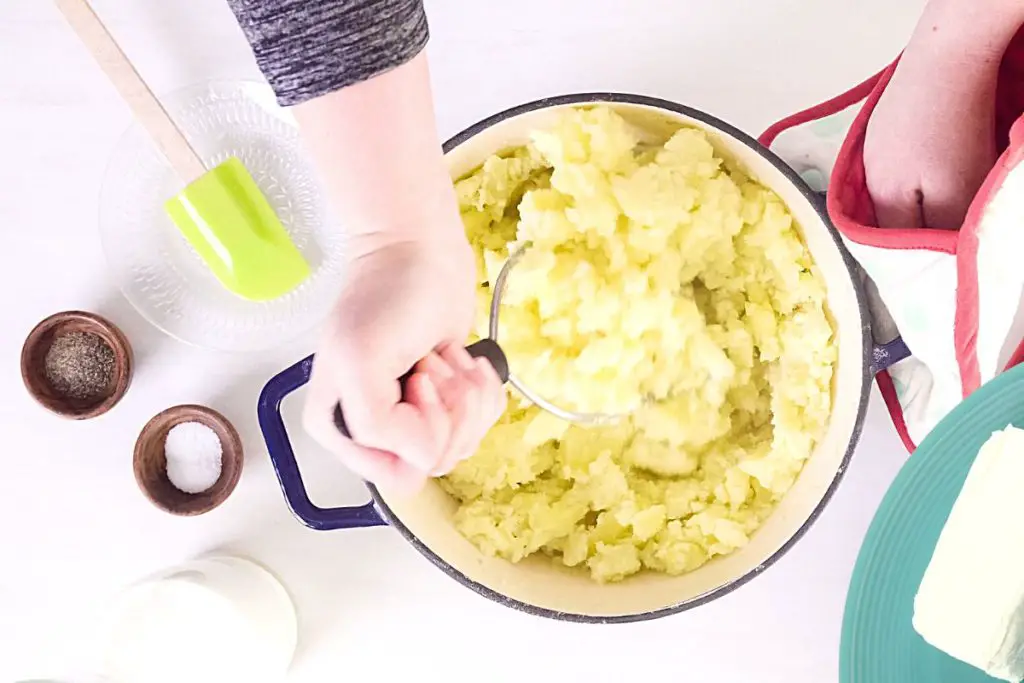 Everyone has their perfect recipe for mashed potatoes with cream cheese. However, my classic long-time favorite recipe is foolproof and super easy to make.
You will get the best result for this recipe using Yukon Gold potatoes, which have a high starch content and a delicious buttery flavor. Likewise, I recommend using butter, milk, and cream—the ultimate combination for soft and rich mashed potatoes with a decadent, creamy texture and buttery flavor.
While you can stick with chefs' recommended Kosher salt and pepper as seasoning, you can always get creative. Using flavored cream cheese can boost your potatoes with minimal effort, while adding sour cream can enhance the natural tartness of cream cheese for a more layered taste.
Another fitting addition can be fresh herbs—parsley, basil, or garlic are excellent ways to add something new to the potatoes and create some contrasting texture to the softness.
But if you're here for traditional flavors, you will find the full recipe below.
Substitutions And Nutrition
As an ingredient, cream cheese is high in fat. So, keep that in mind if you are on a calorie-restricted diet.
Yes, low-fat cream cheese is available, but it won't give you that luxuriously creamy texture, and if you are going to compensate for the lack of creaminess by adding some extra butter, then you might as well use the full-fat version.
It has some vitamin A, calcium, and iron, but it is otherwise somewhat lacking when it comes to nutrients.
However, it is a full-fat dairy, but there are plant-based alternatives. Nut-based cream cheeses have less saturated fat content and are an excellent dairy-free alternative for vegans or lactose-intolerant folks. Better yet, they have a very similar taste and texture.
Also, when making a vegan version, you also need to substitute milk and butter in the recipe. Good replacements for dairy milk and butter for your mash are plant-based margarine and almond, cashew, or potato milk.
Overall, cream cheese is a delicious add-on to your mashed potatoes for a luxuriously rich experience—the low-calorie diet can wait a bit.
In Conclusion
So, why use cream cheese in mashed potatoes? If you want a slightly more luxurious, creamy, fluffy, and delicious side dish that goes well with steak, chicken, turkey, meatloaf, or any meal, then this creamy mash is a great choice that everyone will love.
You can use Philadelphia, Dutch Farms, Prairie Farms, Happy Farms, GreenWise, Organic Valley, or any other brand you like. So why not give it a try today?
References: