Air fryer stake tips are a great way to get your steak fix without having to spend a lot of time. They are a perfect match for this popular kitchen appliance, as they are already cut into small, bite-sized pieces and are easy to cook.
Whether you're looking for an easy weeknight dinner or a filling starter, these bite-size steak cubes are the perfect option.
Note: Steak tips are commonly cut from sirloin; they can also be made from flank steak, tenderloin, New York, or rib-eye steak. They are best-served medium-rare.
Jump To Recipe
Why I Prefer To Air Fry To Cook My Steak Tips?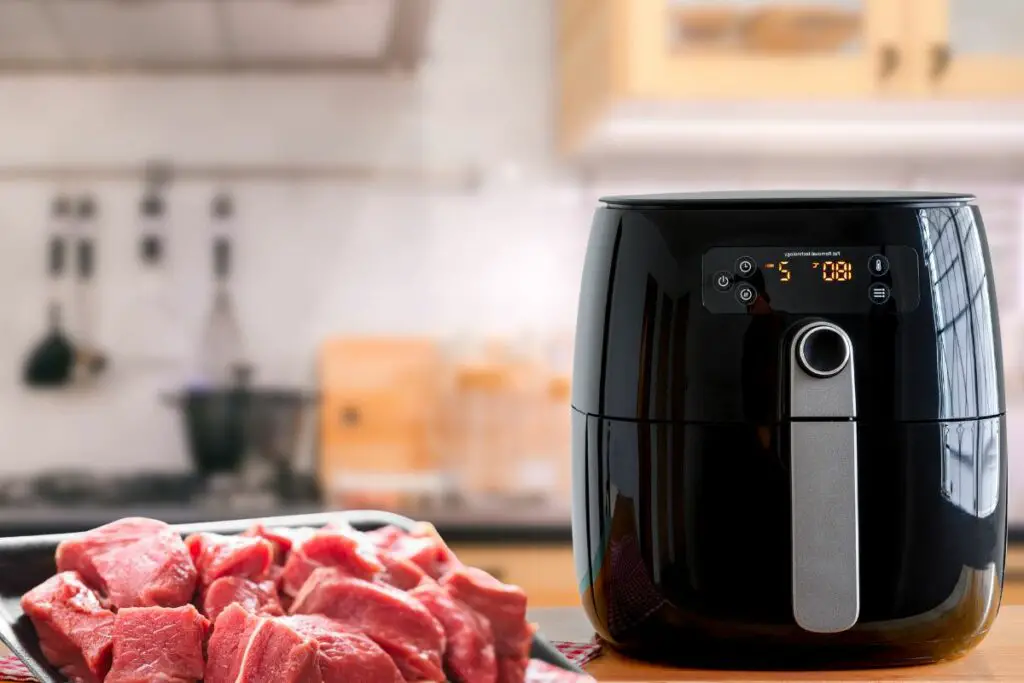 This little countertop kitchen appliance is not just for making healthier Frech fireys; air fryer can handle all types of food, including raw meat. Although it is a bit tricky to cook a 2-inch thick piece of stake perfectly in the air fryer, stake tips, on the other hand, are absolutely perfect size for air frying.
Here are some of the benefits of cooking steak tips in the air fryer:
The circulating hot air cooks the inside of the meat much more gently than frying or grilling, leaving your pieces of steak tender and juicy.
Air fryers are masters at creating a perfect sear and crust on your meat.
There is no mess and no greasy splatter.
Cooking steak tips in an air fryer allows you to use your oven or stove for other purposes.
The air fryer is also the perfect summertime solution if you don't want to stand next to a hot stove or heat up the entire house with the oven.
How To Cook Steak Tips In An Air Fryer?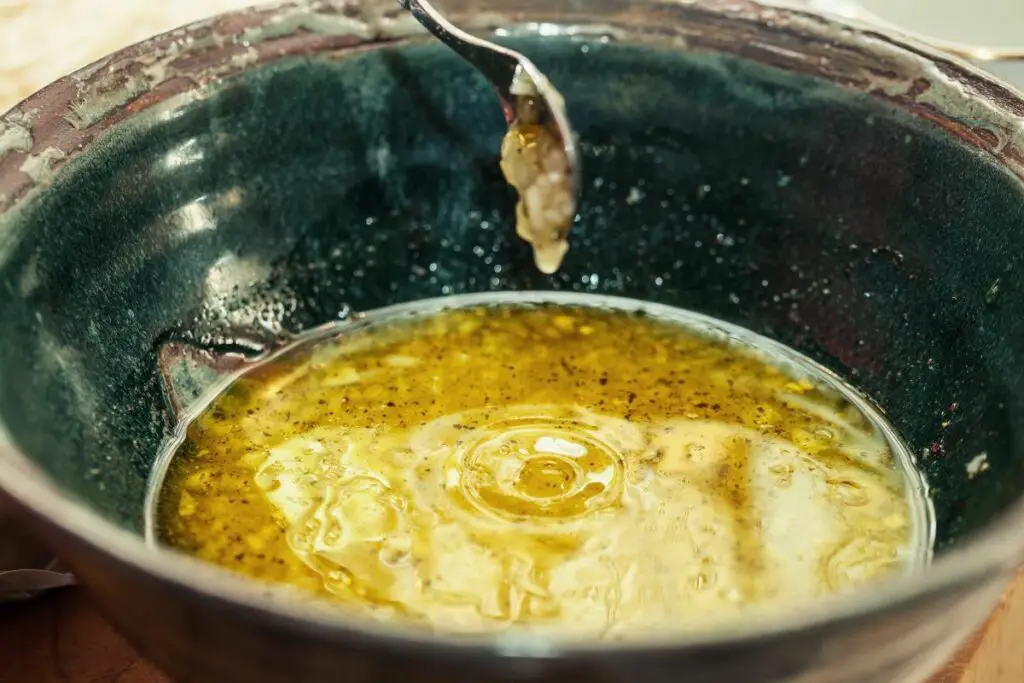 I like to marinate the steak tips in a simple oil and butter marinade with seasonings and then cook them in an air fryer until they are medium rare and browned perfectly. The result is juicy and succulent pieces of meat, similar to grilling or making kebabs.
Below is my simple yet delicious air fryer steak tips recipe.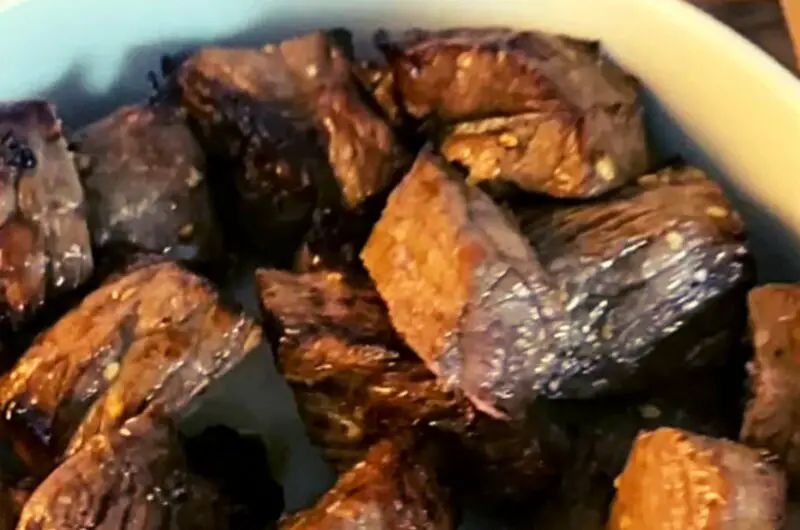 Easy Air Fryer Steak Tips Recipe
Course: Lunch, Dinner
Cuisine: American
Difficulty: Easy
If you're looking for a quick and easy way to cook up some delicious steak tips, look no further than your air fryer! In just 8-15 minutes, you can have perfectly cooked steak tips that are juicy and full of flavor. Whether you like them rare, medium, or well done, cooking your steak tips in an air fryer is the way to go!
Ingredients
1 lb (about 450g) sirloin or rib-eye steak cut into 1-inch (2.5 cm) cubes.

3-5 cloves of garlic finely minced.

6 tablespoons of clarified butter, melted.

8 tablespoons of extra light olive oil.

Pinch of salt and pepper to taste.

½ tablespoon of Worcestershire sauce (or 1 tablespoon of soy sauce)
Preparation
Start by chopping the steak into small one-inch cubes and transferring them to a bowl.
Add salt, pepper, melted clarified butter and olive oil, Worcestershire sauce, and minced garlic.
Mix well, cover the bowl with plastic wrap and let it marinate for at least 30 minutes. (If you want to marinate longer, keep the bowl in the fridge).
AIR FRYING

Preheat the air fryer to 380°F (190°C) for 5 minutes before adding your steak tips.

Put the marinated steak pieces in the air fryer basket in a single layer. Since basket sizes vary amongst air fryers, you may need to cook in batches if you have a small air fryer.
I like to air fry the steak tips for about 8 minutes because I prefer medium-rare steak. Air fry for about 10 minutes to medium and 14-17 minutes to medium well to well-done steak tips.
Remove the steak cubes from the air fryer and place them in a clean bowl. Cover the bowl with aluminum foil or lid and let it rest for 5 minutes before serving.
Notes
Don't overcrowd the air fryer basket otherwise, the meat won't cook evenly, and you won't get a nice crust! You may have to cook the meat in several batches if you have a small air fryer.
Different air fryers have slightly different cooking times. There might be a bit of trial and error first to figure out the perfect doneness level for your steak tips. Start with a shorter frying time and cook more if your meat is not done.
Flip the cubes halfway through the cooking time to get an even sear on each side.
Store any leftover steak tips in an airtight container in the fridge for up to 3 days.
You can serve these steak tips as the main course or as an appetizer or main course. If you are serving it as a main course, try my creamy mashed potatoes recipe that goes perfectly well on the side.
How To Serve Air Fryer Steak Tips?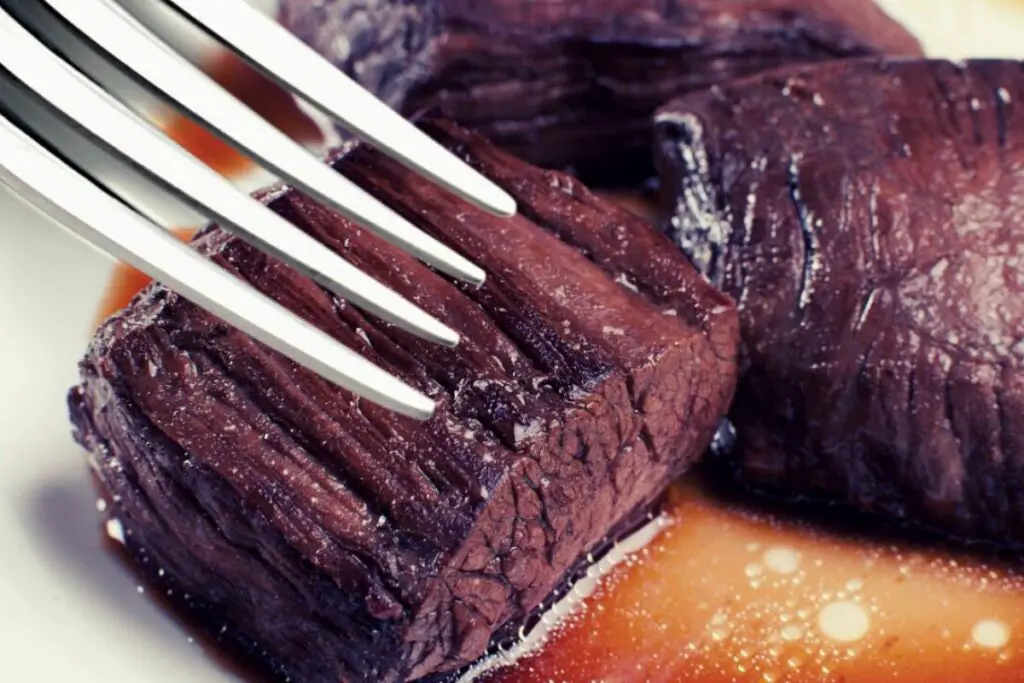 These air fryer steak tips can be served as a starter or a main dish. There are no rules about what you can or should you as a side dish, but if you are serving it as a main course, here are some fast and easy side dishes ideas that would go well with steak tips:
1. Blanched Asparagus
You will love this easy and healthy side dish with your steak tips. Asparagus always goes well with the meat, and air-fried beef tips are no exception. Boil the asparagus in salted water for 5 minutes and serve on the side of your steak tips.
2. Classic Coleslaw
Crispy cabbage covered in the tastiest, tangiest, and creamiest dressing in traditional coleslaw makes the perfect side dish for steak tips. It has the perfect blend of taste and texture.
3. Creamy Mashed Potatoes
Mashed potatoes are a classic side dish, and you can never go wrong with this one! Here is how you can make the best creamy mashed potatoes.
4. Rice Or Barley
Another classic side that goes well with most meat dishes is rice. However, if you want to be a bit more adventurous, try barley instead. Barely is more nutritious than rice, and you can quickly cook barley in your rice cooker.
5. Slice Of Steakhouse Style Rye Bread
If you serve the steak tips as a starter, add a slice of this homemade rye bread steakhouse-style. That really makes a beautiful combination.
Check out my latest air fryer bread recipe here: How To Make Crusty Air Fryer Bread – Only 4 Ingredients!
How Long To Cook Steak Tips In Air Fryer?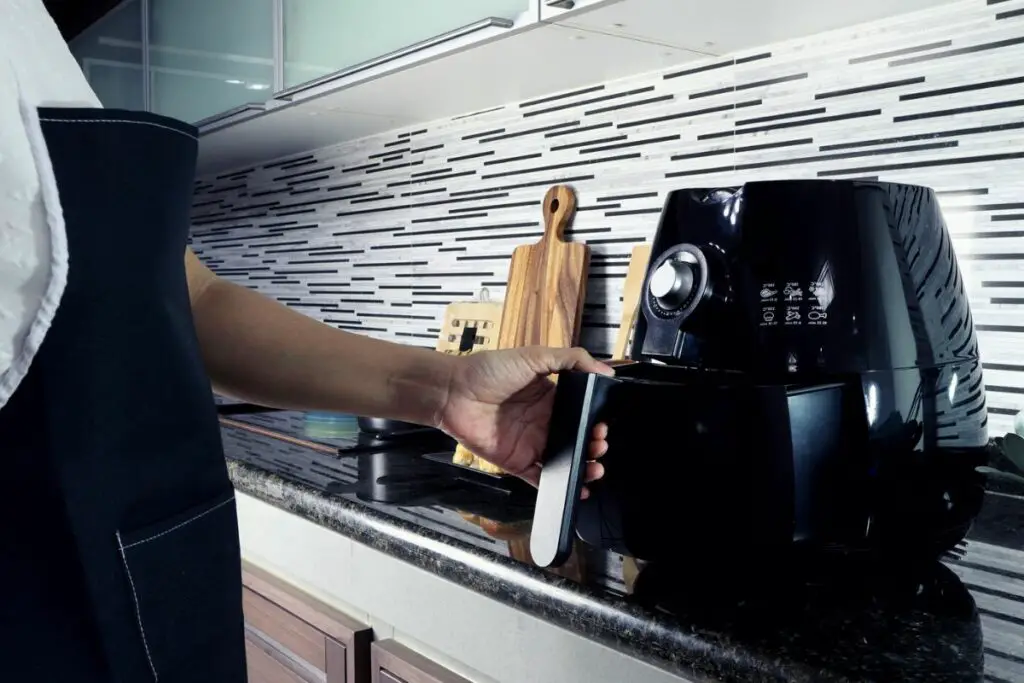 One of the best things about air fryers is that they can cook food quickly and evenly. This is especially true for meats like steak tips. But how long should you cook steak tips in an air fryer?
The answer depends on a few factors, including the size and thickness of the steak tips, as well as your desired level of doneness.
Below is a simple table of cooking times for stake tips in air fryers at 380°F (190°C) and expected doneness levels.
| | |
| --- | --- |
| Doneness level | Cooking time |
| Rare | 6-8 minutes |
| Medium Rare | 8-10 minutes |
| Medium | 10-12 minutes |
| Medium Well | 12-14 minutes |
| Well Done | 14 minutes and up |
Top Tip: Don't be afraid to open your air fryer, take out one of the steak pieces and cut it in half and see if you are happy with the doneness level. If not, air-fry for another 2 minutes until you get the desired result.
Frequently Asked Questions About Cooking Steak Tips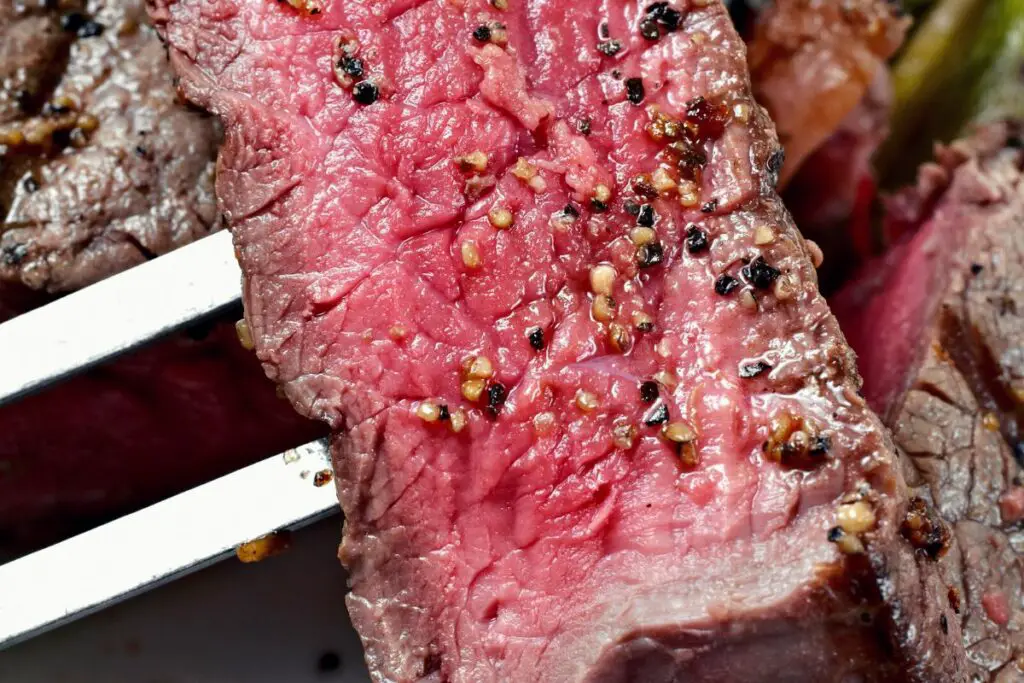 How To Store Air Fried Steak Tips?
You can store the leftover steak tips in the refrigerator in an airtight container or jar for up to 3 days. They will make delicious cold cuts for your sandwiches or salad or repurpose them in other lunch or dinner recipes.
What Are The Best Cuts For Steak Tips
There are a few different cuts of steak that are well suited for steak tips. Some of the best include sirloin, tenderloin, and ribeye. Each of these cuts has a good amount of fat marbling which helps to keep the tips moist and juicy during cooking. Additionally, these cuts all have a good amount of flavor, making them ideal for air frying, grilling, or other cooking methods.
How Long To Marinate Steak Tips?
The amount of time needed to marinate steak tips depends on the size and thickness of the meat cubes, as well as the desired flavor. For 1-inch cubes, about 30 to 1 hour in the marinade should be sufficient. For thicker steak cubes or for stronger flavor, 3-4 hours or overnight may be necessary to achieve the desired flavor.
Can You Reheat Steak Tips In Air Fryer?
Yes, you can reheat the steak tips in an air fryer, but it will be slightly more well done than it was after initial cooking. Preheat your air fryer to 350°F. Place the steak tips on the air fryer rack, ensuring it's not overcrowded too much. Cook for 3-5 minutes, flipping once halfway through.
Check Out My Lates Video: How to Reheat Ribs in an Air Fryer? (Keep Them Moist and Tender).
In Conclusion
Steak tips can be cooked in an air fryer with great success. With a little bit of practice, anyone can master the art of cooking steak tips in an air fryer.
Air fryers are a great way to cook steak tips because they give the meat a nice sear on the outside while keeping the inside juicy and delicious. If you're looking for a quick and easy way to cook steak tips, give air frying a try.