Did you know that air fryers are great for baking? And what better way to test it out than with some delicious air fryer cinnamon rolls from scratch?
This air fryer cinnamon rolls recipe is perfect for a special occasion brunch, holiday breakfast, or weekend treat. The best part? It's super easy to make, and I try to give you easy-to-follow step-by-step instructions that will guide you through the process; plus, I have included the video of the recipe below.
So, grab your air fryer and some basic ingredients, and let's fill your kitchen with the delicious aroma of freshly baked cinnamon rolls!
What You'll Need To Make This Recipe?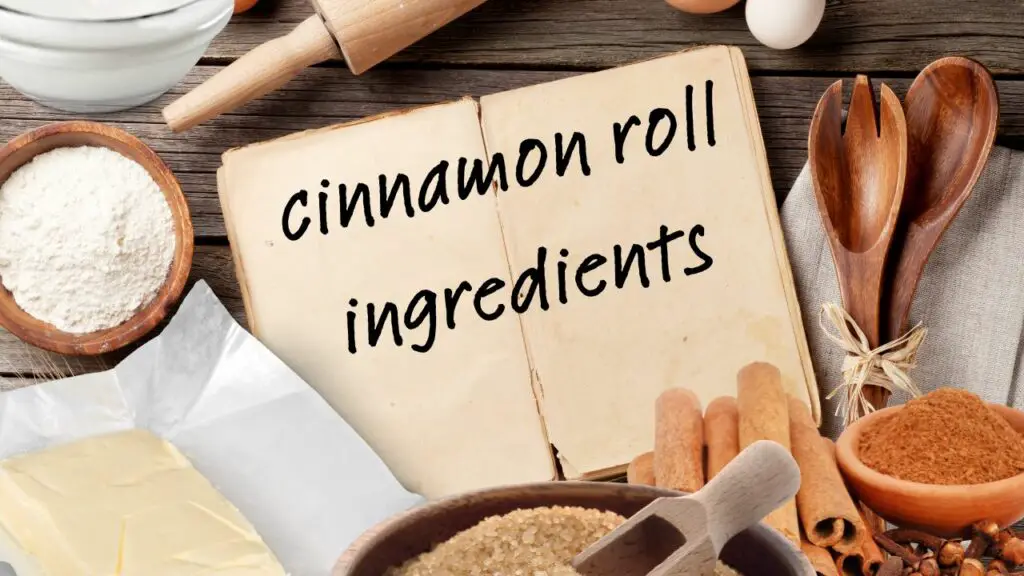 To make these air fryer cinnamon rolls, you'll need just a handful of basic ingredients that you probably already have in your pantry. So, let's check our kitchen cabinets and grab these simple ingredients below.
For the dough:
1 cup lukewarm milk (whole, full-fat milk)
1/2 cup sugar (granulated sugar)
2 1/2 teaspoons (1 sachet) dry yeast (instant or rapid-rise yeast)
2 eggs (For a rich and perfect consistency in the dough, this recipe requires 2 small eggs)
1/3 cup melted lukewarm butter
1 teaspoon salt
3 1/2 cups all-purpose flour (both regular all-purpose flour and bread flour can be used for this recipe)
For the filling:
1/3 cup room temperature butter (for spreading)
1/2 cup dark brown sugar
2 tablespoons ground cinnamon
1/2 teaspoon ground nutmeg
Heavy cream (for brushing, check the video below)
Note: This recipe will make about 12 cinnamon rolls. Depending on the size of your air fryer basket, you may need to bake them in 2-3 batches to avoid overcrowding the basket.
Instructions: Making Air Fryer Cinnamon Rolls From Scratch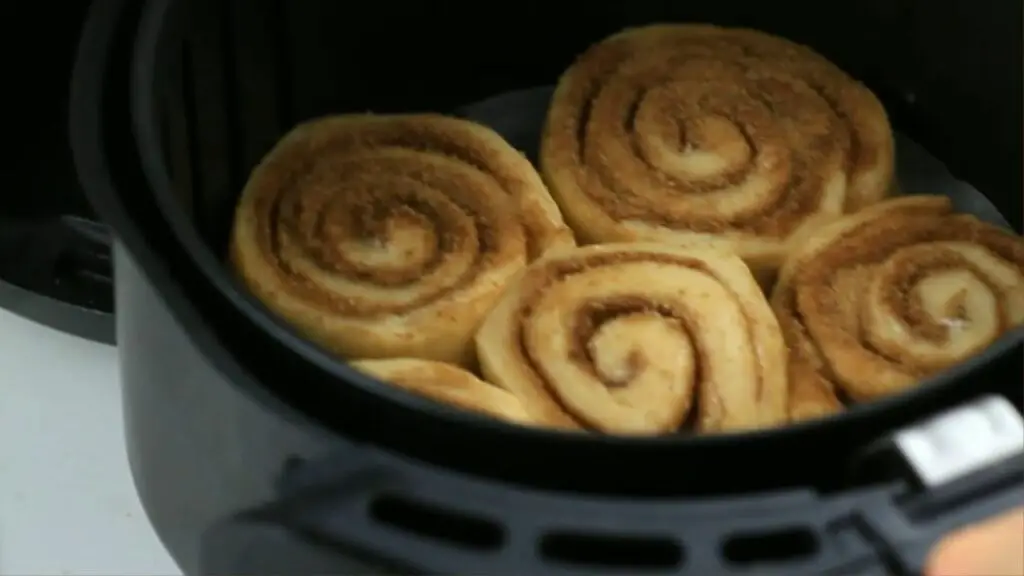 Are you ready to bake some delicious air fryer cinnamon rolls? This recipe may look complicated, but with these simple step-by-step instructions below, you'll have a dozen fluffy and gooey cinnamon rolls in no time! So, put on your baking hat, and let's get started!
Step 1: First things first, grab a big bowl and mix 1 cup of lukewarm milk, 1/2 cup sugar, and 2 1/2 teaspoons dry yeast. Let it sit for about 5-10 minutes, and you'll see it getting all frothy and bubbly.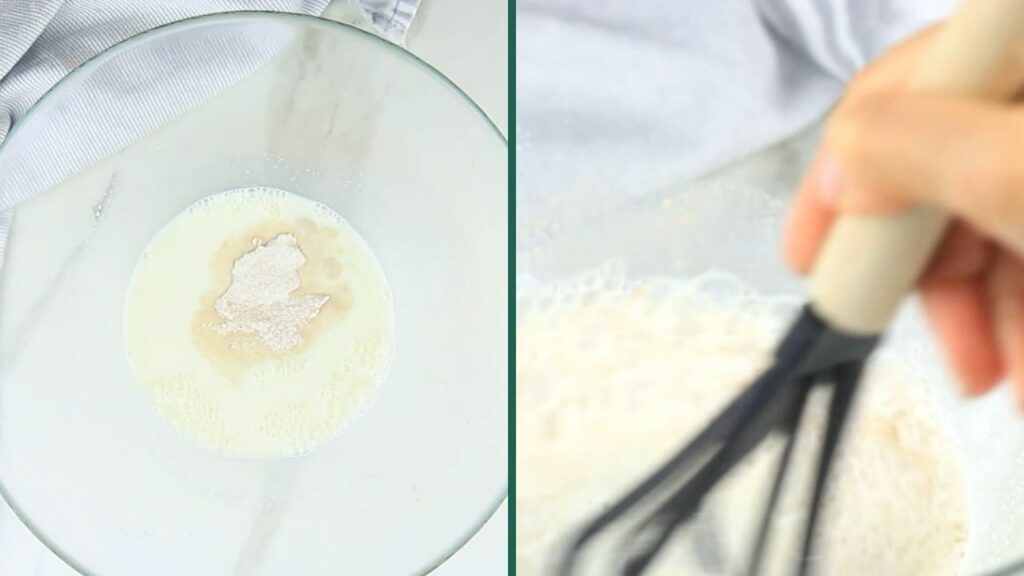 Step 2: Time to mix in 2 eggs and 1/3 cup melted lukewarm butter into that yeast mix. Give it a good stir to blend everything nicely.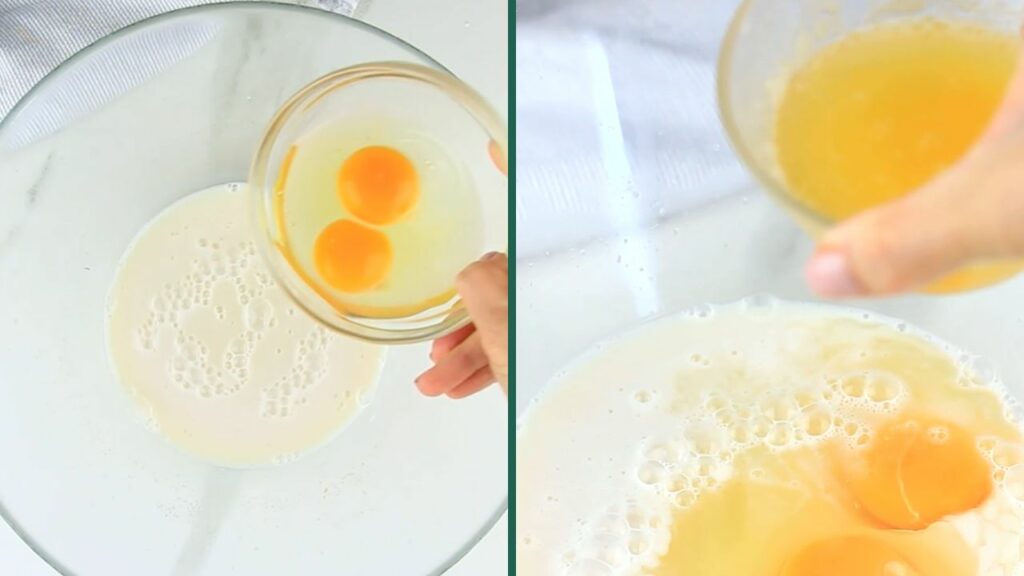 Step 3: Now, we'll gradually add 1 teaspoon of salt and 3 1/2 cups of all-purpose flour. Keep mixing until you have a nice, soft dough in your hands.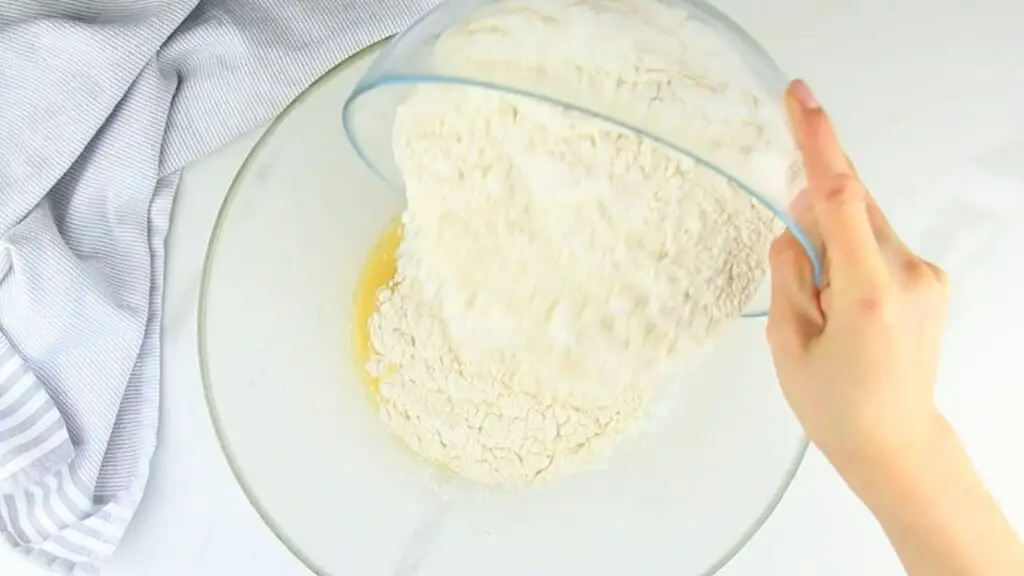 Step 4: Flour a surface and start kneading that dough for about 5 minutes. You're looking for a smooth and elastic texture. Pop the dough in a greased bowl, cover it up, and let it hang out at room temperature for an hour to rise.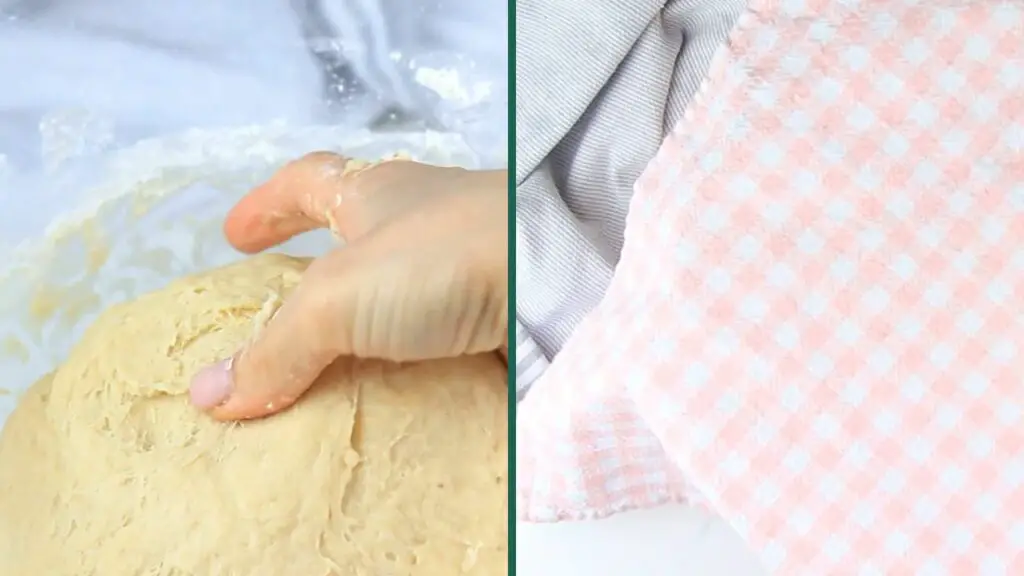 Step 5: Once the dough has risen, roll it out into a large circle or rectangle about 1/4-inch thick. Spread 1/3 cup room temperature butter all over it, edge to edge.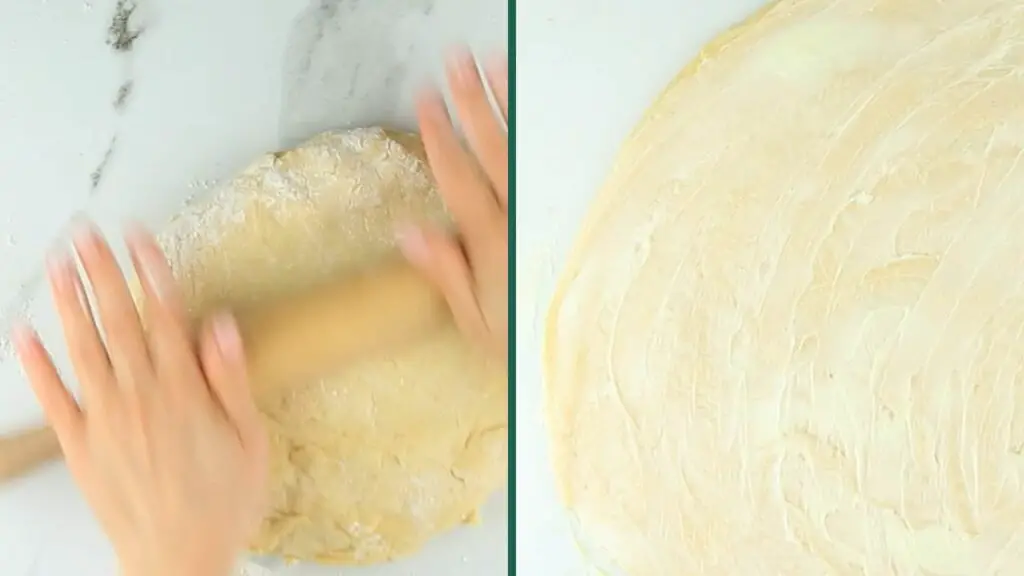 Step 6: In another bowl, mix together 1/2 cup brown sugar, 2 tablespoons ground cinnamon, and 1/2 teaspoon ground nutmeg. Then, sprinkle this deliciousness all over your buttered dough.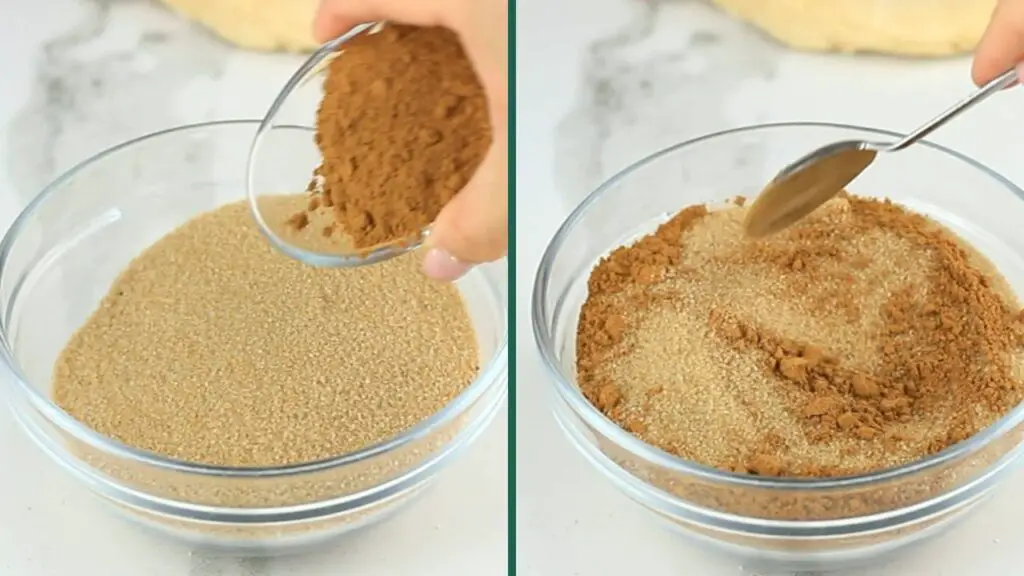 Step 7: Time to roll! Start at the long edge and tightly roll the dough into a log. Grab a sharp knife or even unflavored dental floss to cut the log into 1 1/2-inch thick rolls.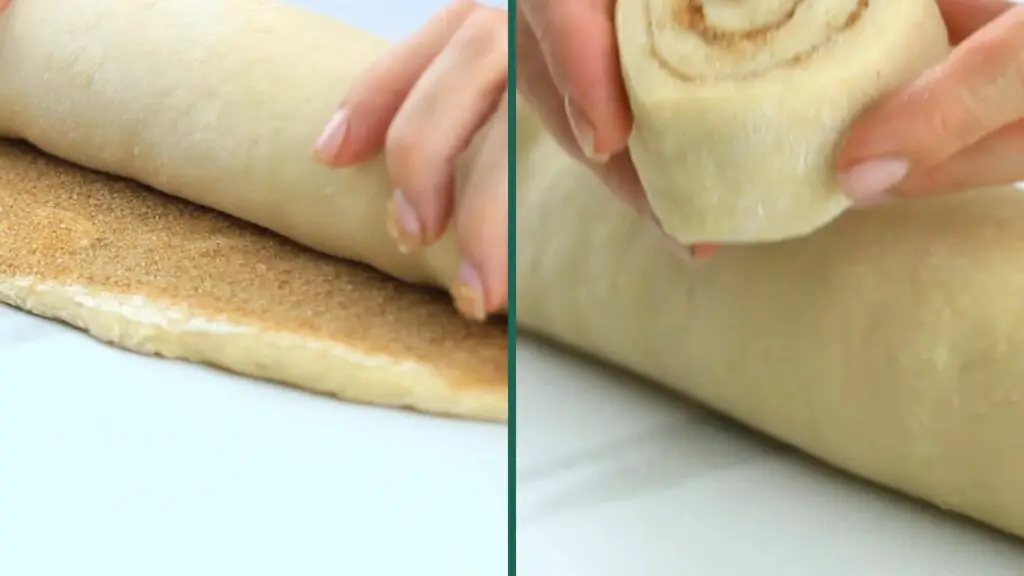 Step 8: Place these butter and cinnamon-filled rolls in a lightly greased air fryer basket, leaving some space between them. Let them rise again for about 30 minutes.
Step 9: Fire up your air fryer to 350°F (175°C) and bake the cinnamon rolls for 8-10 minutes, or until they're just slightly golden brown.
Step 10: Take the rolls out and brush them generously with heavy cream. Trust me; it makes them extra rich and soft.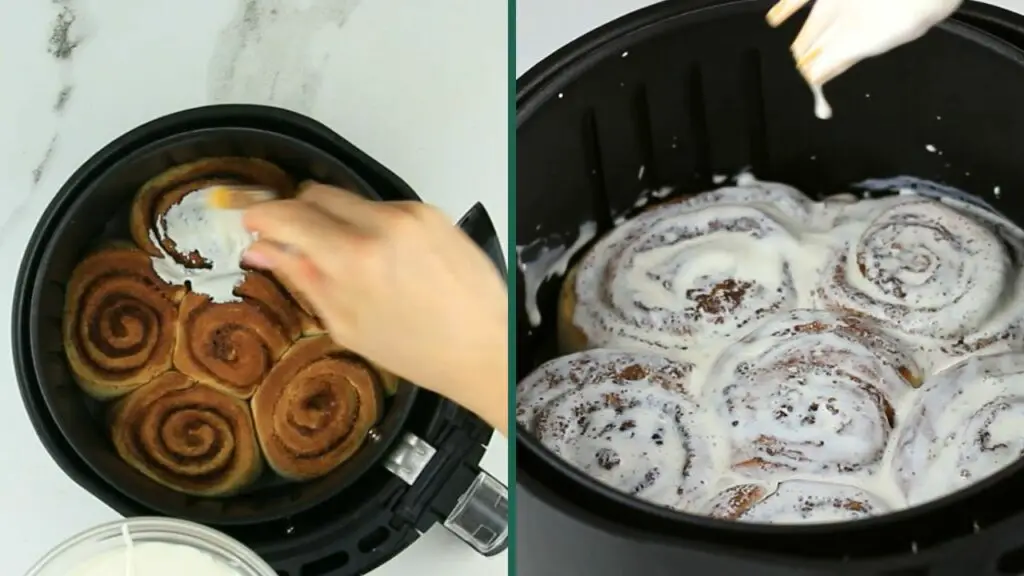 Step 11: Pop the cinnamon rolls back into the air fryer and bake for another 3-4 minutes or until they're golden brown and looking absolutely irresistible.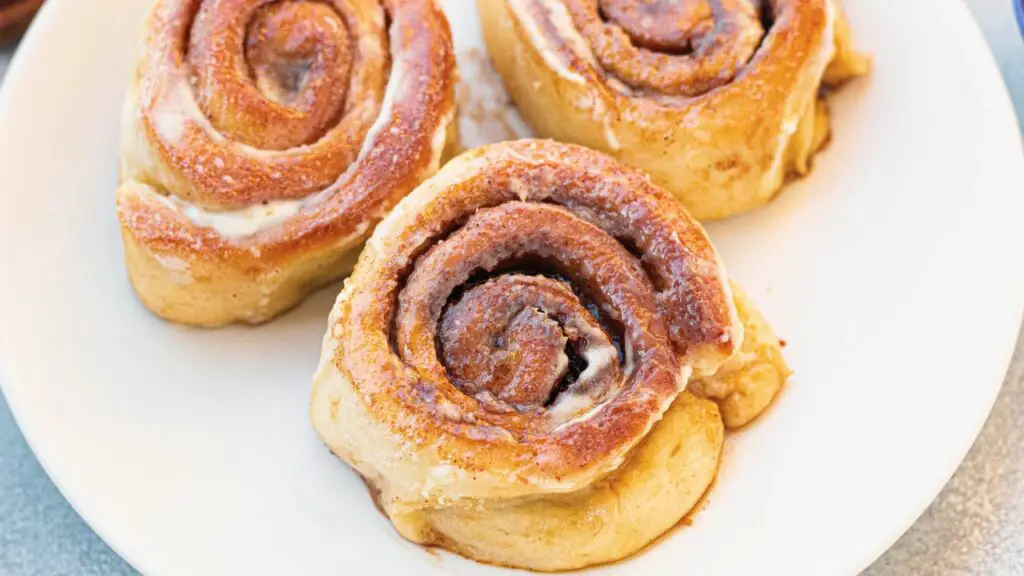 Step 12: Let them cool down for a bit before serving. Enjoy these warm, gooey cinnamon rolls, and store any leftovers in an airtight container.
And that's it! You've got some amazing air fryer cinnamon rolls in 12 easy steps.
Top Tip: Use dental floss to cut the rolls: To get perfectly cut cinnamon rolls, try using unflavored dental floss instead of a knife. Simply slide the floss under the roll and cross it over the top, then pull tight to cut through the dough.
Cinnamon Rolls Heavy Cream Hack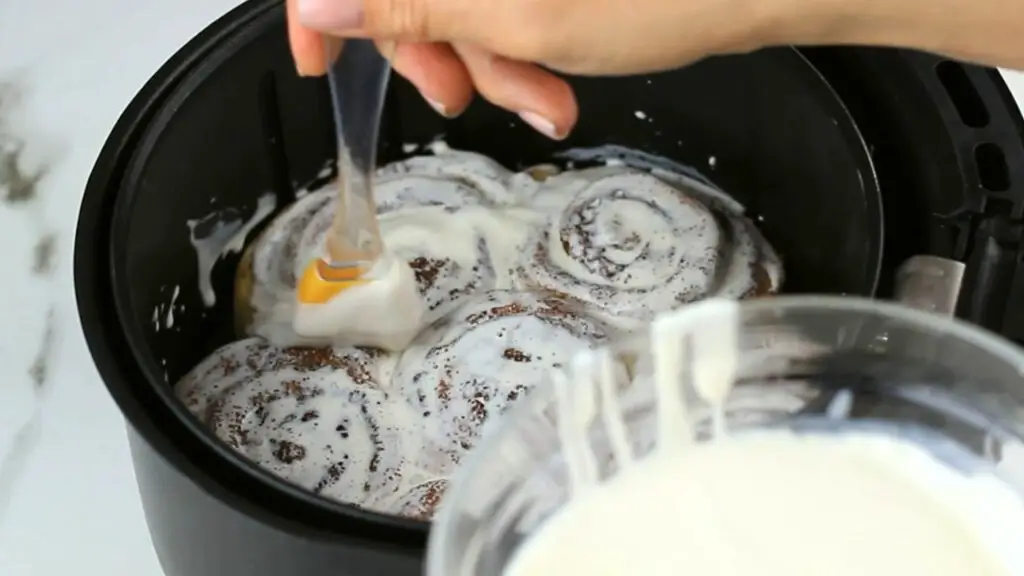 Let me tell you a little secret make your cinnamon rolls the lightest, fluffiest, and most moist buns you've ever tasted. Are you ready for it? It's heavy cream! Yes, that's right.
Pouring or brushing heavy cream over your cinnamon rolls, as you see in the video below, will make them taste like they were baked with a whole lot of extra love and care. It's the little things in life, my friends, and heavy cream is definitely one of them when it comes to cinnamon rolls.
Making Easy Cinnamon Rolls Icing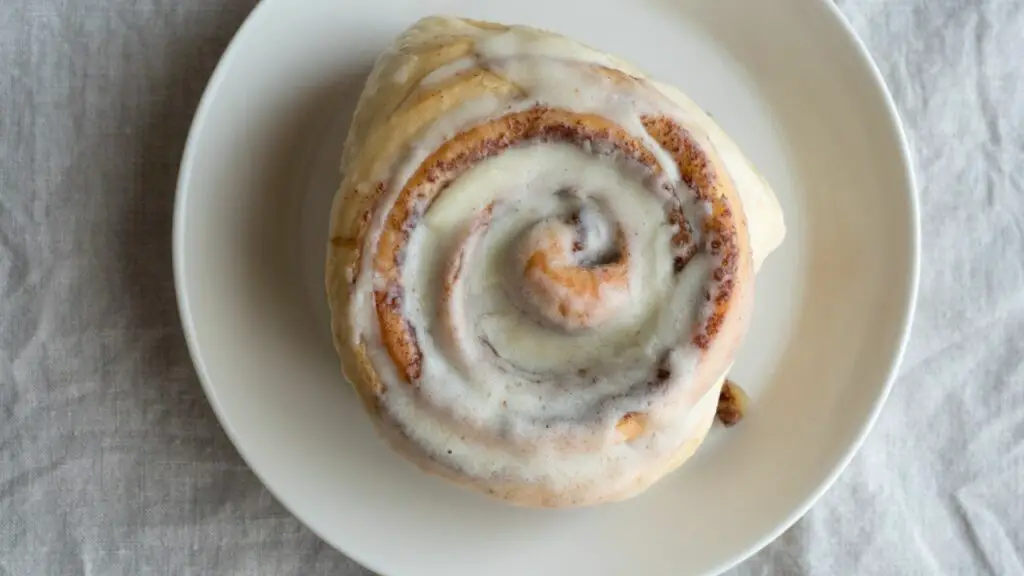 Making icing for cinnamon rolls is simple and requires only a few ingredients. Start by gathering 1/4 cup of softened butter, 3 cups of powdered sugar, 4 oz of softened cream cheese, and enough milk to create a spreadable consistency.
Next, use a hand mixer or stand mixer to beat the ingredients together until smooth. Make sure the butter and cream cheese are at room temperature, not melted or cold, from the fridge. Leave them on the counter for at least 45 minutes before making the icing.
To adjust the thickness of the icing, use powdered sugar or milk. If you want a thinner consistency, add a little bit of milk or half and half. To thicken the icing, add more powdered sugar until you reach the desired thickness.
Let the rolls cool slightly before adding icing: While it can be tempting to add the icing right away, make sure to let the rolls cool for a few minutes before adding the icing. This will help prevent the icing from melting and becoming too runny.
Making sure to coat every nook and cranny. Enjoy your perfectly sweet and creamy cinnamon rolls!
FAQ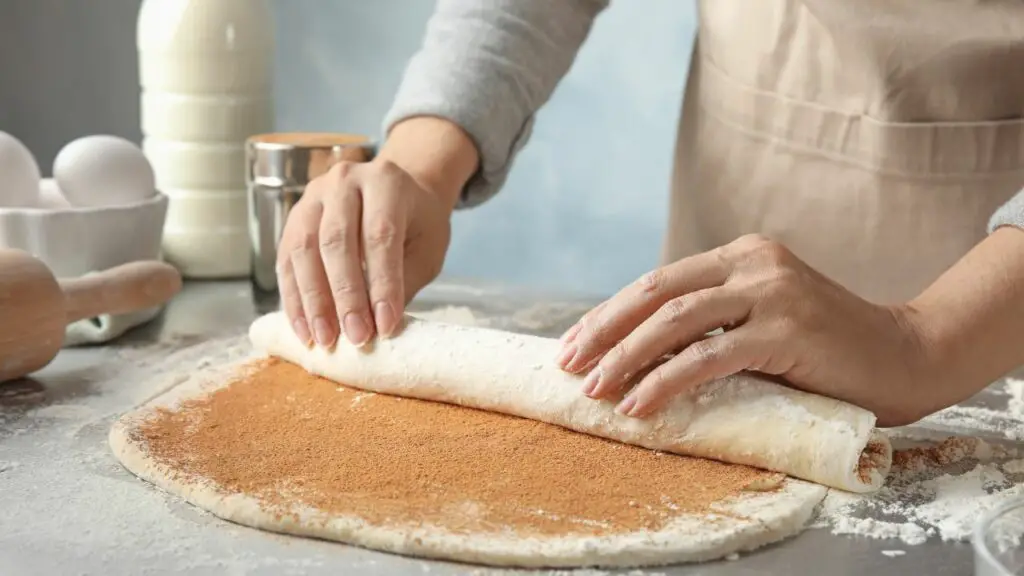 Can I make the dough ahead of time and freeze it for later use?
To make things easier, you can freeze the air fryer cinnamon rolls dough for later use. Simply wrap the dough tightly with plastic wrap or store it in an airtight container and freeze it. When you're ready to use it, thaw the dough in the refrigerator overnight and proceed with filling, cutting, and air frying. Note that the texture may change slightly, but the heavy cream hack will fix it.
Can I bake the cinnamon rolls in a regular oven instead of an air fryer?
Yes, you can bake the cinnamon rolls in a regular oven instead of an air fryer. Simply follow the same recipe for the dough and filling, but instead of air frying, place the rolls on a greased baking sheet and bake in a preheated oven at 375°F (190°C) for 15-20 minutes or until golden brown. Keep in mind that baking time may vary depending on the oven and the size of the cinnamon rolls, so keep a close eye on them and adjust the time accordingly.
How do I prevent the rolls from sticking to the air fryer basket?
To prevent the cinnamon rolls from sticking to the air fryer basket, make sure to coat the basket with cooking spray or oil before placing the rolls. Alternatively, you can also use a small buttered baking dish or parchment paper to line the basket before adding the rolls. This will ensure that the rolls do not stick and will slide out easily once they're done.
Can I make these cinnamon rolls without using heavy cream?
Yes, you can make these cinnamon rolls without using heavy cream. However, brushing them with heavy cream before baking them for the second time is what gives them a rich and soft texture. If you don't have heavy cream, you can use melted butter instead. Alternatively, you can skip brushing the rolls with any liquid altogether and still enjoy delicious cinnamon rolls.
Can I use white sugar for cinnamon rolls?
Yes, you can use white sugar for cinnamon rolls, but it will give them a slightly different flavor than if you use brown sugar. Brown sugar has a hint of molasses, which gives the rolls a richer taste. However, if you don't have brown sugar on hand, white sugar can be used as a substitute.
Can cinnamon rolls be frozen before baking?
Yes, cinnamon rolls can be frozen before baking. Simply prepare the rolls, wrap them tightly with plastic wrap or aluminum foil, and place them in an airtight container or freezer bag. They can be stored in the freezer for up to 2 months. When ready to bake, allow the rolls to thaw in the refrigerator overnight, then let them come to room temperature before baking according to the recipe. Keep in mind that the texture and rising of the dough may be slightly affected after freezing and thawing.
How long to cook cinnamon rolls in an air fryer?
The cook time for cinnamon rolls in an air fryer can vary depending on the number, size, and thickness of the rolls and the temperature of the air fryer. However, as a general guideline, cinnamon rolls typically take about 8-10 minutes to cook in an air fryer set to 350°F (175°C). It's always best to check on them regularly and adjust the cooking time as needed to ensure they are cooked to your liking.
Is dough always made with eggs?
Not all the cinnamon roll recipes include eggs. However, an egg is added to the cinnamon roll dough to enhance the texture and flavor of the rolls. The proteins in the egg help to create a tender and fluffy texture, while the fat in the egg yolk contributes to a richer flavor and softer crumb. Additionally, the egg also helps to bind the dough together and give it structure.
Read Also: 7 Alternative Ways To Cook Cinnamon Rolls Without An Oven.
Storage Instructions
Air fryer cinnamon rolls can be stored at room temperature for about 2-3 days, in the fridge for up to a week, and in the freezer for up to 2 months when properly stored.
For more detailed storage tips, check out my latest post here: How To Store Cinnamon Rolls After Baking To Keep Them Fresh.