I've got the perfect sugar-free and guilt-free treat for you – a keto shortbread cookie recipe! They're low-carb, keto-friendly, and absolutely delicious, with less than one gram of carbs per cookie.
Jump To Recipe
These keto almond flour shortbread cookies have nailed it! They're incredibly buttery and just the right amount of sweetness. Plus, their crumbly, melt-in-your-mouth texture is so satisfying.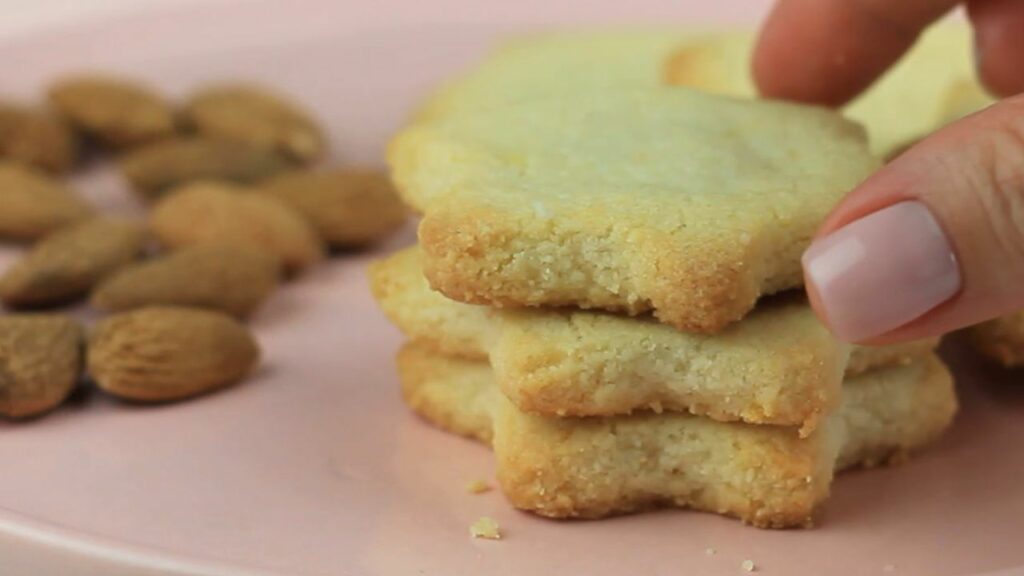 Honestly, it's hard to believe they're low-carb and keto-friendly and strike the perfect balance between indulgence and health. You've got to try them for yourself and experience the deliciousness!
So, let's dive into this simple, 4-ingredient keto shortbread cookie recipe and enjoy these cookies without guilt!
Ingredients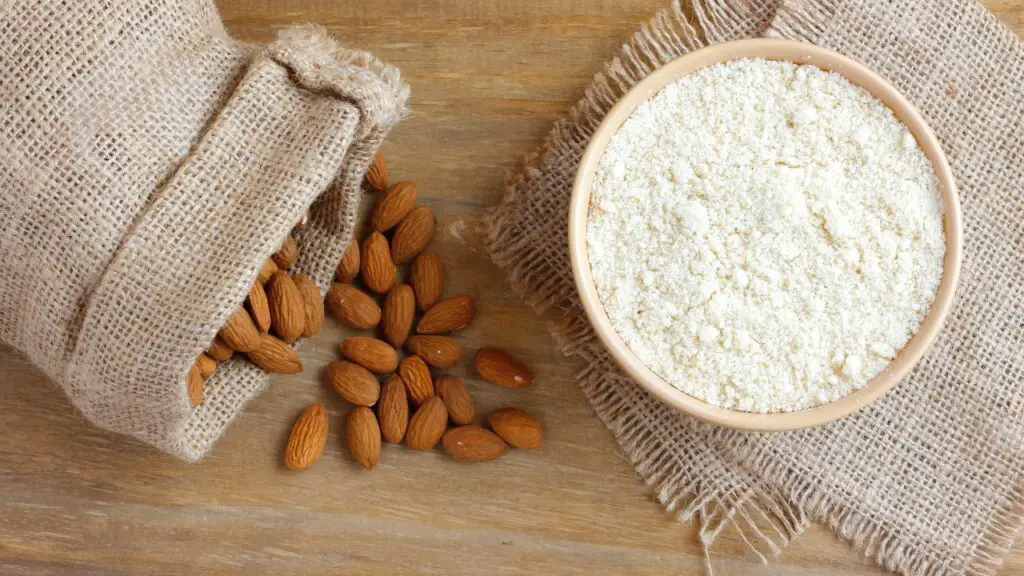 I've made these so many times, and it's incredible how you only need these four simple ingredients, and no egg even:
2 1/2 cups of almond flour – I've found it to be the best low-carb flour alternative for keto cookies. It provides a lovely, slightly nutty flavor that complements the buttery taste perfectly.
1/2 a cup salted butter – Trust me, the salted butter is key for enhancing the flavor of these keto shortbread cookies by balancing the sweetness of the stevia and bringing out the nutty taste of almond flour. It also provides a rich, buttery taste that makes these cookies irresistible.
5 tablespoons of powdered Stevia – I've experimented with different sugar substitutes, but Stevia has been my favorite as it tastes close to the sugar, I think. It keeps these cookies keto-friendly while still satisfying my sweet tooth.
1 teaspoon of vanilla extract – It's amazing how just a splash of vanilla can elevate the flavor profile of these cookies, making them taste even more scrumptious.
Top Tip: For the perfect texture, I recommend using finely ground and blanched almond flour and avoiding coarse almond meals. My go-to brands are Blue Diamond Almond Flour and Nature's Eats Blanched Almond Flour for consistently delicious keto baking.
Instructions For This Keto Shortbread Cookie Recipe
Alright, now let's get down to making these low-carb keto almond flour shortbread cookies together. Just follow along with me, and we'll whip up a delicious treat in no time!
Step 1: Okay, so the first thing I do is grab my room-temperature salted butter. Trust me, it whips up way better and adds just a hint of saltiness to balance out the sweetness. I mix it with five tablespoons of stevia powder until it's all light and fluffy.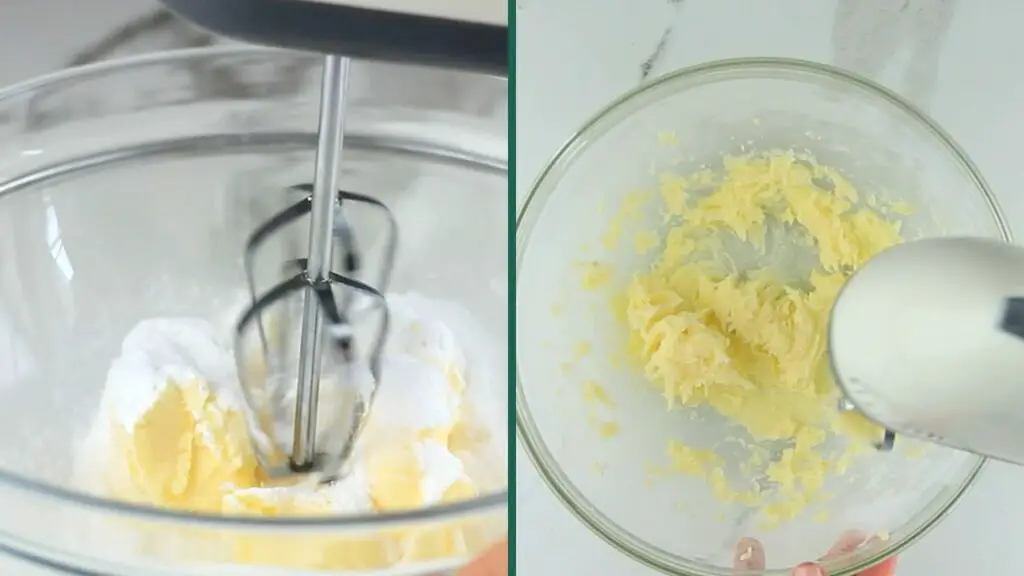 But keep in mind that Stevia powder is significantly sweeter than sugar, so I recommend adding it gradually and tasting the mix as you go. This way, you can ensure you don't make the cookies overly sweet while still achieving that delightful sweetness you crave in a shortbread cookie.
Step 2: You know what really brings these cookies to life? Vanilla extract! Just a teaspoon and it works wonders with almond flour and butter.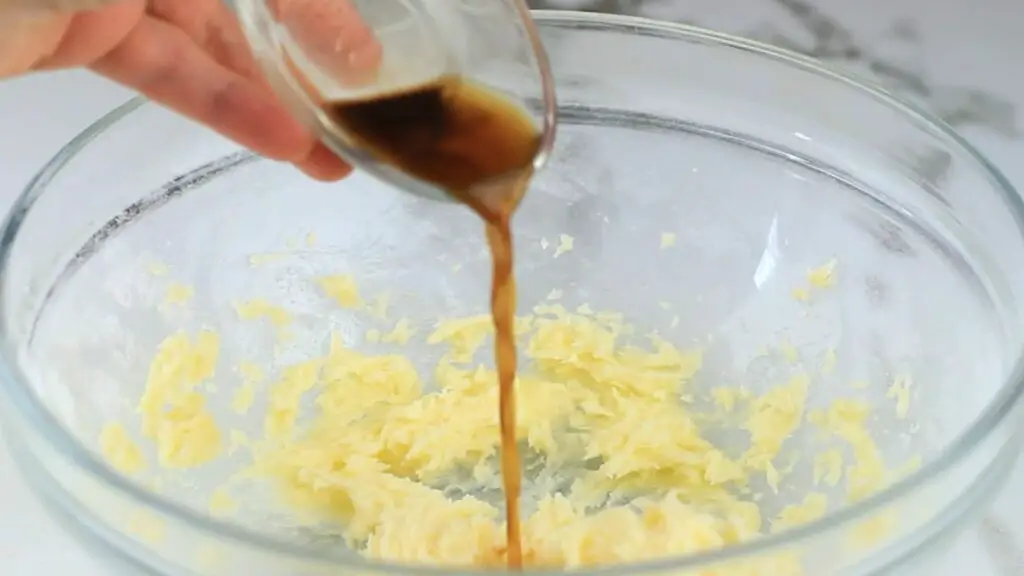 Step 3: Now, when it comes to adding the almond flour, I've found that doing it gradually, like a cup at a time, really helps.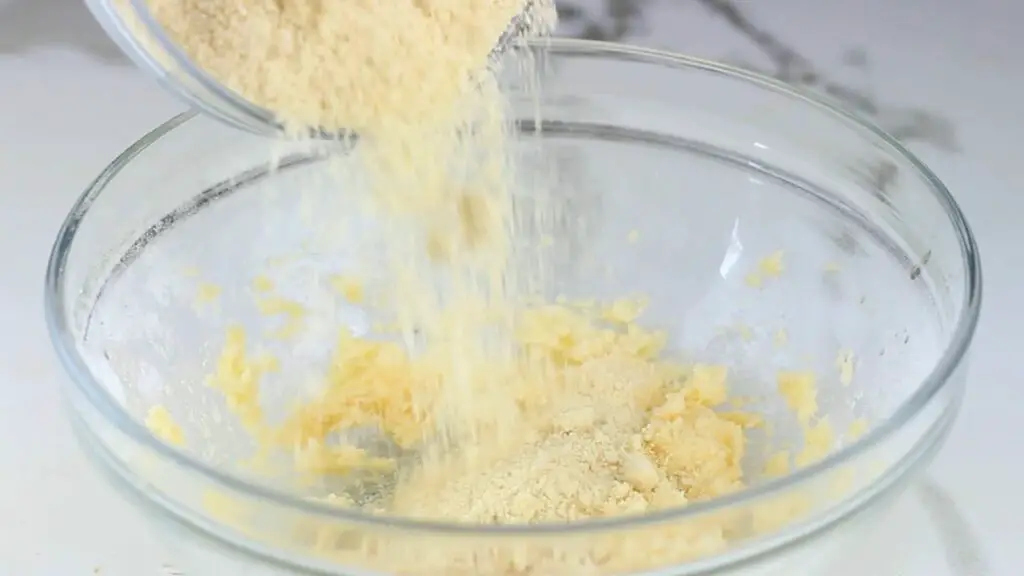 Mixing it in bit by bit gets you that perfect crumbly dough that still holds together when you squeeze it.
Step 4: Alright, a cookie press is a perfect tool for shortbread cookies, but if you don't have one, don't worry. Just roll the dough between two sheets of parchment paper so it doesn't stick, and then use cookie cutters to get those nice shapes.
I go for about a quarter-inch thickness, so they bake evenly.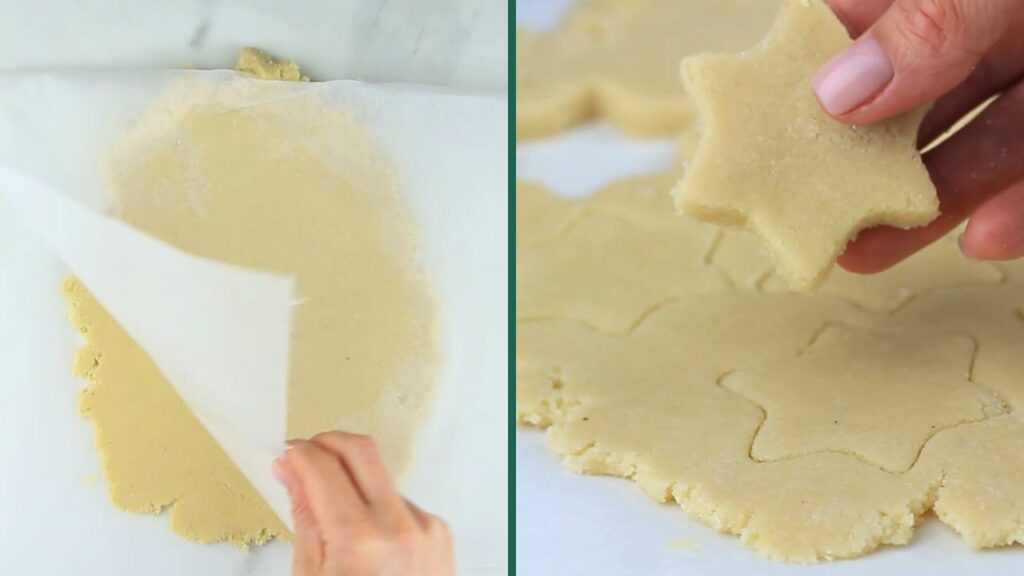 Step 5: So, in my experience, the sweet spot for baking these cookies in the oven is at 350°F (180°C) for around 12-14 minutes. You'll know they're ready when your kitchen smells heavenly, and the edges are just a bit brown.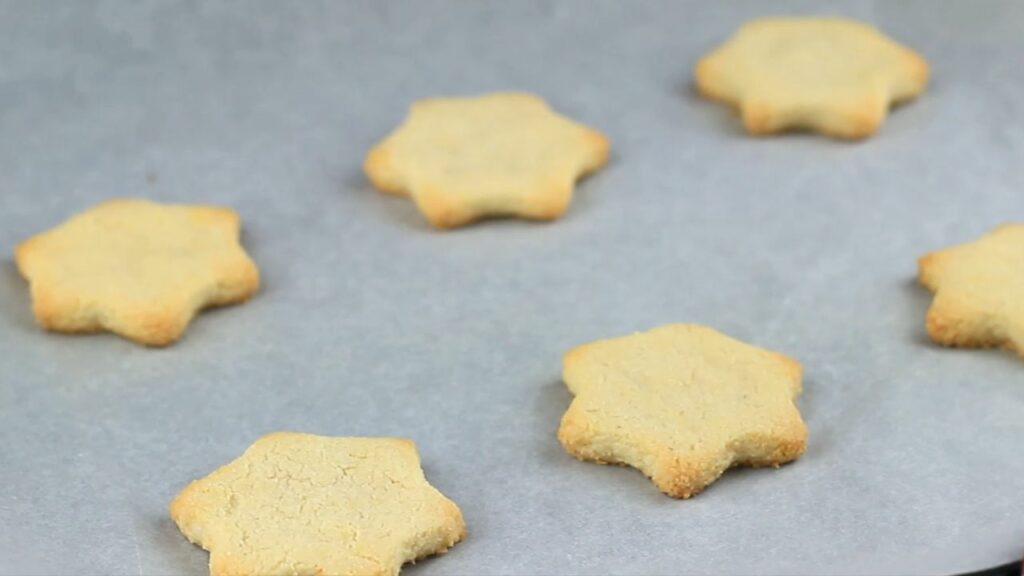 Give them some time to cool, and then you can enjoy the amazing crumbly buttery goodness!
Top Tip: Save yourself some cleanup by using parchment paper or non-stick spray on your cookie sheet before baking. Personally, I prefer parchment paper for its ease and convenience.
Nutritional Info
This recipe makes approximately 18-20 cookies, depending on the size and thickness of each cookie. Each of these keto almond flour shortbread cookies boasts a low carb count, making them perfect for those keeping track of their macros. Per cookie, you can expect around 40 calories, 0.3 g net carbs, 4 g fat, and 0.4 g protein. The low carb count and balanced macros make them an ideal choice for anyone following a keto or low-carb diet while still enjoying a delicious treat.
Also, check out these 10 Best Almond Flour Cookies With Stevia. (Low-Carb And Easy to Make).
Easy Keto Shortbread Cookie Recipe
Course: Snacks
Cuisine: American
Difficulty: Easy
You know, these sugar-free keto almond flour shortbread cookies are not just fantastic for satisfying your own cravings; they make delightful little gifts too! Just wrap them up in a charming box or tin and surprise your low-carb or keto friends with a guilt-free treat. And let me tell you, there's nothing better than cozying up with one (or two) of these cookies and a cup of tea, coffee, or even keto-friendly hot cocoa. It's pure bliss, trust me!
Ingredients
1/2 cup salted butter, room temperature

5 tablespoons Stevia powder

1 teaspoon vanilla extract

2 1/2 cups almond flour (blanched, finely sifted)
Directions
Preheat your oven to 350°F (180°C).
In a mixing bowl, whip together the room-temperature salted butter and Stevia powder until well combined.
Add the vanilla extract to the butter mixture and mix well.
Gradually incorporate the almond flour into the butter mixture, mixing well between each addition. The cookie dough should be crumbly but hold together when squeezed.
If you don't have a cookie press, place the dough between two sheets of parchment paper and flatten it out to prevent sticking. Roll the dough to about 1/4-inch thickness.
Use cookie cutters to shape the flattened dough into desired shapes.
Place the shaped cookies onto a parchment-lined baking sheet.
Bake the shortbread cookies on a parchment paper-covered cookie sheet in the preheated oven for 12-14 minutes or until the edges are slightly brown and your kitchen smells amazing.
Allow the cookies to cool completely before enjoying their crumbly buttery texture.
Notes
Gradually add the Stevia: As Stevia is much sweeter than sugar, add it little by little, tasting as you go to find the perfect sweetness for your taste buds.
Chill the dough: If your dough is too soft or sticky, chill it in the refrigerator for about 30 minutes before rolling it out. This will make it easier to handle.
Be gentle with the cookies: These cookies can be delicate, especially when they're warm. Let them cool first before handling them with care.
Try different shapes: Get creative with your cookie cutters, or simply use a knife to make unique shapes and designs for your shortbread cookies. Just remember that intricate shapes might be more delicate and prone to breaking.
FAQs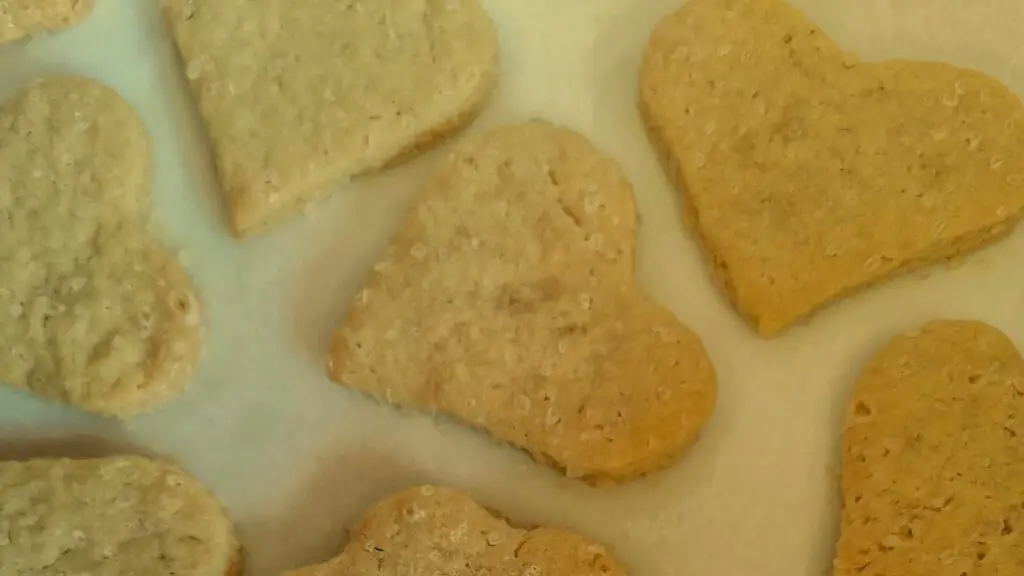 Can I use coconut flour instead of almond flour?
In this recipe, I recommend sticking to almond flour. Coconut flour is much more absorbent and would require adjustments to the other ingredients, which could alter the final result.
Can I use a different sweetener instead of Stevia?
Yes, you can use other keto-friendly sweeteners like erythritol or monk fruit. Just be sure to adjust the amount based on the sweetness level of your chosen sweetener.
Unfortunately, almond flour is a nut product, so these cookies are not suitable for people with nut allergies. You may want to explore alternative flours but keep in mind that you'll need to adjust the recipe accordingly.
If you prefer crispier cookies, try rolling the dough thinner before cutting the shapes, and you may need to adjust the baking time accordingly. For softer cookies, roll the dough a bit thicker, and make sure not to overbake them.
Can I freeze the dough for later use?
Absolutely! You can wrap the dough tightly in plastic wrap or place it in an airtight container and freeze it for up to three months. When you're ready to use it, let it thaw in the refrigerator overnight before rolling, cutting, and baking the cookies.
These low-carb keto almond flour shortbread cookies are a healthier alternative to traditional shortbread cookies because they are low in carbs and use almond flour and stevia instead of wheat flour and sugar.
Do You Need to Chill Your Shortbread Dough?
You don't need to cool the dough before baking, but it can be helpful to chill it for about 10-15 minutes in the fridge if it's too soft to work with or if you're making shaped cookies that need to hold their form.
Storage
To store these keto almond flour shortbread cookies, keep them in an airtight container at room temperature for up to a week. For longer storage, refrigerate them in an airtight container for up to two weeks or freeze them for up to three months. When freezing, separate layers with parchment paper to prevent sticking. Thaw frozen cookies at room temperature for 15-20 minutes before serving.
Learn More About Stevia: Is Stevia Vegan, And Should You Actually Use It?
In Conclusion
These sugar-free keto almond flour shortbread cookies are the perfect guilt-free indulgence for most people on a low-carb or keto diet. With only four ingredients, no egg, and less than one gram of carbs per cookie, you can satisfy your sweet tooth without any guilt.
Don't forget to leave a comment below with your thoughts about this keto shortbread cookie recipe. Did you enjoy making them and eating them? Do you have any questions or suggestions? I'd love to hear from you!
---
Related Low-Carb Cookie Recipes: 11 Delicious No Bake Low Carb Cookie Recipes You Must Try!