Air fryers are certainly a much healthier alternative to deep fat frying or shallow frying. From crispy French fries and chicken thighs to succulent ribs, you name it, and this little kitchen gadget will deliver you oil-free, mouth-watering results in a record time.
But did you know that that air fryer can do so much more than just fried foods?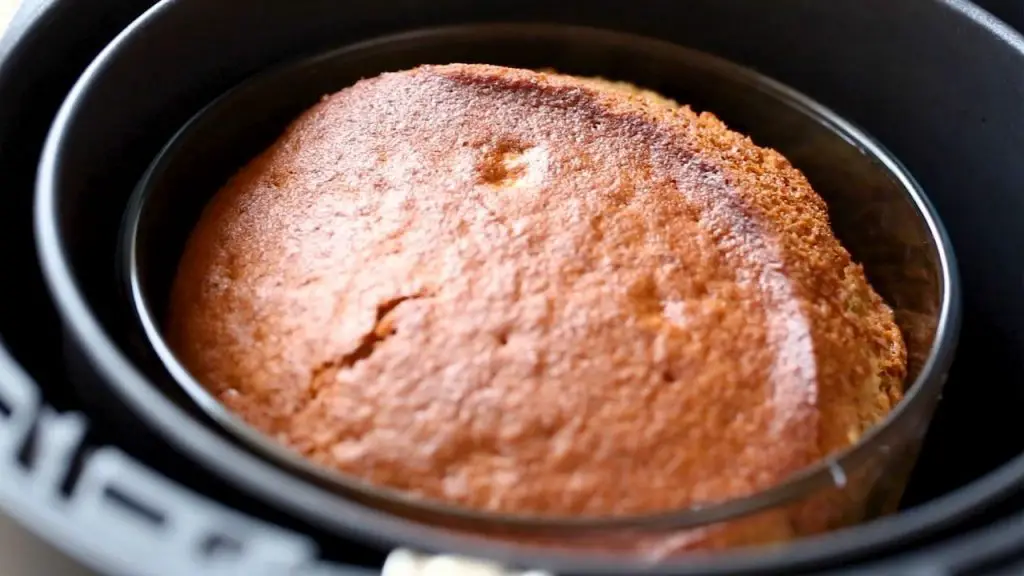 Air fryers can also be used to make baked goods like cakes, muffins, cookies, brownies, cupcakes, bread, puddings, and many other baked desserts and pastry. They cook faster than conventional or fan-assisted ovens, but you may need to make some baking time and temperature adjustments to get the perfect result.
In this article, I will walk you through everything you need to know to master baking in your air fryer, plus I got some great baking recipe ideas for you that are super scrummy and easy to make!
Benefits Of Baking In Air Fryer?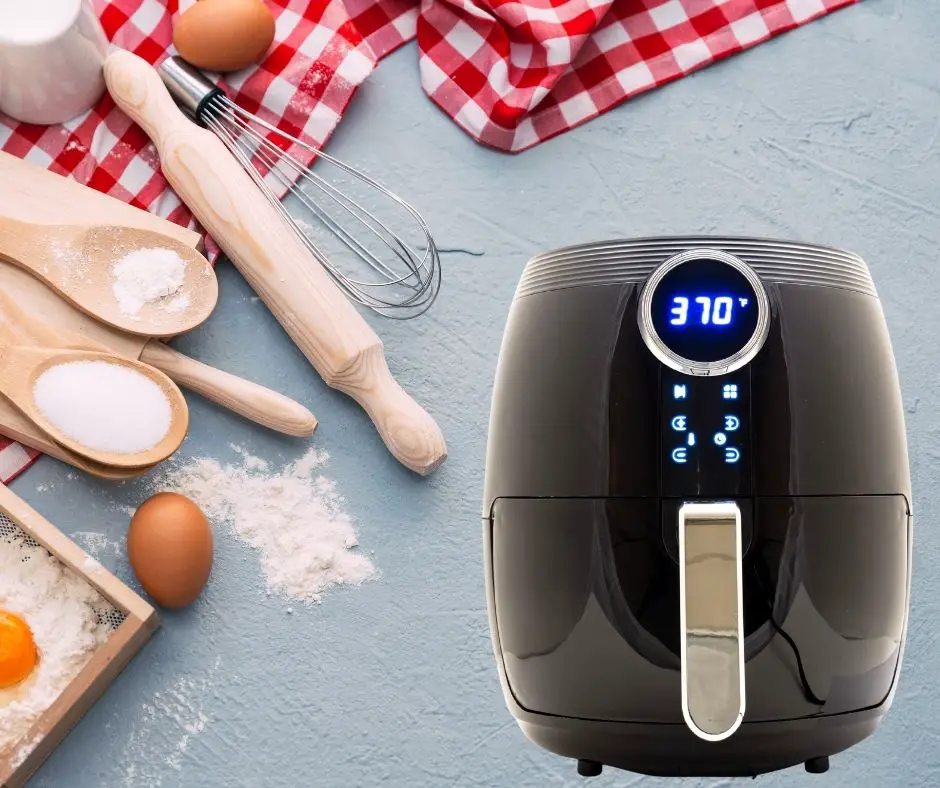 If you don't have an oven in your kitchen or it has broken down, not to worry, you can still have some delicious, homemade baked goods using your air fryer. But even if you do have a fully functional oven, I urge you to give baking in your air fryer a try – you may be surprised at how well it works and how convenient it is!
Below are just a few of the reasons you should definitely add this small countertop 'convection oven' to your baking repertoire.
1. Baking In An Air Fryer Is Faster
One of the biggest benefits of baking in an air fryer is speed! It takes less time to bake, and you won't have to wait for your oven to preheat. You'll be eating your freshly baked cookies in no time!
2. Great For Small Portion
If you don't have a big family, it may be difficult to justify making an entire batch of cookies or muffins in your oven. With an air fryer, you can only fit a few items anyway – so you can make tiny batches, just enough for an evening, then freeze the rest of the batter for the next time you're craving a freshly baked treat!
3. Avoid The Dreaded Oven
If you live somewhere with really hot weather or don't have AC to ward off the heat, the last thing you'll want to do is turn your oven on and warm up your whole house. But fear not, you can still have some delicious baked goods made in your air fryer without turning your kitchen into a sauna!
Air Fryer Vs Oven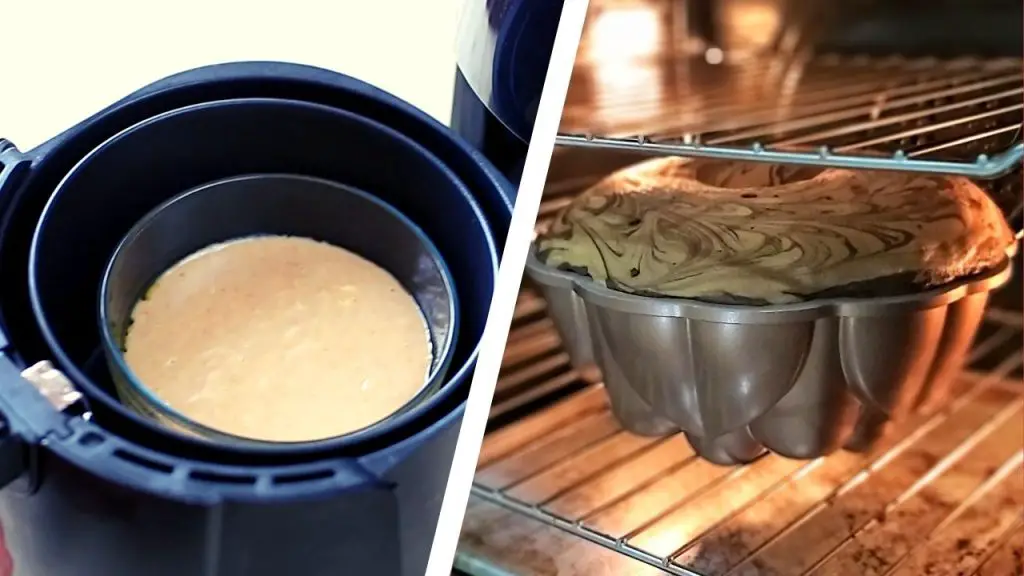 How Is Baking In An Air Fryer Different Than The Oven?
Air fryers work in the same basic way as a convection oven – they both circulate hot air around the food to cook it. The difference is that air fryers use rapid air technology to circulate the air much faster and in a much smaller space.
This means that your air fryer can cook and bake food more quickly than your oven. The rapidly moving hot air also crisps up food better than a convection oven.
Learn More Here: How Does An Air Fryer Work? (Frying with air – How is that even possible?)
What Can You Bake In An Air Fryer?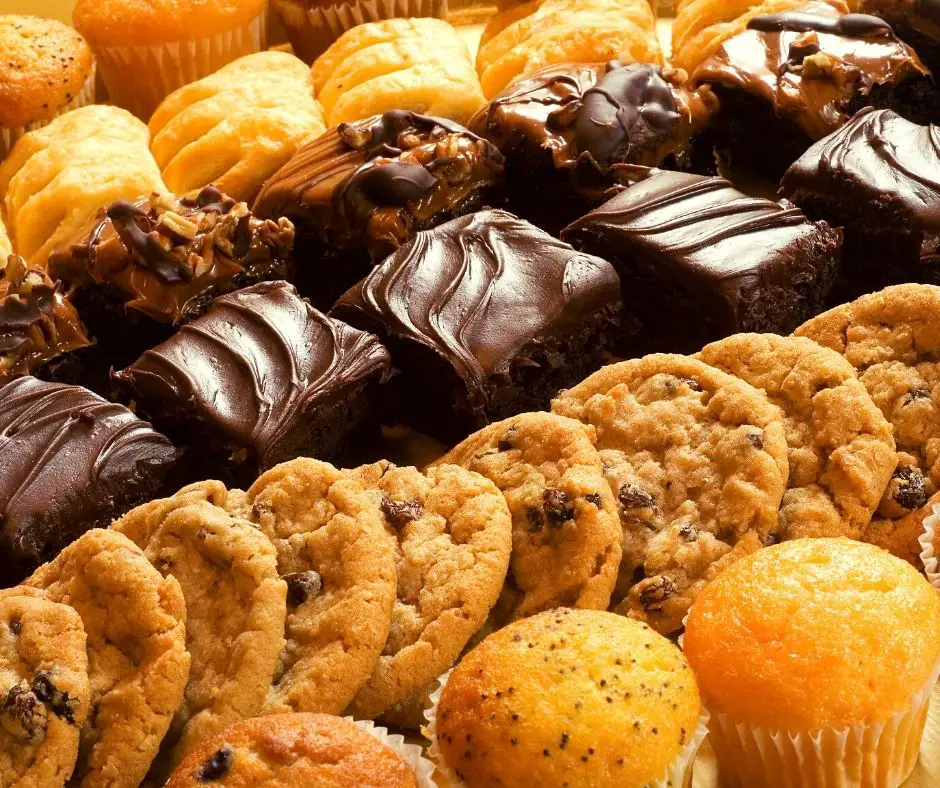 Air fryers are versatile – you can bake a wide array of tasty treats with great results.
Of course, the basics work great in an air fryer. Think cookies, cakes, dessert, banana bread, muffins, and brownies. You'll have to slightly adapt your recipes (more on that later), but you'll get very similar, I would say even better results in an air fryer using your favorite time-tested recipes.
Other baked goods that are amazing when baked in an air fryer are donuts (yum!), cinnamon rolls, meringues, baked apples, and mouth-watering caramelized baked bananas. Any dessert that would benefit from a lightly crispy outer layer with a soft and airy center would be a perfect candidate.
Air Fryer Baking Recipe Ideas (From bred to borwnies)
Need some recipe ideas and inspiration? These easy and flavorsome air fryer baking recipes will have you drooling over freshly baked goods.
Air Fryer Banana Bread
First, here is my 'meant-for-oven' banana bread recipe, now made in the air fryer.
Check out the video below of my first attempt at making this banana bread in the air fryer, and I must say that I absolutely nailed it (not counting the funny-looking shape tho).
Read Also: Roasting Coffee In An Air Fryer (Is Great But Only If You Do Not Want French Roast!)
Here are some other easy and delicious air fryer baking recipes to start out with. Check out my other air fryer bread baking video and easy, chewy, and fudgy chocolate brownie recipe video below.
4 Ingredient Air Fryer Bread Recipe (Soft and Crusty)
Just about everyone loves fresh bread. The smell of dough baking in the oven is one of life's simple pleasures. What if you could get the same texture and flavor without less hassle? Welcome to the wonderful world of baking bread with an air fryer!
If you're looking to make your own crusty artisan bread, then look no further. Here is how to make delicious but straightforward 4-ingredient artisan bread in an air fryer.
What Can You NOT Bake In An Air Fryer?
Now that you know what you can bake in your air fryer, let's talk about when the air fryer is best left out of your baking adventures.
The number one thing to avoid is anything with cheese in it. You don't want a melty mess all over your air fryer! You could probably make it work with careful monitoring but for me, it always seems to fail when I try it.
It's also best to steer clear of baked goods with lightweight, loose toppings. The airflow in your fryer circulates rapidly around the chamber, so part of your toppings may come off and get stuck in the crevices of your air fryer.
For example, an apple crisp or coffee cake with a loose streusel topping would be better off baked in the oven unless you cover it with foil for the first part of the baking process until the crumbs cook down into the cake.
Finally, if you want a big batch of cookies or a cake fit to feed a large family – you're probably better served by just using your oven. The air fryer is best for smaller portion sizes since the relatively small basket doesn't accommodate large quantities of anything.
Will Your Baked Goods Taste Better When Made In An Air Fryer?
Most desserts will taste the same, or at least very similar, whether they're baked in a traditional oven or an air fryer. As they say, "taste is in the mouth of the beholder" so for me, the air fryer could easily replace my regular oven when it comes to baking but others may argue otherwise.
Texture-wise, the centers of your delicious cookies, muffins, and cakes will be just as moist, tender, and fluffy, but the tops may be a bit crispier and more caramelized.
Top Hacks For Mastering Baking In The Air Fryer
When starting out baking with your air fryer, you may want to try a couple of recipes specific to this appliance, such as the ones above, before diving into adapting recipes created for the oven.
Whether you're following a recipe or just winging it, here are some tips and tricks to help you be successful in your quest to master air fryer baking.
1. Do You Need To Preheat Your Air Fryer?
Unlike a regular oven, you don't have to preheat your air fryer to get great results. In fact, it can actually help to not preheat for some baked goods since the outsides of your cookies and cakes are less likely to burn when they heat up more slowly. Whether or not you decide to preheat is unlikely to be a deal-breaker for most baking projects.
2. What Temperature Should You Bake At And For How Long?
Because air fryers heat food quickly, they are likely to burn the outer layer of your baked goods if you use the same temperatures you would use with an oven. It's also going to cook your dough faster, even at the lower temperatures – so when adapting a recipe, you will need to both lower the temperature and the cooking time.
Conversion From Oven To Air Fryer
For most baking recipes, it is recommended to lower the baking temperature by 20-30 degrees. So if the original baking recipe instructs you to bake at 360°F (182°C) in the oven, then for the air fryer, set it to 330°F (165°C), and cut the cooking time by about 20%.
If you want a good starting place for altering an oven-baking recipe for your air fryer, this calculator will convert the temperature and time from your original recipe into the right combination for an air fryer.
3. What Pans Can Be Used In An Air Fryer?
If a pan can be used in your oven, it can also be used in your air fryer – the issue becomes, 'will the pan fit?'.
Depending on the size of your air fryer basket, a shallow, round cake pan up to 8 inches across can be a great option for cakes and brownies. Pyrex can also be a good choice if you don't have any smaller baking pans.
For muffins, sturdy silicone muffin cups work very well since they're not connected to each other like a traditional muffin tin – that way you can place them however they fit in the air fryer basket.
4. Can You Bake In An Air Fryer With No Pan?
Don't have a pan that will fit in your air fryer? Don't worry, you don't have to use a pan!
Simply line the basket of your air fryer with parchment paper or aluminum foil and plop your cookie dough or cake mix directly on the parchment. Just make sure to leave the edges of the paper long enough that it goes up the sides a bit – this will make it easier to grab when it's done baking!
For things like cinnamon rolls or scones that are already structured before cooking, you can just drop them right into the air fryer basket – it couldn't be easier!
5. Don't Forget To Check On Your Baked Goods
Finally, once you've got your recipe figured out, your batter mixed, and your dough cooking in the air fryer – don't just hit the timer and wait to see how it turns out.
Just like with traditional ovens, not all air fryers cook exactly the same way, so yours may cook faster or slower than your recipe indicates. As it gets close to the time when your treats should be done baking, pause your air fryer to check on them and make sure they're not getting overcooked.
Also, when cooking larger cake or bread, the top may start getting dark before the center is cooked. If you notice this happening, it can help to cover it with foil for the rest of the baking time.
Check Out Also: How To Make Air Fryer Sweet Potato Fries? (Extra Crispy!)