So, You Want To Buy A Bread Machine? But Is It Really Worth The Dough? Find out how much does a bread maker really costs, literally and figuratively.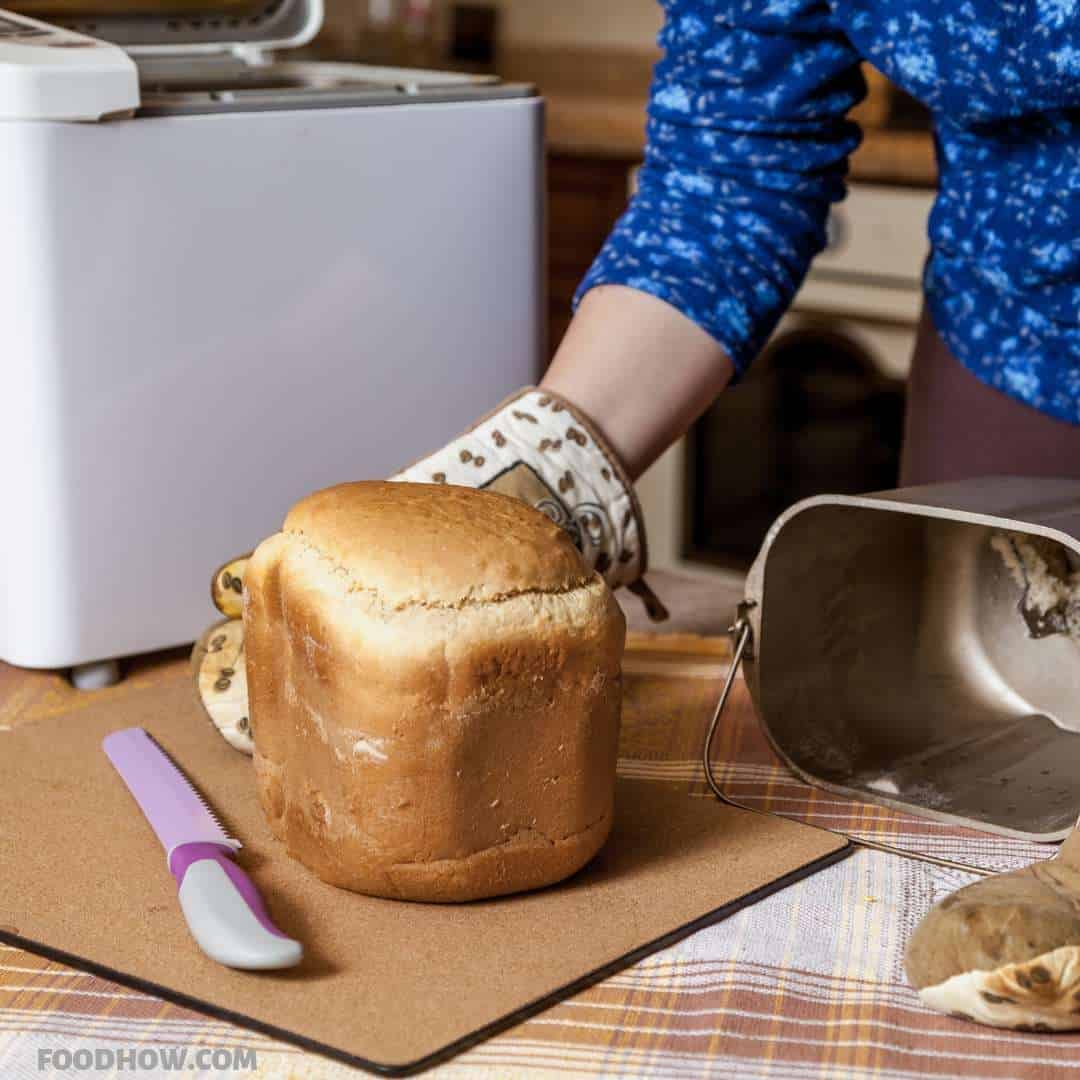 Now, how much do bread makers cost in the first place? 
Prices for domestic bread makers range from around $40 for a standard basic model to a whopping $300+ for the high-end gadget. The cost of the bread machine will depend on various different factors like the brand, the number of features it has, and the size of the unit.
Let's look at some options from low-budget to super-expensive below:
Best Value Bread Makers
Programmable Hamilton Beach 2 lb Non-Stick Bread Maker
TAP ON IMAGE TO VIEW PRICE
This bread machine is of good value and great for making fresh, fluffy, and soft and bread at home. This is a compact 2lb bread-making machine. Compact in terms of its size and compact in terms of its price.
Aicok 2 lb Baker With Gluten-Free Setting And Multiple Programs
TAP ON IMAGE TO VIEW PRICE
This one is also an excellent value, a basic bread maker. It will do the job, and it can knock out a 2lb loaf of bread in under an hour. It is a good value, basic unit with decent reviews.
Sunbeam Programmable Bread Maker
TAP ON IMAGE TO VIEW PRICE
Last but not least. It is also a great value unit for small-scale baking. Programmable via a user-friendly control panel on the front, this Sunbeam bread-making machine seems to be the most popular low-budget option.
Popular Mid-Range Bread Makers
KBS XL Stainless Steel 1500W Bread Machine With 17 Different Programs
TAP ON IMAGE TO VIEW PRICE
Moving quickly up the price scale, the KBS extra large bread maker will be almost double the price compared to the budget options above. For this price, you get a durable, stainless steel machine.
Also included are the Reserve and Keep Warm Settings, Nonstick Ceramic Pan, Digital Touch Panel, 3 Loaf Sizes, 3 different Crust Colors, and even a Fruit Nut Dispenser; nice little extras there, from this highly respected brand.
Breville BBM800XL Custom Loaf Maker
TAP ON IMAGE TO VIEW PRICE
Now, here we got a higher end of the mid-range appliance, durable, stainless steel bread baking machines. This offering from Breville comes around $250. You get a whole load of baking options and a really neat digital dial user interface for your money.
Top High-End Bread Machines
Home Bakery Supreme Zojirushi BB-CEC20 Breadmaker
TAP ON IMAGE TO VIEW PRICE
As the name suggests, we are moving already into the higher end of the best bread makers with this model. Packed with loads of pre-set programs, many more custom settings options, and a quick bake facility, this 'bakery' costs you almost triple then the previous model above.
SANYO GOPAN Premium (Also Known As the Master Baker)
TAP ON IMAGE TO VIEW PRICE
And so, to The Master Baker.  This revolutionary machine not only bakes conventional loaves but can make them from rice grains too! For the luxury of this unique bread-making product, you will need to pay quite a lot. There are not many reviews on this product, considering the price, not many people lining up for it. But the reviews it does have, these are all positive so far.
So, there you have a few choices for selecting your ideal bread-making machine. With just a little more research, you will see that there are a host of other options from which to choose. 
Your greatest need may be for a space-saving bread-making machine; it may be for the cheapest unit, or it may be that you simply must have one that uses rice!
Choose a machine that fulfills that need, that stays with your budget, and you will have many happy home baking days ahead of you.
What Size Bread Maker To Buy?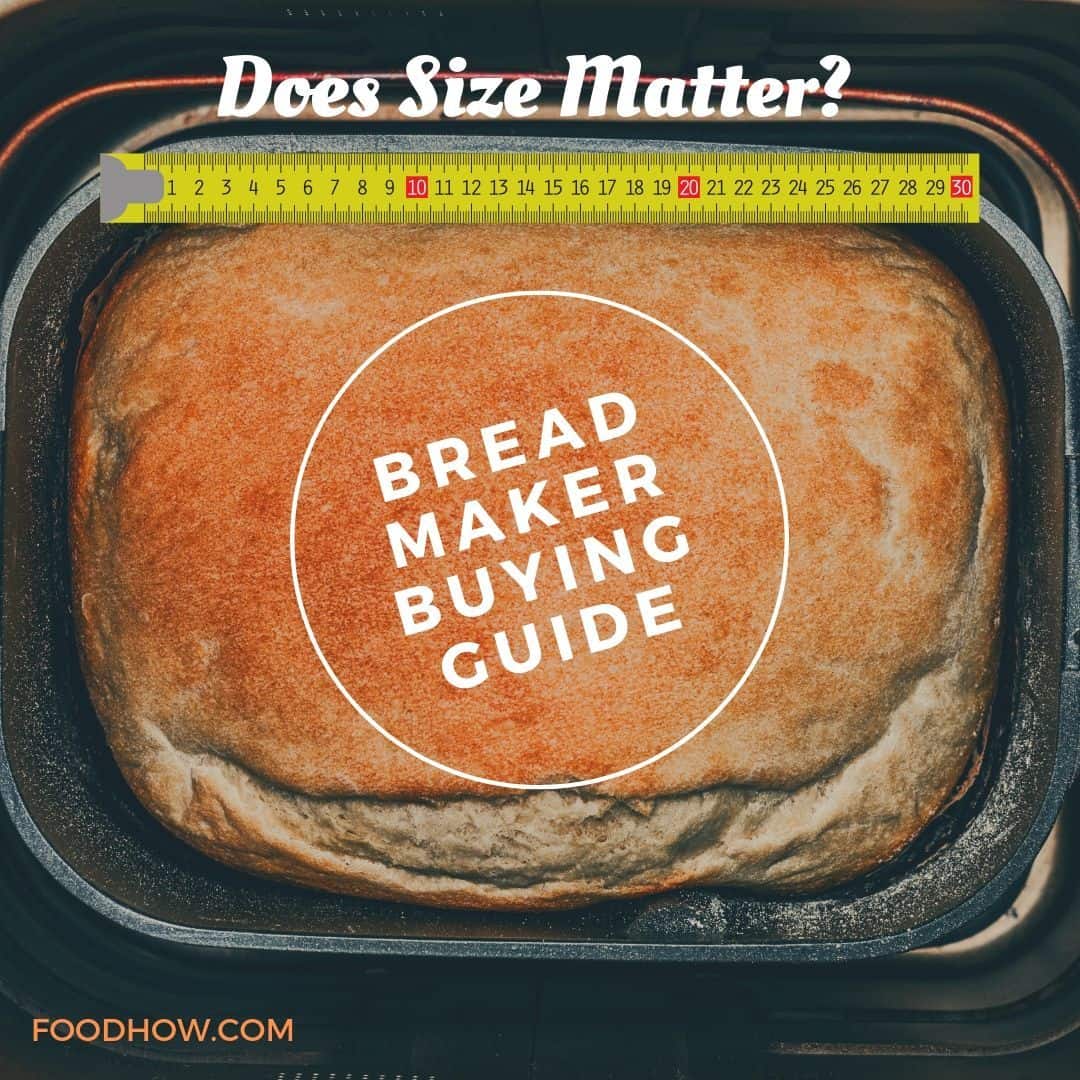 In short, yes, the size matters. It matters in the sense that you should only really choose a bread-making appliance that fulfills your usage.
The majority of units available for home use have a bread-making capacity of up to 2 lbs. This is the size of a standard-sized loaf of bread, suitable for a family of four. 
Of course, this is their maximum capacity, so you can choose to make smaller loaves to suit your requirements. So, I would recommend a 2 lb appliance as being the ideal unit for home use. It will supply the whole family or, if you live alone, catering to friends and guests if needed.
Of course, two pounds is not mandatory for your home-baked loaves; the size is entirely up to you. Here is a brief guide on the size of loaf you might need:
1-1.5 lbs – Ideal for a single person or couple.
2 lbs – Couples, families, or small-scale industrial production.
2.5 lbs+ – Industrial production.
What Else Should You Consider When Choosing a Bread Making Machine?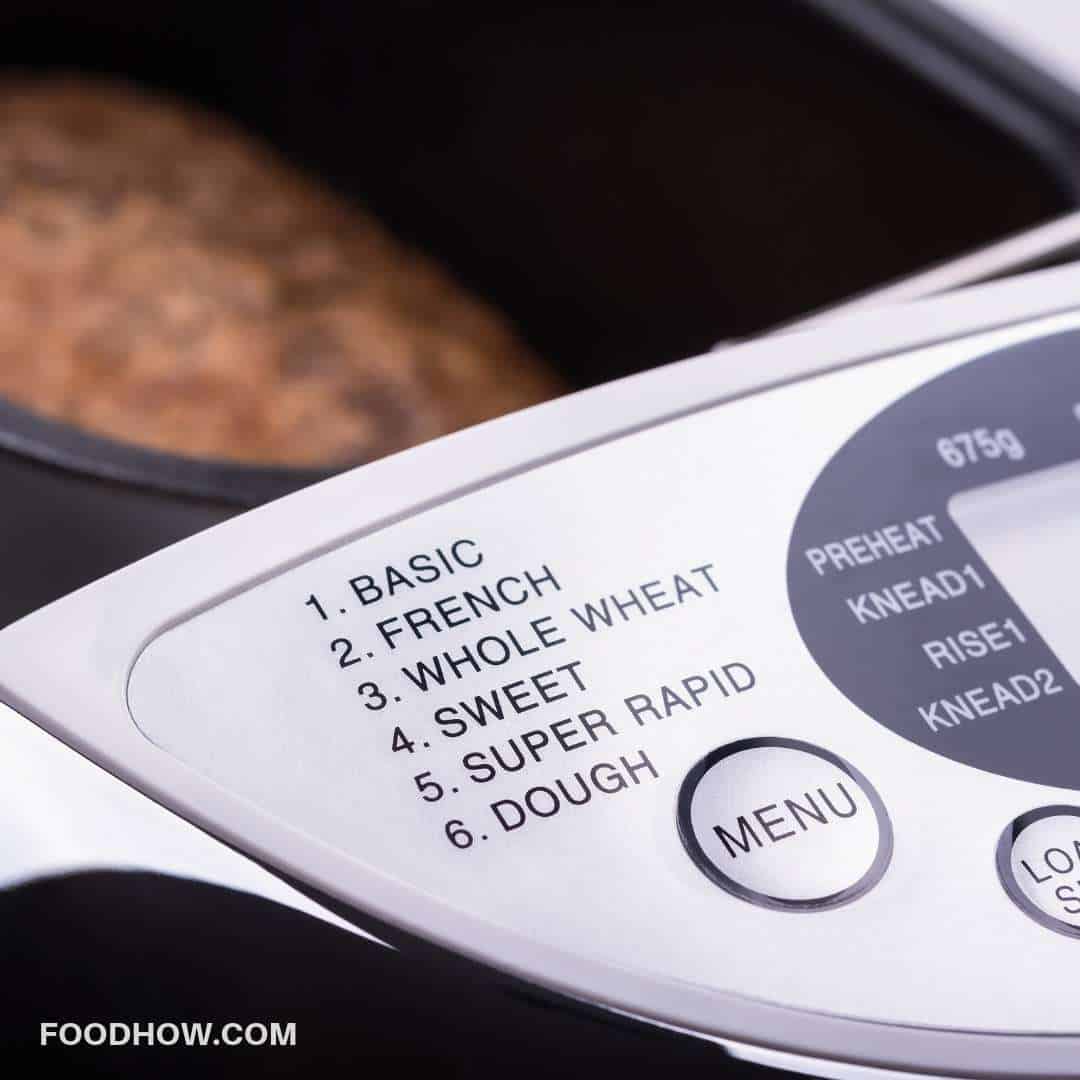 Here are a few things for you to take into consideration:
1. Price = Quality
As my Grandfather John used to always say, "ya get wot ya pay for." You will certainly find this to be the case with your bread machine selection.
Different brands offer a variety of machines at varying price points. You should first identify your budget and go from there.
As a general rule, the more features baking machines have, the more you will have to pay for it. And hey, they have a whole load of optional features to choose from.
When it comes to bread machines, you tend to get what you pay for. Forking out a few extra dollars can get you a device that will do much more and look much better.
Prices range from $40-300+, and there is a whole load of choice within this price bracket. The top brands are Breville, Conair, Oster, Panasonic, Sanyo Gopanand, and Zojirushi. 
Opting for one of these established brands may be the best course for your home baking appliance purchase. You can see above for details on some of their products.
2. Durability
Durability is key. When you get started with home baking, there will be no stopping you. You're going to want a machine that can cope with a lot of use and a lot of handling.
Of course, durability comes at a price, but that doesn't mean you can't find an affordable, durable appliance. You could sacrifice on additional features in favor of durability to keep the price down.
Do your research before you commit to buying. Read product reviews and look out for any durability issues being flagged.
3. Features
The number of features you get will depend upon the brand and the price. Some common bread making machine features are the following:
Crust Color. You can select how light or dark you want your crust, depending on your taste. 
Dough Options. There is an option to just knead your dough without doing a bake. Similarly, there is one for baking without kneading your dough.
Timings. 

This feature allows you to set the time for your bread to be kneaded, rise, or bake for.

Bread Type Settings. This allows you to choose from a number of programs set for French bread, whole wheat, gluten-free, basic loaves, etc.
Bespoke Baking Settings. At the higher end of the appliance market, you are able to program your own bespoke baking cycles.  
4. Kneading Paddles
Some bread-making machines come with two kneading paddles, others come with just one. Having two is recommended, but do not worry if your device only has one. It is a good idea to have a spare one, though.
Paddles come in different shapes, which is good because you can have one shape for bread, another paddle shape for pasta, and not get the two mixed.
It's also a good idea if your bread machine's kneading paddles are removable. If not, the paddles can leave a hole in the bottom of your bread as it bakes. Some higher-end machines notify you when the paddles should be removed.
5. Delay Baking Timer
With this feature, you are able to put a delay on the time your baking starts, generally up to 13 hours. So, if you want to come home from work or wake up in the morning to the smell of freshly baked bloomers, you can.
6. Noise
Unfortunately, noise and bread machines go hand-in-hand.  Generally speaking, of course, the cheaper the machine costs, the noisier it is likely to be.
The main cause of the noise is the vibration of the parts when the motor is operating. This vibration can also cause your device to move around, which could be more of a problem.
Higher quality units, constructed with better parts and materials, will produce less vibration, less noise, and have less movement if any at all.
There is a noise you will want to hear, of course – the screams of delight from friends and family as the baking-is-complete alarm sounds!
7. Extra Baking Settings
Many of the more complex bread making machines come with additional settings allowing you to bake more than just your average loaf. These are more like 'mini-bakeries' and, commonly, you will find options for:
Gluten-free loaf
Wheat-free bread
Dough making
Pasta making
Jam making
Kneading
Pre-mixed ingredients
Some provide so many choices that you might just struggle to find the 'simple loaf of bread' option! 
Like with everything else, do your research before you buy. Find out which options are actually useful and which ones are just there for show (and price).
8. Warranties
You are going to be using your bread maker a lot, so make sure it comes with a manufacturer's warranty. If a product is as durable as the manufacturer claims, they will have no worries about providing you with a warranty; a minimum of one year.
Beware of products with very short warranties of a month or two as the manufacturer may know something about the product's longevity that you don't. 
Like any other domestic appliance, bread-making machines are designed to make your life easier. They can save you time, offer you convenience, and improve your quality of life. I'm sure you are already convinced of that.
But, still, there are some other things to consider before you make that buying decision.
Is It Cheaper to Make Your Own Bread?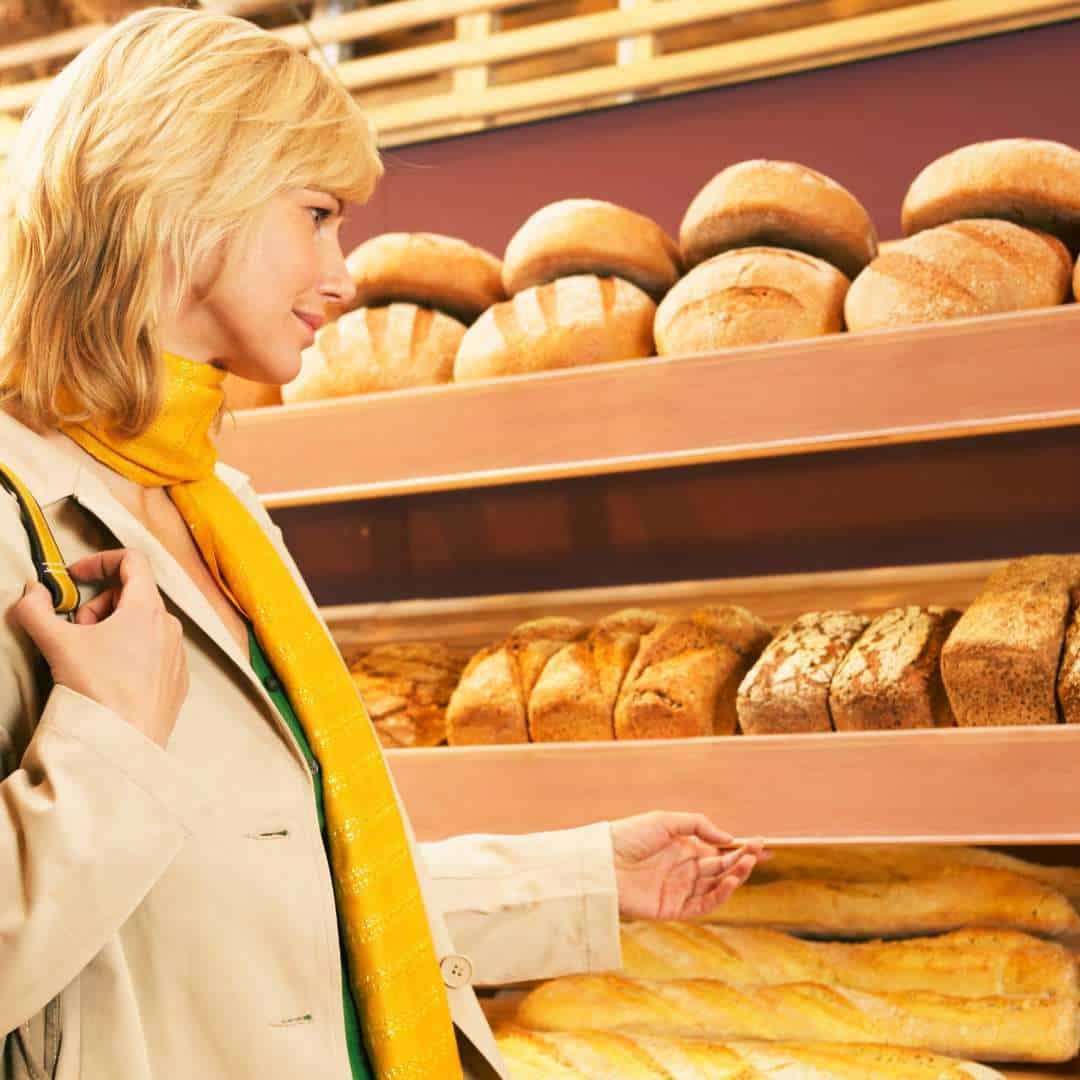 There is always that question in your mind, "a loaf of bread only costs me $2, why do I need to spend $50 on a machine?". And, that is a perfectly reasonable question to ask yourself.
So, let's have a look at something called Return on Investment (ROI). You eat bread a quite a rate, like most of us do. Multiply that rate by the number of people eating bread in your home, and that number soon mounts up.
Let's, for argument's sake, say that your household consumes one loaf of bread per day, that's $14 per week in bread, $60 per month, and around $730 per year. 
So, what about bread making machines?
Let's say you buy one around the $50 mark. The ingredients for making an equivalent-sized loaf to your bought $2 one will cost around $1 (flour $0.52, yeast oil, electricity, misc $0.48).
That means your first homemade loaf from your bread-making machine will have set you back $51! But, let's just see what happens as time goes on: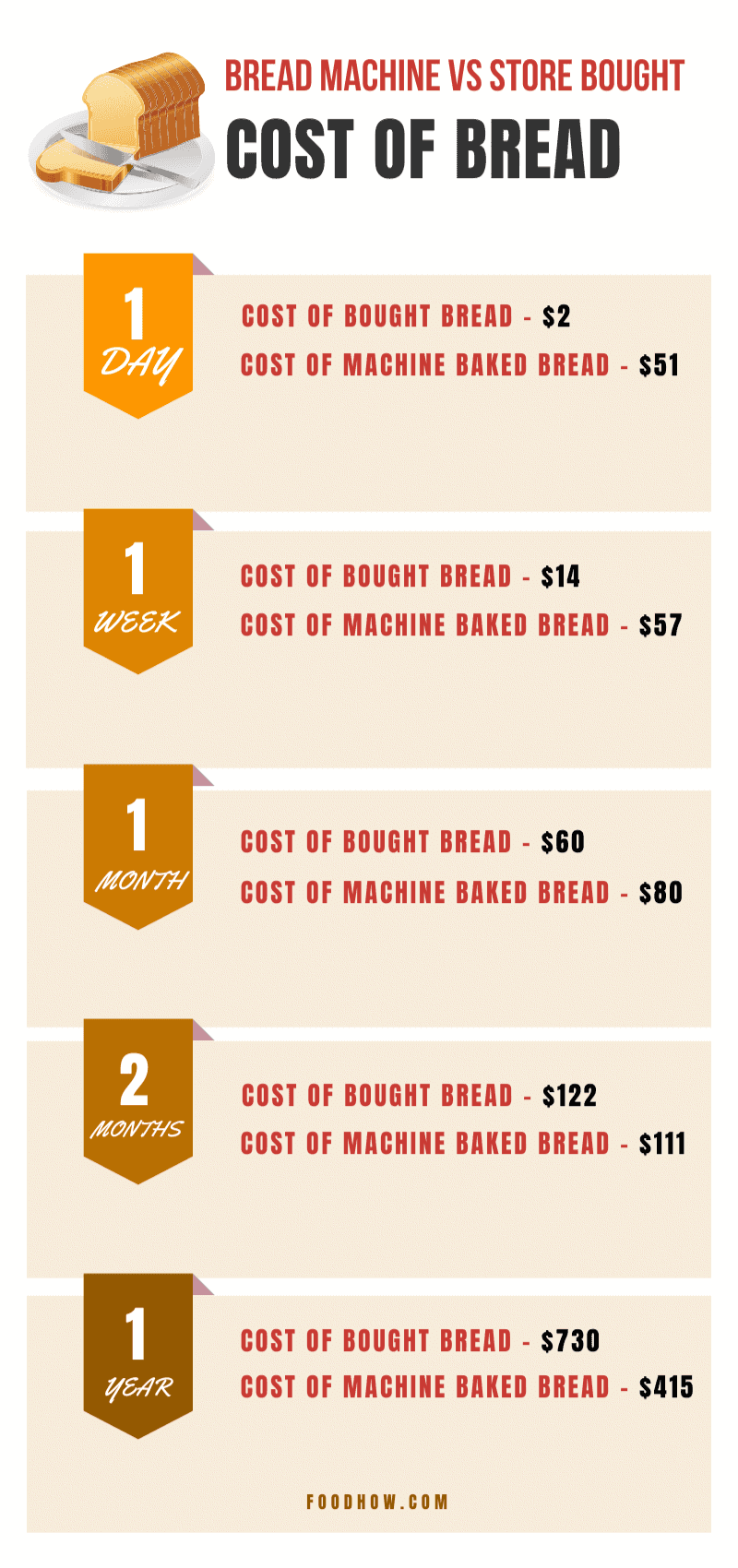 After less than 2 months, you will have got your money back on your bread-making machine – your investment will have been returned. The rest of the money you save throughout the year on your bread expense (about $315), well, it's up to you how you spend that.
Now, what if you have a larger family and consume maybe 2 or 3 loves per day?
Or, you might like fancier loves that can lead to bigger savings over the months and years that you use your machine. Now you are talking about a considerable amount of money. Do you not need that money?
There's not just the financial benefit, there is also the availability issue. This is your machine, you can make any type of dough you wish. 
You do not have to be reliant on what's left on the store shelves at the end of the day; what's left after everyone has picked through and chosen what they want; what's left after all the nice stuff has gone. 
No, you can make any type of bread you want, at the time you want. The home baking world is your oyster; use your creativity for making the bread you want.
So, why are you still here?
Shouldn't you be browsing the internet for the best deals on bread makers right now?
Still to be convinced, eh?
Top 4 Reasons To Buy A Bread Machine Today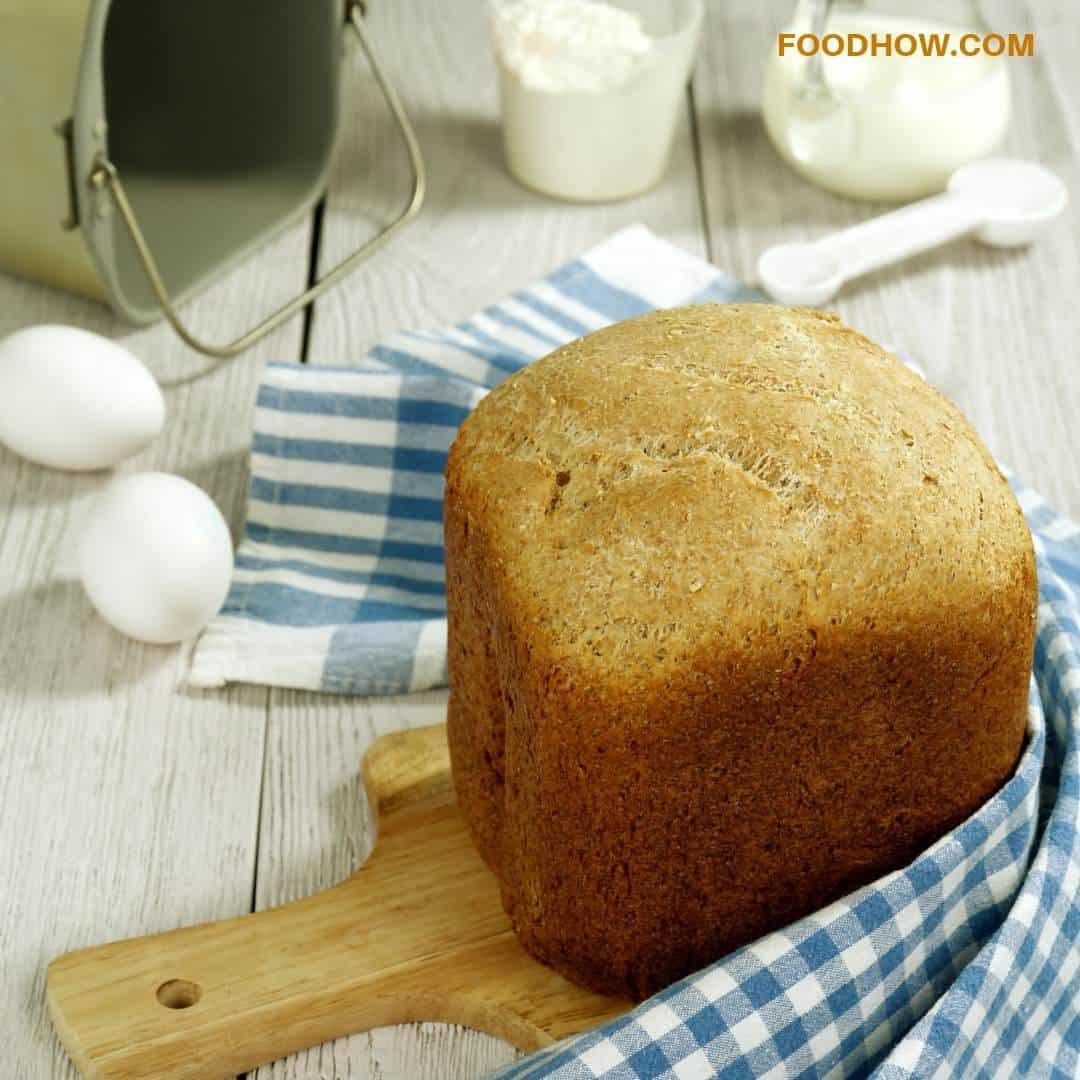 1. Make Bread Better
You will be producing every loaf yourself and putting dedication, passion, and personality into each one. You can mix flours, adapt recipes, add or replace ingredients. You can get each loaf just the way you want it to taste.
Compare this to your bought loaf, its taste made to cater to the masses. You should not have to settle for the taste someone else decided you will like. Making your own, to your own taste is much better.
2. It's Fast, Fun, And Easy
Preparing, your ingredients for baking, only takes a few minutes. Compare that to the trek to the shop to buy a loaf. Not to mention the time to get yourself dressed to face the weather on your way.
You can quickly prepare your dough and then have it timed to be 'delivered' to you at the time you want – on return home from work or as you get up in the morning. No more opening the cupboard door and announcing to the family, "We're Out of Bread Again!"
Read Also: The 7 Best Baking Blogs You Should Be Reading.
3. Homemade Loaf Is Healthier
Have you ever stopped and asked yourself, "how does this bread stay fresh and crusty for so long?". Yes, bread bought from the store really does stay fresh for a long time. You might think that this is a good thing?
Well, this is why it stays fresh for so long.
The stores want it to stay fresh for longer, so they have more time to sell it! Store-bought bread is, generally, packed with preservatives to achieve this longevity, which cannot be anything but negative for your health.
Also, the store-bought loaf is higher in salt and sugar than the loaves you can make for yourself.
4. Bread Makers Are Versatile
These appliances can do so much more than bake bread. You can prepare croissants, brioche, cakes, the list goes on. No, you don't just have a bread-making machine, you now have a miniature home bakery. 
So, there you have it; is buying a bread maker really worth the dough? You should consider the price and the other things that will ensure you get the best appliance and have many happy days baking at home.
Watch the video below for common bread machine troubleshooting and mistakes that are easy to avoid.
Read Also: This Is The Yeast You Should Be Using Instead.