Nowadays, baking is becoming increasingly popular. Whether you're an experienced baker or a beginner just starting out, it's important to have the right bakeware in order to get the best results. But with so many options available, what kind of material should you choose, and what temperatures are safe?
This article will explain the different materials used for bakeware, as well as what oven temperatures are safe for each type.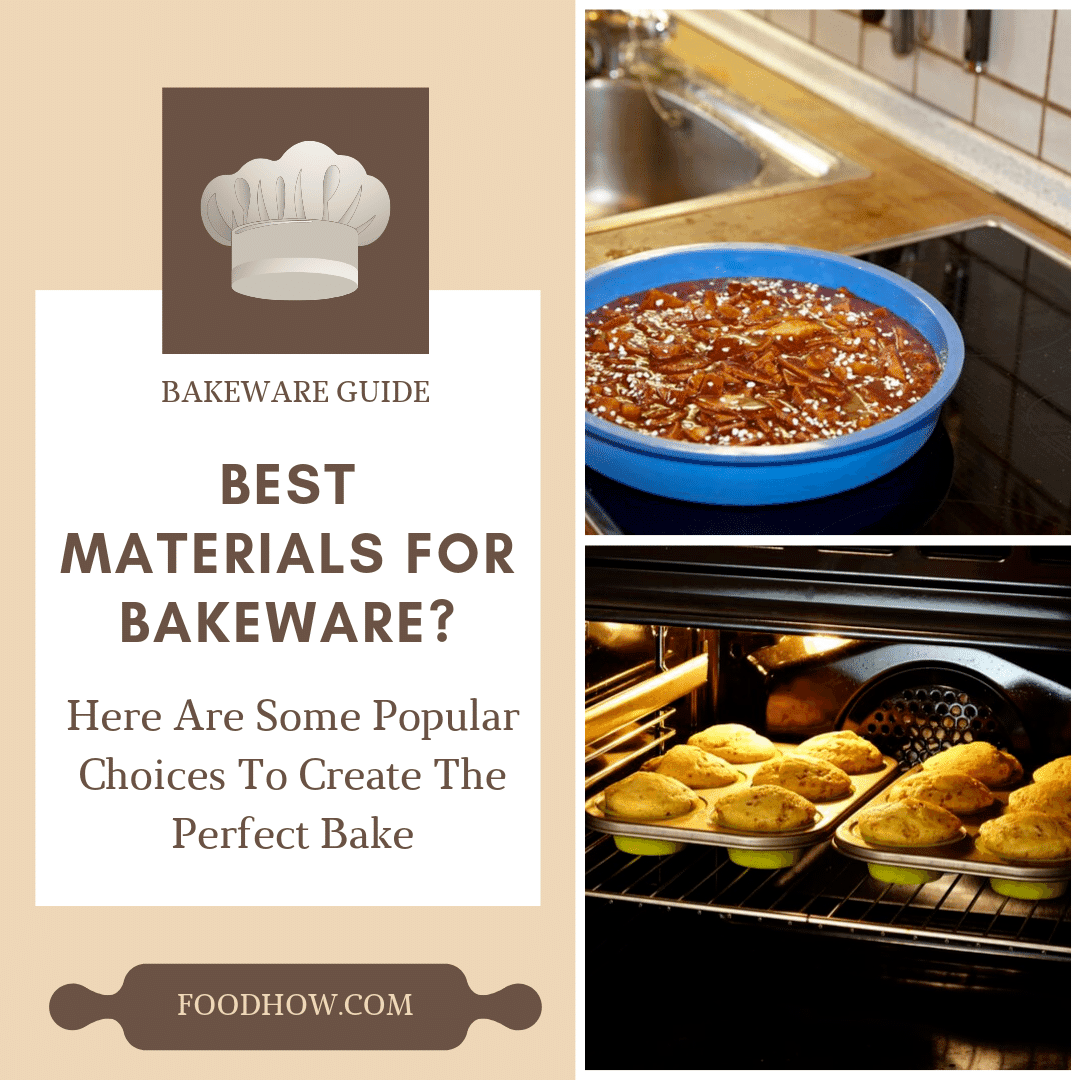 As long as your baking dish is in the right shape, it should be OK for baking, right? No!
When shopping for a new bakeware set, you'll have to decide what material is the best. Whether you are a pro or a novice baker, using baking trays, molds, and loaf pans made out of the best bakeware material is essential to your baking success.
Although baking pans are made of various different materials for different projects, there are still some that are more durable and safer than others.
So, you should look into different bakeware materials before purchasing a new set of baking pans. The right material will make for a better bake and could determine the success or failure of your recipe.
Follow The Different Rules For Each Bakeware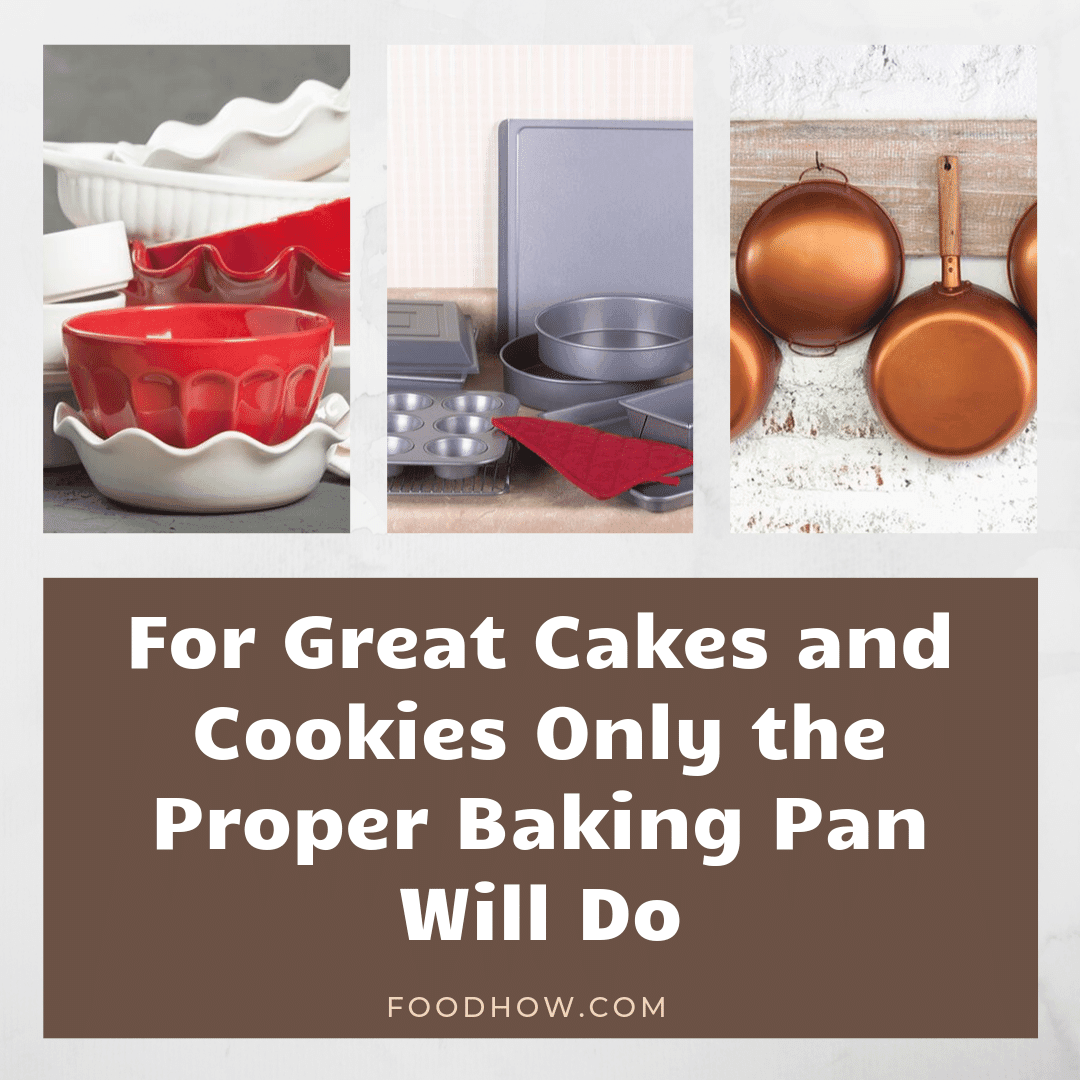 Baking is more than just following a recipe, dropping the mixture into a pan, and then throwing it into the oven.
Baking is all about science, whereas cooking is about art. Baking ingredients generally undergo some sort of chemical reaction during the baking process and even before you get near an oven.
Many novice bakers don't think about how their baking tray, pot, or pan will react with the heat of the oven and ingredients. Using a glass dish will have very different results than using a metal tin. This is because they each have their own thermal properties.
How To Choose The Right Baking Pan Or Cookie Sheet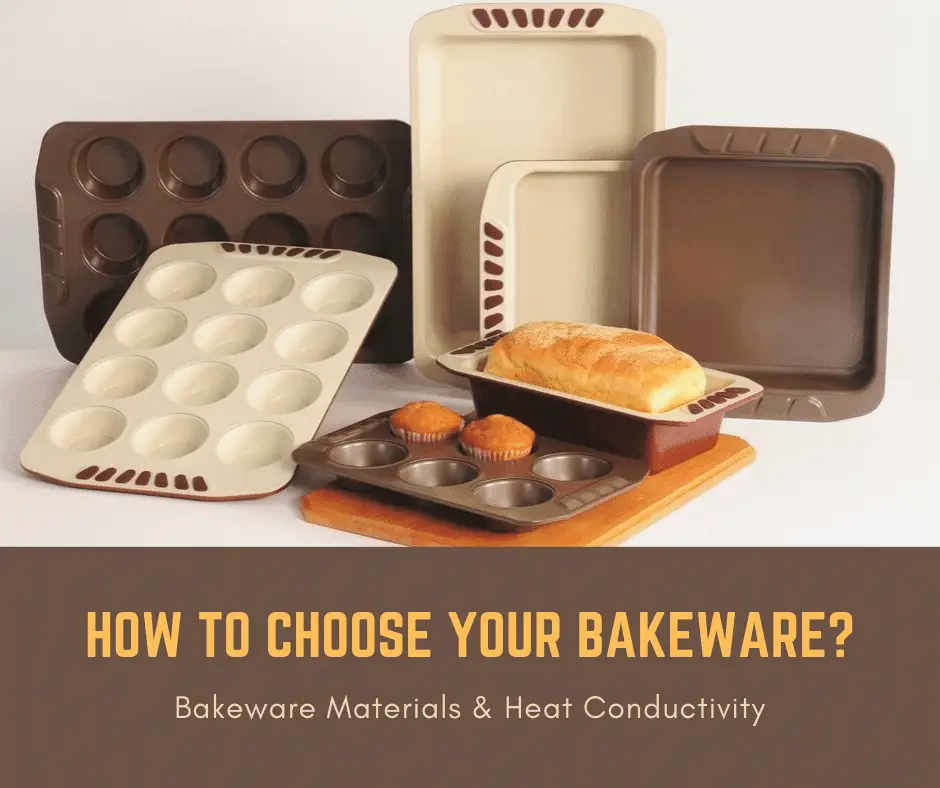 Before reaching for your baking tray or a springform pan, there are a few things that you need to consider.
Firstly, check the recipe for instructions on the type of bakeware you should use to get the best results.
If there is no mention of a particular material type, the temperature will give you an indication of what is suitable. Some materials simply won't withstand certain temperatures.
Secondly, what you are baking is also a factor in your choice of a pan, tray, or mold. Heat is held differently in various pieces of ovenware, and depending on whether you want a crisp outer or a uniform bake, you will need to select it correctly.
Knowing how each piece of your dish bakes gives you peace of mind when you put it into the oven.
So, let's have a look at some of the best bakeware materials commonly used:
Types of Bakeware Materials
Stainless Steel
Non-Stick Metal
Insulated Metal
Aluminum
Glass
Ceramics
Silicone
Stone
Copper
Cast-Iron
Carbon Steel
Aluminized Steel
Keep reading to discover the most appropriate baking pan that will lead to amazing results. Below is a guide to the best material for baking trays, sheets, pans, and molds. 
Pros and Cons, temperature guide, and popular choices.
Metal Bakeware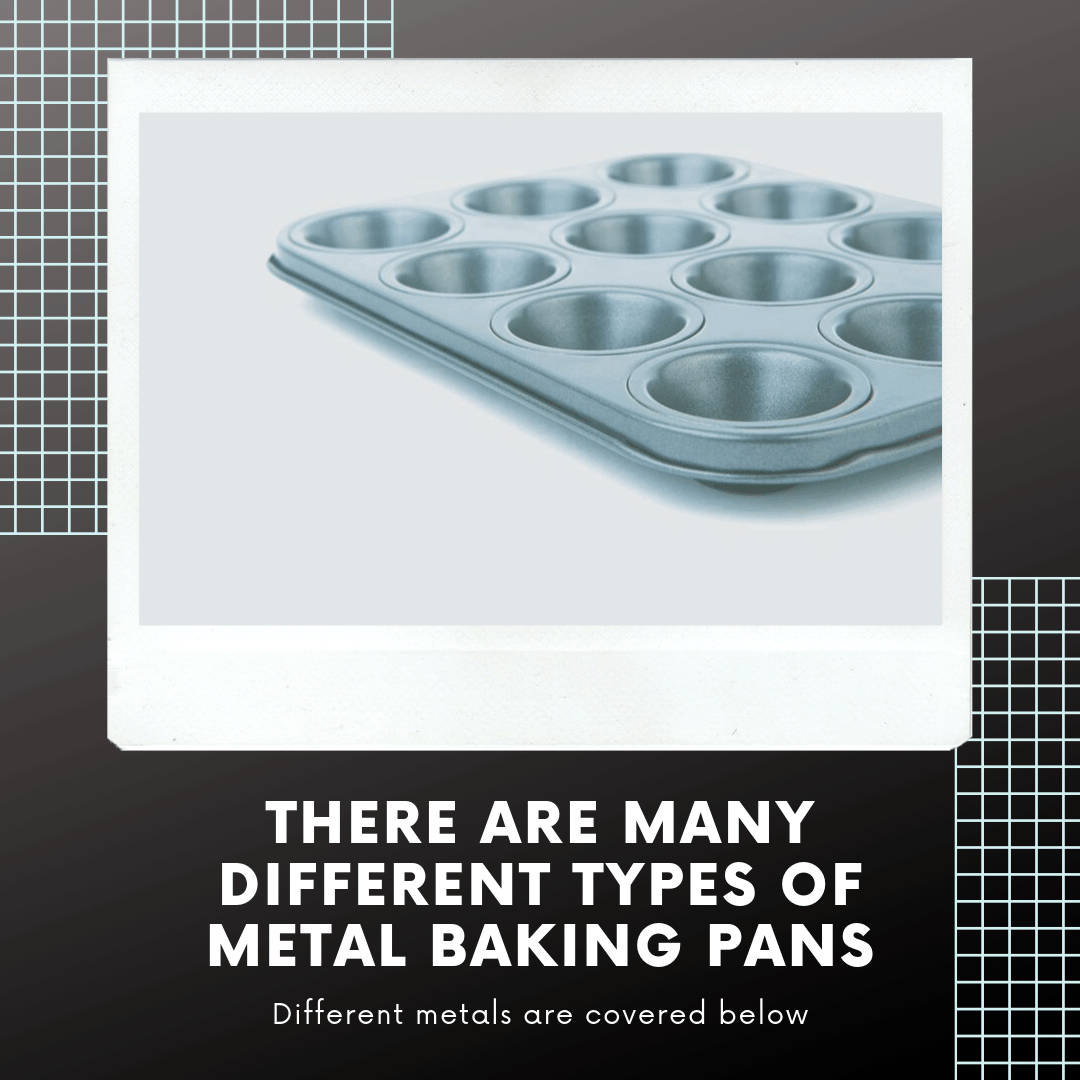 This is the choice if you're going hot. Metal is a great heat conductor, and if you need to rapidly heat up your bakeware, this is the choice for you.
Metal bakeware is fantastic for browning and crisping in a matter of minutes as it draws all the heat from the oven to the metal tray. Ideal foods baked on a metal tray are pizzas, fries, and crusts.
Your metal bakeware can be in steel, copper, aluminum, or cast iron. Metals can withstand temperatures that would shatter glass or ceramic baking pans.
If, however, you are baking something acidic, it's best to avoid metal dishes. Acidic foods are subject to a chemical reaction when baked in metal. This can leave a metallic taste and stain your pans. Stainless steel and non-stick metals are exceptions to this rule.
If you want to keep your baked food hot for a long time after baking, metal is not the best choice, as heat is transferred away quickly.
Stainless Steel Bakeware – Durable And Versatile
Recommended maximum use temperature of 700°F (371°C)
Stainless Steel Muffin Pan
TAP ON IMAGE TO VIEW PRICE
Stainless Steel Covered Cake Pan
TAP ON IMAGE TO VIEW PRICE
Stainless Steel Pros And Cons
Pros
Extremely sturdy and durable 
Rust and corrosion-resistant
The surface is smooth, scratch-proof, and non-porous
The beautiful polished and shiny silver appearance
Easy to handle
Long lifespan
Cons
Not that cheap
Poor heat conductivity
Chance of discoloration
Likely to cling to food
Conclusion:
This is an excellent all-around option, and it is also dishwasher safe. However, stainless steel is not that cheaply priced.
It takes longer to heat up compared to other metal baking pans. Very often, the heat is not evenly distributed.
Non-Stick

M

etal Bakeware – No Sticking, Easy Clean
Recommended maximum use temperature of 500°F (260°C)
Nonstick Bakeware Set – Nonstick Springform Pan Set
TAP ON IMAGE TO VIEW PRICE
Non-Stick Pros And Cons
Pros
Non-stick  
Easy to clean
No butter or oil needed
Good price
Cons
Easily scratched
It can be toxic at high temperature
Not very long lifespan
Requires special utensils
Conclusion:
This type of metal bakeware is coated with a non-stick finish. Non-stick cookware is very easy to clean and use, as the slick, non-stick coating helps to keep cakes and cookies from sticking to the pan, and it's easy to clean afterward.
Non-stick baking trays and molds are great for all types of baking. Non-stick metal is also used in many bread machines. However, you should not expose non-stick pans to very high temperatures. That could release potentially toxic chemicals into your food.
Using metal utensils with non-stick pans and baking sheets can scratch away the non-stick surface, so be careful.
Insulated Metal Bakeware – No Burning And Moister Baked Goods
Recommended maximum use temperature of 450°F (230°C)
Insulated Cookie Sheet – Insulated Cake Pan Set
TAP ON IMAGE TO VIEW PRICE
AirBake Pros And Cons
Pros
Even baking
Prevents burning
Better browning
Moister baked goods
Cons
Easily scratched
Easily deformed
Dents easily
Not watertight 
Conclusion:
Insulated AirBake sheets and pans are popular because it allows you to bake slowly, which reduces the risk of burning.
Insulated metal bakeware consists of two metal sheets with an air gap between them—ideal for intricate recipes like meringues and cookies.
Aluminum Bakeware – Light, Cheap And Efficient
Recommended maximum use temperature of 500°F (260°C)
Aluminum Round Cake Pan Set – Aluminum Sheet Pan/Bun Pan
TAP ON IMAGE TO VIEW PRICE
Aluminum Pros And Cons
Excellent thermal conductivity 
Lightweight
Very affordable
Cools quickly
Rust-free
Consistent baking results
Cons
Reactive to certain foods
Wraps in high heat
Easily scratched and dented
It could give out the metallic taste 
Conclusion:
The majority of metal bakeware is made from aluminum. Its affordable price makes it a very popular choice among bakers of all standards, but particularly if you're a beginner.
It is also lightweight and gives you an even bake. One downside is that it can stain easily on high heat or when using food with deep colors such as turmeric.
While untreated aluminum is safe to use, it shouldn't be used with acidic foods. Baking with acidic foods in an untreated aluminum tray could ruin the cake and also the dish.
Also, I would like to point out that aluminum bakeware that has been hard anodized or clad in a non-reactive material, such as non-stick coating or stainless steel (like the examples above) does not react or leach into your baked goods and is a lot more durable. 
Glass Bakeware – Non-Toxic, Non-Reactive, Easy To Clean
Recommended maximum use temperature of 500°F (260°C)
Glass is a well-utilized material for two-quart baking dishes due to its versatile nature and range of benefits. Specifically, glass is noted for its highly durable yet lightweight composition, making it an ideal material for frequent usage in the kitchen and for oven baking.
Additionally, the non-porous surface of glass makes it impervious to staining and discoloration while allowing for quick and easy cleaning with minimal effort.
Pyrex Glass Bakeware Set – Clear Glass Fluted Set
TAP ON IMAGE TO VIEW PRICE
Glass Pros And Cons
Pros
Perfect for oven baking  
Great multi-purpose dish
No chemicals to leach out 
Don't absorb food odors
Does not stain
It can last for a very long time
Cons
Fragile
Sensitive to fast temperature changes
The surface can be sticky 
Conclusion:
If you want an even bake, glass bakeware is the choice for you. Glass conducts less heat than metal, so it takes more time to heat up and cool down. This makes it good for baking at a steady temperature for the duration of the baking.
It is also useful for keeping food hotter for longer. So if you have a casserole that you want to leave on the table during dinner, it will still be piping hot when you come to eat it.
If you use glass, on some occasions, you may need to take your baking out earlier than the recipe suggests, as it can continue to bake in the glass once out of the oven.
The great versatility, safety, and functionality of glass make it the queen of kitchens. Glass pans are good for baking. Still, you can also use them for serving and storing. It is microwave safe.
One disadvantage of glass dishes is that it is prone to shatter if exposed to rapid temperature changes.
Ceramic Ovenware – Stylish And Colorful 
Recommended maximum use temperature of 500°F (260°C)
Healthy Ceramic Nonstick, Muffin Pan – Ceramic Glaze Baking Dish
TAP ON IMAGE TO VIEW PRICE
Ceramic Pros And Cons
Pros
Toxic-free  
Non-stick coating
Easy to clean
None-reactive
Multi-functional
Stylish
Cons
Not compatible with metal utensils
Prone to chipping
Quality bakeware is expensive 
Conclusion:
Metal and glass bakeware may be the most common, but ceramics are the most beautiful, with many adorned with colorful decorations. These are great as conversation pieces during a dinner party with friends or family.
Ceramic dishes are quite similar to glass in that they hold on to the heat, give you an even bake, and keep the food hot outside the oven.
Unfortunately, it shares the same disadvantage by having a risk of cracking or breaking if exposed to drastic temperature changes or dropping on the floor.
The main difference between ceramic and glass is appearance, with ceramic being the preferred option for kitchen decor.
Perfect for all types of baking, oven safe up to 450°F.
Ceramic dishes make a great gift for any baking enthusiast.
Silicone Bakeware – Easy To Turn Out Anything Baked In Them
Recommended maximum use temperature of 475°F (245°C)
Silicone Bakeware Set – Silicone Bundt Pan
TAP ON IMAGE TO VIEW PRICE
Silicon Pros And Cons
Pros
Food will bake evenly
Non-stick capability 
Easy to clean and maintain
Ease of storage
Very affordable
Cons
It could be too flexible
May need to adjust the baking times
Should NOT be used above 475 ° F
Easily punctured
Conclusion:
Silicone bakeware is not yet an everyday item in most kitchens. But, if you do come across a silicone baking mold, it's important to know how to bake with it.
Silicone bakeware is non-stick, so it is fantastic for baking sticky baked products that are difficult to remove from metal or glass dishes. It also leaves very little mess to clear off the molds and pans afterward, which is always a bonus.
A disadvantage is that it is challenging to get silicone bakeware up to the correct baking temperature.
This is because silicone is a very poor heat conductor, so it takes a long time to heat up, and this can affect the appearance of your baked goods. So, there are no brown crusts or crispy edges; silicon is not up to the job in this respect.
For a bit of light baking, though, it's great. We're talking about light cakes, muffins, bread, and that sort of thing. Silicone bakeware can eliminate all the stickiness associated with these baked goods.
Stone Ovenware – Bake Everything From Crusty Bread To Crispy Pizzas
Recommended maximum use temperature of 450°F (230°C)
Stone Covered Baker – Stone Pie Baker And Deep Dish Pizza Pan
TAP ON IMAGE TO VIEW PRICE
Stone Pros And Cons
Pros
Natural material
Maintains even temperature
Incredibly durable
Easy cleaning
Long-lasting 
Cons
Quite heavy
Very expensive
It may crack at very high temperature
Conclusion:
Stone is among the best all-natural bakeware you will find. The heavy-duty clay that is used to make the stoneware is fired at temperatures that far exceed that of ceramics. 
Stoneware is incredibly durable. It will continue to bake even when it has been taken out of the oven, so adjust your recipes accordingly. Stoneware, as you would expect, is heavy and will break if dropped.
Copper Bakeware – Unique And Versatile
Recommended maximum use temperature of 400°F (200°C)
Copper Bakeware Set – Perfect Copper Cake Pan
TAP ON IMAGE TO VIEW PRICE
Copper Pros And Cons
Pros
Excellent control over temperature  
No hotspots
Looks impressive
Not too heavy
Rust resistant
Cons
Prone to corrosion and tarnish
Need extra attention
Expensive
Not recommended for very high heat
Conclusion:
As a species, humans have been using copper for some time now, about 9,000 years, to be more precise. For much of that time, this cherished metal has been utilized for cookware.
Copper is a great heat conductor, making it an ideal material for pots and pans. Compared to iron, copper conducts heat 5 times more; compared with stainless steel, it is twenty times a better heat conductor.
Copper can spread the heat more evenly than other cookware materials, which can reduce the risk of scorching as the regulation of the temperature is easier.
This makes cooking with copper pots and pans more energy efficient. Copper is also durable and hygienic, and it has a high level of resistance to corrosion.
Many baking enthusiasts prefer using copper cookware because of its heat conduction qualities. Hot spots are all but eliminated with copper, and it is easy to achieve very precise temperatures.
These enthusiasts also like copper because it is relatively lightweight, and they can lift copper cookware easily with one hand.
Let's face it; copper cookware is also very pleasant looking. If you have ever seen a kitchen full of shiny copper pots and pans, you will be unable to deny just how beautiful they look.
Copper pots and pans are easy to clean and maintain in this visually appealing state. Their smooth surfaces make it easy to remove small pieces of food from the surface of copper pots and pans, leaving them pristine and shiny.
Copper cookware is lined with other metal materials to make it safe from the copper reacting with other elements. This also makes for precise cooking times and even cooks or bakes.
Cast Iron Bakeware – Passed Down From One Generation To The Next
Recommended maximum use temperature of 600°F (315°C)
Cast Iron Cornbread Wedge Pan – Seasoned Cast Iron Fluted Cake Pan
TAP ON IMAGE TO VIEW PRICE
Iron Pros And Cons
Pros
Very long-lasting  
Great thermal density
Naturally, add iron to your food
Strong and durable
Extremely versatile
Affordable
Cons
Handles get hot
Very heavy
Takes longer to heat up
Requires seasoning
Conclusion:
It is the weight and sturdiness of cast iron that allows it to perform so well as cookware. Cast iron is slow to heat up because it is a poor heat conductor. However, once heated, it will retain the heat for longer, making it an ideal cookware choice for certain recipes.
Cast iron cookware is thick and heavy. It can distribute heat evenly and can produce well-browned and textured crusts. If you are making cornbread, then a cast iron skillet is perfect, particularly if you want to serve it straight from the pan.
One of the best aspects of cast iron cookware is its durability; its iron, so, is virtually impossible to damage. Cast iron can rust if you don't dry it properly, but that is simple to remedy. Just scrub the whole pot with soap and water using some wire wool.
Once all the rust is removed, rinse the pan and wipe it down with some paper towels to get rid of the moisture. Then place the pan over a low flame until bone dry. Before you store it away, rub some oil into it.
Aluminized Steel Bakeware – Produce Professional Grade Baked Goods
Recommended maximum use temperature of 550°F (288°C)
Aluminized Steel Bakeware Set – Aluminized Steel Perforated Italian Bread Pan
TAP ON IMAGE TO VIEW PRICE
Aluminized Steel Pros And Cons
Pros
High-temperature resistance
Long-lasting
Steel's strength
Aluminum's advantageous surface qualities
High thermal conductivity
Cons
 Low on aesthetics
Easily scratched
Quite heavy
Could wrap on high temperature
Expensive
Conclusion:
The Cookware Manufacturers Association describes aluminized steel cookware as having been hot dipped with an alloy of aluminum and silicon. The silicon provides the cookware with protection from corrosion, avoiding the problems of rust as with cast iron.
The aluminum element provides protection from any reaction to oxygen that would cause rust. Aluminum is also non-reactive to food. This makes it favored for many baking procedures where different chemical reactions occur at different temperatures.
Aluminized steel is commonly used for baking sheets; you may refer to them as jelly roll pans. It is also used for bread pans, cake trays, pie trays, and muffin pans.
They are all made solidly, and most of the time, aluminized steel cookware will have rolled edges that cover internal supporting wires. These wires give the pans additional support that can prevent your pans from warping at very high temperatures.
Aluminized steel cookware has a thick and sturdy look about it, giving it an appearance of quality and high performance. However, you do pay for this quality as it is a little more expensive than some other cookware.
You will find that this little extra expense is trivial compared to the years of performance you get out of your pans.
Carbon Steel Bakeware – For All Types Of Baking
Recommended maximum use temperature of 450°F (245°C)
Carbon Steel Bakeware Set – Essential Carbon Steel Pans
TAP ON IMAGE TO VIEW PRICE
Carbon Steel Pros And Cons
Pros
Naturally non-stick 
Scratch-resistant
Inexpensive
Durable and long-lasting
Lightweight
Cons
Discolors upon contact with acidic
Prone to rust
Easily bent
May requires seasoning
Conclusion:
Carbon steel pots and pans have much in common with cast iron cookware. However, they also have their own unique characteristics, advantages, and disadvantages.
What is carbon steel? Carbon steel is an iron alloy with a carbon content of under 2%. Carbon steel was developed alongside stainless steel and aluminum over 100 years ago. It is less brittle than cast iron and can be forged into different shapes.
It is also a better heat conductor than cast iron, making it heat up and cool down quicker. Carbon steel cookware is incredibly safe. Because it only consists of two elements, carbon and iron, so there are no harmful coats or glazes applied to the cookware.
Melamine –

Should NOT Be H

eated!
Melamine is commonly used for food consumption; in measuring cups, plates, mixing bowls, and utensils.
However, it should never be used for bakeware. Putting melamine into an oven at the temperature required for most bakes could be serious consequences.
According to the FDA, the melamine chemical, which is typically used in industrial products, is not healthy if ingested. 
When heat is introduced to melamine, the damaging chemicals get released and can get into the baked food.
For this reason, melamine products should be kept far away from your oven and microwave oven to avoid inadvertently misusing them.
So, it's time to get baking!
Now that you know which is the correct type of ovenware to be using for your favorite dishes, you will be able to prepare an array of baked marvels. In essence, selecting the right bakeware is a simple choice based on the recipe, temperature, budget, and how you want it to taste.
Happy baking!
Always check the manufacturer's instructions for the usage, storage, cleaning, and temperature recommendations.