Finding information, facts, and statistics about the food we eat and consumer behaviors is never easy.
You may be a retailer looking to understand the current trends in food buying, or maybe you run a fast-food outlet or a restaurant and are interested in how the market is faring during the crisis or perhaps looking for insight into the future of how, what, where, and when we eat. 
Whatever your needs, the data is out there for you… if you know where to look.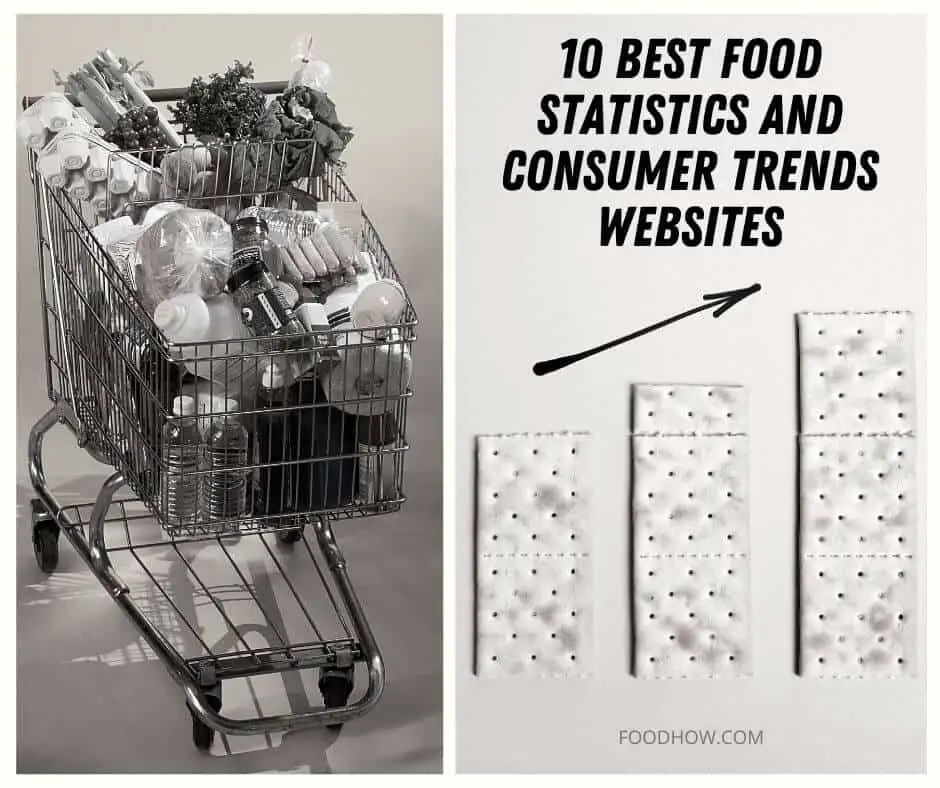 There are hundreds of useful websites across the Internet with a vast array of food statistics, information, and market research reports but finding them can be difficult.
To help you out I have compiled this handy little list of some of the most useful and interesting sources I've found along with a brief overview of what they provide.
The websites you'll find below offer accurate and up-to-date information on all the food service and processing industry market segments.
These sources provide nutritional guidelines, new trends, food statistics, and data from packaging to processing, fast food to frozen so that you can understand the food industry growth and opportunities better.
Let's get started.
Read Also: 21 Panic-Buying Foods To Sell Out First (According To The Statistics And Shoppers)
Get Up To Speed With What's Going On In This Fast-Moving Industry
1. U.S. Department of Agriculture (USDA) 
The U.S. Department of Agriculture is the government agency in charge of providing guidance, help, and leadership in terms of nutrition, natural resources, agriculture, and rural development. 
On their website, you will find a nutrient database and food and drink information charts that break down over 5,000 different types of food into their nutritional values. This includes detailing things like fat content and the amount of energy they provide.
On top of this, you will also find a wide array of different reports and statistics related to farming produce and agriculture that are not only informative but can be incredibly useful for both farmers and consumers alike.
Don't let the fact that this website is run by the government put you off, check it out today.
2. NPD Group
The NPD Group is a private company who sell their data analytical services to those who need up to statistics and data about food and consumer-related trends across the world.
While this may not sound like the best place to get free statistics about food, the NPD website also houses a blog that holds a huge amount of information and articles about current and past trends in our eating (as well as other consumer) habits. 
NPD conducts over 12 million consumer surveys every year making them one of the most accurate sources of food statistics and key trends available.
3. Food and Agriculture Organization of the UN (FAO) 
The Food and Agriculture Organization of the UN (FAO) is a specialized agency of the United Nations created to help prevent poverty and food shortages in undeveloped parts of the world.
This may not seem like the obvious place to get up-to-date food statistics, but part of their website is dedicated to food and agriculture data from across the world.
The FAOSTAT section of their site contains a wide array of data on things like agriculture, food and drink production, food consumption, as well as the price of groceries across the globe.
It also allows you to rank various food production commodities in each part of the world to see which country produces the most of each item. This may be useful if you are looking to find out which parts of the world provide the most of a specific food type.
4. Food and Drink Federation (UK)
If you live in the UK, then one of the best websites for food statistics is the Food and Drink Federation.
Within their website, you will find an entire section for data and statistics covering many topics, such as diet and nutrition, regional statistics showing trends in food consumption and spending on groceries, data on food exports, as well as environmental issues regarding food consumption.
The FDF is a trade organization representing the food and drink industry and as such has vital insights into the UK food and drink market.
Fun fact from the website: In 2018, total sales of manufactured foodstuffs and drinks exceeded £74bn in the UK.
5. Statista 
Statista is one of the world's leading providers of market and consumer data and currently has over 15 million visitors each and every month.
The Statista website includes data for thousands of different topics covering a range of topics. You can find information on supermarkets, food waste, frozen, organic, and fast-food consumption and sales, as well as details about takeaway and food delivery. Reports and data are available from across the world (including the U.S.) and many are free to access.
Be aware though that to get full access to all the data held within Statista's database, you will need to pay for a pro account which currently costs $39 for a non-business user and a whopping $8,400 for a corporate user.
6. U.S. Bureau of Economic Analysis (BEA)
If you are looking for consumer statistics in the U.S., then the Bureau of Economic Analysis is a good place to start. 
On their website, you will find a vast array of data and analysis on all things economic including consumer spending in grocery shopping. 
The BEA website can be a little basic and the data provided a little dense, but the wealth of economic information cannot be beaten… if that's what you are looking for.
7. The Food Industry Association
The Food Industry Association works on behalf of and with the whole food industry to advance a more efficient, safer, and healthier consumer food supply chain. They bring together retailers, consumers, and producers to ensure that food is readily available for all.
As such, The Food Industry Association is well placed to understand the trends within the food industry and their website is a great source for data regarding supermarkets, distribution, and trends in consumer buying habits and behavior.
Here you will find reports detailing topics like U.S. grocery shopping trends, statistics on supermarket sales, as well as an 'Ask the Librarian' feature to gain access to a wide range of other information that isn't readily available on their website.
Fun fact from the website: Total Supermarket Sales for 2018 were $701.188 Billion in the U.S.
8. Finances Online
Okay, while Finances Online isn't a website dedicated to food data or statistics (it's actually a website aimed at helping you find the best B2B & SaaS solutions), it makes our list due to its constantly updated food industry statistics page (found here) which provides a plethora of useful information from the U.S.
On this page, you will find general restaurant statistics, food retail data, as well as fast-food trends, what are consumers looking for, and market information.
Each area within the page breaks down the data into a number of facts. The page is currently up to date with 2021 statistics and it is generally updated every year.
Fun fact from the website: The fast-food industry revenue in the US alone makes about $110 billion annually.
9. ReportLinker
ReportLinker is another heavy-duty statistics and data website that provides analytical services to business users across the world. 
While the reports on this website are not free and require a paid account, the wide array of data they provide may be just what you need.
Here you will find statistics for both the U.S. and other countries with details for things like, consumer trends, grocery shopping, as well as providing general food industry data.
This is another website suited to those who looking for key trends and Invaluable insights.
10. FactRetriever
Again, FactRetriever isn't a website designed for food statistics as such, but they do keep an up-to-date section for a wide arrange of interesting and fun facts about food (found here). 
In that area of the website, you will find statistics and facts about fast-food consumption, organic foods, facts about soda, as well as facts about a vegetarian and plant-based diet. In fact, this website has so many facts and articles it is easy to get lost just bouncing from one part of the website to another and learning a wide array of different information as you go.
Fun fact from the website: Over 1 billion pizzas are delivered in the United States every year. More pizzas are delivered on Super Bowl Sunday than on any other day of the year.
Here are more interesting food facts and statistics gathered from these websites.
9 Surprising Statistics About Global Food Consumption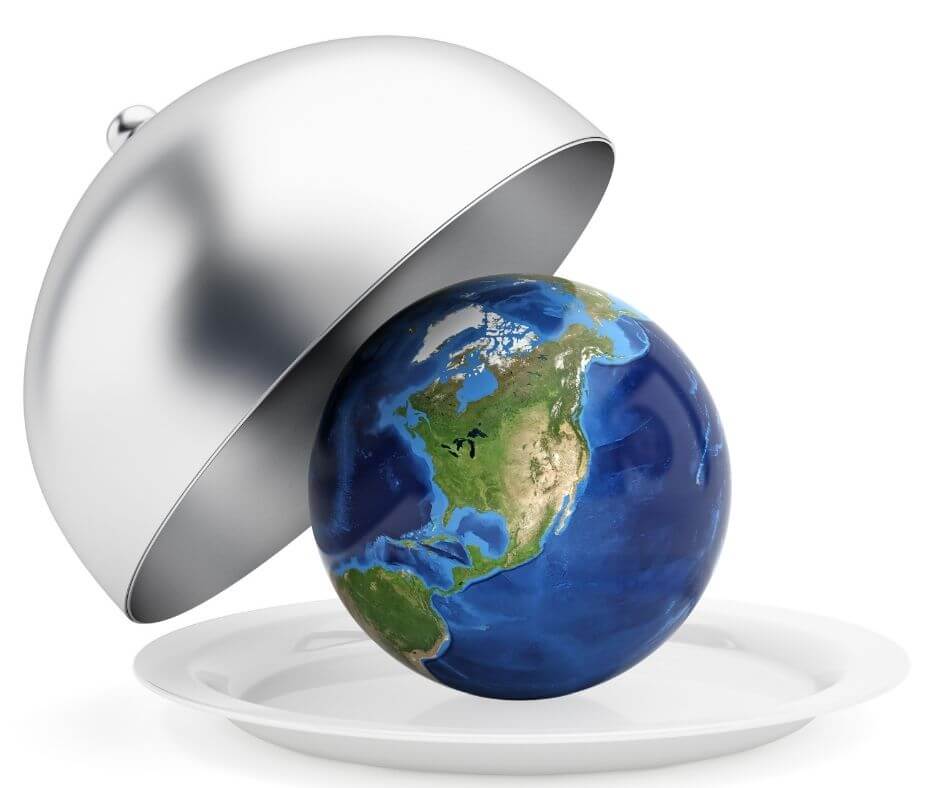 1. Hamburgers Are One Of The Worst Foods For The Environment
It's commonly recognized that a meat-heavy diet is bad for the environment. Research by Cornell found that more than half a grain produced in the US is fed to livestock, enough to feed 800 million people, and cattle have to eat 54 times more calories than they produce for us to eat.
It's not just grain, it's estimated that it takes a huge 660 gallons of water to produce just one burger.
2. The Average American Has An Unhealthy Diet
According to the Centre for Nutrition Policy and Promotion, part of the Department of Agriculture, the average American scores just 59 out of 100 on their healthy eating index where 100 is an ideal diet.
Most worrying, it is children aged 6-11 who have the worst diets. The only component most Americans eat enough is protein, while the worst is fruit. [1]
3. 75% of the world's food comes from just 12 plants and 5 animal species
Despite the growing diversity of taste and cuisine, the human palate obviously craves a remarkably narrow range of flavors. Three-quarters of the world's food comes from a dozen plants and just five different animals, with the rest of the planet's biodiversity providing the remaining quarter.
4. The US wastes 141 trillion calories of food each year
The Department for Agriculture found that, on average, 1,249 calories per person are wasted every day. In other words, enough to feed more than half the population again. This is not just down to individual waste but includes food that is lost or spoiled before it gets into our cupboards and fridges and adds up to a staggering $161 billion worth of food each year.
There is some evidence that this has changed though, the latest pandemic appears to have changed behavior. Research in the UK found that although the rate of food waste had been increasing before the pandemic this trend was quickly reversed and food waste among four key items had reduced by 34% during lockdowns. [2], [3]
5. The pandemic has changed our habits, especially for comfort food
European researchers looking into changing patterns of food consumption during the pandemic found that consumption of canned soup doubled and it's status as comfort food for when people are ill or feeling low might well have played a part in the increase.
Other comfort food has seen consumption increase during the pandemic, 1 in 5 Australians have reported eating more comfort foods, like cookies, chips, and candy, during the pandemic and there has been a huge increase in online searches for recipes and a corresponding increase in the purchase of baking equipment and baking ingredients. [4]
6. The average American eats nearly 95 pounds of fresh fruit a year
Although it's still not enough to meet guideline recommendations, in 2018 the average American ate 94.9 pounds of fresh fruit. Nearly half of this, 45.2 pounds, was made up of bananas and apples. Perhaps surprisingly, given the all-American image of the apple and apple pie, the banana was almost twice as popular as the apple.
However, in terms of growth, the apple is hard to beat, although only one apple — the crabapple — is native to North America, there are now over 2,500 varieties of apple grown in the United States with 100 of these being grown commercially in 36 states to make the US one of the world's largest producers of apples along with China, Turkey, Poland, and Italy. [5]
7. Norway is the world's largest consumer of pizza
While pizza has become a truly global food and many areas have their own takes on it, Norway is the world leader when it comes to eating it.
The Nordic nation eats more per head than any other country in the world. In fact, the Norwegians love their frozen pizza so much that one brand, Grandiosa, is close to a national dish for the country and makes up about half of 47 million frozen pizzas eaten in Norway each year.
While it might be a surprise given that pizza is traditionally Italian cuisine it is in keeping with the pizza's long history as a global food: the earliest references to food like pizza come not from Italy but from Greece and ancient Iran.
8. Honey has a 'best before' date of forever
While some foods can be dried or preserved to give them a shelf-life of hundreds of years, honey is unique because it can be stored almost indefinitely in its edible form. This is because natural honey creates a hostile environment for the bacteria and microbes that cause other food to spoil. Honey naturally contains very little water.
It is naturally acidic, with a pH between 3 and 4.5 that will kill most bacteria or microbes.
Finally, and perhaps making the sweet substance a little less appetizing, when the bee regurgitates nectar to make honey and enzyme from its stomach breaks down to create hydrogen peroxide, a natural antiseptic. Combined these mean that stored properly honey can potentially last forever.
9. Our love of beef has made cattle the planet's most successful animal
Being bred for slaughter might not be everyone's definition of success, but on some measures, at least, cattle are the most successful land animal on the planet.
When measured as biomass, essentially an estimate of the weight of all the animals on the planet, cattle weigh a total of 520 million tons. No other animal comes close, with even humans only a total of 287 million tons. 
What's more, we have given huge amounts of land over to cattle. Of the estimated 104 million km2 of habitable land on the planet, only 1.5 million km2 of that is built up, including habitation and infrastructure. But a massive 40 million km2 is dedicated to meat and dairy production.
We might think we are at the top of the food chain, but we've given most of our land to cattle to get there! [6], [7]
Read Also: 9 Tasty And Impactful Food Inventions That Are Here To Stay – Check These Out Now!
And finally…
As you can see, there are many different food data and statistical sources on the Internet offering a wide variety of data types for several different purposes.
I hope you found this list of resources in this article helpful for exploiting future opportunities, take advantage of trends, providing a roadmap, and reinforcing strategies. 
For more news, posts, and information about the food, diet, and nutrition, check out the rest of our website.
Read Also: Understanding Food Recalls (The Food Recall Process Explained)