It seems like there are endless varieties of hot pockets available, from breakfast applewood bacon, egg, and cheese or crispy crust pepperoni pizza to big and bold steak nacho. Despite this vast selection, there are only three official recommended cooking methods: microwave, oven, and air fryer. 
In this article, I will cover how to cook frozen hot pockets in an air fryer, which is probably one of the most effective methods of cooking this naughty but delicious turnover with hot, gooey, melted cheese inside and golden crispy crust. 
How To Cook Frozen Hot Pockets In An Air Fryer?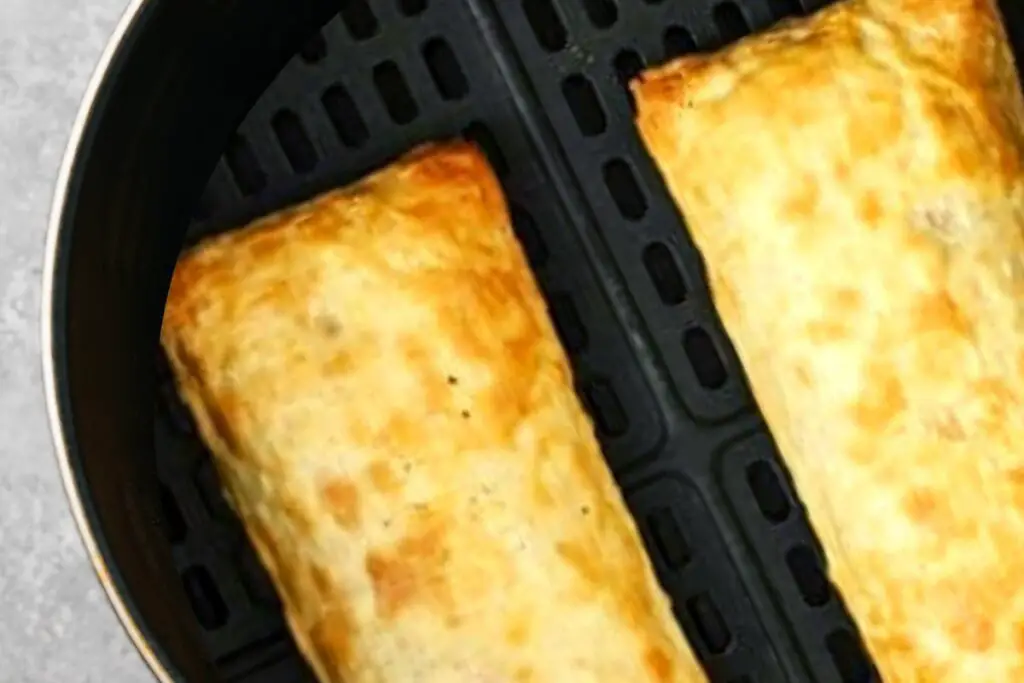 Air fryers are very versatile and can be used to cook a wide range of frozen foods, including hot pockets. The following method will help you make air fryer hot pockets within 15 minutes.
Instructions
Preheat your air fryer for a few minutes to 360°F (182°C).
Once your air fryer is preheated, open its basket and coat the basket slightly with a cooking spray to prevent sticking. You can also use parchment paper or aluminum foil at the bottom of the air fryer basket.
Remove your hot pockets from the freezer and place them in the air fryer basket. Make sure that you place them in a single layer with some space between them. Don't use the crisping sleeve; that is meant for microwave.
Air fry hot pockets for about 15 minutes or until they have a golden-brown crust.
Open the air fryer basket and remove the fried pastries.
If you have a food thermometer, insert it in the middle of the hot pocket, the temperature should read 165°F (73.8°C), which means it is fully cooked. Or you can just break it in half to see if the filling is hot.
If not thoroughly cooked, place it back in an air fryer for another few minutes.
Once fully cooked, let it rest for a few minutes so that you won't burn yourself.
Use your favorite sauce to enjoy the air-fried hot pockets with a crispy crust.
Note: If you are cooking the Big And Bold ones, which are about 50 percent larger than regular or breakfast pockets, use the same temperature, 165°F (73.8°C), but air-fry them for about 3-5 minutes longer.
More Tips For Cooking Frozen Hot Pockets In An Air Fryer
Air frying hot pockets is a great way to achieve the best results. The following tips will help you air-fry your hot pockets to perfection:
You should cook hot pockets from frozen; there is no need to thaw them first.
For even browning and crispness on both sides, flip the turnovers after about 10 minutes of cooking
Every air fryer is different, so the cooking time can vary slightly, so make sure you check the doneness before serving.
Always place hot pockets in the air fryer basket in a single layer. Never place them on top of one another, or they won't cook evenly.
If you're looking for an extra crispy crust on your pizza pockets, give them a light brush of oil or clarified butter. This will help the pockets get nice and crispy in the air fryer. Just be sure not to use too much oil, or your pockets will be greasy.
Read Also: How To Make Crusty Air Fryer Bread (Only 4 Ingredients).
FAQs
What's The Best Way To Cook Hot Pockets?
Following the Hot Pocket cooking instructions, using a microwave seems to be a top choice. However, air fryers are great because they can cook food quickly and evenly, faster than conventional ovens and crispier than microwaves. Also, air fryers are very easy to use and clean, making them an excellent option for cooking hot pockets.
I Forgot To Put Hot Pockets In The Freezer; Now What?
If you forget to put Hot Pockets in the freezer and let them on the kitchen counter overnight, you should not eat them and throw them away. If you put them in the fridge instead of the freezer, do not re-freeze them but cook them straight away and store them in the refrigerator for up to 3 days.
How To Store Cooked Hot Pockets?
It is best to store cooked Hot Pockets in the refrigerator. Place them on a plate or in a container with a lid and store them in the refrigerator for up to three days. When reheating, use an air fryer or microwave and heat until it is hot throughout before eating.
What To Serve Hot Pockets With?
There are a few different ways that you could serve Hot Pockets. You could serve them with a side of vegetables, a side of potato salad, or potato chips. You could serve them with ranch dressing or BBQ sauce. Whatever you choose to serve them with, Hot Pockets are sure to be a hit!
Read Also: How To Cook Hot Pockets In A Toaster Oven?
Final Words
Although cooking frozen hot pockets in the oven or microwave is recommended by the manufacturer, in my experience, you get the best and most crispy result using an air firey.
Also, an air fryer is a great kitchen appliance to have because it is so easy to use. You can cook a wide variety of fresh and frozen foods in it, which is considerably faster than in an oven.