Homemade smoothies are refreshing and nutritious drinks that can be made with a variety of fresh or frozen fruits and vegetables and without any unhealthy preservatives.
For that reason, many people find that their smoothies only last for a few hours before they start to turn brown or lose their flavor.
So, if you want to make your smoothies ahead of time to speed up your prep time in the morning, here are a few simple tips you can follow to store smoothies for the week or keep your leftover smoothies from going brown and discolored.
4 Ways To Store Smoothies For A Week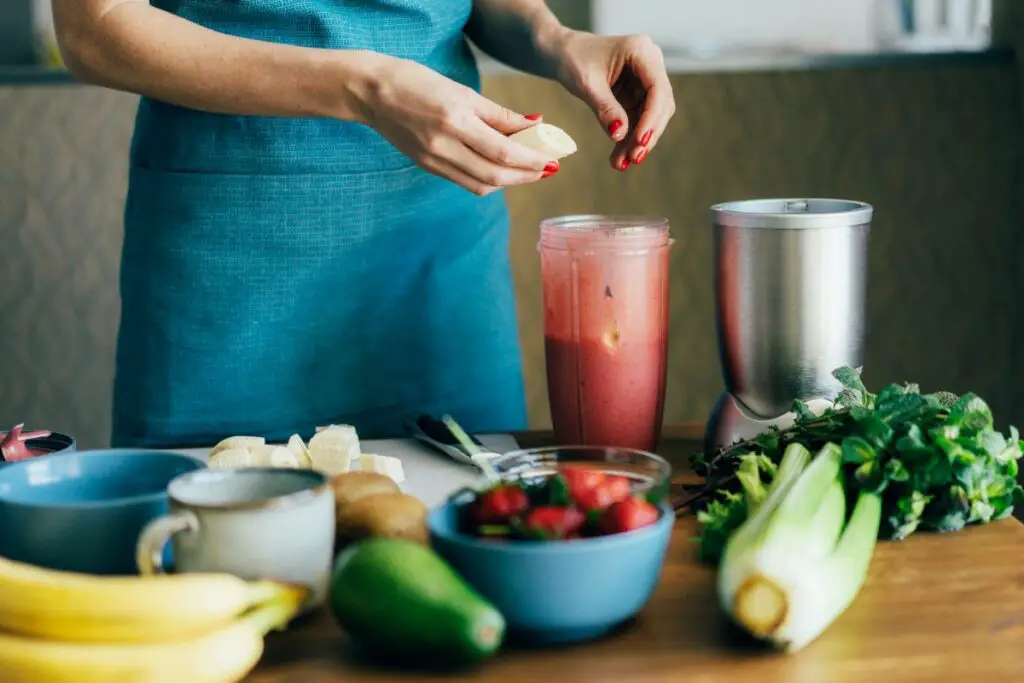 Most store-bought smoothies are pasteurized (heated) and full of preservatives, which is why they can last for weeks, sometimes even without refrigerating.
So, if you don't want to pasteurize your smoothies, use strong preservatives, or use loads of sugar, then your options for keeping smoothies fresh are somewhat limited.
1. Use Ice Cube Trays
Freezing your smoothie in the ice cube tray is probably the easiest way to meal prep your smoothie for the week ahead. The only complicated part is figuring out the number of ingredients you need to make enough servings for the whole week.
Once you have your recipe and you have multiplied it by the number of serving to be sufficient for the whole week, it is time to start blending.
Now, unless you have a massive commercial-size blender, you probably need to blend it in several batches. But you don't want to leave the first batch sitting there deteriorating, open for oxidation, so it is crucial to prepare the ice cube trays beforehand so that you can freeze them immediately once they are filled.
Also, keep in mind that this one ice cube tray you currently have in your freezer won't be enough, so for weeks worth of smoothies, you will need to get at least nine trays.
And not just any ice cube tray, but you want silicon ones like the ones below so you can easily remove the frozen smoothie cubes.
TAP ON IMAGE TO VIEW PRICE
When blending the smoothie for freezing, do not add any ice cubes and just a minimal amount of liquid. Ideally, you want it to be quite concentrated.
Once you have blended your first batch, pour it into the tray and put it in the freezer straight away, and then continue blending the rest of the batches.
When all the trays are full and in the freezer, leave them there for 3-4 hours till the content is frozen, then place the trays in the freezer-safe storage box or freezer bags to prevent freezer burn and keep the cubes fresh longer.
Another option is to take the cubes out of the trays and portion-size them in small freezer bags or dump them in the freezer-safe container so you can quickly and easily scoop them out when making a smoothie.
TAP ON IMAGE TO VIEW PRICE
You can store these frozen smoothie cubes in the freezer for up to 3 months, which makes them super convenient for busy mornings or afternoons. Plus, they'll stay fresh and taste just as good as the day you made them.
Read Also: 8 Broccoli Smoothies For Weight Loss That Actually Work!
How To Make Smoothies With Frozen Cubes?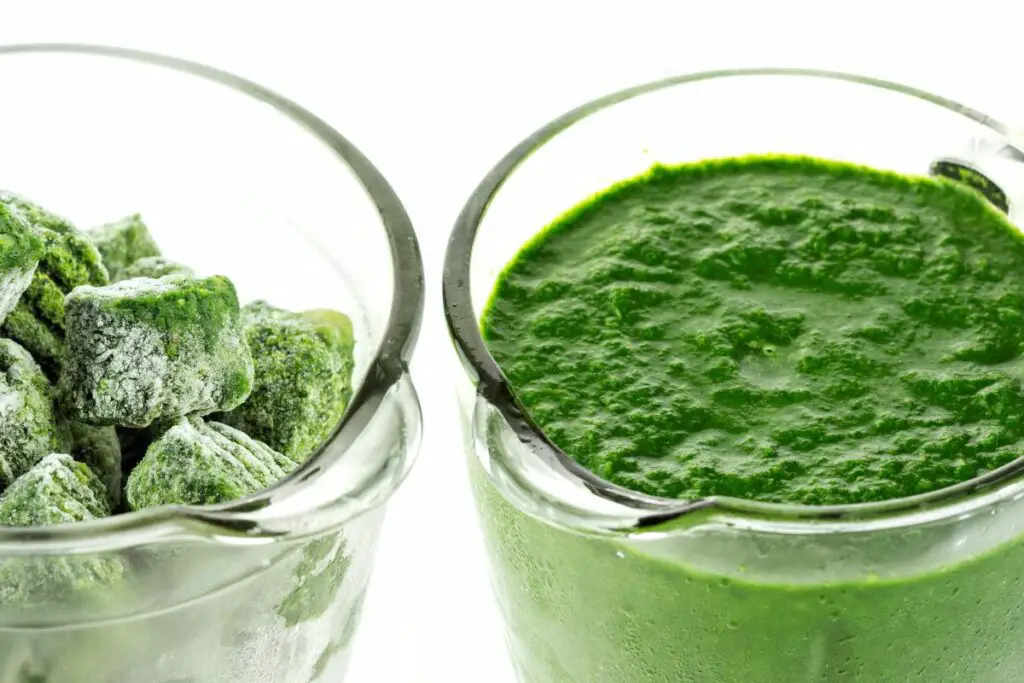 You will need quite a powerful blender or a Nutribullet to make a smoothie with the frozen smoothie cubes. Anything that is 1000 watts and up can handle frozen cubes with ease.
Add the frozen cubes to the blender and add some water, juice, or yogurt just to get a nice consistency that you like. Blend until smooth, and enjoy!
2. Use Mason Jars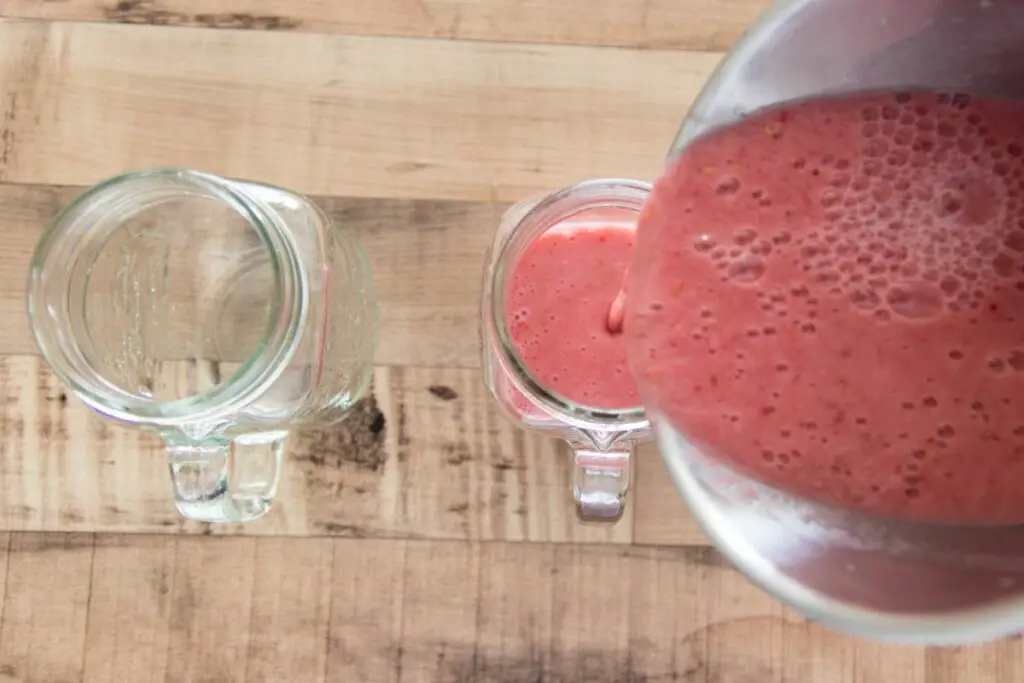 This is another "blend and freeze" method. Mansion jars with wide mouths and lids are an excellent choice for those looking for a durable, plastic-free option that works perfectly in the freezer and fridge.
They are also relatively inexpensive, making them an excellent option for storing smoothies.
16 oz, non-shouldered jars, like the one below, is the best freezer-safe option.
TAP ON IMAGE TO VIEW PRICE
Pro Tip: When food or liquid is frozen, it expands. This can cause pressure to build up in the jar. The container can break if there is not enough space for the smoothie to expand. To prevent this from happening, leave at least 1 inch of empty space on top of the jar when storing it in the freezer.
Instructions:
Similar to the previous method, prepare your smoothie mixture normally, preferably with no ice and less water.
Pour the thick smoothie mix into the mason jar and close it with the lid. You can store your mason jar in the fridge for up to 24 hours.
Alternatively, you can store the smoothie for up to 3 months in the freezer. If you are freezing the smoothie, make sure you do not lock the jar immediately. To prevent pressure build-up, wait for a few hours for the smoothie to freeze and then close it with the lid.
When you're ready to consume it, remove the mason jar from the freezer and let it thaw at room temperature. You can just give it a good shake before drinking but blending it again will give you a more fresh-like texture.
3. Use Freezer Food Block Makers
TAP ON IMAGE TO VIEW PRICE
The freezer food block maker helps preserve smoothies in the freezer in an organized, space-saving manner. Unlike mason jars which may be challenging to fit in compact freezers, These frozen smoothie blocks will save you some space!
Here is how to use a freezer food block maker to store smoothies for the week.
TAP ON IMAGE TO VIEW PRICE
Blend your smoothie, one serving at a time, according to the recipe; just leave out the ice cubes and add a bit less liquid the usual.
Insert a plastic Ziplock bag into the container,
Fill the bag with the smoothie and freeze in a standing position. 
After 2-3 hours, you can remove the bags from the mold to reveal your perfectly flat frozen block of smoothie.
You can keep these frozen blocks in the freezer for up to 3 months.
When you need to make the smoothie, thaw one of the blocks by placing it in the fridge for at least 4-5 hours.
If you are using a powerful blender, you don't need to thaw the block for so long. You can blend the frozen smoothie from the bag as soon as you can squeeze it out into the blender.
4. Use Large Ice Ball Molds
TAP ON IMAGE TO VIEW PRICE
This method is similar to the ice cube method above; the result is just a different shape. Compared to making frozen smoothie cubes, I do prefer frozen smoothie balls because it gives me better portion control for each serving.
Instructions:
Prepare your smoothie mixture but leave it a bit more runny than with other methods.
 Pour the smoothie mix into the ice mold using the funnel and place it in the freezer.
You can store the frozen smoothie balls for up to 3 months in the freezer.
When you're ready to make a smoothie, unbuckle the silicone lid, take out as many balls as you need, and put the rest back in the freezer.
Put the balls in the blender, add some water if needed and blend for a few minutes till nice and smooth.
One good thing about using the ready-made frozen smoothie is that you don't need to add any extra ice, as the mix is already icy enough.
Read Also: 8 Best Probiotic Sauerkraut Smoothie Recipes (Nutritious And Tangy).
Slowing Down The Oxidation Of Smoothies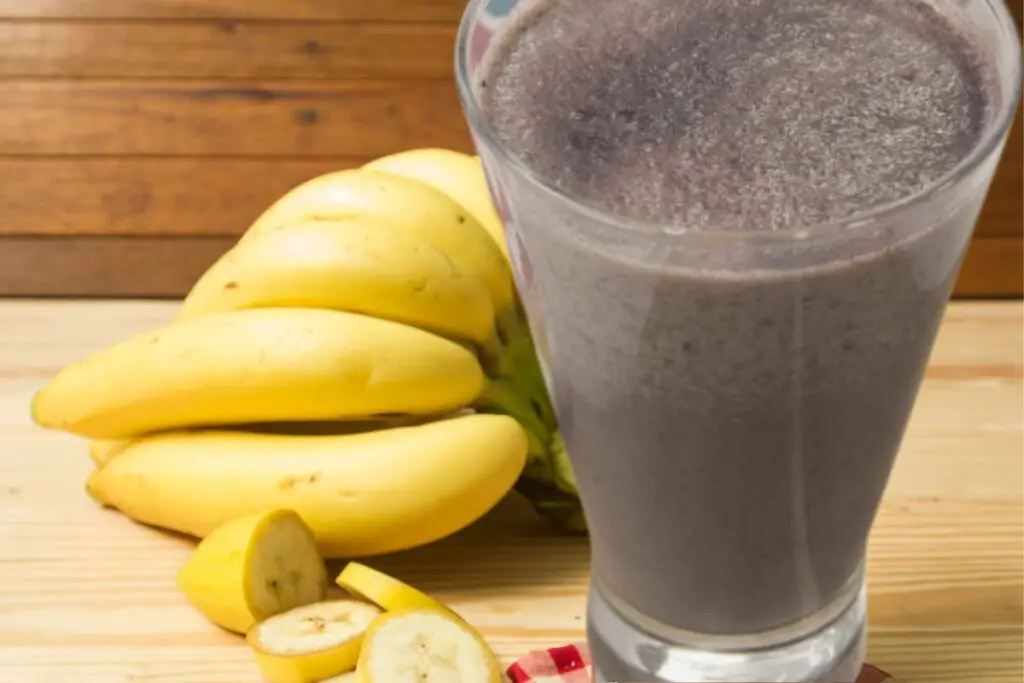 You've probably heard about using lemon juice to prevent chopped apples from browning, and you can also use this method for smoothies. So what is it about lemon juice that prevents browning?
The Science Behind It
Most fruits contain an enzyme known as polyphenol oxidase. Browning happens when this enzyme reacts with oxygen, otherwise known as oxidation.
Lemon is acidic and full of flavonoids, which are antioxidants. Lemon juice is excellent for preventing fruit, or in this case, smoothies, from browning. This is why I would recommend adding a few drops of lemon juice to your freshly made smoothie. Plus, you will get an extra boost of vitamin C.
Also, chlorophyll which is found in leafy greens like spinach and parsley, may help keep your smoothie fresh without freezing for 48 hours.
And lastly, the process of oxidation can be slowed down by storing the smoothie in a cool, dark place in a tightly sealed container.
However, personally, I would not keep a raw smoothie for more than 24 hours, especially if it contains bananas, avocados, or dairy products. These ingredients tend to affect the smoothie's flavor and texture if not consumed fast, making it less desirable.
You may notice a separation occurring after a few hours in the fridge, which is entirely natural. Just stir the smoothie before drinking.
In Conclusion
Prepping your make-ahead smoothies for a week is not that hard; these 4 freezer methods will let you store your smoothie for easy use later. If you are looking for a fast and nutritious breakfast or a quick and nutritious boost for lunch, look no further than a ready-made frozen smoothie.
With a bit of planning and preparation, you can make smoothies ahead for the entire week.