Most people that are keen on healthy eating are always looking for tools and gadgets that will make their cooking more nourishing and easier yet keep it delicious. Kitchen appliances that could help reduce calorie intake have never been more popular, one being the Air Fryer.
Skip to: Best and Worst Oil for Air Fryer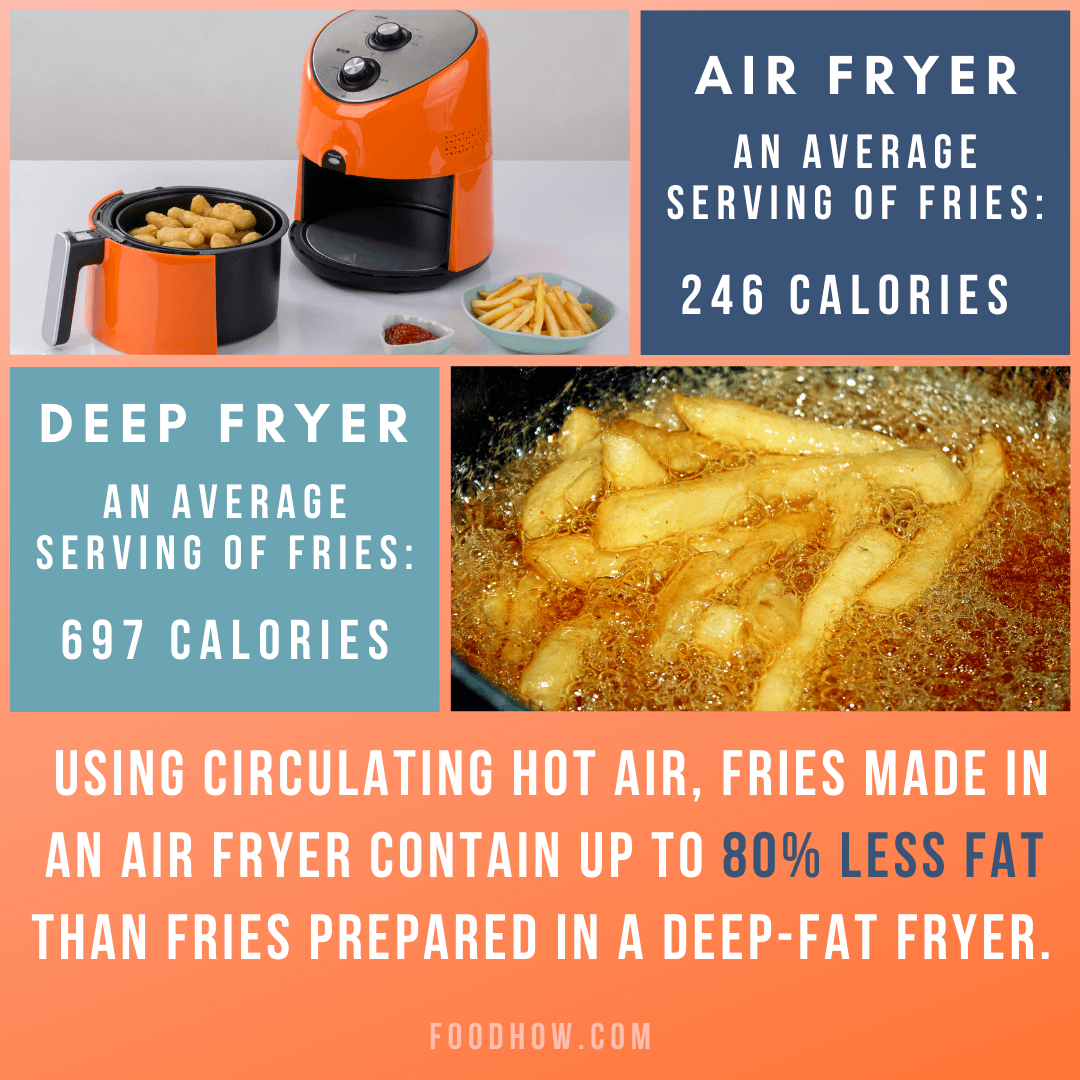 The whole idea of air frying sounds too good to be true.
Frying with Air? How is that even possible? 
When we examine the concept bit closer, you can see that the explanation is actually quite straightforward.
So, if you're looking for healthy alternatives or just want to try something new and interesting, then this article is for you.
These neat little gadgets are great for everything from knocking up quick snacks to preparing full family dinners.
Here is everything you need to know about Air Fryers; how they work, what oil to use, how to use them, and the best ones to buy.
So, What Is An Air Fryer?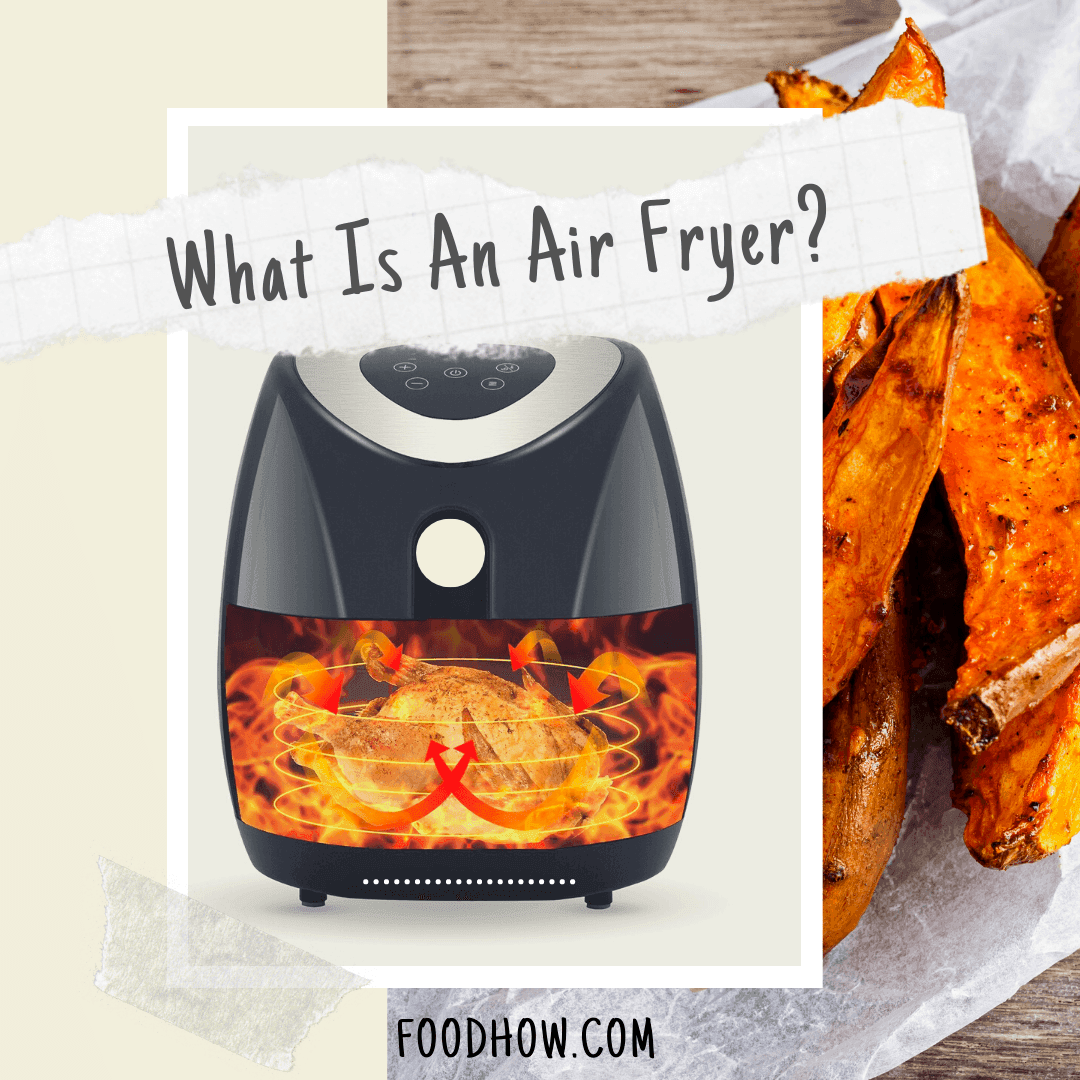 Air fryers are kitchen appliances that range in size between 2 to 6 liters. An air fryer cooks the food by circulating hot air around the food, with a max temperature of up to (232°C or 450°F), giving the food crispy and golden brown exterior.
Prices range from $70 to $200, and these are roughly based on sizes and, of course, brand.
How Do Air Fryers Work?
An air fryer, sometimes called a health fryer, works similarly to a convection oven. It consists of a fan and a heating element, and a cooking vessel. Hot air and a tiny drizzle of oil are circulated around the food inside the cooking chamber.
Unlike the oven, the air in the Air Fryer is circulated very quickly, making it reach food evenly from all directions and creating a brown and crisp surface. The crispy browning result that you will get is called the Maillard effect. [1] It is a surface-level reaction between sugars found in foods and amino acids.
The Maillard effect occurs when the temperature reaches between 280 to 330°F (140 to 165°C). Using rapid air technology, this appliance does it perfectly, giving you food that's cooked on the inside and crisp on the outside.
What Are The Best Foods To Cook In An Air Fryer?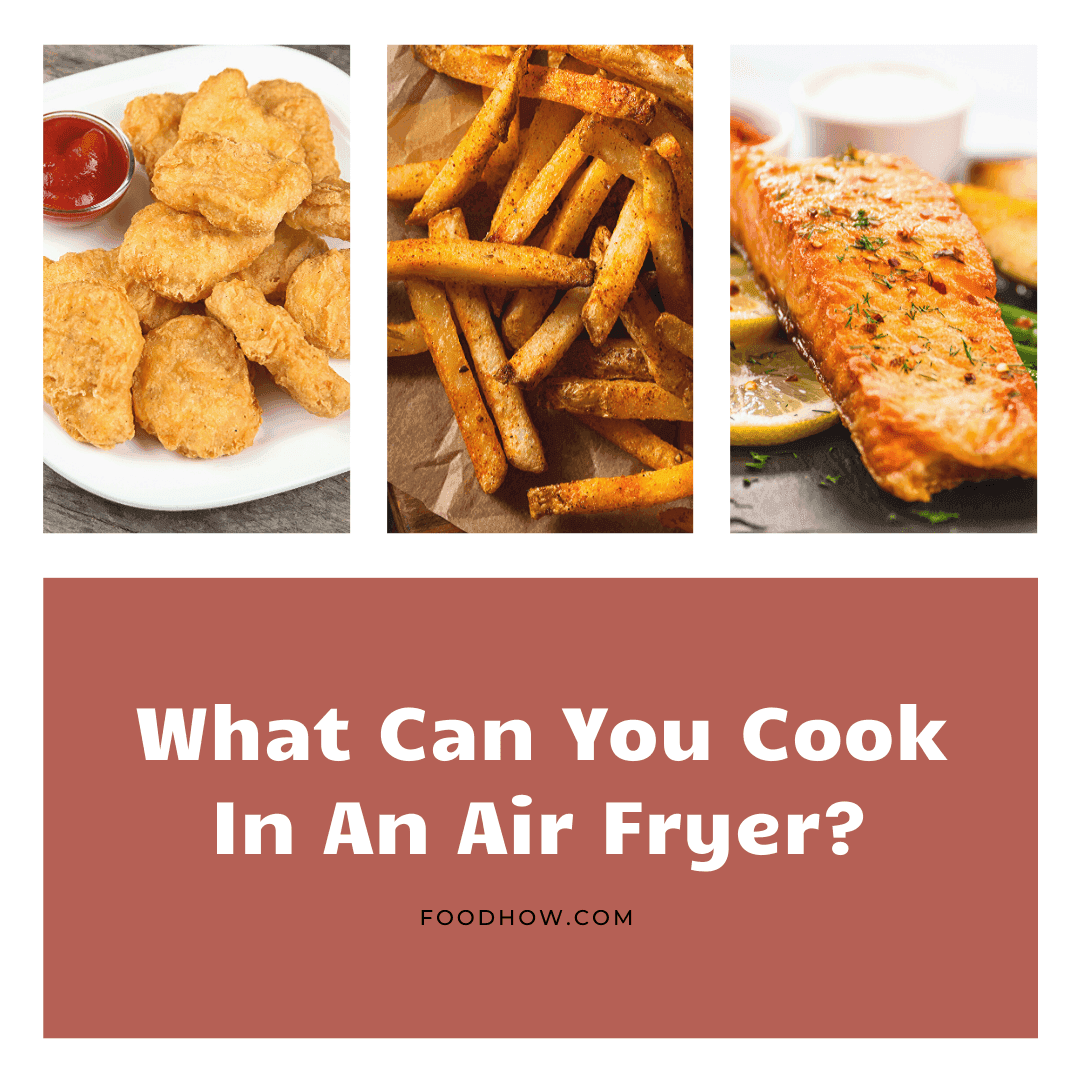 With an air fryer, you can cook almost anything. Most commonly, fries are what air fryers are used for, but there are plenty of other options too. You can cook fresh fish, chicken, beef, and frozen foods like chicken nuggets, fish sticks, and vegetables, and even reheat leftovers in them.
I must admit, I do prefer deep-fried French fries a bit more compared to the oil-free ones.
Still, I absolutely love cooking frozen food in it because it's not only very efficient, but the food is always super crispy and tastes very delicious. In addition to all the usual fried and roasted foods, you can also use them for baking cakes or even bread. And I am not talking about a few slices of garlic bread, you can actually bake a whole loaf of nice homemade bread.
If you want to give it a go, then check out these super useful bread-baking resources here.
There really seems to be no limit to what you can cook, fry, or bake in it. I suppose the only limit is your imagination. Recently I have been experimenting with roasting coffee beans in an air fryer, and the results were surprisingly good. If you also want to give it a go, then check out my latest article here. Roasting Coffee With a Hot Air: Pros and Cons.
Benefits Of An Air Fryer
One of the main reasons for the popularity of this clever kitchen device is that it reduces calories compared to deep frying. In many cases, switching to an air fryer has reduced people's calorie intake by around 70-80%.
They are also more efficient in terms of time compared to both a deep fryer and an oven. Oven cooking a chicken breast will take considerably longer than in the air fryer.
Air frying vegetables is a great way to crisp them up, making them much more appealing to kids.
Another benefit is that it will not leave your home smelling like a burger bar. All the odors are kept inside the machine.
All in all, I believe that the air fryer is a welcome addition to your kitchen and is worth buying.
 There are plenty more benefits to an air fryer:
Quicker at cooking than regular ovens.
It is a healthier cooking option.
Keeps in the odors of cooking.
It allows for plenty of experimentation.
It is easy to clean.
Cooks great tasting food.
Keeps your food moist on the inside and crispy on the outside.

It provides you with unmatched convenience compared to other kitchen appliances.

It is more economical and simple to use compared to traditional pan-frying.
It is user-friendly and fitted with timers to help you get the ideal frying time.
It is safer than pan-frying; you can safely leave them without worrying about grease splatter or your food getting burnt.
Air-fried food has significantly less fat content than other forms of cooking.
It is not just a fryer, it is also a roaster and baker too.
Let's you cook an incredible array of different foods.
It is generally safer than other fryers.
Is that enough for you? I hope that there are at least one or two benefits in there to convince you that it's a good idea to get one. 
Disadvantages Of Air Fryers
Just to keep things balanced, here are a few other things to consider on the other side:
Air fryers may not be the ideal cooking appliance for everyone.
These gadgets can be expensive, somewhere in the region of $200 plus, especially if you are looking for a lot of functionality.
They can make you eat more fried food because it is lower in calories but still delicious.
Air fryers do just that, they fry. So if fried food isn't part of your diet, maybe this fryer isn't for you.
Makes You Eat More Fried Foods
Since the food is lower in calories and generally a lot healthier, I tend to cook a lot more fried food now.
The Danger of Overcooking And Drying Food
I have burnt and overcooked my food; it had happened to me a few times, especially at the beginning when I started using my air fryer. Because it operates at quite high temperatures and cooking times are a lot faster than if not watched carefully, it is easy to overcook and burn food. However, once you have got used to cooking with it, then it is not a problem.
Not Enough Cooking Capacity
3 pounds of food at a time, then catering for a large family or a dinner party could be tricky. There are larger units available, but they tend to be a lot more expensive than normal-size units.
Best Air Fryers To Buy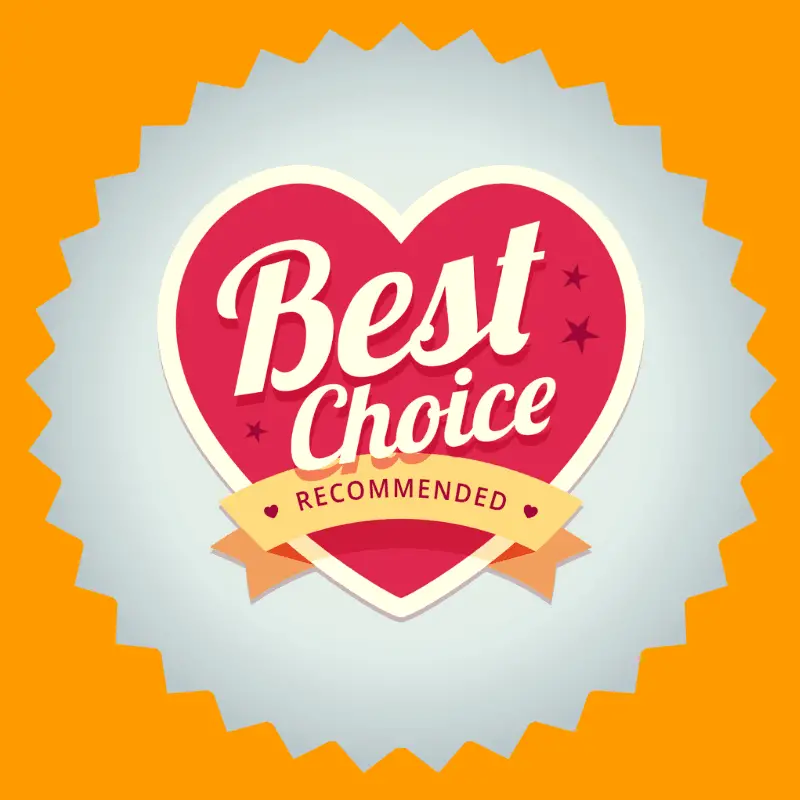 Being an owner of this Health Fryer and having researched and tested several ones for this article, I feel that I am now in a position to issue some advice on this topic. 
There is an abundance of air fryers out there, so it's good to have some sort of guide to assist you, and hopefully, this will. So here are a few popular, tried, and tested calorie-saving air fryers to buy.
Most Popular – Perfect For Families
Innsky 6.3 Qt Air Fryer With 32 Main Recipes And Grilling Rack Included
TAP ON IMAGE TO VIEW PRICE
A frustrating aspect of many air fryers is their ability to cook smaller batches better than larger ones. Well, the Innsky 6.3 Qt Air Fryer seems to buck that trend; its square-shaped basket is also non-stick, and it easily copes with family-sized portions.
It is also easy to clean thanks to that non-stick, dishwasher-safe basket.
And also comes with a staggering 7 Cooking Presets and many other functions.
Steak
Frozen Foods
Poultry
Seafood
French fries
Shrimp
Bacon
Vegetables
Desserts
Root Vegetables
Bread
Preheat food
An added bonus with purchasing the Innsky appliance is a recipe book with 32 different ideas to get you going.
As far as features go, Innsky boasts a handful; a fast preheating, LCD touch panel display, reminder shake feature, and a keep-the-warm facility.
This is a very high-quality and well-priced appliance that gives you everything you need in a first-grade kitchen gadget. It is not surprising that this device is the most purchased and comes with great reviews.
Best Budget 
Gowise Electric Air Fryer – Straightforward And Affordable
TAP ON IMAGE TO VIEW PRICE
Here is an excellent little starter for those looking to start their air frying experience. The Gowise Electric Air Fryer gives you great performance at a lower price compared to most other brands.
At 3.7 quarts, it is on the small side, but its removable basket, ease of maintenance, user-friendly interface, and very good price make up for that.
Best All-In-One
Chefman 6.3 Quart Digital All-In-One Air Fryer (spacious 6-liter unit)
TAP ON IMAGE TO VIEW PRICE
This device from Chefman has multiple settings. It will cope with absolutely everything from air frying to dehydrating, and it does not need a lot of counter space to do it all. It was designed with the whole family in mind.
The Chefman 6.3 has 8 preset cooking functions that will cover pretty much everything you need to do in a kitchen:
Toaster Oven
Bake 
Broil
Slow Cook
Food Dehydrator
Rotisserie Spit
Pizza Function
And more…
As for air frying, this Smart Device has Quick Cook Heat Technology, a programmable timer, and several different food preset functions. Airflow is maximized through high temperatures to give your food a wonderful crispy texture.
Interior lighting lets you easily check on your food as it cooks. Accessories that are included are a rotisserie spit, 2 airflow racks, basket/retrieval tool and forks, rotating, and drip tray. Removable drip tray and also parts that are dishwasher safe making cleaning it a breeze.
This single kitchen appliance can replace five others; your dehydrator, slow cooker, pizza oven, convection oven, and toaster. Now that's what you could call Smart.
Multi-Purpose Runner-Up
Ninja Digital Air Fry Oven – Flip Up To Store
TAP ON IMAGE TO VIEW PRICE
This air fry oven is compact and easy to store. It will only take up a small corner of your countertop, and it flips to become even smaller for storage.
Despite its compact size, it can rustle up a good portion of French fries. Other air functions in addition to frying are air roasting, broiling, baking, dehydrating, and warming settings. 
A handy feature to help keep it clean is the crumb release tray. It also comes fitted with interior light for the oven, so you can observe the cooking. There is also a digital display that is both useful and adds a touch of quality. You get a frying tray and a non-stick pan thrown in as a bonus.
Multi-Purpose With Best Reviews
Ninja Foodi TenderCrisp Pressure Cooker and Air Fryer
TAP ON IMAGE TO VIEW PRICE
Here you get two great kitchen appliances in one. Ninja Foodi TenderCrisp combines a pressure cooker and air fryer to offer you a truly multi-functional device. You can quickly pressure cook a chicken and then get it nice and crispy in the air fryer.
Speed of cooking is one of TenderCrisp's biggest benefits. As too is its ability to produce foods that have a near-perfect crisp but are healthier than a deep-fried equivalent. 
The TenderCrisp is a good size, with a 6.5-quart pot for pressure cooking and a 4-quart one for air frying. Both containers are non-stick and ceramic coated.
This device is a real multifunctional tool; you can seal in the flavor with the pressure cooker and crisp things up in the same device.
There are a few different models of the Ninja Foodi TenderCrisp, including a deluxe version with an enhanced user interface, increased cooking capacity, and a rack that can be reversed.
It has some of the best reviews, but the only downside is that it is quite expensive.
Easy To Use – Amazon's Choice
Philips Avance TurboStar Airfryer – Preset For Popular Dishes
TAP ON IMAGE TO VIEW PRICE
This modern-looking gadget can do a lot more than just fry; it also roasts, grills, and you can even bake cakes. It is a great choice for cooking for your family or entertaining guests.
This is also a great appliance if you've never tried air frying before and want to give it a go. It's a very user-friendly device with an easy-to-use digital display panel, a programmable timer, and an intuitive user interface.
The Turbostar performs its core function really well; cooking fried food more evenly than most of its competitors.
Anyone new to air frying experiences a few hiccups at the start. These can be minimized by using the 5 simple presets that this model comes with. 
This device also comes with a recipe book to get you going.
Most Durable
Cuisinart Toaster Oven Air Fryer – Kitchen Workhorse
TAP ON IMAGE TO VIEW PRICE
This is as old school as it can get, with not a digital display in sight. Manual controls are the order of the day with the Cuisinart Convection Toaster Oven Air Fryer.
Its 1800-watt power means that it heats quickly but is also very quiet. There are 7 preset functions that can be accessed by easy-to-use controls.
This no-nonsense kitchen device will air-fry pretty much anything you can think of. It is super durable, can easily handle heavy daily usage, and will last you for years to come.
Unique Design
T-Fal Actifry Air Fryer – With A Unique Stirring Paddle
TAP ON IMAGE TO VIEW PRICE
The T-Fal Actifry Air Fryer is the perfect choice for you if you want to achieve the classic French fries, perfectly crisp with no excess oil. 
The great thing is, you can achieve this without having to break the bank; the T-Fal Actifry is very reasonably priced. 
One unique aspect of this air fryer is a rotational arm that rotates the food while it is cooking, ensuring that everything gets cooked evenly.
However, I found that the arm did not always work as planned, especially when trying to rotate more delicate foods, which ended up getting damaged.
It comes with a secure lid that makes sure you won't splash oil everywhere that it's not meant to splash. A quality filter keeps odors where they should be – inside the device. The removable non-stick ceramic coated pan is very easy to clean, so there is no hassle with this kitchen appliance.
No hassle with the price either; this reasonably priced device would make an ideal gift for someone you love, or yourself!
Does Air Fryer Use Oil?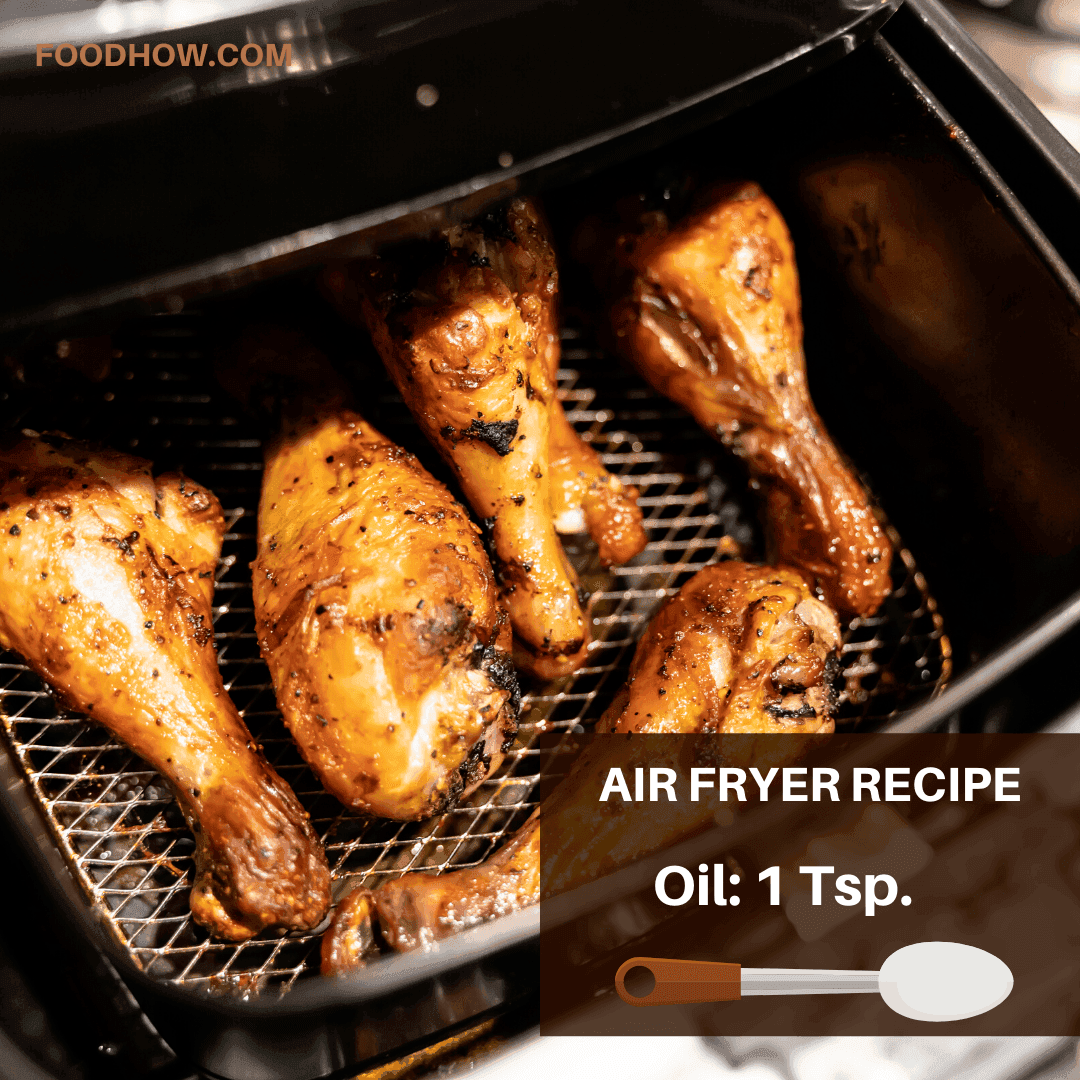 Some Air Fryer recipes don't use any oil at all. However, most do, but it is notably less oil that is used in a deep fryer or standard fried recipes. You only need 1 teaspoon of oil for most recipes and 1-2 tablespoons for breaded foods.
As you can see, the great advantage of an air fryer is that it only requires a small amount of oil or fat to do its job and produce deliciously crispy food.
Recipes that include breadcrumbs generally use more oil, maybe around 1-2 tablespoons. Other methods only require a light brushing of oil. It comes down to you experimenting and finding out what works best for you.
Don't go over the top with oil; you want enough but not too much. So starting low and adding it slow is the motto for adding oil to your air fryer.
In fact, you can start with no oil if you really want to. These clever appliances can do the job without oil, and you'll still get a beautiful crispy exterior to your food. A smidgen of oil does, however, give it a little bit of extra taste that many people prefer. So, if you really want to crunch the calories, try a dry fry.
You can use a whole selection of oils that would not be practical to use in the large quantities required for deep frying. Your oils will also last you much longer as you will only be using a small amount of them at a time.
Below you can read about some recommended oils for you to consider the next time you get your air fryer out. Some are liquid oils, and some are solid fats that require melting before they can be used.
But before I get to the best cooking oils to use, we need to cover the smoke point of cooking oils.
Smoke Points For Cooking Oils
As their name implies, air fryers use very hot air for cooking food. The temperature can reach up to 400°F (204°C). Due to these high temperatures, it is important to choose oils that will remain stable at such high temperatures.
The smoke point refers to the temperature at which an oil starts to smoke and burn. Oils that are heated past their smoke point give off a bluish smoke and start to break down, losing most of their nutritional value. Overheating oils also generate harmful free radicals.
However, there are plenty of great-tasting oils and fats that can withstand these high temperatures.
Best Oil For Air Fryer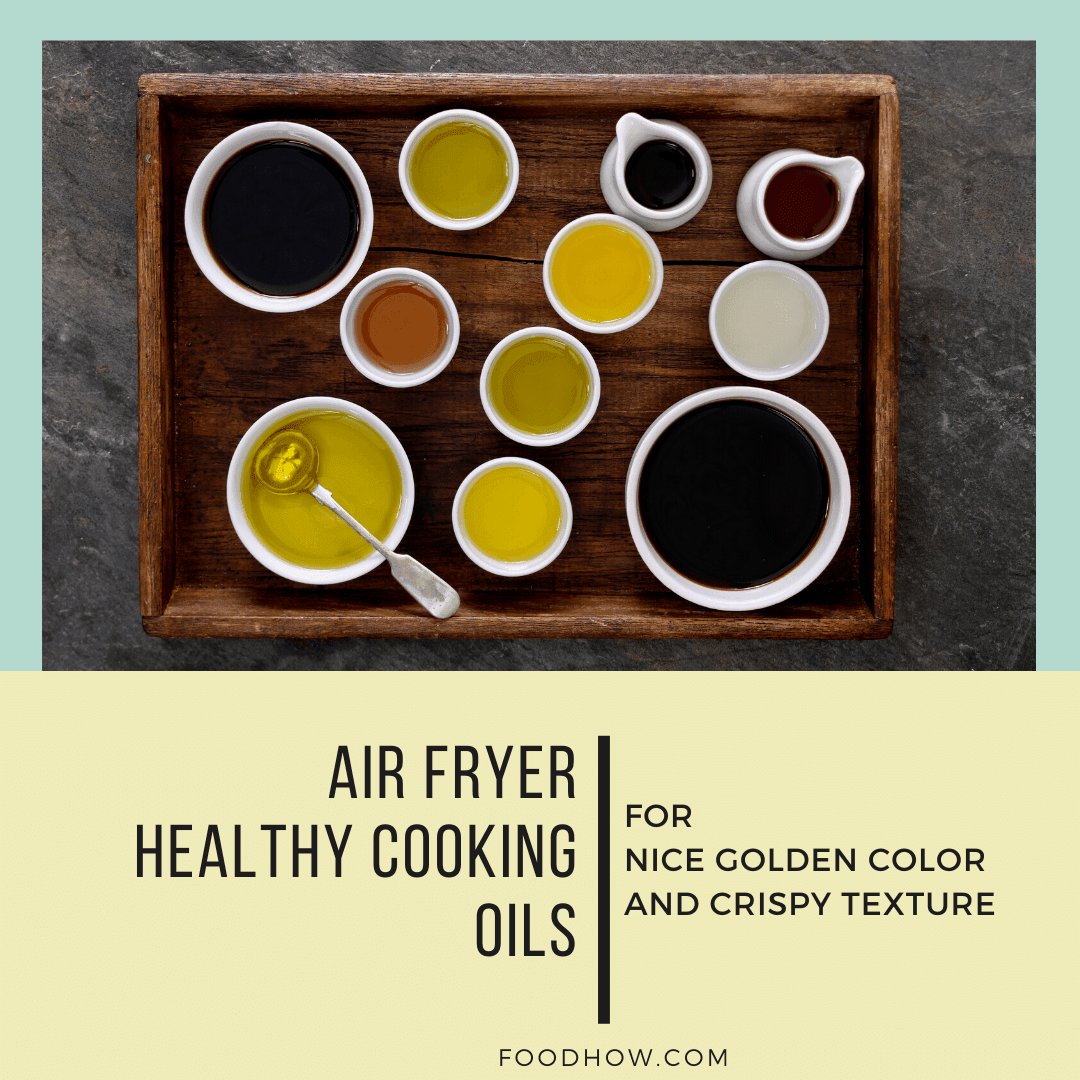 The best oil to use in an air fryer is something that is healthy, gives the food the flavor and texture you like, and can withstand high temperatures, e.g., has a high smoking point. Below are some of the best healthy oils you can use.
Read Also: Deep Fryer Oil Temperature Chart And Cooking Times.
Avocado Oil
Avocado oil has a very high smoke point of 520°F (271°C), making it one of the most suitable oils for cooking with an air fryer. Avocado oil is at the higher end of the market, evident by its quality and price.
Extra Light Olive Oil
This oil should not be mistaken for a similar-sounding oil, Extra Virgin Olive Oil, as the latter has a much lower smoke point at 380°F (193°C). The smoke point of Extra Light Olive Oil is 460-470°F (237°C – 243°C). It is a pale yellow color and has a subtle, delicate flavor that produces just a hint of olive. This one is also a great option for air frying.
Soybean Oil
This is one of the most popular cooking oils around. Soybean oil is classed as vegetable oil and comes from the seeds of soybeans. It has a high concentration of polyunsaturated fat. Its smoke point is 450°F (232°C).
Sunflower Oil
Another very popular cooking fat is sunflower oil. It contains a high level of monounsaturated fats and a lower level of saturated and polyunsaturated fats. This makes sunflower oil a pretty healthy choice. Sunflower oil is very versatile. It can be used for regular daily cooking, and its high smoke point of 440°F (226°C) makes it a good choice for high-temperature cooking.
Refined Coconut Oil
This cooking oil is extracted from coconut meat. Refined Coconut Oil has a nutty and slightly sweet taste to it. It can come in solid form also, and it is called coconut butter when it is presented in this state. Coconut oil, however, has conflicting reports as far as health is concerned. [2] It has a high concentration of saturated fat, so much so that many health organizations advise against its use in cooking. It has a smoke point of 450°F (232°C).
Refined Peanut Oil
This is a mild-tasting oil that has the smell and taste of peanuts. Also known as Groundnut or Arachis oil, people with peanut allergies can still enjoy this cooking oil as the allergens get removed during the refinement process. If you have a nut allergy, make sure you select Refined peanut oil rather than cold-pressed. [3] Peanut oil's smoke point is 450°F (232°C).
9 Oils You Should NOT Use In Your Air Fryer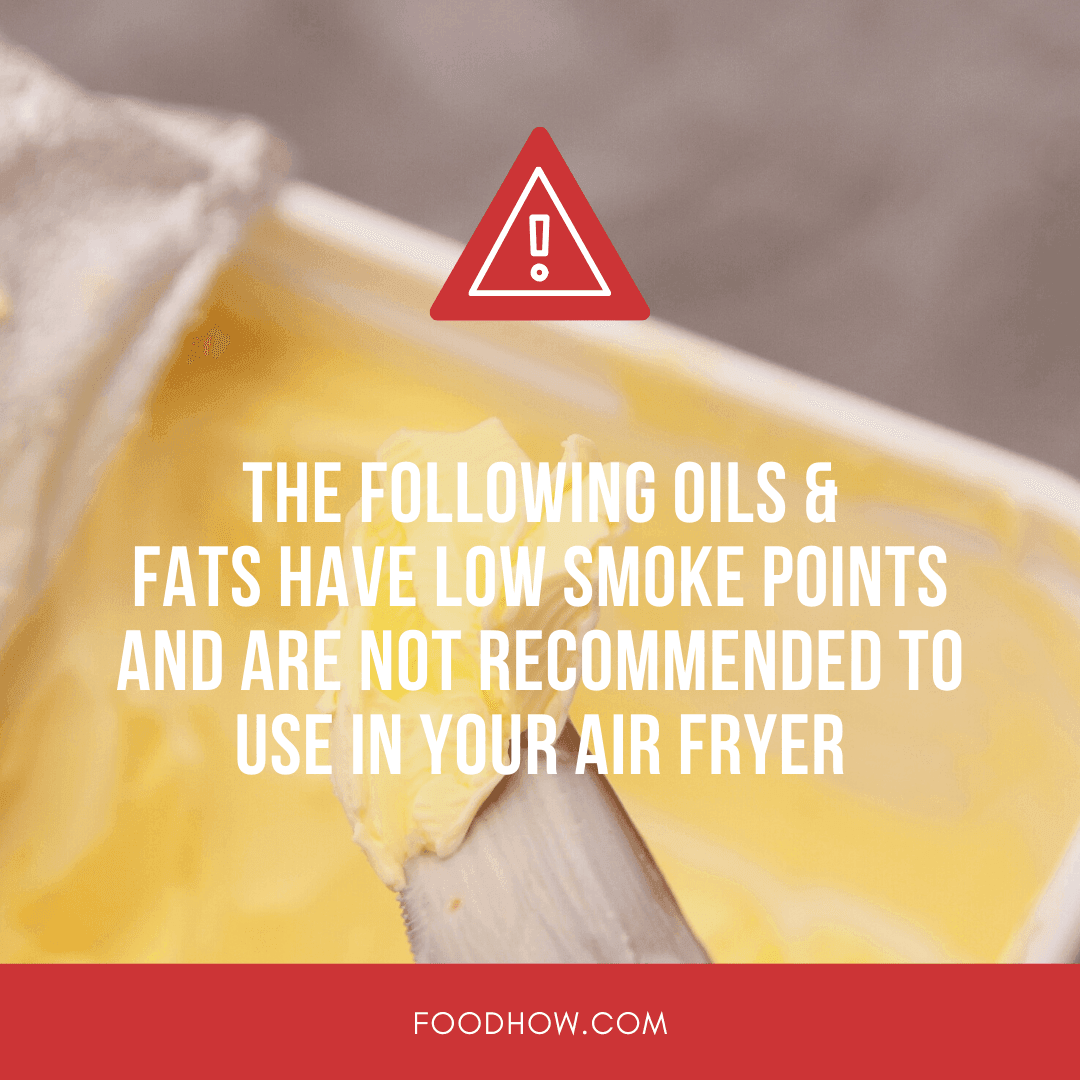 The following oils and fats are NOT recommended for air frying due to their low smoke points:  
Bacon Grease
Butter (unless you clarify the butter first)
Extra Virgin Olive Oil
Non-Stick Sprays
Lard
Margarine
Flaxseed Oil
Safflower Oil
Unrefined Corn Oil
Best Air Fryer Oil Spray Blend – 490°F (254°C) Smoke Point 
TAP ON IMAGE TO VIEW PRICE
Smoke Points For Oils And Fats
A smoke point of 400 degrees or higher is optimal for air frying.
Almond oil  430°F (221°C)
Butter 302°F (150°C)
Ghee (clarified butter) 485°F (251°C)
Canola oil 428 – 446°F (220°C – 230°C)
Castor Refined 392°F (200°C)
Coconut oil Unrefined 350°F (176°C)
Corn oil 446 – 460°F (230°C – 237°C)
Corn oil Unrefined 352°F (177°C)
Cottonseed oil Refined 428 – 446°F (220°C – 230°C)
Flaxseed oil Unrefined  225°F (107°C)
Grapeseed oil 421°F (216°C)
Lard 374°F (190°C)
Mustard oil 480°F (248°C)
Olive oil Extra virgin 320°F (160°C)
Palm oil 455°F (235°C)
Peanut oil Unrefined  320°F (160°C)
Rice bran oil Refined  415°F (212°C)
Sesame oil Unrefined 350°F (176°C)
Sesame oil refined 450°F (232°C)
Sunflower oil Unrefined 320°F (160°C)
Sunflower oil Refined 450°F (323°C)
Vegetable oil Refined 428°F (220°C)
So, just remember…
When selecting the oil or fat for your air fryer, you should consider flavor, cooking temperature, and fat content. Make sure that these three things complement the food you're cooking.
Try a few different ones out, and always have a few handy when you are air frying, as you may be in the mood for something different. You could try cooking the same food with different oils to learn the effect each oil has.
How To Use Oil For Air Frying?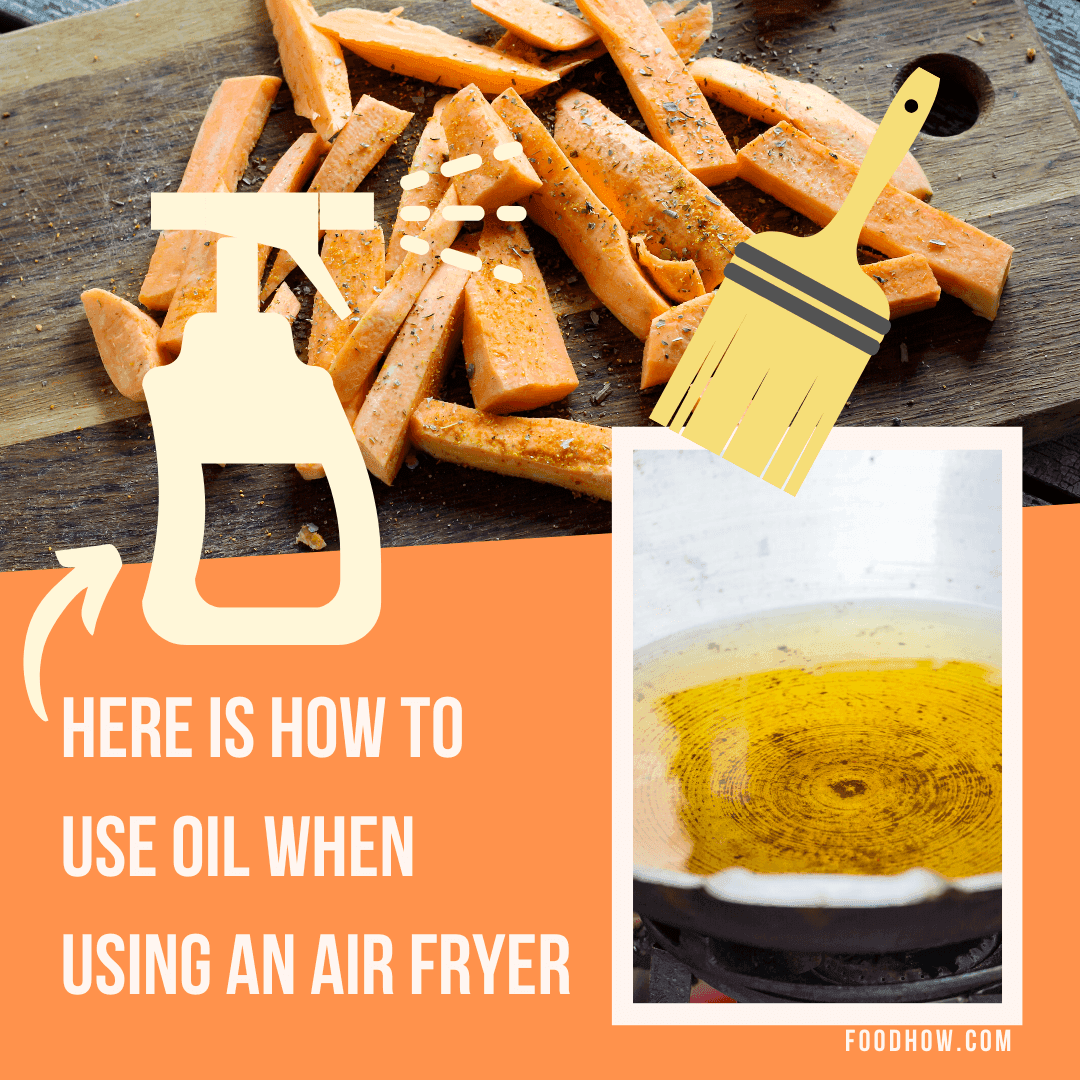 Dry your food items with kitchen paper, if necessary
Lightly spray or brush a thin layer of oil onto the food

Toss

 in a 

bowl

 with a dash of oil and 

seasoning

 

Or, marinate or dip the food in little oil before frying
Spraying oil onto your food before air frying is a great way to get a light and even coverage of oil on your food. You can buy a commercial spray bottle, or you can make a DIY version.
You can make your DIY sprayer out of an old bottle with a hole in the top. Make sure that the bottle is food safe and keep your herb infused in it. Until you're using it, keep it sealed in your refrigerator. You will not achieve as even a covering as you will with a commercial sprayer, but it's a fun way to experiment with your frying oils.
Brushing your food with oil is good for meat, fish, and roasting vegetables, as is tossing your food in a little oil to get a reasonable covering.
Butter, however, is off-limits as it breaks the rules on high smoke points. In fact, applying any solid fat to food is not recommended for air fryers.
My recommendation here is, if you don't own one already, get yourself a sprayer. It is simply a must-have item for everyone with an air fryer.
Air Fryer Tips And Mistakes 
Ok, you have now purchased your new appliance, and you are a mere few minutes away from some delicious, succulent, crispy hot food. Don't blow it by making one of these 6 common air-frying mistakes.
The air fryer is a pretty impressive piece of kitchen equipment. It will treat you to the most beautiful, crispy fries at half the calories of a restaurant or fast food outlet. You can even enhance the taste (not that you need to) by adding your own herbs and spices.
So, if you want to enjoy the full benefits of this great device, just try to avoid these frequently made mistakes.
1. Pre-Heat
Although it is not a requirement, preheating your air fryer will give you the best results, so be sure to do it. It only takes 2-3 minutes to get your air fryer to optimal cooking temperature. Achieving this will allow the air to cook your food to crispy perfection.
Preheating temperatures should be between 325-400°F (162°C – 202°C) because simply sticking food into the air fryer and trying to cook it straight off could lead to an uneven cook. Preheating the basket will ensure you are ready to cook it perfectly.
2. Cook More Vegetables
You might be in love with the fried chicken you can get from your air fryer but if that's all you're using it for, you're missing out on a whole lotta love. 
You can fry up some delicious vegetables and snacks that are bursting with flavor and nutrition. You can prepare everything from stuffed peppers to potato hash and all really quickly. Pretty much all vegetable-based meals are compatible with your air fryer.
Also, try switching from regular potato to sweet potato. Check out the video below on how you can easily make healthy and crispy sweet potato fries that burst with flavor and have fewer calories and fat than regular french fries.
As you saw in the video above, an air fryer is more like a countertop convection oven than a conventional fryer, and it is super easy to use.
3. Make Less Precooked Foods
Just throwing something into your air fryer that's already been fried is a waste of this great device's capabilities. Rather than reheating last night's chicken wings, try to create something from scratch. Most air fryers come with suggestions for meals or even complete recipe books. So, experiment, try some out.
4. Leave Some Room For Air To Circulate
Yeah, I know you want to impress everyone at the same time, save electricity and make a big batch of food. But give your food a chance to fry; give it some space to allow the air to circulate and get around the food. 
Your food must have a chance to cook evenly; you should pause during each cook to give the basket a shake and make sure none of the food is sticking together.
Preparing the food into smaller batches is a much more efficient way to fry, and the results will be so much better. If you do need to cook for larger groups of people, then maybe you should consider investing in a larger machine such as the Cosori 5.8-Quart one.
Standard air fryers are only really suitable for 2 people, 4 at a stretch. In contrast, the Cosori can cope with 6 portions easily. There is also a mid-size Ninja Foodi machine available. This would give you a good balance and at least let you cater to more than just a couple of guests at a time.
5. Bake
So, now you've committed and bought one of these multi-purpose devices. It's now time to consider ditching that oven for good. You can use your new appliance for some delicious baking options like low-carb cookies, croissants, doughnuts, and desserts. They are so easy to cook in an air fryer, and they're delicious.
Since this device is so good for baking, then it would make a perfect baking gift for anyone who loves baking.
6. Take Care Of It Properly
If you want to keep your new device in pristine condition, ideally, you will clean the basket after every use. Newer air fryers have removable parts making it really easy to keep them clean.
Hand-washing is best, and many models will specify that their parts are not dishwasher safe. To make hand-washing a bit easier, you can spray the basket with a non-stick coating before you use your air fryer. You could also try lining the bottom of it with aluminum foil.
Not washing your air fryer after use is a really bad practice. Next time you come to use it, it is bound to be for something different from what you cooked previously. Not only will you get charred remains from previous fries, but you will also contaminate your new food with the old. Yuk!
What Does Air Fried Food Taste Like?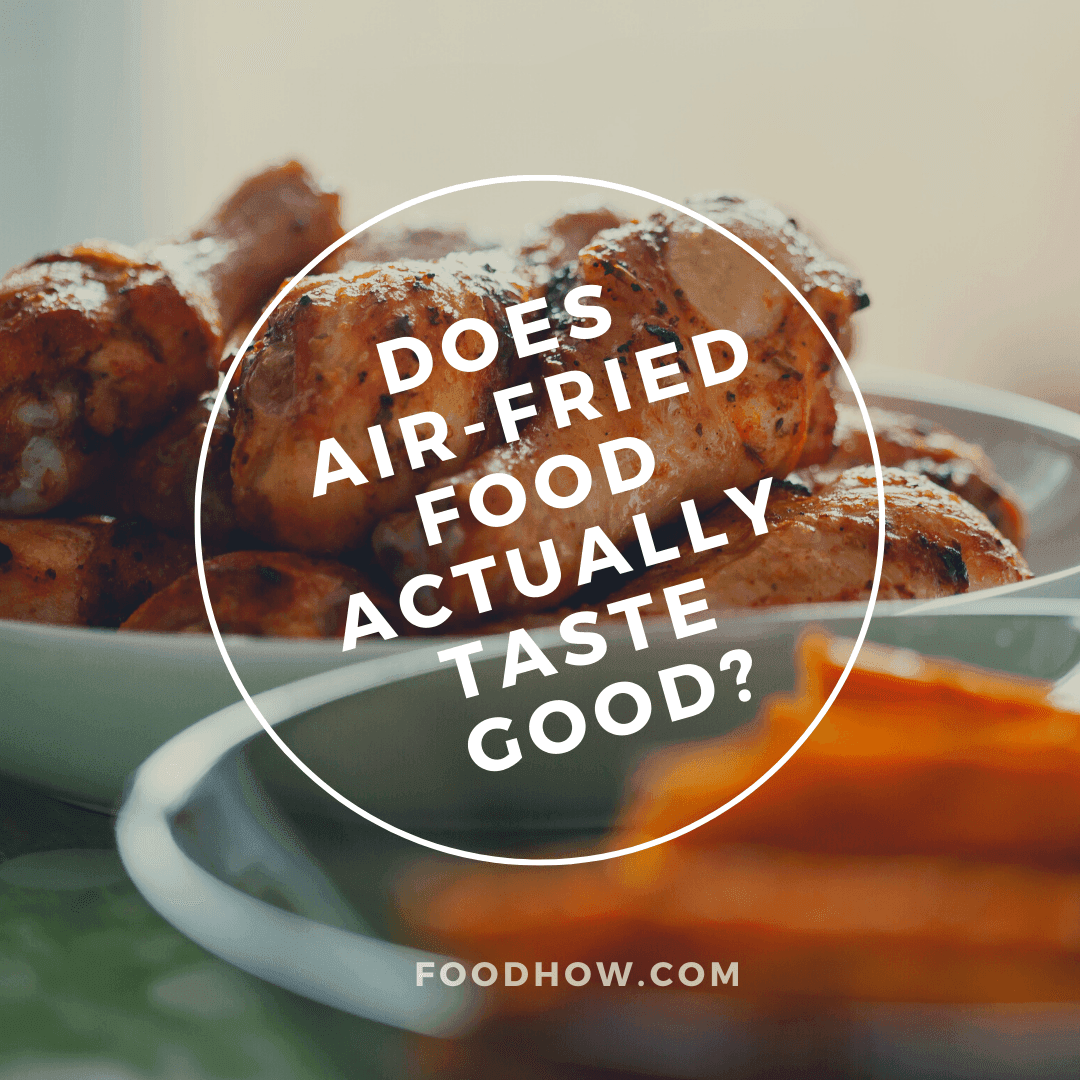 Beauty is in the eye of the beholder, and the taste is on the lips of the diner. Of course, this is an impossible question to answer. We would say that you have the same functionality in an air fryer as you do with several other kitchen appliances combined.
Once you get familiar with your air fryer, you will be cooking as well with it as with any other kitchen appliance you've been using for years. Your chicken will be crispy on the outside and moist inside, just the way you want it.
Fries will give you a combination of crunch and fluffy potato interior, and your cheese on toast will have a beautiful brown crust of melted cheese.
Summary
Air frying makes cooking efficient and straightforward. You will also drastically cut your cooking and cleaning up time compared to traditional fryers and ovens.
There are a host of bonuses that come from owning an air fryer.
Healthier Cooking
Space Saver
Easy To Clean
Low-Fat Meals
Faster Cooing
Ease of Use
Energy Efficiency
Versatile
Smell and Mess-Free Cooking
Overall, air fryers are fantastic cooking devices and will be a great addition to any kitchen. Hopefully, this article helped inform your decision to buy one of these appliances. If it has, it could be great news for your diet and your taste buds. 
Are you looking for more cool kitchen gadgets that would make your life easier? Check out this unusual color-changing egg timer!