Your diet and fitness regime is not complete without the inclusion of ready-to-consume herbal supplements. The downside to buying pre-made ones is the uncertainty of their ingredients and freshness. Making your own capsules allows you to control the content and the potency.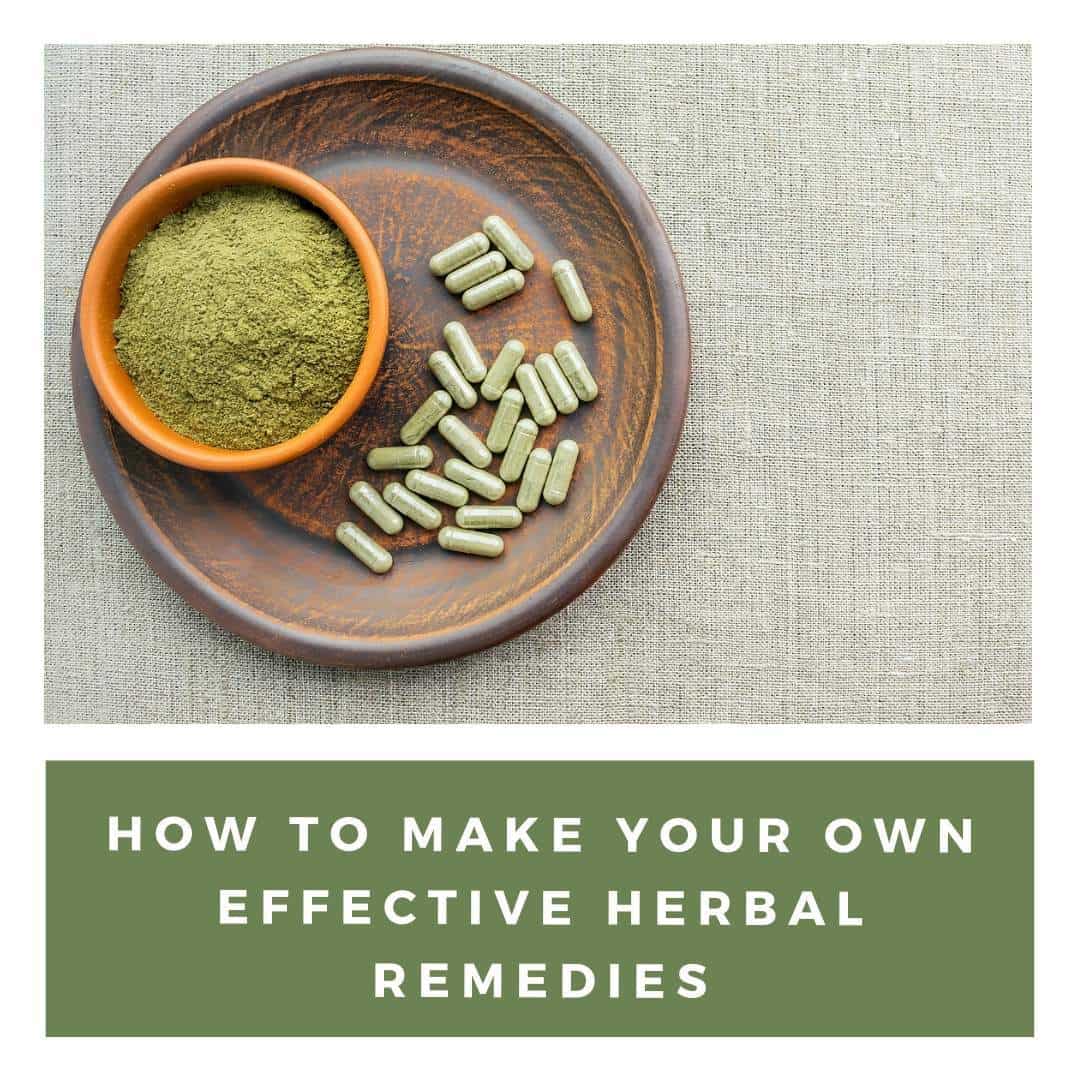 There is a world of supplements available in health stores and supermarkets. Like many of us, I used to spend considerable money on these supplements every month.

68 percent of U.S. adults take herbal and other dietary supplements on a regular basis.
Now, If I tell you that you can make your own supplement pills at home and at a fraction of the cost, will you believe me?
As I discovered recently, you can easily make your own supplements at home using some of my favorite herbal superfood powders. Or you can really choose any capsule filling of your choice.
Quick And Easy Steps On How To Make Herbal Capsules At Home:
Get the gelatin or vegetarian capsules in the size of your choice.
Choose and mix your herbal powders according to your recipe.
Fill the empty capsules with your herbal mixture using an encapsulation machine.
Close the capsules by putting the tops on the filled bases.
Put your finished supplements in glass jars or an empty plastic bottle.
That is how easy it is to make your own herbal capsules.
Below I will cover each step in more detail, and you can also watch the step-by-step video on how to use the encapsulation machine. 
This method makes the processes so fast and easy as filling them by hand and scooping the herbal powder into the capsule would take so much more time and patience.
This is the easiest and mess-free way to do it.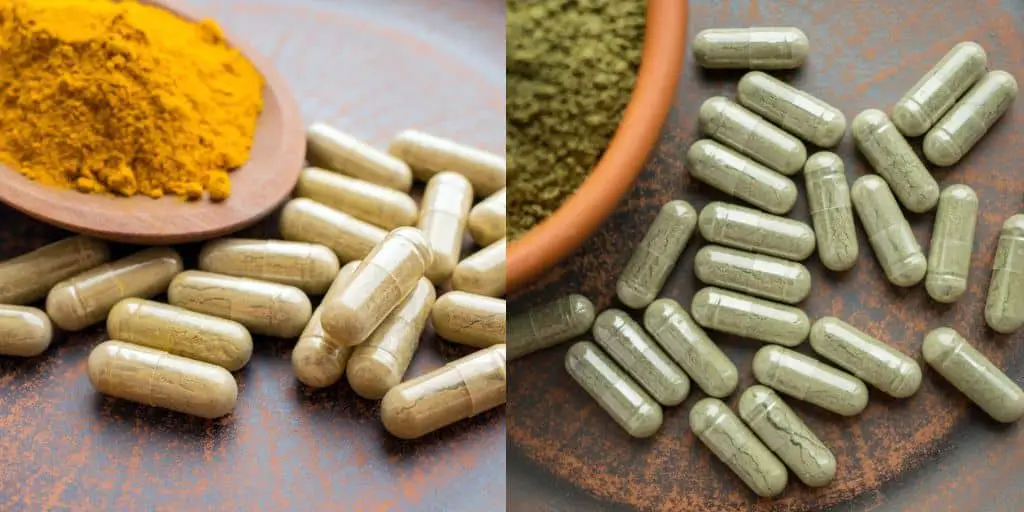 You can mix and match different herbs like turmeric and spirulina or choose powders according to your needs.
Why Should You Make Your Own Supplements?
There are various reasons why you may want to make your own herbal capsules, here are some of mine:
I can prepare the dosage as I want it. If you think that the full dose of your favorite supplement is a bit too much or too little for your body, you can make a smaller or larger dose of the same. 
I didn't want to spend so much money on my supplements every month. These companies make you pay not just for the supplement, but also for the fancy packaging, advertising, and several other things.

As I started making my own supplements, I realized how much money I was saving, especially if you regularly take supplements, you will save a lot.

It is so much fun. Just try doing it once, and you will surely love it.
And last but not least, I wanted a convenient and unmessy way to take my superfoods when I was on the move, and making my own capsules was a perfect solution.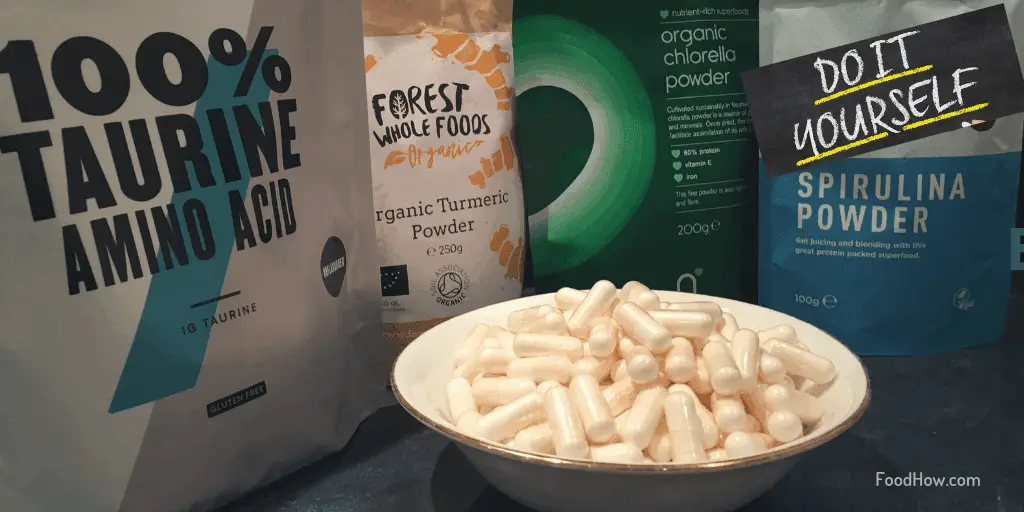 Healthy food powders make a perfect ingredient for your DIY supplement capsules.
Here is a simple tutorial on how to blend superfood powders and make your own herbal capsules.
What You Will Need To Get Started?
1. Capsule Filling Machine
TAP ON IMAGE TO VIEW PRICE
2. Filling Powders of Your Choice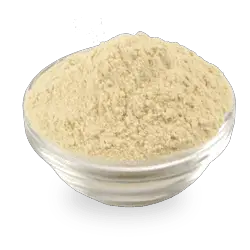 Check the selection of powders here >>>
3. Small and Medium Prep Bowls
TAP ON IMAGE TO VIEW PRICE
4. Sifter
TAP ON IMAGE TO VIEW PRICE
5. Empty Capsules
TAP ON IMAGE TO VIEW PRICE
Selecting A Right Capsule Type And Size
Remember, your encapsulation machine can hold capsules of a specific size, so order accordingly. The most widely used capsules are made from gelatin that is more commonly known as soft gels.
There are also veggie capsules, these are also called veggie caps, and these are made for vegetarian consumption.
Most filling devices take either size "00" that holds approximately 735 mg. or size "0" that holds about 500 mg.
There are also size "000" capsules that hold about 1000 mg. and size #1 capsules that hold about 400 mg.
Check out a selection of different size capsules here.
How To Fill Capsules With Powder?
Step 1: Choose Your Supplement Powders And The Desired Quantity of Each
Start by determining what ingredients you want to use and the desired amount of each. There are two sizes of capsules. The "00" size can hold approximately 735mg of the powder and, "0" can hold about 500mg.
You will have to choose the capsule size based on the machine you have or vice versa.
The most filling device can hold 24 capsules at a time.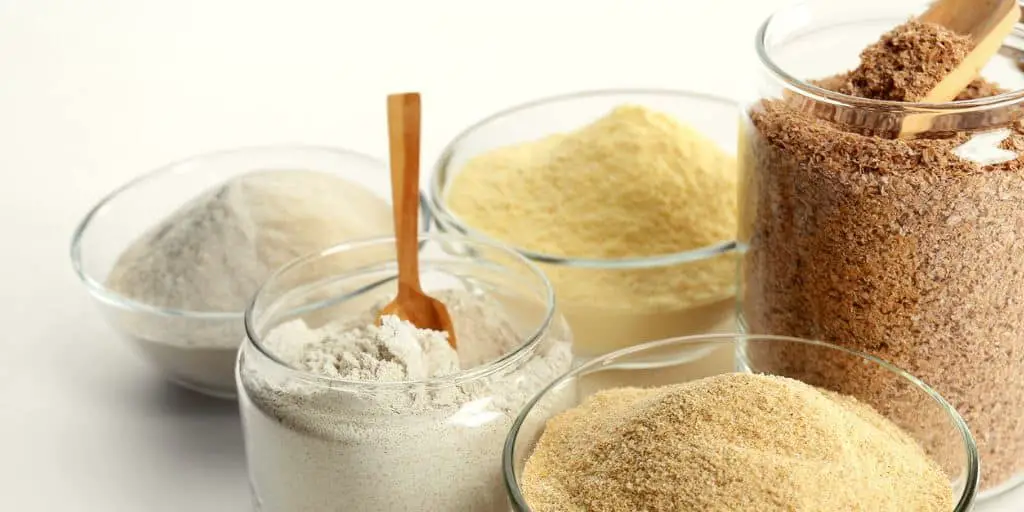 To fill your capsules, you can use fresh and high-quality powders like herb, protein, amino acid, superfood powders, and so on.
Step 2: Setting Up The Capsule Filling Machine
Setting up the encapsulation machine is no rocket science. It may look a little too technical at first glance, but once you get the hang of it, you will find it fun.
So, start with assembling the capsule as per the manufacturer's instructions. Place all the plates on a flat bowl or plate. Place a towel underneath to gather whatever powder will spill over. Put the base on the stand.  
Now, separate all the empty capsules and place the caps and bases in the holes of the filler device. The easiest way to find out if you have missed any holes is by holding the cover blocks and the base at an angle. You will see glare, and that is how you can easily make out if you have missed any hole. An even easier way is to use colored capsules.
It is important to ensure that all the bases fit well into the holes completely. You can run your finger over the surface to see if the capsules are sticking up above the surface. If there are any, gently press them down.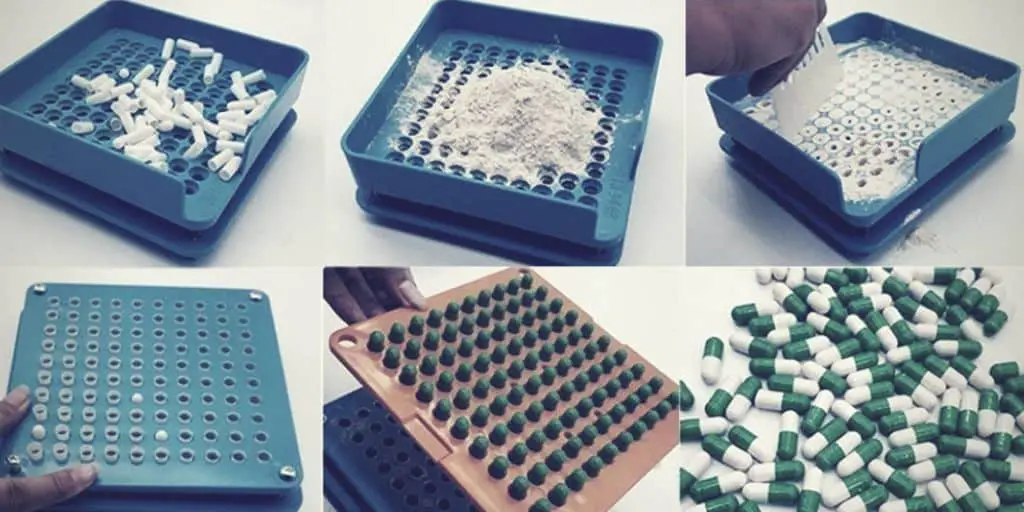 Step 3: Mix Your Ingredients
Empty your ingredients into a small bowl and stir the ingredients together. Make sure all the fans in the room are switched off because some herbal powders are very light, and even a mild draft or breeze can disturb them. I learned that the hard way, unfortunately. So, pour the ingredients into the bowl very carefully.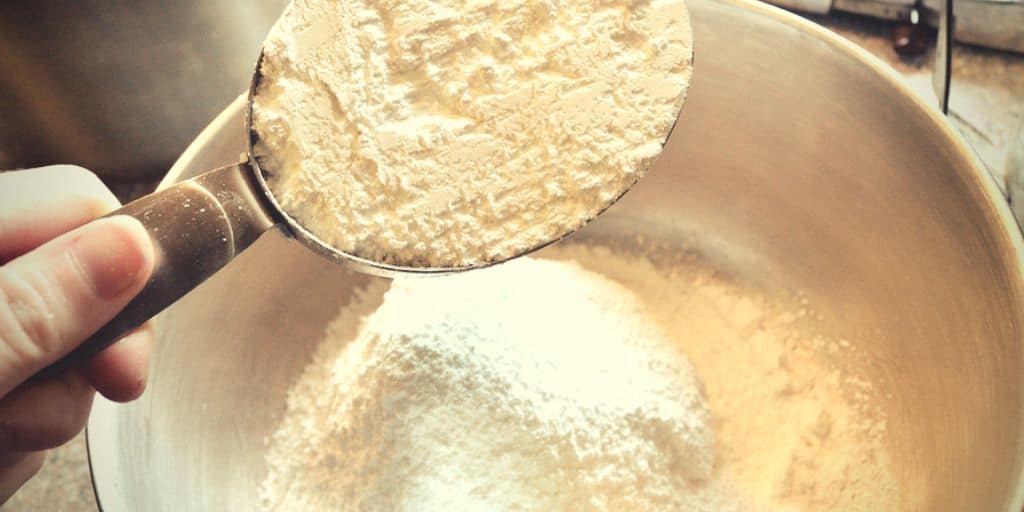 Step 4: Sift The Powders Together
You need to make sure that you have a uniform mixture, so sift all the ingredients. Even if you only use a single ingredient, as I mostly do for each batch of my supplements, it is still good to ensure that there are no clumps in your powder.
If you are using multiple ingredients, then sifting would help them blend evenly and ensure that each capsule receives the same amount of each ingredient.
Depending on what ingredients you are using, you may have to blend them multiple times to get a uniform mixture.
When ingredients are sifted together, this helps to combine the powders evenly before you fill the capsules.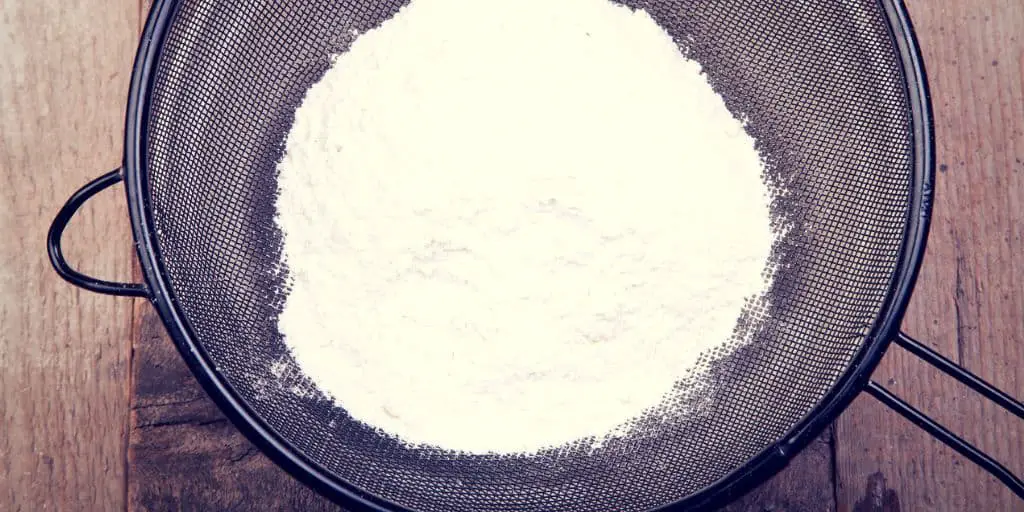 When ingredients are sifted together, this helps to combine the powders evenly before you fill the capsules.
Step 5: Filling The Capsules
Now the fun begins. It's time to pour your mix of ingredients over the capsules. Once you have done it, use the spreading tool (it looks like a spatula) to distribute the powder evenly to fill all the capsules. At this stage, remove all the excess powder. There is a small opening at one corner to remove the excess powder.
Now, use the tamping tool to compact the ingredients. You will have to repeat the process: add powder, spread it, and tamp it until all bases are completely filled. You may have to repeat the process thrice or four times.
Step 6: Assembling The Capsules
After you are done filling the bases, take the base block off the stand and put the cover block over it. The capsule caps should be facing their respective bases. Now press the cover block carefully so that the top and the bottom part of the capsule fit together nicely.
When you are done, the capsules will be in the cover block. To make sure that each of them is nicely closed, pop them out into a tray and check each of them individually. This is extremely important if you intend to travel with them.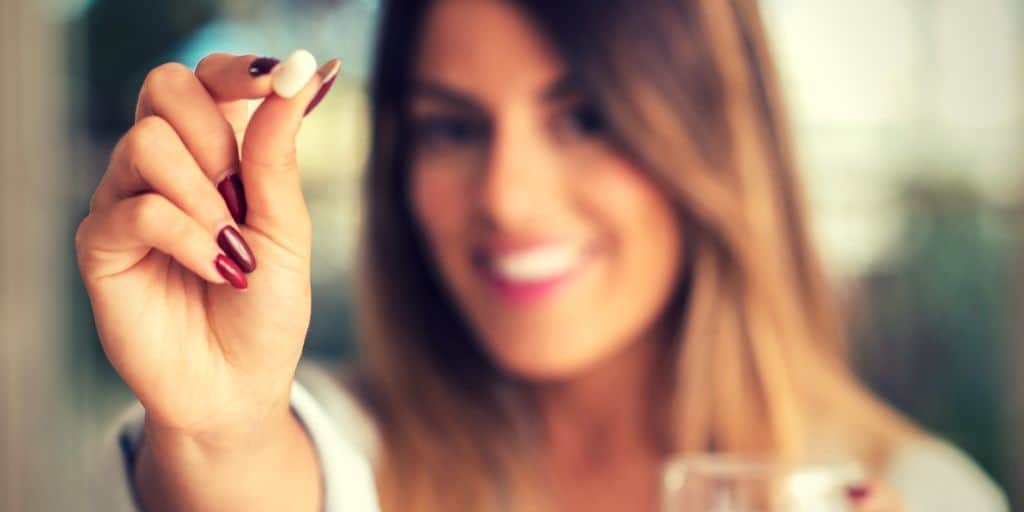 Step 7: Your DIY Supplements Are Ready To Be Popped
Rejoice! You have made your very own herbal supplements and at a fraction of cost. You know what is in there and how much of it. These supplements are made exactly as per your requirements, so you get the most out of them.
The satisfaction you achieve by making your own supplements is unmatched. The whole experience is fun and fulfilling. I just love it.
Step 8: Store The Capsules
Store these capsules in a clean and dry airtight container. Keep it away from direct heat and moisture.
Step By Step Video How to Use A Capsule Filling Machine
Below You Can See How a Manual Encapsulation Machine Works.
The working principle of most manual fillers is the same. Making your own supplement with this capsule filling machine involves only a few easy steps that anyone can master easily in a short period of time. There is a good selection of these machines available here at Amazon.
Let me know how you got on making your own herbal pills or sharing some of your interesting and effective supplement recipes.
If you need more instructions or have any questions about the whole process, do not hesitate to post in the comment section below.