Are your energy and vitality being drained from a poor diet? Here are some of the best nourishing superfood powders that will give you a nutritious and tasty boost!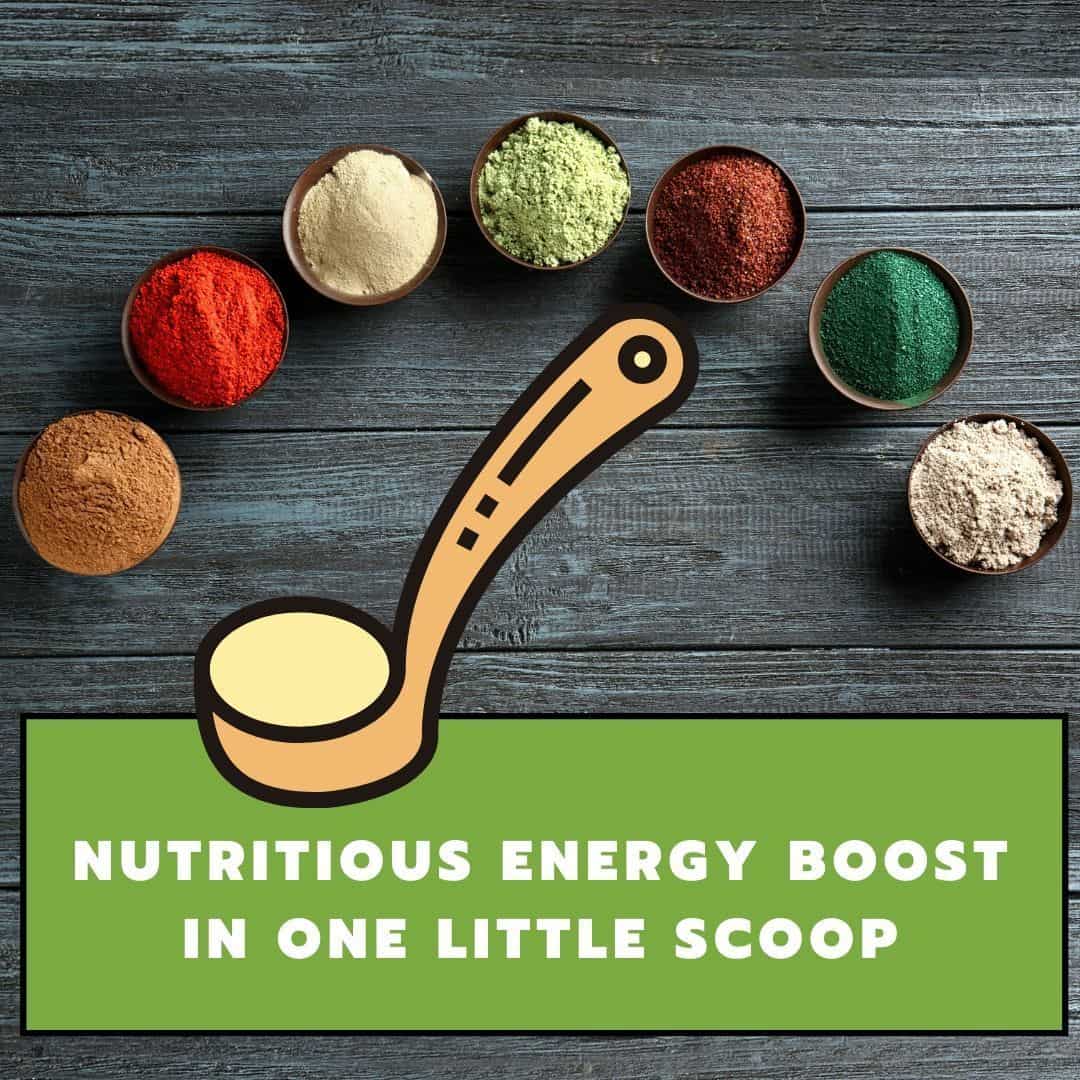 Superfood powders are an easy way to enjoy nutrient-dense foods without worrying about cooking or best-before dates. Mix these powders into shakes, smoothies, and porridge or combine them into other recipes.
Powdered nutrition is the newest trend and is worthy of all the praise it is garnering.
Food powders are easy to add to any meal and are very nutrition dense. Also, these powders are less processed compared to many pills and are very easy for the stomach to absorb.
You may have already tried some popular superfoods such as spirulina, ginger, or maca powder, but there are many others that you may not be aware of.
Best Superfood Powders To Boost Your Energy
Here is a list of top eleven superfoods that you can get in the form of a powder. 
1. Beetroot Powder
For a long-time, beetroot had something of a PR problem, associated with blandness and stodgy cheese sandwiches.
How times have changed!
Beetroot, in particular beetroot powder, is now way up there with other superfood powders to boost energy and athletic performance.
Beetroot is one of the best foods for better digestion and fitness performance. Beetroot powder helps you add all its goodness to your meals and shakes in a very simple way.  
Beetroot and its leaves are rich in Vitamin A, B6, and C, iron, magnesium, folate, iron, potassium, calcium, soluble fiber, and proteins. It is also loaded with a lot of antioxidants. 
TAP ON IMAGE TO VIEW PRICE
Beetroot Powder – Nature's Ultimate Pre-Workout
2. Turmeric Powder
Modern life can be relentless and even energy-sapping at times. Powdered turmeric, a popular yellow spice used in many Indian dishes for its color and taste, is also great for your health and gives you extra get up and go!
Turmeric belongs to the ginger family and is found extensively in India and Southern Asia.
Turmeric powder is made from the plant's rhizome, which has brown skin and bright orange flesh. 
In addition to giving you an energy boost, turmeric is also well known for its therapeutic benefits. It has been used in many cultures to prevent and treat a wide variety of conditions.
Most of its energy-giving properties can be attributed to the compounds called curcuminoids. The most important of these is curcumin.
TAP ON IMAGE TO VIEW PRICE
Turmeric – Naturally Boost Serotonin And Dopamine In Your Brain
Read Also: How To Make Ginger Lemon Cayenne And Turmeric Shot
3. 

Matcha Green Tea Powder
Green tea is generally well known in health and fitness circles. And then there's matcha green tea. Specially grown in the shade, with the stems and veins subsequently removed and then finely ground, matcha green tea offers up a veritable treasure chest of health benefits for you, including considerably improved energy levels.
TAP ON IMAGE TO VIEW PRICE
Drink A Cup of Matcha Tea Every Morning To Boost Focus And Energy
4. 

Raw Cocoa Powder
A near relative of good old chocolate, raw cocoa powder is increasingly being highlighted as an excellent superfood with a range of health benefits, primarily increased energy levels.
Coming with a natural enticing chocolate flavor, raw cocoa powder is loaded with a range of vitamins, minerals, nutrients, essential amino acids, antioxidants, and fiber.
It is no coincidence that more and more athletes and sports stars are using cocoa powder to give them an extra edge. [5]
TAP ON IMAGE TO VIEW PRICE
Boost Your Energy Levels with Superfood Cacao
5. 

Spirulina Powder
Other than relaxing on a beach, you may not have thought of the ocean helping you improve your energy levels! Spirulina powder is a blue-green alga that is harvested from the sea and is one of the most nutrient-dense foodstuffs out there.
It is so good for you that even if NASA has lined it up for future astronauts to use, spirulina powder is absolutely awesome for your energy levels. [6]
Some of the beneficial nutrients spirulina contains are B vitamins, beta-carotene, vitamin E, chlorophyll, phycocyanobilin, and many other micro-nutrients and antioxidants.
In addition, spirulina is relatively high in protein – which means that depending on the formulation (check the label), there is a chance to re-discover your green spirulina powder jar as an exciting source of vegan protein.
TAP ON IMAGE TO VIEW PRICE
Spirulina – Combat Fatigue And Get Your Energy Back
6. 

Ginger Powder
Ginger has been used for thousands of years for its awesome health and medicinal properties. Jam-packed with a range of minerals, nutrients, and antioxidants, ginger powder not only tastes great and adds to any kitchen, but it's also a great way to beat off those daily slumps in your energy levels!
Ginger powder is derived from dried ginger root. It is a versatile spice that is used for both culinary and therapeutic purposes. 
It is rich in anti-inflammatory and antioxidant compounds such as beta-carotene, gingerol, and capsaicin. 
It has a much longer shelf life compared to raw ginger root. Adding it to your daily diet is not only good for increased energy but also for your overall well-being.
TAP ON IMAGE TO VIEW PRICE
Ginger Powder – Increase Your Energy Levels Without Caffeine
Check Out My Latest Article:6 Best Ways To Eat Ginger Root To Get The Most Benefits
7. 

Bee Pollen
Bee pollen is what you likely think it is – a small powder pellet of plant pollen that has been harvested by bees. It is the male seed of the flowers and renders the characteristic yellow color to bees. This golden powder reaches the bee's basket and turns into bee pollen. 
Bee pollen is believed to contain almost all the nutrients our body needs to function properly.
It comes with an impressive profile of minerals, nutrients, complete proteins, fatty acids, phenolic compounds, lipids, and antioxidants. (Vegans be mindful though – bee pollen is, of course, an animal by-product so you may wish to steer clear).
TAP ON IMAGE TO VIEW PRICE
Bee Pollen Improves Energy Metabolism And Muscle Endurance
8. 

Powdered Honey
As busy as a bee is a well-earned saying for our stripy, buzzing friends! Given how industrious and active they are, it shouldn't then surprise you that powdered honey, a dehydrated form of regular honey and similar in look to corn flour, is another way to increase your energy and workout levels.
This Honey powder has a much longer shelf life and is easier to use than regular liquid honey.
The honey powder also has antiseptic, antibacterial, and anti-inflammatory properties. It contains large amounts of Vitamin B and C. It is also rich in minerals such as iron, calcium, potassium, magnesium, selenium, and phosphorus.
However, just like bee pollen, vegans will need to skip this particular powdered energy solution.
TAP ON IMAGE TO VIEW PRICE
Honey Powder – Natural Energy-Filled Sweetener
9. 

Maca Powder
Also known as Peruvian Ginseng, maca powder comes from the maca root – a cruciferous vegetable found in central South America. You may not yet be familiar with the name, but it's definitely worth getting to know, as many sportsmen and sportswomen are increasingly finding out.
Maca root is also a good source of fiber, and it is high in many essential vitamins and minerals, such as vitamin C, copper, and iron.
Maca powder can be taken in a number of ways, with one popular one being an addition to protein shakes and smoothies. 
TAP ON IMAGE TO VIEW PRICE
Maca Root Powder – Popular Supplement Among Bodybuilders And Athletes
10. 

Broccoli Powder
Broccoli, so long the fear of many a child's dinner plates, just like beetroot powder, broccoli powder has now come a very long way. So far as to definitely earn the mantle of superfood.
Broccoli is a cruciferous vegetable and contains high levels of healthy compounds (glucosinolates). These compounds are activated when you chop or chew broccoli and offer many benefits for your body.
In case you are not too fond of eating your greens, you can still enjoy all the benefits of broccoli by including it in your diet as a powder. Broccoli powder will provide you all the benefits but in a more concentrated form. 
TAP ON IMAGE TO VIEW PRICE
Broccoli Powder – Steady And Lasting Energy Throughout The Day
11. 

Chlorella Powder
Chlorella is another (green) algae extracted from the seas and oceans. Rich in nutrients, antioxidants, and detoxifying properties, chlorella is also of interest to those looking to lose weight, stay in shape, and keep their health in a good place.
Just some of the nutrients in chlorella include vitamin B12, iron, vitamin C, vegan omega-3s, and plenty of other vitamins and minerals. 
Like many other algae, chlorella contains up to 60% protein, which is also complete, meaning it has all nine essential amino acids!
TAP ON IMAGE TO VIEW PRICE
Chlorella Powder – Nutrient-Dense, Green Superfood, High In Vegan Protein
Easy Ways To Add Superfoods To Your Diet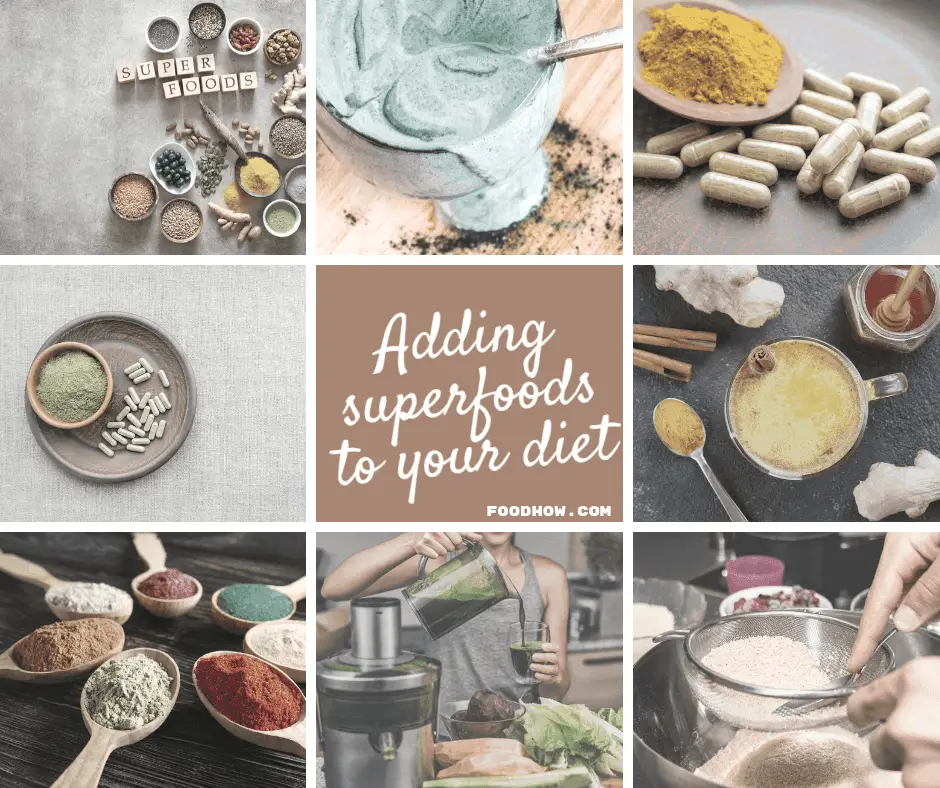 One of the easiest ways to increase superfood powders' consumption is by adding them to smoothies. This also helps alleviate the taste of certain powders (looking at you, ginger) whilst still reaping the benefits.
Avoid loading your smoothies with unhealthy ingredients such as canned fruit or sugary yogurt. Natural and fresh is the key!
Instead of mixing them with just water, another great option is adding superfood powders into juices. For instance, you may want to add some powder straight after juicing, so the flavors blend in together. Alternatively, you can use store-bought juice, so long as it's 100% natural and doesn't contain added sugars.
Adding Superfoods To Your Daily Recipes
If you're into baking, you can also add these food powder into the dough for a sneaky boost of goodness!
It's worth noting that these powders are simply a concentrated version of certain foods and not a meal replacement.
Superfood powders can be so much more convenient to use than raw counterparts! 
They are a great palatable way to add your favorite foods in about any dish, from juices, smoothies, salads, soups, scrambled eggs to ice cream, and cake mix. One of my all-time favorites is turmeric latte. Yum.
There are many benefits to superfoods: they are packed with antioxidants and micro-nutrients to give you an extra boost of wellness. Whatever the season, adding these nutritious foods to your diet can make all the difference.
Slow Cooker Porridge Recipe With Added Superfood Powders
Here is a simple yet delicious and healthy example of how to add some of these nutritious food powders to your everyday diet. So, here is how I make my morning porridge. However, you can modify the recipe for your own needs and liking.
Ingredients: ( This is for one person )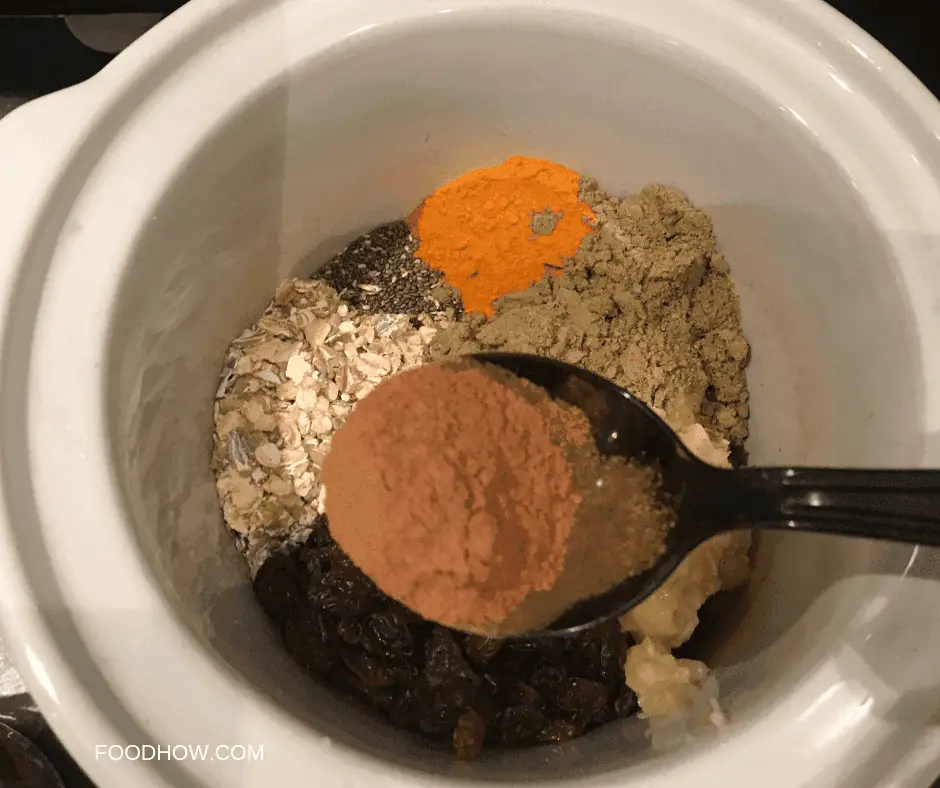 How To Prepare:
Smash the banana with a fork and mix the porridge oats with all the ingredients together in a small ceramic slow cooker bowl.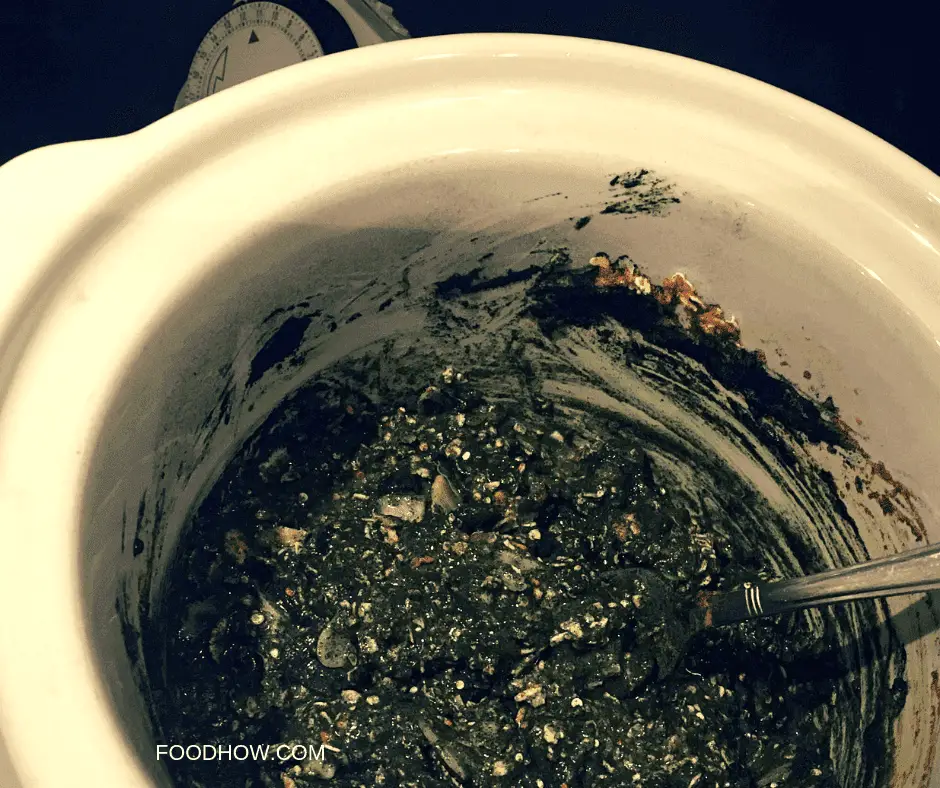 Cooking Time: I have found that the best cooking time is between 4-6 hours. Anything below 4, and it will turn out a bit raw/under-cooked. It is still edible but not that nice and anything over 6 hours, and it is likely to burn.
So, what I do, I use a wall plug timer, and I set it for 5 hours and I will be greeted by a warm and nutritious bowl of oatmeal in the morning.
IMPORTANT: Make sure you set your slow cooker to LOW. I made a mistake once, and I set it on HIGH, and the bowl was so burnt by the morning that I had to throw the whole thing away without any hope of getting it clean.
Also: I don't use any sweeteners in my porridge as the dried fruit makes it sweet enough for me. If you find that you might like it sweeter or you want to mask the turmeric and/or ginger powder a bit, then I suggest that you use honey powder or honey instead of sugar.
As I said, you can add or leave out some of the ingredients. You can mix and match different food powders, and the possibilities are endless.
Once you have mastered this slow cooker porridge recipe, you don't really want to eat regular porridge ever again.
Create Your Own Superfood Capsules That You Can Take On The Go
If you can't be bothered to make porridge every day or you don't have a blender to make shakes or smoothies, then here is another easy and super convenient way of adding these nutritious dried foods to your diet.
You can make your own superfood capsules!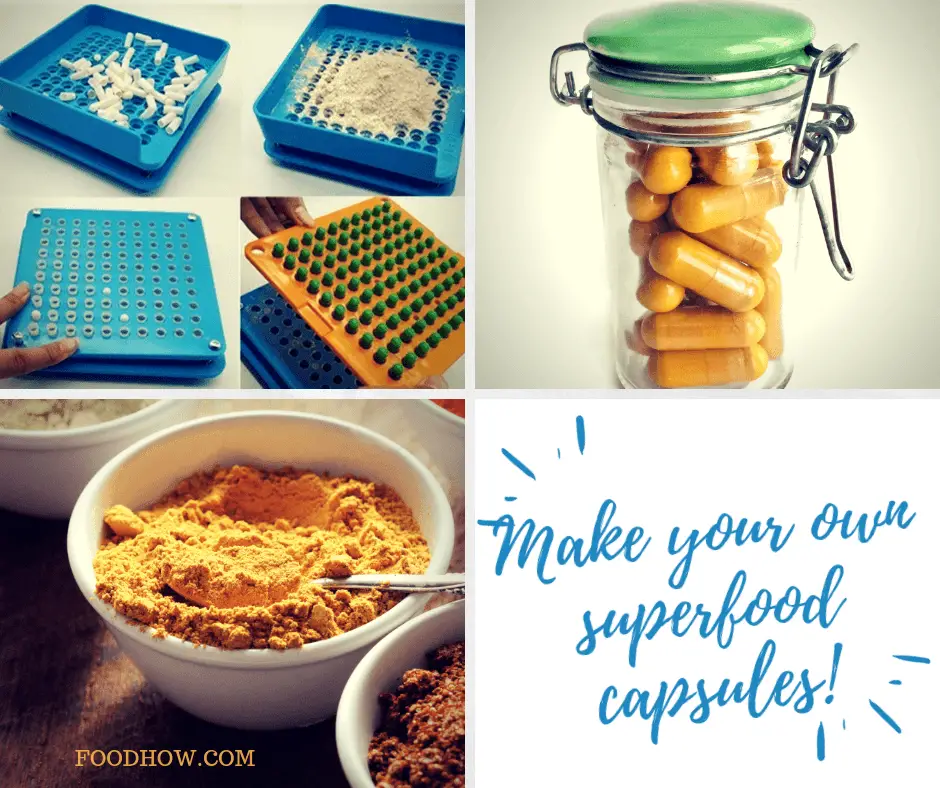 Having your favorite herbs and powders in capsules is not only very convenient, but it also lets you control the quality and the freshness of the ingredients. It is much better than relying on what manufacturers are adding to the capsules.
Making your own capsules is also a lot cheaper than buying ready-made ones. I have put together an easy-to-follow, step-by-step guide on how you can use superfood powders to make your own capsules. It includes all the equipment you will need and also easy-to-follow video instructions.
To find out more check out my latest article: How To Make Your Own Herbal Capsules.