Hey there, fellow cookie lovers! I just have to share this amazing melt in your mouth shortbread cookie recipe with you. Honestly, these cookies have become my go-to treat whenever I'm craving something buttery and delicious.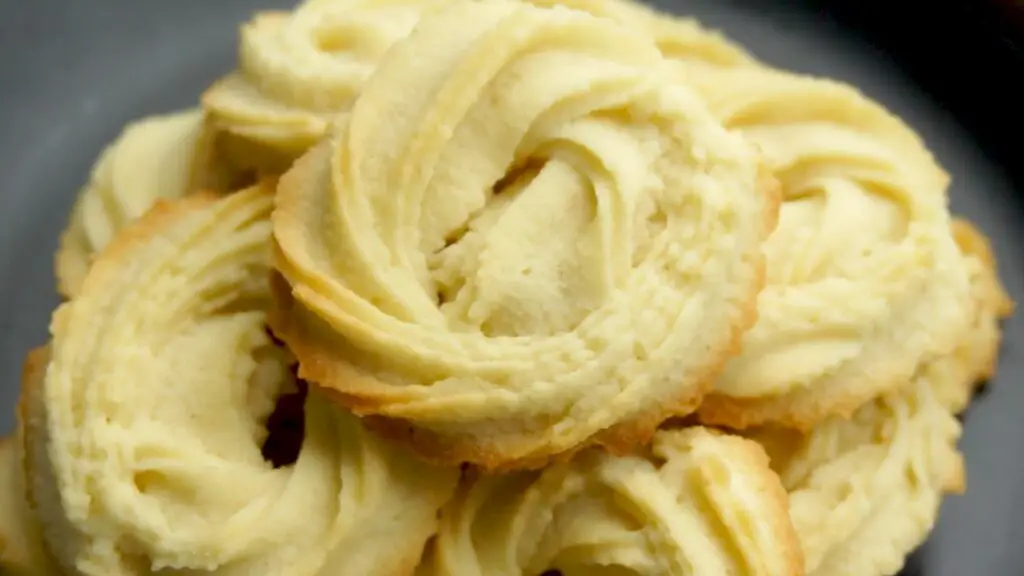 I'm sure you'll love them just as much as I do – they're truly irresistible, crumbly, buttery, and have that melt-in-your-mouth texture we all crave in a shortbread cookie. Plus, they're super easy to make, as you can see in the video below.
Ingredients:
Let's talk about the key ingredients that make these shortbread cookies so easy to make:
Salted butter (1 cup or 227 grams) – Room temperature, creamy, and rich in flavor, the salted butter is the backbone of our scrumptious shortbread cookies. It's responsible for their incredible melt-in-your-mouth texture and delightful buttery taste. Remember to use room-temperature butter for easier mixing! In case you're using unsalted butter, make sure to add 1/4 teaspoon of salt along with the flour.
Powdered sugar (1 cup or 113 grams) – This sweet ingredient ensures that our cookies have a delicate and tender crumb. Unlike granulated sugar, powdered sugar helps to create a smoother and more consistent dough for perfect shortbread cookies.
Vanilla extract (1 teaspoon) – A small yet mighty addition to our recipe, vanilla extract brings a depth of flavor and a touch of warmth to our cookies, enhancing their overall taste.
All-purpose flour (2 cups or 283 grams) – The essential structure-builder of our cookies, all-purpose flour gives them their crumbly and firm texture. It's the perfect balance between tenderness and sturdiness that sets our shortbread apart.
Milk (1-2 tablespoons, optional) – Sometimes, my dough might be a bit too thick for piping. I like to add a splash of milk to achieve the ideal consistency, ensuring that my cookies come out picture-perfect.
These five simple ingredients work in harmony to create the most amazing buttery shortbread cookies you'll ever taste.
Top Tip: Using salted butter in this shortbread cookie recipe brings out the rich, buttery flavor that makes these cookies so irresistible. The salt in the butter enhances the sweetness of the powdered sugar and provides a delicate balance between sweet and savory flavors. If you were to use unsalted butter, you might miss out on that perfect flavor balance and the desired crumbly texture.
Now, let me guide you through the steps to make these delightful treats:
Instructions for This Melt in Your Mouth Shortbread Cookie Recipe
Step 1: Preheat your oven to 350°F (180°C). I like to do this first so that the oven is nice and warm by the time I'm ready to bake my cookies.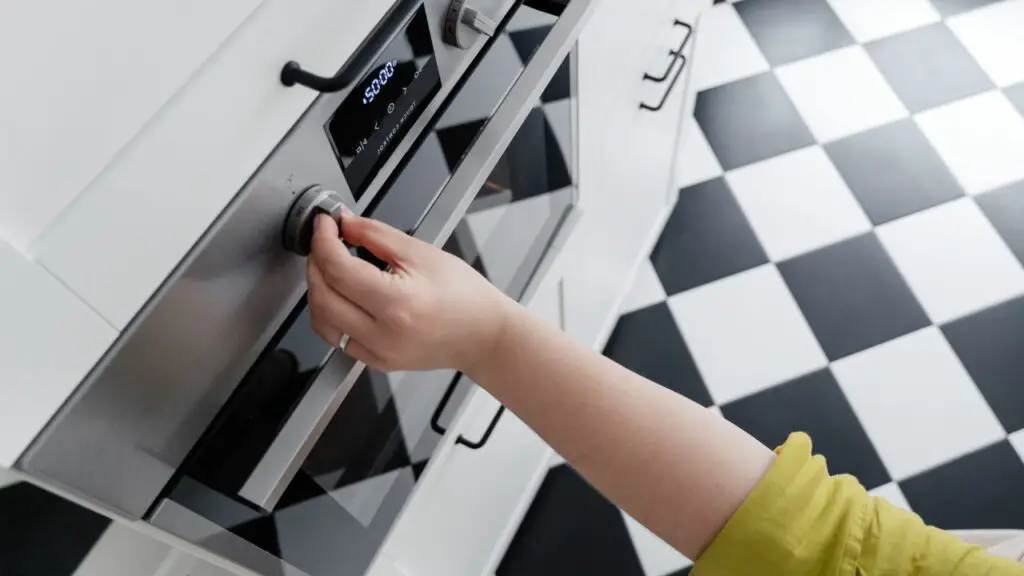 Step 2: In a large mixing bowl, combine the salted butter, powdered sugar, and vanilla extract.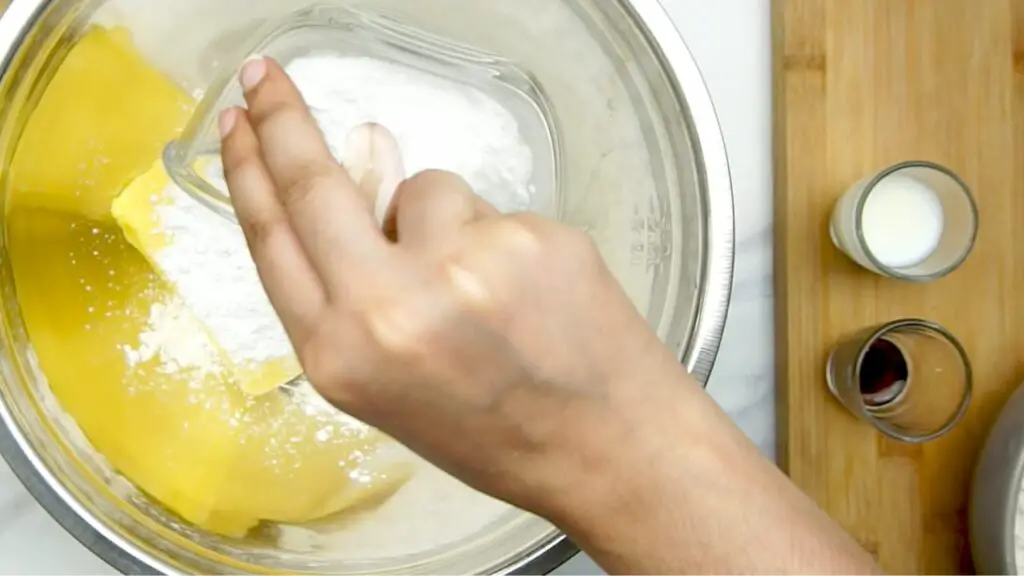 I recommend using an electric mixer to beat the ingredients together, as this will give you a fluffy and light texture.
Step 3: Gradually add the all-purpose flour to the mixture, continuing to mix until the dough is fully combined. If you find that your dough is too thick for piping, don't worry! Just add a bit of milk to achieve the perfect consistency.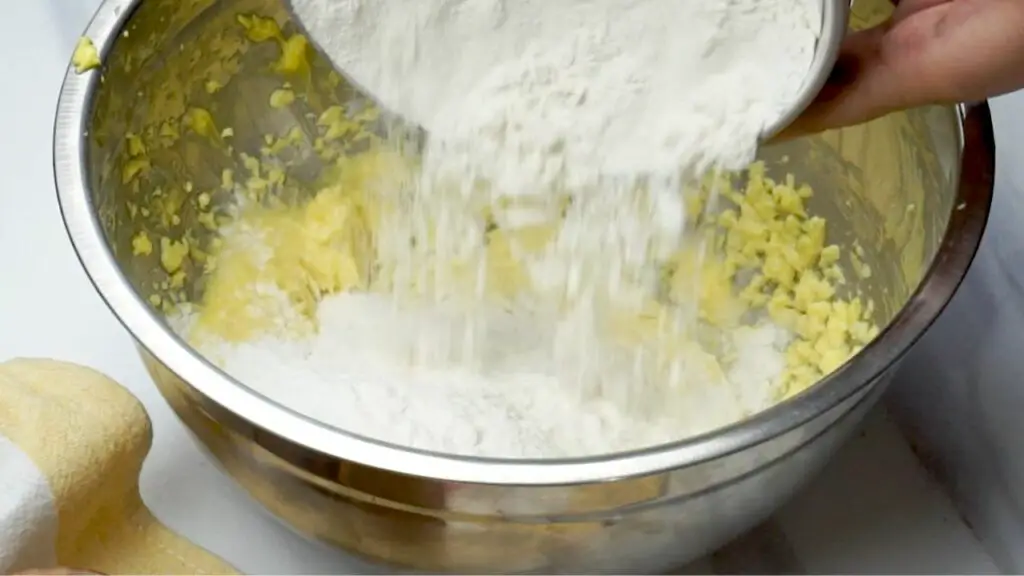 Step 4: Now, it's time to transfer the dough into a piping bag or a cookie press. I like to use a piping bag but feel free to use whatever works best for you.
Step 5: Pipe the shortbread cookies onto a parchment paper or silicone mat-lined baking sheet, leaving some space between each cookie. This will ensure that they don't stick together as they bake.
Step 6: Pop those cookies into your preheated oven and bake them for 15 minutes or until they turn lightly golden brown on the edges. The heavenly aroma that fills your kitchen will be a tantalizing preview of the deliciousness to come!
Step 7: Once they're done baking, let the cookies cool completely on the baking sheet or wire rack. Trust me; this is important for achieving that perfect crumbly texture we all love in a shortbread cookie.
And that's it! Now you can enjoy these amazing Best-Ever Shortbread Cookies. I recommend sharing them with friends and family, but I won't blame you if you want to keep them all to yourself. They're just that good!
Get Creative With Your Shortbread Cookies Using a Cookie Press
A cookie press is a valuable tool to have when making shortbread cookies. It allows you to make dozens of uniform cookies quickly and easily using the easy-squeeze handle. This means you can make a large batch of cookies in no time at all.
TAP ON IMAGE TO VIEW PRICE
Plus, with a variety of cookie discs to choose from, including Wreath, Christmas Tree, Doily, Snowman, Pumpkin, Dots, Pinwheel, Biscuit, Heart, and Starburst, you can customize the shape of your shortbread cookies to suit any occasion or holiday.
TAP ON IMAGE TO VIEW PRICE
So, if you plan on making shortbread cookies frequently, investing in a cookie press can save you time and effort.
No Cookie Press Or Pinping Bag? No Problem!
To make these shortbread cookies without a piping bag or cookie press, simply roll out the dough to a 1/2-inch thickness on a lightly floured surface. Use a rolling pin to flatten the dough evenly, and then cut it into your desired shapes using a knife or cookie cutters. Place the shaped cookies on a lined baking sheet, and bake according to the recipe instructions.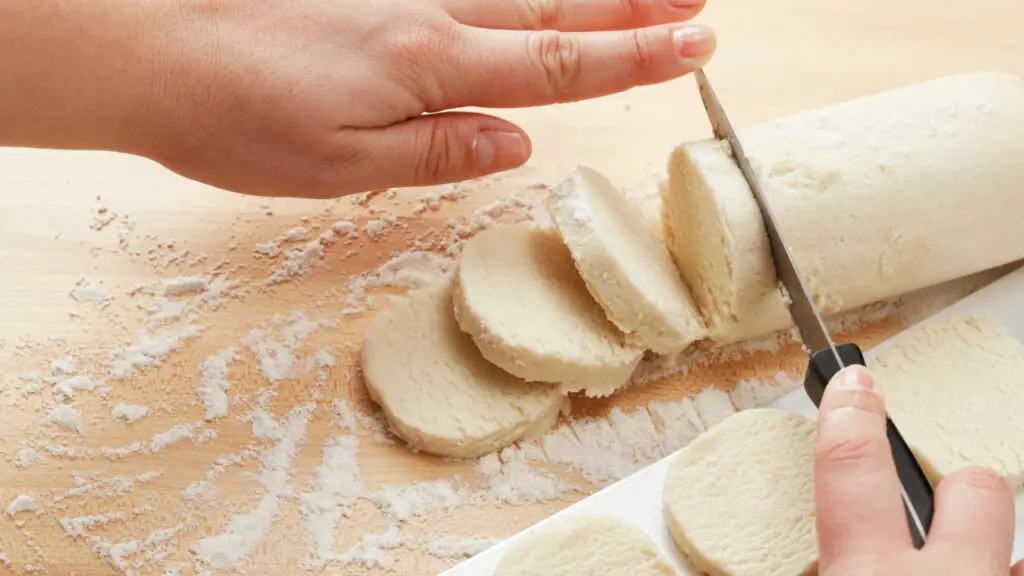 Another option is to shape the dough into a log or cylinder, then slice it into 1/2-inch thick rounds and bake. This method is known as "slice and bake."
Flavor Variations To Try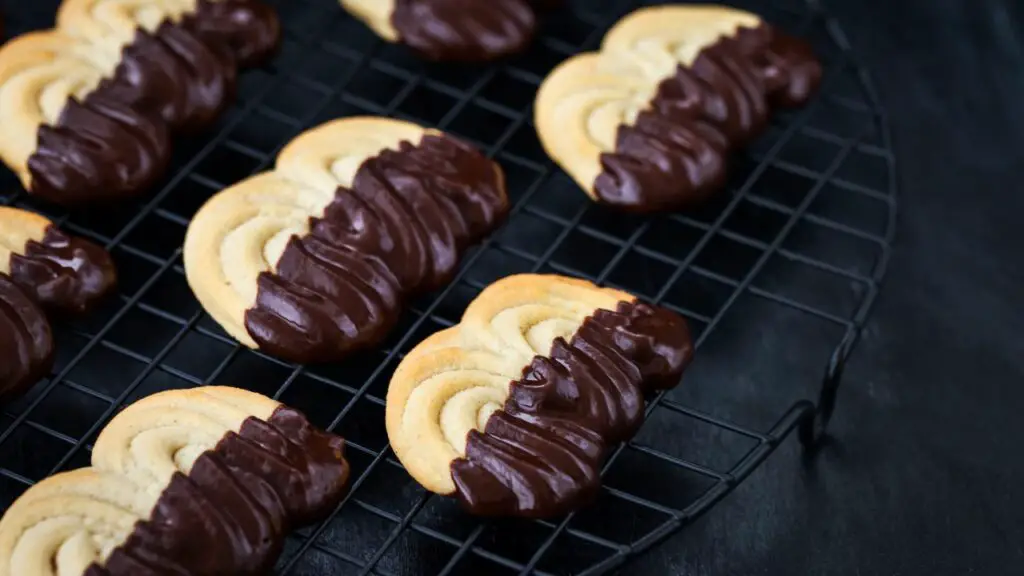 Although these cookies are delicious as they are, you can still experiment with some flavor combinations if you want. I've found that adding a personal touch to my melt in your mouth shortbread cookies really makes them special.
For instance, a hint of lemon or orange zest gives a lovely citrusy twist, while almond extract adds a delightful nutty aroma. And let's not forget chocolate chips or dipping them in melted chocolate – it brings that irresistible chocolatey goodness to the mix.
Go ahead and customize your shortbread cookies to suit your taste preferences, and enjoy the unique variations of this classic treat!
Read Also: 7 Best Cookie Press Shortbread Recipes (Buttery & Crumbly).
FAQs and Troubleshooting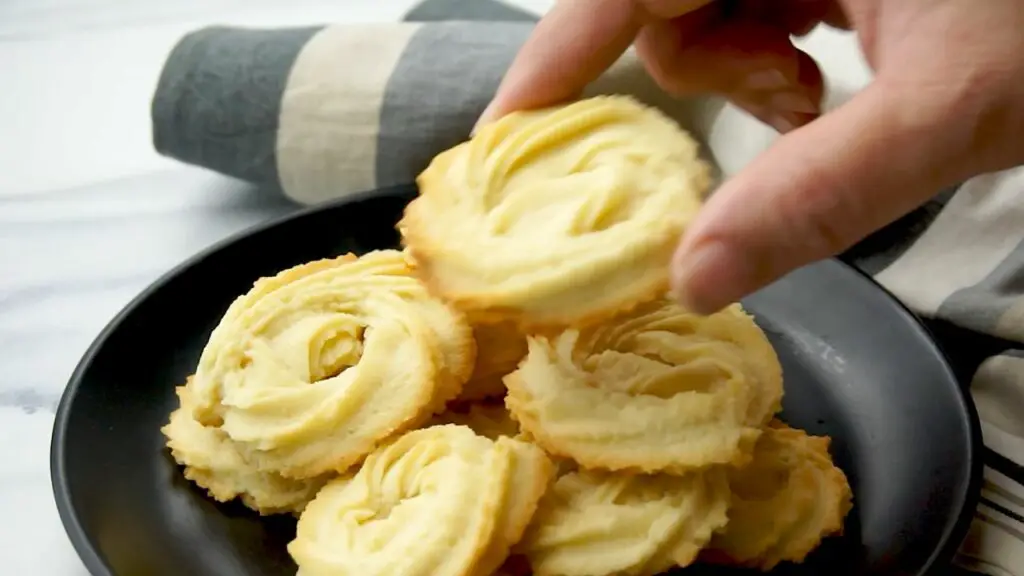 Shortbread cookies are meant to be crumbly, but if they're falling apart too easily, it might be due to too much flour or not enough butter. Make sure you're accurately measuring your ingredients and that your butter is properly incorporated into the dough.
If your shortbread cookies are spreading too much, it could be due to butter temperature, dough temperature, inaccurate measurements, or the baking sheet. Ensure your butter is at room temperature but not too soft, chill the dough for at least 30 minutes before baking, measure your ingredients accurately, and use parchment paper or a silicone baking mat instead of a greased or non-stick baking sheet to minimize spreading.
To make vegan shortbread cookies, simply replace the butter with vegan butter and use dairy-free milk if needed. Cream together vegan butter, powdered sugar, and vanilla extract, then mix in flour and salt (if using unsalted vegan butter). Shape and bake following the original recipe, and enjoy your delicious vegan shortbread cookies.
To make shortbread cookies without powdered sugar, you can use granulated sugar instead. However, the texture of the cookies may be slightly different. Simply replace the powdered sugar with an equal amount of granulated sugar and beat it with the butter until light and fluffy. Proceed with the recipe as directed, and enjoy your homemade shortbread cookies with a slightly different texture.
Does shortbread need eggs?
No, traditional shortbread recipes do not require eggs. The main ingredients are butter, sugar, and flour, and the butter provides the necessary moisture and fat for the cookie. However, some variations of shortbread recipes may include eggs or egg yolks for added richness or texture.
How To Store Shortbread Cookies?
To store shortbread cookies, first, let them cool completely to maintain their crisp texture. Place the cookies in an airtight container, separating layers with parchment paper to prevent sticking, and store them at room temperature, away from direct sunlight. These cookies will stay fresh for up to two weeks.
If you need to store them longer, freeze them in an airtight container for up to two months and thaw them at room temperature before enjoying them.
Check out these low-carb shortbread cookies below.
If you're a fan of shortbread but want to avoid the high sugar and carb content of regular recipes, be sure to check out these delicious low-carb keto shortbread cookies! They're buttery, sweet, and have less than one gram of carbs per cookie.
In Conclusion
Making these melt in your mouth shortbread cookies is an absolute delight. It's hard to beat the classic buttery flavor that reminds me of my favorite Danish butter cookies.
The recipe is simple, and the cookies are easy to customize with different flavors and mix-ins. So, whether you're making them for yourself or giving them as a gift, these shortbread cookies are sure to be a hit.
---
Read Also: How To Bake Cookies Without Sticking? (10 Effective Tips).