Using a cookie press is a great way to make uniform and professional-looking shortbread cookies. This handy kitchen tool is simple and fun to use, and the results are always impressive. 
All you need now is cookie press shortbread recipes that are tender, buttery, and crumbly as though it is melting in your mouth.
1. Best Classic Cookie Press Shortbread Recipe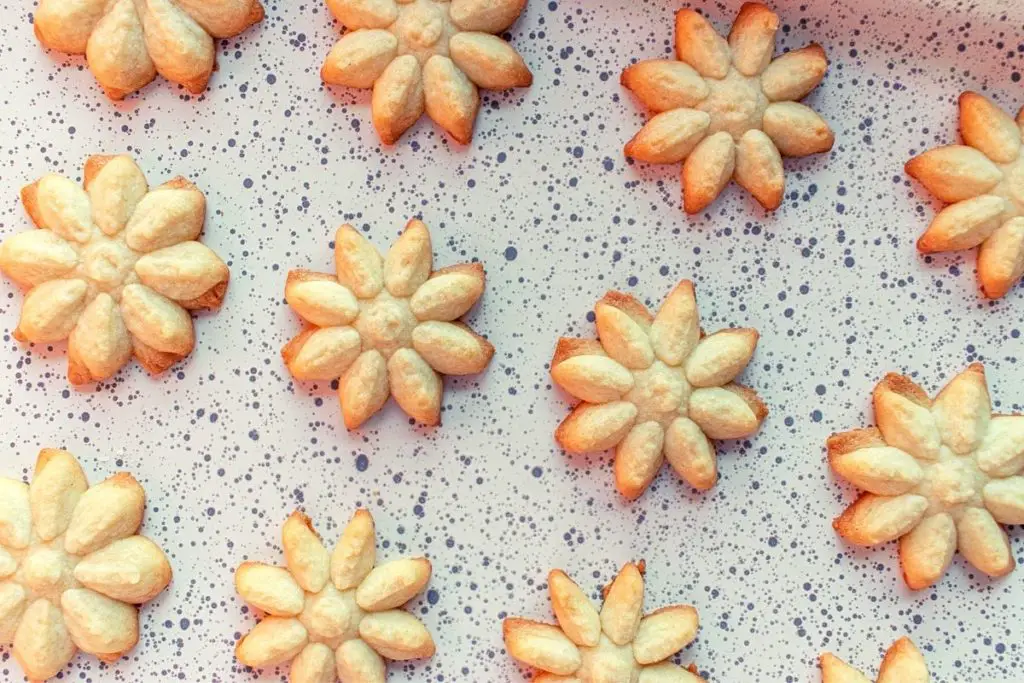 Classics recipes remain such for a reason—their flavor and technique prove themselves strong enough to withstand the test of time over and over again. 
That's why there is no risk in trying this quintessential shortbread cookie recipe. All you need to do is cream the butter and sugar together until the color turns pale and the texture becomes fluffy, then add the vanilla and flour and blend until combined, softening with milk whenever required. 
Once the texture resembles that of Play-Doh? Your cookie press is ready to go!
Top Tip: Avoid greasing or lining your baking sheet beforehand, as it can make the surface too slippery and therefore keep your cookies from sticking once you push them out of the cooking press. The fat content of the cookies will keep them from remaining stuck once baked.
For further details, tips, and a couple of extra tricks, check the full recipe at Lil' Luna!
2. Wilton Cookie Press Shortbread Recipe
Tap On the Image For The Price Of Wilton Cookie Press
There is nothing more important than consistency in shortbread recipes meant for a cookie press. If you get it wrong, the dough will be too soft to hold its shape or stick to the press or too hard even to push. 
That is why this Wilton cookie press shortbread recipe is perfect—it has the proper ratio of ingredients to guarantee a flavorful experience that can work with your cookie press just fine. 
Top Tip: When using a cookie press, avoid any mix-ins within the dough, like chocolate chips or nuts, as they do not press well. Instead, what you can do to spice up your shortbread is to dip them in milk chocolate or cover them with sprinkles when they're done for an extra touch. 
Wilton's official website has a complete list of ingredients, so take a look!
3. Whipped Shortbread Cookie Press Recipe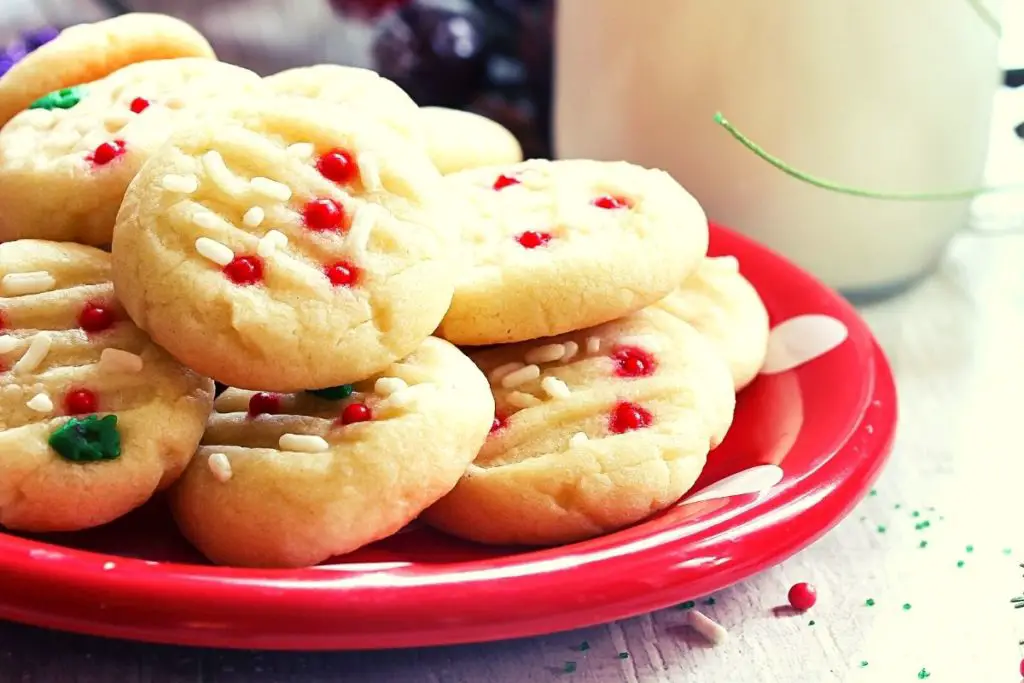 There is always a trick—a secret way to improve a classic recipe. Shortbread cookies are easy to make but equally easy to customize. For example? This recipe.
The secret lies in cornstarch—the key ingredient to an extra crumbly yet tender cookie that melts in your mouth in an explosion of flavor.
After creaming the butter with powdered sugar and vanilla, add cornstarch little by little, followed by the flour. 
The resulting texture will be perfect for your cookie press—easy to pour and shape.
Top Tip: This recipe does not require milk; therefore, it's straightforward to make it vegan. How? Just replace the butter with margarine or vegetable shortening! 
The complete list of ingredients and step-by-step instructions is at Spend With Pennies, so make sure to take a look!
4. Best Butter Shortbread Cookies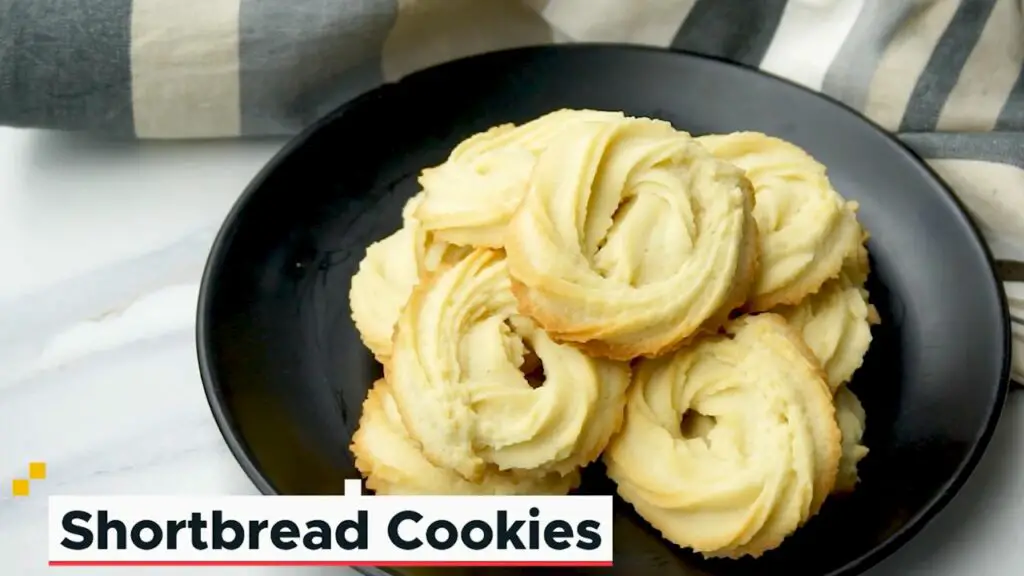 Delicious, buttery, and melt in your mouth, this shortbread cookie recipe brings forward the best flavors of those classic Danish butter cookies that come in a tin, creating an enjoyable and nostalgic experience. 
The secret? Using salted, high-quality butter with a higher milk-fat ratio enhances flavor and makes creams much smoother. Since most of the flavor in the cookie relies on butter, make sure to pick the best one according to your tastes.
Top Tip: To ensure the dough has the perfect texture for a cookie press, make sure to use as little milk as possible. A reliable way to gauge how much milk you need is to add a tablespoon to the crumbs, just until the dough barely comes together.
For a detailed step-by-step guide, make sure to check out my baking video and the full recipe here: The Easiest Melt in Your Mouth Shortbread Cookie Recipe (Irresistibly Buttery).
5. Chocolate Shortbread Recipe For A Cookie Press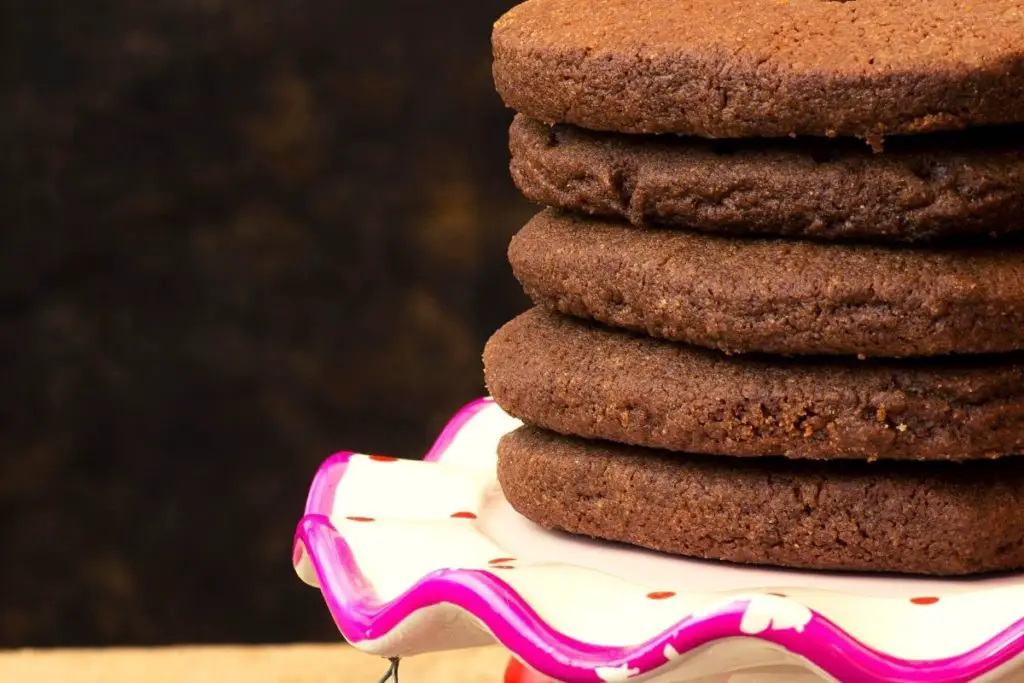 Chocolate shortbread cookies are exquisite—they have the buttery and crumbly texture you expect from that type of cookie. Yet, they also boast a deep and flavorful chocolate taste that does not overpower the senses. 
This recipe requires a bit more sugar than others—to sweeten the bitter cocoa powder. However, the delicious result will surprise you since it is not as sweet as you might expect.
Top Tip: Always remember that your cookie press is not a piping bag—you cannot tilt the press or drop the batter from the air down to the baking sheet. Instead, it would help if you put the press flat on top of the surface so that the shape can come out consistently.
For further details and a video explaining the step-by-step, take a look at Geoff's Baking Blog and walk out with new ideas and tips.
6. Sugar-Free Shortbread Cookie For Cookie Gun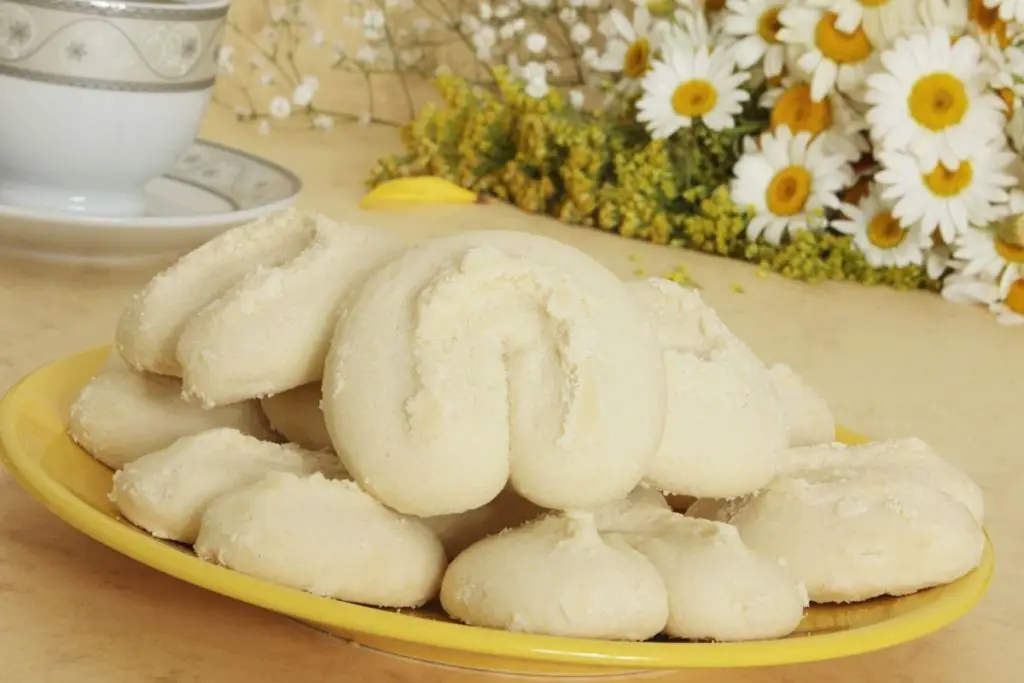 It may be hard to believe, but making a delicious shortbread cookie without an ounce of sugar is very plausible. 
This recipe—optimized for your cookie gun or press—allows you to replace sugar with any alternative of your preference on a 1:1 ratio. The flavor will be slightly different according to your choice.
Top Tip: Stevia is usually my first choice when replacing sugar; however, for a successful sugar-free shortbread recipe, you need a low-calorie sweetener that tastes like sugar, looks like sugar, and measures the same as sugar. Splenda Allulose is a Zero Net Carbs plant-based sweetener perfect for this recipe.
The Sugar-Free Diva has a complete list of ingredients and other tricks to reduce sugar in your life—take a look!
7. OXO Cookie Press Chocolate Shortbread Recipe
Tap On the Image For The Price Of OXO Cookie Press
If you're seeking a shortbread cookie recipe tailor-made for your cookie press, there is no better place to start than OXO's blog since each preparation is guaranteed to work with their cookie press set.
In particular, their chocolate shortbread recipe includes two eggs to provide a slightly fluffy texture that, paired with the delectable chocolate flavor, creates a perfect chocolate shortbread cookie that just melts in your mouth.
Top Tip: As you prepare your dough, make sure to keep your metal cookie sheet in the fridge and take it out just as you start to put together your cookies. Working with a cool sheet helps the cookies retain their shape as you press the rest. 
Check this and many other shortbread recipes at OXO's official blog!
Read Also: 10 Crispy And Thin Oatmeal Cookie Recipes You Must Try!