This loaded potato cheese bread is not just your ordinary loaf. This gem combines the fluffiness of freshly baked bread with the creaminess of mashed potatoes and the melt-in-your-mouth magic of gooey melted cheese. Think of it as the ultimate comfort food fusion: a bakery classic meets hearty potato gratin vibes.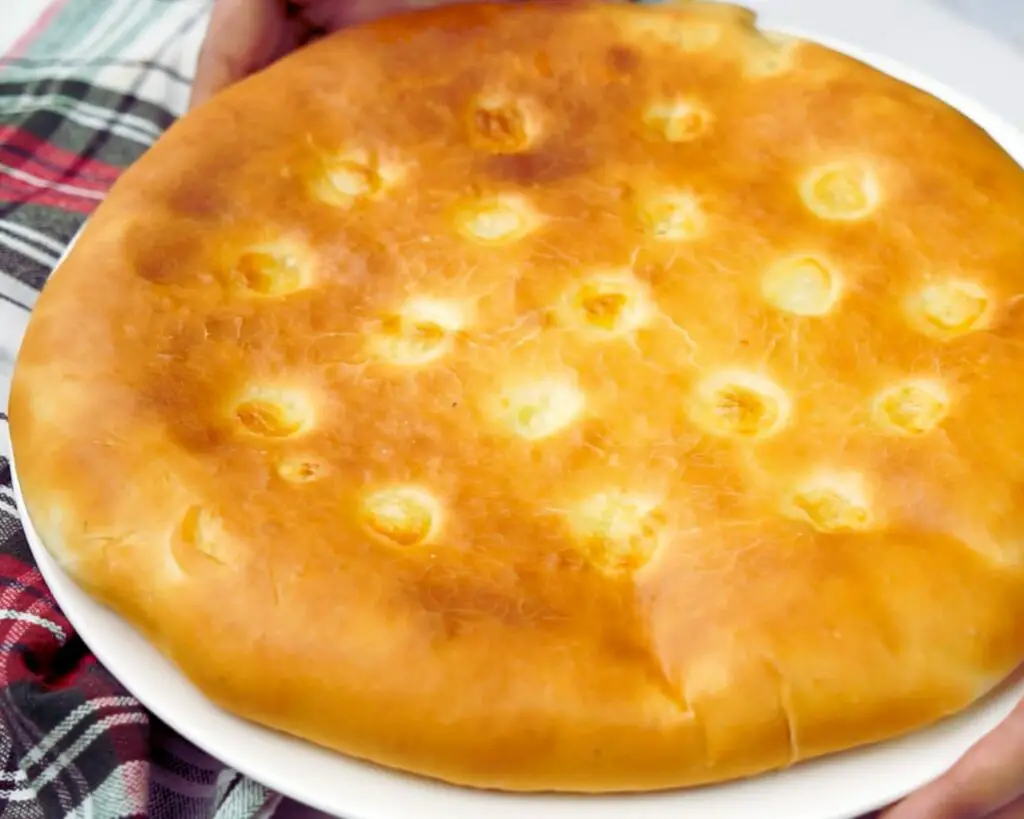 If you're a fan of cheesy delights, warm baked goods, or just warm stuffed bread that makes your heart happy, then this recipe is going to be your next kitchen adventure.
Ready to dive into this doughy, cheesy, potato-filled bread? Let's get started!
Ingredients You Will Need For This Potato Cheese Bread: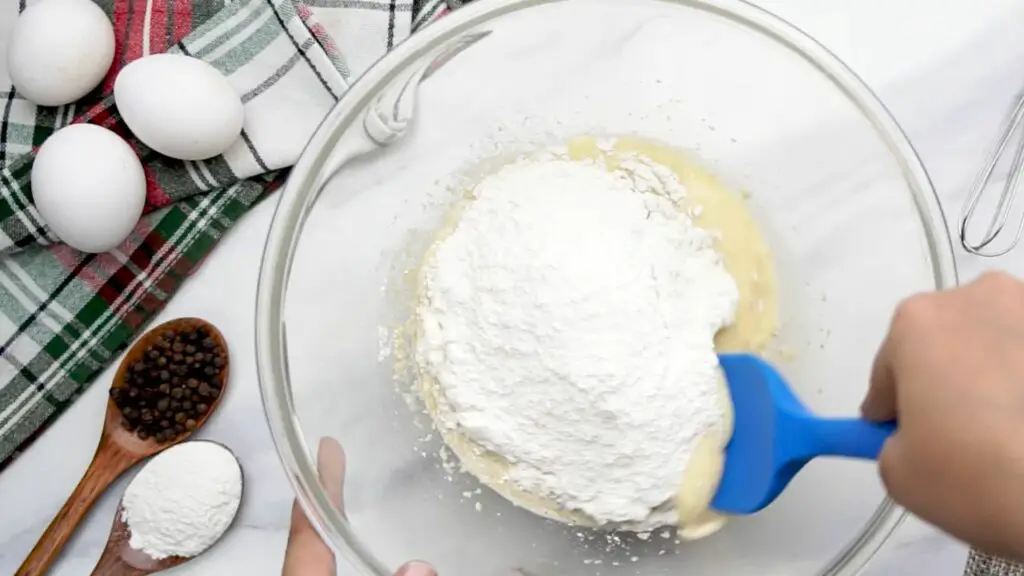 Dough:
200g Bread Flour: I like to use bread flour because it has a higher protein content than all-purpose flour, which results in chewier bread.
1 Room Temperature Egg: Gives richness and color to the bread. Having it at room temperature ensures even mixing.
80ml Warm Milk: Lukewarm milk really helps activate the yeast faster.
4g Instant Dry Yeast (about 1 big tsp): Make sure your yeast is not expired for the best rise.
20g Sugar (2 tbsp): I like to add a bit of sugar just for a hint of sweetness and feed the yeast.
3g Salt (about 1 flat tsp): Try not to add it directly to the yeast; it can hinder yeast activity.
30g Melted Unsalted Butter (about 5 tbsp): If you use salted butter, then leave out the salt.
Potato Filling:
2 Potatoes, medius size: These form the base of our filling. Choose starchy potatoes for creaminess. I like to use Yukon Gold.
3 pinches of Salt: To season the potatoes. Adjust to your taste.
A dash of Pepper: Adds a hint of spice.
40g Heavy Cream (or milk, about 4~5 tbsp): For creaminess. Heavy cream makes it richer, but milk is a lighter alternative. Souercream works as well.
140g Mozzarella Cheese: I recommend using aged mozzarella cheese instead of fresh mozzarella, as it has a lower moisture content and melts beautifully without making your bread soggy so that you will get that melty and stretchy, perfect for that gooey effect.
Toppings:
Milk: Used for brushing before baking, for a golden crust.
2 tbsp Melted Unsalted Butter: Brushed after baking for a glossy finish and added some buttery flavor.
Parsley (optional): For garnish and a pop of color.
Let's Make This Potato Cheese Bread
Making the Dough
Step 1. Begin by mixing together the egg and lukewarm milk in a large bowl. The warmth of the milk will ensure our yeast activates properly.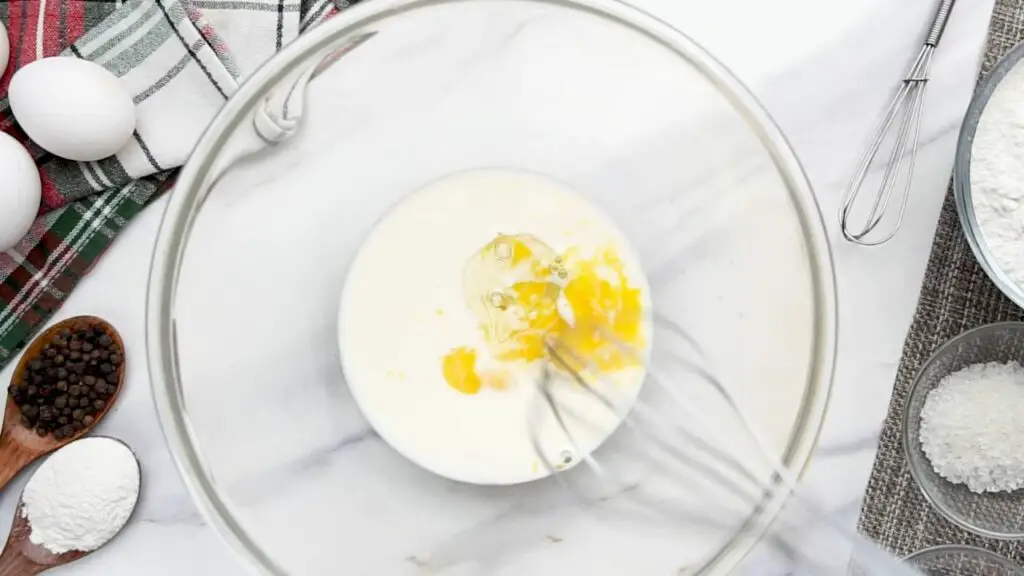 Step 2. Add the instant dry yeast and granulated sugar to this mixture. Give it a gentle stir, ensuring the yeast is fully dissolved.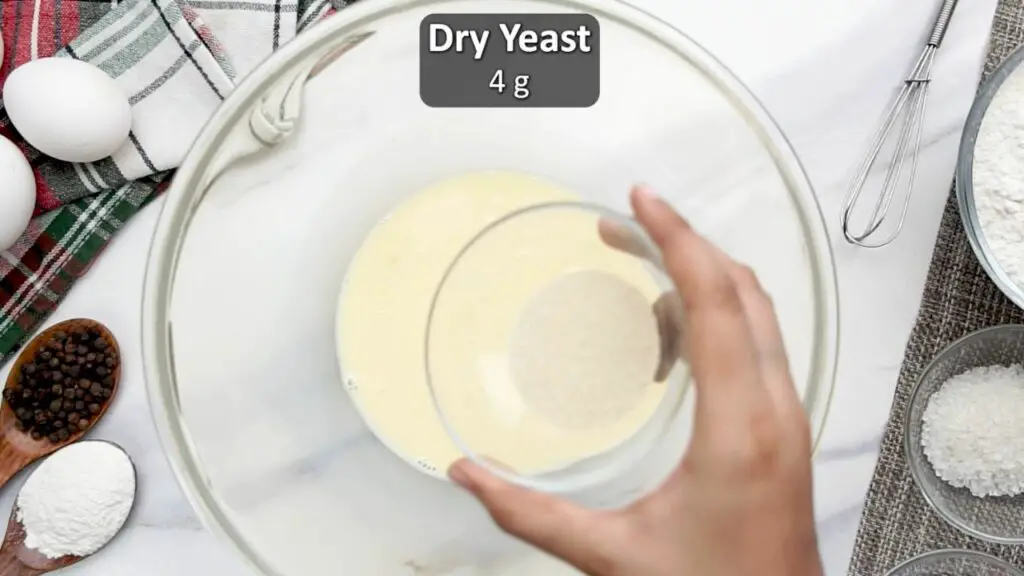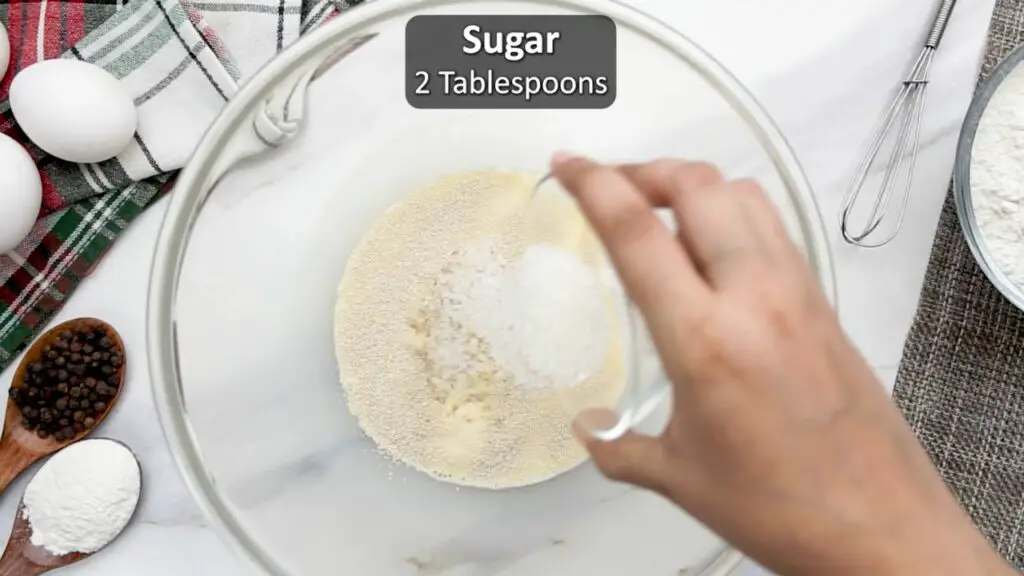 Step 3. Pour in the bread flour and salt, mixing everything together until a dough starts to form. Using your hands at this point makes the process much more tactile and enjoyable!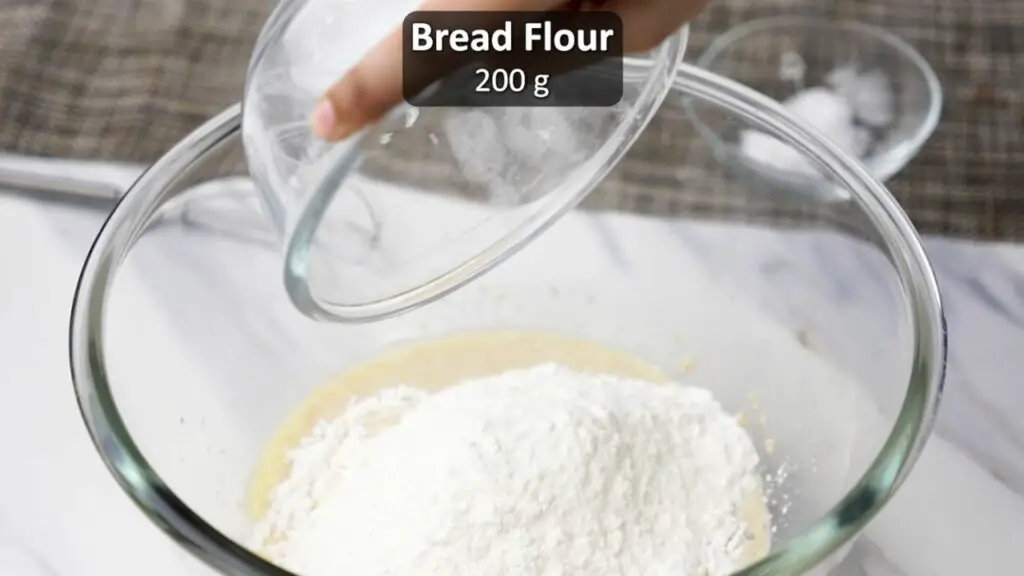 Step 4. Add the melted unsalted butter to the dough. Make sure the butter cooled a bit so it doesn't deactivate our yeast. Mix it in well, and you'll notice your dough becoming soft and supple.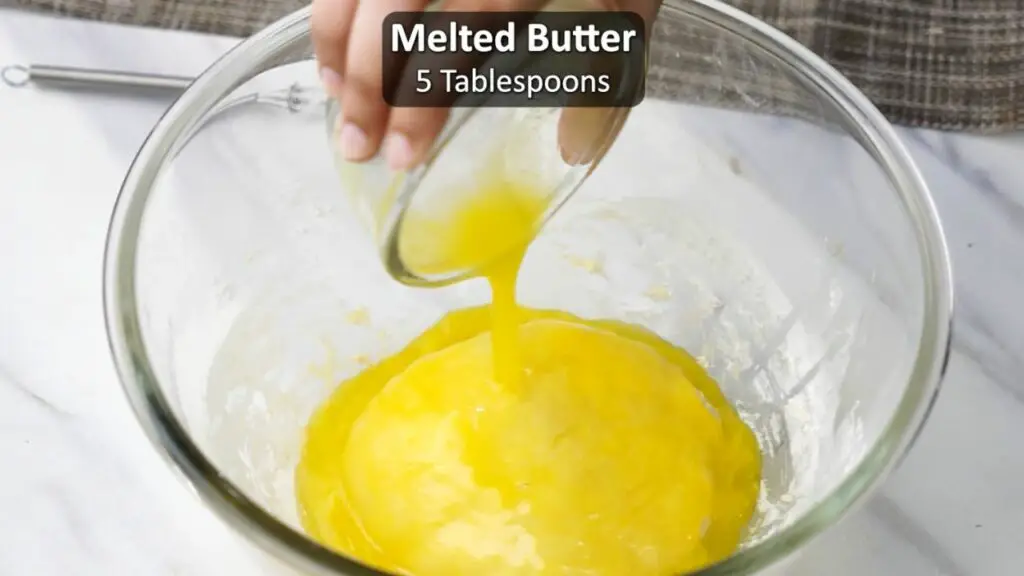 Note: If you're a visual learner like me, check out the video recipe below in the recipe card to get a clearer picture of this process!
Letting the Dough Rise
Step 5. Once your dough is done, cover it with cling wrap or a kitchen towel and set it aside in a warm spot. Let it rise for an hour, or until it has doubled in size.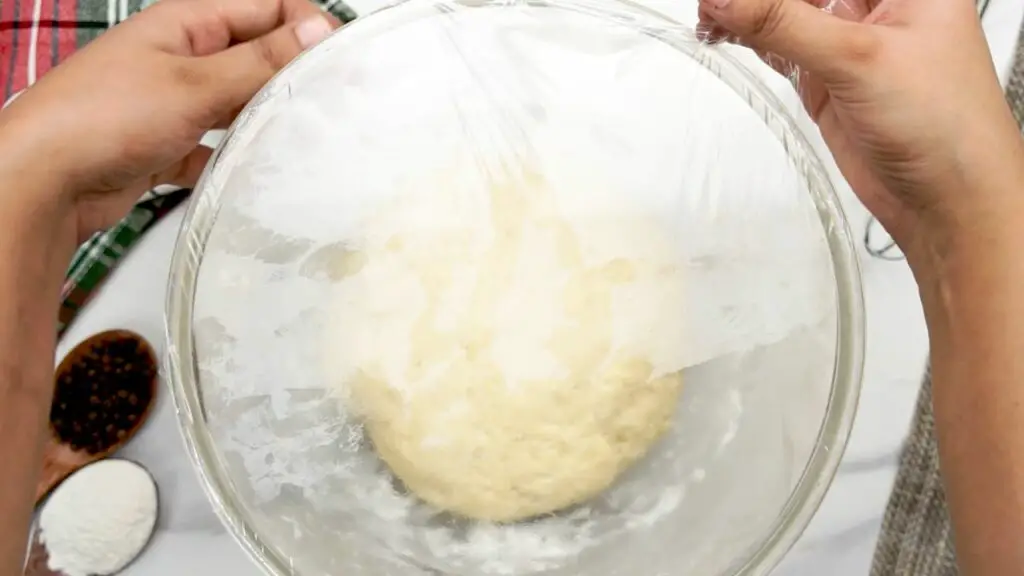 Preparing the Potato Filling
Step 6. As our dough rises, it's the perfect time to prepare our potato filling. Mash the boiled potatoes until smooth, then season with salt and pepper for taste. The creaminess of this filling is quite important for our potato cheese bread.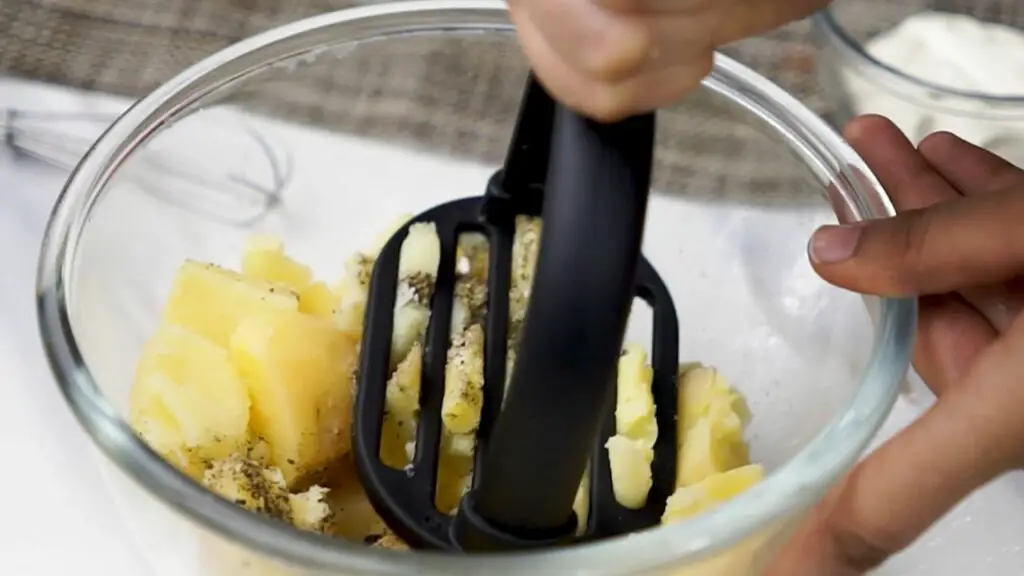 Step 7. Stir in the heavy cream until well combined. You should get a silky, smooth, and creamy potato filling!
Bringing it All Together
Step 8. Once your dough has risen, place it on a floured surface. Cut the dough in half, and roll each half into a flat, round shape.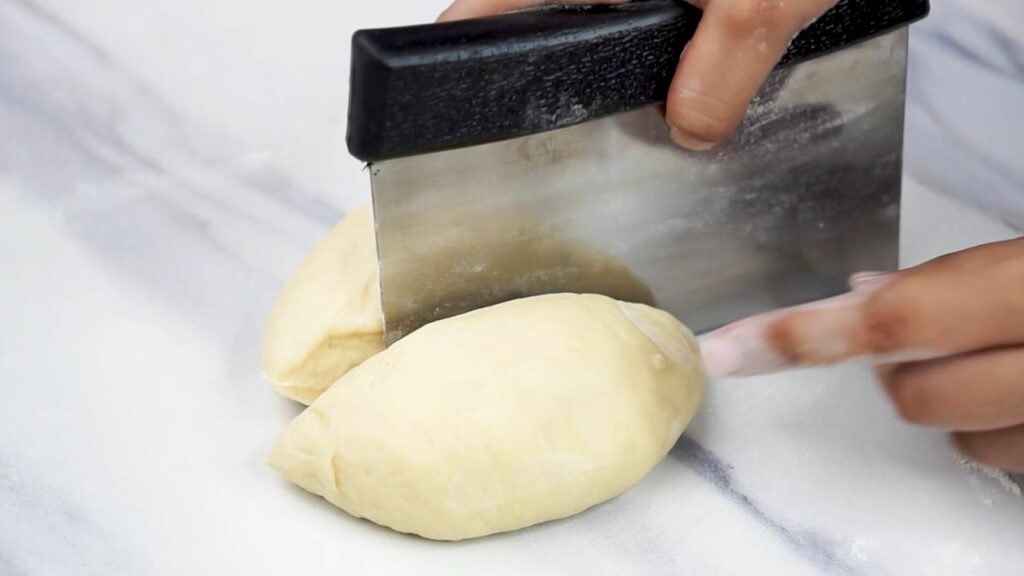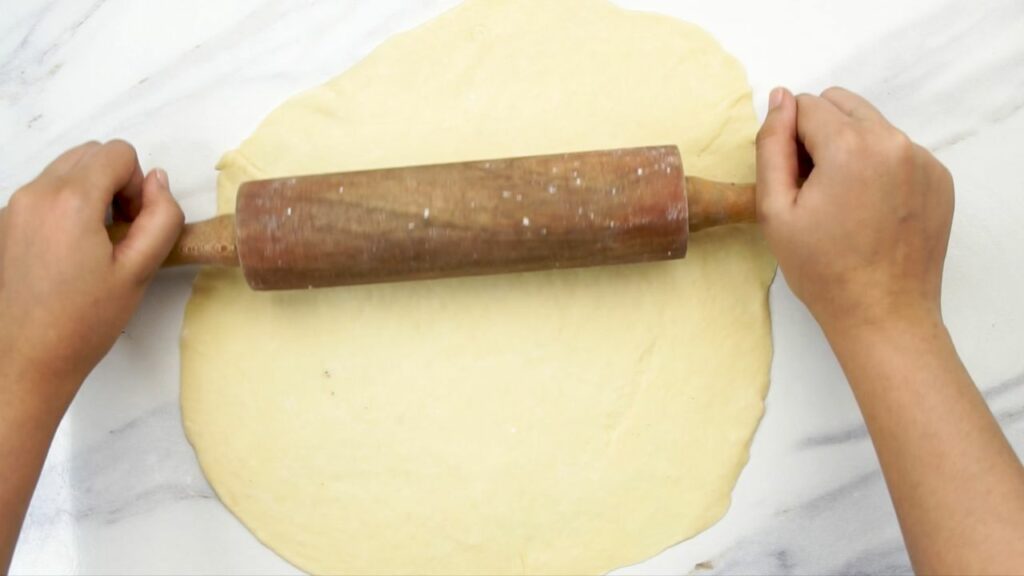 Step 9. Carefully place one dough circle onto a parchment paper-covered baking tray.
Evenly spread your creamy potato filling over this circle, leaving a small border around the edges.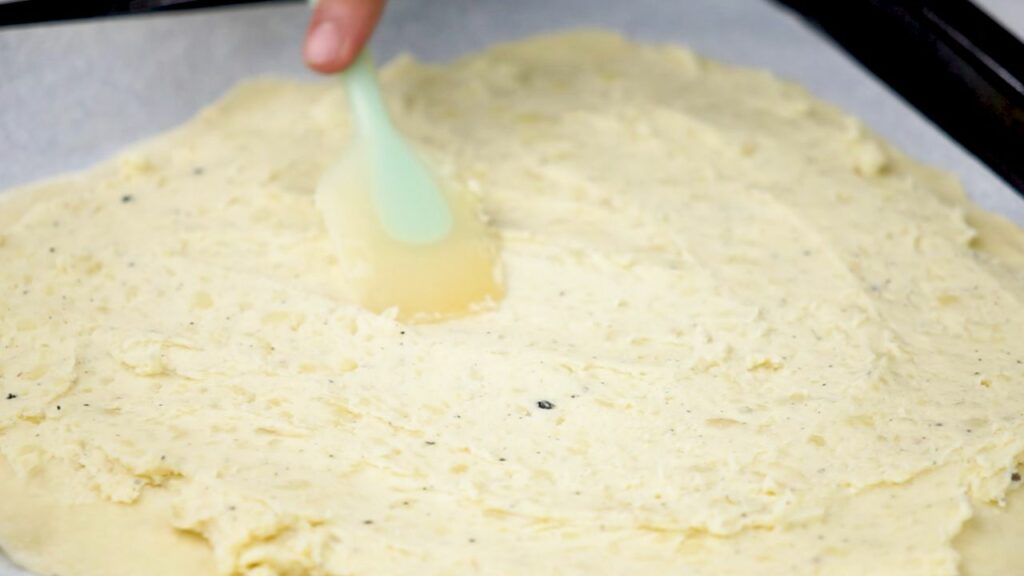 Generously sprinkle the grated mozzarella cheese all over.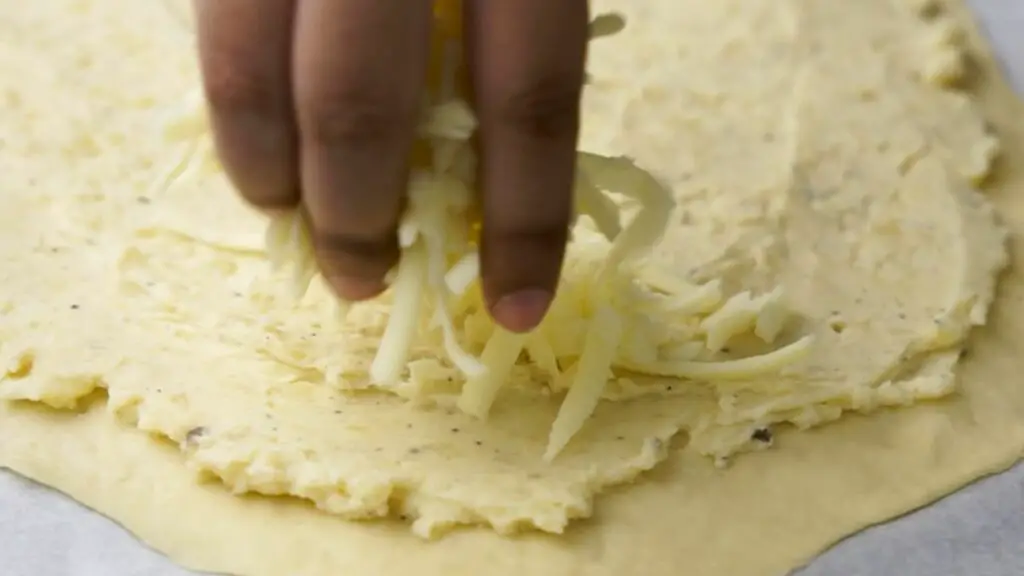 Step 10. Now, place the second dough circle on top, so that it will align with the base.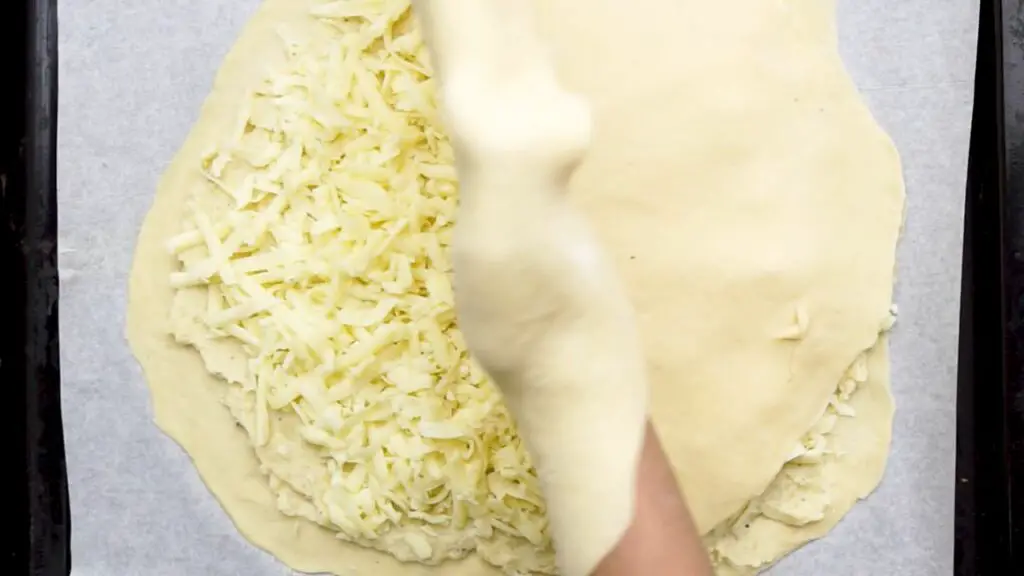 Press down the edges and fold the edges under the dough, sealing in all the potato and cheese filling.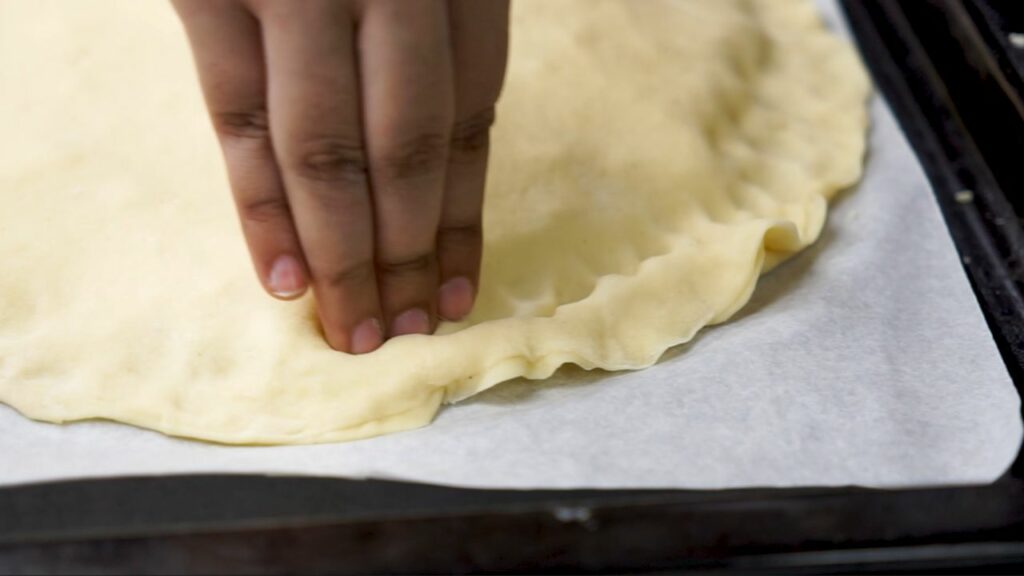 Step 11. Cover this potato cheese bread with a kitchen towel and let it rise again, this time for about 20 minutes.
Step 12. Just before baking, brush the surface with some milk. This will give your bread a golden-brown hue when baked.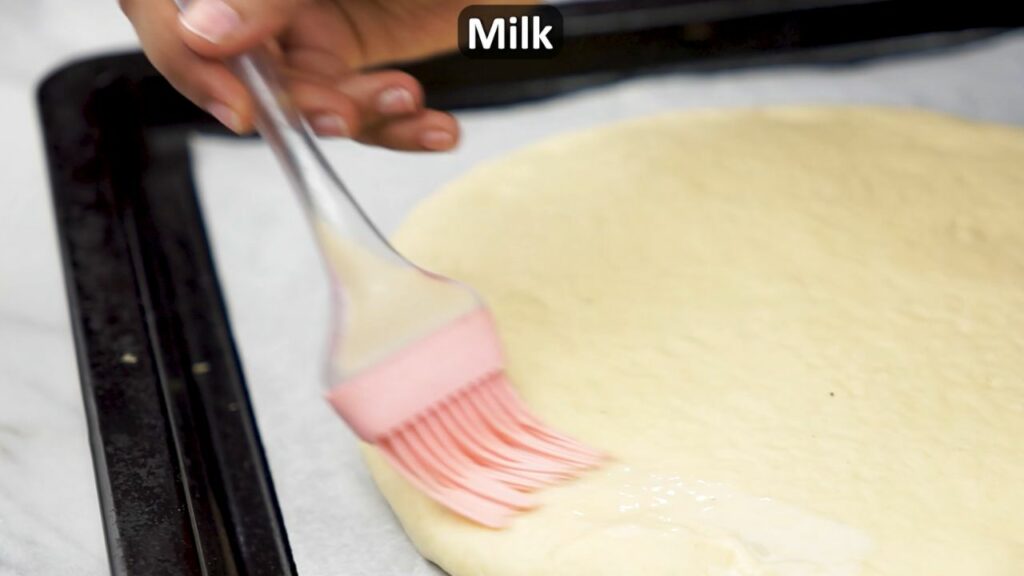 Step 13. If you're a cheese lover like me, here's where you can take it up a notch. Create a few small holes on the surface of the bread and tuck in some additional cheese pieces. These cheesy pockets will be a delightful surprise!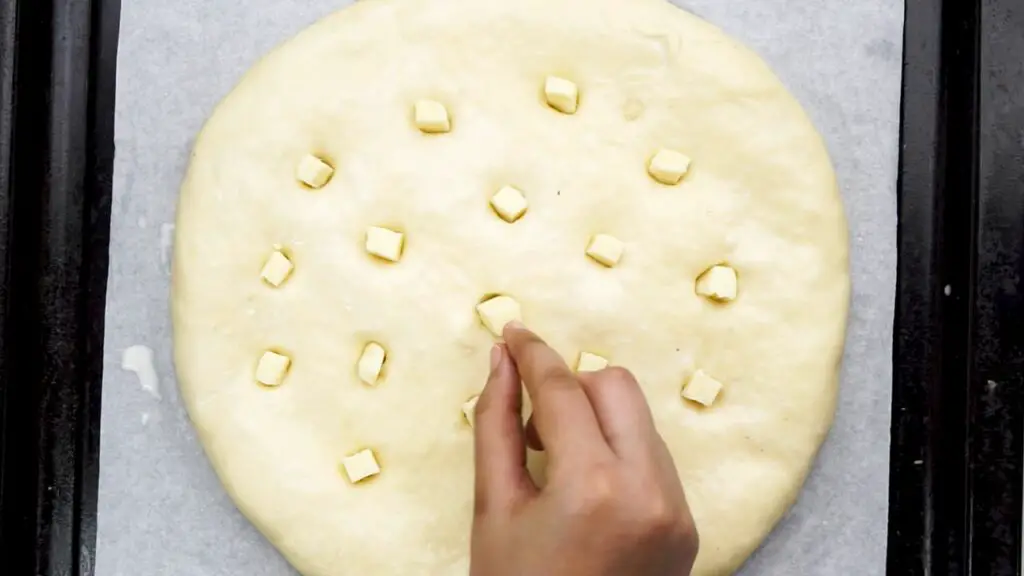 Step 14. Bake the bread in a preheated oven at 160°C or 320°F for 30 minutes.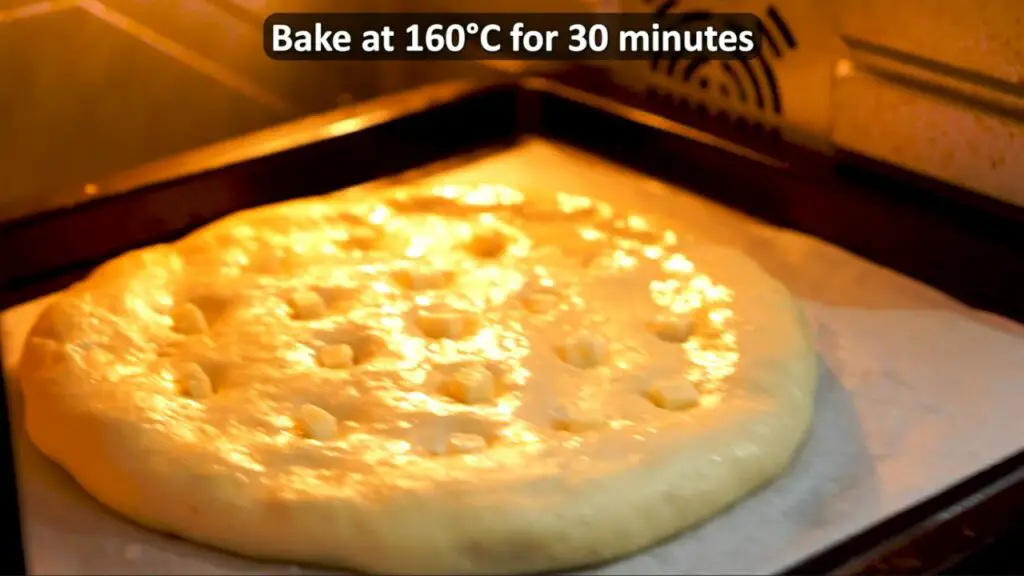 Final Touches
Step 15. Once out of the oven, brush the potato cheese bread with some additional melted butter.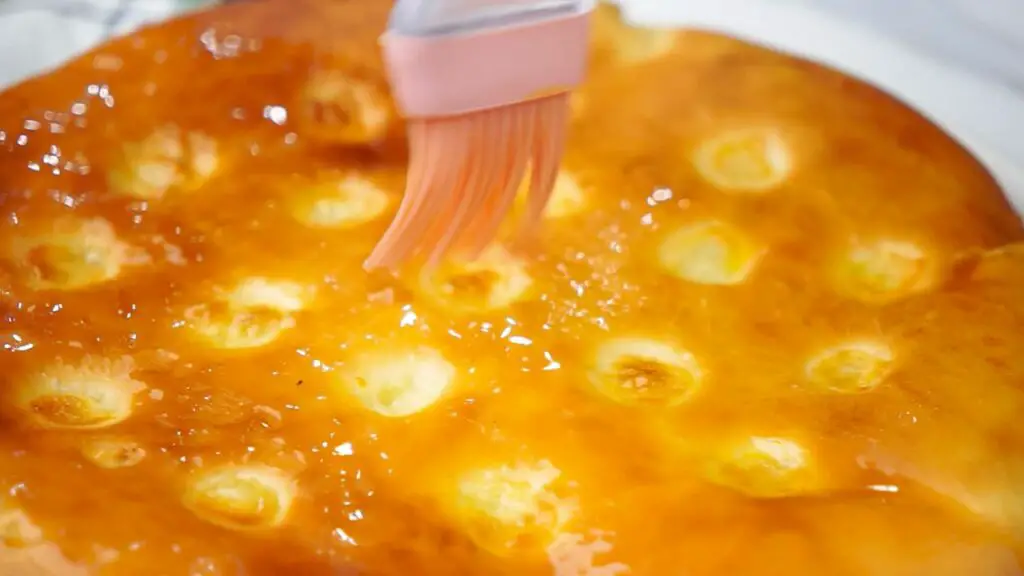 Sprinkle the bread with some parsley. It adds a touch of freshness and a beautiful color contrast.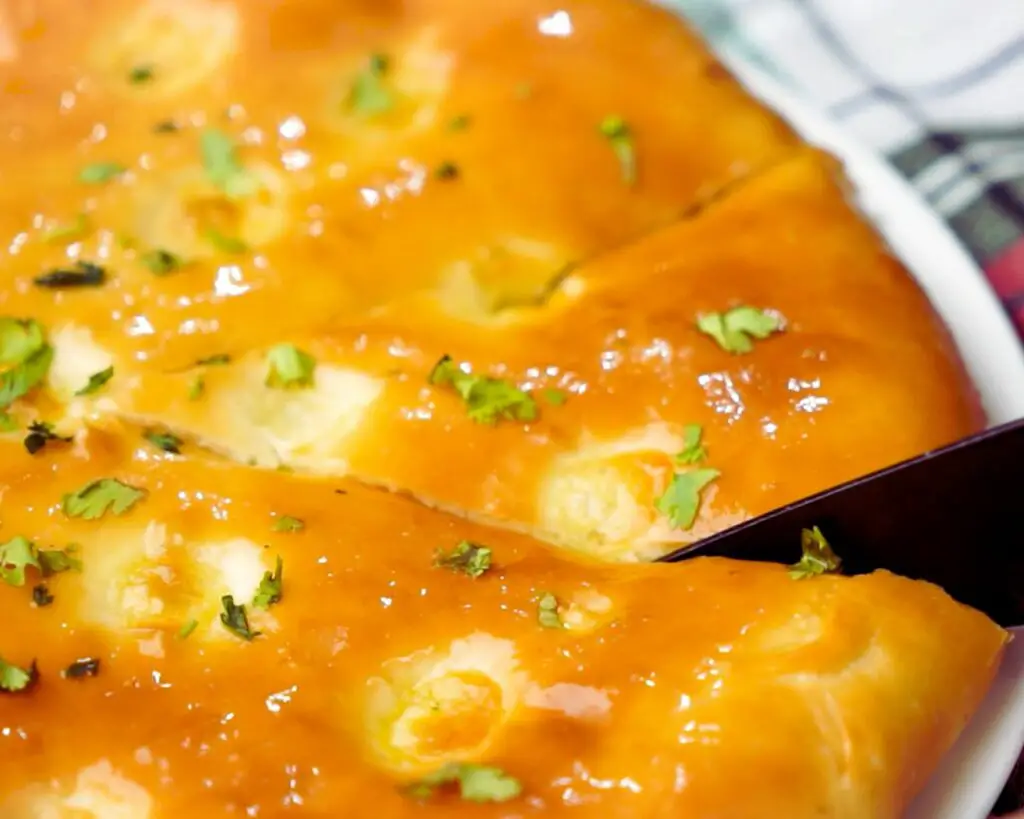 Dive in while the potato cheese bread is still warm. Trust me, the combination of soft bread, creamy potatoes, and gooey cheese is an experience you won't forget!
Customization Ideas For Potato Cheese Bread
Diving into the world of baking can be such an adventure, especially when you start experimenting and making a recipe truly your own.
If you're looking to give your potato cheese bread a unique twist, here are some ideas to inspire your culinary creativity: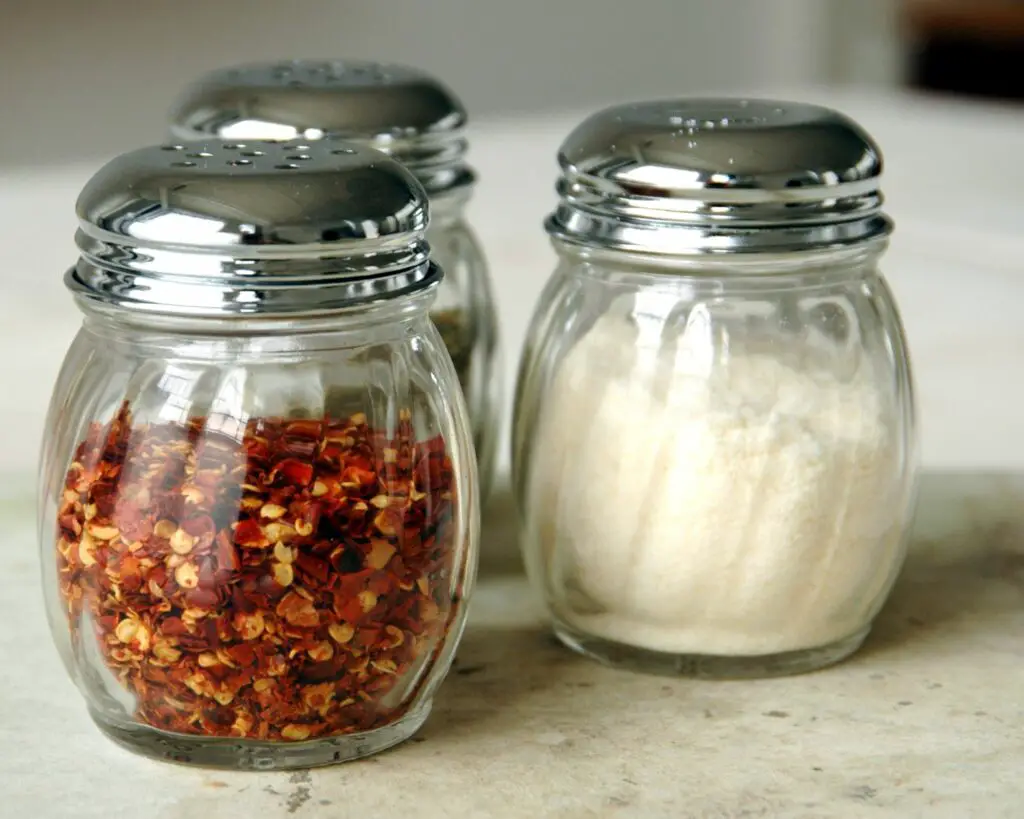 Cheese Varieties:

Swiss or Gruyère: These cheeses offer a nutty taste that would complement the potatoes beautifully.
Feta or Goat Cheese: For those who enjoy a tangy kick.
Cheddar: If you love a rich, sharp flavor, a mature cheddar can be a delightful choice.

Herbs and Spices:

Rosemary or Thyme: These herbs can add an aromatic quality that pairs wonderfully with potatoes.
Garlic Powder or Minced Garlic: For a savory touch.
Red Pepper Flakes: If you're in the mood for a little heat.

Vegetables and Fillings:

Caramelized Onions: Their sweet and savory profile can add a layer of depth to your bread.
Bacon Bits or Pancetta: For a smoky flavor and some crunch.

Potato Substitutes:

Sweet Potatoes: They bring a subtle sweetness and a lovely orange hue.
Butternut Squash or Pumpkin: These can be delightful in the fall season.

Dough Variations:

Whole Wheat Flour: If you prefer a denser, nuttier bread.
Gluten-Free Flour: For those with gluten sensitivities or preferences.

Toppings:

Sesame or Poppy Seeds: For a nice crunch on top.
Everything Bagel Seasoning: A trendy and flavorful option to sprinkle on before baking.
Remember, the beauty of baking is in the journey of discovering what flavors and textures resonate with you. Don't be afraid to experiment and find the perfect combination that makes your potato cheese bread an unforgettable treat!
Frequently Asked Questions (FAQs):
1. My cheese didn't melt uniformly. Any tips? Ensure that the cheese is grated or sliced uniformly and is evenly distributed throughout the bread. Room-temperature cheese melts more consistently.
2. Can I use regular all-purpose flour instead of bread flour? Yes, but the texture might be slightly different. Bread flour has more protein, leading to a chewier and more elastic bread. All-purpose flour will make your bread a bit softer.
3. The bread is done, but the cheese isn't gooey. Why? Different cheeses have varying melting points. Next time, you might want to choose a cheese that melts easily.
4. Why did my potato filling turn out too watery? Different potato varieties have varying moisture content. Make sure you mash the potatoes well and allow any excess moisture to evaporate.
5. The potato filling leaked out during baking. What can I do? Seal the edges of your bread dough properly. Also, I know it is tempting, but avoid overstuffing the bread with too much filling.
How To Store Fresh Potato Cheese Bread?
There's nothing quite like enjoying this potato cheese bread fresh out of the oven. However, if you have leftovers and once the bread cools down completely, wrap it securely in cling film or place it in an airtight container. For optimum freshness, store it in the refrigerator.
When you're ready for another bite, reheat it in the oven or microwave to recapture that freshly baked warmth and taste.
In a Nutshell
Loaded with creamy potato and generously stuffed with cheese, this potato cheese bread is more than just a treat—it's a hearty, homemade indulgence. Dive in and savor every bite!
---
Related Recipe:
Simple Homemade Bread Recipe From Scratch – Soft & Scrumptious!