Everywhere you look, energy and protein balls are taking the snack world by storm. But, delve into recipes, and you're bound to find a plethora of them brimming with peanut butter. And let's be real—not everyone is into that. So, I'm thrilled to introduce my top picks, spotlighting a delicious twist: energy balls with dates and oats without peanut butter!
Dates, with their sweet richness, are a natural energy booster, and oats bring a fulfilling, fibrous bite to the table. Whether you're after the simplicity of no-bake energy ball recipes or fancy trying some healthy twists, this list has it all.
So, let's dive in and whip up some scrumptious and nutritious energy balls with dates and oats!
01. Mexican Chocolate Energy Balls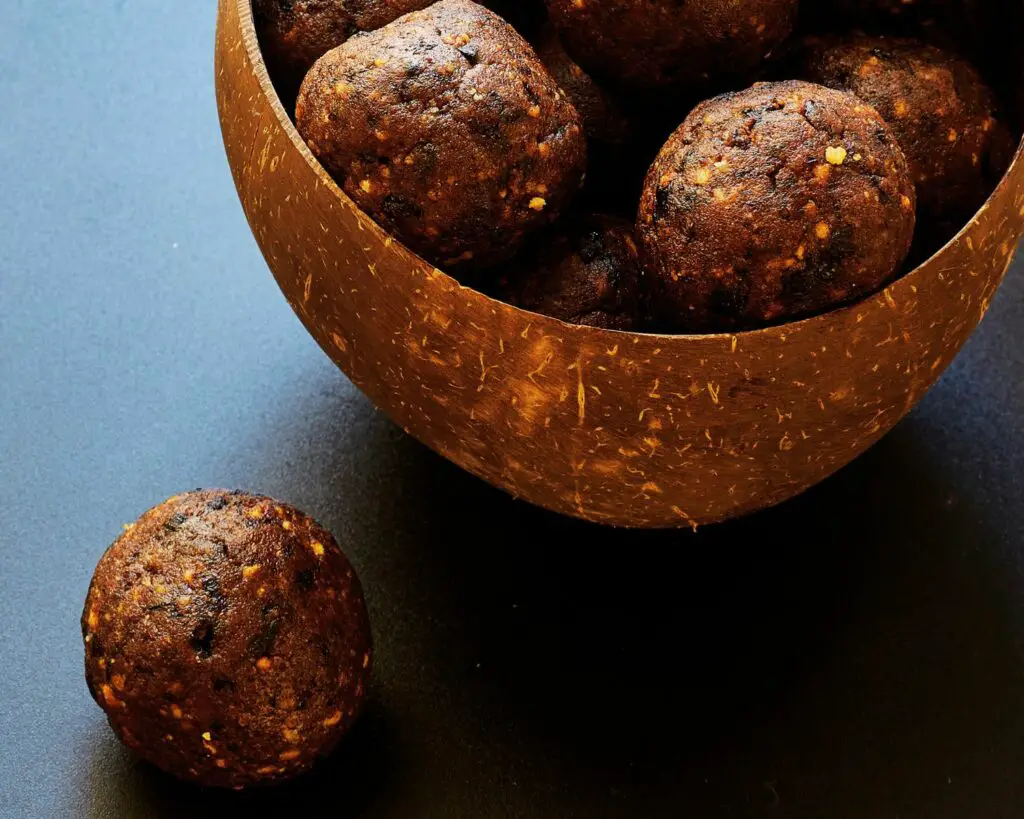 This recipe is as simple as it is layered since it combines three different flavor profiles: the caramel-like sweetness of Medjool dates and maple syrup, the spice of cinnamon and chili powder, and the richness of cocoa powder.
Inspired by the comforting warmth of Mexican hot chocolate, these date and oats energy balls are beautiful and delicious but without sacrificing health—after all, the recipe comes from a Registered Dietitian Nutritionist!
For further details on how to make these energy balls with dates and oats without peanut butter, check the full recipe at Forks Over Knives.
Check Out Also: Healthy Sweet Potato Oat Cookies (ONLY 2 Ingredients!)
02. Coconut Lemon Energy Balls With Almond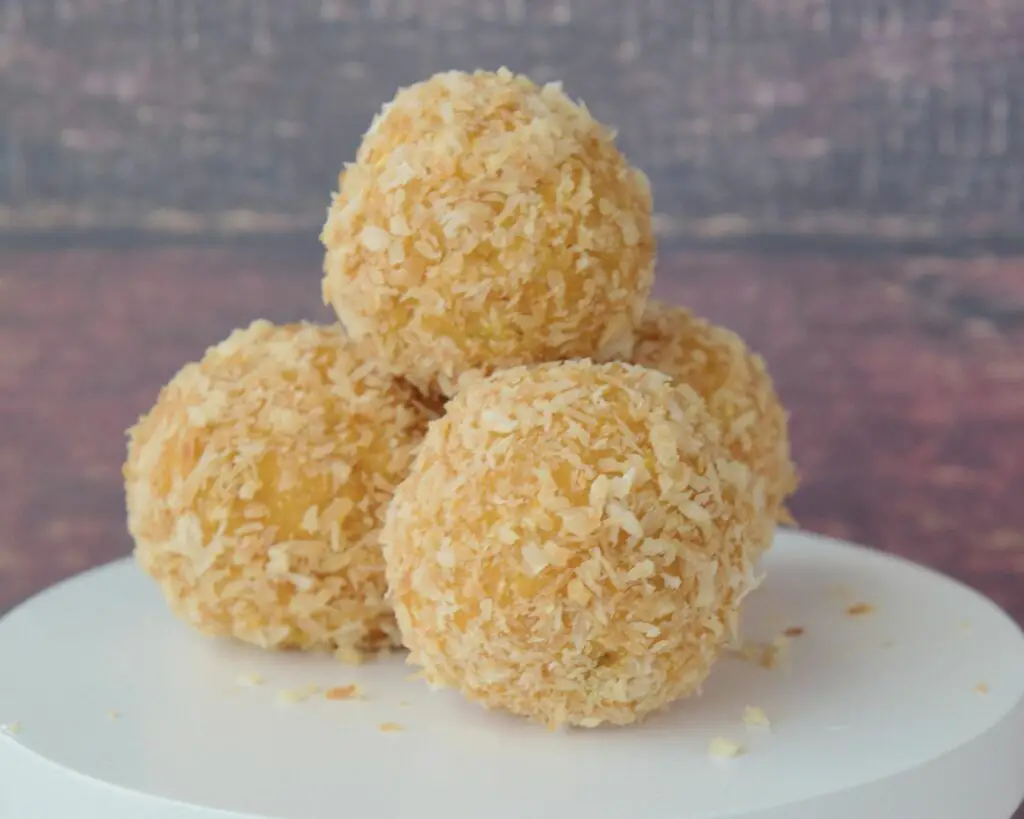 What makes energy balls with dates and oats such an appealing snack choice is their nutritional value—the combination provides complex carbs, protein, and healthy fats in one bite.
This recipe takes nutrition to the next level by including almonds and coconuts, which add healthy monosaturated fats, lauric acid, and extra protein. The touch of lemon elevates the flavor, adding a zest that matches the caramel-like taste of dates.
Take a look at the complete ingredient lists and step-by-step recipe over at Lindsay Pleskot, RD.
03. Spiced Ginger Pear Energy Balls with Protein Powder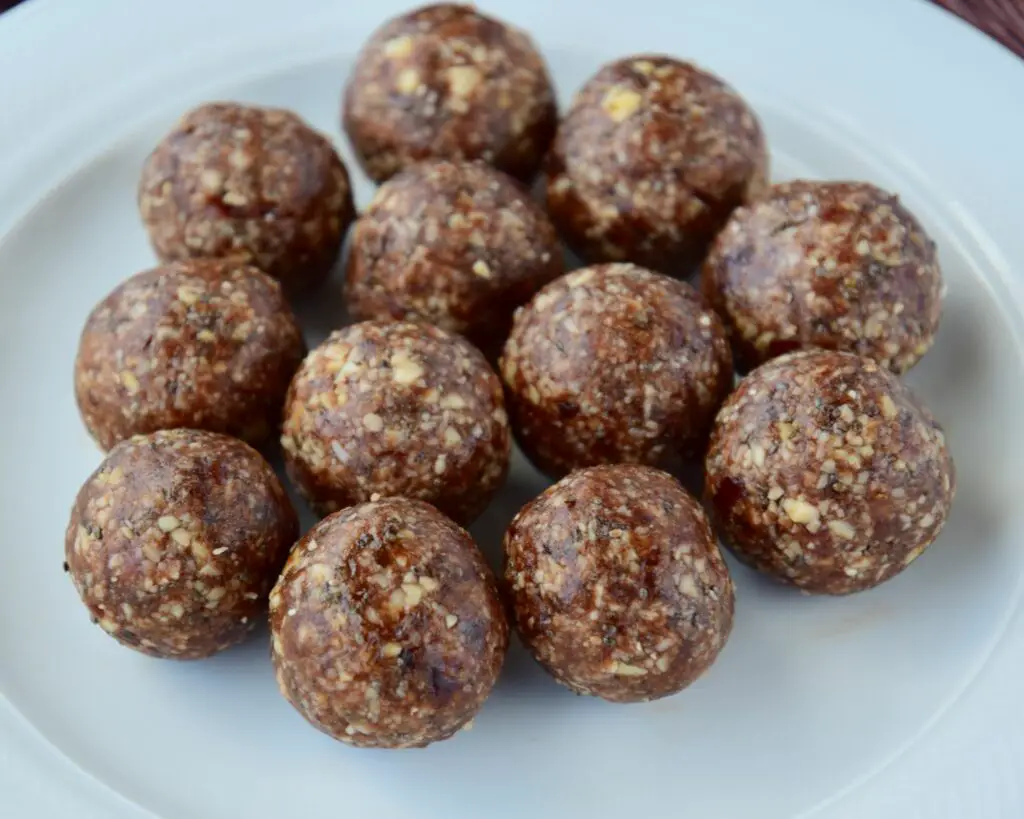 These energy balls are the perfect treat for the fall season, combining the slight tang of pears with a touch of spice and extra nutrition from nuts and protein powder.
Dried pears and pitted dates are the flavorful centerpieces of this recipe, blended alongside cashews, oats, and raw almond butter. A touch of cinnamon and ginger kicks up the flavor by adding warmth, while whey protein powder elevates the nutritional value.
The recipe is gluten-free and dairy-free; check the instructions over at Nutrition in the Kitch.
04. No-Bake Cherry Cacao Energy Balls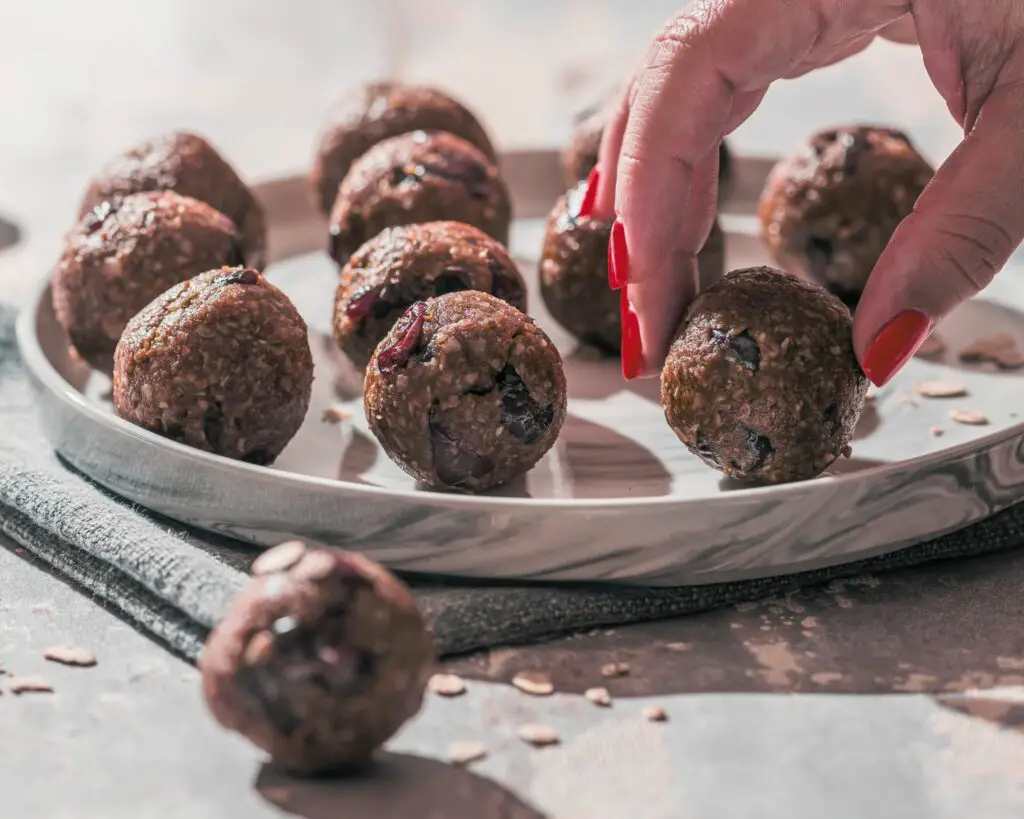 Magic happens when cherries and cacao meet—the best example? This exquisite no-bake energy balls recipe.
Cherries and dates add sweetness without any sugar. At the same time, cocoa nibs balance the flavor with the bitter delight of authentic, minimally processed chocolate. Rolled oats elevate the texture of this snack, while the added touch of raw almonds gives it a crunch of nutty goodness.
It's as easy as blending and rolling—check it out at Greenletes!
05. Nut-Free Cinnamon & Maple Syrup Energy Balls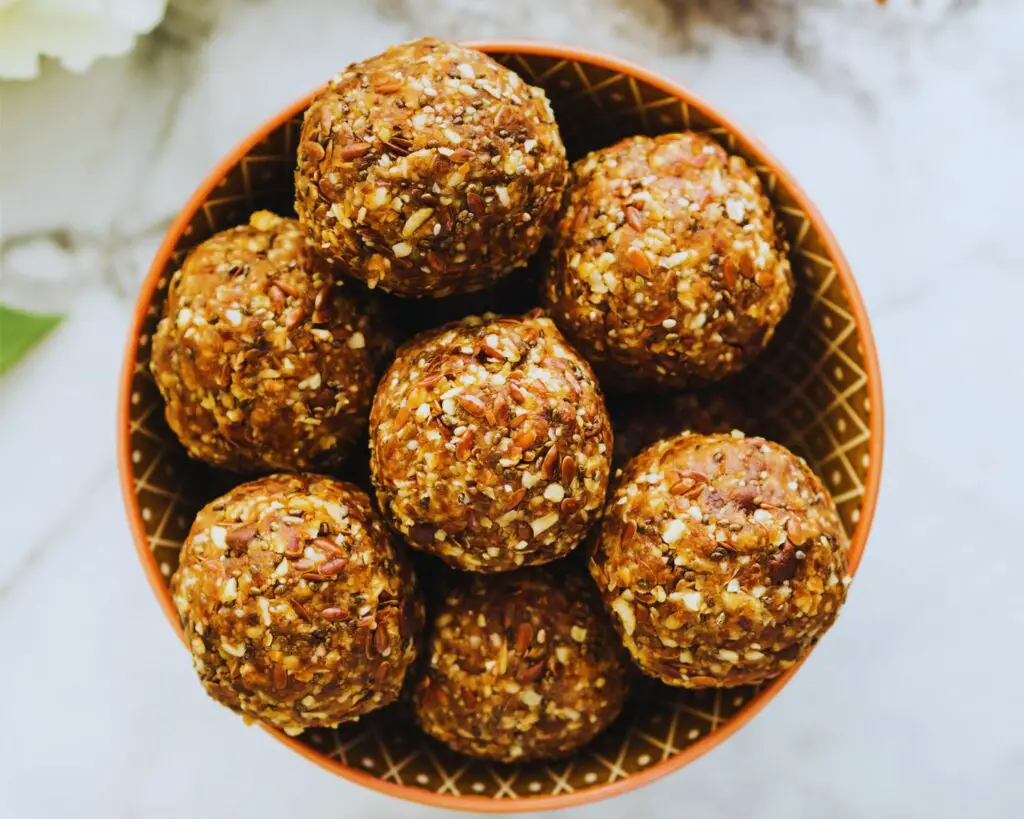 Nearly all energy ball recipes contain some form of nuts, which can make them a nightmare for people with nut allergies or intolerance.
Luckily, this energy ball recipe contains all the necessary nutrients and protein without risking your well-being. Nut-free and low-fat, they are so easy to make and only need four ingredients: dates, oats, maple syrup, and cinnamon.
Best part? The ingredient list is entirely customizable; you can add or take as many ingredients as needed.
Check the variations, substitutions, and further ideas list by visiting Running On Real Food.
06. Energy Balls With Toasted Coconut and Oats
Unlike other entries on this list, these protein balls need you to turn on your oven just a bit. But I promise the toasty and delicious result is worth the extra effort.
Rather than immediately preparing the energy balls by blending all ingredients, this recipe requires you to place your oats of choice and shred coconut in the oven for approximately ten minutes.
The extra step may be a bit more time-consuming, but it elevates the nutty flavor of coconut to the next level and adds a slight caramelized touch that matches the sweetness of dates unlike any other.
If you'd like to try it, take a look at the full recipe over at Monday Sunday Kitchen!
07. Trail Mix Energy Balls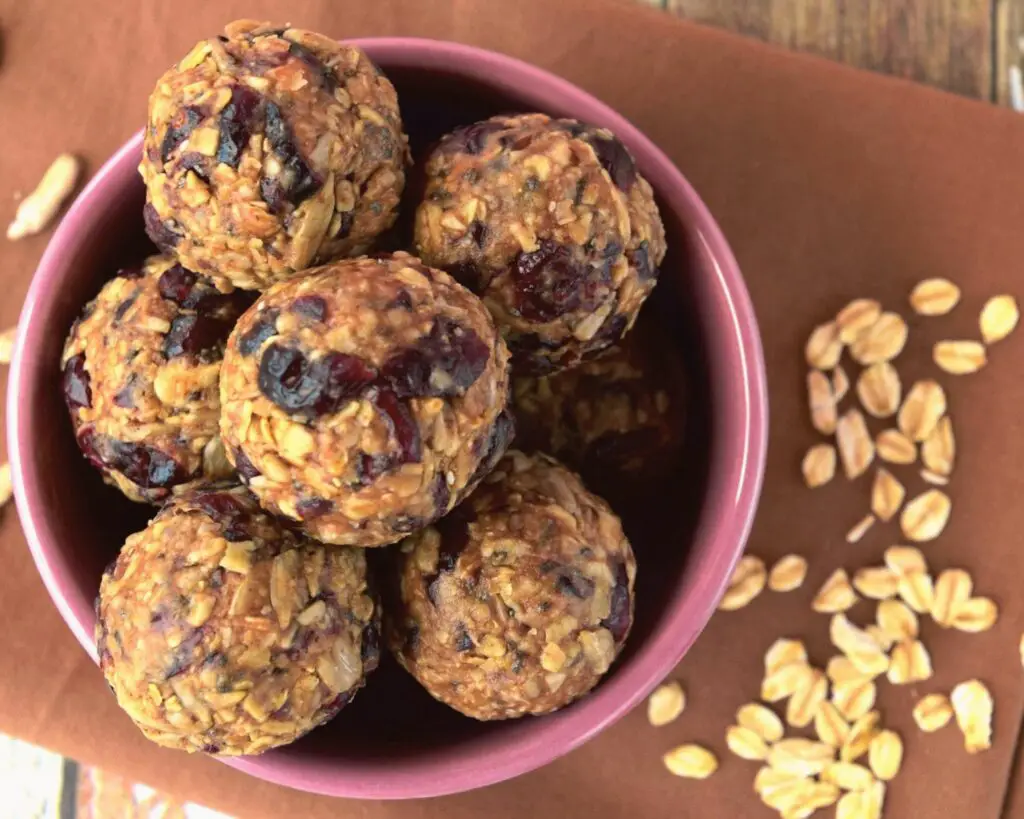 A perfect on-the-go snack, these energy balls taste, look, and feel like trail mix—with the energy boost included! Combining nuts, seeds, dried fruits, and chocolate creates a healthy vegan treat.
The baseline ingredients of this treat are a cup of oats, preferably whole, and pitted Medjool dates—moist and hydrated, soaked in warm water for a bit. Additionally, the recipe includes almonds, sunflower seeds, shredded coconut, dried cranberries, and chocolate chips.
Binding the ingredients together is easy with a touch of almond butter and honey—plus a couple more tricks!
Make sure to visit Choosing Chia to learn how to mix and match these ingredients and make this recipe yours.
08. Pumpkin Pie Energy Bites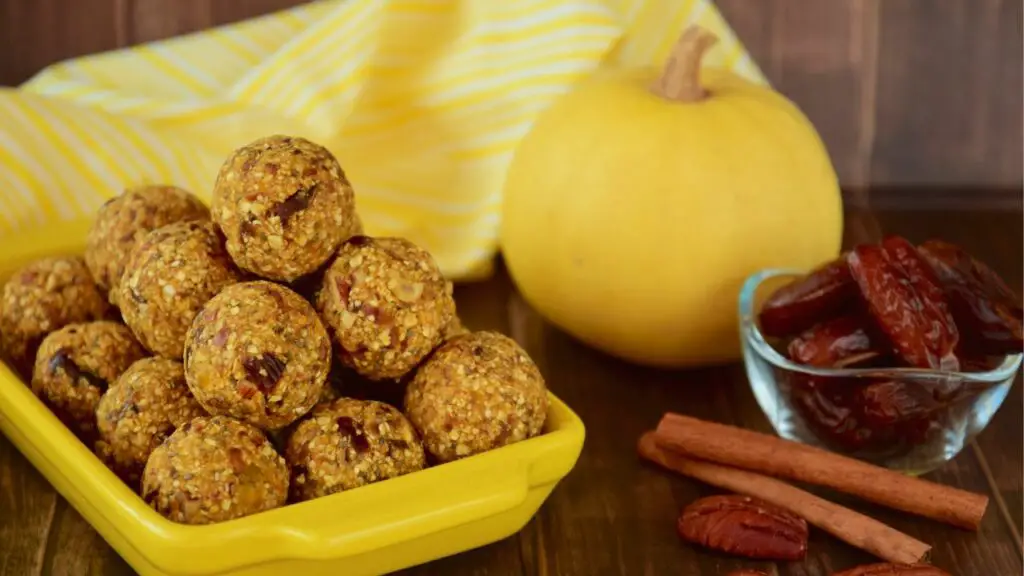 If you crave pumpkin pie but would like to eat healthy, consider these energy balls—they pack all the flavor of your favorite autumn treat but with an additional nutritional value.
Beyond dates and oats, the true stars of this recipe are pumpkin puree and pumpkin spice, as they give the energy bites their distinctive fall season taste. A touch of vanilla extract, pecan, and chocolate chunks complete the recipe, creating a flavorful explosion that feels like pumpkin pie.
For complete instructions, visit the original recipe at Lindsay Pleskot, RD.
09. Vegan Date Protein Balls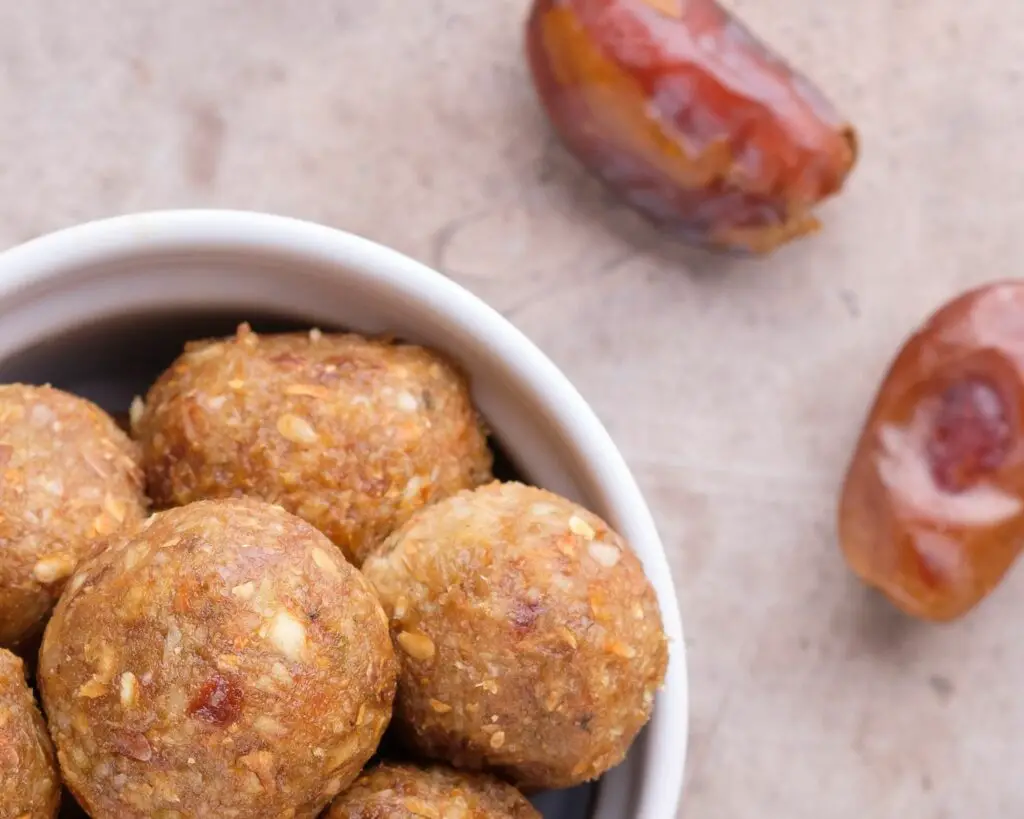 Sweet, energizing, nutritious, and full of protein—these energy balls honor their name and promise to pack a big punch in a bite-sized snack.
The combination is simple yet effective: dates, raw almonds, rolled oats, chia seeds, maple syrup, and the touch of your favorite protein powder, but don't worry, no peanut butter. Go for vanilla protein, as it has a well-rounded flavor that won't interfere with the rest of the ingredients in your protein ball.
Unlike other entries in this list, these energy balls with dates and oats ensure you can taste both ingredients front and center without more robust flavors overshadowing them. As such, select the dates you like the most and find tastiest.
However, remember that the recipe suggests pitted Medjool dates for a sweet treat with improved texture.
For more details on ingredients, take a look at what Shane recommends over at Shane & Simple.
10. Apple Crumble Energy Balls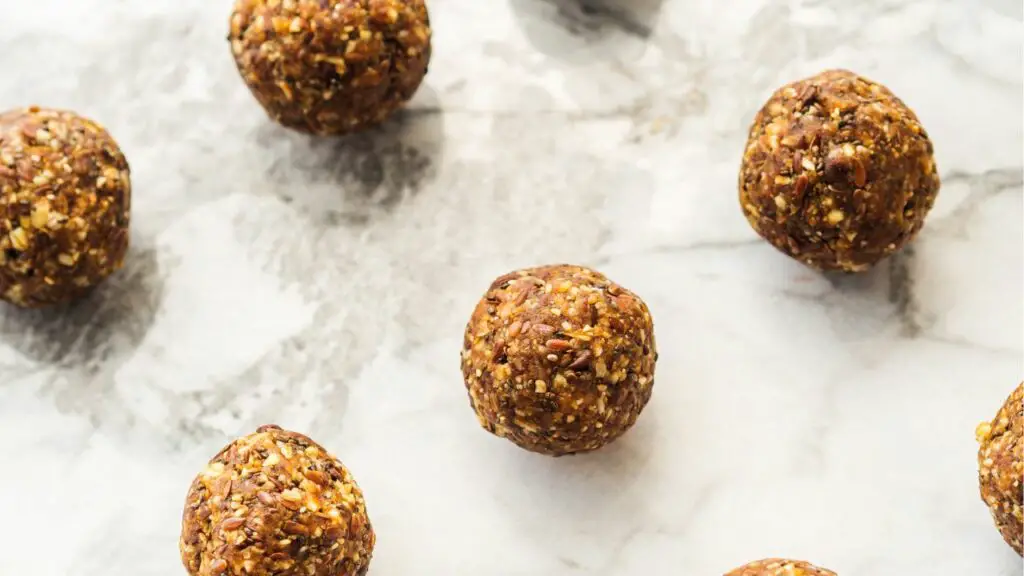 Apple crumble is a staple of American and British cuisine during apple harvest season, but did you know you can capture the essence of this delicious dessert more healthily and without any cooking?
Beyond dates and oats, you need some dried apple slices, half of an apple, and a touch of almonds, almond butter, and cinnamon. The flavor is sweet but without added sugar, which can satisfy your cravings while still providing a low-calorie snack full of healthy carbs and protein.
Visit BBC Good Food for a complete ingredient list and step-by-step preparation!
In wrapping up,
In the realm of healthy snacks, energy balls with dates and oats without peanut butter are a standout. Their natural sweetness and fibrous texture make them a delightful treat. I hope I have listed diverse peanut butter-free recipes for every taste. Dive in and savor the goodness of dates and oats in a bite-size ball!
And if you're out of oats or seeking a change, be sure to check out my latest article: "9 Best Oatmeal Alternatives (Try These Rolled Grains Instead!)".