This Spanish omelet with vegetables is a popular variation of a classic Spanish potato omelet. This dish may be eaten both hot or cold, perfect for lunchboxes and perfect as cold leftovers on the following day.
It is hearty, tasty, low in carbs, high in protein, and quick to prepare.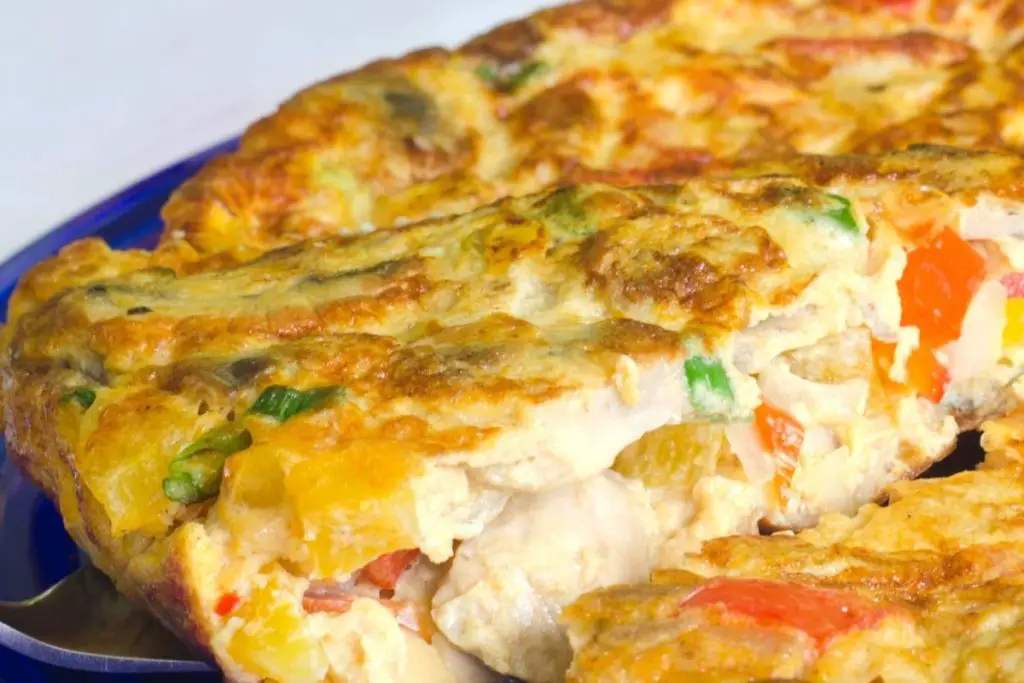 Spanish omelet with vegetables is a versatile breakfast-to-dinner dish. Make use of any leftover boiled potatoes and vegetables you have on hand and experiment with different ingredients.
Jump To Recipe
How To Make Spanish Omelet With Vegetables?
This easy-to-follow recipe below is filled with fresh vegetables, herbs, and spices, making it a delicious and nutritious option. It is perfect for a quick and easy breakfast, brunch or lunch. Read on to learn how to make this Spanish classic!
Spanish Omelet With Vegetables Recipe
Course: Breakfast
Cuisine: Spanish
Difficulty: Easy
Calories per serving
170.8
kcal
This Spanish omelet with vegetables is a delicious and nutritious dish that can be enjoyed for breakfast, lunch, or dinner. It is made with eggs, potatoes, onions, and bell peppers. This dish is very versatile and can be modified to fit any taste. Some people like to add ham, mushrooms, bacon, or cheese to the omelet.
Ingredients
8 eggs

1 medium-sized (220g) of boiled potatoes, cut in half and then into thick slices

7 tablespoons (100ml) milk

1 red or green bell pepper, deseeded and diced

1 diced tomato

1 finely chopped onion

2 garlic cloves, pressed

2 tablespoons finely chopped parsley

3/4 (100g) of peas (fresh or frozen)

3 tablespoons olive oil

1 teaspoon thyme

½ teaspoon curry powder

½ teaspoon paprika powder

Pinch of salt (1/16 tsp)

Pinch of black pepper (1/16 tsp)
Directions
Using a medium-sized non-stick frying pan, Sauté the chopped onions in hot olive oil, mix in paprika and sauté for a few minutes.
Now, add boiled potato slices, pressed garlic cloves, peas, thyme, finely chopped parsley, and curry powder, and Sauté for a few minutes on medium heat. 
Whisk the milk and eggs with a pinch of pepper and salt in a mixing bowl, and then pour over the vegetable mixture and spread into an even layer.
Reduce the heat to low, and cook with the lid on until the egg is almost set on top (8 to 10 minutes).
Carefully run a rubber spatula around the edge to loosen the omelet.
Place a large plate on top of the frying pan and carefully flip the pan over so the omelet falls to the plate.
Slide the omelet back into the pan so that the top is at the bottom now, and cook for about 3 to 5 minutes with the lid on until the other side is lightly brown.
Remove from the pan, cut into pieces and serve.
Additional Tips
Before you beat the egg, boil and cool the potatoes and prepare all of your fillings so they'll be ready to go.
Cooking at too high heat might result in rubbery, overcooked eggs. Keep the stove on a low heat setting and be patient.
If you like cheese, sprinkle some grated cheese on top as soon as you have flipped the omelet. Alpine cheeses like Gruyère or Mozzarella as well as cheddars, all melt perfectly on the omelet,
A cold or hot Spanish omelet can be served with a green salad and crusty bread.
Read Also: What To Serve With Spanish Tortilla (12 Sides To Go With).
Frequently Asked Questions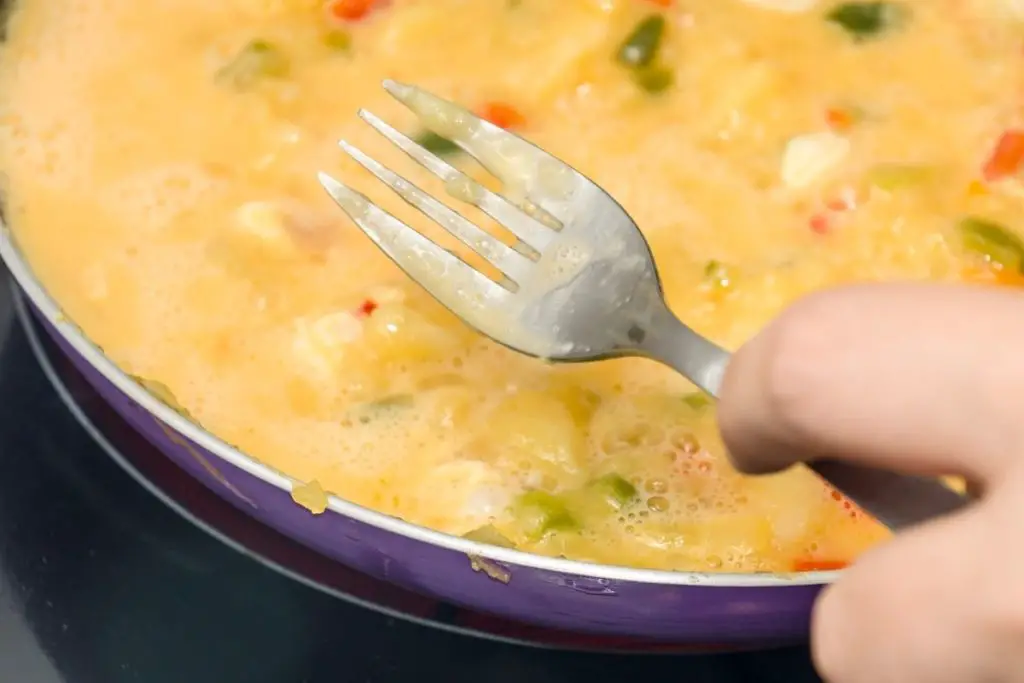 Can you flip a Spanish omelet?
Because this Spanish omelet with vegetables is thick and heavy, it could be challenging to flip it successfully. However, if you are brave enough to try, you'll get a better flip when the eggs are cooked thoroughly. Also, make sure no part of the omelet is sticking to the pan. Check with your spatula first, then flip your wrist confidently in one move. It won't always be flawless, but it is still edible unless you drop it on the kitchen floor.
Is it necessary to cook vegetables beforehand?
It depends on the vegetable, but it is often recommended that vegetables such as onions, peppers, and mushrooms be sautéed first. This softens the vegetables and enhances their flavor. However, some people like to add them uncooked to their omelets because it gives them a crisp texture and a garden-fresh flavor.
Can you freeze a Spanish omelet?
You certainly can! You can store your omelet in the fridge for three to four days; however, to freeze it, simply place the cooked and cooled omelet in a freezer-safe container and leave it in the freezer for up to two months.
How to reheat an omelet?
If frozen, you can defrost it overnight in the refrigerator and serve it cold, but I highly recommend reheating it in the microwave or in the oven. To reheat the omelet in the oven, put it on a baking tray, cover it with aluminum foil and bake it for about 8 to 10 minutes until it is warmed thoroughly. 
What herbs, spices, and seasoning go with an omelet?
Salt and pepper work well together. Some other popular options are red pepper, chili powder, tarragon, or dill. You can cook some smoked bacon, chop it up, and toss it in for a smoky, salty flavor. Scallions and green onions are also delicious in omelets.
Can you cook a Spanish omelet in the oven?
Yes, you can bake the Spanish omelet in the oven. Pour the sautéed vegetables and the egg mixture into a greased casserole dish, cast-iron skillet, or 8-inch-square baking tray. Bake at 350°F (177°C) for 40-50 minutes, until the omelet is set and the eggs are cooked throughout.
Is Spanish omelet healthy?
Omelets are a healthy and nutritious meal because they are low in carbs and a great source of high-quality protein and healthy fats from the egg yolk. Loaded with veggies, Spanish omelets keep you full longer and are a great high-protein, low-calorie meal option.
In Conclusion
This Spanish omelet recipe with vegetables is a delicious and nutritious meal. The omelet is a great way to use up leftovers, and it is easy to make. It's also a great meal to bring to a potluck or party. You can use any combination of vegetables that you have on hand, and the dish is healthy and filling.