Spanish tortilla or Spanish omelet is a popular national dish in Spain, which has become a well-liked breakfast, lunch, and dinner option worldwide. Although it is often served as it is, to make it a main course, here are some complementing side dish ideas that go well with this protein-rich recipe.
What To Serve With Spanish Tortilla – 12 Best Quick and Easy Side Dishes
01. Marinated Olives, Jamón Serrano, and Manchego Cheese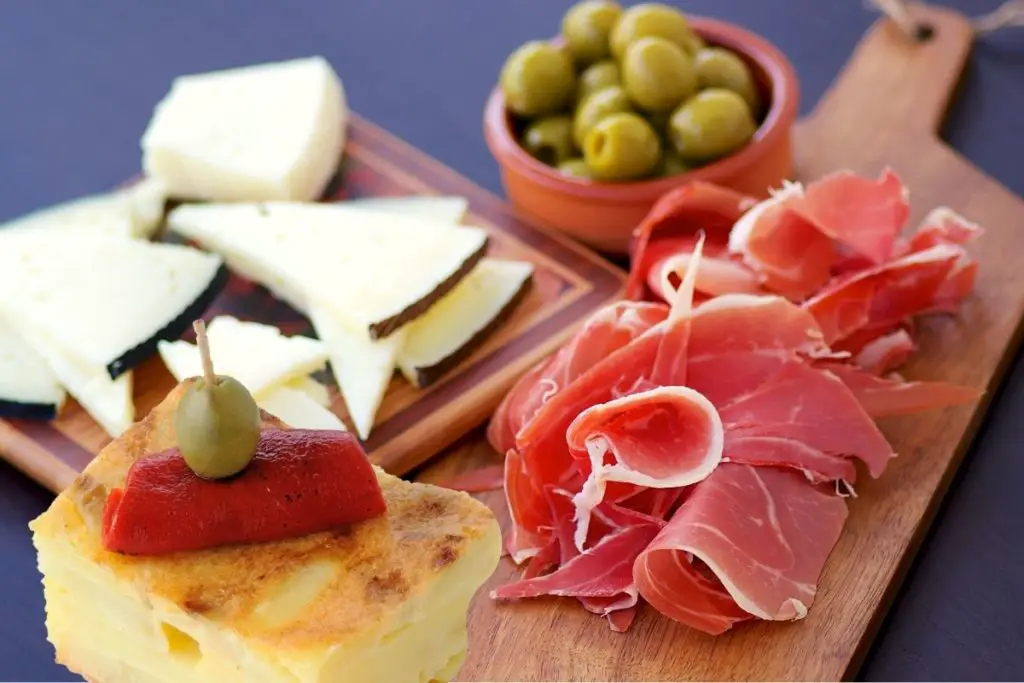 In Spain, tortillas can be considered tapas—that is, appetizer meals enjoyed alongside a drink. They're served in small portions, and you can mix and match as many types of tapas as you want.
To enjoy tortillas in Spanish tapas style, cut them into squares and insert a toothpick. Accompany it with delicious Mediterranean olives and authentic Jamón Serrano for a whole Spanish experience. If you can, don't forget to add some bites of Manchego cheese.
Read Also: Best Spanish Omelet With Vegetables (Easy Recipe).
02. Fried Peppers With Garlic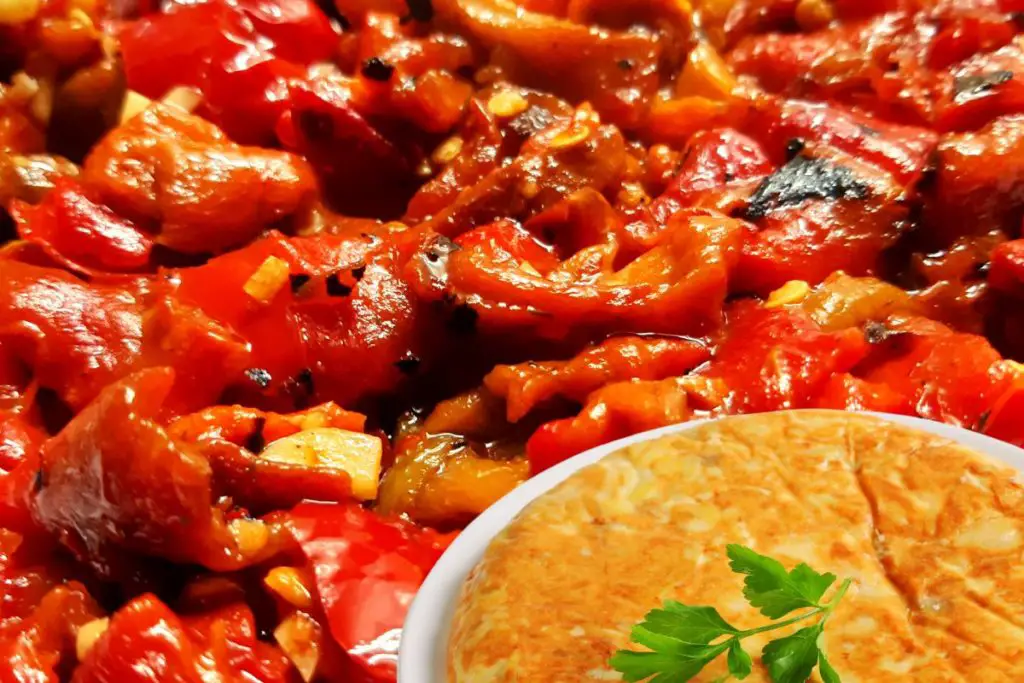 Few things are more authentically Mediterranean than fried peppers with garlic. The aromatic mixture is a flavorful side dish that is equal parts healthy and delicious, not to mention an excellent complement to the Spanish tortilla's flavor.
For extra color and a dash of freshness, don't forget to decorate with parsley, oregano, or any herb you prefer after completing your dish.
03. Tomato Salad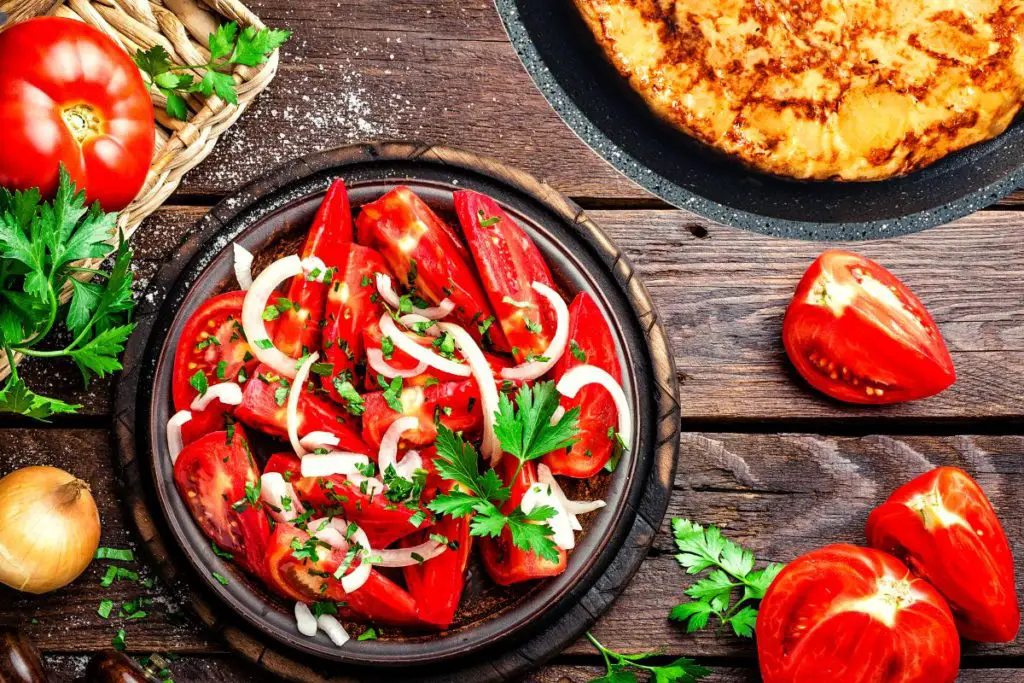 Since their arrival from the Americas, tomatoes have become a quintessential aspect of Spanish and Mediterranean cuisines, so incorporating a fresh tomato salad as a side dish to your Spanish tortilla would not be out of place.
There are countless ways to prepare tomato salads. Still, I recommend using cherry tomatoes, red onions, a combination of your favorite herbs, and a drizzle of delicious olive oil and balsamic vinegar. That combination is most often served with a potato omelet.
04. Feta Romaine Salad
As delicious as Spanish tortilla happens to be, it is not precisely what we call a fresh dish since it tends to be rather hearty. To balance out this fact and add some freshness, consider making a delicious feta romaine salad.
Although more Greek than Spanish, the Mediterranean flavors of both complement each other. Crisp romaine lettuce and mouth-watering feta cheese are an excellent combination, and for added flavor, you can incorporate cucumber, olives, parsley, cilantro, cold pressed extra virgin olive oil, and a splash of lemon juice.
05. Garlic Mushrooms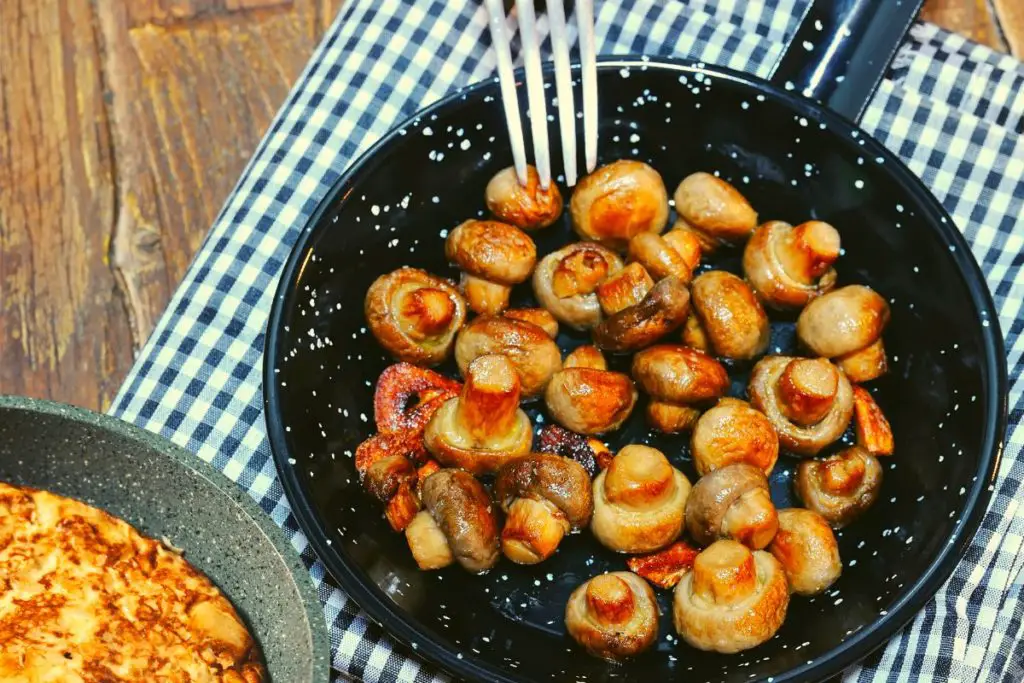 Better known in Spain as champiñones al ajillo, garlic mushrooms are a classic side dish and an all-time favorite to pair up with anything. Naturally, this does not exclude Spanish tortillas, as it pairs up quite nicely with their prominent egg-and-potato flavor.
All you need to do is add olive oil, garlic cloves, and cayenne peppers to a frying pan over medium heat. Once the garlic turns golden, incorporate the mushrooms, some white wine, and salt.
Simple yet effective side dish.
06. Rustic Rye Bread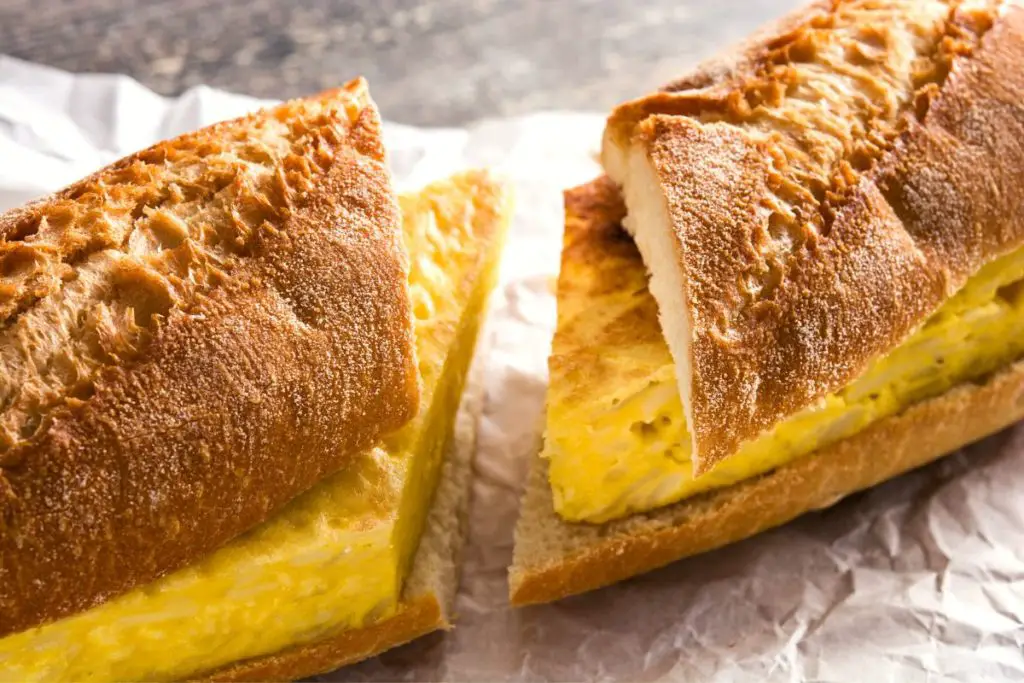 Did you know that technically you can eat a Spanish tortilla sandwich? It is called bocadillo de tortilla and is simply a delicious tortilla stuffed between two baguette pieces.
However, I propose you elevate it to the next level—why not try it with homemade rustic rye bread? The slightly earthy flavor is a perfect match for the robust texture of the Spanish tortilla.
As a tip—some say it tastes better if the Spanish tortilla is very moist or even slightly runny!
07. Tuna Salad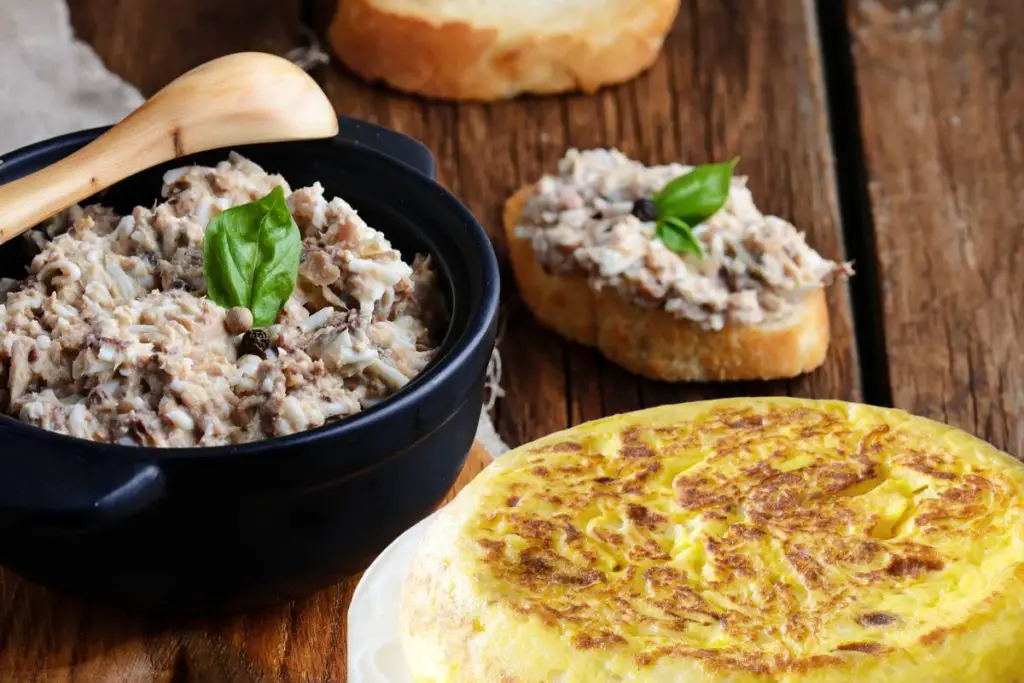 There are as many Spanish tortilla recipes as there are Spanish families. As such, it isn't a surprise that some even incorporate tuna into the classic dish.
If you like protein-rich meals, I do think a delicious tuna salad can be a simple yet fulfilling side dish to pair up with this egg open-faced omelet. Certainly, makes a good post-workout meal, suitable for toning and muscle definition, and could even be good for Keto?
My suggestion? Load it with fresh herbs and greenery—particularly onion, celery, or parsley.
08. Garlic Mayonnaise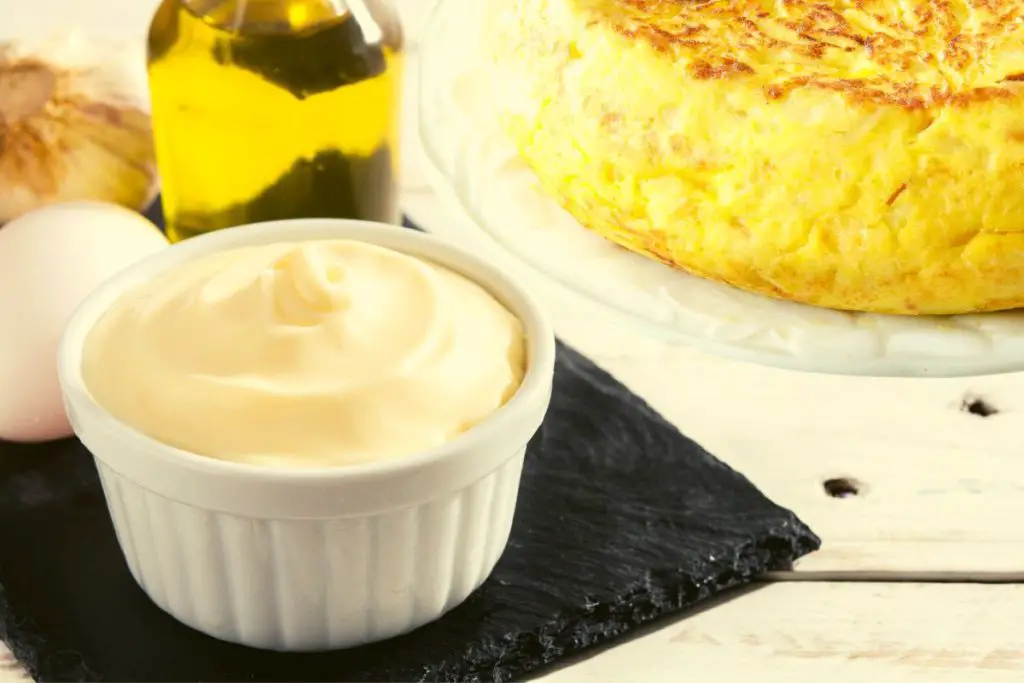 By now, you must have noticed—the Spanish love garlic. So why not pair up that tortilla with the ever-favorite alioli?
Alioli is a cold sauce that is best described as garlic mayo. It is a combination of olive oil, egg, salt, and garlic that can elevate every meal to another level thanks to its incredible flavor combination.
Granted, it is not exactly a side dish—it is instead a topping—but it can be more than enough for your meal since this traditional dish from Spain can be fulfilling on its own.
09. Mediterranean Chickpea Salad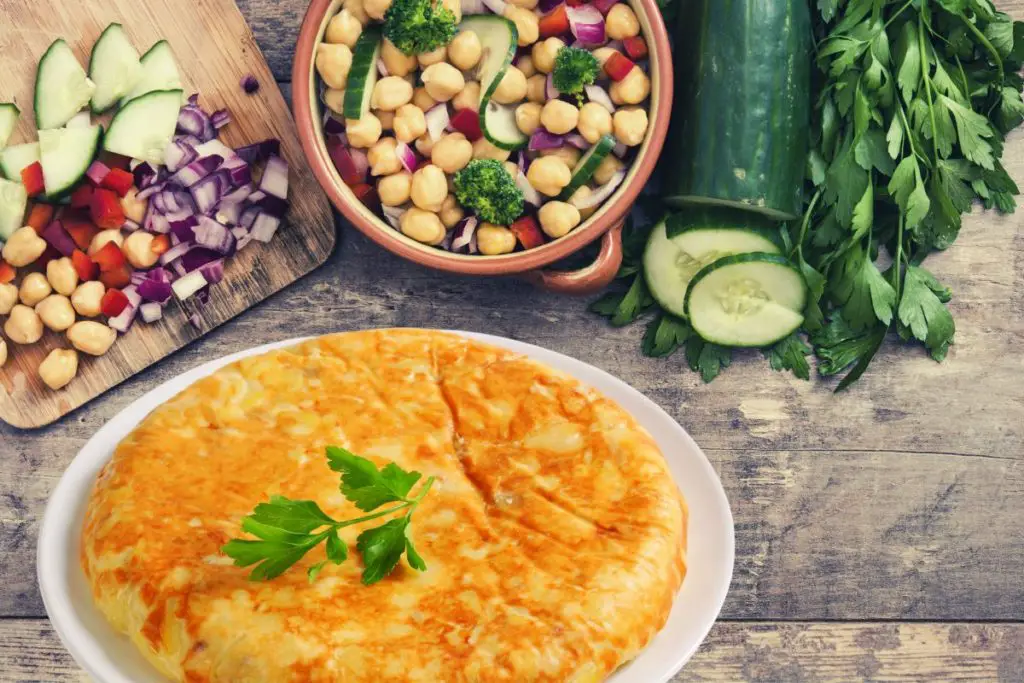 Bright, colorful, and easy to make. The Mediterranean chickpea salad requires no cooking, and it's a breeze to put together—grab canned chickpeas and combine them with your favorite fresh ingredients. I enjoy adding fresh cucumber, bell peppers, red onion, and feta cheese.
The green and herby flavors of this salad—combined with the hearty chickpeas—are a perfect match for a Spanish tortilla.
10. Roasted Zucchini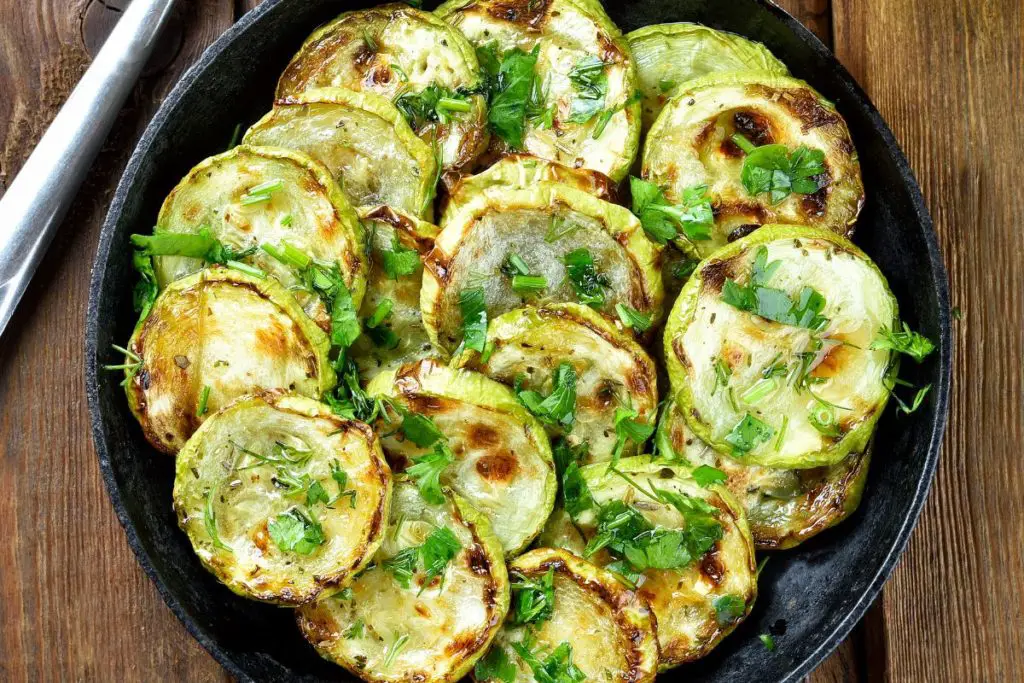 Roasted zucchini is relatively easy to make and takes only ten minutes of your time, yet it can add a particular fresh flavor with a touch of crispiness that enhances the starring role of your potato tortilla.
All you need to do is slice your zucchini as you'd prefer and coat each piece with olive oil, salt, pepper, and garlic. Place the slices on top of a baking sheet and cook in your oven at high temperatures for approximately five minutes.
My tip? For an extra European flavor, make sure to grate it with parmesan cheese—lots of it.
11. Mojo Sauce.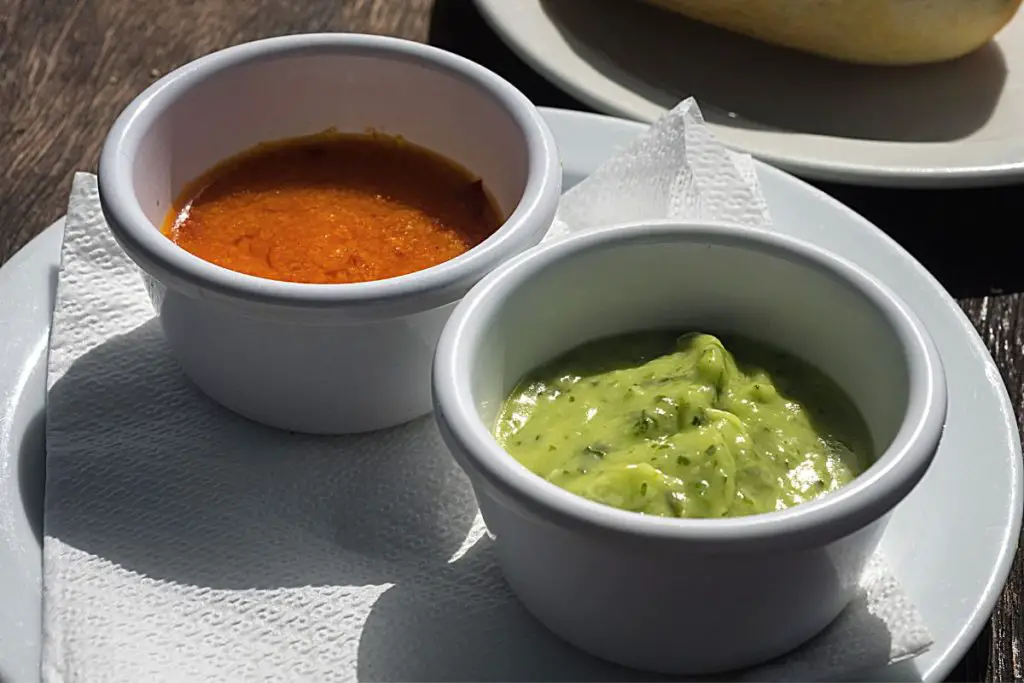 Okay, this is technically the second sauce on this list. Still, I insist—depending on how you make it, Spanish tortilla can be enough on its own without more side dishes.
Mojo is a sauce—or rather a group of sauces—that originated in the Canary Islands. It combines olive oil with pepper, pimentón, garlic, and varied spices. The result is a rich and flavorful sauce that can be pretty hot.
If you enjoy your meals burning hot, you must try the mojo picón—the spiciest of the bunch.
12. Arugula Salad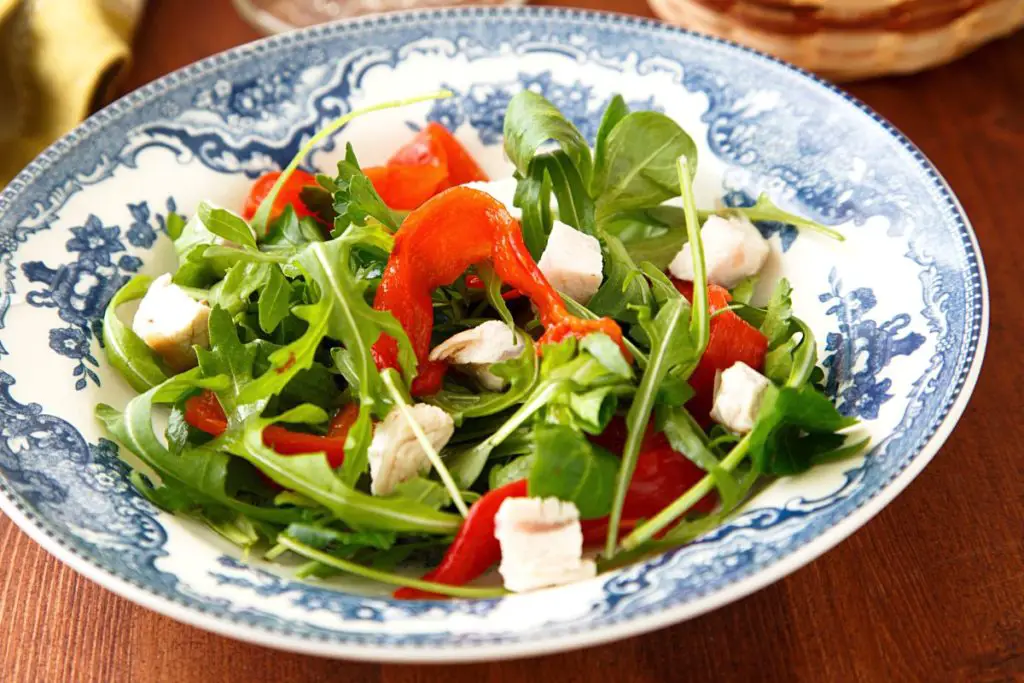 Also known as rocket, arugula, amongst other similar names, arugula is a bit of an acquired flavor—it is green, bitter, and tart.
However, it's precisely this unique flavor that makes it such a good side dish for the Spanish Tortilla—it adds a hint of bitterness to your meal that creates an exciting contrast of taste and texture.
Plus, arugula salad is relatively easy to make—just combine it with olive oil, lemon, salt, and parmesan cheese!
Read Also: What To Serve With Broccoli Cheese Soup? (7 Tempting Sides).
In Conclusion
There are many different ways to serve Spanish tortillas. Some popular options include pairing it with a simple salad, fresh homemade bread, or serving it as part of a larger tapas spread. No matter how you choose to serve it, hot or cold, appetizer or main course, the Spanish omelet is sure to be a delicious and satisfying meal!