This creamy and warming broccoli cheese soup is delicious on its own, but if you are looking for matching counterparts, here are a few clever and delicious side dish ideas you can serve with it.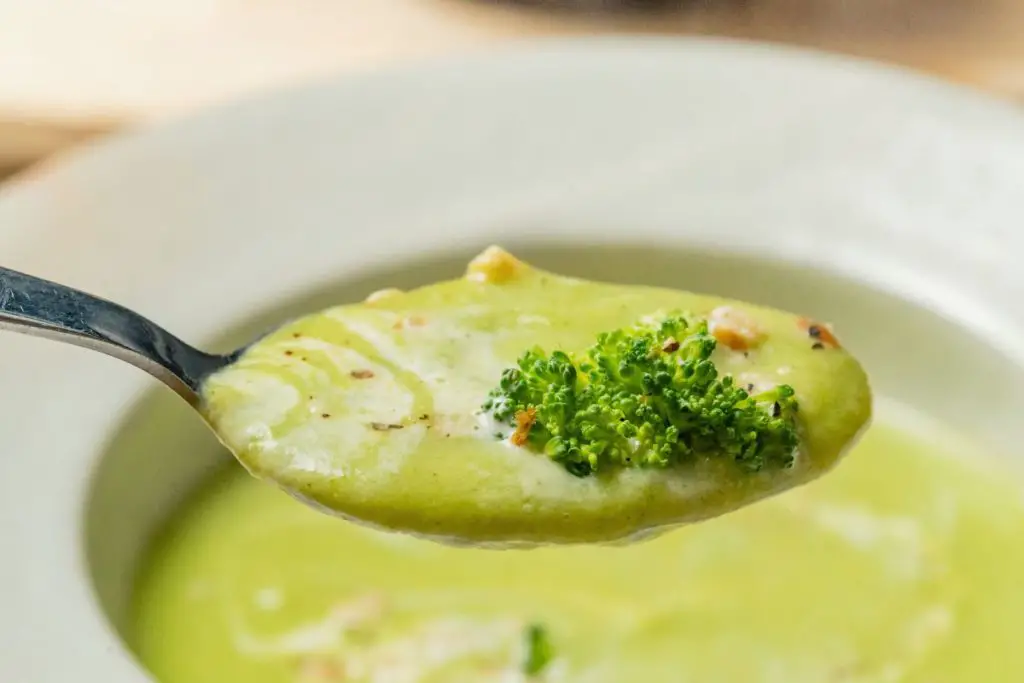 Here Is What To Serve With Broccoli Cheese Soup:
1. Fresh Bread
Fresh bread is the best side for any cheesy soup, it doesn't have to be homemade, but it has to be fresh.
Whether you use simple French baguettes or garlic or sourdough bread, or my favorite, homemade rye bread, all of these go well with broccoli cheese soup.
You can also scoop out bread bowls from a loaf and even serve the soup in them. If you want to have something a little more filling, try a grilled cheese sandwich.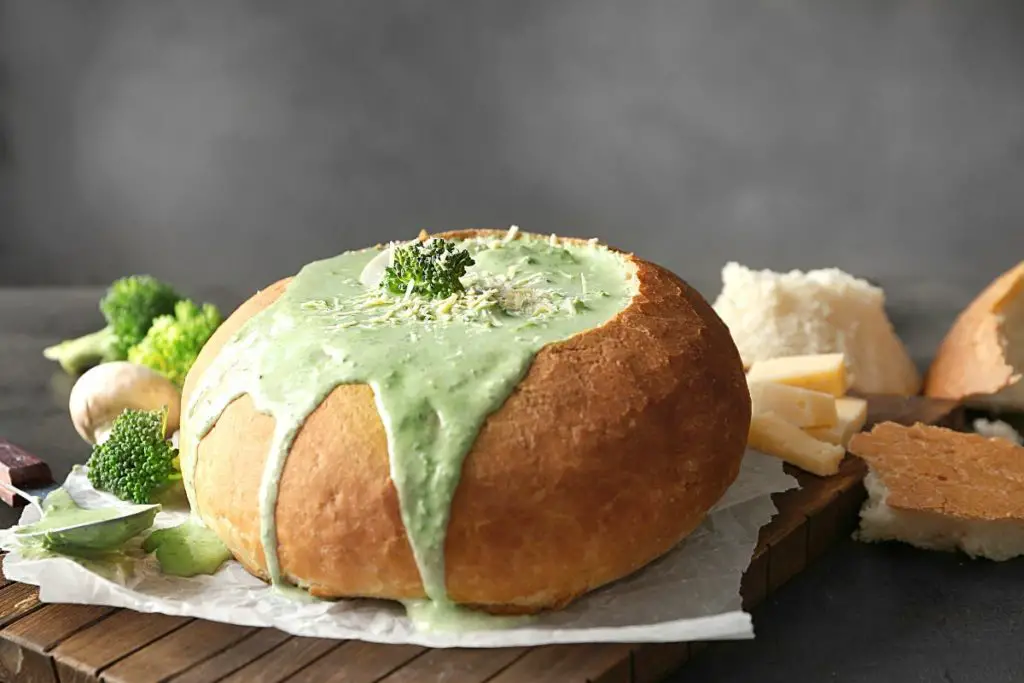 You can pair these sandwiches with any soup recipe, especially chicken noodle soup or tomato soup, due to its savory flavor. All in all, tasty bread recipes are a respite from traditional, bland crackers.
2. Corn Muffins
Corn muffins may look like your regular muffins but only savory and full of cornbread flavor. And when combined with the cheesiness of Broccoli cheese soup, it is a match made in soup heaven.
Corn muffins are also nutritious, yet low in calories and are ideal for serving alongside cheesy soup. So you don't have to worry about messing up your diet plan too much.
They are also easy to make, store and reuse whenever you want something on the side of soup.
Top tip: Top your soup with a teaspoon of heavy cream for silky mouthfeel, appetizing look rich flavor.
3. Savory Waffles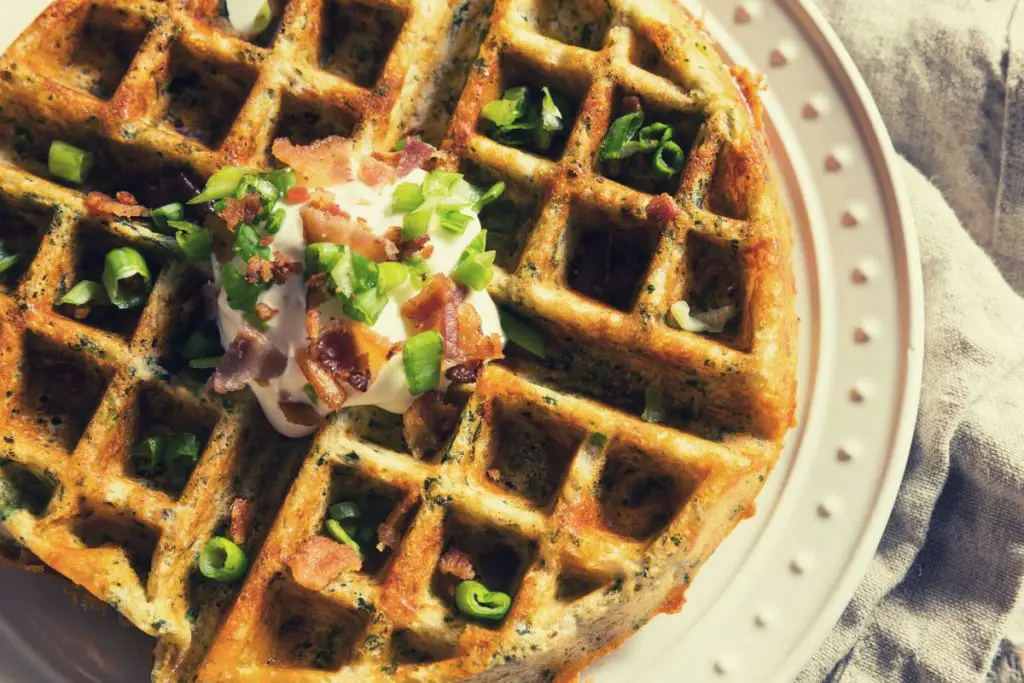 Savory waffles go beautifully with broccoli cheese soup. In particular, leek waffles add more flavor and texture to this classic recipe, and that makes for a filling meal. The lively flavor of the leeks pairs well with the broccoli cheese soup, bringing another level of flavor to the dish.
They're also ideal for dipping. Leek waffles can be exchanged for a variety of waffles. There are several kinds you can enjoy with your soup, like spinach waffles, cheddar cheese waffles, or sweet potato waffles.
If you are looking for gluten-free options, you can easily find a gluten-free waffles recipe that goes well with your soup.
4. Potato Puffs
If you think you have found the best side dish already, wait till you try cheese potato puffs. They take the meaning of the side dish to another level. The mashed potato dish pairs perfectly with creamy soups. Its cheesy texture adds to the flavor of your broccoli soup.
Also, it is a great opportunity to use up your leftover mashed potato.
Shaped in small puffs, these are the crispy, savory, cheesy, and the perfect side for any bowl of soup.
It's a bit higher in calories than the corn muffins, but if you look to breathe some new life into last night's mashed potatoes, it is absolutory the perfect option to serve with a bowl of warm broccoli cheese soup.
5. Crackers
If you are a soup lover like me, then you know that the cracker can transform a bowl of soup. The best thing about combining soup with crackers is that it's a tried and tested combination you really can't of wrong with.
Moreover, crackers are available in a huge variety. herby crackers, sea salt crackers, onion crackers, or sesame crackers, all of which are great options to sever with broccoli cheese soup.
Crackers are perfect for dipping or crumbling into the soup. Just be sure to eat the crackers quickly before they become soggy.
Top tip: You can also up your cracker game by adding butter to the crackers. This will add more richness to the dish. If your broccoli cheddar soup is not cheesy enough, you can top the crackers with cheese too.
What Can You Eat With Soup Instead of Bread?
Bread is a delectable side dish that goes perfectly with any soup but what if you don't tolerate gluten or cutting down on carbs. Don't worry, you can always go for the following low-carb alternatives matching perfectly with broccoli cheese soup.
6. Fresh Salad
Salads made with green leafy vegetables, cucumbers, nuts, and seeds are all great options to serve alongside broccoli cheese soup. For instance, you can make super a simple side salad with lettuce, cucumber, onion, and tomato, tossed with olive oil or your favorite salad dressing.
Additionally, side salads made of apples, walnuts, and arugula nicely complement the richness of this creamy and yummy soup.
You can also try typical salads like Caesar salad, bean salad, or even protein-rich Cobb salad, and whatnot.
7. Grilled Steaks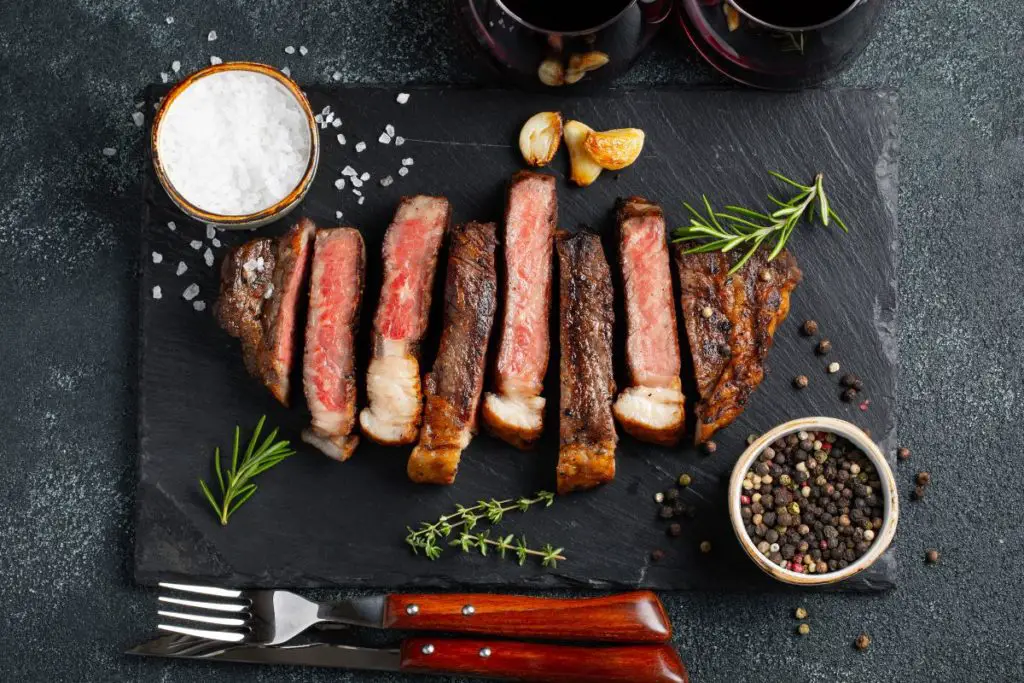 If you are in a need of extra protein, grilled steak is a popular choice often served with broccoli cheese soup. But don't let it become the main dish.
Instead of getting a large steak, you can cut it in a way that it can be a shared side dish. The slices will not only be less heavy but also more economical. Add seasonings to your steak like sea salt flakes, garlic powder, pepper, and onion powder to further diversify the flavors you have with the soup.
The steak strips can also be dipped in the soup for an explosion of flavors.
You May Also Like: Leek Soup Without Potatoes And Cream Recipe.
What Sandwich Goes With Broccoli Cheese Soup?
Besides grilled cheese sandwiches, many other sandwich combinations go well with broccoli cheese soup, but one of the most popular is the hot turkey panini sandwich with tomatoes, cheese, and crisp Romaine.
In Summary
I hope I managed to give you quite a few ideas about what to serve with broccoli cheese soup. Fresh homemade bread, simple salad, or grilled steak slices can turn broccoli and cheesy soup into a hearty and nutritious meal. But that said, the possibilities are almost endless, what to serve with broccoli cheese soup is mostly down to personal preference and limited by your imagination.
Or, just keep it simple and get some crackers, crispbread, croutons, breadsticks, or cheese biscuits to provide a bit of contrasting texture and flavor and balance the soup's creaminess.