Whipped cream is arguably one of the best additions to most—if not all—desserts. Not only desserts, but the cream is also just as useful in hundreds of delicious meal recipes.
The one problem that comes alongside whipped cream is that it's definitely not vegan, nor is it lactose-free or low-fat. So, what alternative options do we have?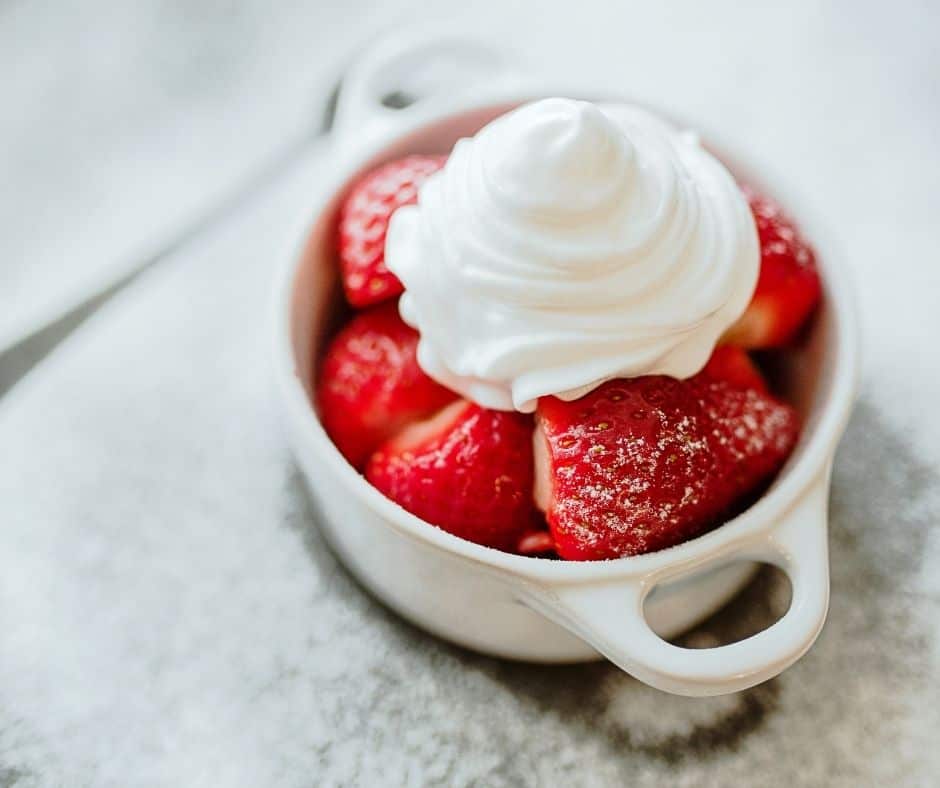 If you're on the hunt for alternatives to use alongside any of your vegan dessert recipes, or you're searching for an opportunity to turn a meal that requires dairy cream into a plant-based wonderland, don't fret. There are plenty of vegan-friendly whipped cream substitutes that everyone can enjoy.
Whipped Cream vs. Heavy Cream
Before we jump into the good stuff, it's important to understand the difference between whipped and heavy cream—including when you should use one or the other.
The biggest difference between the two creams is the amount of fat in each. Both have a fat content of at least 30 percent, meaning that they can both be whipped and can both leave you with a creamy, delicious addition to nearly any midnight craving.
Whipped cream is a lighter, less-dense type of cream that is typically best used as a topping and/or for fillings. This is a great option as an accompaniment for fruits as well as light and airy desserts.
Heavy cream lives up to its name: it's heavier. Also known as double or clotted cream, the fat content is slightly higher than that of whipped, but it can still be used for toppings and fillings. Its ability to whip leaves you with a beautiful cream that holds its shape longer than the former.
Heavy cream is also quite useful for various sauces, including alfredo, pasta, and curry sauces.
The good news here is that generally, whipped cream can be substituted for heavy cream in most recipes, and vice versa.
Can I Replace Whipped or Heavy Cream With Plant-Based Creams?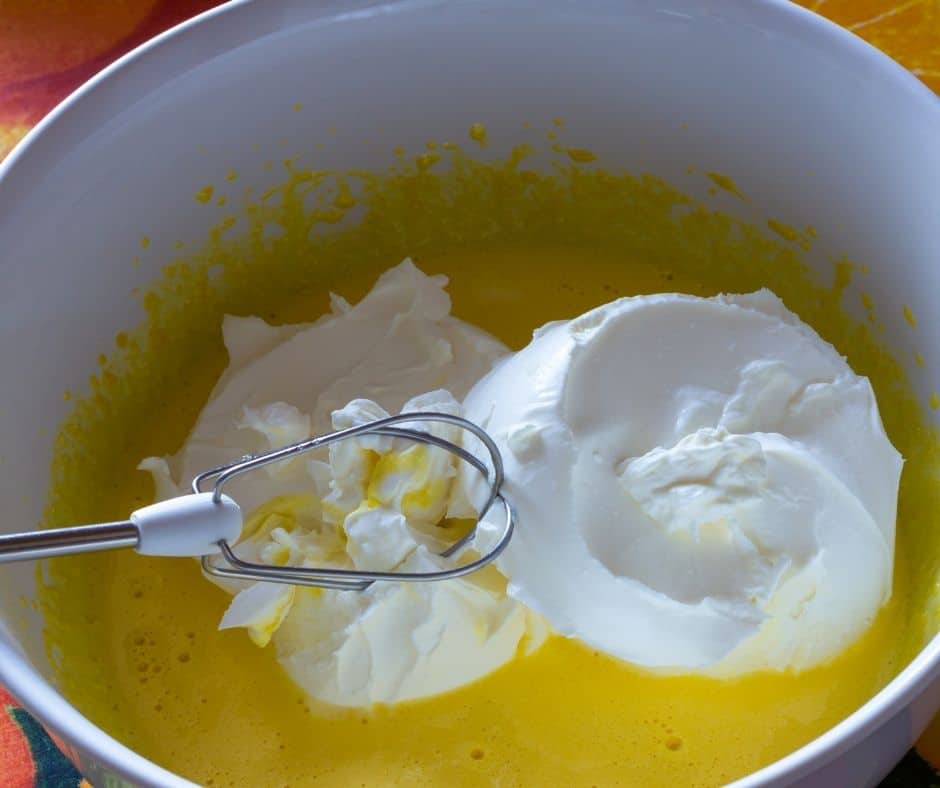 Since whipped and heavy cream are mostly interchangeable when it comes to recipes, any vegan or plant-based whipped cream is the perfect alternative to a dairy-based version and can easily be put in the place of either.
Nonetheless, liquid dairy-free options are generally the best alternative to heavy cream. For rich, heavy cream used in recipes for sauces, soups, etc., you can always swap with coconut cream.
Chill a can of coconut milk in the fridge for a few hours to separate, then scoop the top layer of cream off the top and use that in a 1:1 ratio.
Other options, as the onion recipe I've listed below, are great options for substituting regular dairy cream as well.
Will Vegan Substitutes Ruin My Recipe?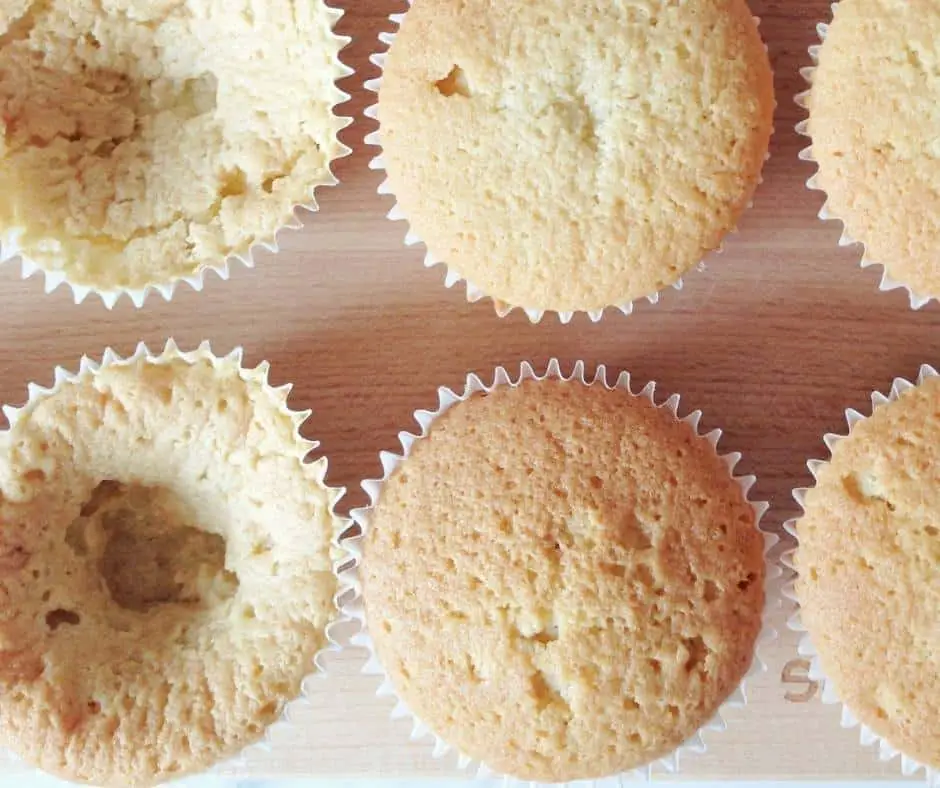 If you're worried about a vegan alternative to cream altering or your recipe in terms of cook-time, amount, etc., there is little difference between the two options. When substituting regular whipped cream for plant-based whipped cream, use the same amount as recommended, and it is more than likely always going to work the same way.
Additionally, vegan and plant-based options generally have a similar texture and consistency as dairy-whipped cream. While a vegan alternative may not be as thick and fluffy as the former, it will still typically make a great substitute and hardly change the recipe at all.
As some of the plant-based options are a lot lower in fat, you will not get that buttery taste as you would with full-fat counterparts, and when using coconut milk, you will get a slightly nutty flavor.
As with most ingredient substitution, trial and error is a fundamental method to get it the way you like it best. 
7 Best Recipes For Vegan Whipped Cream
Any of the following recipes can be used as a vegan alternative to regular dairy cream in nearly all recipes. Plus, they're all homemade and delicious!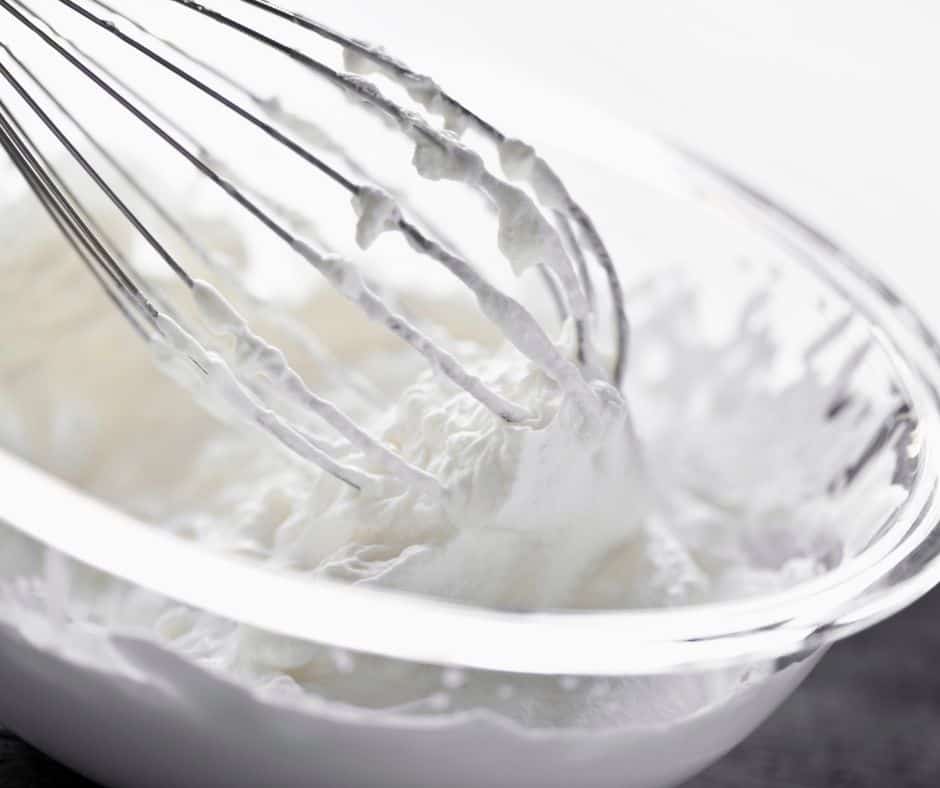 Note: below are some general tips and tricks to know before whipping up your cream.
Keep the cream cold. It will not set up properly if it is too warm, and heat will split your cream. Ensure that you've chilled all of your utensils for a solid amount of time, and keep any liquid chilled before use. If you don't have time to chill anything, simply place the mixing bowl in a larger bowl of ice or an ice bath to keep it cool while whipping.
Thickeners can be added to help the cream whip better. However, they are not needed. If you do need a thickener, go for plant-based milk powders

as they are helpful.
1. Whipped Coconut Cream
Whipped cream made from full-fat coconut milk or cream is a popular option when it comes to vegan alternatives. It's smooth, silky, and only takes a few minutes to prep. Not to mention, it's raved about for its number one use: being dairy-free and delicious.
There are various recipes for coconut-based whipped cream, but here are a couple of my favorites. 
You can also make either of these recipes keto-friendly by replacing any sugar with stevia.
This recipe from gfJules is a lovely option that the whole family will enjoy. It makes about 1 cup of whipped coconut cream and only takes about 15 minutes.
However, you'll want to chill the coconut milk in the fridge for about four hours prior to making this. Additionally, it's helpful to chill the bowl and the whisk attachment or beaters in the freezer.
Ingredients:
1 can (13–14 oz) of unsweetened coconut cream (IMPORTANT: you'll want this to be full fat)
1/3 cup of sifted powdered sugar
1/4 cup of non-dairy milk powder OR 1/4–1/2 tsp. of cream of tartar (potassium bitartrate)
1/2 cup of toasted, sliced almonds for topping (optional)
1/2 cup of toasted, sweetened, flaked coconut (optional)
Instructions:
After you've chilled your coconut cream in the fridge overnight, whisk and mixing bowl for a good amount of time, open your UNSHAKEN can of coconut milk, and skim the top layer of thickened coconut milk off the top, and place it into the mixing bowl. You should get about 1 cup of cream from this. 
Save the leftover coconut water for other uses.
Sift your powdered sugar and plant milk powder of your choice. 
Beat the coconut milk with the chilled whisk or whip for about 3–5 minutes or until it is thick and fluffy.
Once it's well-beaten, add the sifted sugar and vegan milk powder or cream of tartar and stir it all together.
You can also add the sliced almonds and coconut flakes at this time if applicable. Mix for another minute or until it is all well incorporated.
Use immediately or cover and chill in the refrigerator.
2. Dairy-Free Whipped Cream (Also With Coconut)
This coconut whipped cream recipe in the video above uses similar ingredients but is slightly different. Nonetheless, it's still egg-free, dairy-free, gluten-free, grain-free, nut-free, soy-free, and vegan (if you don't use honey).
It's basically a great option for all top-food allergies. It also makes about 3/4 cup of thick and stable cream and only takes 10 minutes.
Like the previous recipe, store the coconut milk in the fridge for at least 12 hours and do not shake it. Also, store your utensils and bowl in the freezer before whipping.
Ingredients:
1 (14-ounce) can of full-fat coconut milk or coconut cream
2 tablespoons of powdered sugar, honey, or any other of your favorite sweetener
1/2 to 1¼ teaspoons of pure vanilla flavoring or extract, to taste
Use thickener, if you want to use it for cake decoration
What to do:
Open the chilled can of coconut milk and scoop off the top layer.
Place it into your well-chilled mixing bowl. You should have about 3/4 cup of cream after doing this.
Beat with a hand or stand mixer until the cream is somewhat fluffy and smooth (about one minute).
Sift in powdered sugar or honey and put in the vanilla extract. Slowly mix together all of the ingredients with a whisk or mixer. If the cream ends up too soft, simply add a thickener and beat until well combined.
Use immediately or keep in the refrigerator for no longer than three days.
3. No-Coconut Vegan Whipped Cream
This recipe has been known to be extremely delicious. Not to mention, it mimics standard whipped cream in a consistency almost perfectly. And guess what? It calls for bean water, also known as aquafaba. Crazy, right? 
Well, try this recipe and see the beautiful results for yourself!
Ingredients:
1/2 cup aquafaba (liquid from 1 can of chickpeas)
1/8 teaspoon cream of tartar
1/2–3/4 cup powdered sugar
1 teaspoon pure vanilla extract
If you prefer sweeter cream, simply add more sugar or stevia for the last stage. Add less for a not-so-sweet option. 
4. Whipped Cashew Cream
Cashew cream is a great alternative to dairy cream as it is light yet stable enough to be fluffy and even healthy! It is lighter than coconut milk, making it a perfect substitute for any whipped cream filling or topping. Just make sure to soak your cashews beforehand to get all the yummy flavor!
This recipe takes about 10 minutes and makes 2 cups of fluffy goodness that is guaranteed to make you smile.
What you'll need:
2 cups of cashews (plus water for soaking) 
Half a teaspoon of sea salt
2 tbsp honey to taste
2 tsp vanilla extract
3/4 cup water
Add the cashews to a bowl along with the salt and soak for at least one hour. If the cashews are soaked longer, then the water that is going to the blended later should be reduced by 3/4. Drain them using a metal mesh or strainer and rinse well. 
Add the cashews along with the remaining ingredients into a blender and blend on a high setting. Use a hand blender if you need any assistance with getting a smooth consistency.
Once it is light and fluffy, place it into a container and chill in the fridge, covered. 
The full recipe for whipped cashew cream can be found here.
5. Soy Whipped Cream
Soy whipped cream is another lovely and healthier substitute for conventional crème Chantilly. It is vegan, plant-based, gluten-free, nut-free, and of course, dairy-free.
Here is a very easy and quick recipe that only uses a few simple ingredients:
1/4 cup of soy milk
1/2 cup of vegetable oil
1 tbsp of maple syrup
1/2 tbsp of real vanilla extract
Instructions:
Place the soymilk and 1/4 cup of vegetable oil into a blender and blend at the highest speed.

Slowly trickle in the remaining vegetable oil. 

Once it begins to thicken, blend in the vanilla and maple syrup. If needed, add a bit more oil to make it thicken.

It may not thicken as you expect it to, but chilling it once it's blended will aid in the process. 
You can find the full recipe here. This makes enough topping for one pie or angel food cake, etc. Yum!
6. Rice Milk Whipped Cream
Rice milk is a very nice alternative for those who may be allergic to dairy, soy, gluten, eggs, etc. It is also a wonderful substitute for those who are merely on the lookout for a dairy-free option for whipped cream! You can also replace the rice milk with unsweetened almond milk.
Ingredients:
1/2 cup of rice milk
1/2 cup of canola oil
1 tablespoon of maple syrup
1/2 teaspoon vanilla extract
1/2 teaspoon of xantham gum
What to do:
This recipe is found to work best using a hand immersion blender in a thin but taller container. 
Simply place all of the ingredients into the container and blend.

Be sure to move the mixer around in the container to ensure a proper blend of the oil and other liquids.

 

If the liquid begins to get warm, place the container in a larger bowl of ice or ice water to cool it down.

 

Blend this until it reaches the desired consistency, and then chill in the fridge.
This recipe uses rice milk, which has a significantly lower amount of fat than what is typically needed to whip cream, leaving you with a liquid-type cream. Instead of using this recipe in place of a topping, it would work best to substitute heavy cream in recipes used for things like sauce.
You can find the full recipe here.
7. Roasted Onion Cream
This option sounds a bit unusual. Onions in place of cream? But trust me. This is a fantastic recipe that you can substitute in any meal recipe that calls for cream. It makes a beautiful and yummy cooking ingredient that will be a nice finish to any soup, sauce, or side dish.
Ingredients:
Three big onions (sweet or regular)
1/3 tsp of salt
Dash lemon juice
Olive oil
Instructions:
Slightly cover the onions with oil and roast them on a pan at 400°F (200°C) for 45 minutes. You will want them to be quite dark on the outside, and inside they should be molten/melted soft.
Once done, let them cool.
Once cooled, take off the peels and put the onions into a blender.
Blend them on high until they are very smooth. This should take about three to four to five minutes.
And finally, add the remaining ingredients and blend for another 30 seconds. Add any other seasonings that you might prefer to taste.
Then, add to any recipe that calls for heavy cream to complete the dish.
Store this cream in the fridge for no more than three days or in the freezer for up to 2 weeks. Blend to reincorporate before serving and enjoy!
The full recipe for roasted onion cream can be found here.
Best Store-Bought Vegan Substitutes For Whipped Cream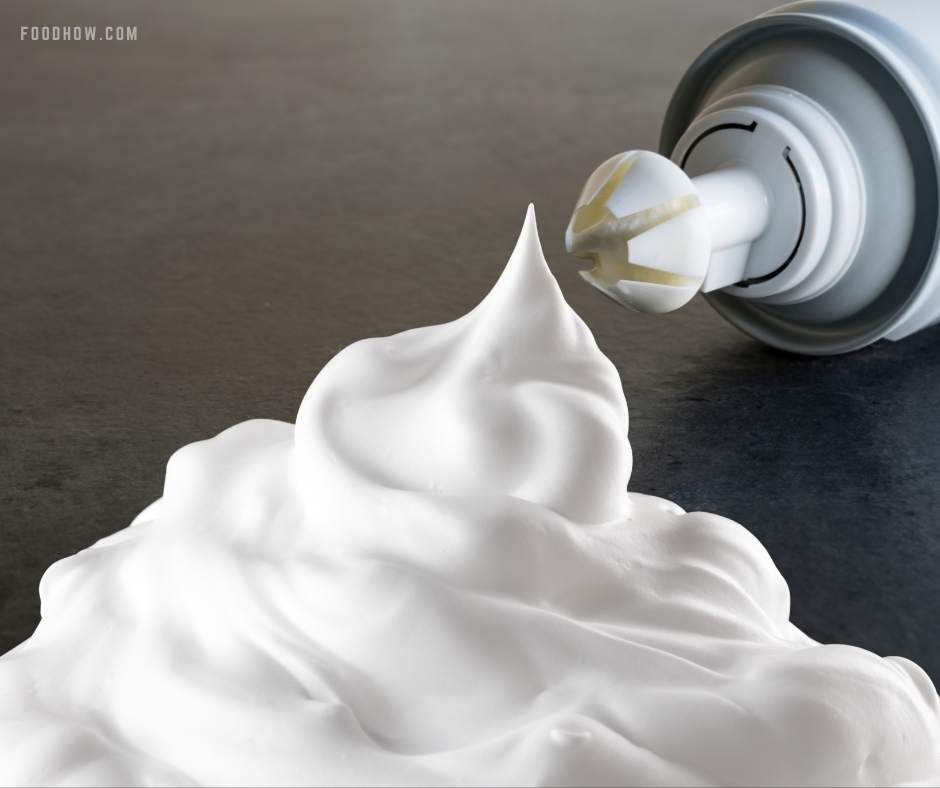 For all of you who aren't trying to spend time in the kitchen whipping up your own homemade cream, there are some decent ready-made options for you, too! 
Here are a few store-bought, ready-made vegan alternatives to whipped cream that don't taste awful.
8. Cocowhip
TAP ON IMAGE TO VIEW PRICE
So Delicious Cocowhip is a super yummy lactose-free whipping cream substitute. Not to mention, it comes in a tub and includes both original and light options! Keep one in the freezer for all of your cool-whip times of need.
9. Non-Dairy Reddi-Wip
TAP ON IMAGE TO VIEW PRICE
When it comes to vegan and plant-based alternatives, even Reddi-Wip provides. They offer whipped cream in a can—just like their dairy-cream—made from various milk options. Non-dairy Reddi-Wip has options for both almond and coconut milk whip spray cans. 
You can find these on Amazon here.
10. Oat Based Whipped Topping
TAP ON IMAGE TO VIEW PRICE
Whole Foods' 365 Oat-Based Whipped Topping is another great substitute for usual dairy whipped cream. It even comes in a spray can and is sweetened with real sugar. 
11. Canned Creamy Coconut Topping
TAP ON IMAGE TO VIEW PRICE
For dairy cream alternatives, Nature's Charm has you covered. The brand offers a dairy-free shelf-stable – chill and whip cream that can be substituted for any dairy-based topping. 
You can whip it up on its own to create the whipped topping of your dreams. This is a great option for both sweet and savory foods. 
12. Soyatoo Rice Whip
TAP ON IMAGE TO VIEW PRICE
Soyatoo provides one of the most popular rice-based alternatives to cream. This dairy-free whipped topping is a fluffy and delicious lactose-free alternative. It contains only 0.5 grams of fat, so it is also perfect for people counting calories.
Don't let the name fool you; it does not contain any soy; it is rice-based. 
Whip Away!
There isn't always a plethora of replacements when it comes to plant-based and vegan diets. However, there are a few. And hopefully, we've got you covered.
You'll never have to shy away from making recipes that call for dairy-based cream, with these super awesome vegan-friendly whipped cream substitutes and store-bought swaps, you can successfully make any recipe or satisfy those creamy cravings.