Powdered milk is awesome. As well as providing all of the health benefits and uses of regular milk, it also adds the convenience of long shelf life, an easy to carry that is so essential for outdoor adventures, survival food supply, and even opens up new baking options for thicker, silkier recipes.
In fact, for many, milk powder is an absolute essential in the cupboard, and absolutely no apocalypse-ready kitchen would be complete without it.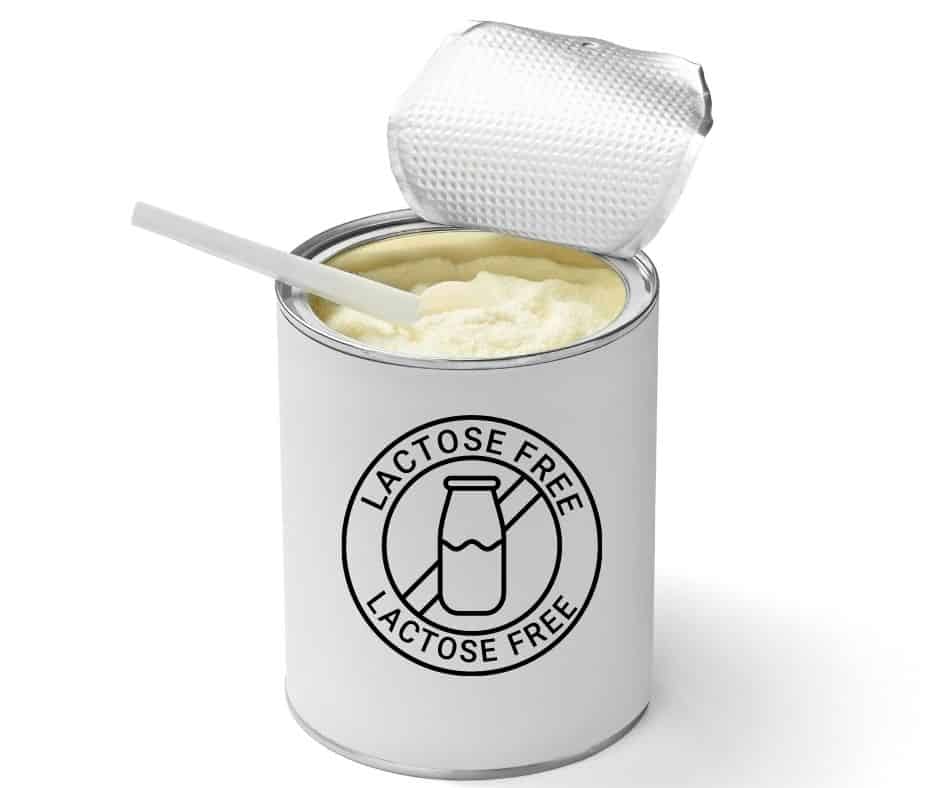 Unfortunately, like milk itself, a growing number of people are struggling, or are flat out unable, to enjoy powdered milk or any other dairy products. This is because of lactose intolerance, and it is on the rise.
While globally lactose intolerance has always been high, currently around 68%, it has risen significantly in the US and many other countries in recent decades and has left many looking for an alternative. Thankfully, few lactose-free and non-dairy alternatives are now available.  
Unfortunately, it can be a struggle to find milk powders without lactose, and with this in mind, I have searched the internet for 9 of the best dairy and plant-based options and have put this list together, to help you decide which one is right for you.
1. Lactose-Free Milk Powder (

Skimmed)
TAP ON IMAGE TO VIEW PRICE
First up on our list I have this really high-quality, lactose-free option from Milcherei. This is the only one on our list that is a dairy product while also being lactose-free (maximum 0.1g lactose per 100g).
If you love powdered milk, or regular milk, but are just finding yourself increasingly lactose intolerant, this is the one for you!
As this Lactose-Free Skimmed Milk Powder is simply regular powdered milk with the lactose removed, this is the closest tasting option on our list to run-of-the-mill powdered milk. 
It mixes very well, even in cold water.
Because of this, you can use it to do absolutely everything you can with normal milk, and as it is fully skimmed, it is also extremely low in fat (you can thank me later!).
It has identical nutritional information to regular milk, so if you are worried about your inability to digest lactose leading to a drop in calcium, pick up this substitute today.
The only issue is that as it is still a dairy product, it is not vegan, so if you are looking for completely plant-based alternatives, it isn't the option for you. 
For plant-based dairy-free options keep reading, as there will be a few coming up.
2. Powdered Almond Milk
TAP ON IMAGE TO VIEW PRICE
Next up, and the first of many plant-based options on our list, is this Ecomil Almond Milk Powder. Almonds have been making waves over the past few years, and for good reason.
And of course, in case you are wondering, it is completely lactose and gluten-free. As for taste, while it is slightly different from regular milk powder, once you get used to it, many people actually prefer almond milk powder to the regular kind. It is somewhat similar to cow's milk, but slightly nutty, and slightly sweeter too.
If this sounds up your street, try out this milk powder alternative. However, personally, I would prefer the cashew milk powder below. 
3. Cashew Milk Powder
TAP ON IMAGE TO VIEW PRICE
The next lactose-free milk powder on our list comes from the Z Natural Foods Company and boy do they practice what they preach. 
This unsweetened and unflavoured cashew milk powder has only two ingredients: cashews and inulin (prebiotic fiber), so if you are looking to get back to the basics of nature, this is the choice for you.
Like almond milk powder it is absolutely stuffed with nutrients.
Cashew milk is also perfect if you are looking for something a little less nutty, while still keeping things plant-based. It is delicious, creamy, and sweet, and of all the nut-based options on our list is probably most like a full-fat milk option and also perfect for a vegan diet.
It mixes really well in the water and pairs perfectly with any recipe, tea, or coffee. It's also great for soups, cereal, baking, and sauces.
Ideal if you are struggling with a low lactose lifestyle and wanting an alternative that will help you ease in, I fully recommend this cashew milk powder.
4. Coconut Milk Powder
TAP ON IMAGE TO VIEW PRICE
The most unique flavor on our list, this Nutricost Coconut Milk Powder tastes like, well, coconuts.
If you like coconut, you will absolutely love it! If not, it is probably best to stick to one of the other options. Luckily in my family, we are big coconut fans, and so I often choose this lactose-free option for some great tasting variety with cereal or baking.
Just like coconuts themselves, this milk powder alternative is made from dried coconut meat and is bursting with nutrients. It is quite high in calories compared to some of the other choices, but don't completely count it off if you are trying to watch your weight.
This coconut milk powder actually contains medium-chain triglycerides (MCTs), which have been linked to fat loss, and so despite its high calories could actually be good for weight loss. Overall, though, I would have to say the jury is still out on coconut's slimming benefits; enjoy it as part of a healthy diet without worry, but don't expect it to be a miracle cure!
While plant-based, this powder contains Sodium Caseinate which is a milk derivative, and so unfortunately it is not vegan. If this isn't a concern though it can provide some exciting variety to your regular milk-powder option.
One last thing, because of its relatively high-fat content it does not mix that well in cold water. But if you use it as a coffee creamer or in soups or curries or baking recipes then it is a great option, that of course if you like the taste of coconut.
5. Organic Soymilk Powder
TAP ON IMAGE TO VIEW PRICE
Soymilk powder is probably the most famous of all milk powder alternatives, and with good reason. Made from ground soybeans, this lactose-free, cholesterol-free powder is rich in vitamins, minerals, and crucially very high in plant-based protein (8 g for 4 tbsp).
This makes soymilk powder absolutely wonderful for vegans and vegetarians in helping them make sure their body can repair itself and stay in top condition. I love this soymilk powder from Now Foods in particular for its sustainable production and the fact that it is completely organic.
It mixes quite easily and has a nice creamy taste.
In a world ever increasingly filled with chemicals, this is a welcome change and a great substitute for cow's milk. 
6.

Organic 

Rice Drink Powder
TAP ON IMAGE TO VIEW PRICE
Got a sweet tooth? So do I. That is why I have chosen this Bio Rice Drink Powder. The sweetest option on our menu is great for the less savory-minded and can form an excellent lactose-free milk powder replacement.
That being said it is high in carbohydrates to provide this sweetness, and not nearly so high in nutrients or protein as some of the other options on our list. (The sweet taste is natural as there is no added sugar).
As such I recommend this powder milk alternative as something to be added to coffee or occasionally used in baking, rather than a full dietary replacement. This is especially true if you are currently getting a lot of your vitamin D for example from regular or powdered milk.
7. Soy-Based Alternative To Milk-Based Formula
TAP ON IMAGE TO VIEW PRICE
The only alternative milk powder on our list specifically aimed at young children and with good reason. This wonderful formula from Enfamil has all the benefits of soy milk we went through above, while also being packed with extra goodness to help your little one grow. In particular, the added iron and omega 3 are perfect building blocks for a happy, healthy, baby.
I actually became lactose intolerant when I was just three years old, and so had to include this for all the toddlers struggling with milk as I did out there. Thankfully the options have massively improved since I was young and this formula from Enfamil is the perfect example of that.
There are also know many grownups, who have been struggling to find a lactose-free alternative, using this drink powder for themselves as it is nutritious and easy to digest.
8. Whole Powdered Goat Milk
TAP ON IMAGE TO VIEW PRICE
If you are fully lactose intolerant, I am afraid that's all I have for you (although I get the feeling seven options are probably plenty!). If, however, you are slightly lactose intolerant and are trying to cut down on lactose or reintroduce it to your diet, I do have a couple of interesting powders that may be able to help.
First up is this whole powdered goat milk from Meyenberg. At around 12% lower in lactose than cow's milk it is easy to digest and can be an excellent way to cut down without eliminating it from your life.
It is also creamier and higher in a lot of nutrients than its more traditional counterpart and probably less processed than plant-based milk powders.
In fact, with 65% of global dairy consumption is made up of goat's milk, you are in the minority if you don't try it today.
9. Camel Milk Powder (Freeze Dried)
TAP ON IMAGE TO VIEW PRICE
Okay, I know what you are thinking, I thought the same when I was first offered camel's milk. Gross. When you try it, however, other than being marginally less sweet and slightly saltier than cow's milk, you would be hard-pressed to tell the difference. 
Aadvik's Camel Milk Powder is actually more nutritious than regular milk powder and suitable for people allergic to cow's milk.
As camel's milk contains a different composition of caseins and whey proteins than regular cow milk, it has some great gut-healing properties. The pack in the picture above makes you about 5 liters of Camel milk. It mixes better in warm water.
You can use it to make ice creams, smoothies, or just drink it on its own.
Lactase Enzyme – Lactose Intolerance Relief Caplets
TAP ON IMAGE TO VIEW PRICE
If you have looked through all of these options above and still want some dairy, I recommend trying out these lactase pills at the same time as tucking them into a dairy product.
Read Also: 12 Plant-Based Whipped Cream Substitutes
What Is Lactase Enzyme?
Lactase enzyme is generally produced in your small intestine. It is used to digest and break down the lactose found in dairy products. If your body makes too little Lactase enzyme then you cannot digest and metabolize lactose properly and that is known as lactose intolerance. [1]
You may have also noticed that lactase enzyme is the same ingredient they often put in the lactose-free milk all the way at number one, and these tablets are meant to do the exact same job, just all inside your stomach.
Because obviously, your body is not like a lab, whether these work for you will depend. Some people experience fantastic results, others not so much. If you love dairy that much though and are looking for something to help, I haven't found any better on the market than these from Lactaid.
That's everything! I hope you have managed to find something that is right for you and will be trying at least one of these lactose-free alternatives above. Living with lactose intolerance can be tough, so hopefully, more lactose-free milk powders will be available in the future, whether plant-based or not.
Read Also: 6 Popular Foods That Cause Gas and How To Stop Those Embarrassing Farts