Avocado with condensed milk is not just this fleeting TikTok trend, but it is actually a very popular dish in many countries, especially in Asia. 
Although this combination may seem strange at first, these two ingredients pair surprisingly well, creating delicious, rich, and creamy desserts that could become your new favorite comfort food.
Here Are 7 Delicious Ways To Combine Avocado With Condensed Milk:
Note: If you are Vegan or Lacto-vegetarians, don't worry, here are the 13 Best Condensed Milk Substitutes you can use instead.
1. Vietnamese Avocado Smoothie With Condensed Milk (Sinh Tố Bơ)
Called Sinh Tố Bơ in its native Vietnam, this spectacular dessert has a name that translates to a butter fruit smoothie—the perfect description for a mouth-watering hot weather treat.
In this video below, I will show you have to make this delicious, creamy, and rich avocado and condensed milk smoothie.
Velvety and smooth, the decadently-delicious Sinh Tố Bơ has a sweet flavor and a nutty undertone, not to mention a plethora of healthy fats and the regular benefits of avocado.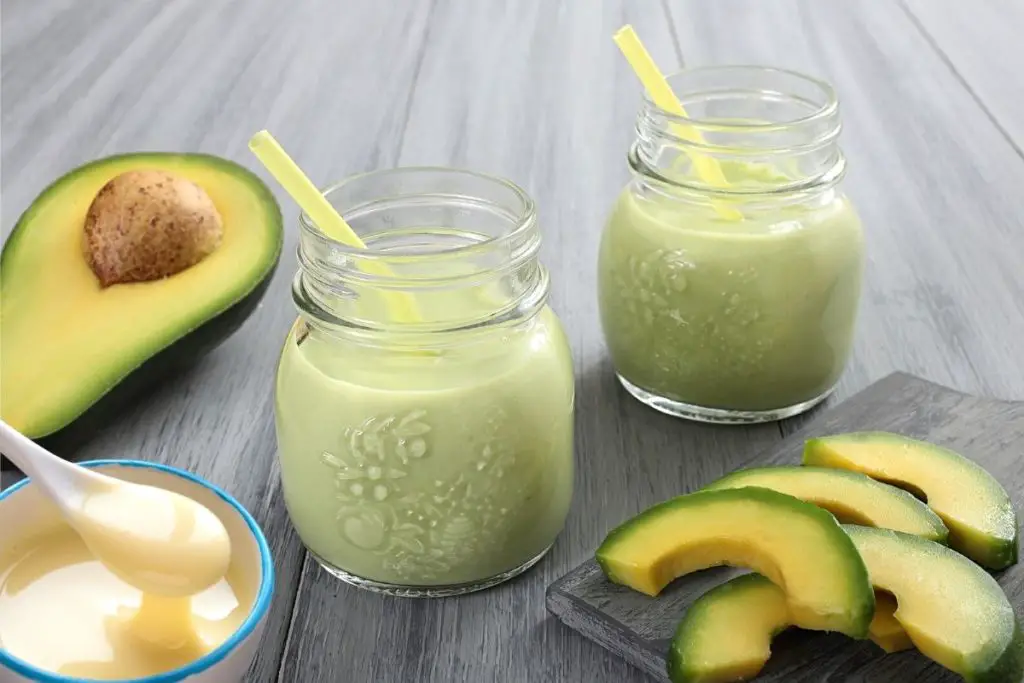 Ingredients:
2 ripe, peeled avocados (preferably Hass).
1 cup of ice cubes.
A third of a cup of sweetened condensed milk.
Instructions:
Cut the avocado in half and remove the green flesh. Add it to a blender.
Add the sweetened condensed milk and ice cubes to the blender, and blend until smooth. 
If the smoothie is too thick, add a dash of whole milk or coconut milk and blend a bit more.
Serve in a glass and add a straw since the mixture will be thick. 
2. The Traditional Filipino Avocado Dessert With Condensed Milk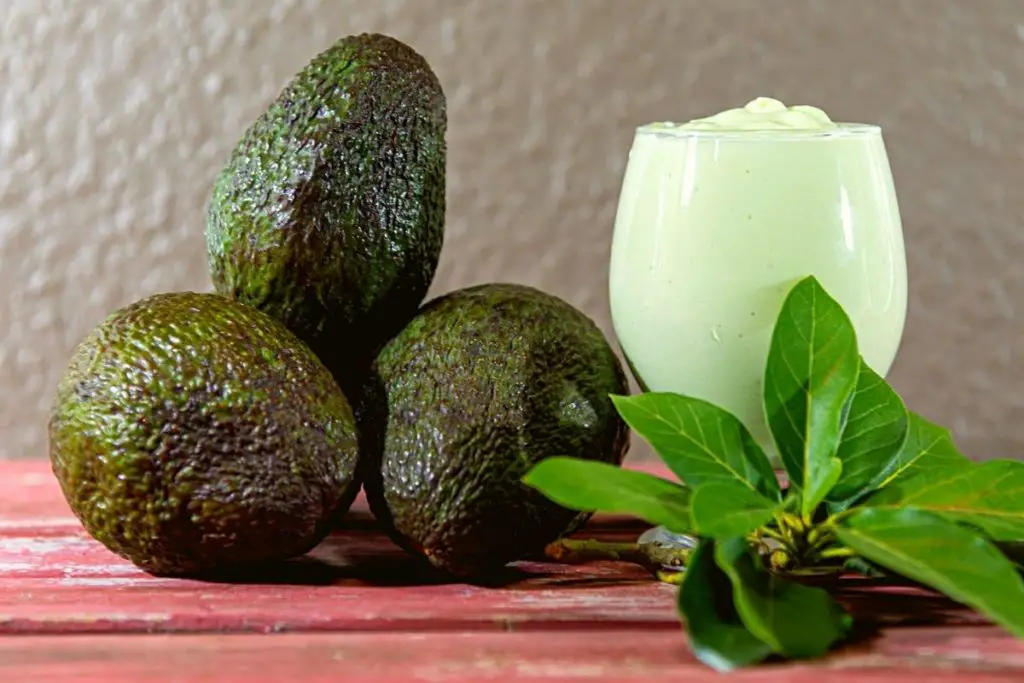 Enjoyed in the Philippines for decades, this delicious dessert is somewhat of a comfort treat enjoyed by Filipinos of every age whenever they wish for a sweet, refreshing delight. 
It turns out that the natural nutty flavor of avocado and its creamy texture matches perfectly with the refreshing coldness of the ice and the splash of sweetness from the condensed milk. The result? A perfect summertime treat. 
Ingredients:
Ripe avocados. 
Sweetened condensed milk.
Granulated sugar. 
Crushed ice. 
Any preferred topping.
Instructions: 
Cut the avocado lengthwise and scoop out the flesh of the avocado, discarding the outer skin.
Combine the avocado with the condensed milk and sugar in a bowl until perfectly blended. 
Slowly add the crushed ice and sprinkle in your favorite toppings.
For more detailed instructions and alternative ingredients, check Avocados from Mexico's recipe here!
3. Creamy Avocado Condensed Milk Mousse Recipe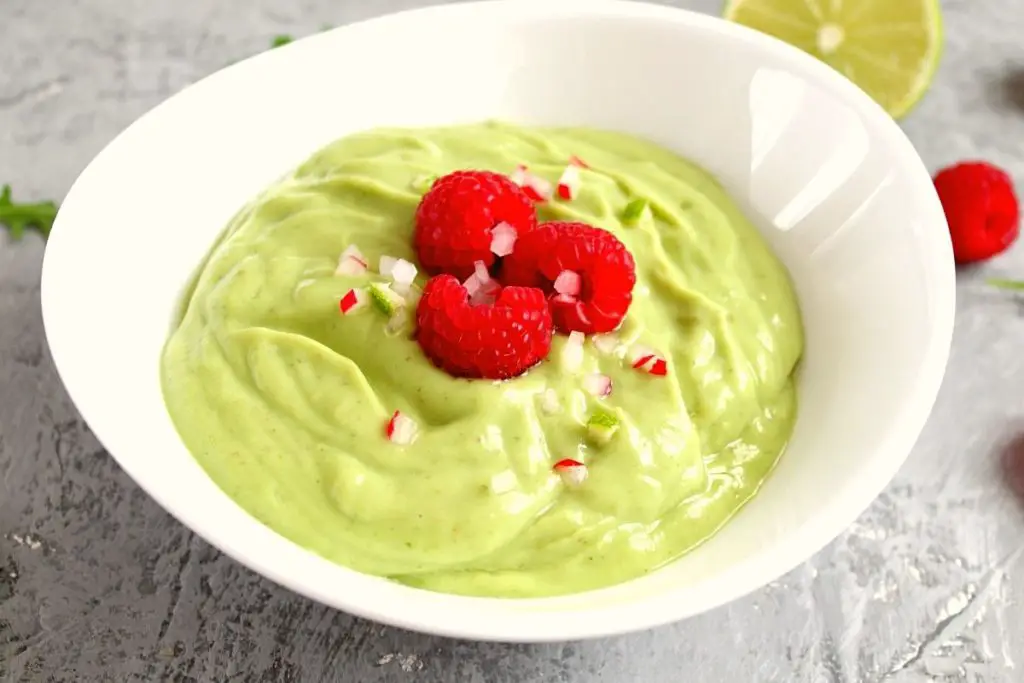 During a hot summer afternoon, it's normal to crave something sweet yet dread the thought of working too hard for it. But before you give in to purchasing something, give this delicious homemade avocado mousse recipe a go. 
It's a no-cook, eggless, easy delight that utilizes the avocado's natural creaminess to create a smooth texture that mimics standard mousses. 
Ingredients:
Large, ripe avocados. 
Sweetened condensed milk.
Fresh lime juice.
Granulated sugar.
Chopped pistachio (optional).
Instructions:
Cut the avocados in half and extract the meat carefully.
Place the avocado meat alongside all other ingredients in a blender. Make sure to blend them until perfectly smooth. Make sure to check for lumps and blend until they're gone.
Put the mixture into ramekins and let them chill in the refrigerator for up to two hours. 
Add avocados or any preferred topping right before serving. 
If you wish to transform this recipe into a keto-friendly, vegan, or dairy-free, visit Easy and Delish here! 
4. 3 Ingredient Avocado Condensed Milk Ice Cream (Without an Ice Cream Maker)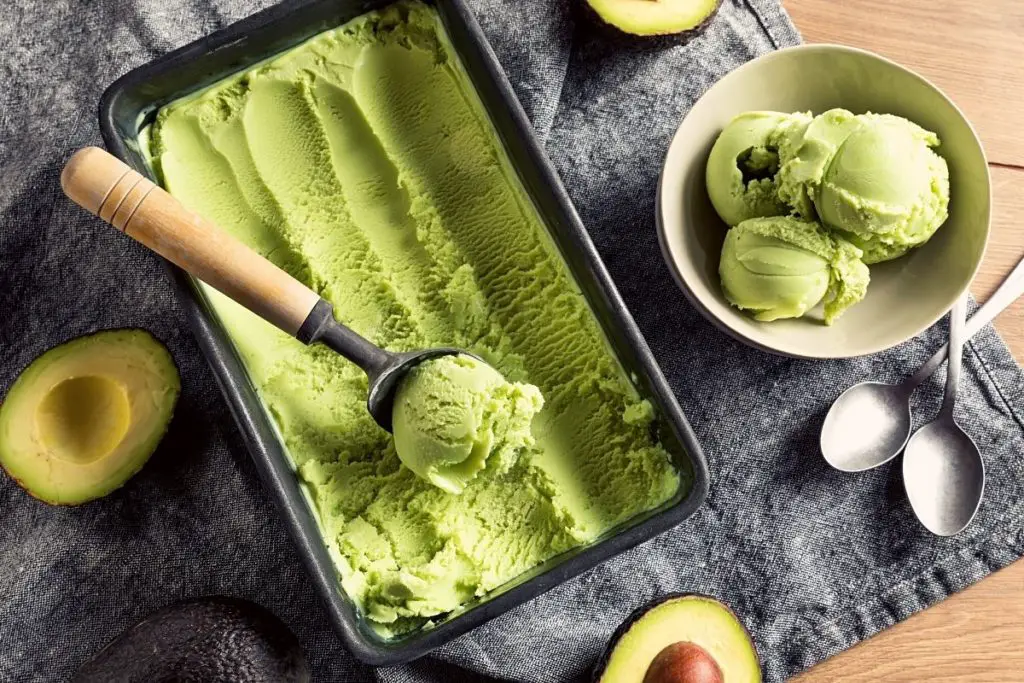 A homemade ice cream that requires just three ingredients has no eggs and needs no ice cream maker? If it sounds too good to be true, rest assured—it's real!
The rich texture of ripe avocados is perfect for ice creams, as it never freezes over, and it retains that creamy consistency all good ice creams require. Likewise, since its flavor is not naturally sweet, the taste will never be tooth-rotting sugary. 
Ingredients:
Instructions: 
Cut the avocado in half, extracting the creamy flesh carefully.
Place the avocado in a blender alongside the condensed milk. Mix until perfectly smooth, without any chunks.
Pour in a large bowl and set aside.
Add the cold heavy cream to a clean bowl. Use your stand or hand mixer to whip it until the cream can hold stiff peaks. 
Pour one-third of the whipped cream inside the bowl holding the avocado mixture, and fold gently until incorporated. Repeat this process in three parts until all of the whipped cream is folded inside.
Pour into a baking pan and freeze overnight.
If you want additional detailed instructions and other tips, visit Kirbie Cravings! 
Read Also: 7 Dairy-Free Ice Creams (Make Without an Ice Cream Maker).
5. Avocado Toast With Condensed Milk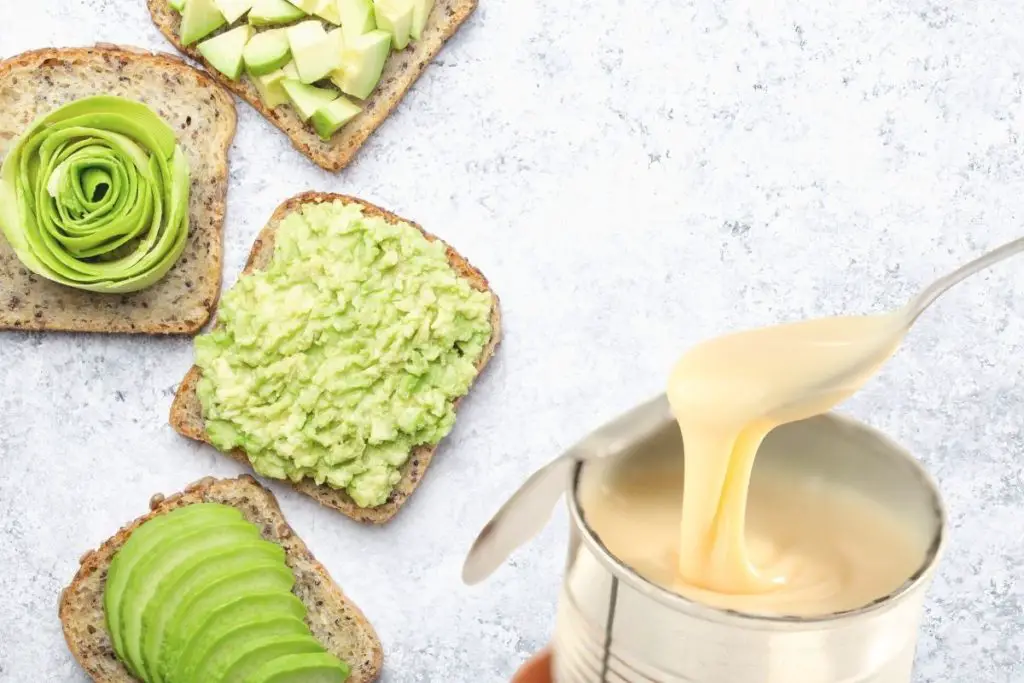 So far, each recipe has focused on blending avocado and condensed milk to create a creamy substance. But that is not the only you can combine this nutritious green fruit and sweetened condensed milk.
This unique delight combines thick milk bread or brioche with a generous drizzle of condensed milk and a generous topping of thin avocado, sliced or smashed.
The final touch is a sprinkle of sea salt, and the result is a whirlwind of flavors and textures that can be pretty addictive. I was also skeptical at first, but believe me, it works.
Ingredients:
Slices of toasted milk bread or brioche. 
A large avocado. 
Condensed milk to taste.
Maldon sea salt flakes. 
Instructions: 
Prepare the toast beforehand.
As it is warm, spread a layer of condensed milk according to taste.
On top of the condensed milk, add thinly sliced or smashed avocado.
Drizzle the avocado slices with additional condensed milk (optional).
Finish off with sprinkles of flaky sea salt to taste.
Explore details, tips, and tricks at Cooking With A Wallflower. 
Read Also: How To Mash Avocado And Keep It From Turning Brown.
6. No-Bake Avocado Condensed Milk Cheesecake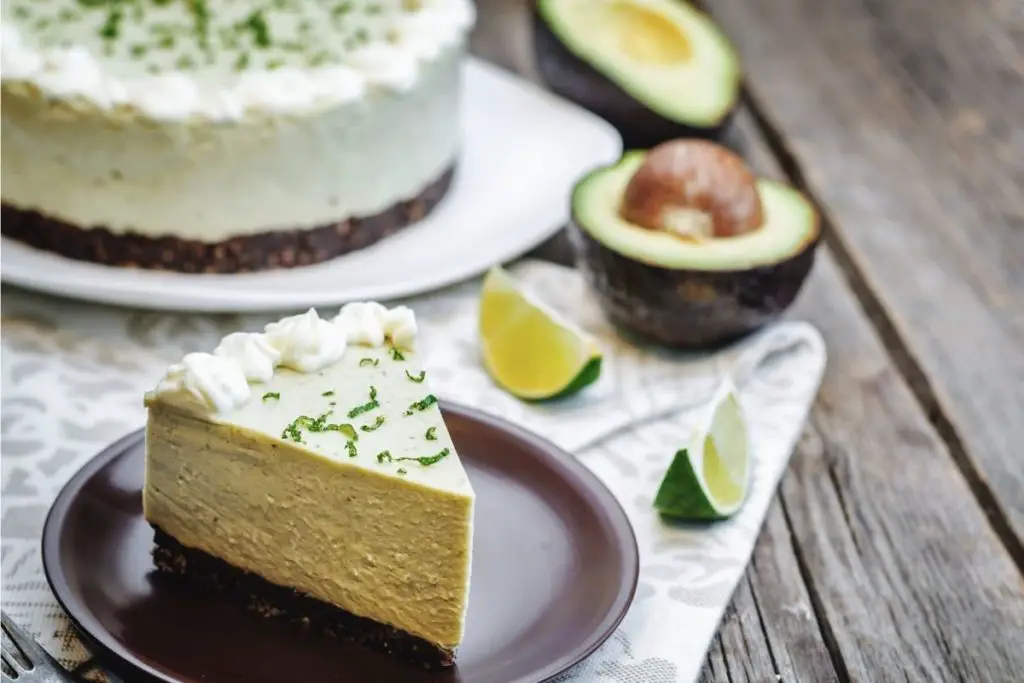 Soft, creamy, and buttery in texture, this delicious cheesecake is as unique as mouth-watering. Add in a crispy base, and the texture combination is bound to make anyone fall in love with avocados during dessert.
Ingredients:
For the crust:
Graham crackers. 
Digestive biscuits. 
Sweetened condensed milk.
For the cheesecake:
Sweetened condensed milk.
Hass avocados.
Cream cheese.
Sea salt. 
Lemons.
Limes.
Instructions:
Crush the crackers and biscuits into fine crumbs, then mix with condensed milk.
Press the mixture into a buttered pan. Bake up to 15 minutes.
Cut the avocados in half and extract the flesh, chopping it coarsely. 
Grate the zest of a lemon and set it aside. Squeeze the juice of the lemon and limes.
Add the avocados, lemon/lime juice, cream cheese, condensed milk, and salt to a blender or food processor, and mix until smooth. 
Spread the mixture on top of the cooled crust, and freeze overnight.
This recipe has many details and instructions, so check them in-depth at Epicurious. 
7. Avocado Coconut Condensed Milk Popsicle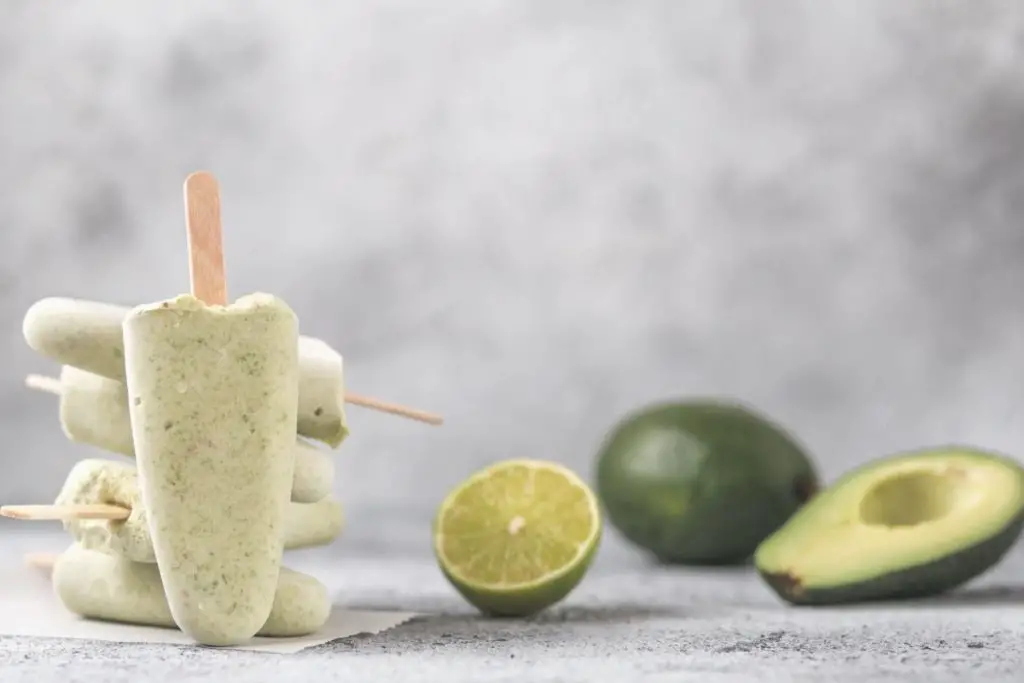 Refreshing, creamy, and utterly addictive—these popsicles pack a punch when it comes to tropical flavors. Best part? They are low-cost, low-effort, and made in a breeze!
Just keep in mind that you will need a popsicle mold.
Ingredients:
Avocado.
Cornstarch. 
Coconut milk.
Sweetened condensed coconut milk. 
Grapefruit juice.
Salt. 
Instructions:
In a small saucepan, heat the coconut milk and cornstarch until warm, and the cornstarch dissolves. 
Proceed to blend all ingredients until creamy. 
Pour in a popsicle mold and freeze overnight.
If it seems simple is because it really is! But if you want to have more in-depth knowledge, check the original recipe at Sugar and Charm. 
Read Also: 12 Sweet Potato And Avocado Recipes (Delicious And Nutritious).