Yes, you can make dairy-free ice cream without the machine!
We're firmly in Spring, and Summer is, thankfully, just around the corner! With picnics, BBQs, and fetes in the seasons ahead, let's explore how to make something that's a staple every summer, Ice cream!
Today I'll be sharing my 7 favorite dairy-free ice cream recipes, which you can make at home, without an ice cream maker, just in time for the temperature to rise and give your taste buds and cravings a cooling. 
And I am not talking about making Popsicles here either, but delicious ice cream with a classic creamy density, pleasant firmness, and icy texture.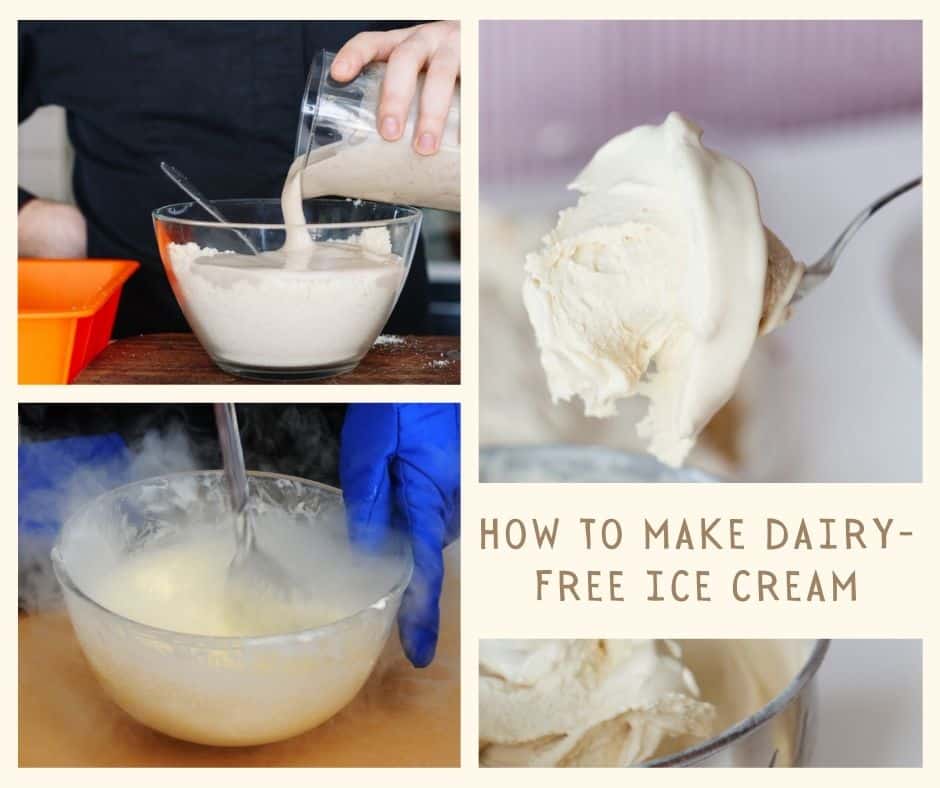 While some people turn to corn starch to create dairy-free ice cream, I prefer milk and cream alternatives to keep the flavors balanced and keeping that sweet edge that ice cream has that we all know and love.
It would taste so good that it will rival your store-bought favorites. Take that Ben and Jerry, and you'll feel so proud of your homemade marvel – Haagen Dazs!
These dairy-free ice cream recipes are suitable for people following the diets like:
Paleo

Low Fodmap 

Veganism

Dairy Allergies

Lactose-Free

Gluten-Free

Looking to reduce animal product intake
As ever, be sure to check the full recipe below and make alterations to recipes to suit your tastes, diets, and intolerances.
Popular Alternatives To Make Dairy-Free Ice Cream
Almond Milk

Coconut Milk

Cashew Milk

Almond Butter

Banana

Coconut Cream

Dairy-Free Yogurt

Arrowroot Powder
Bananas
Bananas are used as a dairy substitute in ice cream making for their creaminess and smooth texture when blended. Feel free to let your bananas become overripe before you freeze them. (It's advisable to freeze your bananas before ice cream making! To create an extra creamy texture.) Using ripe, almost brown bananas allows the fruit's flavor to develop that vanilla, honey, and rum-like tones.
Ice cream making is a great way to use up 'old' and overripe bananas; you can even freeze any overripe bananas that you know you won't eat, so they're ready for the next time you fancy making homemade, dairy-free, soft, and sweet frozen desserts! As a creamy fruit, banana pairs well with roasted flavors, such as coffee, nuts, and chocolate.
Coconut
Similar to other nut types, coconut has a mild, milky flavor with fruity notes. Its creamy nuttiness makes it the ideal alternative to dairy cream for dairy-free ice cream making. Its compatibility with sweet and savory dishes allows it to balance and add flavor to coconut milk and coconut cream.
When you think about the diverse coconut options from coconut water to curries and ice creams, coconut is one of the most versatile ingredients for your kitchen cupboard, especially when it comes to making ice cream.
There are some great coconut pairings that are perfect for ice cream.
Coconut & Almond

Coconut & Banana

Coconut & Carrot

Coconut & Cherry

Coconut & Chocolate (Especially white chocolate!)

Coconut & Cinnamon
Almonds
Almond is a popular go-to for non-dairy ice cream making, with and without a machine. The flavor profile of almond paired with flavors from the bramble and hedge, floral-fruity, and roasted flavor profile families.
There are some amazing sweet almond pairings that are perfect for ice cream.
Almond & Apple

Almond & Apricot

Almond & Banana

Almond & Blackberry

Almond & Blackcurrant

Almond & Blueberry

Almond & Cherry
Almond offers some less sweet pairing options too. 
Almond & Chilli

Almond & Chocolate

Almond & Coconut

Almond & Fig

Almond & Coffee

Almond & Ginger 

Almond & Rhubarb
7 Delicious Homemade Dairy-Free Ice Cream Recipes You Can Make Without An Ice Cream Maker
1. Creamy Homemade Dairy-Free Protein Ice Cream
This first recipe is undoubtedly my favorite. Not only because it is rich and creamy, but it is also full of protein, so it is secretly good for you at the same time! And, it is super easy to make.
So, if you are into health and fitness, you could still eat a bowl of this protein-rich vegan ice cream without feeling guilty. It tastes deliciously creamy and sweet, yet it's packed with protein, fiber, and vitamins.
You can easily make this protein ice cream without an ice cream maker, and you only need five plant-based ingredients and no refined sugar or any artificial preservatives.
It can also be easily customized to suit your own taste and nutritional needs. You can add some chia seeds or nutritious superfood powders and change the flavor by trying out different flavor protein powders.
It takes about 5 minutes to make and gives you about 3 servings.
Ingredients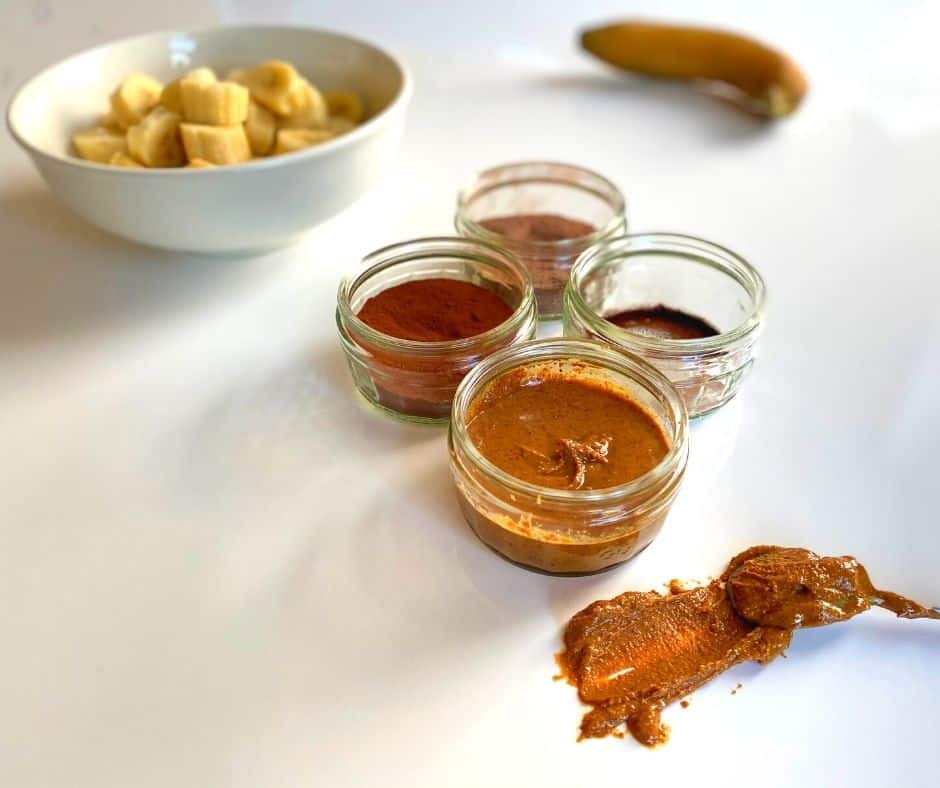 4 frozen, well ripe bananas
3 tbsp cocoa powder
1/4 cup almond butter or tahini
2 tbsp of protein powder (chocolate flavor)
1/8 tsp salt
1/4 tsp cinnamon (optional)
How To Make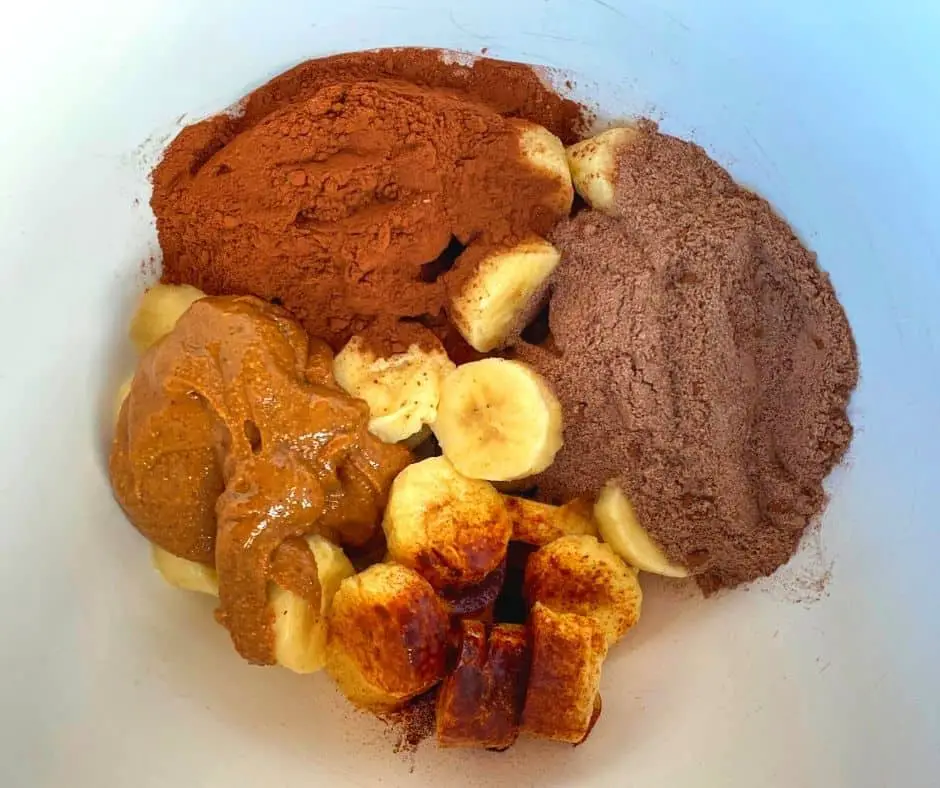 Using a food processor or my favorite, Nutribullet blender, blend all the ingredients together until everything is smooth and creamy.
Now you can eat it straight away when it is fresh and soft, or you can freeze it up for later and then scoop it out with an ice cream scoop.
2. Almond And Pistachio Dairy-Free Ice Cream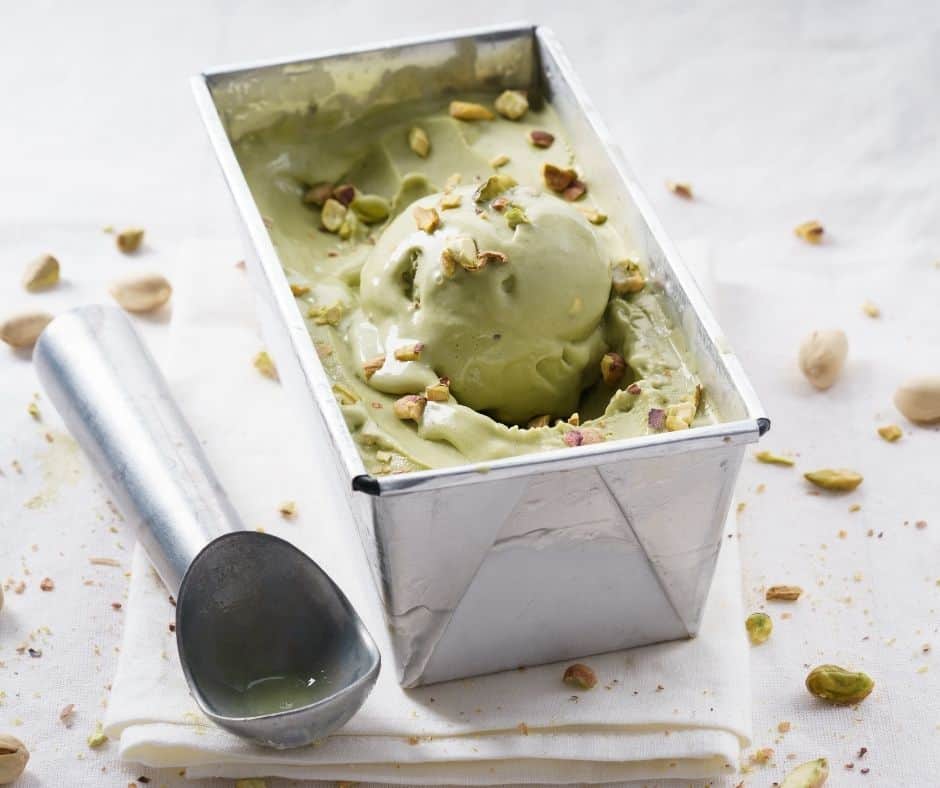 A simple combination of dairy-free yogurt, frozen banana, frozen spinach, and avocado, this ice cream contains no milk or milk products and has a healthy twist.
The creaminess we know and love from soft scoop ice cream is recreated by the creamy texture of the banana mixed with the yogurt and avocado and resulting in a green hue. Add a healthy sweetener of your choice that suits your dietary requirements.
Nutrition In The Kitch uses raw honey for an injection of sweetness to balance the greens of the avocado and spinach.
Taking a dash of almond extract and shelled and broken pistachios, the flavors compliment themselves and balance the creaminess of the banana and yogurt, adding a solid flavor identity.
Creating a green and grassy, fresh-tasting profile. Combine the ingredients into a food processer to blend together, then place them in a mold or baking tray into the freezer. 
Fuss-free, flavourful, and arguably 3 of your five a day!Fancy trying it for yourself? You can check out the full recipe and instructions over on Nutrition In The Kitchhere.
3. Vegan Key Lime Ice Cream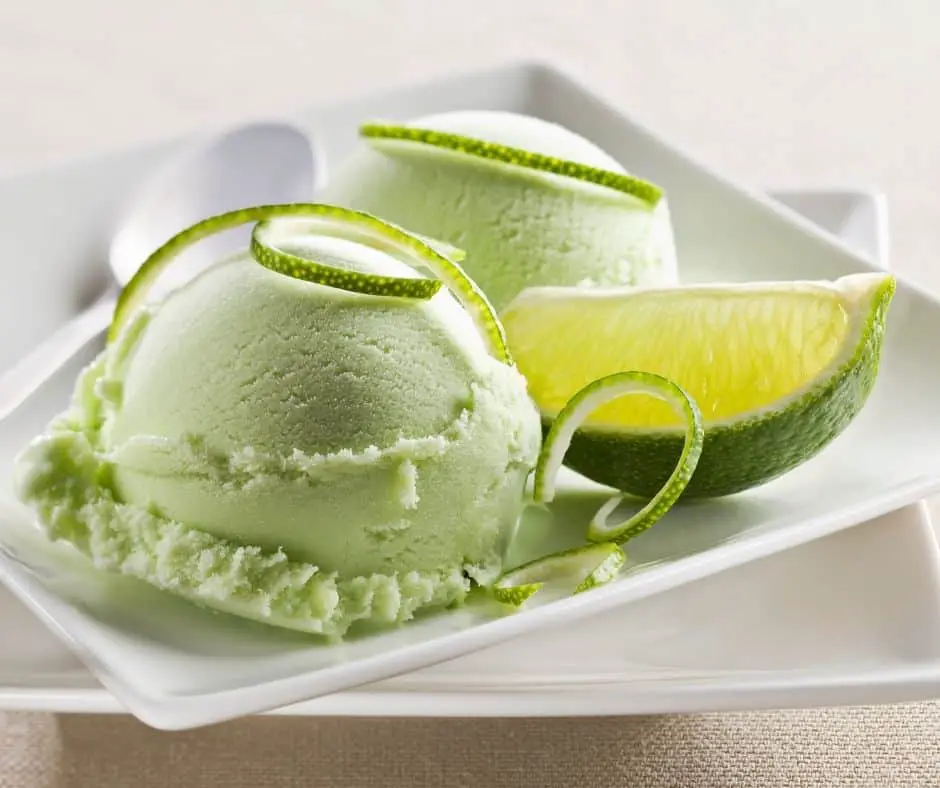 Another green homemade ice cream recipe re-creates a classic in dairy-free form, Key Lime Ice Cream.
From a pie to a popsicle, Julia at The Roasted Root uses avocados as a replacement to dairy ice cream go-to's of heavy cream as avocados create that creamy, butter-like texture.
Well known to often be buried under intense lime flavors, this recipe is no different and makes delicious, vegan-friendly ice cream as a result where lime shines front and center.
Limes, the sharpest member of the citrus family, its acidic qualities create a palette cleansing effect, which is why so many sorbets are citrus-based! Julia does use an ice cream maker in her recipe; however, I have tried using the food processor and freeze method, and it works just as well!
Combine the ingredients: Avocado, lime juice, maple syrup, coconut milk, sea salt, vanilla extract, and coconut oil and blend, blend, blend together to form a paste, then freeze.
For step-by-step instructions and ingredient amounts, take a look at Julia's The Roasted Root blog here.
4. Banana And Peanut Butter Sundae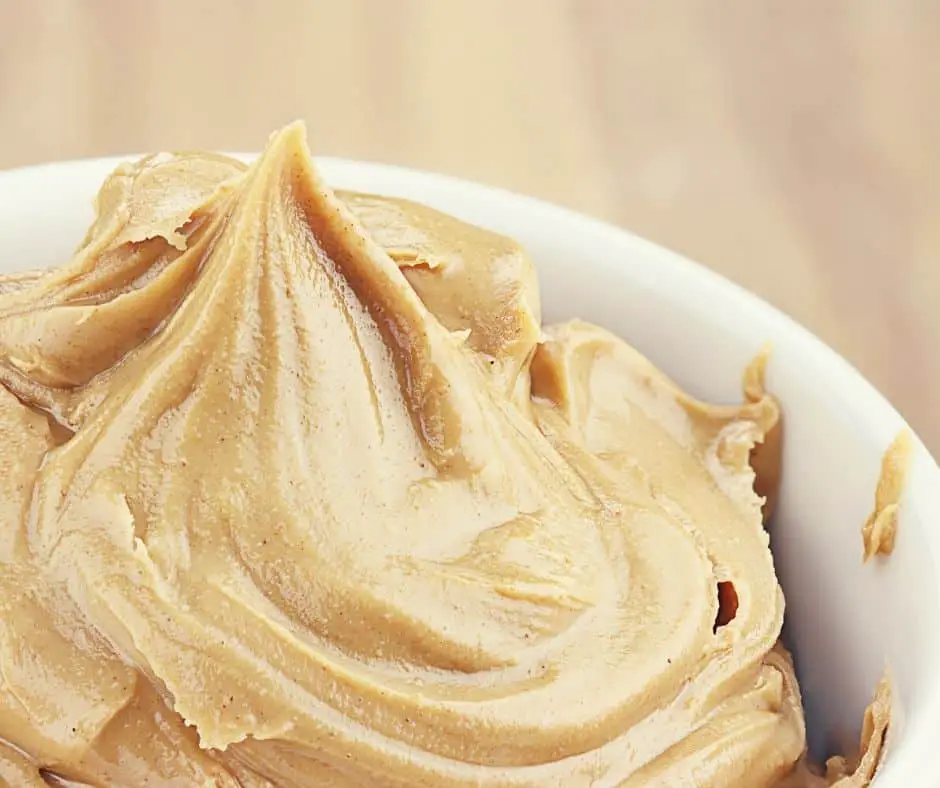 Absolutely perfect to round off dinner, this soft and sweet frozen deliciousness is another one of my favorites.
From PETA award winner Aine Carlin's 'Keep It Vegan' recipe selection, this delicious dairy-free ice cream dessert tickles both the sweet and salt senses with the peanut butter balancing the chocolate.
With a base of frozen bananas, maple syrup, and peanut butter. Simple as that. Just three-ingredient, blitzed in a blender, and then frozen solid in the freezer.
Aine's sauce mixes soya milk (you could use other alternatives), dark chocolate, and agave nectar, bringing back that sweet/salt balance. Place the ice cream in a sundae glass, top with the rich chocolate sauce, and sprinkle with peanuts to finish. A super sundae treat!
Take a look at the recipe variation from Aine's book here.
5. Classic Ice-Cream (Dairy-Free Version)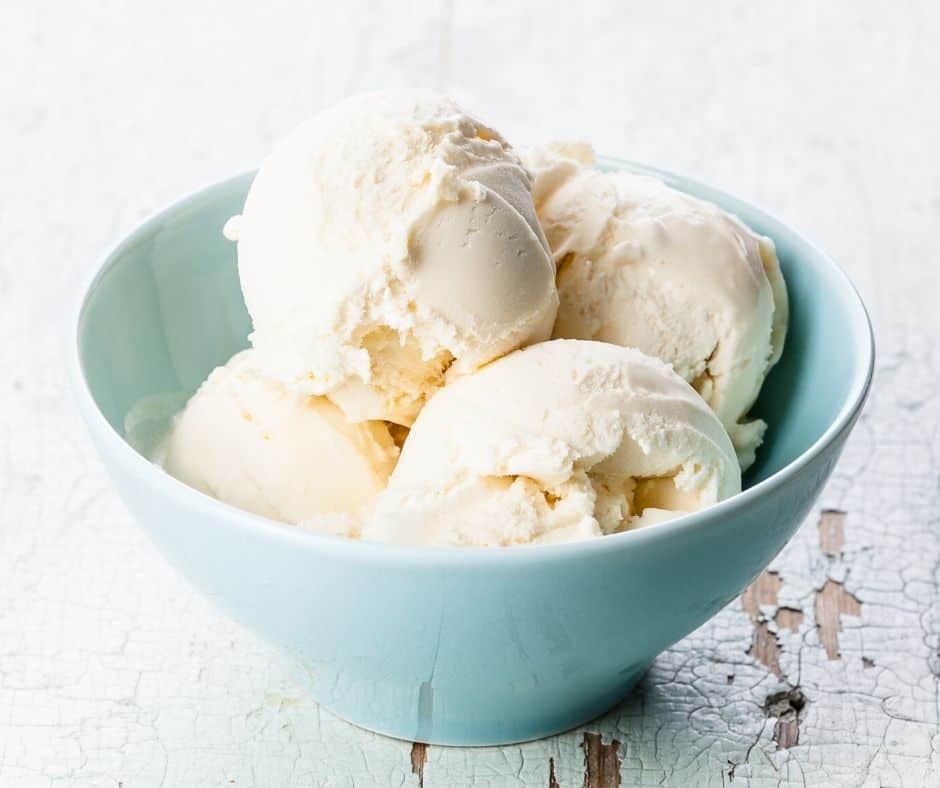 Up next is creamy and smooth classic ice cream with the perfect velvety texture, but it is all plant-based. 
Food blogger Alison Andrews aka Loving It Vegan is a big fan of easy, dairy-free ice cream using cashew milk as a base. With an identical taste to 'normal' dairy ice cream but with a more smooth and, if possible, creamier texture.
I have also made this ice cream with some great classic flavor alternatives, such as Medjool dates and almond butter for a caramel flavor, ½ a cup of frozen berries for a berry flavor, or Matcha green tea powder for some lovely green color and boost of nutrition.
It's a simple yet effective recipe, and although the recipe recommends using an ice cream maker, I have made it without the machine, just using a stand mixer, and it turned out absolutely perfect.
Once blended, freeze once again! Serve in a bowl or sundae glass with a long spoon.
Check out the full recipe and the instructions here.
6. Indian Lassi Ice Cream
With a third of Indians being vegetarians, Indian food always has lots to offer those of us who are vegetarian and vegan and with vibrant colors and flavors within their foods.
Here are some adaptations of Indian Lassi in an ice cream form, dairy-free, and made without an ice cream maker.
For your own bright orange, marigold Lassi, Cerys Matthews advises a 1:1 method of yogurt to water for this Indian Lassi recipe in her book, 'Where The Wild Cooks Go.'
Cerys recommends mixing 200ml of yogurt of your choice, 200ml of water sea salt, three ice cubes, and grounded and toasted cumin seeds for that authentic Indian flavor into a blender then freezing.
Lassi Dairy-Free Ice Cream Flavour Options
Mint, add a spring to the blender.

Turmeric, add ¼ teaspoon of ground turmeric.

Mango, remove the salt and spices from the original recipe, and add mango chunks to the blender.

Cardamon 
7. Dairy-Free 

Mango Lassi Ice Cream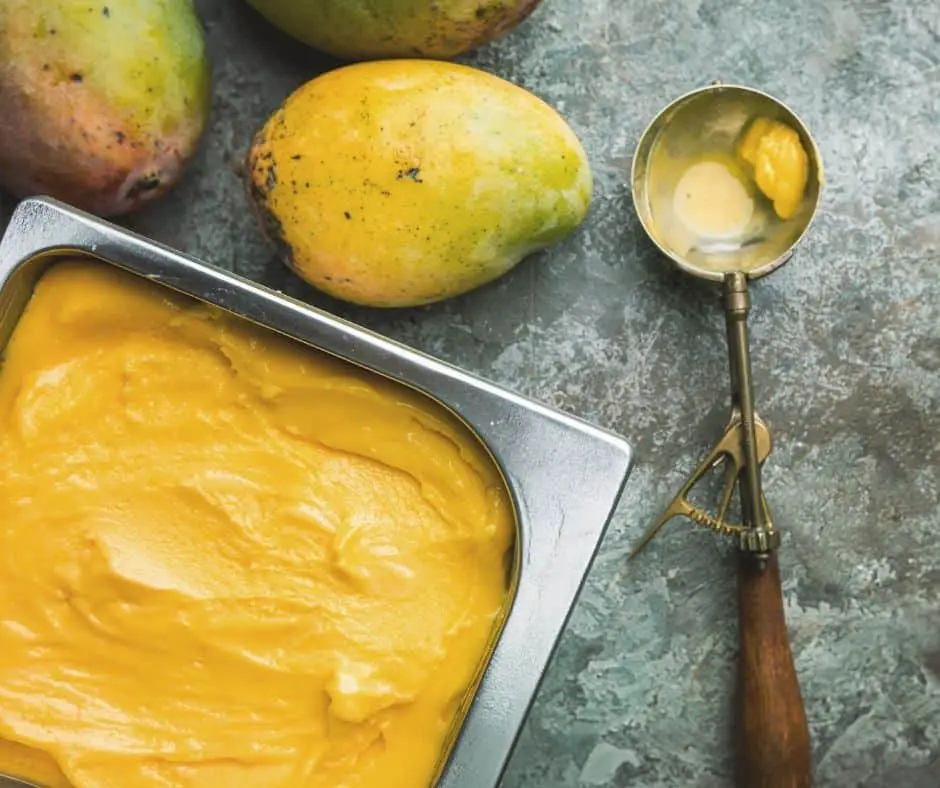 Taking the creamy texture of Indian Lassi to the next level, Heidi Jones creates a decadently refreshing mango dairy-free Lassi ice cream with pureed mango, arrowroot powder, dairy-free creamer, sugar, crushed black cardamom seeds, and canned coconut milk.
While some of these ingredients may not be in your cupboard, feel free to omit spices and play around with your flavor balance.
Again, the instruction in this recipe calls for the use of an ice cream maker, but you can successfully make it without one. I made it in my Nutribullet blender, and it came out just fine, absolutely delicious, and creamy.
Once you have made the mixture according to the recipe and chilled it for 2 hours, pour the mixture in the blender or food processor, add few frozen mango junks and blend it for few minutes till nice and creamy.
Check out the full recipe and instructions here.
Read Also: 12 Best Whipped Cream Substitutes (Store-Bought And Home-Made)
Ice Cream Scoop Trick
Once frozen, your homemade dairy-free ice cream will harden. Shop-bought ice creams have additives added to create that soft scoop effect. Simply warm your scoop with boiling water before serving to regain the 'scooping' effect. Serve and enjoy as a treat, snack, or dessert.