Bread is nothing but flour, yeast, water, and salt, yet making your own oven-fresh golden crusty bread at home is not always that simple.
Baking bread is an art as well as a science. However, one of the essential pieces of the bread-baking puzzle is the bakeware.
The right loaf pan, which is a fundamental part of baking, can significantly impact how your bread will turn out.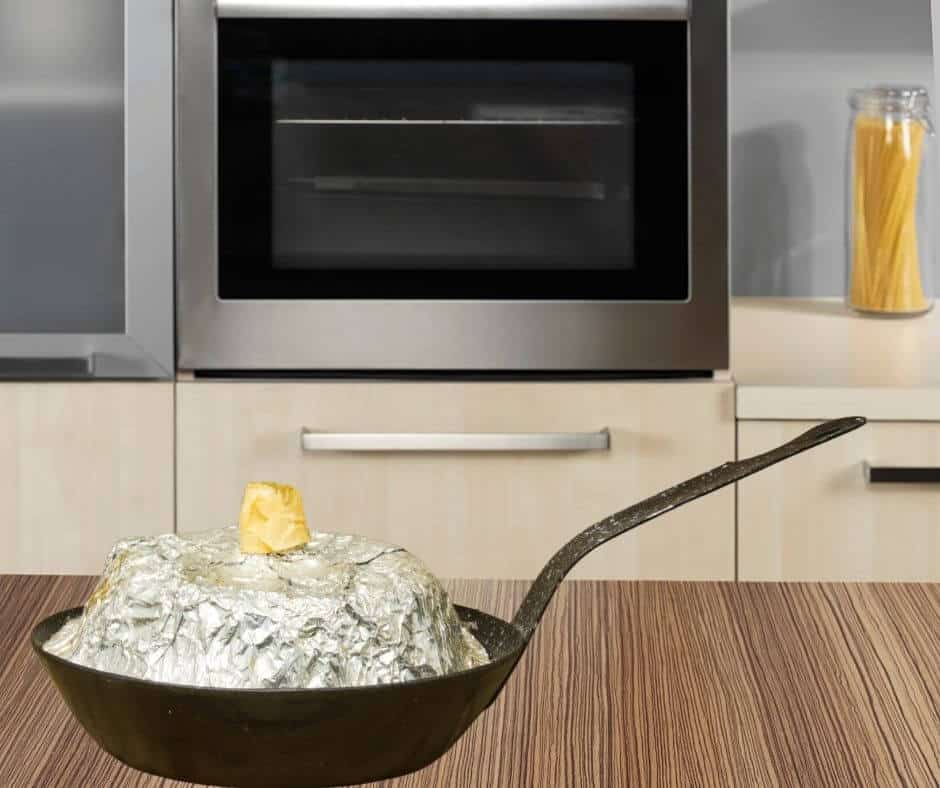 So, if you're looking for quality loaf pans that also come with a cover, then you've certainly come to the right place.
I've searched high and low for the best-rated bread pans, best bakeware materials and experimented with a plethora of baking tips that have left me with the perfect crispy homemade loaf, fresh from the oven, every time.
Should I Bake My Bread Covered or Uncovered?
What we are working toward when baking bread is the right amount of moisture. At least, in my opinion, to bake the perfect homemade bread that is soft and moist on the inside and crispy and golden on the outside, you need sufficient moisture/steam during baking. [1], [2]
Commercial ovens that are made specifically for bread baking are equipped with injectors that fill the oven with the right amount of steam. In our conventional ovens at home, that is not usually the case. Steam is not so easily produced and/or retained in a conventional oven, meaning that we need to create it ourselves. 
Baking your bread in an uncovered pan isn't necessarily the "wrong" way to go about things. There are various tips and techniques that you can find online on how to add steam to your oven and successfully bake a loaf uncovered. 
To ensure moisture retention in your oven, you'll need to incorporate things like:
Preheating a dish of water for an hour before baking.

Spritzing the inside of your oven with water beforehand.

Adding ice cubes in the oven.

Misting your dough as it bakes.

etc.
Lucky for us, there is a much easier way! Through my personal testing, I've come to find that baking bread covered is typically the best option when I'm on the hunt for a moist-yet-crunchy homemade loaf.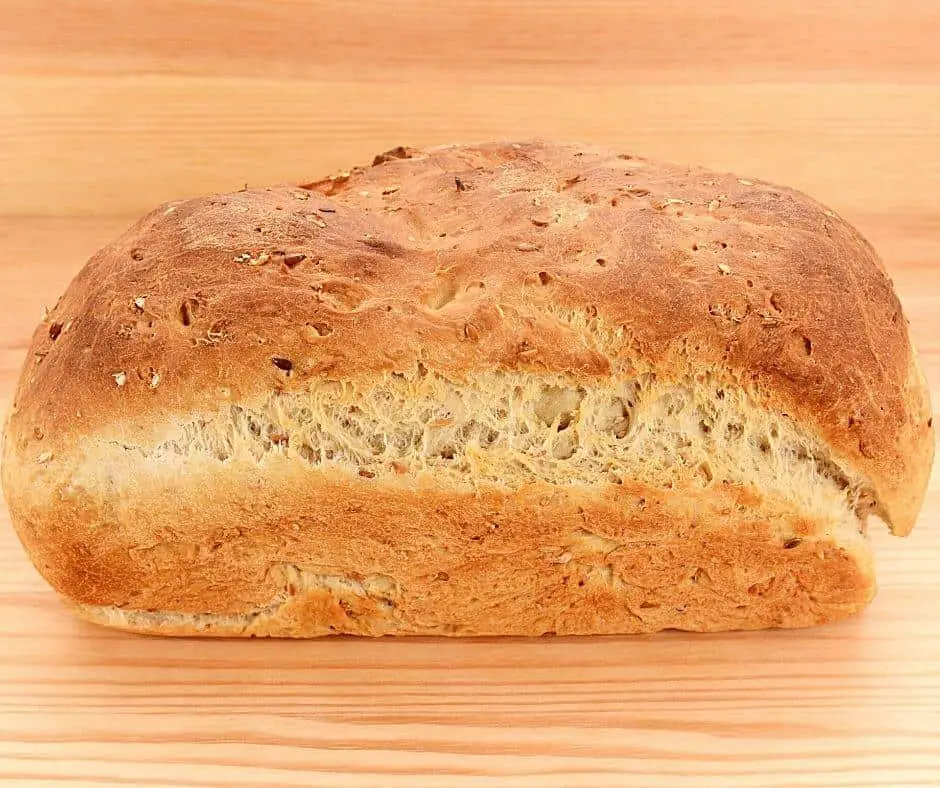 A covered bread pan is the easiest way to create your own bread oven—but instead of adding the moisture to the entire oven, we're just producing the same qualities inside of the loaf pan. [3]
To produce a heat-retaining surface, you'll need to preheat your container in a 450°F / 230°C -degree oven for at least half an hour before spraying the inside of it with water, then adding the dough and baking your bread. 
All of these steps will help you get the best rise out of your dough and create that caramelized, crispy outer layer. Not to mention, you'll be left with one of the moistest homemade loaves in your life. [4]
Here Are 11 Best Bread Pans With Lids
Good news, I've sought out eleven of the best containers that can be used for baking bread, and they're all covered! I'm here to give you all of the possibilities that I've found alongside each option's best—and worst—qualities.
1. The Pullman Loaf Pan With Lid
TAP ON IMAGE TO VIEW PRICE
A Pullman loaf is commonly known as "sandwich bread" or "pan bread," making a long, narrow loaf inside of an aluminum alloy pan. 
This Pullman pan comes in four different sizes and holds 1lb. of dough, resulting in around 2 lbs. of bread. It is durable, lightweight, non-stick, and high-quality. But the best part about this pan is that it ensures even baking throughout the loaf, which makes it a breeze for beginner bread bakers (say that five times fast). 
Keep in mind that this pan is not to be used for baking anything other than bread (e.g., cake), as it is specifically designed to solely bake bread. If you do use it for cake, you will end up with a sticky mess. 
Pros:
Lightweight, durable material
Results in a nicely shaped loaf perfect for sandwiches
Easily removable lid that slides on and off; makes for an airtight container
Non-stick surface; bread pops out very easily
The coating is BPA and PFOA free and is not Teflon
Designed with three "holes" along the bottom for air circulation
Fun, corrugated texture
Cons:
Can only bake in an oven up to 445°F (230°C)

Should not be baked above 400°F (205°C) for more than 30 minutes

Cannot be preheated when empty

Needs maintenance before 

every

 use

Not dishwasher safe

Cannot handle any sort of metal utensils (abrasive cleaning brushes, spatulas, etc.)

Cannot soak in water while cleaning
2. LoafNest Cast Iron Artisan Bread Kit With Non-Stick Perforated Silicone Liner
TAP ON IMAGE TO VIEW PRICE
Another option for bread baking is the LoafNest cast-iron bread kit. This pan comes with a great, non-stick, silicone liner that makes for easy removal of the loaf.
The custom design is a fun, oblong shape with four rounded handles for easy transportation.
The lid is dome-shaped, leaving extra space for the perfect rise. It's also a great size, not too big and not too small.
It is a high-quality option for easy, no-knead, artisan bread loaves straight from your own oven. All you need to do is mix your ingredients, pour it into the mold, and bake! 
The pan has been specifically made for bread, but its cast-iron material provides for versatility as well. It could easily be used for other baked goods and even meals.
Pros:
Unique shape that results in the perfect sized loaf
Very high-quality material
The silicone liner can be used up to 2000-3000 times with proper care
It comes with a recipe that requires no kneading or shaping, which can be tuned for preferences
It prevents loaves from going flat
Stores heat
Durable and long-lasting material
Consistent results
The liner can be used up to 500 degrees F (260°C)
It makes the delicate bread-baking process simple and easy
Cons:
Heavyweight at nearly 10 lbs (4.5 kg)
Could be too small for specific baking needs
Expensive
3. Heavy Duty Pre-Seasoned Cast Iron Dutch Oven With Skillet Lid
TAP ON IMAGE TO VIEW PRICE
Dutch ovens are some of the best options for baking bread, as they retain heat very well and retain plenty of moisture. 
This pre-seasoned Dutch oven is a nice option because it's a 2-in-1 (and who doesn't love a basically "buy-one-get-one-free" offer?). It also has a 5-quart capacity, and it will heat your loaf evenly while retaining plenty of heat. It's sturdy, cast-iron, and perfect for nearly any type of cooking or baking. 
The best part about this Dutch oven is that it is useful for absolutely everything. While you may purchase one of these for baking bread, it can also be used for other foods; from stews to roasts to meat, this thing is incredibly versatile. Its domed-shaped lid gives plenty of space on the inside while also doubling as a 10-inch cast-iron skillet. 
Pros:
Cast-iron and 100 percent non-stick for easy clean-up
Pre-seasoned with no chemicals
Handles on the base and lid for easy transporting
5-quart pot with a lid that doubles as a skillet
It can be used on any type of stove and is oven-safe
It is also great for camping
Can withstand any temperature
It only gets better with each use
Cons:
Not dishwasher safe (obviously)
Needs re-seasoning before use/after cleaning
4. The Ceramic Artisan Bread Mould With Lid
TAP ON IMAGE TO VIEW PRICE
Ceramic is a great heat-retaining material, making this option a great choice. Resulting in a slow, even spread of heat throughout the entire container while baking, the ceramic is a wonderful choice for baking bread.
This Emile Henry artisan bread pan is designed in an "oblong" shape, resulting in the perfect size and shape of your next bread loaf. Its lid is dome-shaped, which leaves room for the dough to rise and form a beautiful, rounded surface.
Not to mention, this baking dish is made in France—is there a better country to trust in manufacturing a bread pan? I think not.  
This container is specifically designed for artisan bread baking; however, it's useful for other baking and cooking as well—ceramic makes it quite versatile for casseroles and other dishes.
Nonetheless, this loaf pan is designed to leave you with the perfect loaf of bread every time, regardless of the kind of bread you're baking. [5]
Pros:
Ceramic, non-stick surface allows for even heating throughout
Hand-made using natural materials
Designed with grooves along the bottom to ensure an easy release of a freshly baked loaf
Small handles for easy transporting and nice ventilation
Retains plenty of moisture for the perfect rise and crisp crust
Base fits inside the lid for easy storage
Dishwasher safe
Shock-resistant; can easily be moved from freezer to oven without cracking
Backed by a ten-year warranty
Cons: (Yes, I scraped for these as there aren't many cons to this product):
Heavyweight at almost 9 lbs (4 kg)
Larger than the average bread pan
5. Sassafras Superstone Baker For Crusty Italian Bread
TAP ON IMAGE TO VIEW PRICE
This covered stoneware pan is a lovely option if you're looking to make an authentic Italian loaf. This Superstone Covered Baker is a great piece of stoneware that provides quality loaves with each bake. 
The stone is designed to produce a crisp, crackly crust while leaving the inside of the loaf moist and soft. It is specifically made for creating that "brick-oven" feel while evenly distributing heat and replicating the perfect bread oven.
Its shape is specific to produce a particular, long loaf of bread.
While this pan is useful for baking bread, it is multi-purpose and can be used for other cooking, like roasting potatoes. 
Pros:
Can withstand heat up to 500 degrees F (260°C)
Natural, unglazed interior for perfect, crisp texture
Microwave safe
Produces an even browning of the dough
Becomes non-stick after frequent use
Multi-purpose
Available in fun colors (blue, green, etc.)
Cons:
Not thermal shock-proof (i.e., cannot move from fridge immediately to preheated oven)
Cannot be placed over an open flame
Cannot hold extremely cold foods
Not dishwasher safe
It cannot be used with dish soap
Unglazed interior needs to be seasoned to create a non-stick surface
6. SuperStone Covered Bread Baker
TAP ON IMAGE TO VIEW PRICE
Much like its aforementioned relative, this Sassafras Covered Baker is a great piece of stoneware that is also oblong shaped to provide you with a perfect, artisan loaf of bread every time. 
As it is also produced by Sassafras, the stone material is also similar. It is completely unglazed, leaving you with the perfect, crispy crust.
This is a great choice for no-knead bread and is also multi-purpose—use it for any of your oven-fresh meals (after seasoning, of course!). 
Pros:
Forms a beautiful, oblong-shaped loaf of bread
Can withstand up to 500°F (260°C)
Unglazed and natural
Stoneware heats evenly and slowly for steady browning
After frequent use, it can become non-stick
Multi-purpose
A handle on top of the lid to aid in easy uncovering
Cons: (same as previous)
Not thermal shock-proof
Cannot be placed over an open fire
Should not be used for extremely cold foods
It is not dishwasher safe
It should not be washed with dish detergent
The unglazed interior should be seasoned to create a non-stick surface
7. The Lava Cast-Iron Enameled Bread Pot
TAP ON IMAGE TO VIEW PRICE
Like any other cast-iron bakeware, this Lava cast-iron pan is quite fit for baking bread. Its difference lies within its shape: rather than being a large, rounded pot, this pan is 3 inches by 10 inches (7.6 x 25.4 cm), which leaves you with the perfect loaf that is shaped exactly like the one you'd find in a French bakery! 
Not only does this pan differ in shape, but it also offers a beautiful finish that is three coats of porcelain enamel, fired twice. The enamel is coated on both the interior and exterior of this piece of cookware.
While it will bake a beautiful no-knead loaf of bread, you can also use this pan for nearly anything else. It is completely versatile and is the perfect thing to have in your kitchen. With this bread pan, you'll be making anything from bread to meat to desserts!
Pros:
It does not require seasoning (ever!)
Great shape for loaves of bread
Compatible with nearly all stoves and ovens
Rated up to 500 degrees F (260°C)
Dishwasher and detergent safe
Slowly and evenly heats while retaining heat long after removal from the source
Available in multiple colors
Lifetime warranty
Cons:
Awkward shape for stovetop use
Unstable lid that does not provide a tight seal
Enamel is not very resistant
8. UgyDuky Aluminized Steel Loaf Bakeware Pan With Cover
TAP ON IMAGE TO VIEW PRICE
Like other Pullman bread tins, this UgyDuky bread pan is a great option if you're looking for a quick and easy way to bake bread without the high price tag. 
With its tin material, this pan is non-stick and heats dough very nicely, resulting in evenly baked bread every time.
Its lid slides to connect for a great, airtight seal that will retain plenty of moisture and a perfectly baked loaf. 
While this Pullman pan is specifically designed for baking bread, it is not recommended for the use of any other cooking or baking. 
Pros:
Tin material for nice heat conduction
Evenly bakes bread
Airtight, slidable lid that stays in place
Lightweight
Ventilation holes along bottom to provide airflow
It has a non-stick surface that is PTFE, PFOA, and BPA free
Easy bread removal and clean-up
Cons:
Not dishwasher safe
Unfinished edges that can be sharp
Amazon customers claim that they have received "used" and "damaged" items
9. The OXO Good Grips Glass Loaf Pan With Lid
TAP ON IMAGE TO VIEW PRICE
It's fairly rare to find a glass bread loaf pan. However, this Good Grips loaf pan certainly has its benefits. 
The Good Grips loaf pan comes alongside a slosh-proof lid that provides a nice seal and is awesome for proofing.
With its glass material, this pan can be used for nearly any kind of cooking or baking. It provides quality bread loaves but maintains the ability to make other baked goods and plenty of other foods. 
Pros:
Borosilicate glass that can withstand extreme temperature changes
Durable and lightweight
Comfortable handles that provide good grip
Microwave and dishwasher safe
BPA and PVC-free
The lid encloses nicely around glass handles
Inexpensive
Very versatile
Cons:
The lid 

cannot

 be used as a cover in the oven for baking bread and is only for storage

Cheap-feeling quality

Various Amazon customers have mentioned its lack of durability while the company claims otherwise
10. The Mini Pullman Loaf Pan With Top
TAP ON IMAGE TO VIEW PRICE
Like other Pullman loaf pans, this CHEFMADE mini Pullman pan is equally as satisfying. The "mini" square design is ideal for baking toast loaves that will leave you with the perfect, spreadable bread.
This pan is available in either corrugated or flat textures and has several sizes to choose from. It has the perfect, easily slidable lid that creates an airtight seal, which you can use for flat-top toast or remove for hump toast.
The key difference of this Pullman is that it's made with heavy-duty carbon steel, which accelerates heat and provides an even bake throughout the entire loaf. Not to mention, the material enables you to make much more than just bread in this pan; you can make plenty of other desserts as well.
Pros:
Food-grade silicone-coated; PTFE and PFOA-free
Permeable hole along the bottom for airflow
Non-Teflon
Excellent non-stick surface makes for easy removal and clean-up
Less cook time with carbon steel material
Even heating for consistency
Does not warp in high temperatures
Durable and very lightweight
Cons:
Not dishwasher or microwave safe
Cannot be soaked while cleaning
Cannot exceed 428°F (220°C)
Should not be preheated when empty
Cannot handle any sort of metal utensils (abrasive cleaning brushes, spatulas, etc.)
11. The Emile Henry France Baguette Baker
TAP ON IMAGE TO VIEW PRICE
If you're on the hunt for a product that will bake beautiful, authentic French baguettes, the Emile Henry baguette baker is one of your best options. Like their other products, the baguette baker is ceramic, made entirely of all-natural clay. The ceramic is a great choice when it comes to a slow and even spread of heat throughout the entire container while baking.
This baguette baker results in three extremely lovely baguettes with a perfectly crisp texture, much like the texture that you'd likely find in a French bakery. This product is designed specifically for baguette baking, so I would not recommend using it for any other type of cooking.
Pros:
Ceramic material made from all-natural clay
Distributes heat slowly and evenly for the perfect rise and bake
Safe for broiler and oven up to 515 degrees F (268°C)
Highly resistant to thermal shock (i.e., can be moved directly from fridge to preheated oven)
Scratch-free glaze
Ventilated lid; interior is not glazed to entrap steam
Durable and chip resistant
Can bake three baguettes at a time
Dishwasher safe
Ribbed texture for a non-stick surface
It comes with a 10-year warranty
Cons: (once again, Emile Henry's products have few flaws):
Read Also: Is Bread Maker Worth It? (Here is what you need to know!)
Happy Baking!
Bread baking can be a tedious process, but these eleven loaf pan options can make your job much easier. Trust me, using a bread loaf pan that has a lid will give you the bakery-quality bread that you've been craving. Your perfect loaf is just around the corner!
Read Also: Top 7 Bread Baking Blogs And Websites For Tips, Techniques, and Recipes