Eating pasta comes with the price of guilt, but there is a new player in grocery stores, chickpea pasta. This alternative pasta promises more fiber and protein, fewer carbs, and no gluten. I have been recently cooking with this new pasta alternative, and here is what I have learned.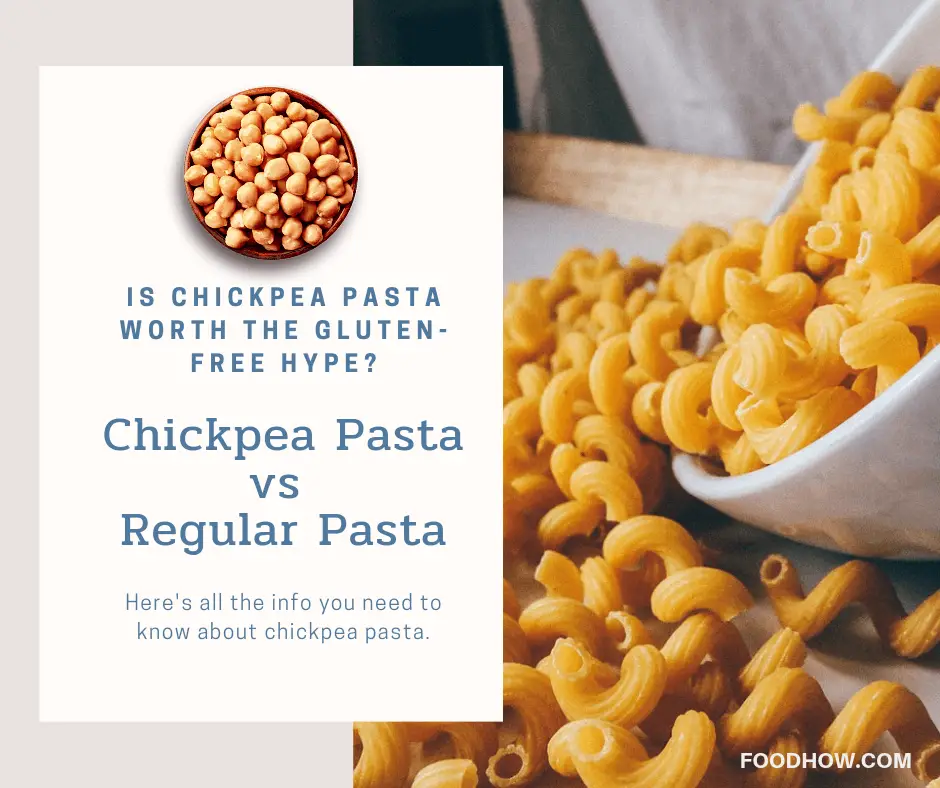 What is all the fuss about pasta?
Pasta is one of the most loved foods worldwide by both children and adults; it is very versatile and easy to cook and store. I won't hold it against you if you are a crazy pasta lover like me.
However, there is just one issue with regular pasta; it may be bad for you.
This is because regular wheat pasta contains very large amounts of refined carbohydrates, which may not be so good, especially if you consume these in large quantities.
Regular durum wheat pasta also contains gluten. Gluten is a type of protein found in barley, rye, and wheat. It can result in various adverse effects, especially for gluten-sensitive people.
However, there is an easy solution, and what's more, this solution doesn't involve not eating pasta. In actual fact, it offers you an opportunity to eat as much of it as you want.
Curious yet? Then keep reading.
What Exact

l

y Is Chickpea Pasta All About?
Chickpea pasta is a plant-based product made of chickpea flour, Tapioca, and pea protein. It is a new innovation that offers a great solution to the issue of refined carbohydrates in regular pasta.
In addition, it is healthier and more nutrient-dense. It is a plant-based powerhouse high in protein, low in carbs, and it is gluten-free.
Apart from being safe for consumption by gluten-sensitive individuals, it also provides an excellent alternative for vegetarians or veggie meal lovers.
What's more, it has a low glycemic index, four times the prebiotic fiber content, and twice the protein found in traditional pasta.
One of the most popular choices when it comes to chickpea pasta is Banza pasta. I have been obsessed with this product for a few months now. They do rigatoni, spaghetti, penne, tortellini, shells, macaroni, elbows, and you name it.
There is an amazing selection here on Amazon that you can check out.
When you are eating Chickpea pasta, you are not just eating healthy; you also enjoy a delicious meal. The taste is very similar to regular pasta, and the texture feels the same when cooked.
Just like your regular pasta, you can use any sauce, pesto, or other toppings that you like.
What Is The Nutritional Composition Of Chickpea Pasta?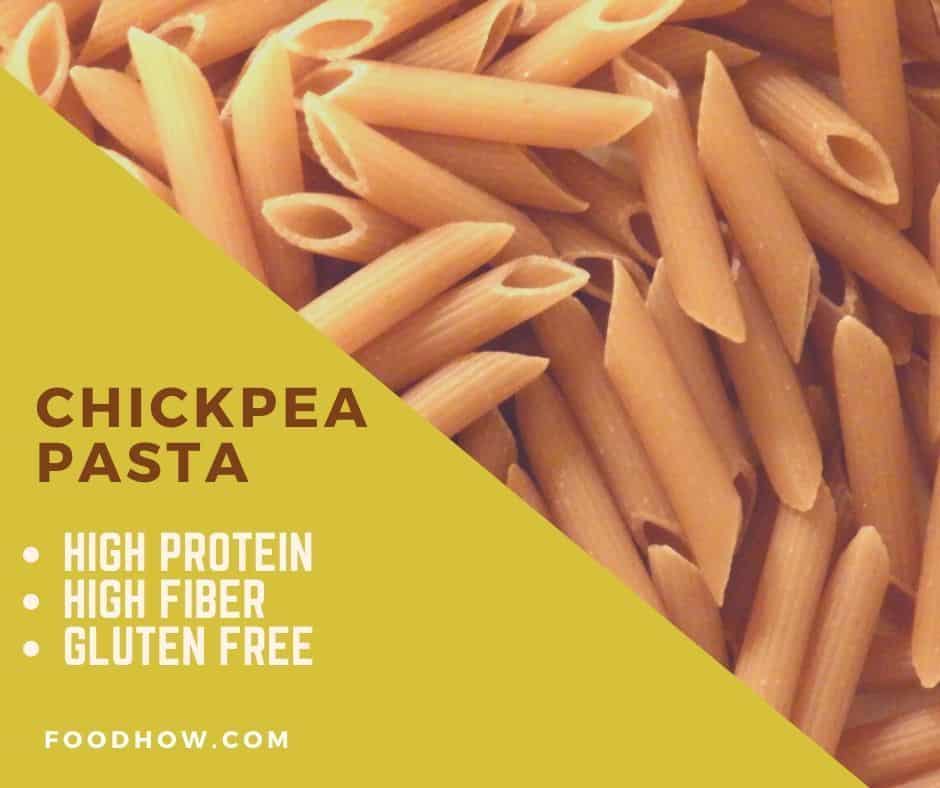 The nutrient content of Chickpea pasta is a lot more healthy than regular durum wheat or even whole-grain versions. 
Although nutrition slightly varies between different types of pasta, here is the list of estimated nutrients in chickpea pasta.
Chickpea Pasta Nutrition Facts
For a Serving Size of 1 serving, 2oz dry (56g dry).
Calories – 190 (Calories from fat constitute 5.8% of total calories)
Sodium – 20mg – 1% of the daily value
Carbohydrates – 35g – 13% of the daily value
Protein – 11g – 22% of the daily value
Fiber – 5g – 18% of the daily value
Fat 3.5g – 4% of the daily value
Calcium 40mg – 3% of the daily value
Iron 3g – 20% of the daily value
Magnesium 60mg – 15% of the daily value
Phosphorous 175mg – 15% of the daily value
These values are obtained from a 2oz dry (56g dry) serving size of Banza Chickpea Elbows. The percentage of daily values is calculated based on a 2,000-calorie diet.
How To Cook Chickpea Pasta?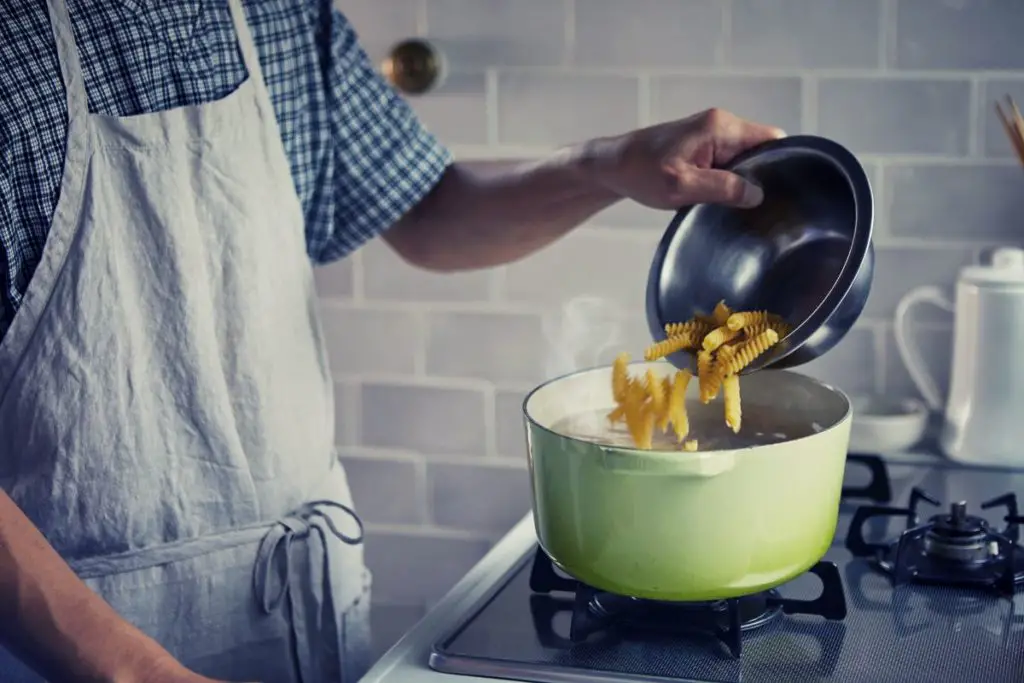 Preparing it is not a complicated process and is not much different from the way you make your regular pasta. However, for the best result, follow the directions on the box.
How To Cook Banza Pasta – Steps:
Get a relatively large pot and fill it with slightly salted water.
Wait for the water to boil before you put in your pasta.
When the water begins to boil vigorously, reduce the heat to medium.
Check on it after 5-6 minutes; this could be longer, depending on how you like the texture.
When the texture is to your taste, remove the pot from the heat and open the lid to let steam out.
Then, pour out the pasta into a sieve to drain the water.
Serve with your favorite topping, sauce, cheese, pesto, herbs, or whatever you love to eat your pasta with.
It does not take much time to cook at all. You wouldn't want to eat soggy, soft mushy pasta, so keep an eye on it. Depending on the type of chickpea pasta, some may take up to 7 or 10 minutes to cook.
Benefits Of Eating Chickpea Pasta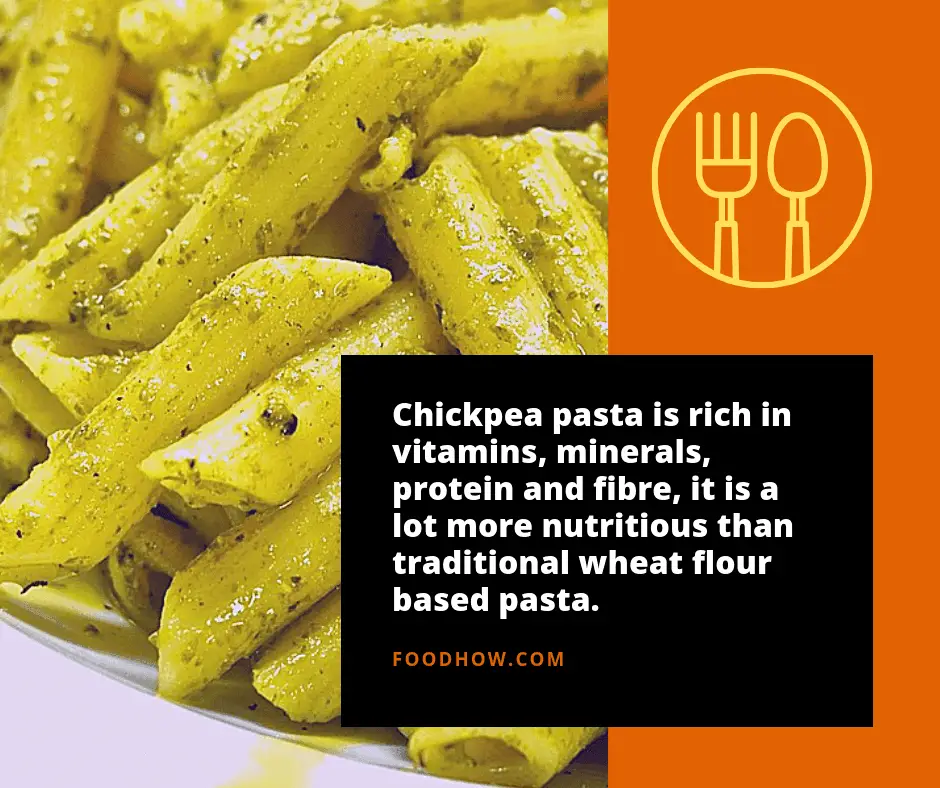 Eating legume pasta has some great benefits, most of which go beyond the short-term. It is one of the healthiest types of protein pasta out there. It is great for people who are sensitive to gluten, which is found in regular durum wheat products but absent in ones made with chickpea flour.
It contains much fewer carbs than regular pasta, making it great for people trying to lose weight or follow low carbohydrate diets. In addition, it is a better option for people with blood sugar issues because of its low glycemic index.
Chickpea pasta is also very filling, so you won't have to eat large quantities to feel full and satisfied. This is why it is appropriate for helping with weight loss and weight management in general. It has more protein and fiber, a lot more than your regular spaghetti or tortellini, which makes it a lot healthier option indeed.
Apart from the usual health benefits, cooking with this alternative pasta also helps you save money. Since it has a very high protein content, you might not have to purchase beef or chicken to make a protein-rich meal.
It is an excellent source of complete plant-based protein and can cover your daily protein requirement depending on your weight, age, and fitness goals.
In addition, it contains higher proportions of iron and potassium, a lot more than regular pasta. 
Frequently Asked Questions

Here are some of the frequently asked questions about chickpea pasta:
Chickpea pasta just seems too good to be true, and this is one of the reasons there are so many questions about it. So, here are some of the most frequently asked questions about chickpea pasta.
What Does Chickpea Pasta Taste Like?
I can assure you that chickpea pasta tastes quite similar to regular pasta. You might be envisioning a very boring meal, but I can confirm that, in fact, it is not dull at all. The taste and texture are similar to your regular durum wheat version, and once cooked, it looks just about the same.
How Low-Carb Is Chickpea Pasta?
A 2oz (56g) chickpea pasta serving has about 30-35 grams of the total amount of carbs, and this constitutes up to 40% less than regular pasta. Therefore, if you are trying to avoid excess carbohydrates, then this is just perfect for you. Besides, it has a reduced amount of calories compared to traditional versions.
Is Chickpea Pasta Good For Weight Loss?
Simple carbs in regular refined durum wheat products are digested very quickly, leading to increased hunger and a higher risk of overeating. However, chickpea pasta, on the other hand, is very filling and slowly digested. You would not require a large portion before you get filled up. Therefore chickpea pasta is a great option for those looking to lose weight. The pasta is high in fiber and protein, both of which are essential for weight loss. Additionally, the pasta is low in calories and has a low glycemic index, making it a great option for those on a weight loss diet.
Is Chickpea Pasta Low-Glycemic?
The pasta is made from chickpeas, which are a low glycemic food, with a score of 28 on the scale. This means that they have a low impact on blood sugar levels. This is beneficial for people who are trying to control their blood sugar levels or lose weight. It has a combination of fibers and protein that helps to reduce the digestion rate, thereby keeping your glucose and insulin levels low.
Which Pasta Type Is The Healthiest?
When it comes to pasta, the healthiest option is the kind made with legumes. This is because legumes are a good source of protein and fiber, both of which are important for maintaining a healthy weight and keeping your digestive system functioning at an optimal level. Additionally, legumes are low in calories and fat, making them a great choice for those looking to lose weight or eat a healthier diet.
The 3 Healthiest Legume Pasta Brands

Here are 3 of my favorite legume pasta brands that are healthy and taste great. But don't take my word for it. Also, check out some of the great reviews here on Amazon.
1. Banza Chickpea Elbows – High Protein, Gluten-Free
TAP ON IMAGE TO VIEW PRICE
Banza products have been recommended by numerous celebrities and media publications, including Robin Roberts, Kristen Bell, Time Magazine, Food & Wine Magazine, the New York Times, the Today Show, Good Morning America, Generation Startup, and The Huffington Post.
Many athletes and health-conscious people like to cook alternative forms of pasta, such as whole wheat, brown rice, edamame, black bean, and quinoa pasta.
But wouldn't it be better to prepare a healthy dish that cooked, tasted, and looked like regular white pasta? If so, then you'll want to try my favorite Banza elbows.
If you're into diet and fitness and want to prepare a tasty low-carb and protein-rich meal, then consider using Banza chickpeas as the main ingredient of your meal.
Banza pasta is rich in fiber and has a low glycemic value. It is also easy to prepare, and the entire family will like it. 
2. Barilla Chickpea Casarecce – Gluten Free
TAP ON IMAGE TO VIEW PRICE
Barilla Legume Casarecce is also made of chickpeas. It is a tasty legume-based pasta that contains lots of plant-based protein, minerals, and fiber. Meanwhile, it contains no gluten and is even certified as non-GMO food.
It is fast and simple to prepare. You just boil the Casarecce in a pot of water for between 7 and 9 minutes. When it's done, you'll have healthy, protein-rich, and delicious pasta to enjoy.
3. Tolerant Organic Chickpea Penne
TAP ON IMAGE TO VIEW PRICE
Looking for a delicious and nutritious alternative to regular pasta? Look no further than Tolerant Organic Chickpea Penne! This is also one of my favorite legume pasta because of its beautiful texture and it is made with certified organic chickpeas and is packed with protein, fiber, and vitamins.
It's also gluten-free, making it a great option for those with gluten sensitivities or celiac disease. Plus, it's certified vegan, so everyone can enjoy it!
It only takes 6-10 minutes to cook the Tolerant Organic Chickpea Penne. While other gluten-free pasta may become mushy once cooked, this one will retain its texture and stay that way the entire time.
3 Delicious And Easy Chickpea Pasta Recipes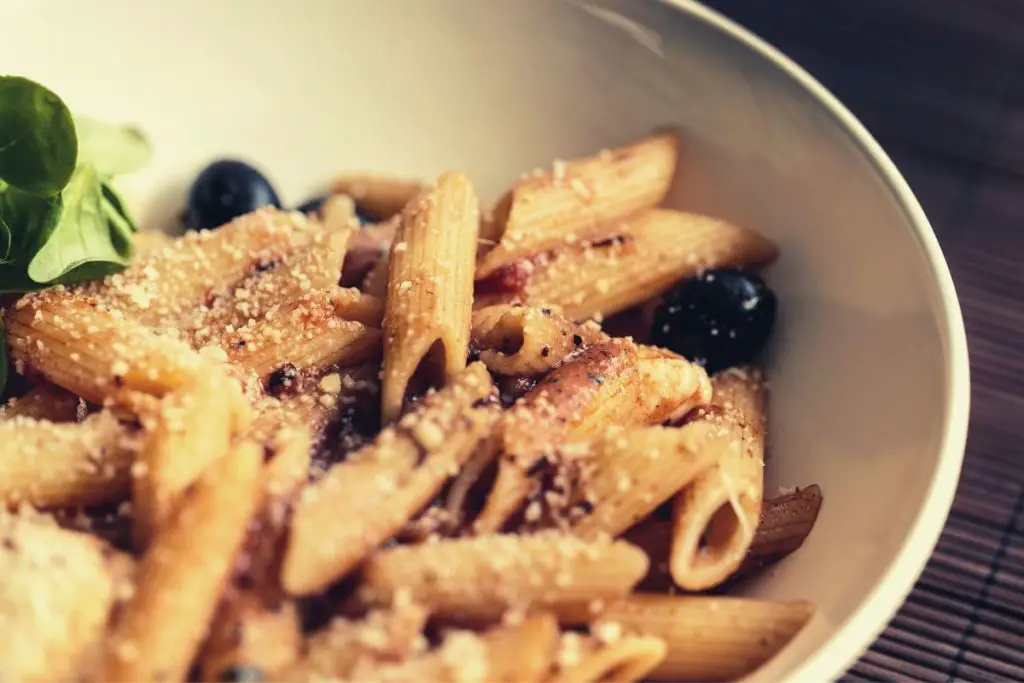 Keep it easy with these three healthy, simple, but delicious chickpea pasta recipes. Perfect for lunch, dinner, or any family-friendly meal.
---
Check out these other two of my favorite chickpea pasta recipes below:
Creamy Lemon And Roasted Asparagus Fusilli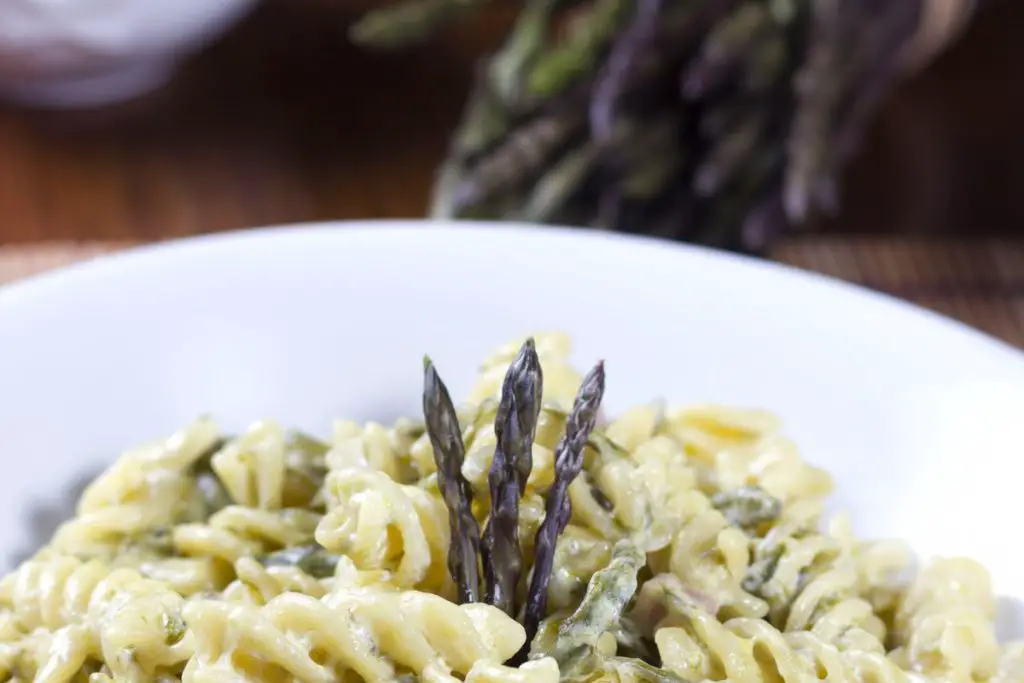 Creamy Lemon And Roasted Asparagus Fusilli is another desirous and easy high-protein pasta recipe. This dish is perfect for a light summer meal. The asparagus is roasted to perfection, and the lemon sauce adds a zesty flavor. This dish gives you four servings and can be on the table in less than 30 minutes.
Ingredients:
8oz (227g) of Banza chickpea fusilli
½ cup of parmesan cheese (grated)
Three-quarters of a cup of chopped asparagus
One tsp of lemon zest
1 tbsp of lemon juice
3 tsp of olive oil
¼ cup of mozzarella cheese
Salt and pepper for taste
Cooking Instructions:
Heat a frying pan over medium heat, add the olive oil and lemon zest, and stir for 30 seconds.
Next, add the lemon juice and the blanched asparagus, and give it a good mix.
Add the mozzarella cheese and stir until melted.
Add the parmesan cheese and mix.
Meanwhile, boil up one pack of 8oz (198g) of Banza fusilli, cook until soft (about 8-10 min), and then drain. 
Add the fusilli to your cheesy mixture, season, mix well and enjoy.
---
Vegan Chickpea Penne With Cauliflower Alfredo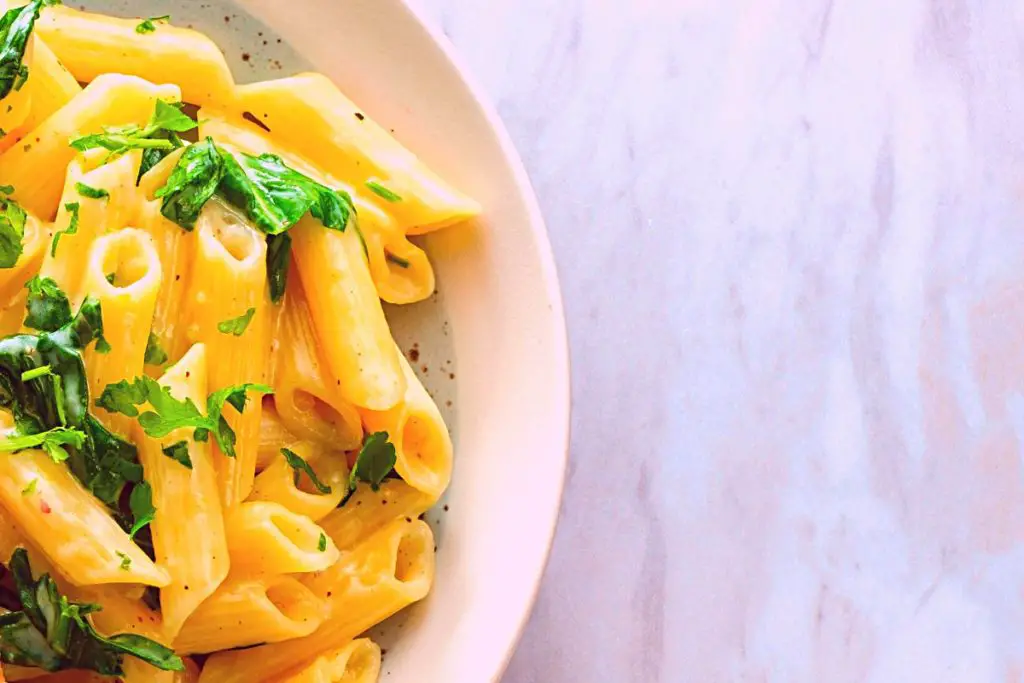 This four servings recipe for Vegan Chickpea Penne With Cauliflower Alfredo is another desirous and easy recipe that is perfect for a quick and tasty weeknight meal. This dish is hearty and filling yet relatively light and healthy, making it a great option for those looking for a delicious and nutritious meal.
Ingredients:
One box of 8oz (227g) chickpea Penne
4 cups of cauliflower florets
2 tbsp olive oil
3 cloves of garlic
½ cup of nut milk
Juice of 1 lemon
¼ cup of nutritional yeast
1 tbsp onion powder
Salt and pepper
Any of our favorite greens for garnish.
Cooking Instruction:
Take a large pan, add a little boiling water, add a little salt and steam the cauliflower florets until slightly soft.
Now, take a blender or a food processor and add the cauliflower, the nut milk, the nutritional yeast, the lemon juice, the onion powder, the garlic, and the olive oil and blend to a fine puree.
Boil up a box of chickpea penne pasta (about 8-10 min).
When cooked, drain the pasta, return to the pan, and stir in the puree.
Add a few of your favorite greens, and give it a mix.
Serve and enjoy!
In Summary
Chickpea pasta has been quite a topic of discussion among many cooking blogs and magazines this year. I hope this article helped you discover all the great nutritional benefits of consuming this new nutritious pasta.
I have already managed to convince quite a few devoted pasta lovers to swap their regular white pasta for this new, up-and-coming nutritious invention. I hope I have convinced you too, or perhaps, I just made you curious enough to try it out at least.
Read Also: What To Serve With Pesto Pasta? (Try These 7 Delicious Sides).