You don't have to wait for the holiday season to be in full swing to start baking! Here are the 10 best thin and crispy oatmeal cookie recipes you can try out right now.
This roundup showcases some of the best and most interesting crisp-style oatmeal cookies, perfect for those who don't want a chewy cookie. Each recipe has a unique feature, and you are sure to find a recipe suited to your needs and tastes! 
If you are craving oatmeal cookies, apple sauce won't do.

Eric Jerome Dickey
1. Crispy Oatmeal Chocolate Chip Cookies
These are the ultimate thin, lacey, crispy oatmeal cookies and come with tips to make them even crunchier. 
Adding crisp rice cereal to these cookies makes the texture even crunchier if desired. 
For a healthier version, substitute chocolate chips with raisins or cranberries.
This is a simple recipe that is sure to become a new family favorite. 
Check out the full recipe and baking instructions here on YouTube. 
Top Tip: Other ways to increase crispiness in oatmeal cookies include adding more sugar to the recipe, increasing the baking time, or spreading the cookie dough thinner than usual.
2. Old-Fashioned Crispy Oatmeal Cookies
We all have our favorite cookie recipes, and this one might just be your new chosen one. This recipe covers all the bases for the ultimate classic oatmeal crisp cookie. 
A crispy outer edge reveals a slightly chewy center. These will be the perfect cookie to dunk into a glass of cold milk or even to use as the base for other recipes, such as making ice cream sandwiches. 
Check out the full recipe and baking instructions here.
Top Tip: For the best results, use rolled oats to make these cookies. Quick oats simply don't hold their shape or have the same texture when baked into cookies. So choose the sturdier rolled oats whenever you want them to retain their shape or achieve more texture and crunch.
Read Also: Which Kind of Oat Are The Healthiest?
3. Two-Ingredient Sweet Potato Oat Cookies
Finally, a cookie you can eat without feeling guilty. One of my go-to recipes for an incredibly simple 2 ingredient cookie that will suit a wide range of dietary needs. 
These cookies are chewier than other ones on the list but to get them crispy, make them as thin as possible, bake them slow and low and let them cool down after baking, which will give them a nice and crispy texture.
Check out how to make this simple yet nutritious sweet potato and oat cookies in the video below.
This recipe is gluten-free and vegan, and because it is low in sugar (no added sugar at all), it may be a good choice for those limiting sugar in their diets or following low-calorie diet plans. 
Sweet potatoes are considered a superfood and have an incredible range of nutrients and vitamins. Combined with oats, the resulting cookies have just a hint of sweetness and a crisp-chewy texture, depending on how thin you bake them.  
The different types of sweet potatoes have a range of flavor profiles. The orange-fleshed types are often sweeter and more custard-textured than the purple varieties.
Learn more about what different types of sweet potatoes taste like and which ones are the sweetest.
Top Tip: This recipe is highly adaptable, as you can add spices or sweetness to your taste. Try adding spices like cinnamon or ginger, and try adding sweeteners like molasses, Stevia, honey, or maple syrup. 
4. Crispy Vegan Cranberry White Chocolate Oatmeal Cookies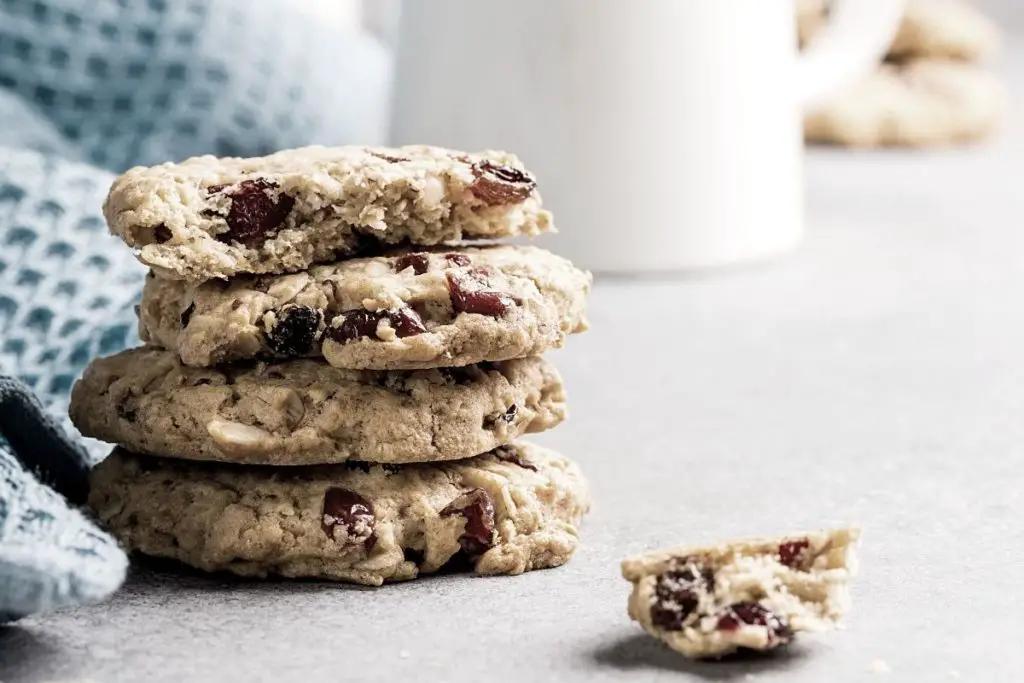 This recipe is another excellent choice when you need a vegan or dairy-free cookie option.
Because vegan margarine is a bit softer, the cookies spread out and become quite crispy, and the cranberries give these cookies a nice zing. 
Check out the full recipe and baking instructions here. 
Top Tip: Switch up the dried fruit and chocolate chips if desired in this recipe to make endless combinations of cookies. You could also add nuts for some extra crunch. Try raisins, walnuts, and pumpkin seeds for new combinations.
5. Whole Grain Oatmeal Cookies – Thin And Crispy
If you are searching for a perfectly crisp cookie with crunch from the added nuts and rich flavor from whole wheat pastry flour, this recipe is ideal. 
Whole wheat pastry flour is an excellent wholesome substitute for white flour to add some nutritional benefits found in whole grains. Often, you cannot switch whole wheat flour for white flour, but whole wheat pastry flour is softer and lighter than standard whole wheat. 
Check out the full recipe and baking instructions here.
Top Tip: For added flavor and nutrition, try using whole wheat pastry flour. Regular whole wheat flour will yield a chewier cookie, while whole wheat pastry flour will result in a crisp cookie. 
6. Air Fryer Oatmeal Cookies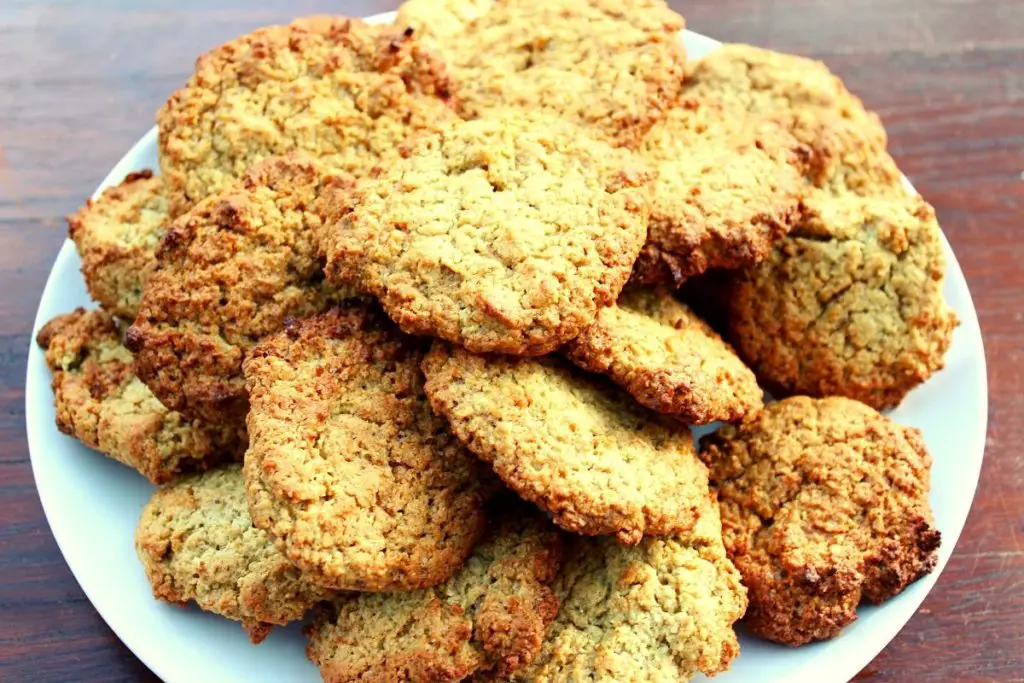 Did you know that you can bake with your air fryer? This unique recipe cooks in an air fryer instead of the oven, reducing heat in the kitchen and putting this small kitchen appliance to good use. 
As an added bonus, the air fryer makes the cookies extra crispy, just be careful not to burn them. Adjust the cooking time to get the desired crispness you desire!  
Check out the full recipe and baking instructions here.
Top Tip: Use foil, parchment paper, or a silicone baking sheet cut to size to make removing the cookies from the air fryer easy and bake them mess-free. A silicone baking mat can be reused in the air fryer many times, making it good for the environment as well!
7. Simple Oatmeal Protein Cookies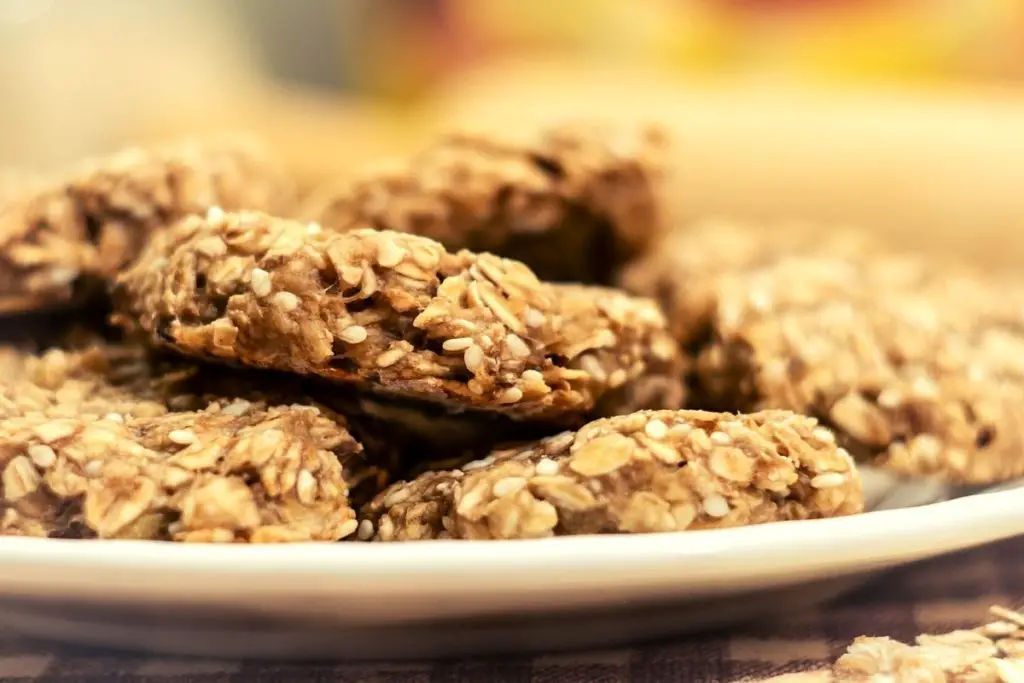 Simple but tasty breakfasts full of healthy fats and proteins are essential to a healthy diet, and grab-and-go breakfasts are even better in a fast-paced lifestyle. These cookies come loaded with protein and just enough sweetness to convince even the pickiest eater to enjoy them! (My kids). 
These cookies consist of old-fashioned rolled oats, cinnamon, vanilla extract, maple syrup, ground flaxseed, chia seeds, mashed banana, and peanut butter. However, I did replace the peanut butter with almond butter to achieve a bit crispier texture.
Check out the full recipe and baking instructions here.
Top Tip: Oats are naturally gluten-free grains but are often contaminated with gluten when harvested and processed. If you don't tolerate gluten, only use certified gluten-free oats in your cooking and baking.
8. Thin And Crispy Salted Oatmeal Cookies
This recipe bakes into melt-in-your-mouth cookies, perfect when you're looking for that specific crispness and buttery flavor. 
Instead of softening and becoming chewy, these cookies will also stay crisp long after you make and store them. 
This recipe also has another flavor addition – a sprinkle of salt across the tops, which compliments the buttery texture. Don't worry; salt won't make them savory; they still have a sweet taste. 
Try sea salt. Sea salt is recommended by chefs, and it is not only a good flavor enhancer, but sea salt also goes really well with baked goods.
Check out the full recipe and baking instructions here.
Top Tip: Store cookies in an airtight container to help them retain their crispness. Keep them away from moisture and heat, as this can make the cookies soften over time.
9. Crispy Oatmeal Raisin Cookies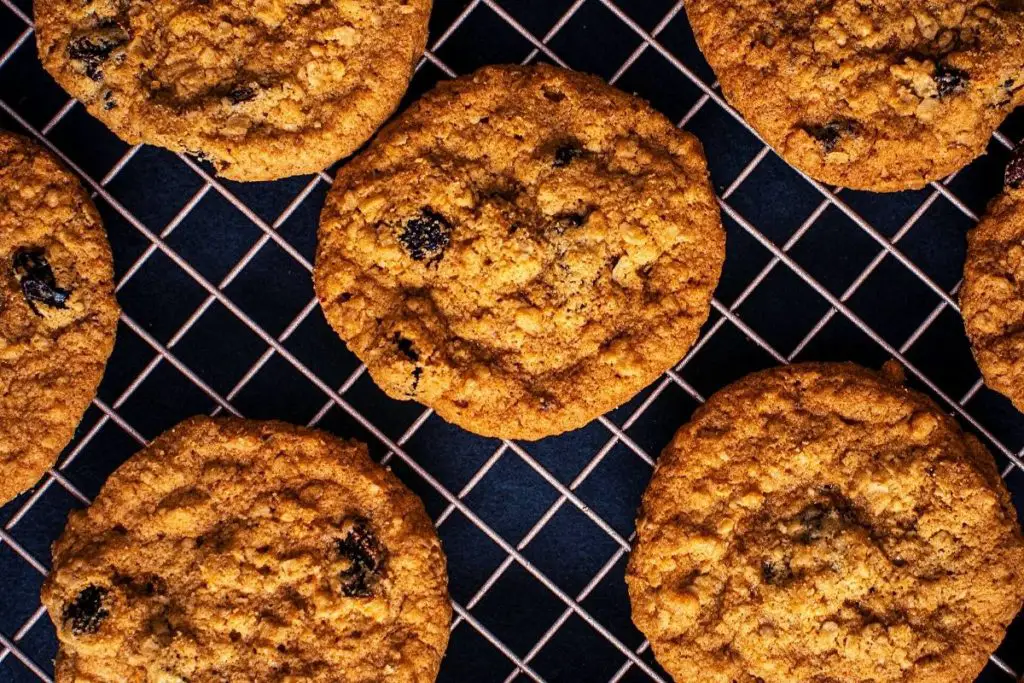 Oatmeal raisin cookies are a classic for a reason. This recipe combines that beloved flavor combination with a perfectly crunchy and crispy cookie with a perfect slightly chewy center. 
These oatmeal raisin cookies are wide and flat as they spread quite a bit when baking, so make sure you are leaving enough room on the baking sheets as you cook them. 
Check out the full recipe and baking instructions here.
Top Tip: Oatmeal cookies are often soft and chewy immediately after baking; letting them cool for 10-15 minutes on a cooling rack or on the baking sheets will make them more crunchy.  
10. Oatmeal Crisps
For a perfectly thin and buttery cookie, try these oatmeal crisps. Rich butter compliments the oatmeal, and as an added bonus, this recipe only boasts six ingredients, making it fast and easy to make. 
Check out the full recipe and baking instructions here.
Top Tip: Use a thin spatula to transfer crisp-style oatmeal cookies off the baking sheets and onto a fine mesh cooling rack, or use paper towels on top of a cooling rack. Thin and crispy oatmeal cookies are often delicate and prone to breaking when they are still warm and will harden up as they cool.
In Conclusion
These recipes are nutritious, all-natural, and can be whipped up in minutes. 
Let the cookies cool down to make them more crispier.
For more crumbly and crispy texture make the cookies mote thin and until edges are golden brown.
If you generally prefer chewy cookies, you may change your mind after trying out one of these crispy cookie recipes.
Some of the recipes are healthier than others. Still, they leave room for substitution, great for anyone looking to experiment with their cooking skills. 
Each recipe is different and offers its own unique twist on the classic oat-based cookie flavor. 
Some of these recipes even offer vegan alternatives. 
With recipes this delicious, you'll never think about oatmeal cookies the same way again!
These cookies are a great way to satisfy your cravings for a wholesome, delicious cookie without guilt. Maybe a little quilt, if you eat them all.
If you liked these crispy oatmeal cookies recipes you may also like these nutritious brown rice flour cookies here.